village manor b22, in the heart of kapaa town, walk to shops and beaches
2 Bedroom(s) | 1.5 Bathroom(s) | Sleeps 4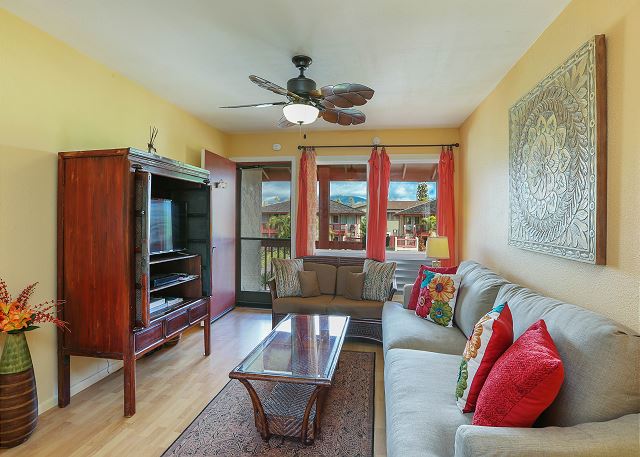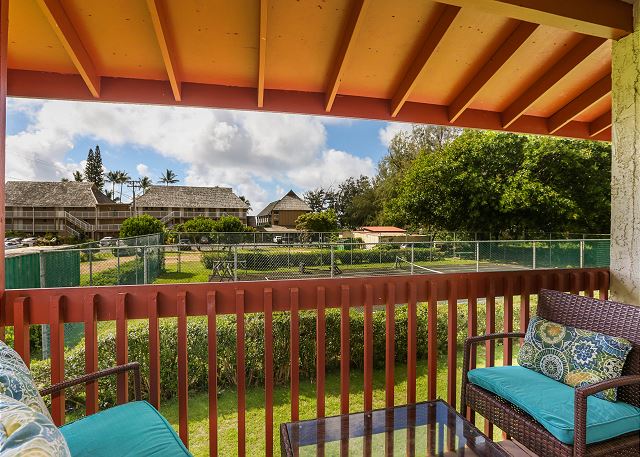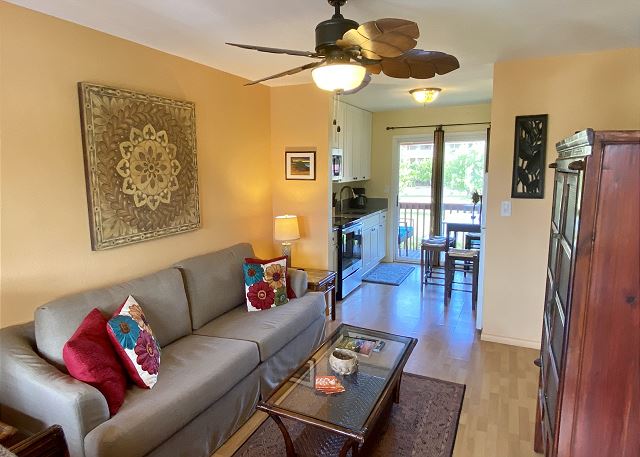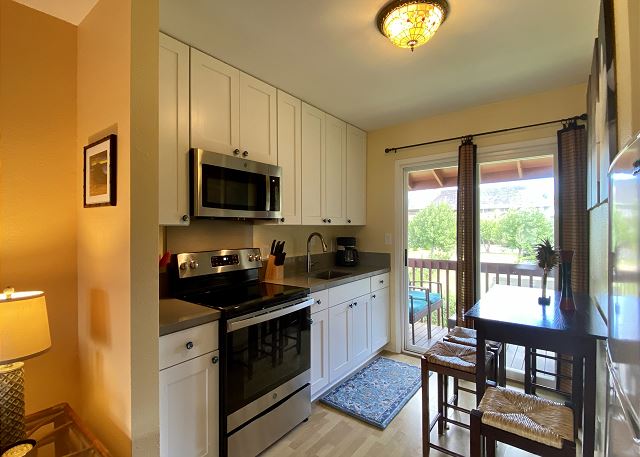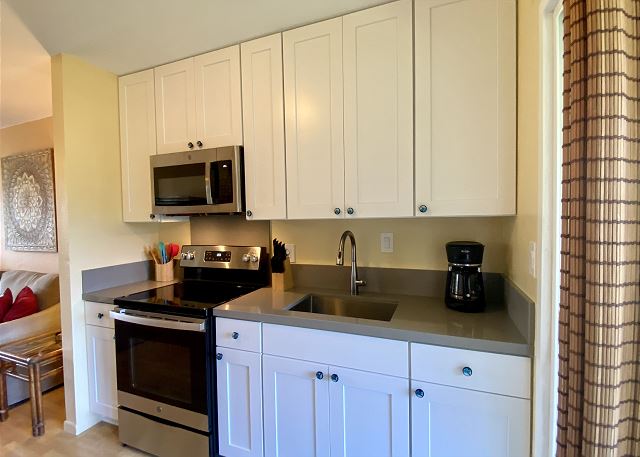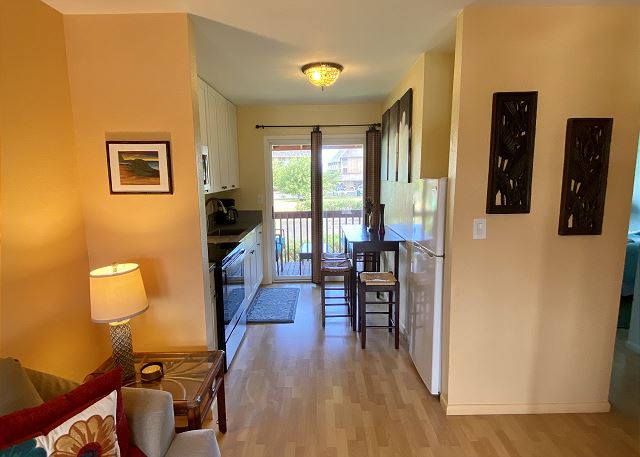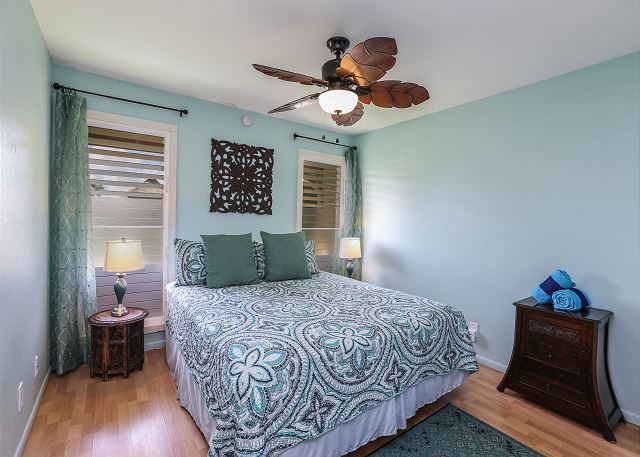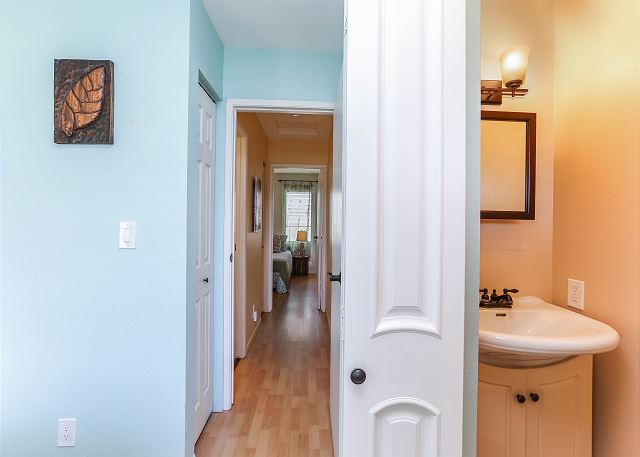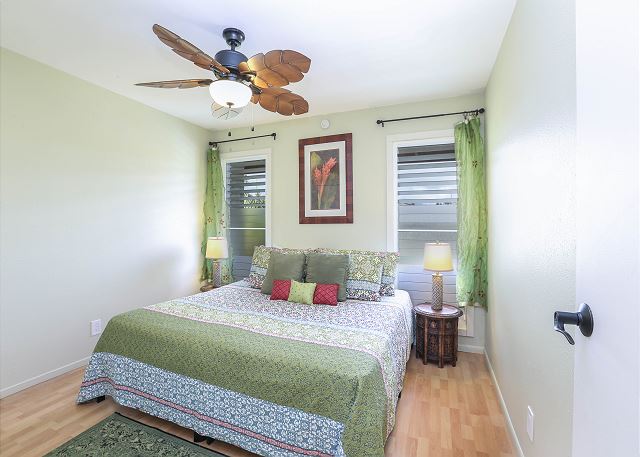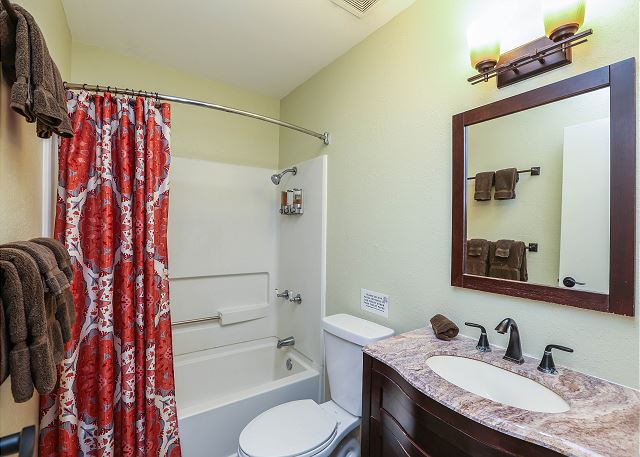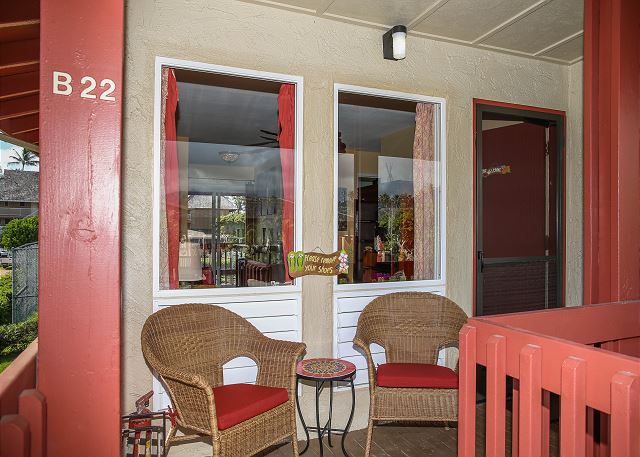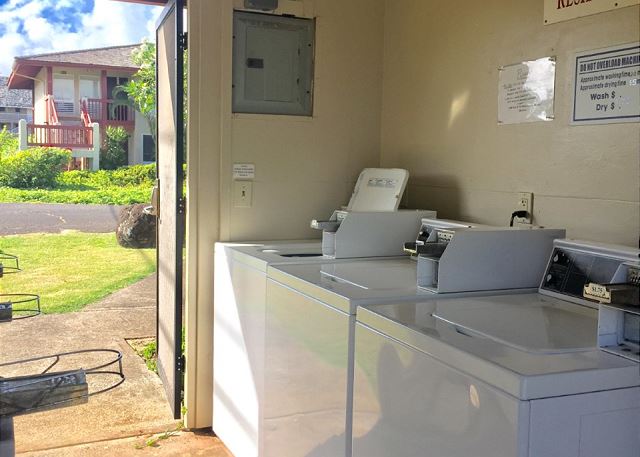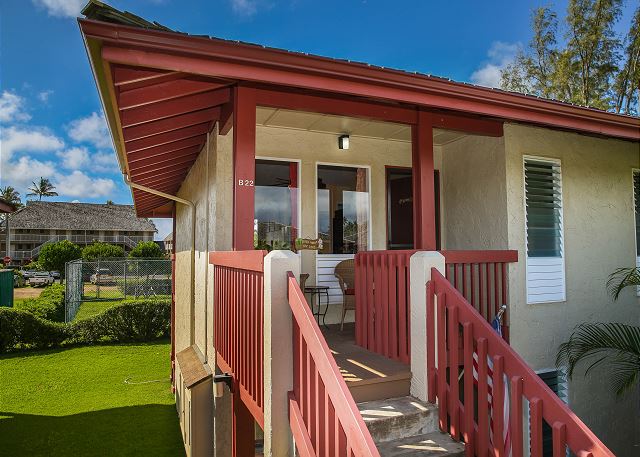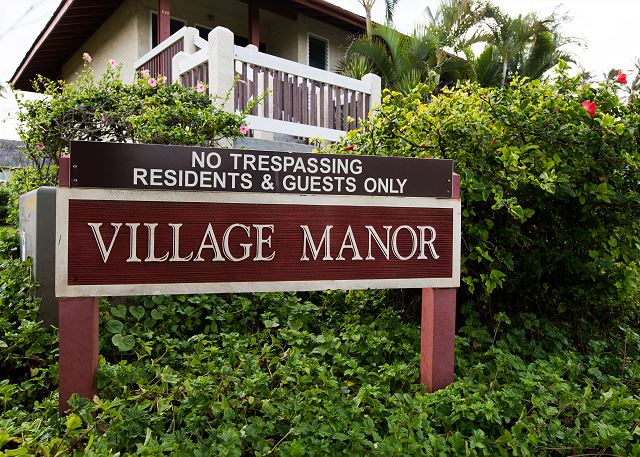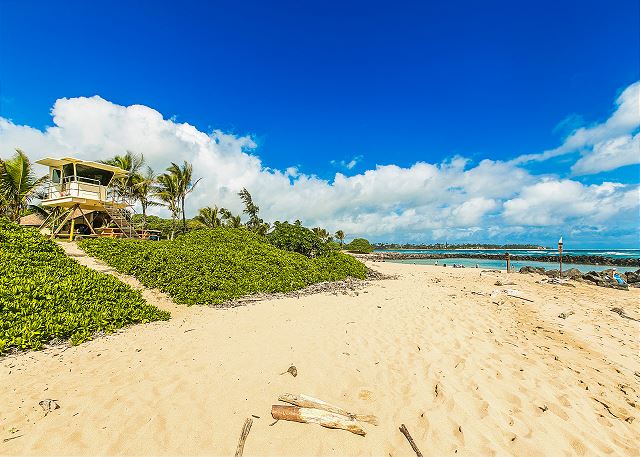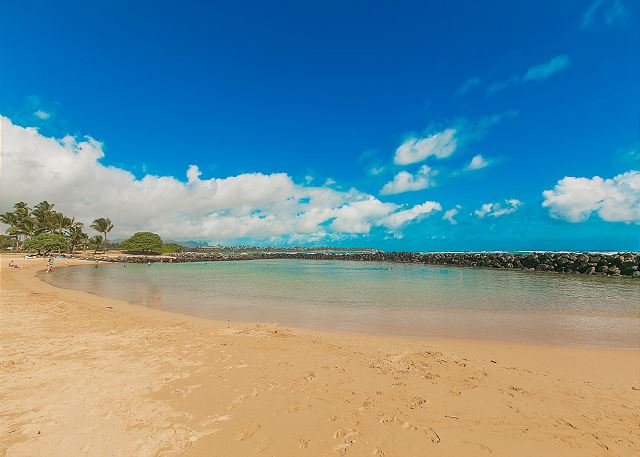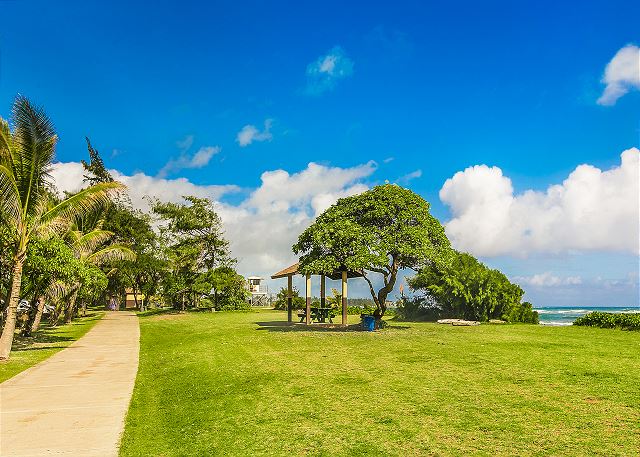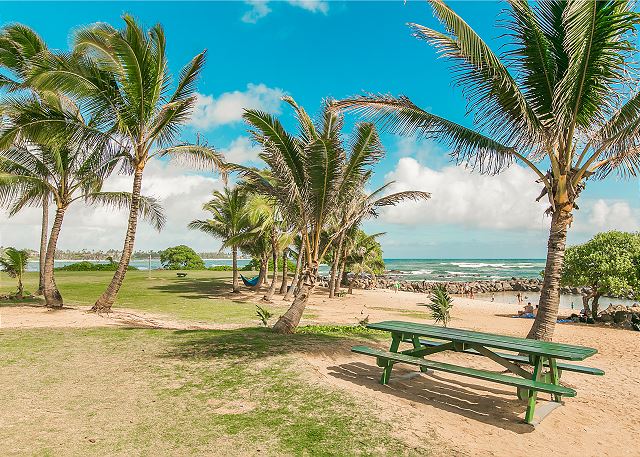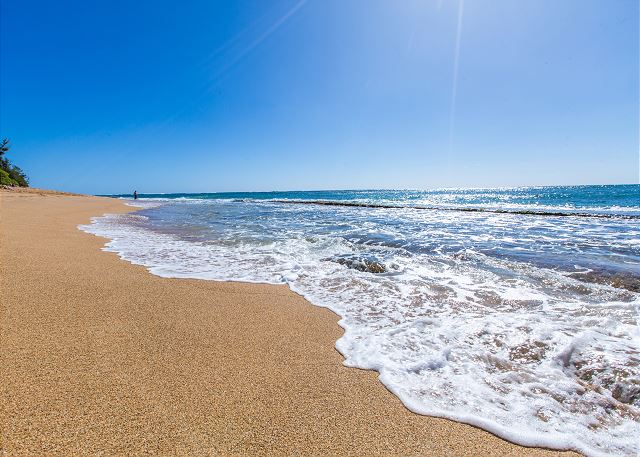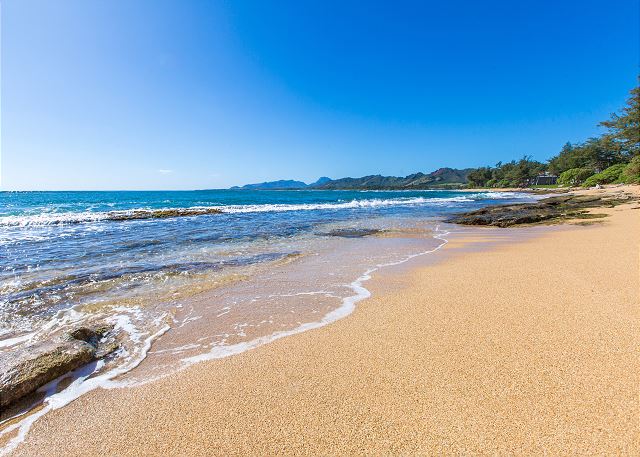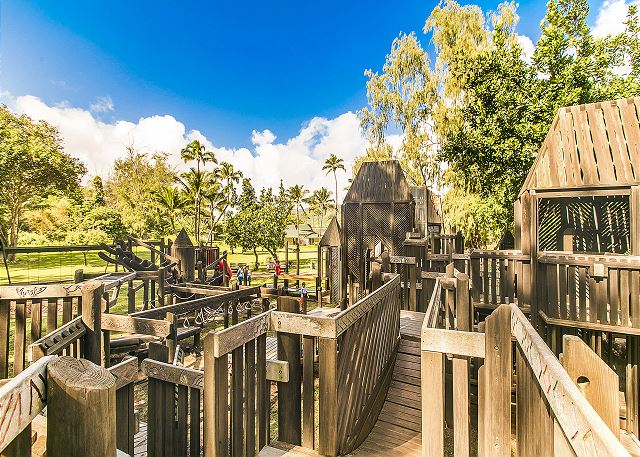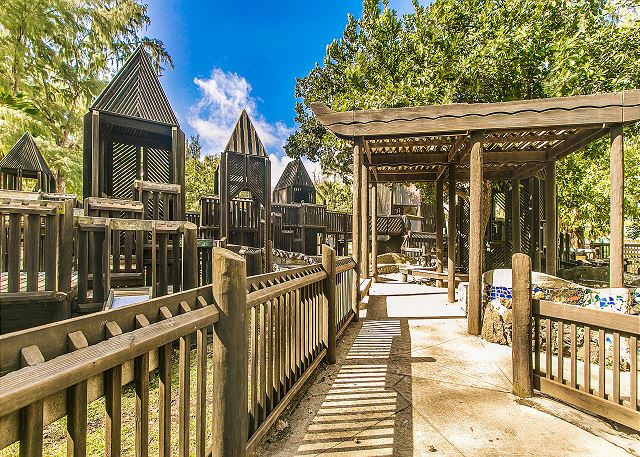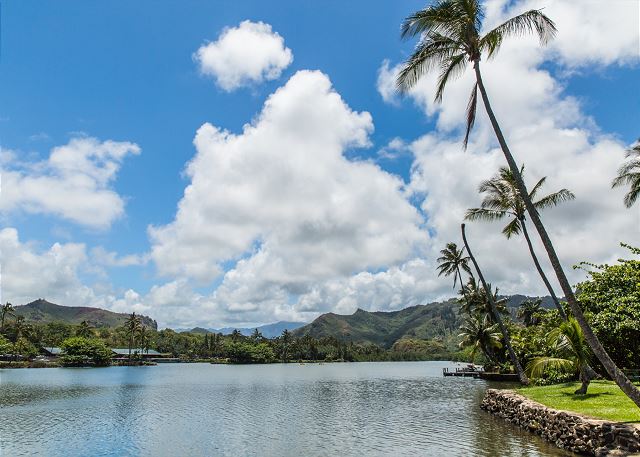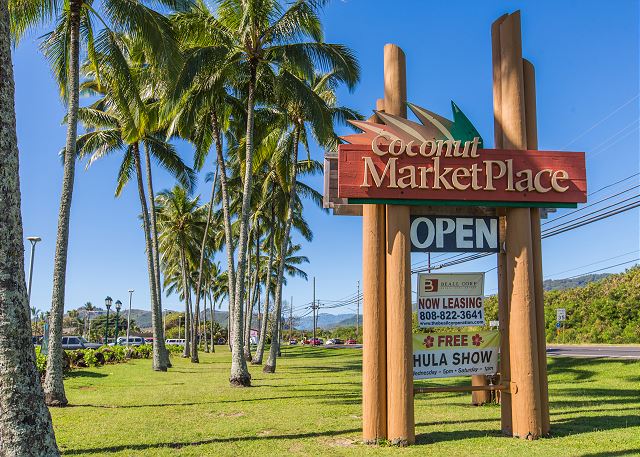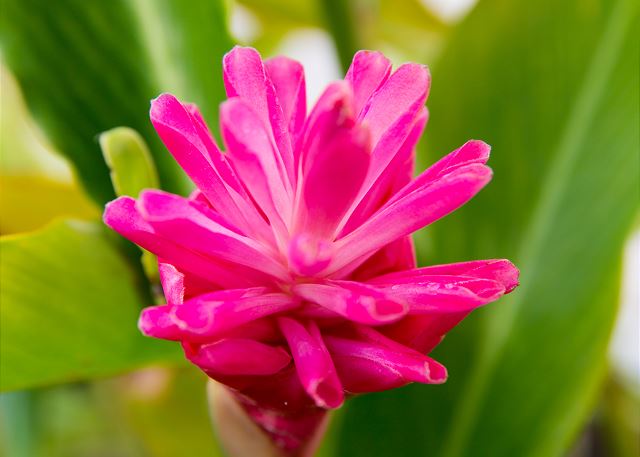 Plumeria Hale, Village Manor Apartment: #B22. Waipouli, Kapa'a, Kaua`i Vacation Rental.



We have implemented enhanced cleaning and disinfecting guidelines as well as infection prevention advice provided by the CDC. This is a Contactless Check-In Property.



"Plumeria Hale" is a bright and airy second story, two-bedroom condo with partial ocean views, located a short walk to the beach. Named after the delicate and beautiful plumeria flower, the space is inspired by the hues of creams, yellows and oranges typical of the flower as well as the blues and greens of the nearby ocean and surrounding lush coconut tree forest.



The central location on Kauai's eastern shore make this the perfect Kauai vacation rental. Easy walking distance to shops, beaches and restaurants makes this Kauai beach side condo a truly convenient place for your Kauai vacation rental. Located next door to the Coconut Grove at Waipouli, one of the largest coconut groves on the island where Hawaiian Royalty once went horseback riding.



The kitchen and dining area has double glass doors opening up to a cozy lanai where you can enjoy the ocean breeze and catch a glimpse of the ocean through the trees on each side of the resort located in front. Enjoy cooking and eating meals to the soothing sounds of the ocean with lots of natural light coming in. The kitchen has beautiful wood cabinets and is equipped with oven, refrigerator/freezer, microwave, toaster oven, blender, electric kettle, coffee maker and other amenities.



The Living room offers a smart TV with cable and DVR. Spectrum high speed internet is also included. The windows face the mountain side and offer partial mountain and coconut tree forest views.



The master bedroom, decorated in calm and dreamy blues has a new king size bed and a half bath. It's windows face the ocean and you can hear the waves as you fall asleep.



The guest bedroom, decorated in greens and browns, faces the mountain side and also offers partial mountain and coconut tree views. This bedroom can be set up as two twins or a king bed ($52 housekeeping fee applies for king conversion and bedding). It offers a closet and ceiling fan.



A coin operated washer & dryer are available at the property.



This 2nd floor end unit apartment is close to shopping and restaurants. We recommend renting a car so that you are able to explore this beautiful island freely.



NO elevator, AC or pool.



Holiday Rates apply from 12/15-1/15 with a 7 night minimum stay.

Hawaii State Tax ID#: TA-051-312-0768-01
Amenities

Baby crib
King
Shower
Twin/ single
Coin laundry
Satellite / Cable
Television
Hair Dryer
Internet
Iron & Board
Linens Provided
Living Room
Parking
Telephone
Towels Provided
Coffee Maker
Dishes & Utensils
Kitchen
Microwave
Oven
Refrigerator
Stove
Toaster
Downtown
Near The Ocean
Balcony
Deck / Patio
Lanai / Gazebo
Children welcome
Non smoking only
Pets not allowed
Flexible
Recommended
Smoke detectors
Emergency phone number: Medical
Emergency phone number: Police
Emergency phone number: Fire
Enhanced cleaning practices
Clean with disinfectant
No-contact check-in and check-out
High touch surfaces cleaned with disinfectant
Towels and bedding washed in water that's at least 60sC/140sF
1 day (24 hours)
Cookware
Blender
Ceiling Fans
Wifi
Beach Towels
Pack n Play
Coin Operated Laundry
High Chair
Balcony
Beach Chairs
Bike Path
Lanai
Beach Towels
Close to Town
Village Manor
Coconut Coast
---
Charming and cozy
Feb 23, 2020
This second floor two bedroom apartment is an ideal place to stay in Kapaa. Everything you need is provided. It's clean and located just 1/2 block from the beach. There are many good restaurants, grocers and businesses near by. Entry is easy and safe.
---
Centrally Located
Jan 29, 2020
Good location. Easy walking distance to grocery, restaurants, ocean, etc. Good unit. 2 recommendations: access to a barbeque grill; solar lights on the exterior stairs. Mahalo
---
Great Location-Very Basic
Jun 27, 2019
Place was clean and thoughtfully well stocked with kitchen, bath supplies, fans and beach towels and chairs. Was just too hot not to have AC in June. Would look for more of a vacation type unit next time.
Book Your Stay!
Select your arrival and departure dates below to reserve this unit.


April 2021

| S | M | T | W | T | F | S |
| --- | --- | --- | --- | --- | --- | --- |
| | | | | 01 | 02 | 03 |
| 04 | 05 | 06 | 07 | 08 | 09 | 10 |
| 11 | 12 | 13 | 14 | 15 | 16 | 17 |
| 18 | 19 | 20 | 21 | 22 | 23 | 24 |
| 25 | 26 | 27 | 28 | 29 | 30 | |
May 2021

| S | M | T | W | T | F | S |
| --- | --- | --- | --- | --- | --- | --- |
| | | | | | | 01 |
| 02 | 03 | 04 | 05 | 06 | 07 | 08 |
| 09 | 10 | 11 | 12 | 13 | 14 | 15 |
| 16 | 17 | 18 | 19 | 20 | 21 | 22 |
| 23 | 24 | 25 | 26 | 27 | 28 | 29 |
| 30 | 31 | | | | | |
June 2021

| S | M | T | W | T | F | S |
| --- | --- | --- | --- | --- | --- | --- |
| | | 01 | 02 | 03 | 04 | 05 |
| 06 | 07 | 08 | 09 | 10 | 11 | 12 |
| 13 | 14 | 15 | 16 | 17 | 18 | 19 |
| 20 | 21 | 22 | 23 | 24 | 25 | 26 |
| 27 | 28 | 29 | 30 | | | |
July 2021

| S | M | T | W | T | F | S |
| --- | --- | --- | --- | --- | --- | --- |
| | | | | 01 | 02 | 03 |
| 04 | 05 | 06 | 07 | 08 | 09 | 10 |
| 11 | 12 | 13 | 14 | 15 | 16 | 17 |
| 18 | 19 | 20 | 21 | 22 | 23 | 24 |
| 25 | 26 | 27 | 28 | 29 | 30 | 31 |
August 2021

| S | M | T | W | T | F | S |
| --- | --- | --- | --- | --- | --- | --- |
| 01 | 02 | 03 | 04 | 05 | 06 | 07 |
| 08 | 09 | 10 | 11 | 12 | 13 | 14 |
| 15 | 16 | 17 | 18 | 19 | 20 | 21 |
| 22 | 23 | 24 | 25 | 26 | 27 | 28 |
| 29 | 30 | 31 | | | | |
September 2021

| S | M | T | W | T | F | S |
| --- | --- | --- | --- | --- | --- | --- |
| | | | 01 | 02 | 03 | 04 |
| 05 | 06 | 07 | 08 | 09 | 10 | 11 |
| 12 | 13 | 14 | 15 | 16 | 17 | 18 |
| 19 | 20 | 21 | 22 | 23 | 24 | 25 |
| 26 | 27 | 28 | 29 | 30 | | |
October 2021

| S | M | T | W | T | F | S |
| --- | --- | --- | --- | --- | --- | --- |
| | | | | | 01 | 02 |
| 03 | 04 | 05 | 06 | 07 | 08 | 09 |
| 10 | 11 | 12 | 13 | 14 | 15 | 16 |
| 17 | 18 | 19 | 20 | 21 | 22 | 23 |
| 24 | 25 | 26 | 27 | 28 | 29 | 30 |
| 31 | | | | | | |
November 2021

| S | M | T | W | T | F | S |
| --- | --- | --- | --- | --- | --- | --- |
| | 01 | 02 | 03 | 04 | 05 | 06 |
| 07 | 08 | 09 | 10 | 11 | 12 | 13 |
| 14 | 15 | 16 | 17 | 18 | 19 | 20 |
| 21 | 22 | 23 | 24 | 25 | 26 | 27 |
| 28 | 29 | 30 | | | | |
December 2021

| S | M | T | W | T | F | S |
| --- | --- | --- | --- | --- | --- | --- |
| | | | 01 | 02 | 03 | 04 |
| 05 | 06 | 07 | 08 | 09 | 10 | 11 |
| 12 | 13 | 14 | 15 | 16 | 17 | 18 |
| 19 | 20 | 21 | 22 | 23 | 24 | 25 |
| 26 | 27 | 28 | 29 | 30 | 31 | |
January 2022

| S | M | T | W | T | F | S |
| --- | --- | --- | --- | --- | --- | --- |
| | | | | | | 01 |
| 02 | 03 | 04 | 05 | 06 | 07 | 08 |
| 09 | 10 | 11 | 12 | 13 | 14 | 15 |
| 16 | 17 | 18 | 19 | 20 | 21 | 22 |
| 23 | 24 | 25 | 26 | 27 | 28 | 29 |
| 30 | 31 | | | | | |
February 2022

| S | M | T | W | T | F | S |
| --- | --- | --- | --- | --- | --- | --- |
| | | 01 | 02 | 03 | 04 | 05 |
| 06 | 07 | 08 | 09 | 10 | 11 | 12 |
| 13 | 14 | 15 | 16 | 17 | 18 | 19 |
| 20 | 21 | 22 | 23 | 24 | 25 | 26 |
| 27 | 28 | | | | | |
March 2022

| S | M | T | W | T | F | S |
| --- | --- | --- | --- | --- | --- | --- |
| | | 01 | 02 | 03 | 04 | 05 |
| 06 | 07 | 08 | 09 | 10 | 11 | 12 |
| 13 | 14 | 15 | 16 | 17 | 18 | 19 |
| 20 | 21 | 22 | 23 | 24 | 25 | 26 |
| 27 | 28 | 29 | 30 | 31 | | |
April 2022

| S | M | T | W | T | F | S |
| --- | --- | --- | --- | --- | --- | --- |
| | | | | | 01 | 02 |
| 03 | 04 | 05 | 06 | 07 | 08 | 09 |
| 10 | 11 | 12 | 13 | 14 | 15 | 16 |
| 17 | 18 | 19 | 20 | 21 | 22 | 23 |
| 24 | 25 | 26 | 27 | 28 | 29 | 30 |
May 2022

| S | M | T | W | T | F | S |
| --- | --- | --- | --- | --- | --- | --- |
| 01 | 02 | 03 | 04 | 05 | 06 | 07 |
| 08 | 09 | 10 | 11 | 12 | 13 | 14 |
| 15 | 16 | 17 | 18 | 19 | 20 | 21 |
| 22 | 23 | 24 | 25 | 26 | 27 | 28 |
| 29 | 30 | 31 | | | | |
June 2022

| S | M | T | W | T | F | S |
| --- | --- | --- | --- | --- | --- | --- |
| | | | 01 | 02 | 03 | 04 |
| 05 | 06 | 07 | 08 | 09 | 10 | 11 |
| 12 | 13 | 14 | 15 | 16 | 17 | 18 |
| 19 | 20 | 21 | 22 | 23 | 24 | 25 |
| 26 | 27 | 28 | 29 | 30 | | |
July 2022

| S | M | T | W | T | F | S |
| --- | --- | --- | --- | --- | --- | --- |
| | | | | | 01 | 02 |
| 03 | 04 | 05 | 06 | 07 | 08 | 09 |
| 10 | 11 | 12 | 13 | 14 | 15 | 16 |
| 17 | 18 | 19 | 20 | 21 | 22 | 23 |
| 24 | 25 | 26 | 27 | 28 | 29 | 30 |
| 31 | | | | | | |
Available
Unavailable
Check-In Only
Check-Out Only
Seasonal Rates
Starting from $148 per night

                    stdClass Object
(
    [id] => 83
    [ManagerID] => 1
    [ComplexID] => 0
    [Name] => Village Manor B22, In the Heart of Kapaa Town, Walk to Shops and Beaches
    [PropertyCode] => 2064-159797
    [Address1] => 4461 Kamoa Road
    [Address2] => 
    [City] => Kapaa
    [State] => HI
    [Country] => US
    [PostalCode] => 
    [Province] => 
    [Bedrooms] => 2
    [Bathrooms] => 1.5
    [Beds] => {"King":1,"Twin":2}
    [Type] => Condominium
    [Area] => 
    [Location] => Garden Island Properties, LLC
    [View] => Garden Unit
    [Video] => 
    [lat] => 22.059464
    [long] => -159.321257
    [map_id] => 0
    [Complex] => 241
    [Description] => Plumeria Hale, Village Manor Apartment: #B22.  Waipouli, Kapa'a, Kaua`i Vacation Rental.



We have implemented enhanced cleaning and disinfecting guidelines as well as infection prevention advice provided by the CDC. This is a Contactless Check-In Property.



"Plumeria Hale" is a bright and airy second story, two-bedroom condo with partial ocean views, located a short walk to the beach. Named after the delicate and beautiful plumeria flower, the space is inspired by the hues of creams, yellows and oranges typical of the flower as well as the blues and greens of the nearby ocean and surrounding lush coconut tree forest.



The central location on Kauai's eastern shore make this the perfect Kauai vacation rental. Easy walking distance to shops, beaches and restaurants makes this Kauai beach side condo a truly convenient place for your Kauai vacation rental. Located next door to the Coconut Grove at Waipouli, one of the largest coconut groves on the island where Hawaiian Royalty once went horseback riding.



The kitchen and dining area has double glass doors opening up to a cozy lanai where you can enjoy the ocean breeze and catch a glimpse of the ocean through the trees on each side of the resort located in front. Enjoy cooking and eating meals to the soothing sounds of the ocean with lots of natural light coming in. The kitchen has beautiful wood cabinets and is equipped with oven, refrigerator/freezer, microwave, toaster oven, blender, electric kettle, coffee maker and other amenities.



The Living room offers a smart TV with cable and DVR. Spectrum high speed internet is also included. The windows face the mountain side and offer partial mountain and coconut tree forest views.



The master bedroom, decorated in calm and dreamy blues has a new king size bed and a half bath. It's windows face the ocean and you can hear the waves as you fall asleep.



The guest bedroom, decorated in greens and browns, faces the mountain side and also offers partial mountain and coconut tree views. This bedroom can be set up as two twins or a king bed ($52 housekeeping fee applies for king conversion and bedding). It offers a closet and ceiling fan.



A coin operated washer & dryer are available at the property.



This 2nd floor end unit apartment is close to shopping and restaurants. We recommend renting a car so that you are able to explore this beautiful island freely.



NO elevator, AC or pool.



Holiday Rates apply from 12/15-1/15 with a 7 night minimum stay.

Hawaii State Tax ID#: TA-051-312-0768-01
    [ShortDescription] => 2 bedroom, 1.5 bath, 2nd floor end unit.  Full kitchen, complimentary WiFi and parking. King bed, 2 twins (converts to King upon request).  Sleeps 4. Walk to the beach, shops, restaurants and grocery stores.
    [Sleeps] => 4
    [MaxAdult] => 0
    [MaxSearchMonths] => 48
    [Status] => Active
    [page_slug] => Village_Manor_B22_In_the_Heart_of_Kapaa_Town_Walk_to_Shops_and_Beaches-2064-159797-1
    [SEOTitle] => Village Manor B22, Kapaa Town, Walk to Shops and Beach
    [SEODescription] => Village Manor B22, In the Heart of Kapaa Town, Walk to Shops and Beaches
    [Featured] => 0
    [created] => 0000-00-00 00:00:00
    [updated] => 2021-04-23 08:42:35
    [internalcode] => VM B22
    [photos] => Array
        (
            [0] => stdClass Object
                (
                    [id] => 3609743
                    [unit_id] => 83
                    [url] => https://pictures.escapia.com/GAISPR/159797/2487950616.jpg
                    [thumb_url] => https://pictures.escapia.com/GAISPR/159797/2487950616.jpg
                     => Living Room with Cable TV and Sofa Sleeper
                    [sort] => 0
                )

            [1] => stdClass Object
                (
                    [id] => 3609744
                    [unit_id] => 83
                    [url] => https://pictures.escapia.com/GAISPR/159797/0498160357.jpg
                    [thumb_url] => https://pictures.escapia.com/GAISPR/159797/0498160357.jpg
                     => Back Patio off of Kitchen facing ocean.
                    [sort] => 1
                )

            [2] => stdClass Object
                (
                    [id] => 3609745
                    [unit_id] => 83
                    [url] => https://pictures.escapia.com/GAISPR/159797/3683570962.jpg
                    [thumb_url] => https://pictures.escapia.com/GAISPR/159797/3683570962.jpg
                     => Living Area with Sofa Sleeper, Cable TV
                    [sort] => 2
                )

            [3] => stdClass Object
                (
                    [id] => 3609746
                    [unit_id] => 83
                    [url] => https://pictures.escapia.com/GAISPR/159797/6398790848.jpg
                    [thumb_url] => https://pictures.escapia.com/GAISPR/159797/6398790848.jpg
                     => Clean, Remodeled Full Kitchen for Dining In
                    [sort] => 3
                )

            [4] => stdClass Object
                (
                    [id] => 3609747
                    [unit_id] => 83
                    [url] => https://pictures.escapia.com/GAISPR/159797/1938690209.jpg
                    [thumb_url] => https://pictures.escapia.com/GAISPR/159797/1938690209.jpg
                     => Remodeled Full Kitchen for Dining In
                    [sort] => 4
                )

            [5] => stdClass Object
                (
                    [id] => 3609748
                    [unit_id] => 83
                    [url] => https://pictures.escapia.com/GAISPR/159797/6224840452.jpg
                    [thumb_url] => https://pictures.escapia.com/GAISPR/159797/6224840452.jpg
                     => keep
                    [sort] => 5
                )

            [6] => stdClass Object
                (
                    [id] => 3609749
                    [unit_id] => 83
                    [url] => https://pictures.escapia.com/GAISPR/159797/2624960276.jpg
                    [thumb_url] => https://pictures.escapia.com/GAISPR/159797/2624960276.jpg
                     => King Master Bedroom
                    [sort] => 6
                )

            [7] => stdClass Object
                (
                    [id] => 3609750
                    [unit_id] => 83
                    [url] => https://pictures.escapia.com/GAISPR/159797/7514320908.jpg
                    [thumb_url] => https://pictures.escapia.com/GAISPR/159797/7514320908.jpg
                     => Half Bathroom in Master Bedroom
                    [sort] => 7
                )

            [8] => stdClass Object
                (
                    [id] => 3609751
                    [unit_id] => 83
                    [url] => https://pictures.escapia.com/GAISPR/159797/5425460592.jpg
                    [thumb_url] => https://pictures.escapia.com/GAISPR/159797/5425460592.jpg
                     => King or Twin Bedroom #2
                    [sort] => 8
                )

            [9] => stdClass Object
                (
                    [id] => 3609752
                    [unit_id] => 83
                    [url] => https://pictures.escapia.com/GAISPR/159797/0182750719.jpg
                    [thumb_url] => https://pictures.escapia.com/GAISPR/159797/0182750719.jpg
                     => Full Bathroom in Hallway
                    [sort] => 9
                )

            [10] => stdClass Object
                (
                    [id] => 3609753
                    [unit_id] => 83
                    [url] => https://pictures.escapia.com/GAISPR/159797/9984620193.jpg
                    [thumb_url] => https://pictures.escapia.com/GAISPR/159797/9984620193.jpg
                     => Front Entry
                    [sort] => 10
                )

            [11] => stdClass Object
                (
                    [id] => 3609754
                    [unit_id] => 83
                    [url] => https://pictures.escapia.com/GAISPR/159797/6937190983.jpg
                    [thumb_url] => https://pictures.escapia.com/GAISPR/159797/6937190983.jpg
                     => 
                    [sort] => 11
                )

            [12] => stdClass Object
                (
                    [id] => 3609755
                    [unit_id] => 83
                    [url] => https://pictures.escapia.com/GAISPR/159797/4345670035.jpg
                    [thumb_url] => https://pictures.escapia.com/GAISPR/159797/4345670035.jpg
                     => Second Floor, End Unit
                    [sort] => 12
                )

            [13] => stdClass Object
                (
                    [id] => 3609756
                    [unit_id] => 83
                    [url] => https://pictures.escapia.com/GAISPR/159797/2802990745.jpg
                    [thumb_url] => https://pictures.escapia.com/GAISPR/159797/2802990745.jpg
                     => Village Manor 
                    [sort] => 13
                )

            [14] => stdClass Object
                (
                    [id] => 3609757
                    [unit_id] => 83
                    [url] => https://pictures.escapia.com/GAISPR/159797/0554840376.jpg
                    [thumb_url] => https://pictures.escapia.com/GAISPR/159797/0554840376.jpg
                     => Life-guarded Lydgate Beach is 2 miles south
                    [sort] => 14
                )

            [15] => stdClass Object
                (
                    [id] => 3609758
                    [unit_id] => 83
                    [url] => https://pictures.escapia.com/GAISPR/159797/8533260397.jpg
                    [thumb_url] => https://pictures.escapia.com/GAISPR/159797/8533260397.jpg
                     => Lydgate Swimming Pond for Snorkeling
                    [sort] => 15
                )

            [16] => stdClass Object
                (
                    [id] => 3609759
                    [unit_id] => 83
                    [url] => https://pictures.escapia.com/GAISPR/159797/7848460372.jpg
                    [thumb_url] => https://pictures.escapia.com/GAISPR/159797/7848460372.jpg
                     => Bike Path along Lydgate Beach and Coconut Coast
                    [sort] => 16
                )

            [17] => stdClass Object
                (
                    [id] => 3609760
                    [unit_id] => 83
                    [url] => https://pictures.escapia.com/GAISPR/159797/3821300522.jpg
                    [thumb_url] => https://pictures.escapia.com/GAISPR/159797/3821300522.jpg
                     => Picnic spots at Lydgate Beach
                    [sort] => 17
                )

            [18] => stdClass Object
                (
                    [id] => 3609761
                    [unit_id] => 83
                    [url] => https://pictures.escapia.com/GAISPR/159797/4612840984.jpg
                    [thumb_url] => https://pictures.escapia.com/GAISPR/159797/4612840984.jpg
                     => Coconut Coast Beach
                    [sort] => 18
                )

            [19] => stdClass Object
                (
                    [id] => 3609762
                    [unit_id] => 83
                    [url] => https://pictures.escapia.com/GAISPR/159797/0478010158.jpg
                    [thumb_url] => https://pictures.escapia.com/GAISPR/159797/0478010158.jpg
                     => Coconut Coast Beach
                    [sort] => 19
                )

            [20] => stdClass Object
                (
                    [id] => 3609763
                    [unit_id] => 83
                    [url] => https://pictures.escapia.com/GAISPR/159797/4321530676.jpg
                    [thumb_url] => https://pictures.escapia.com/GAISPR/159797/4321530676.jpg
                     => Kamalani Playground
                    [sort] => 20
                )

            [21] => stdClass Object
                (
                    [id] => 3609764
                    [unit_id] => 83
                    [url] => https://pictures.escapia.com/GAISPR/159797/8408550672.jpg
                    [thumb_url] => https://pictures.escapia.com/GAISPR/159797/8408550672.jpg
                     => Kamalani Playground
                    [sort] => 21
                )

            [22] => stdClass Object
                (
                    [id] => 3609765
                    [unit_id] => 83
                    [url] => https://pictures.escapia.com/GAISPR/159797/2289150203.jpg
                    [thumb_url] => https://pictures.escapia.com/GAISPR/159797/2289150203.jpg
                     => Wailua River, 1.5 miles South
                    [sort] => 22
                )

            [23] => stdClass Object
                (
                    [id] => 3609766
                    [unit_id] => 83
                    [url] => https://pictures.escapia.com/GAISPR/159797/5852800900.jpg
                    [thumb_url] => https://pictures.escapia.com/GAISPR/159797/5852800900.jpg
                     => Coconut Market Place
                    [sort] => 23
                )

            [24] => stdClass Object
                (
                    [id] => 3609767
                    [unit_id] => 83
                    [url] => https://pictures.escapia.com/GAISPR/159797/2619360051.jpg
                    [thumb_url] => https://pictures.escapia.com/GAISPR/159797/2619360051.jpg
                     => Tropical Foliage
                    [sort] => 24
                )

        )

    [rates] => Array
        (
            [0] => stdClass Object
                (
                    [id] => 1243802
                    [start_date] => 2021-04-01
                    [end_date] => 2021-12-17
                    [amount] => 150.4375
                    [chargebasis] => Daily
                    [unit_id] => 83
                )

            [1] => stdClass Object
                (
                    [id] => 1243803
                    [start_date] => 2021-04-01
                    [end_date] => 2021-12-17
                    [amount] => 1141
                    [chargebasis] => Weekly
                    [unit_id] => 83
                )

            [2] => stdClass Object
                (
                    [id] => 1243804
                    [start_date] => 2021-04-01
                    [end_date] => 2021-12-17
                    [amount] => 4358.85
                    [chargebasis] => Monthly
                    [unit_id] => 83
                )

        )

    [attributes] => Array
        (
            [0] => stdClass Object
                (
                    [id] => 7018088
                    [name] => baby crib
                    [value] => 
                    [group] => AMENITY
                    [unit_id] => 83
                )

            [1] => stdClass Object
                (
                    [id] => 7018089
                    [name] => king
                    [value] => 
                    [group] => AMENITY
                    [unit_id] => 83
                )

            [2] => stdClass Object
                (
                    [id] => 7018090
                    [name] => shower
                    [value] => 
                    [group] => AMENITY
                    [unit_id] => 83
                )

            [3] => stdClass Object
                (
                    [id] => 7018091
                    [name] => twin/ single
                    [value] => 
                    [group] => AMENITY
                    [unit_id] => 83
                )

            [4] => stdClass Object
                (
                    [id] => 7018092
                    [name] => coin laundry
                    [value] => 
                    [group] => ATTRACTIONS
                    [unit_id] => 83
                )

            [5] => stdClass Object
                (
                    [id] => 7018093
                    [name] => Satellite / Cable
                    [value] => 
                    [group] => ENTERTAINMENT
                    [unit_id] => 83
                )

            [6] => stdClass Object
                (
                    [id] => 7018094
                    [name] => Television
                    [value] => 
                    [group] => ENTERTAINMENT
                    [unit_id] => 83
                )

            [7] => stdClass Object
                (
                    [id] => 7018095
                    [name] => Hair Dryer
                    [value] => 
                    [group] => GENERAL
                    [unit_id] => 83
                )

            [8] => stdClass Object
                (
                    [id] => 7018096
                    [name] => Internet
                    [value] => 
                    [group] => GENERAL
                    [unit_id] => 83
                )

            [9] => stdClass Object
                (
                    [id] => 7018097
                    [name] => Iron & Board
                    [value] => 
                    [group] => GENERAL
                    [unit_id] => 83
                )

            [10] => stdClass Object
                (
                    [id] => 7018098
                    [name] => Linens Provided
                    [value] => 
                    [group] => GENERAL
                    [unit_id] => 83
                )

            [11] => stdClass Object
                (
                    [id] => 7018099
                    [name] => Living Room
                    [value] => 
                    [group] => GENERAL
                    [unit_id] => 83
                )

            [12] => stdClass Object
                (
                    [id] => 7018100
                    [name] => Parking
                    [value] => 
                    [group] => GENERAL
                    [unit_id] => 83
                )

            [13] => stdClass Object
                (
                    [id] => 7018101
                    [name] => Telephone
                    [value] => 
                    [group] => GENERAL
                    [unit_id] => 83
                )

            [14] => stdClass Object
                (
                    [id] => 7018102
                    [name] => Towels Provided
                    [value] => 
                    [group] => GENERAL
                    [unit_id] => 83
                )

            [15] => stdClass Object
                (
                    [id] => 7018103
                    [name] => Coffee Maker
                    [value] => 
                    [group] => KITCHEN
                    [unit_id] => 83
                )

            [16] => stdClass Object
                (
                    [id] => 7018104
                    [name] => Dishes & Utensils
                    [value] => 
                    [group] => KITCHEN
                    [unit_id] => 83
                )

            [17] => stdClass Object
                (
                    [id] => 7018105
                    [name] => Kitchen
                    [value] => 
                    [group] => KITCHEN
                    [unit_id] => 83
                )

            [18] => stdClass Object
                (
                    [id] => 7018106
                    [name] => Microwave
                    [value] => 
                    [group] => KITCHEN
                    [unit_id] => 83
                )

            [19] => stdClass Object
                (
                    [id] => 7018107
                    [name] => Oven
                    [value] => 
                    [group] => KITCHEN
                    [unit_id] => 83
                )

            [20] => stdClass Object
                (
                    [id] => 7018108
                    [name] => Refrigerator
                    [value] => 
                    [group] => KITCHEN
                    [unit_id] => 83
                )

            [21] => stdClass Object
                (
                    [id] => 7018109
                    [name] => Stove
                    [value] => 
                    [group] => KITCHEN
                    [unit_id] => 83
                )

            [22] => stdClass Object
                (
                    [id] => 7018110
                    [name] => Toaster
                    [value] => 
                    [group] => KITCHEN
                    [unit_id] => 83
                )

            [23] => stdClass Object
                (
                    [id] => 7018111
                    [name] => Downtown
                    [value] => 
                    [group] => LOCATION_TYPE
                    [unit_id] => 83
                )

            [24] => stdClass Object
                (
                    [id] => 7018112
                    [name] => Near The Ocean
                    [value] => 
                    [group] => LOCATION_TYPE
                    [unit_id] => 83
                )

            [25] => stdClass Object
                (
                    [id] => 7018113
                    [name] => Balcony
                    [value] => 
                    [group] => OUTSIDE
                    [unit_id] => 83
                )

            [26] => stdClass Object
                (
                    [id] => 7018114
                    [name] => Deck / Patio
                    [value] => 
                    [group] => OUTSIDE
                    [unit_id] => 83
                )

            [27] => stdClass Object
                (
                    [id] => 7018115
                    [name] => Lanai / Gazebo
                    [value] => 
                    [group] => OUTSIDE
                    [unit_id] => 83
                )

            [28] => stdClass Object
                (
                    [id] => 7018116
                    [name] => children welcome
                    [value] => 
                    [group] => SUITABILITY
                    [unit_id] => 83
                )

            [29] => stdClass Object
                (
                    [id] => 7018117
                    [name] => non smoking only
                    [value] => 
                    [group] => SUITABILITY
                    [unit_id] => 83
                )

            [30] => stdClass Object
                (
                    [id] => 7018118
                    [name] => pets not allowed
                    [value] => 
                    [group] => SUITABILITY
                    [unit_id] => 83
                )

            [31] => stdClass Object
                (
                    [id] => 7018119
                    [name] => flexible
                    [value] => 
                    [group] => ARRIVAL_DAY
                    [unit_id] => 83
                )

            [32] => stdClass Object
                (
                    [id] => 7018120
                    [name] => recommended
                    [value] => 
                    [group] => CAR
                    [unit_id] => 83
                )

            [33] => stdClass Object
                (
                    [id] => 7018121
                    [name] => Smoke detectors
                    [value] => 
                    [group] => Safety
                    [unit_id] => 83
                )

            [34] => stdClass Object
                (
                    [id] => 7018122
                    [name] => Emergency phone number: Medical
                    [value] => 
                    [group] => Safety
                    [unit_id] => 83
                )

            [35] => stdClass Object
                (
                    [id] => 7018123
                    [name] => Emergency phone number: Police
                    [value] => 
                    [group] => Safety
                    [unit_id] => 83
                )

            [36] => stdClass Object
                (
                    [id] => 7018124
                    [name] => Emergency phone number: Fire
                    [value] => 
                    [group] => Safety
                    [unit_id] => 83
                )

            [37] => stdClass Object
                (
                    [id] => 7018125
                    [name] => Enhanced cleaning practices
                    [value] => 
                    [group] => Health and Safety
                    [unit_id] => 83
                )

            [38] => stdClass Object
                (
                    [id] => 7018126
                    [name] => Clean with disinfectant
                    [value] => 
                    [group] => Health and Safety
                    [unit_id] => 83
                )

            [39] => stdClass Object
                (
                    [id] => 7018127
                    [name] => No-contact check-in and check-out
                    [value] => 
                    [group] => Health and Safety
                    [unit_id] => 83
                )

            [40] => stdClass Object
                (
                    [id] => 7018128
                    [name] => High touch surfaces cleaned with disinfectant
                    [value] => 
                    [group] => Health and Safety
                    [unit_id] => 83
                )

            [41] => stdClass Object
                (
                    [id] => 7018129
                    [name] => Towels and bedding washed in water that's at least 60sC/140sF
                    [value] => 
                    [group] => Health and Safety
                    [unit_id] => 83
                )

            [42] => stdClass Object
                (
                    [id] => 7018130
                    [name] => 1 day (24 hours)
                    [value] => 
                    [group] => Health and Safety
                    [unit_id] => 83
                )

            [43] => stdClass Object
                (
                    [id] => 7018131
                    [name] => Cookware
                    [value] => 
                    [group] => Kitchen
                    [unit_id] => 83
                )

            [44] => stdClass Object
                (
                    [id] => 7018132
                    [name] => Blender
                    [value] => 
                    [group] => Kitchen
                    [unit_id] => 83
                )

            [45] => stdClass Object
                (
                    [id] => 7018133
                    [name] => Ceiling Fans
                    [value] => 
                    [group] => Living
                    [unit_id] => 83
                )

            [46] => stdClass Object
                (
                    [id] => 7018134
                    [name] => Wifi
                    [value] => 
                    [group] => Living
                    [unit_id] => 83
                )

            [47] => stdClass Object
                (
                    [id] => 7018135
                    [name] => Beach Towels
                    [value] => 
                    [group] => Living
                    [unit_id] => 83
                )

            [48] => stdClass Object
                (
                    [id] => 7018136
                    [name] => Pack n Play
                    [value] => 
                    [group] => Living
                    [unit_id] => 83
                )

            [49] => stdClass Object
                (
                    [id] => 7018137
                    [name] => Coin Operated Laundry
                    [value] => 
                    [group] => Living
                    [unit_id] => 83
                )

            [50] => stdClass Object
                (
                    [id] => 7018138
                    [name] => High Chair
                    [value] => 
                    [group] => Living
                    [unit_id] => 83
                )

            [51] => stdClass Object
                (
                    [id] => 7018139
                    [name] => Balcony
                    [value] => 
                    [group] => Outdoor
                    [unit_id] => 83
                )

            [52] => stdClass Object
                (
                    [id] => 7018140
                    [name] => Beach Chairs
                    [value] => 
                    [group] => Outdoor
                    [unit_id] => 83
                )

            [53] => stdClass Object
                (
                    [id] => 7018141
                    [name] => Bike Path
                    [value] => 
                    [group] => Outdoor
                    [unit_id] => 83
                )

            [54] => stdClass Object
                (
                    [id] => 7018142
                    [name] => Lanai
                    [value] => 
                    [group] => Outdoor
                    [unit_id] => 83
                )

            [55] => stdClass Object
                (
                    [id] => 7018143
                    [name] => Beach Towels
                    [value] => 
                    [group] => Outdoor
                    [unit_id] => 83
                )

            [56] => stdClass Object
                (
                    [id] => 7018144
                    [name] => Close to Town
                    [value] => 
                    [group] => Geographic
                    [unit_id] => 83
                )

            [57] => stdClass Object
                (
                    [id] => 7018145
                    [name] => Village Manor
                    [value] => 
                    [group] => Geographic
                    [unit_id] => 83
                )

            [58] => stdClass Object
                (
                    [id] => 7018146
                    [name] => Coconut Coast
                    [value] => 
                    [group] => Geographic
                    [unit_id] => 83
                )

        )

    [avail] => Array
        (
            [0] => stdClass Object
                (
                    [id] => 26278419
                    [start_date] => 2021-04-01
                    [end_date] => 2021-04-06
                    [unit_id] => 83
                )

            [1] => stdClass Object
                (
                    [id] => 26278420
                    [start_date] => 2021-04-11
                    [end_date] => 2021-04-20
                    [unit_id] => 83
                )

            [2] => stdClass Object
                (
                    [id] => 26278421
                    [start_date] => 2021-04-22
                    [end_date] => 2021-05-01
                    [unit_id] => 83
                )

            [3] => stdClass Object
                (
                    [id] => 26278422
                    [start_date] => 2021-05-08
                    [end_date] => 2021-06-27
                    [unit_id] => 83
                )

            [4] => stdClass Object
                (
                    [id] => 26278423
                    [start_date] => 2021-07-14
                    [end_date] => 2021-07-24
                    [unit_id] => 83
                )

            [5] => stdClass Object
                (
                    [id] => 26278424
                    [start_date] => 2021-09-22
                    [end_date] => 2021-10-01
                    [unit_id] => 83
                )

            [6] => stdClass Object
                (
                    [id] => 26278425
                    [start_date] => 2021-12-27
                    [end_date] => 2022-01-06
                    [unit_id] => 83
                )

        )

    [reviews] => Array
        (
            [0] => stdClass Object
                (
                    [id] => 30635
                    [external_id] => 29e044c2-f6ce-4510-95c3-4739cf3b404b
                    [prop_id] => 83
                    [review_id] => 0
                    [source] => Escapia
                    [title] => Charming and cozy 
                    [review] => This second floor two bedroom apartment is an ideal place to stay in Kapaa.  Everything you need is provided. It's clean and located just 1/2 block from the beach.  There are many good restaurants, grocers and businesses near by.  Entry is easy and safe.  
                    [name] => James M L.
                    [email] => lynchden@comcast.net
                    [location] => 
                    [response] => Aloha James! Happy to hear you had everything needed for your stay. We thank you for your stay and awesome review! Please come back again soon. Mahalo nui loa, Garden Island Properties
                    [response_date] => 2020-05-21
                    [rating] => 5
                    [review_date] => 2020-02-23
                    [featured] => 
                    [status] => 1
                    [checkin_date] => 2020-02-15
                    [nights_stayed] => 4
                    [sfrm] => 5
                    [clean] => 5
                    [rto] => 1
                    [pc] => 5
                    [loc] => 5
                    [meta] => Array
                        (
                        )

                )

            [1] => stdClass Object
                (
                    [id] => 30609
                    [external_id] => de4fb1b3-caef-4ae3-9acf-46ea42faea86
                    [prop_id] => 83
                    [review_id] => 0
                    [source] => Escapia
                    [title] => Centrally Located
                    [review] => Good location. Easy walking distance to grocery, restaurants, ocean, etc.  Good unit.  2 recommendations:  access to a barbeque grill; solar lights on the exterior stairs.  Mahalo
                    [name] => 
                    [email] => dickey03@att.net
                    [location] => 
                    [response] => Aloha Janet and mahalo for your stay! We are glad you enjoyed the unit and convenient location of the property. We appreciate your review and recommendations. At this time the property does not allow barbecue grills onsite. We hope that you will back to visit beautiful Kauai again soon! Mahalo nui loa, Garden Island Properties 
                    [response_date] => 2020-05-21
                    [rating] => 4
                    [review_date] => 2020-01-29
                    [featured] => 
                    [status] => 1
                    [checkin_date] => 2019-12-28
                    [nights_stayed] => 28
                    [sfrm] => 5
                    [clean] => 4
                    [rto] => 1
                    [pc] => 5
                    [loc] => 5
                    [meta] => Array
                        (
                        )

                )

            [2] => stdClass Object
                (
                    [id] => 30344
                    [external_id] => 29682c4a-3e4e-449a-a884-f8c15cdb7ecf
                    [prop_id] => 83
                    [review_id] => 0
                    [source] => Escapia
                    [title] => Great Location-Very Basic
                    [review] => Place was clean and thoughtfully well stocked with kitchen, bath supplies, fans and beach towels and chairs. Was just too hot not to have AC in June. Would look for more of a vacation type unit next time. 
                    [name] => 
                    [email] => cs@burgesprop.com
                    [location] => 
                    [response] => Aloha!  We are glad you found your unit clean and enjoyed the location.  This has been a warm summer and we do provide portable fans as well as a ceiling fan in each room.  The new owners of this condo have gone out of their way to make sure the unit has everything one may need!  We are glad you found this apartment well stocked!
                    [response_date] => 2019-07-19
                    [rating] => 3
                    [review_date] => 2019-06-27
                    [featured] => 
                    [status] => 1
                    [checkin_date] => 2019-06-20
                    [nights_stayed] => 5
                    [sfrm] => 5
                    [clean] => 4
                    [rto] => 
                    [pc] => 3
                    [loc] => 4
                    [meta] => Array
                        (
                        )

                )

        )

    [rateaddons] => Array
        (
        )

    [unit_meta] => Array
        (
            [0] => stdClass Object
                (
                    [id] => 495161
                    [unit_id] => 83
                    [key] => Custom3
                    [value] => 5839
                )

            [1] => stdClass Object
                (
                    [id] => 495162
                    [unit_id] => 83
                    [key] => DisplayRate
                    [value] => Starting from $148 per night
                )

            [2] => stdClass Object
                (
                    [id] => 495163
                    [unit_id] => 83
                    [key] => Location
                    [value] => Kapaa
                )

            [3] => stdClass Object
                (
                    [id] => 495164
                    [unit_id] => 83
                    [key] => LocationField
                    [value] => Garden Island Properties, LLC
                )

            [4] => stdClass Object
                (
                    [id] => 495165
                    [unit_id] => 83
                    [key] => Property Type
                    [value] => Condo
                )

            [5] => stdClass Object
                (
                    [id] => 495166
                    [unit_id] => 83
                    [key] => View
                    [value] => Garden View
                )

            [6] => stdClass Object
                (
                    [id] => 495167
                    [unit_id] => 83
                    [key] => MinLOS
                    [value] => 4
                )

            [7] => stdClass Object
                (
                    [id] => 495168
                    [unit_id] => 83
                    [key] => StayContext
                    [value] => Checkin
                )

            [8] => stdClass Object
                (
                    [id] => 495169
                    [unit_id] => 83
                    [key] => StayDays
                    [value] => a:7:{i:0;s:3:"Mon";i:1;s:3:"Tue";i:2;s:4:"Weds";i:3;s:4:"Thur";i:4;s:3:"Fri";i:5;s:3:"Sat";i:6;s:3:"Sun";}
                )

            [9] => stdClass Object
                (
                    [id] => 495823
                    [unit_id] => 83
                    [key] => Agreement
                    [value] => GUEST AGREEMENT 
RELATES TO ALL PROPERTIES. PLEASE READ THIS CONTRACT CAREFULLY. 
BY CLICKING ON THE ACCEPT BUTTON YOU (either an individual or a single entity) AGREE THAT THIS AGREEMENT IS ENFORCEABLE LIKE ANY WRITTEN CONTRACT SIGNED BY YOU. 

SECURITY D
                )

        )

    [minnights] => Array
        (
            [0] => stdClass Object
                (
                    [id] => 1286779
                    [start_date] => 2021-04-01
                    [end_date] => 2021-12-17
                    [prop_id] => 83
                    [nights] => 4
                    [rate_type] => Daily
                )

            [1] => stdClass Object
                (
                    [id] => 1286780
                    [start_date] => 2021-04-01
                    [end_date] => 2021-12-17
                    [prop_id] => 83
                    [nights] => 7
                    [rate_type] => Weekly
                )

            [2] => stdClass Object
                (
                    [id] => 1286781
                    [start_date] => 2021-04-01
                    [end_date] => 2021-12-17
                    [prop_id] => 83
                    [nights] => 30
                    [rate_type] => Monthly
                )

        )

    [manager] => stdClass Object
        (
            [id] => 1
            [ManagerID] => 1
            [Name] => Escapia
            [Vendor] => Escapia
            [Contract] => 
            [random] => 0
            [pms] => 
            [last_update] => 0000-00-00 00:00:00
        )

    [flipkey] => 
    [additonal] => stdClass Object
        (
            [Custom3] => 5839
            [DisplayRate] => Starting from $148 per night
            [Location] => Kapaa
            [LocationField] => Garden Island Properties, LLC
            [Property Type] => Condo
            [View] => Garden View
            [MinLOS] => 4
            [StayContext] => Checkin
            [StayDays] => Array
                (
                    [0] => Mon
                    [1] => Tue
                    [2] => Weds
                    [3] => Thur
                    [4] => Fri
                    [5] => Sat
                    [6] => Sun
                )

            [Agreement] => GUEST AGREEMENT 
RELATES TO ALL PROPERTIES. PLEASE READ THIS CONTRACT CAREFULLY. 
BY CLICKING ON THE ACCEPT BUTTON YOU (either an individual or a single entity) AGREE THAT THIS AGREEMENT IS ENFORCEABLE LIKE ANY WRITTEN CONTRACT SIGNED BY YOU. 

SECURITY D
        )

    [checkinout] => Array
        (
        )

    [special] => Array
        (
        )

    [hasSpecial] => 
)
                    
Holiday Rates apply between 12/15 - 1/5