plantation hale suites g4, near shops, restaurants, beaches, ac, new remodel
1 Bedroom(s) | 1 Bathroom(s) | Sleeps 4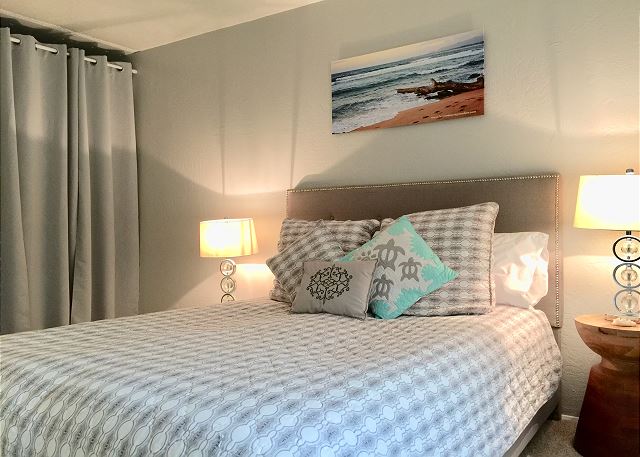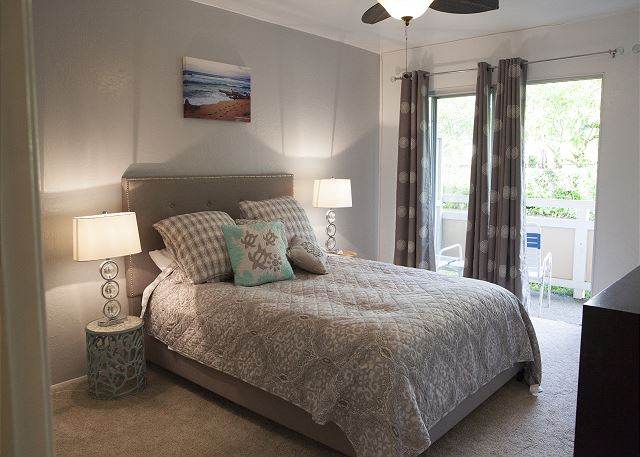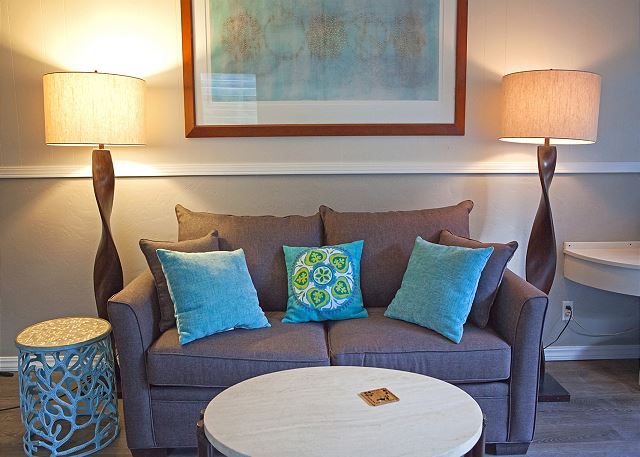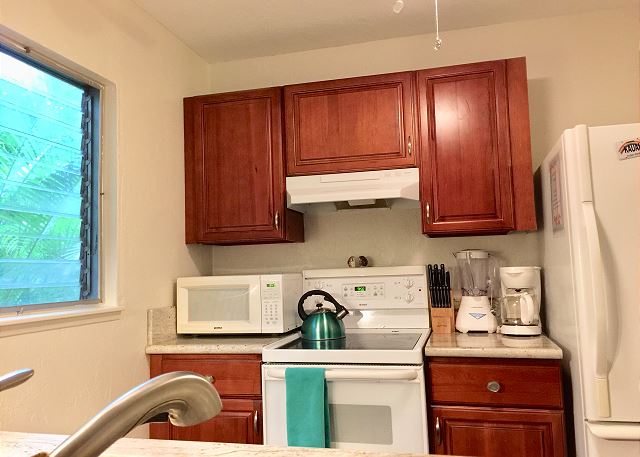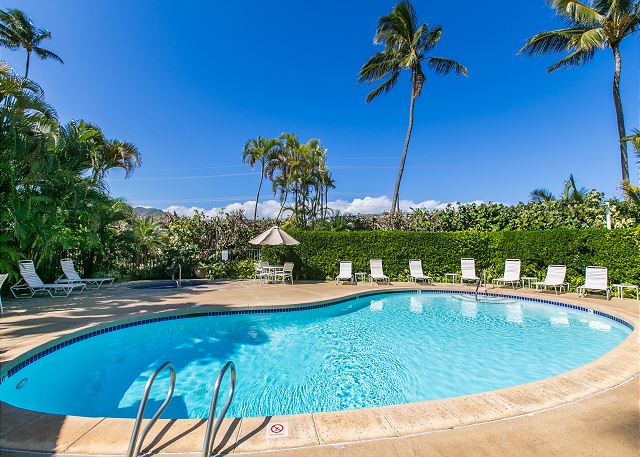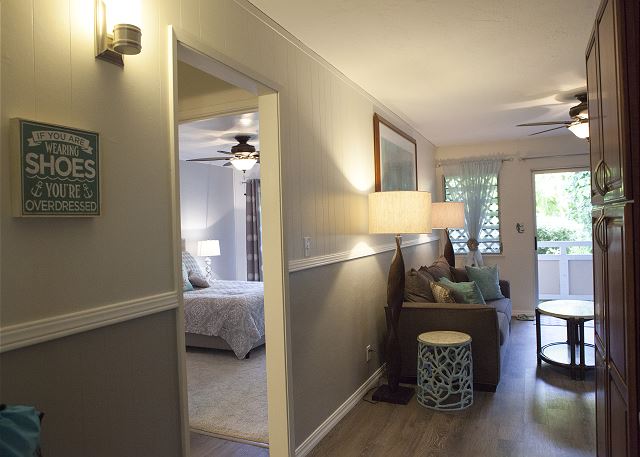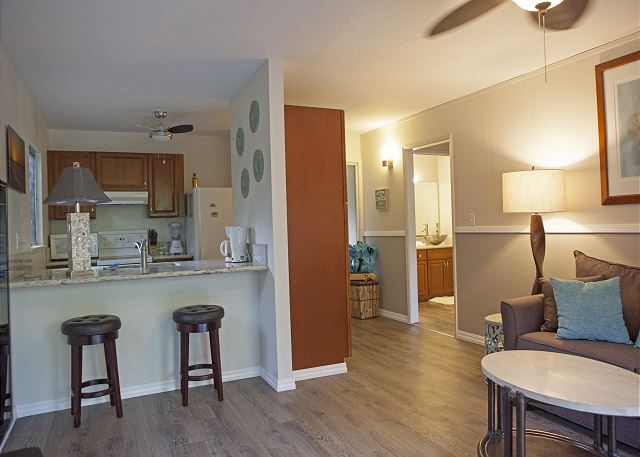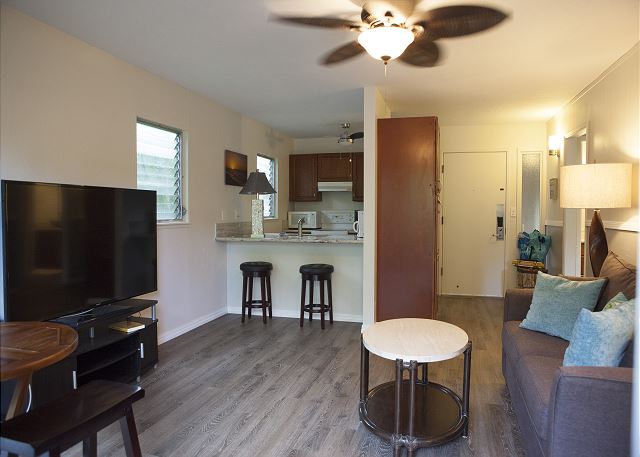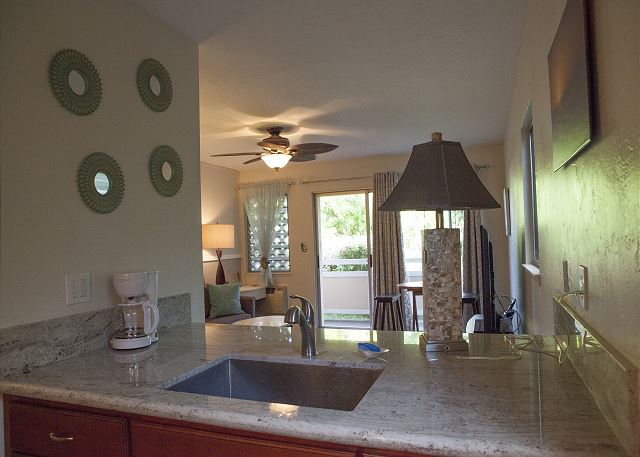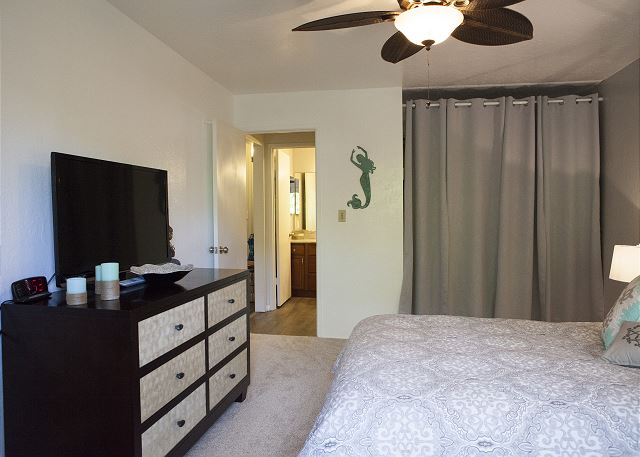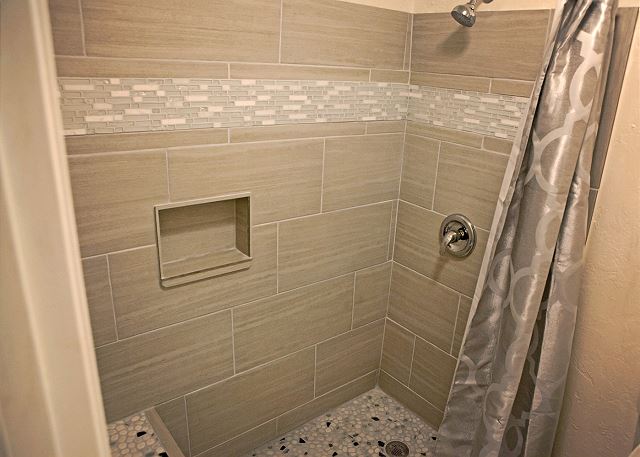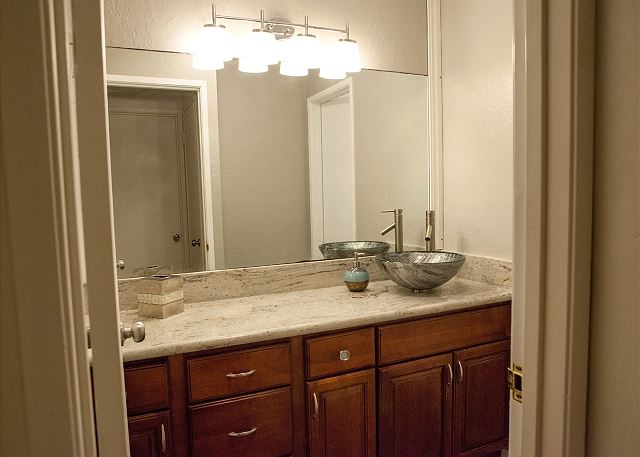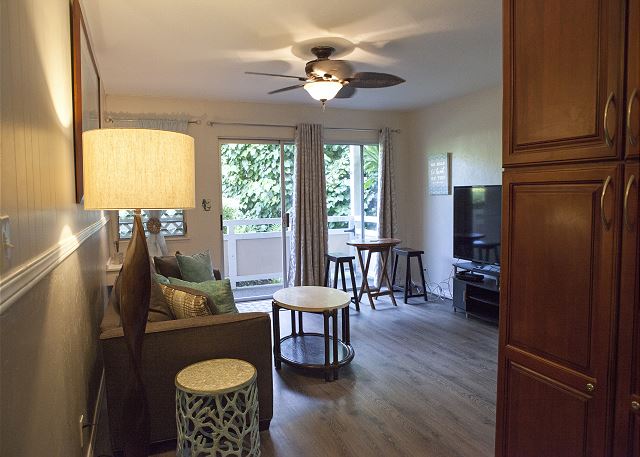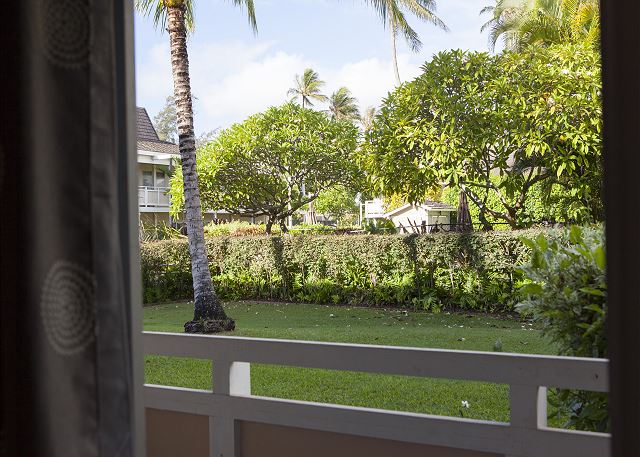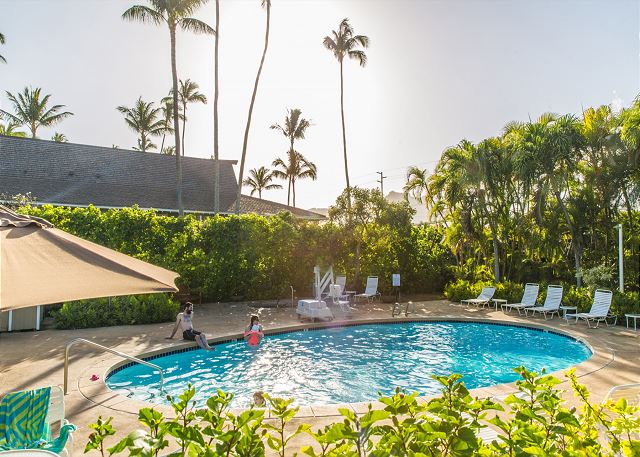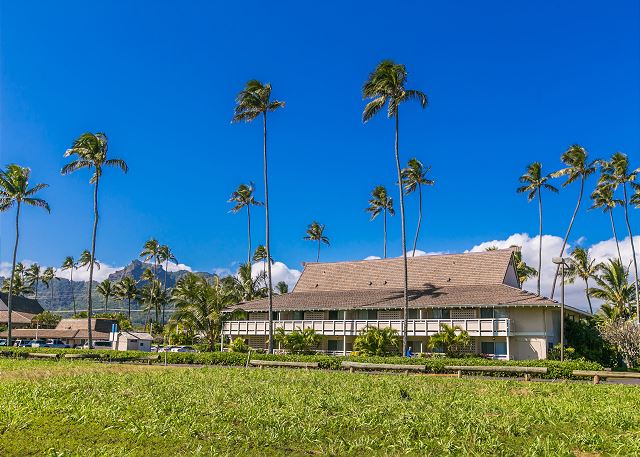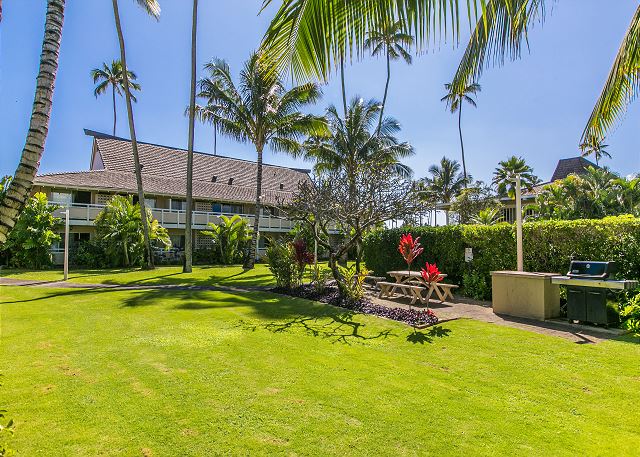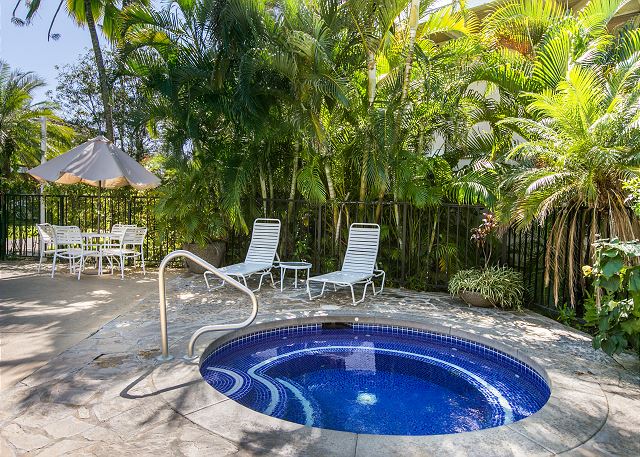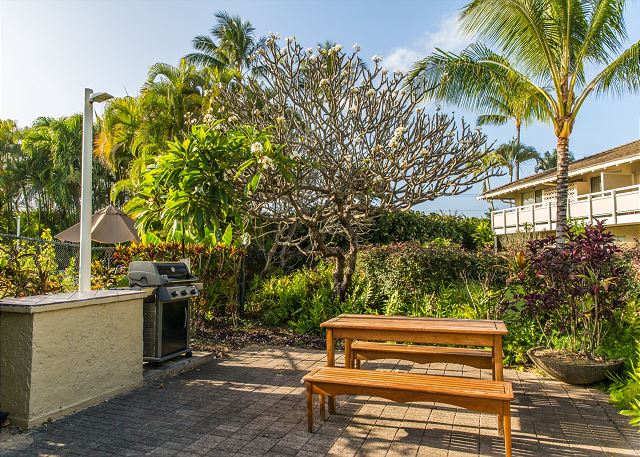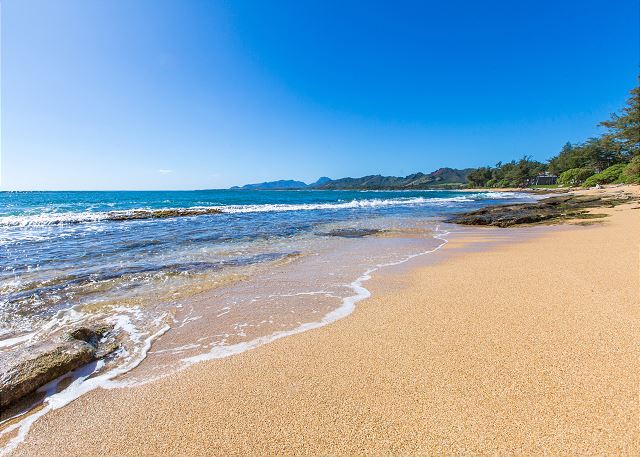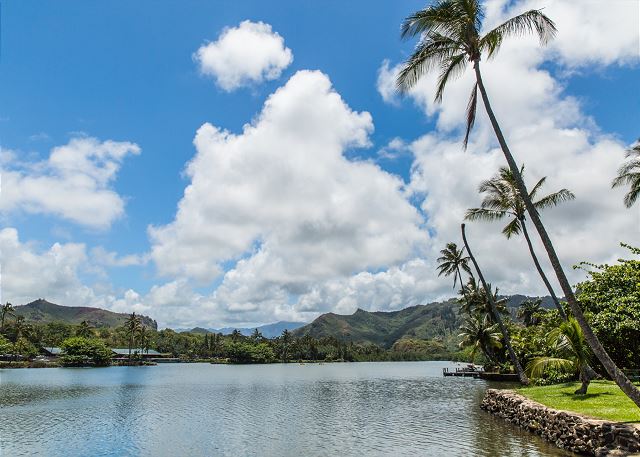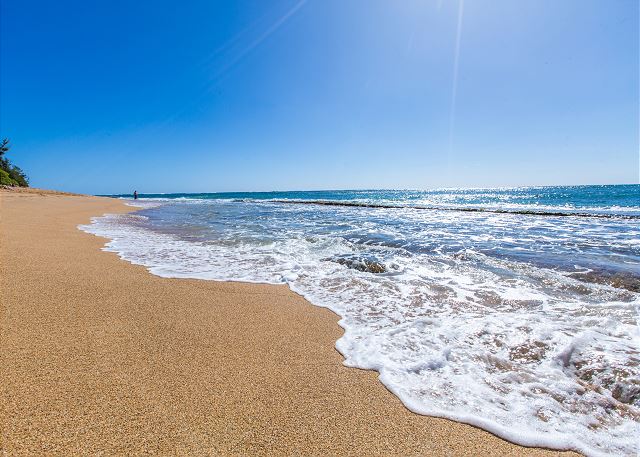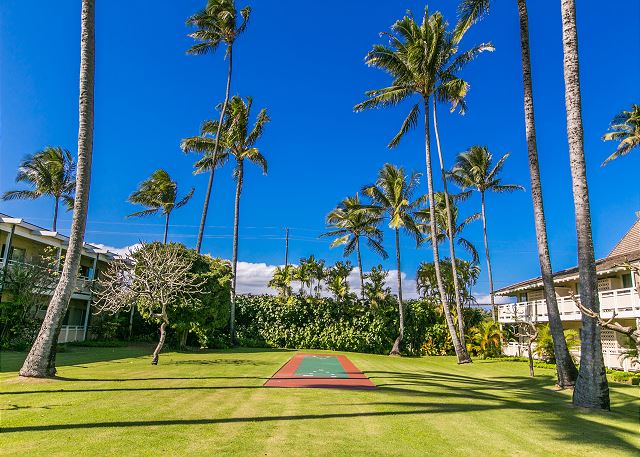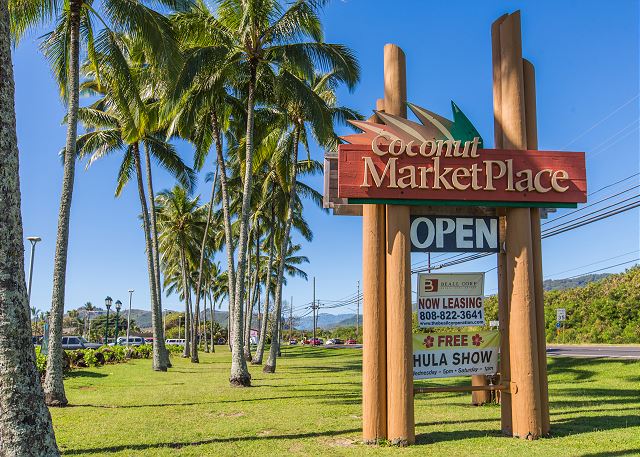 Plantation Hale Suites Unit G4, Air Conditioned!

Royal Coconut Coast, Wailua, Kauai Vacation Rental.

*NEWLY REMODELED UNIT with New Queen bed and full size sofa sleeper. Sleeps 4.

*Fully furnished rooms are smoke-free with complimentary wifi and parking

*AC in living room with vent to bedroom and ceiling fans

*Fully equipped kitchen

*Walk-in shower

*Private lanai and balcony

*2 Smart Flat Screen TVs with Cable, No DVD player.

*Coffee maker

*Hairdryer

*On-site Laundry Facilities

The perfect Kauai vacation rental for the budget minded traveler. All vacation rental units have spacious bedrooms, are non-smoking, air conditioned, fully furnished.

There are 3 outdoor swimming pools, whirlpool spas, central laundry facilities, barbecue areas, shuffle board, putting green and challenging Wailua Golf Course is only one mile away.

The Plantation Hale Suites is located on Kauai's scenic Royal Coconut Coast. Just a short walk to the Coconut Plantation Marketplace featuring a variety of shops and family-style restaurants. 100 yards to Waipouli Beach. 15 minutes North of Lihue Airport. Just one mile to Lydgate Beach Park. Two miles to Wailua Municipal Golf Course and the Wailua River/Fern Grotto. One block from Kapaa town with its wide variety of boutiques and shops, art galleries, and cafes. Midway between Poipu and Hanalei Bay and Princeville.

Plantation Hale Suites is Kauai's best value vacation rental. A Hawaiian Plantation style and affordably priced for the family wanting to experience an unforgettable Kauai vacation! "Absolutely Wonderful Value", "Great Value-location" Trip Advisor members state about this Kauai vacation rental!

Holiday Rates apply 12/15-1/5 with a 7 night minimum stay.

Hawaii State Tax ID#: TA-051-643-8016-01
Amenities

Outdoor shower
Toilet
Coin laundry
Restaurants
Waterfalls
Satellite / Cable
Television
Air Conditioning
Hair Dryer
Internet
Iron & Board
Linens Provided
Living Room
Parking
Telephone
Towels Provided
Coffee Maker
Dishes & Utensils
Kitchen
Microwave
Oven
Refrigerator
Stove
Toaster
Beachcombing
Horseback riding
Luaus
Photography
Scenic drives
Sight seeing
Walking
Whale watching
ATM/bank
Groceries
Near The Ocean
Deck / Patio
Lanai / Gazebo
Lawn / Garden
Outdoor Grill
Heated Pool
Bedroom
Fishing
Golf
Hiking
Mountain biking
Scuba diving or snorkeling
Snorkeling
Surfing
Swimming
Children welcome
Non smoking only
Cookware
Full Kitchen
Refrigerator
Coffee Maker
Microwave
Toaster
Blender
Air Conditioning
Ceiling Fans
Linens
High Speed Internet
Wifi
Beach Towels
Hair Dryer
Coin Operated Laundry
Nearby Medical Services
Nearby Grocery
Nearby Restaurants & Shops
Plantation Hale Suites
Coconut Coast
---
Rainy Days
Mar 27, 2018
The unit we stayed in was clean and had all we needed.
---
Get a Way
Feb 19, 2018
Great location and just what we needed in our condo. Great extras in the condo like beach chairs, umbrella, sunscreen.
---
Overall - nice unit
Jan 16, 2018
Clean and well equipped for visit. Really needs a functioning fan in the toilet room! Ceiling fans not functional. Liked remodeled bath and kitchen. Nice patio and surrounding landscaping. This unit close to main street so traffic noise lots of the time. Overall, OK for length or time we stayed.
---
Just as pictured! Clean and great location
Oct 22, 2017
Everything was smooth and easy! I was satisfied with everything!
---
Clean and well equipped getaway in the heart of Kapaa.
Jul 12, 2017
The experience booking was seamless and Kanani was very helpful and responsive.
Book Your Stay!
Select your arrival and departure dates below to reserve this unit.


July 2018

| S | M | T | W | T | F | S |
| --- | --- | --- | --- | --- | --- | --- |
| 01 | 02 | 03 | 04 | 05 | 06 | 07 |
| 08 | 09 | 10 | 11 | 12 | 13 | 14 |
| 15 | 16 | 17 | 18 | 19 | 20 | 21 |
| 22 | 23 | 24 | 25 | 26 | 27 | 28 |
| 29 | 30 | 31 | | | | |
August 2018

| S | M | T | W | T | F | S |
| --- | --- | --- | --- | --- | --- | --- |
| | | | 01 | 02 | 03 | 04 |
| 05 | 06 | 07 | 08 | 09 | 10 | 11 |
| 12 | 13 | 14 | 15 | 16 | 17 | 18 |
| 19 | 20 | 21 | 22 | 23 | 24 | 25 |
| 26 | 27 | 28 | 29 | 30 | 31 | |
September 2018

| S | M | T | W | T | F | S |
| --- | --- | --- | --- | --- | --- | --- |
| | | | | | | 01 |
| 02 | 03 | 04 | 05 | 06 | 07 | 08 |
| 09 | 10 | 11 | 12 | 13 | 14 | 15 |
| 16 | 17 | 18 | 19 | 20 | 21 | 22 |
| 23 | 24 | 25 | 26 | 27 | 28 | 29 |
| 30 | | | | | | |
October 2018

| S | M | T | W | T | F | S |
| --- | --- | --- | --- | --- | --- | --- |
| | 01 | 02 | 03 | 04 | 05 | 06 |
| 07 | 08 | 09 | 10 | 11 | 12 | 13 |
| 14 | 15 | 16 | 17 | 18 | 19 | 20 |
| 21 | 22 | 23 | 24 | 25 | 26 | 27 |
| 28 | 29 | 30 | 31 | | | |
November 2018

| S | M | T | W | T | F | S |
| --- | --- | --- | --- | --- | --- | --- |
| | | | | 01 | 02 | 03 |
| 04 | 05 | 06 | 07 | 08 | 09 | 10 |
| 11 | 12 | 13 | 14 | 15 | 16 | 17 |
| 18 | 19 | 20 | 21 | 22 | 23 | 24 |
| 25 | 26 | 27 | 28 | 29 | 30 | |
December 2018

| S | M | T | W | T | F | S |
| --- | --- | --- | --- | --- | --- | --- |
| | | | | | | 01 |
| 02 | 03 | 04 | 05 | 06 | 07 | 08 |
| 09 | 10 | 11 | 12 | 13 | 14 | 15 |
| 16 | 17 | 18 | 19 | 20 | 21 | 22 |
| 23 | 24 | 25 | 26 | 27 | 28 | 29 |
| 30 | 31 | | | | | |
January 2019

| S | M | T | W | T | F | S |
| --- | --- | --- | --- | --- | --- | --- |
| | | 01 | 02 | 03 | 04 | 05 |
| 06 | 07 | 08 | 09 | 10 | 11 | 12 |
| 13 | 14 | 15 | 16 | 17 | 18 | 19 |
| 20 | 21 | 22 | 23 | 24 | 25 | 26 |
| 27 | 28 | 29 | 30 | 31 | | |
February 2019

| S | M | T | W | T | F | S |
| --- | --- | --- | --- | --- | --- | --- |
| | | | | | 01 | 02 |
| 03 | 04 | 05 | 06 | 07 | 08 | 09 |
| 10 | 11 | 12 | 13 | 14 | 15 | 16 |
| 17 | 18 | 19 | 20 | 21 | 22 | 23 |
| 24 | 25 | 26 | 27 | 28 | | |
March 2019

| S | M | T | W | T | F | S |
| --- | --- | --- | --- | --- | --- | --- |
| | | | | | 01 | 02 |
| 03 | 04 | 05 | 06 | 07 | 08 | 09 |
| 10 | 11 | 12 | 13 | 14 | 15 | 16 |
| 17 | 18 | 19 | 20 | 21 | 22 | 23 |
| 24 | 25 | 26 | 27 | 28 | 29 | 30 |
| 31 | | | | | | |
April 2019

| S | M | T | W | T | F | S |
| --- | --- | --- | --- | --- | --- | --- |
| | 01 | 02 | 03 | 04 | 05 | 06 |
| 07 | 08 | 09 | 10 | 11 | 12 | 13 |
| 14 | 15 | 16 | 17 | 18 | 19 | 20 |
| 21 | 22 | 23 | 24 | 25 | 26 | 27 |
| 28 | 29 | 30 | | | | |
May 2019

| S | M | T | W | T | F | S |
| --- | --- | --- | --- | --- | --- | --- |
| | | | 01 | 02 | 03 | 04 |
| 05 | 06 | 07 | 08 | 09 | 10 | 11 |
| 12 | 13 | 14 | 15 | 16 | 17 | 18 |
| 19 | 20 | 21 | 22 | 23 | 24 | 25 |
| 26 | 27 | 28 | 29 | 30 | 31 | |
June 2019

| S | M | T | W | T | F | S |
| --- | --- | --- | --- | --- | --- | --- |
| | | | | | | 01 |
| 02 | 03 | 04 | 05 | 06 | 07 | 08 |
| 09 | 10 | 11 | 12 | 13 | 14 | 15 |
| 16 | 17 | 18 | 19 | 20 | 21 | 22 |
| 23 | 24 | 25 | 26 | 27 | 28 | 29 |
| 30 | | | | | | |
July 2019

| S | M | T | W | T | F | S |
| --- | --- | --- | --- | --- | --- | --- |
| | 01 | 02 | 03 | 04 | 05 | 06 |
| 07 | 08 | 09 | 10 | 11 | 12 | 13 |
| 14 | 15 | 16 | 17 | 18 | 19 | 20 |
| 21 | 22 | 23 | 24 | 25 | 26 | 27 |
| 28 | 29 | 30 | 31 | | | |
August 2019

| S | M | T | W | T | F | S |
| --- | --- | --- | --- | --- | --- | --- |
| | | | | 01 | 02 | 03 |
| 04 | 05 | 06 | 07 | 08 | 09 | 10 |
| 11 | 12 | 13 | 14 | 15 | 16 | 17 |
| 18 | 19 | 20 | 21 | 22 | 23 | 24 |
| 25 | 26 | 27 | 28 | 29 | 30 | 31 |
September 2019

| S | M | T | W | T | F | S |
| --- | --- | --- | --- | --- | --- | --- |
| 01 | 02 | 03 | 04 | 05 | 06 | 07 |
| 08 | 09 | 10 | 11 | 12 | 13 | 14 |
| 15 | 16 | 17 | 18 | 19 | 20 | 21 |
| 22 | 23 | 24 | 25 | 26 | 27 | 28 |
| 29 | 30 | | | | | |
October 2019

| S | M | T | W | T | F | S |
| --- | --- | --- | --- | --- | --- | --- |
| | | 01 | 02 | 03 | 04 | 05 |
| 06 | 07 | 08 | 09 | 10 | 11 | 12 |
| 13 | 14 | 15 | 16 | 17 | 18 | 19 |
| 20 | 21 | 22 | 23 | 24 | 25 | 26 |
| 27 | 28 | 29 | 30 | 31 | | |
Available
Unavailable
Check-In Only
Check-Out Only
Seasonal Rates
Starting from $110/ per night

                    stdClass Object
(
    [id] => 73
    [ManagerID] => 1
    [ComplexID] => 0
    [Name] => PLANTATION HALE SUITES G4, NEAR SHOPS, RESTAURANTS, BEACHES, AC, NEW REMODEL
    [PropertyCode] => 2064-130229
    [Address1] => 525 Aleka Loop
    [Address2] => 
    [City] => Kapaa
    [State] => HI
    [Country] => US
    [PostalCode] => 
    [Province] => 
    [Bedrooms] => 1
    [Bathrooms] => 1
    [Beds] => {"Queen":1,"Sofa Bed":1}
    [Type] => Condominium
    [Area] => 
    [Location] => Garden Island Properties, LLC
    [View] => Garden View
    [Video] => 
    [lat] => 22.056296
    [long] => -159.325671
    [map_id] => 0
    [Complex] => 210
    [Description] => Plantation Hale Suites Unit G4, Air Conditioned!  

Royal Coconut Coast, Wailua, Kauai Vacation Rental.

*NEWLY REMODELED UNIT with New Queen bed and full size sofa sleeper. Sleeps 4.

*Fully furnished rooms are smoke-free with complimentary wifi and parking

*AC in living room with vent to bedroom and ceiling fans

*Fully equipped kitchen

*Walk-in shower

*Private lanai and balcony

*2 Smart Flat Screen TVs with Cable, No DVD player. 

*Coffee maker

*Hairdryer

*On-site Laundry Facilities

The perfect Kauai vacation rental for the budget minded traveler. All vacation rental units have spacious bedrooms, are non-smoking, air conditioned, fully furnished.  

There are 3 outdoor swimming pools, whirlpool spas, central laundry facilities, barbecue areas, shuffle board, putting green and challenging Wailua Golf Course is only one mile away.

The Plantation Hale Suites is located on Kauai's scenic Royal Coconut Coast. Just a short walk to the Coconut Plantation Marketplace featuring a variety of shops and family-style restaurants. 100 yards to Waipouli Beach. 15 minutes North of Lihue Airport. Just one mile to Lydgate Beach Park. Two miles to Wailua Municipal Golf Course and the Wailua River/Fern Grotto. One block from Kapaa town with its wide variety of boutiques and shops, art galleries, and cafes. Midway between Poipu and Hanalei Bay and Princeville.

Plantation Hale Suites is Kauai's best value vacation rental. A Hawaiian Plantation style and affordably priced for the family wanting to experience an unforgettable Kauai vacation!  "Absolutely Wonderful Value", "Great Value-location" Trip Advisor members state about this Kauai vacation rental!

Holiday Rates apply 12/15-1/5 with a 7 night minimum stay.

Hawaii State Tax ID#: TA-051-643-8016-01
    [ShortDescription] => 1 Bedroom, 1 Bath, ground floor, Garden View end unit, AC in Living Room, Full Kitchen with full size stove, Complimentary Wifi & Parking. Plantation Style Vacation Rental in Kapaa Town. Queen bed and full size sofa sleeper. Sleeps 4.
    [Sleeps] => 4
    [MaxAdult] => 0
    [Status] => Active
    [page_slug] => PLANTATION_HALE_SUITES_G4_NEAR_SHOPS_RESTAURANTS_BEACHES_AC_NEW_REMODEL-2064-130229-1
    [SEOTitle] => Plantation Hale G4, Garden View, Ground Floor
    [SEODescription] => PLANTATION HALE SUITES G4, NEAR SHOPS, RESTAURANTS, BEACHES, AC, NEW REMODEL
    [Featured] => 0
    [created] => 0000-00-00 00:00:00
    [updated] => 2018-07-23 08:25:47
    [internalcode] => PLAN G4
    [photos] => Array
        (
            [0] => stdClass Object
                (
                    [id] => 2033250
                    [unit_id] => 73
                    [url] => https://pictures.escapia.com/GAISPR/0435510395.jpg
                    [thumb_url] => https://pictures.escapia.com/GAISPR/0435510395.jpg
                     => 
                    [sort] => 0
                )

            [1] => stdClass Object
                (
                    [id] => 2033251
                    [unit_id] => 73
                    [url] => https://pictures.escapia.com/GAISPR/1255110044.jpg
                    [thumb_url] => https://pictures.escapia.com/GAISPR/1255110044.jpg
                     => 
                    [sort] => 1
                )

            [2] => stdClass Object
                (
                    [id] => 2033252
                    [unit_id] => 73
                    [url] => https://pictures.escapia.com/GAISPR/2267360431.jpg
                    [thumb_url] => https://pictures.escapia.com/GAISPR/2267360431.jpg
                     => Living Room with Full size sofa sleeper
                    [sort] => 2
                )

            [3] => stdClass Object
                (
                    [id] => 2033253
                    [unit_id] => 73
                    [url] => https://pictures.escapia.com/GAISPR/5485030394.jpg
                    [thumb_url] => https://pictures.escapia.com/GAISPR/5485030394.jpg
                     => 
                    [sort] => 3
                )

            [4] => stdClass Object
                (
                    [id] => 2033254
                    [unit_id] => 73
                    [url] => https://pictures.escapia.com/GAISPR/8266490825.jpg
                    [thumb_url] => https://pictures.escapia.com/GAISPR/8266490825.jpg
                     => One of three pools on property
                    [sort] => 4
                )

            [5] => stdClass Object
                (
                    [id] => 2033255
                    [unit_id] => 73
                    [url] => https://pictures.escapia.com/GAISPR/9097670839.jpg
                    [thumb_url] => https://pictures.escapia.com/GAISPR/9097670839.jpg
                     => 
                    [sort] => 5
                )

            [6] => stdClass Object
                (
                    [id] => 2033256
                    [unit_id] => 73
                    [url] => https://pictures.escapia.com/GAISPR/9846030097.jpg
                    [thumb_url] => https://pictures.escapia.com/GAISPR/9846030097.jpg
                     => 
                    [sort] => 6
                )

            [7] => stdClass Object
                (
                    [id] => 2033257
                    [unit_id] => 73
                    [url] => https://pictures.escapia.com/GAISPR/4718780511.jpg
                    [thumb_url] => https://pictures.escapia.com/GAISPR/4718780511.jpg
                     => 
                    [sort] => 7
                )

            [8] => stdClass Object
                (
                    [id] => 2033258
                    [unit_id] => 73
                    [url] => https://pictures.escapia.com/GAISPR/8872710366.jpg
                    [thumb_url] => https://pictures.escapia.com/GAISPR/8872710366.jpg
                     => 
                    [sort] => 8
                )

            [9] => stdClass Object
                (
                    [id] => 2033259
                    [unit_id] => 73
                    [url] => https://pictures.escapia.com/GAISPR/4416290990.jpg
                    [thumb_url] => https://pictures.escapia.com/GAISPR/4416290990.jpg
                     => 
                    [sort] => 9
                )

            [10] => stdClass Object
                (
                    [id] => 2033260
                    [unit_id] => 73
                    [url] => https://pictures.escapia.com/GAISPR/8872500429.jpg
                    [thumb_url] => https://pictures.escapia.com/GAISPR/8872500429.jpg
                     => Newly tiled bathroom.
                    [sort] => 10
                )

            [11] => stdClass Object
                (
                    [id] => 2033261
                    [unit_id] => 73
                    [url] => https://pictures.escapia.com/GAISPR/4092060371.jpg
                    [thumb_url] => https://pictures.escapia.com/GAISPR/4092060371.jpg
                     => Newly remodeled bathroom vanity
                    [sort] => 11
                )

            [12] => stdClass Object
                (
                    [id] => 2033262
                    [unit_id] => 73
                    [url] => https://pictures.escapia.com/GAISPR/0738810989.jpg
                    [thumb_url] => https://pictures.escapia.com/GAISPR/0738810989.jpg
                     => 
                    [sort] => 12
                )

            [13] => stdClass Object
                (
                    [id] => 2033263
                    [unit_id] => 73
                    [url] => https://pictures.escapia.com/GAISPR/5719510514.jpg
                    [thumb_url] => https://pictures.escapia.com/GAISPR/5719510514.jpg
                     => Lanai view from your ground floor condo.
                    [sort] => 13
                )

            [14] => stdClass Object
                (
                    [id] => 2033264
                    [unit_id] => 73
                    [url] => https://pictures.escapia.com/GAISPR/8651960272.jpg
                    [thumb_url] => https://pictures.escapia.com/GAISPR/8651960272.jpg
                     => One of 3 pools 7 2 hot tubs on property
                    [sort] => 14
                )

            [15] => stdClass Object
                (
                    [id] => 2033265
                    [unit_id] => 73
                    [url] => https://pictures.escapia.com/GAISPR/3240130820.jpg
                    [thumb_url] => https://pictures.escapia.com/GAISPR/3240130820.jpg
                     => Plantation Hale Suites in Kapaa Town
                    [sort] => 15
                )

            [16] => stdClass Object
                (
                    [id] => 2033266
                    [unit_id] => 73
                    [url] => https://pictures.escapia.com/GAISPR/0777240818.jpg
                    [thumb_url] => https://pictures.escapia.com/GAISPR/0777240818.jpg
                     => Plantation Hale grounds and bbq area
                    [sort] => 16
                )

            [17] => stdClass Object
                (
                    [id] => 2033267
                    [unit_id] => 73
                    [url] => https://pictures.escapia.com/GAISPR/3493470819.jpg
                    [thumb_url] => https://pictures.escapia.com/GAISPR/3493470819.jpg
                     => One of two hot tubs
                    [sort] => 17
                )

            [18] => stdClass Object
                (
                    [id] => 2033268
                    [unit_id] => 73
                    [url] => https://pictures.escapia.com/GAISPR/1322880025.jpg
                    [thumb_url] => https://pictures.escapia.com/GAISPR/1322880025.jpg
                     => BBQ Area
                    [sort] => 18
                )

            [19] => stdClass Object
                (
                    [id] => 2033269
                    [unit_id] => 73
                    [url] => https://pictures.escapia.com/GAISPR/5641330158.jpg
                    [thumb_url] => https://pictures.escapia.com/GAISPR/5641330158.jpg
                     => Coconut Coast Beach
                    [sort] => 19
                )

            [20] => stdClass Object
                (
                    [id] => 2033270
                    [unit_id] => 73
                    [url] => https://pictures.escapia.com/GAISPR/3330450203.jpg
                    [thumb_url] => https://pictures.escapia.com/GAISPR/3330450203.jpg
                     => Wailua River
                    [sort] => 20
                )

            [21] => stdClass Object
                (
                    [id] => 2033271
                    [unit_id] => 73
                    [url] => https://pictures.escapia.com/GAISPR/4864600984.jpg
                    [thumb_url] => https://pictures.escapia.com/GAISPR/4864600984.jpg
                     => Coconut Coast Beach
                    [sort] => 21
                )

            [22] => stdClass Object
                (
                    [id] => 2033272
                    [unit_id] => 73
                    [url] => https://pictures.escapia.com/GAISPR/2349840823.jpg
                    [thumb_url] => https://pictures.escapia.com/GAISPR/2349840823.jpg
                     => Plantation Hale Suites Grounds
                    [sort] => 22
                )

            [23] => stdClass Object
                (
                    [id] => 2033273
                    [unit_id] => 73
                    [url] => https://pictures.escapia.com/GAISPR/1092020900.jpg
                    [thumb_url] => https://pictures.escapia.com/GAISPR/1092020900.jpg
                     => Coconut Market Place, shopping next door!
                    [sort] => 23
                )

        )

    [rates] => Array
        (
            [0] => stdClass Object
                (
                    [id] => 655870
                    [start_date] => 2018-04-01
                    [end_date] => 2018-12-14
                    [amount] => 145
                    [chargebasis] => Daily
                    [unit_id] => 73
                )

            [1] => stdClass Object
                (
                    [id] => 655871
                    [start_date] => 2018-04-01
                    [end_date] => 2018-12-14
                    [amount] => 945
                    [chargebasis] => Weekly
                    [unit_id] => 73
                )

            [2] => stdClass Object
                (
                    [id] => 655872
                    [start_date] => 2018-04-01
                    [end_date] => 2018-12-14
                    [amount] => 4050
                    [chargebasis] => Monthly
                    [unit_id] => 73
                )

            [3] => stdClass Object
                (
                    [id] => 655873
                    [start_date] => 2019-01-06
                    [end_date] => 2019-03-31
                    [amount] => 152.25
                    [chargebasis] => Daily
                    [unit_id] => 73
                )

            [4] => stdClass Object
                (
                    [id] => 655874
                    [start_date] => 2019-01-06
                    [end_date] => 2019-03-31
                    [amount] => 1065.75
                    [chargebasis] => Weekly
                    [unit_id] => 73
                )

            [5] => stdClass Object
                (
                    [id] => 655875
                    [start_date] => 2019-01-06
                    [end_date] => 2019-03-31
                    [amount] => 4567.5
                    [chargebasis] => Monthly
                    [unit_id] => 73
                )

            [6] => stdClass Object
                (
                    [id] => 655876
                    [start_date] => 2019-04-01
                    [end_date] => 2019-12-14
                    [amount] => 152.25
                    [chargebasis] => Daily
                    [unit_id] => 73
                )

            [7] => stdClass Object
                (
                    [id] => 655877
                    [start_date] => 2019-04-01
                    [end_date] => 2019-12-14
                    [amount] => 992.25
                    [chargebasis] => Weekly
                    [unit_id] => 73
                )

            [8] => stdClass Object
                (
                    [id] => 655878
                    [start_date] => 2019-04-01
                    [end_date] => 2019-12-14
                    [amount] => 4252.5
                    [chargebasis] => Monthly
                    [unit_id] => 73
                )

        )

    [attributes] => Array
        (
            [0] => stdClass Object
                (
                    [id] => 3509749
                    [name] => outdoor shower
                    [value] => 
                    [group] => AMENITY
                    [unit_id] => 73
                )

            [1] => stdClass Object
                (
                    [id] => 3509750
                    [name] => toilet
                    [value] => 
                    [group] => AMENITY
                    [unit_id] => 73
                )

            [2] => stdClass Object
                (
                    [id] => 3509751
                    [name] => coin laundry
                    [value] => 
                    [group] => ATTRACTIONS
                    [unit_id] => 73
                )

            [3] => stdClass Object
                (
                    [id] => 3509752
                    [name] => restaurants
                    [value] => 
                    [group] => ATTRACTIONS
                    [unit_id] => 73
                )

            [4] => stdClass Object
                (
                    [id] => 3509753
                    [name] => waterfalls
                    [value] => 
                    [group] => ATTRACTIONS
                    [unit_id] => 73
                )

            [5] => stdClass Object
                (
                    [id] => 3509754
                    [name] => Satellite / Cable
                    [value] => 
                    [group] => ENTERTAINMENT
                    [unit_id] => 73
                )

            [6] => stdClass Object
                (
                    [id] => 3509755
                    [name] => Television
                    [value] => 
                    [group] => ENTERTAINMENT
                    [unit_id] => 73
                )

            [7] => stdClass Object
                (
                    [id] => 3509756
                    [name] => Air Conditioning
                    [value] => 
                    [group] => GENERAL
                    [unit_id] => 73
                )

            [8] => stdClass Object
                (
                    [id] => 3509757
                    [name] => Hair Dryer
                    [value] => 
                    [group] => GENERAL
                    [unit_id] => 73
                )

            [9] => stdClass Object
                (
                    [id] => 3509758
                    [name] => Internet
                    [value] => 
                    [group] => GENERAL
                    [unit_id] => 73
                )

            [10] => stdClass Object
                (
                    [id] => 3509759
                    [name] => Iron & Board
                    [value] => 
                    [group] => GENERAL
                    [unit_id] => 73
                )

            [11] => stdClass Object
                (
                    [id] => 3509760
                    [name] => Linens Provided
                    [value] => 
                    [group] => GENERAL
                    [unit_id] => 73
                )

            [12] => stdClass Object
                (
                    [id] => 3509761
                    [name] => Living Room
                    [value] => 
                    [group] => GENERAL
                    [unit_id] => 73
                )

            [13] => stdClass Object
                (
                    [id] => 3509762
                    [name] => Parking
                    [value] => 
                    [group] => GENERAL
                    [unit_id] => 73
                )

            [14] => stdClass Object
                (
                    [id] => 3509763
                    [name] => Telephone
                    [value] => 
                    [group] => GENERAL
                    [unit_id] => 73
                )

            [15] => stdClass Object
                (
                    [id] => 3509764
                    [name] => Towels Provided
                    [value] => 
                    [group] => GENERAL
                    [unit_id] => 73
                )

            [16] => stdClass Object
                (
                    [id] => 3509765
                    [name] => Coffee Maker
                    [value] => 
                    [group] => KITCHEN
                    [unit_id] => 73
                )

            [17] => stdClass Object
                (
                    [id] => 3509766
                    [name] => Dishes & Utensils
                    [value] => 
                    [group] => KITCHEN
                    [unit_id] => 73
                )

            [18] => stdClass Object
                (
                    [id] => 3509767
                    [name] => Kitchen
                    [value] => 
                    [group] => KITCHEN
                    [unit_id] => 73
                )

            [19] => stdClass Object
                (
                    [id] => 3509768
                    [name] => Microwave
                    [value] => 
                    [group] => KITCHEN
                    [unit_id] => 73
                )

            [20] => stdClass Object
                (
                    [id] => 3509769
                    [name] => Oven
                    [value] => 
                    [group] => KITCHEN
                    [unit_id] => 73
                )

            [21] => stdClass Object
                (
                    [id] => 3509770
                    [name] => Refrigerator
                    [value] => 
                    [group] => KITCHEN
                    [unit_id] => 73
                )

            [22] => stdClass Object
                (
                    [id] => 3509771
                    [name] => Stove
                    [value] => 
                    [group] => KITCHEN
                    [unit_id] => 73
                )

            [23] => stdClass Object
                (
                    [id] => 3509772
                    [name] => Toaster
                    [value] => 
                    [group] => KITCHEN
                    [unit_id] => 73
                )

            [24] => stdClass Object
                (
                    [id] => 3509773
                    [name] => beachcombing
                    [value] => 
                    [group] => LEISURE_ACTIVITIES
                    [unit_id] => 73
                )

            [25] => stdClass Object
                (
                    [id] => 3509774
                    [name] => horseback riding
                    [value] => 
                    [group] => LEISURE_ACTIVITIES
                    [unit_id] => 73
                )

            [26] => stdClass Object
                (
                    [id] => 3509775
                    [name] => luaus
                    [value] => 
                    [group] => LEISURE_ACTIVITIES
                    [unit_id] => 73
                )

            [27] => stdClass Object
                (
                    [id] => 3509776
                    [name] => photography
                    [value] => 
                    [group] => LEISURE_ACTIVITIES
                    [unit_id] => 73
                )

            [28] => stdClass Object
                (
                    [id] => 3509777
                    [name] => scenic drives
                    [value] => 
                    [group] => LEISURE_ACTIVITIES
                    [unit_id] => 73
                )

            [29] => stdClass Object
                (
                    [id] => 3509778
                    [name] => sight seeing
                    [value] => 
                    [group] => LEISURE_ACTIVITIES
                    [unit_id] => 73
                )

            [30] => stdClass Object
                (
                    [id] => 3509779
                    [name] => walking
                    [value] => 
                    [group] => LEISURE_ACTIVITIES
                    [unit_id] => 73
                )

            [31] => stdClass Object
                (
                    [id] => 3509780
                    [name] => whale watching
                    [value] => 
                    [group] => LEISURE_ACTIVITIES
                    [unit_id] => 73
                )

            [32] => stdClass Object
                (
                    [id] => 3509781
                    [name] => ATM/bank
                    [value] => 
                    [group] => LOCAL_SERVICES_AND_BUSINESSES
                    [unit_id] => 73
                )

            [33] => stdClass Object
                (
                    [id] => 3509782
                    [name] => groceries
                    [value] => 
                    [group] => LOCAL_SERVICES_AND_BUSINESSES
                    [unit_id] => 73
                )

            [34] => stdClass Object
                (
                    [id] => 3509783
                    [name] => Near The Ocean
                    [value] => 
                    [group] => LOCATION_TYPE
                    [unit_id] => 73
                )

            [35] => stdClass Object
                (
                    [id] => 3509784
                    [name] => Deck / Patio
                    [value] => 
                    [group] => OUTSIDE
                    [unit_id] => 73
                )

            [36] => stdClass Object
                (
                    [id] => 3509785
                    [name] => Lanai / Gazebo
                    [value] => 
                    [group] => OUTSIDE
                    [unit_id] => 73
                )

            [37] => stdClass Object
                (
                    [id] => 3509786
                    [name] => Lawn / Garden
                    [value] => 
                    [group] => OUTSIDE
                    [unit_id] => 73
                )

            [38] => stdClass Object
                (
                    [id] => 3509787
                    [name] => Outdoor Grill
                    [value] => 
                    [group] => OUTSIDE
                    [unit_id] => 73
                )

            [39] => stdClass Object
                (
                    [id] => 3509788
                    [name] => Heated Pool
                    [value] => 
                    [group] => POOL_SPA
                    [unit_id] => 73
                )

            [40] => stdClass Object
                (
                    [id] => 3509789
                    [name] => bedroom
                    [value] => 
                    [group] => ROOM_SUBTYPE
                    [unit_id] => 73
                )

            [41] => stdClass Object
                (
                    [id] => 3509790
                    [name] => fishing
                    [value] => 
                    [group] => SPORTS_AND_ADVENTURE_ACTIVITIES
                    [unit_id] => 73
                )

            [42] => stdClass Object
                (
                    [id] => 3509791
                    [name] => golf
                    [value] => 
                    [group] => SPORTS_AND_ADVENTURE_ACTIVITIES
                    [unit_id] => 73
                )

            [43] => stdClass Object
                (
                    [id] => 3509792
                    [name] => hiking
                    [value] => 
                    [group] => SPORTS_AND_ADVENTURE_ACTIVITIES
                    [unit_id] => 73
                )

            [44] => stdClass Object
                (
                    [id] => 3509793
                    [name] => mountain biking
                    [value] => 
                    [group] => SPORTS_AND_ADVENTURE_ACTIVITIES
                    [unit_id] => 73
                )

            [45] => stdClass Object
                (
                    [id] => 3509794
                    [name] => scuba diving or snorkeling
                    [value] => 
                    [group] => SPORTS_AND_ADVENTURE_ACTIVITIES
                    [unit_id] => 73
                )

            [46] => stdClass Object
                (
                    [id] => 3509795
                    [name] => snorkeling
                    [value] => 
                    [group] => SPORTS_AND_ADVENTURE_ACTIVITIES
                    [unit_id] => 73
                )

            [47] => stdClass Object
                (
                    [id] => 3509796
                    [name] => surfing
                    [value] => 
                    [group] => SPORTS_AND_ADVENTURE_ACTIVITIES
                    [unit_id] => 73
                )

            [48] => stdClass Object
                (
                    [id] => 3509797
                    [name] => swimming
                    [value] => 
                    [group] => SPORTS_AND_ADVENTURE_ACTIVITIES
                    [unit_id] => 73
                )

            [49] => stdClass Object
                (
                    [id] => 3509798
                    [name] => children welcome
                    [value] => 
                    [group] => SUITABILITY
                    [unit_id] => 73
                )

            [50] => stdClass Object
                (
                    [id] => 3509799
                    [name] => non smoking only
                    [value] => 
                    [group] => SUITABILITY
                    [unit_id] => 73
                )

            [51] => stdClass Object
                (
                    [id] => 3509800
                    [name] => Cookware
                    [value] => 
                    [group] => Kitchen
                    [unit_id] => 73
                )

            [52] => stdClass Object
                (
                    [id] => 3509801
                    [name] => Full Kitchen
                    [value] => 
                    [group] => Kitchen
                    [unit_id] => 73
                )

            [53] => stdClass Object
                (
                    [id] => 3509802
                    [name] => Refrigerator
                    [value] => 
                    [group] => Kitchen
                    [unit_id] => 73
                )

            [54] => stdClass Object
                (
                    [id] => 3509803
                    [name] => Coffee Maker
                    [value] => 
                    [group] => Kitchen
                    [unit_id] => 73
                )

            [55] => stdClass Object
                (
                    [id] => 3509804
                    [name] => Microwave
                    [value] => 
                    [group] => Kitchen
                    [unit_id] => 73
                )

            [56] => stdClass Object
                (
                    [id] => 3509805
                    [name] => Toaster
                    [value] => 
                    [group] => Kitchen
                    [unit_id] => 73
                )

            [57] => stdClass Object
                (
                    [id] => 3509806
                    [name] => Blender
                    [value] => 
                    [group] => Kitchen
                    [unit_id] => 73
                )

            [58] => stdClass Object
                (
                    [id] => 3509807
                    [name] => Air Conditioning
                    [value] => 
                    [group] => Living
                    [unit_id] => 73
                )

            [59] => stdClass Object
                (
                    [id] => 3509808
                    [name] => Ceiling Fans
                    [value] => 
                    [group] => Living
                    [unit_id] => 73
                )

            [60] => stdClass Object
                (
                    [id] => 3509809
                    [name] => Linens
                    [value] => 
                    [group] => Living
                    [unit_id] => 73
                )

            [61] => stdClass Object
                (
                    [id] => 3509810
                    [name] => High Speed Internet
                    [value] => 
                    [group] => Living
                    [unit_id] => 73
                )

            [62] => stdClass Object
                (
                    [id] => 3509811
                    [name] => Wifi
                    [value] => 
                    [group] => Living
                    [unit_id] => 73
                )

            [63] => stdClass Object
                (
                    [id] => 3509812
                    [name] => Beach Towels
                    [value] => 
                    [group] => Living
                    [unit_id] => 73
                )

            [64] => stdClass Object
                (
                    [id] => 3509813
                    [name] => Hair Dryer
                    [value] => 
                    [group] => Living
                    [unit_id] => 73
                )

            [65] => stdClass Object
                (
                    [id] => 3509814
                    [name] => Coin Operated Laundry
                    [value] => 
                    [group] => Living
                    [unit_id] => 73
                )

            [66] => stdClass Object
                (
                    [id] => 3509815
                    [name] => Nearby Medical Services
                    [value] => 
                    [group] => Convenience
                    [unit_id] => 73
                )

            [67] => stdClass Object
                (
                    [id] => 3509816
                    [name] => Nearby Grocery
                    [value] => 
                    [group] => Convenience
                    [unit_id] => 73
                )

            [68] => stdClass Object
                (
                    [id] => 3509817
                    [name] => Nearby Restaurants & Shops
                    [value] => 
                    [group] => Convenience
                    [unit_id] => 73
                )

            [69] => stdClass Object
                (
                    [id] => 3509818
                    [name] => Plantation Hale Suites
                    [value] => 
                    [group] => Geographic
                    [unit_id] => 73
                )

            [70] => stdClass Object
                (
                    [id] => 3509819
                    [name] => Coconut Coast
                    [value] => 
                    [group] => Geographic
                    [unit_id] => 73
                )

        )

    [avail] => Array
        (
            [0] => stdClass Object
                (
                    [id] => 11916729
                    [start_date] => 2018-07-23
                    [end_date] => 2019-02-28
                    [unit_id] => 73
                )

            [1] => stdClass Object
                (
                    [id] => 11916730
                    [start_date] => 2019-03-01
                    [end_date] => 2019-12-31
                    [unit_id] => 73
                )

            [2] => stdClass Object
                (
                    [id] => 11916731
                    [start_date] => 2020-06-01
                    [end_date] => 2020-08-01
                    [unit_id] => 73
                )

        )

    [reviews] => Array
        (
            [0] => stdClass Object
                (
                    [id] => 29762
                    [external_id] => bb7933fc-dac8-43d0-9387-05901c82ba28
                    [prop_id] => 73
                    [review_id] => 0
                    [source] => Escapia
                    [title] => Rainy Days
                    [review] => The unit we stayed in was clean and had all we needed.
                    [name] => 
                    [email] => chuckjswoboda@gmail.com
                    [location] => 
                    [response] => 
                    [response_date] => 
                    [rating] => 3
                    [review_date] => 2018-03-27
                    [status] => 1
                    [checkin_date] => 2018-03-15
                    [nights_stayed] => 10
                    [sfrm] => 4
                    [clean] => 4
                    [rto] => 1
                    [pc] => 3
                    [loc] => 4
                    [meta] => Array
                        (
                        )

                )

            [1] => stdClass Object
                (
                    [id] => 29707
                    [external_id] => 54c97a6c-8b18-4bfb-99c1-2b3d06497c38
                    [prop_id] => 73
                    [review_id] => 0
                    [source] => Escapia
                    [title] => Get a Way
                    [review] => Great location and just what we needed in our condo.  Great extras in the condo like beach chairs, umbrella, sunscreen.
                    [name] => 
                    [email] => julie_mckeever@hermanmiller.com
                    [location] => 
                    [response] => 
                    [response_date] => 
                    [rating] => 5
                    [review_date] => 2018-02-19
                    [status] => 1
                    [checkin_date] => 2018-02-09
                    [nights_stayed] => 7
                    [sfrm] => 5
                    [clean] => 5
                    [rto] => 1
                    [pc] => 5
                    [loc] => 5
                    [meta] => Array
                        (
                        )

                )

            [2] => stdClass Object
                (
                    [id] => 29672
                    [external_id] => 9e5595ac-0c68-4611-b62d-2901e397efef
                    [prop_id] => 73
                    [review_id] => 0
                    [source] => Escapia
                    [title] => Overall - nice unit
                    [review] => Clean and well equipped for visit. Really needs a functioning fan in the toilet room! Ceiling fans not functional. Liked remodeled bath and kitchen. Nice patio and surrounding landscaping. This unit close to main street so traffic noise lots of the time. Overall, OK for length or time we stayed.
                    [name] => 
                    [email] => catsnfleur@aol.com
                    [location] => 
                    [response] => 
                    [response_date] => 
                    [rating] => 3
                    [review_date] => 2018-01-16
                    [status] => 1
                    [checkin_date] => 2018-01-06
                    [nights_stayed] => 5
                    [sfrm] => 3
                    [clean] => 3
                    [rto] => 1
                    [pc] => 3
                    [loc] => 3
                    [meta] => Array
                        (
                        )

                )

            [3] => stdClass Object
                (
                    [id] => 29575
                    [external_id] => 0224e77a-d618-4514-a3d0-73cef0f6bc8c
                    [prop_id] => 73
                    [review_id] => 0
                    [source] => Escapia
                    [title] => Just as pictured! Clean and great location
                    [review] => Everything was smooth and easy! I was satisfied with everything!
                    [name] => 
                    [email] => queanhvu1@gmail.com
                    [location] => 
                    [response] => 
                    [response_date] => 
                    [rating] => 5
                    [review_date] => 2017-10-22
                    [status] => 1
                    [checkin_date] => 2017-09-29
                    [nights_stayed] => 7
                    [sfrm] => 5
                    [clean] => 5
                    [rto] => 1
                    [pc] => 5
                    [loc] => 5
                    [meta] => Array
                        (
                        )

                )

            [4] => stdClass Object
                (
                    [id] => 29461
                    [external_id] => ad98e15b-24c9-4573-82b7-5e0942005209
                    [prop_id] => 73
                    [review_id] => 0
                    [source] => Escapia
                    [title] => Clean and well equipped getaway in the heart of Kapaa.
                    [review] => The experience booking was seamless and Kanani was very helpful and responsive.
                    [name] => 
                    [email] => erinkcronin@yahoo.com
                    [location] => 
                    [response] => Mahalo for your review!  We are glad to hear you enjoyed your stay in this beautiful one bedroom condo.  It is a new rental for us and the Owner has done a great job with all the new furnishings, newly tiled walk in shower and kitchen appliances.  We hope to have you back with us again soon!
                    [response_date] => 2017-07-20
                    [rating] => 4
                    [review_date] => 2017-07-12
                    [status] => 1
                    [checkin_date] => 2017-07-03
                    [nights_stayed] => 7
                    [sfrm] => 4
                    [clean] => 4
                    [rto] => 1
                    [pc] => 5
                    [loc] => 5
                    [meta] => Array
                        (
                        )

                )

        )

    [rateaddons] => Array
        (
        )

    [unit_meta] => Array
        (
            [0] => stdClass Object
                (
                    [id] => 486875
                    [unit_id] => 73
                    [key] => Custom1
                    [value] => TG1672G42-5G
                )

            [1] => stdClass Object
                (
                    [id] => 486876
                    [unit_id] => 73
                    [key] => Custom2
                    [value] => TG1672G4D39E42
                )

            [2] => stdClass Object
                (
                    [id] => 486877
                    [unit_id] => 73
                    [key] => DisplayRate
                    [value] => Starting from $110/ per night
                )

            [3] => stdClass Object
                (
                    [id] => 486878
                    [unit_id] => 73
                    [key] => Location
                    [value] => Kapaa
                )

            [4] => stdClass Object
                (
                    [id] => 486879
                    [unit_id] => 73
                    [key] => LocationField
                    [value] => Garden Island Properties, LLC
                )

            [5] => stdClass Object
                (
                    [id] => 486880
                    [unit_id] => 73
                    [key] => Property Type
                    [value] => Condo
                )

            [6] => stdClass Object
                (
                    [id] => 486881
                    [unit_id] => 73
                    [key] => View
                    [value] => Garden View
                )

            [7] => stdClass Object
                (
                    [id] => 486882
                    [unit_id] => 73
                    [key] => MinLOS
                    [value] => 4
                )

            [8] => stdClass Object
                (
                    [id] => 486883
                    [unit_id] => 73
                    [key] => StayContext
                    [value] => Checkin
                )

            [9] => stdClass Object
                (
                    [id] => 486884
                    [unit_id] => 73
                    [key] => StayDays
                    [value] => a:7:{i:0;s:3:"Mon";i:1;s:3:"Tue";i:2;s:4:"Weds";i:3;s:4:"Thur";i:4;s:3:"Fri";i:5;s:3:"Sat";i:6;s:3:"Sun";}
                )

            [10] => stdClass Object
                (
                    [id] => 494757
                    [unit_id] => 73
                    [key] => Agreement
                    [value] => GUEST AGREEMENT 
RELATES TO ALL PROPERTIES. PLEASE READ THIS CONTRACT CAREFULLY. 
BY CLICKING ON THE ACCEPT BUTTON YOU (either an individual or a single entity) AGREE THAT THIS AGREEMENT IS ENFORCEABLE LIKE ANY WRITTEN CONTRACT SIGNED BY YOU. 

SECURITY D
                )

        )

    [minnights] => Array
        (
            [0] => stdClass Object
                (
                    [id] => 671466
                    [start_date] => 2018-04-01
                    [end_date] => 2018-12-14
                    [prop_id] => 73
                    [nights] => 4
                    [rate_type] => Daily
                )

            [1] => stdClass Object
                (
                    [id] => 671467
                    [start_date] => 2018-04-01
                    [end_date] => 2018-12-14
                    [prop_id] => 73
                    [nights] => 7
                    [rate_type] => Weekly
                )

            [2] => stdClass Object
                (
                    [id] => 671468
                    [start_date] => 2018-04-01
                    [end_date] => 2018-12-14
                    [prop_id] => 73
                    [nights] => 30
                    [rate_type] => Monthly
                )

            [3] => stdClass Object
                (
                    [id] => 671469
                    [start_date] => 2019-01-06
                    [end_date] => 2019-03-31
                    [prop_id] => 73
                    [nights] => 4
                    [rate_type] => Daily
                )

            [4] => stdClass Object
                (
                    [id] => 671470
                    [start_date] => 2019-01-06
                    [end_date] => 2019-03-31
                    [prop_id] => 73
                    [nights] => 7
                    [rate_type] => Weekly
                )

            [5] => stdClass Object
                (
                    [id] => 671471
                    [start_date] => 2019-01-06
                    [end_date] => 2019-03-31
                    [prop_id] => 73
                    [nights] => 30
                    [rate_type] => Monthly
                )

            [6] => stdClass Object
                (
                    [id] => 671472
                    [start_date] => 2019-04-01
                    [end_date] => 2019-12-14
                    [prop_id] => 73
                    [nights] => 4
                    [rate_type] => Daily
                )

            [7] => stdClass Object
                (
                    [id] => 671473
                    [start_date] => 2019-04-01
                    [end_date] => 2019-12-14
                    [prop_id] => 73
                    [nights] => 7
                    [rate_type] => Weekly
                )

            [8] => stdClass Object
                (
                    [id] => 671474
                    [start_date] => 2019-04-01
                    [end_date] => 2019-12-14
                    [prop_id] => 73
                    [nights] => 30
                    [rate_type] => Monthly
                )

        )

    [manager] => stdClass Object
        (
            [id] => 1
            [ManagerID] => 1
            [Name] => Escapia
            [Vendor] => Escapia
            [Contract] => 
            [random] => 0
            [pms] => 
            [last_update] => 0000-00-00 00:00:00
        )

    [flipkey] => 
    [additonal] => stdClass Object
        (
            [Custom1] => TG1672G42-5G
            [Custom2] => TG1672G4D39E42
            [DisplayRate] => Starting from $110/ per night
            [Location] => Kapaa
            [LocationField] => Garden Island Properties, LLC
            [Property Type] => Condo
            [View] => Garden View
            [MinLOS] => 4
            [StayContext] => Checkin
            [StayDays] => Array
                (
                    [0] => Mon
                    [1] => Tue
                    [2] => Weds
                    [3] => Thur
                    [4] => Fri
                    [5] => Sat
                    [6] => Sun
                )

            [Agreement] => GUEST AGREEMENT 
RELATES TO ALL PROPERTIES. PLEASE READ THIS CONTRACT CAREFULLY. 
BY CLICKING ON THE ACCEPT BUTTON YOU (either an individual or a single entity) AGREE THAT THIS AGREEMENT IS ENFORCEABLE LIKE ANY WRITTEN CONTRACT SIGNED BY YOU. 

SECURITY D
        )

    [checkinout] => Array
        (
        )

    [special] => Array
        (
        )

    [hasSpecial] => 
)
                    
Holiday Rates apply between 12/15 - 1/5