village manor f11, in the heart of kapaa town, walk to shops and beaches
2 Bedroom(s) | 1.5 Bathroom(s) | Sleeps 5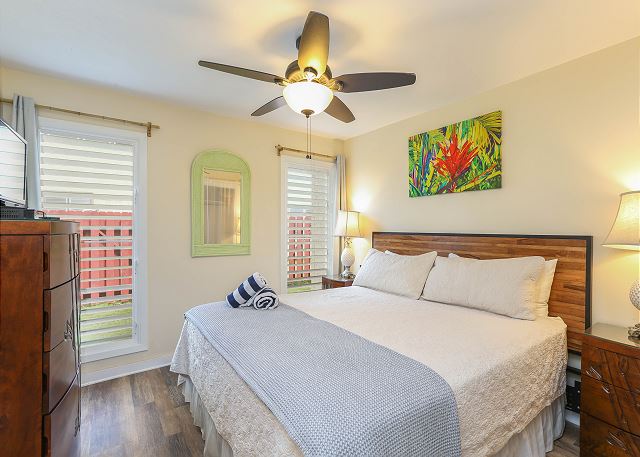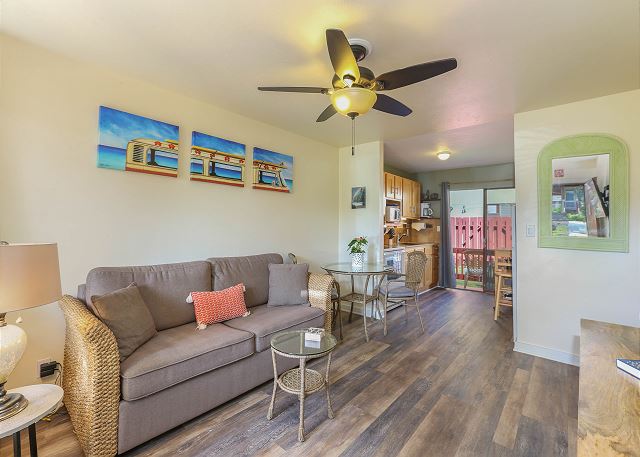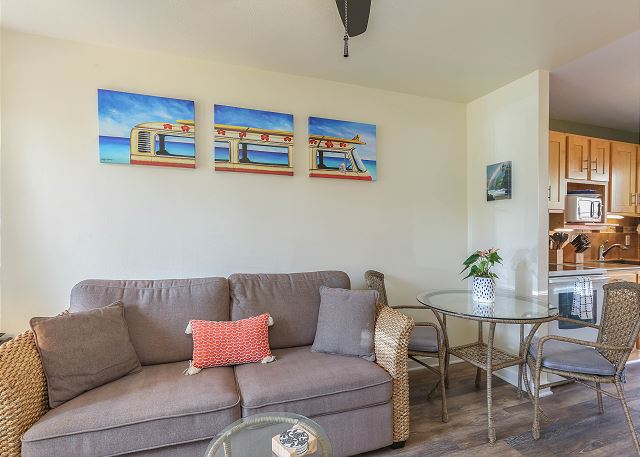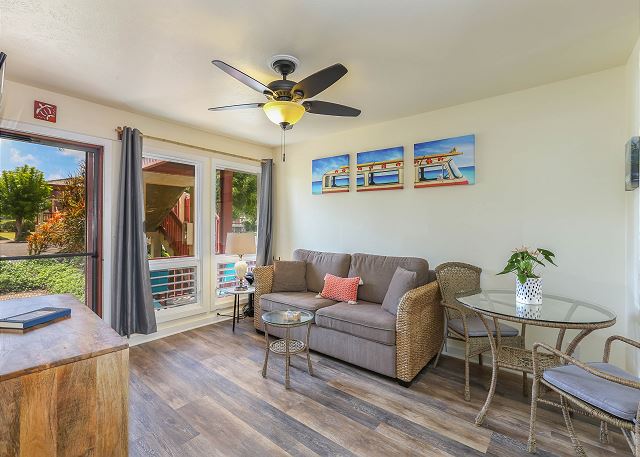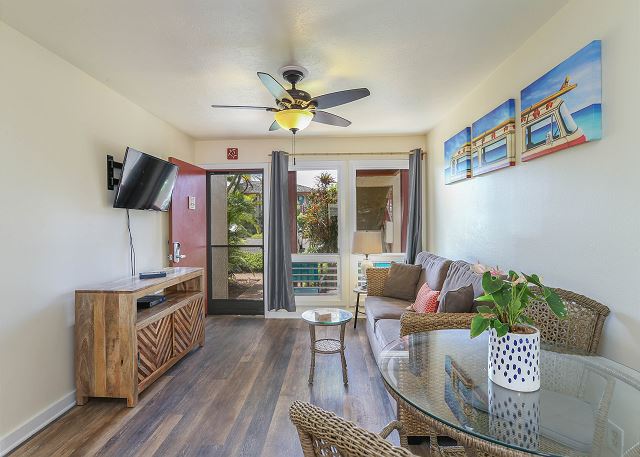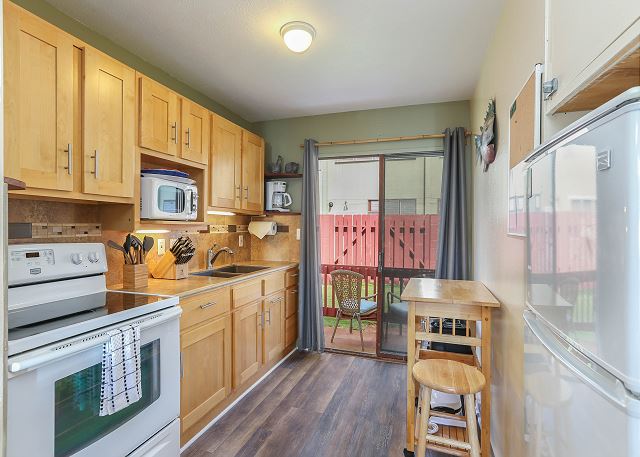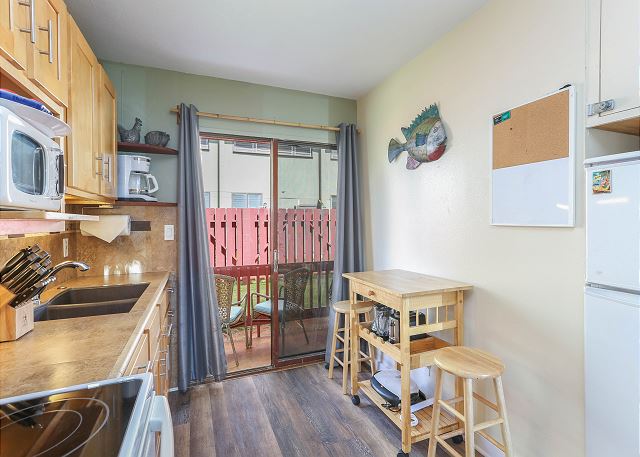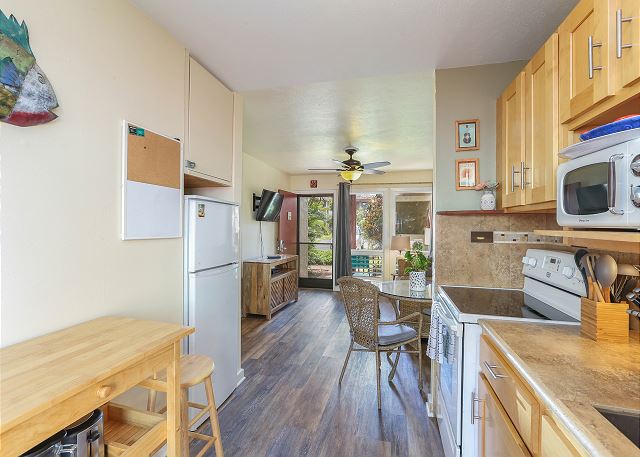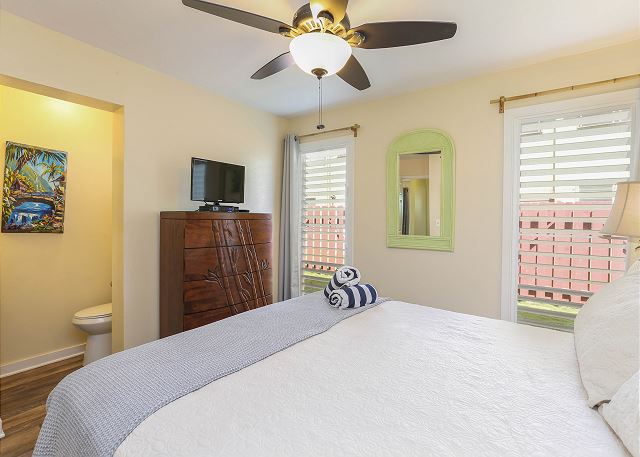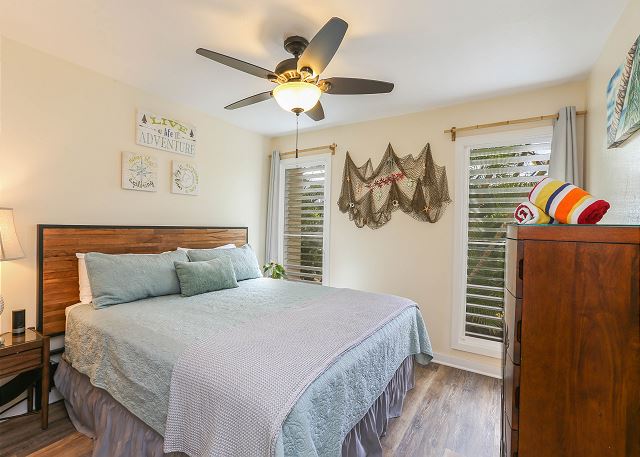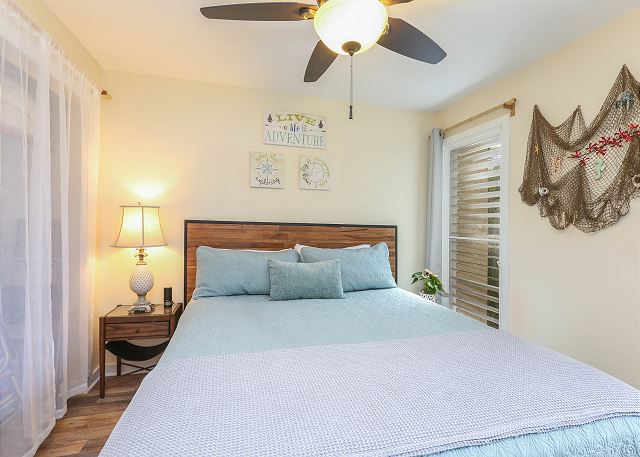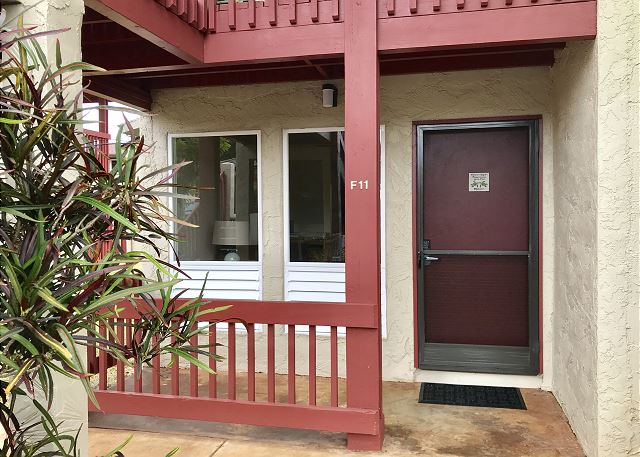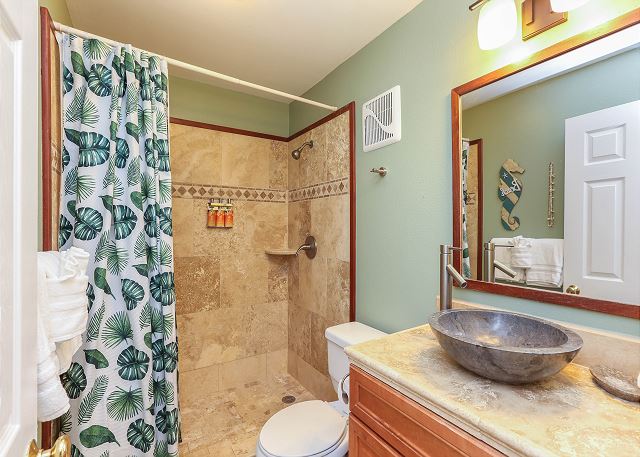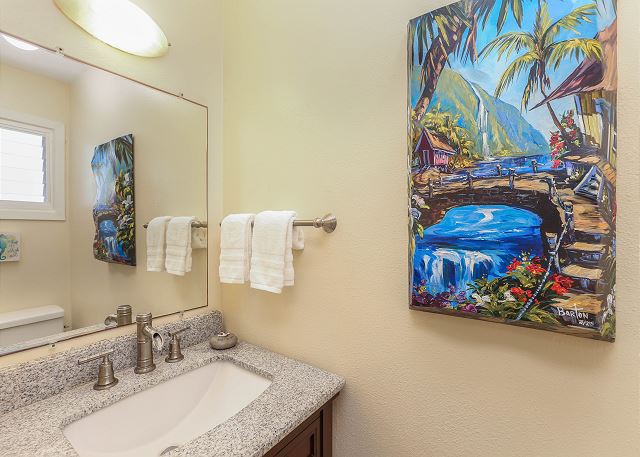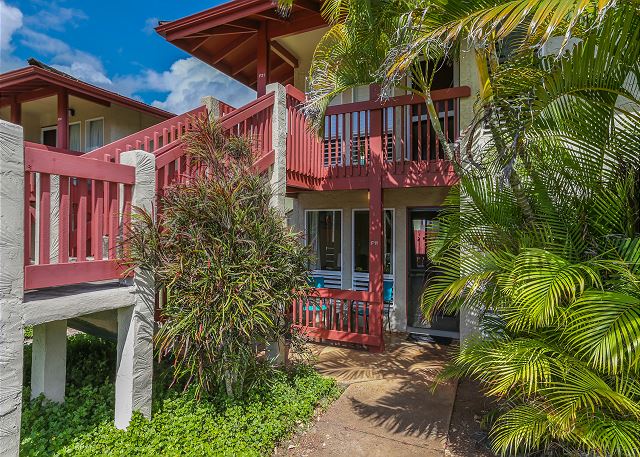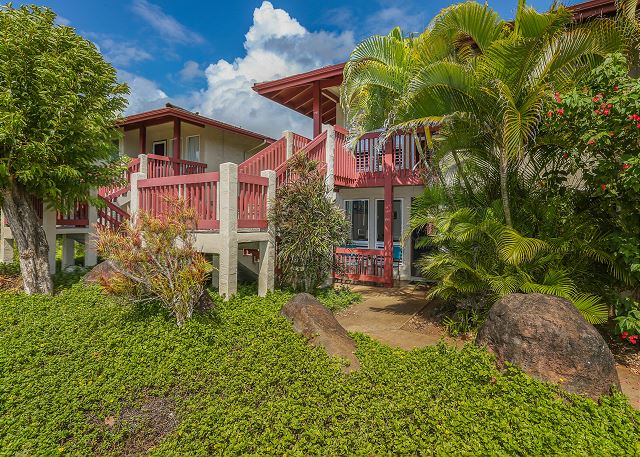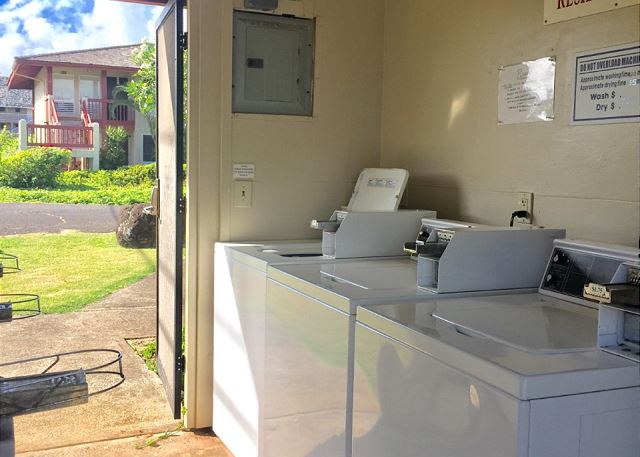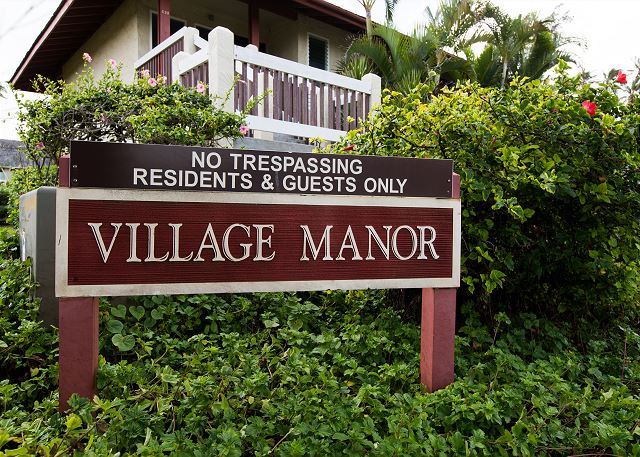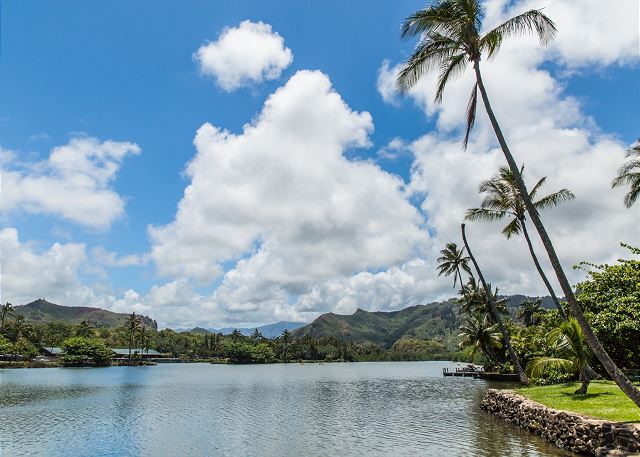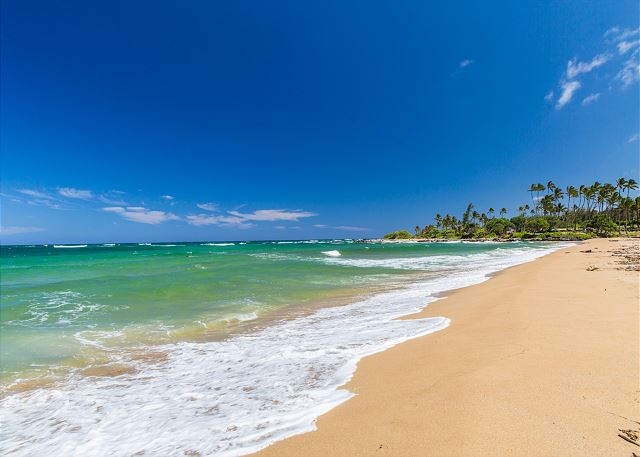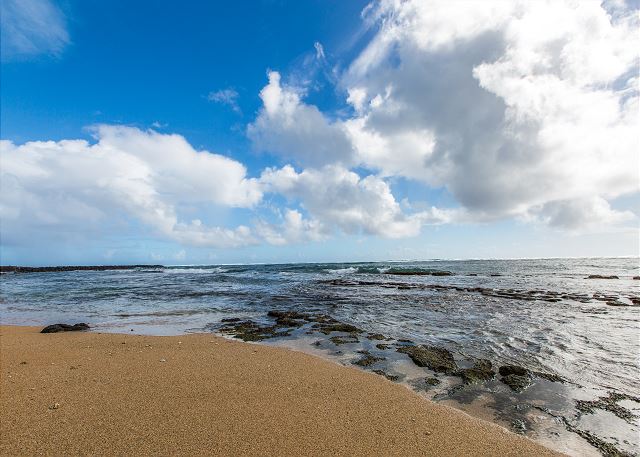 Village Manor Apartment: #F11. Waipouli, Kapa'a, Kaua`i Vacation Rental.



We have implemented enhanced cleaning and disinfecting guidelines as well as infection prevention advice provided by the CDC. This is a Contactless Check-In Property.



2 bedroom, 1.5 bath, ground floor, end unit apartment with all new furniture and beds. Conveniently located in Kapaa Town, a short walk to the beach, shops, restaurants, Kauai Village, Monico's Tequira, Bull Shed, Oasis on the Beach and Kenji Burger featured on "Diners, Drive Ins and Dives". A great rental if you are looking for value and convenience. No swimming pool on property.



Centrally located on Kauai's eastern shore make this the perfect Kauai vacation rental. Located next to the Coconut Grove at Waipouli, Kauai one of the largest coconut groves on the island where Hawaiian Royalty once went horseback riding.



The kitchen and dining area has double glass doors opening up to a cozy lanai where you can enjoy a morning cup of coffee or tea. Enjoy cooking and eating meals in a fully stocked kitchen equipped with oven, refrigerator (with freezer), microwave, toaster oven, blender, electric kettle, coffee maker and other amenities. No BBQ grill on property.



The Living room offers a 40" Smart TV with Spectrum Cable channels. Complimentary high speed internet and WiFi is also available. Queen size sofa sleeper in living room. Parking is free.



The master bedroom has a cal king size bed and a half bath, closet and ceiling fan.

The guest bedroom has a cal king size bed, closet and ceiling fan. The main bathroom has a full bathtub and shower.





A coin operated washer & dryer are available at the property.



No elevator, AC or pool.



Four night minimum stay. Sleeps up to 5 guests.



Holiday Rates apply from 12/15-1/5 with a 7 night minimum stay.

Hawaii State Tax ID#: TA-184-477-9520-01
Amenities

King
Sleep sofa /futon
Coin laundry
Satellite / Cable
Television
Hair Dryer
Internet
Iron & Board
Linens Provided
Living Room
Parking
Towels Provided
Wifi
Free Wifi
Coffee Maker
Dishes & Utensils
Kitchen
Microwave
Oven
Refrigerator
Stove
Toaster
Downtown
Near The Ocean
Deck / Patio
Bedroom
Children welcome
Non smoking only
Pets not allowed
Flexible
Recommended
Emergency phone number: Medical
Emergency phone number: Police
Emergency phone number: Fire
Enhanced cleaning practices
Clean with disinfectant
No-contact check-in and check-out
High touch surfaces cleaned with disinfectant
Towels and bedding washed in water that's at least 60sC/140sF
1 day (24 hours)
Cookware
Blender
Ceiling Fans
Wifi
Beach Towels
Coin Operated Laundry
Patio
Beach Chairs
Lanai
Beach Towels
Close to Town
Village Manor
Coconut Coast
---
Great for Business
Mar 09, 2020
I myself did not stay at the property, but my employees I booked this for were pleased with this rental. My guys mentioned they were very comfortable during their stay, the condo itself was small but the three guys staying there had plenty of room. The unit was very clean and they had everything they needed for their stay. I'd say their only complaint was that it got a little hot there with no AC, however that is clearly listed in the rental description. The managing member I dealt with was quick to respond and made sure I had all the info that my employees needed for their stay. I would recommend this place for small business groups or even 2 couples traveling together as their is two bedrooms. This was a great place for the price as well.
---
Great Location
Feb 13, 2020
Village Manor F11 was the perfect location, everything was close by(within walking distance) Grocery store, beach..
---
Kauai Condo
Jan 22, 2020
Wonderful 1 and 1/2 bath condo located 20 minutes north of Lihue airport. Two supermarkets withing walking distance. Quiet area. A great place to stay!
---
Clean, friendly, very responsive
Jan 03, 2020
The accommodations were fantastic.
---
Magical Kauai Getaway
Sep 29, 2019
We really loved the central location of this condo! Made our sightseeing experiences throughout the island very pleasant. We were easily able to walk to nearby stores and restaurants. Cute, clean condo. Thank you for having us. We will be back.
Book Your Stay!
Select your arrival and departure dates below to reserve this unit.


September 2021

| S | M | T | W | T | F | S |
| --- | --- | --- | --- | --- | --- | --- |
| | | | 01 | 02 | 03 | 04 |
| 05 | 06 | 07 | 08 | 09 | 10 | 11 |
| 12 | 13 | 14 | 15 | 16 | 17 | 18 |
| 19 | 20 | 21 | 22 | 23 | 24 | 25 |
| 26 | 27 | 28 | 29 | 30 | | |
October 2021

| S | M | T | W | T | F | S |
| --- | --- | --- | --- | --- | --- | --- |
| | | | | | 01 | 02 |
| 03 | 04 | 05 | 06 | 07 | 08 | 09 |
| 10 | 11 | 12 | 13 | 14 | 15 | 16 |
| 17 | 18 | 19 | 20 | 21 | 22 | 23 |
| 24 | 25 | 26 | 27 | 28 | 29 | 30 |
| 31 | | | | | | |
November 2021

| S | M | T | W | T | F | S |
| --- | --- | --- | --- | --- | --- | --- |
| | 01 | 02 | 03 | 04 | 05 | 06 |
| 07 | 08 | 09 | 10 | 11 | 12 | 13 |
| 14 | 15 | 16 | 17 | 18 | 19 | 20 |
| 21 | 22 | 23 | 24 | 25 | 26 | 27 |
| 28 | 29 | 30 | | | | |
December 2021

| S | M | T | W | T | F | S |
| --- | --- | --- | --- | --- | --- | --- |
| | | | 01 | 02 | 03 | 04 |
| 05 | 06 | 07 | 08 | 09 | 10 | 11 |
| 12 | 13 | 14 | 15 | 16 | 17 | 18 |
| 19 | 20 | 21 | 22 | 23 | 24 | 25 |
| 26 | 27 | 28 | 29 | 30 | 31 | |
January 2022

| S | M | T | W | T | F | S |
| --- | --- | --- | --- | --- | --- | --- |
| | | | | | | 01 |
| 02 | 03 | 04 | 05 | 06 | 07 | 08 |
| 09 | 10 | 11 | 12 | 13 | 14 | 15 |
| 16 | 17 | 18 | 19 | 20 | 21 | 22 |
| 23 | 24 | 25 | 26 | 27 | 28 | 29 |
| 30 | 31 | | | | | |
February 2022

| S | M | T | W | T | F | S |
| --- | --- | --- | --- | --- | --- | --- |
| | | 01 | 02 | 03 | 04 | 05 |
| 06 | 07 | 08 | 09 | 10 | 11 | 12 |
| 13 | 14 | 15 | 16 | 17 | 18 | 19 |
| 20 | 21 | 22 | 23 | 24 | 25 | 26 |
| 27 | 28 | | | | | |
March 2022

| S | M | T | W | T | F | S |
| --- | --- | --- | --- | --- | --- | --- |
| | | 01 | 02 | 03 | 04 | 05 |
| 06 | 07 | 08 | 09 | 10 | 11 | 12 |
| 13 | 14 | 15 | 16 | 17 | 18 | 19 |
| 20 | 21 | 22 | 23 | 24 | 25 | 26 |
| 27 | 28 | 29 | 30 | 31 | | |
April 2022

| S | M | T | W | T | F | S |
| --- | --- | --- | --- | --- | --- | --- |
| | | | | | 01 | 02 |
| 03 | 04 | 05 | 06 | 07 | 08 | 09 |
| 10 | 11 | 12 | 13 | 14 | 15 | 16 |
| 17 | 18 | 19 | 20 | 21 | 22 | 23 |
| 24 | 25 | 26 | 27 | 28 | 29 | 30 |
May 2022

| S | M | T | W | T | F | S |
| --- | --- | --- | --- | --- | --- | --- |
| 01 | 02 | 03 | 04 | 05 | 06 | 07 |
| 08 | 09 | 10 | 11 | 12 | 13 | 14 |
| 15 | 16 | 17 | 18 | 19 | 20 | 21 |
| 22 | 23 | 24 | 25 | 26 | 27 | 28 |
| 29 | 30 | 31 | | | | |
June 2022

| S | M | T | W | T | F | S |
| --- | --- | --- | --- | --- | --- | --- |
| | | | 01 | 02 | 03 | 04 |
| 05 | 06 | 07 | 08 | 09 | 10 | 11 |
| 12 | 13 | 14 | 15 | 16 | 17 | 18 |
| 19 | 20 | 21 | 22 | 23 | 24 | 25 |
| 26 | 27 | 28 | 29 | 30 | | |
July 2022

| S | M | T | W | T | F | S |
| --- | --- | --- | --- | --- | --- | --- |
| | | | | | 01 | 02 |
| 03 | 04 | 05 | 06 | 07 | 08 | 09 |
| 10 | 11 | 12 | 13 | 14 | 15 | 16 |
| 17 | 18 | 19 | 20 | 21 | 22 | 23 |
| 24 | 25 | 26 | 27 | 28 | 29 | 30 |
| 31 | | | | | | |
August 2022

| S | M | T | W | T | F | S |
| --- | --- | --- | --- | --- | --- | --- |
| | 01 | 02 | 03 | 04 | 05 | 06 |
| 07 | 08 | 09 | 10 | 11 | 12 | 13 |
| 14 | 15 | 16 | 17 | 18 | 19 | 20 |
| 21 | 22 | 23 | 24 | 25 | 26 | 27 |
| 28 | 29 | 30 | 31 | | | |
September 2022

| S | M | T | W | T | F | S |
| --- | --- | --- | --- | --- | --- | --- |
| | | | | 01 | 02 | 03 |
| 04 | 05 | 06 | 07 | 08 | 09 | 10 |
| 11 | 12 | 13 | 14 | 15 | 16 | 17 |
| 18 | 19 | 20 | 21 | 22 | 23 | 24 |
| 25 | 26 | 27 | 28 | 29 | 30 | |
October 2022

| S | M | T | W | T | F | S |
| --- | --- | --- | --- | --- | --- | --- |
| | | | | | | 01 |
| 02 | 03 | 04 | 05 | 06 | 07 | 08 |
| 09 | 10 | 11 | 12 | 13 | 14 | 15 |
| 16 | 17 | 18 | 19 | 20 | 21 | 22 |
| 23 | 24 | 25 | 26 | 27 | 28 | 29 |
| 30 | 31 | | | | | |
November 2022

| S | M | T | W | T | F | S |
| --- | --- | --- | --- | --- | --- | --- |
| | | 01 | 02 | 03 | 04 | 05 |
| 06 | 07 | 08 | 09 | 10 | 11 | 12 |
| 13 | 14 | 15 | 16 | 17 | 18 | 19 |
| 20 | 21 | 22 | 23 | 24 | 25 | 26 |
| 27 | 28 | 29 | 30 | | | |
December 2022

| S | M | T | W | T | F | S |
| --- | --- | --- | --- | --- | --- | --- |
| | | | | 01 | 02 | 03 |
| 04 | 05 | 06 | 07 | 08 | 09 | 10 |
| 11 | 12 | 13 | 14 | 15 | 16 | 17 |
| 18 | 19 | 20 | 21 | 22 | 23 | 24 |
| 25 | 26 | 27 | 28 | 29 | 30 | 31 |
Available
Unavailable
Check-In Only
Check-Out Only
Seasonal Rates
Starting from $145 per night

                    stdClass Object
(
    [id] => 86
    [ManagerID] => 1
    [ComplexID] => 0
    [Name] => Village Manor F11, In the Heart of Kapaa Town, Walk to Shops and Beaches
    [PropertyCode] => 2064-164274
    [Address1] => 4461 Kamoa Road
    [Address2] => 
    [City] => Kapaa
    [State] => HI
    [Country] => US
    [PostalCode] => 
    [Province] => 
    [Bedrooms] => 2
    [Bathrooms] => 1.5
    [Beds] => {"King":2,"Sofa Bed":1}
    [Type] => Condominium
    [Area] => 
    [Location] => Garden Island Properties, LLC
    [View] => Garden Unit
    [Video] => 
    [lat] => 22.059464
    [long] => -159.321257
    [map_id] => 0
    [Complex] => 218
    [Description] => Village Manor Apartment: #F11.  Waipouli, Kapa'a, Kaua`i Vacation Rental.



We have implemented enhanced cleaning and disinfecting guidelines as well as infection prevention advice provided by the CDC. This is a Contactless Check-In Property.



2 bedroom, 1.5 bath, ground floor, end unit apartment with all new furniture and beds.  Conveniently located in Kapaa Town, a short walk to the beach, shops, restaurants, Kauai Village, Monico's Tequira, Bull Shed, Oasis on the Beach and Kenji Burger featured on "Diners, Drive Ins and Dives".  A great rental if you are looking for value and convenience.  No swimming pool on property.



Centrally located on Kauai's eastern shore make this the perfect Kauai vacation rental.  Located next to the Coconut Grove at Waipouli, Kauai one of the largest coconut groves on the island where Hawaiian Royalty once went horseback riding. 



The kitchen and dining area has double glass doors opening up to a cozy lanai where you can enjoy a morning cup of coffee or tea. Enjoy cooking and eating meals in a fully stocked kitchen equipped with oven, refrigerator (with freezer), microwave, toaster oven, blender, electric kettle, coffee maker and other amenities. No BBQ grill on property.



The Living room offers a 40" Smart TV with Spectrum Cable channels. Complimentary high speed internet and WiFi is also available. Queen size sofa sleeper in living room.  Parking is free.



The master bedroom has a cal king size bed and a half bath, closet and ceiling fan. 

The guest bedroom has a cal king size bed, closet and ceiling fan. The main bathroom has a full bathtub and shower.





A coin operated washer & dryer are available at the property.



No elevator, AC or pool.



Four night minimum stay.  Sleeps up to 5 guests.



Holiday Rates apply from 12/15-1/5 with a 7 night minimum stay.

Hawaii State Tax ID#: TA-184-477-9520-01
    [ShortDescription] => Cute 2 bedroom, 1.5 bath, ground floor end apartment.  Full kitchen, complimentary WiFi and parking. Brand new Cal King bed in each bedroom & queen size sofa sleeper in living room.  Sleeps 5. Walk to the beach, shops, restaurants and grocery stores.
    [Sleeps] => 5
    [MaxAdult] => 0
    [MaxSearchMonths] => 48
    [Status] => Active
    [page_slug] => NEW_Village_Manor_F11_In_the_Heart_of_Kapaa_Town_Walk_to_Shops_and_Beaches-2064-164274-1
    [SEOTitle] => Village Manor F11, Kapaa Town, Walk to Shops and Beach
    [SEODescription] => Village Manor F11, In the Heart of Kapaa Town, Walk to Shops and Beaches
    [Featured] => 0
    [created] => 0000-00-00 00:00:00
    [updated] => 2021-09-26 08:45:57
    [internalcode] => VM F11
    [photos] => Array
        (
            [0] => stdClass Object
                (
                    [id] => 3865045
                    [unit_id] => 86
                    [url] => https://pictures.escapia.com/GAISPR/164274/0106750827.jpg
                    [thumb_url] => https://pictures.escapia.com/GAISPR/164274/0106750827.jpg
                     => King Bedroom in Master
                    [sort] => 0
                )

            [1] => stdClass Object
                (
                    [id] => 3865046
                    [unit_id] => 86
                    [url] => https://pictures.escapia.com/GAISPR/164274/1530280468.jpg
                    [thumb_url] => https://pictures.escapia.com/GAISPR/164274/1530280468.jpg
                     => Living and Kitchen Areas
                    [sort] => 1
                )

            [2] => stdClass Object
                (
                    [id] => 3865047
                    [unit_id] => 86
                    [url] => https://pictures.escapia.com/GAISPR/164274/0002760152.jpg
                    [thumb_url] => https://pictures.escapia.com/GAISPR/164274/0002760152.jpg
                     => Living Room with Sofa Sleeper
                    [sort] => 2
                )

            [3] => stdClass Object
                (
                    [id] => 3865048
                    [unit_id] => 86
                    [url] => https://pictures.escapia.com/GAISPR/164274/2411960217.jpg
                    [thumb_url] => https://pictures.escapia.com/GAISPR/164274/2411960217.jpg
                     => Living Area with Cable TV
                    [sort] => 3
                )

            [4] => stdClass Object
                (
                    [id] => 3865049
                    [unit_id] => 86
                    [url] => https://pictures.escapia.com/GAISPR/164274/9507460289.jpg
                    [thumb_url] => https://pictures.escapia.com/GAISPR/164274/9507460289.jpg
                     => Dining and Living Areas
                    [sort] => 4
                )

            [5] => stdClass Object
                (
                    [id] => 3865050
                    [unit_id] => 86
                    [url] => https://pictures.escapia.com/GAISPR/164274/7781820164.jpg
                    [thumb_url] => https://pictures.escapia.com/GAISPR/164274/7781820164.jpg
                     => Full Kitchen
                    [sort] => 5
                )

            [6] => stdClass Object
                (
                    [id] => 3865051
                    [unit_id] => 86
                    [url] => https://pictures.escapia.com/GAISPR/164274/2096540760.jpg
                    [thumb_url] => https://pictures.escapia.com/GAISPR/164274/2096540760.jpg
                     => Full Kitchen to Lanai Area
                    [sort] => 6
                )

            [7] => stdClass Object
                (
                    [id] => 3865052
                    [unit_id] => 86
                    [url] => https://pictures.escapia.com/GAISPR/164274/4190090410.jpg
                    [thumb_url] => https://pictures.escapia.com/GAISPR/164274/4190090410.jpg
                     => Full Kitchen
                    [sort] => 7
                )

            [8] => stdClass Object
                (
                    [id] => 3865053
                    [unit_id] => 86
                    [url] => https://pictures.escapia.com/GAISPR/164274/3840410547.jpg
                    [thumb_url] => https://pictures.escapia.com/GAISPR/164274/3840410547.jpg
                     => **NOTE**Grill has been removed from unit due to Association rules.
                    [sort] => 8
                )

            [9] => stdClass Object
                (
                    [id] => 3865054
                    [unit_id] => 86
                    [url] => https://pictures.escapia.com/GAISPR/164274/7372280898.jpg
                    [thumb_url] => https://pictures.escapia.com/GAISPR/164274/7372280898.jpg
                     => **Note**Grill has been removed due to associaion rules. 
                    [sort] => 9
                )

            [10] => stdClass Object
                (
                    [id] => 3865055
                    [unit_id] => 86
                    [url] => https://pictures.escapia.com/GAISPR/164274/8154890715.jpg
                    [thumb_url] => https://pictures.escapia.com/GAISPR/164274/8154890715.jpg
                     => King Bedroom with Half Bath
                    [sort] => 10
                )

            [11] => stdClass Object
                (
                    [id] => 3865056
                    [unit_id] => 86
                    [url] => https://pictures.escapia.com/GAISPR/164274/4124050627.jpg
                    [thumb_url] => https://pictures.escapia.com/GAISPR/164274/4124050627.jpg
                     => King Bedroom-2
                    [sort] => 11
                )

            [12] => stdClass Object
                (
                    [id] => 3865057
                    [unit_id] => 86
                    [url] => https://pictures.escapia.com/GAISPR/164274/8650190893.jpg
                    [thumb_url] => https://pictures.escapia.com/GAISPR/164274/8650190893.jpg
                     => King Bedroom-2
                    [sort] => 12
                )

            [13] => stdClass Object
                (
                    [id] => 3865058
                    [unit_id] => 86
                    [url] => https://pictures.escapia.com/GAISPR/164274/0431850670.jpg
                    [thumb_url] => https://pictures.escapia.com/GAISPR/164274/0431850670.jpg
                     => Front Entrance
                    [sort] => 13
                )

            [14] => stdClass Object
                (
                    [id] => 3865059
                    [unit_id] => 86
                    [url] => https://pictures.escapia.com/GAISPR/164274/6500230592.jpg
                    [thumb_url] => https://pictures.escapia.com/GAISPR/164274/6500230592.jpg
                     => Full Bathroom with Malie Organic Products
                    [sort] => 14
                )

            [15] => stdClass Object
                (
                    [id] => 3865060
                    [unit_id] => 86
                    [url] => https://pictures.escapia.com/GAISPR/164274/2973290455.jpg
                    [thumb_url] => https://pictures.escapia.com/GAISPR/164274/2973290455.jpg
                     => Half Bathroom in Master Bedroom
                    [sort] => 15
                )

            [16] => stdClass Object
                (
                    [id] => 3865061
                    [unit_id] => 86
                    [url] => https://pictures.escapia.com/GAISPR/164274/7230340111.jpg
                    [thumb_url] => https://pictures.escapia.com/GAISPR/164274/7230340111.jpg
                     => Village Manor
                    [sort] => 16
                )

            [17] => stdClass Object
                (
                    [id] => 3865062
                    [unit_id] => 86
                    [url] => https://pictures.escapia.com/GAISPR/164274/3967560517.jpg
                    [thumb_url] => https://pictures.escapia.com/GAISPR/164274/3967560517.jpg
                     => Village Manor 
                    [sort] => 17
                )

            [18] => stdClass Object
                (
                    [id] => 3865063
                    [unit_id] => 86
                    [url] => https://pictures.escapia.com/GAISPR/164274/2831650983.jpg
                    [thumb_url] => https://pictures.escapia.com/GAISPR/164274/2831650983.jpg
                     => 
                    [sort] => 18
                )

            [19] => stdClass Object
                (
                    [id] => 3865064
                    [unit_id] => 86
                    [url] => https://pictures.escapia.com/GAISPR/164274/2820760745.jpg
                    [thumb_url] => https://pictures.escapia.com/GAISPR/164274/2820760745.jpg
                     => Village Manor, Kapaa, Hawaii
                    [sort] => 19
                )

            [20] => stdClass Object
                (
                    [id] => 3865065
                    [unit_id] => 86
                    [url] => https://pictures.escapia.com/GAISPR/164274/1623300266.jpg
                    [thumb_url] => https://pictures.escapia.com/GAISPR/164274/1623300266.jpg
                     => Wailua Beach, 2 miles south
                    [sort] => 20
                )

            [21] => stdClass Object
                (
                    [id] => 3865066
                    [unit_id] => 86
                    [url] => https://pictures.escapia.com/GAISPR/164274/2080640203.jpg
                    [thumb_url] => https://pictures.escapia.com/GAISPR/164274/2080640203.jpg
                     => Wailua River, 2 miles south
                    [sort] => 21
                )

            [22] => stdClass Object
                (
                    [id] => 3865067
                    [unit_id] => 86
                    [url] => https://pictures.escapia.com/GAISPR/164274/4164570240.jpg
                    [thumb_url] => https://pictures.escapia.com/GAISPR/164274/4164570240.jpg
                     => Wailua Beach, 2 miles south
                    [sort] => 22
                )

            [23] => stdClass Object
                (
                    [id] => 3865068
                    [unit_id] => 86
                    [url] => https://pictures.escapia.com/GAISPR/164274/9935740582.jpg
                    [thumb_url] => https://pictures.escapia.com/GAISPR/164274/9935740582.jpg
                     => Coconut Coast Beach
                    [sort] => 23
                )

        )

    [rates] => Array
        (
            [0] => stdClass Object
                (
                    [id] => 1323389
                    [start_date] => 2021-04-01
                    [end_date] => 2021-12-14
                    [amount] => 166.155
                    [chargebasis] => Daily
                    [unit_id] => 86
                )

            [1] => stdClass Object
                (
                    [id] => 1323390
                    [start_date] => 2021-04-01
                    [end_date] => 2021-12-14
                    [amount] => 1141.6202
                    [chargebasis] => Weekly
                    [unit_id] => 86
                )

            [2] => stdClass Object
                (
                    [id] => 1323391
                    [start_date] => 2021-04-01
                    [end_date] => 2021-12-14
                    [amount] => 4798.62
                    [chargebasis] => Monthly
                    [unit_id] => 86
                )

            [3] => stdClass Object
                (
                    [id] => 1323392
                    [start_date] => 2021-12-15
                    [end_date] => 2022-01-09
                    [amount] => 264.6
                    [chargebasis] => Daily
                    [unit_id] => 86
                )

            [4] => stdClass Object
                (
                    [id] => 1323393
                    [start_date] => 2021-12-15
                    [end_date] => 2022-01-09
                    [amount] => 1874.88
                    [chargebasis] => Weekly
                    [unit_id] => 86
                )

            [5] => stdClass Object
                (
                    [id] => 1323394
                    [start_date] => 2022-01-10
                    [end_date] => 2022-03-31
                    [amount] => 180
                    [chargebasis] => Daily
                    [unit_id] => 86
                )

            [6] => stdClass Object
                (
                    [id] => 1323395
                    [start_date] => 2022-01-10
                    [end_date] => 2022-03-31
                    [amount] => 1260
                    [chargebasis] => Weekly
                    [unit_id] => 86
                )

            [7] => stdClass Object
                (
                    [id] => 1323396
                    [start_date] => 2022-01-10
                    [end_date] => 2022-03-31
                    [amount] => 5400
                    [chargebasis] => Monthly
                    [unit_id] => 86
                )

            [8] => stdClass Object
                (
                    [id] => 1323397
                    [start_date] => 2022-04-01
                    [end_date] => 2022-12-14
                    [amount] => 190.995
                    [chargebasis] => Daily
                    [unit_id] => 86
                )

            [9] => stdClass Object
                (
                    [id] => 1323398
                    [start_date] => 2022-04-01
                    [end_date] => 2022-12-14
                    [amount] => 1336.9601
                    [chargebasis] => Weekly
                    [unit_id] => 86
                )

            [10] => stdClass Object
                (
                    [id] => 1323399
                    [start_date] => 2022-04-01
                    [end_date] => 2022-12-14
                    [amount] => 5729.85
                    [chargebasis] => Monthly
                    [unit_id] => 86
                )

        )

    [attributes] => Array
        (
            [0] => stdClass Object
                (
                    [id] => 7616154
                    [name] => king
                    [value] => 
                    [group] => AMENITY
                    [unit_id] => 86
                )

            [1] => stdClass Object
                (
                    [id] => 7616155
                    [name] => sleep sofa /futon
                    [value] => 
                    [group] => AMENITY
                    [unit_id] => 86
                )

            [2] => stdClass Object
                (
                    [id] => 7616156
                    [name] => coin laundry
                    [value] => 
                    [group] => ATTRACTIONS
                    [unit_id] => 86
                )

            [3] => stdClass Object
                (
                    [id] => 7616157
                    [name] => Satellite / Cable
                    [value] => 
                    [group] => ENTERTAINMENT
                    [unit_id] => 86
                )

            [4] => stdClass Object
                (
                    [id] => 7616158
                    [name] => Television
                    [value] => 
                    [group] => ENTERTAINMENT
                    [unit_id] => 86
                )

            [5] => stdClass Object
                (
                    [id] => 7616159
                    [name] => Hair Dryer
                    [value] => 
                    [group] => GENERAL
                    [unit_id] => 86
                )

            [6] => stdClass Object
                (
                    [id] => 7616160
                    [name] => Internet
                    [value] => 
                    [group] => GENERAL
                    [unit_id] => 86
                )

            [7] => stdClass Object
                (
                    [id] => 7616161
                    [name] => Iron & Board
                    [value] => 
                    [group] => GENERAL
                    [unit_id] => 86
                )

            [8] => stdClass Object
                (
                    [id] => 7616162
                    [name] => Linens Provided
                    [value] => 
                    [group] => GENERAL
                    [unit_id] => 86
                )

            [9] => stdClass Object
                (
                    [id] => 7616163
                    [name] => Living Room
                    [value] => 
                    [group] => GENERAL
                    [unit_id] => 86
                )

            [10] => stdClass Object
                (
                    [id] => 7616164
                    [name] => Parking
                    [value] => 
                    [group] => GENERAL
                    [unit_id] => 86
                )

            [11] => stdClass Object
                (
                    [id] => 7616165
                    [name] => Towels Provided
                    [value] => 
                    [group] => GENERAL
                    [unit_id] => 86
                )

            [12] => stdClass Object
                (
                    [id] => 7616166
                    [name] => Wifi
                    [value] => 
                    [group] => GENERAL
                    [unit_id] => 86
                )

            [13] => stdClass Object
                (
                    [id] => 7616167
                    [name] => Free Wifi
                    [value] => 
                    [group] => GENERAL
                    [unit_id] => 86
                )

            [14] => stdClass Object
                (
                    [id] => 7616168
                    [name] => Coffee Maker
                    [value] => 
                    [group] => KITCHEN
                    [unit_id] => 86
                )

            [15] => stdClass Object
                (
                    [id] => 7616169
                    [name] => Dishes & Utensils
                    [value] => 
                    [group] => KITCHEN
                    [unit_id] => 86
                )

            [16] => stdClass Object
                (
                    [id] => 7616170
                    [name] => Kitchen
                    [value] => 
                    [group] => KITCHEN
                    [unit_id] => 86
                )

            [17] => stdClass Object
                (
                    [id] => 7616171
                    [name] => Microwave
                    [value] => 
                    [group] => KITCHEN
                    [unit_id] => 86
                )

            [18] => stdClass Object
                (
                    [id] => 7616172
                    [name] => Oven
                    [value] => 
                    [group] => KITCHEN
                    [unit_id] => 86
                )

            [19] => stdClass Object
                (
                    [id] => 7616173
                    [name] => Refrigerator
                    [value] => 
                    [group] => KITCHEN
                    [unit_id] => 86
                )

            [20] => stdClass Object
                (
                    [id] => 7616174
                    [name] => Stove
                    [value] => 
                    [group] => KITCHEN
                    [unit_id] => 86
                )

            [21] => stdClass Object
                (
                    [id] => 7616175
                    [name] => Toaster
                    [value] => 
                    [group] => KITCHEN
                    [unit_id] => 86
                )

            [22] => stdClass Object
                (
                    [id] => 7616176
                    [name] => Downtown
                    [value] => 
                    [group] => LOCATION_TYPE
                    [unit_id] => 86
                )

            [23] => stdClass Object
                (
                    [id] => 7616177
                    [name] => Near The Ocean
                    [value] => 
                    [group] => LOCATION_TYPE
                    [unit_id] => 86
                )

            [24] => stdClass Object
                (
                    [id] => 7616178
                    [name] => Deck / Patio
                    [value] => 
                    [group] => OUTSIDE
                    [unit_id] => 86
                )

            [25] => stdClass Object
                (
                    [id] => 7616179
                    [name] => bedroom
                    [value] => 
                    [group] => ROOM_SUBTYPE
                    [unit_id] => 86
                )

            [26] => stdClass Object
                (
                    [id] => 7616180
                    [name] => children welcome
                    [value] => 
                    [group] => SUITABILITY
                    [unit_id] => 86
                )

            [27] => stdClass Object
                (
                    [id] => 7616181
                    [name] => non smoking only
                    [value] => 
                    [group] => SUITABILITY
                    [unit_id] => 86
                )

            [28] => stdClass Object
                (
                    [id] => 7616182
                    [name] => pets not allowed
                    [value] => 
                    [group] => SUITABILITY
                    [unit_id] => 86
                )

            [29] => stdClass Object
                (
                    [id] => 7616183
                    [name] => flexible
                    [value] => 
                    [group] => ARRIVAL_DAY
                    [unit_id] => 86
                )

            [30] => stdClass Object
                (
                    [id] => 7616184
                    [name] => recommended
                    [value] => 
                    [group] => CAR
                    [unit_id] => 86
                )

            [31] => stdClass Object
                (
                    [id] => 7616185
                    [name] => Emergency phone number: Medical
                    [value] => 
                    [group] => Safety
                    [unit_id] => 86
                )

            [32] => stdClass Object
                (
                    [id] => 7616186
                    [name] => Emergency phone number: Police
                    [value] => 
                    [group] => Safety
                    [unit_id] => 86
                )

            [33] => stdClass Object
                (
                    [id] => 7616187
                    [name] => Emergency phone number: Fire
                    [value] => 
                    [group] => Safety
                    [unit_id] => 86
                )

            [34] => stdClass Object
                (
                    [id] => 7616188
                    [name] => Enhanced cleaning practices
                    [value] => 
                    [group] => Health and Safety
                    [unit_id] => 86
                )

            [35] => stdClass Object
                (
                    [id] => 7616189
                    [name] => Clean with disinfectant
                    [value] => 
                    [group] => Health and Safety
                    [unit_id] => 86
                )

            [36] => stdClass Object
                (
                    [id] => 7616190
                    [name] => No-contact check-in and check-out
                    [value] => 
                    [group] => Health and Safety
                    [unit_id] => 86
                )

            [37] => stdClass Object
                (
                    [id] => 7616191
                    [name] => High touch surfaces cleaned with disinfectant
                    [value] => 
                    [group] => Health and Safety
                    [unit_id] => 86
                )

            [38] => stdClass Object
                (
                    [id] => 7616192
                    [name] => Towels and bedding washed in water that's at least 60sC/140sF
                    [value] => 
                    [group] => Health and Safety
                    [unit_id] => 86
                )

            [39] => stdClass Object
                (
                    [id] => 7616193
                    [name] => 1 day (24 hours)
                    [value] => 
                    [group] => Health and Safety
                    [unit_id] => 86
                )

            [40] => stdClass Object
                (
                    [id] => 7616194
                    [name] => Cookware
                    [value] => 
                    [group] => Kitchen
                    [unit_id] => 86
                )

            [41] => stdClass Object
                (
                    [id] => 7616195
                    [name] => Blender
                    [value] => 
                    [group] => Kitchen
                    [unit_id] => 86
                )

            [42] => stdClass Object
                (
                    [id] => 7616196
                    [name] => Ceiling Fans
                    [value] => 
                    [group] => Living
                    [unit_id] => 86
                )

            [43] => stdClass Object
                (
                    [id] => 7616197
                    [name] => Wifi
                    [value] => 
                    [group] => Living
                    [unit_id] => 86
                )

            [44] => stdClass Object
                (
                    [id] => 7616198
                    [name] => Beach Towels
                    [value] => 
                    [group] => Living
                    [unit_id] => 86
                )

            [45] => stdClass Object
                (
                    [id] => 7616199
                    [name] => Coin Operated Laundry
                    [value] => 
                    [group] => Living
                    [unit_id] => 86
                )

            [46] => stdClass Object
                (
                    [id] => 7616200
                    [name] => Patio
                    [value] => 
                    [group] => Outdoor
                    [unit_id] => 86
                )

            [47] => stdClass Object
                (
                    [id] => 7616201
                    [name] => Beach Chairs
                    [value] => 
                    [group] => Outdoor
                    [unit_id] => 86
                )

            [48] => stdClass Object
                (
                    [id] => 7616202
                    [name] => Lanai
                    [value] => 
                    [group] => Outdoor
                    [unit_id] => 86
                )

            [49] => stdClass Object
                (
                    [id] => 7616203
                    [name] => Beach Towels
                    [value] => 
                    [group] => Outdoor
                    [unit_id] => 86
                )

            [50] => stdClass Object
                (
                    [id] => 7616204
                    [name] => Close to Town
                    [value] => 
                    [group] => Geographic
                    [unit_id] => 86
                )

            [51] => stdClass Object
                (
                    [id] => 7616205
                    [name] => Village Manor
                    [value] => 
                    [group] => Geographic
                    [unit_id] => 86
                )

            [52] => stdClass Object
                (
                    [id] => 7616206
                    [name] => Coconut Coast
                    [value] => 
                    [group] => Geographic
                    [unit_id] => 86
                )

        )

    [avail] => Array
        (
            [0] => stdClass Object
                (
                    [id] => 30670590
                    [start_date] => 2021-09-01
                    [end_date] => 2021-09-09
                    [unit_id] => 86
                )

            [1] => stdClass Object
                (
                    [id] => 30670591
                    [start_date] => 2021-09-10
                    [end_date] => 2021-10-01
                    [unit_id] => 86
                )

            [2] => stdClass Object
                (
                    [id] => 30670592
                    [start_date] => 2021-10-06
                    [end_date] => 2021-10-18
                    [unit_id] => 86
                )

            [3] => stdClass Object
                (
                    [id] => 30670593
                    [start_date] => 2021-10-25
                    [end_date] => 2021-11-05
                    [unit_id] => 86
                )

            [4] => stdClass Object
                (
                    [id] => 30670594
                    [start_date] => 2021-11-15
                    [end_date] => 2021-12-03
                    [unit_id] => 86
                )

            [5] => stdClass Object
                (
                    [id] => 30670595
                    [start_date] => 2021-12-19
                    [end_date] => 2021-12-30
                    [unit_id] => 86
                )

            [6] => stdClass Object
                (
                    [id] => 30670596
                    [start_date] => 2022-01-12
                    [end_date] => 2022-01-18
                    [unit_id] => 86
                )

            [7] => stdClass Object
                (
                    [id] => 30670597
                    [start_date] => 2022-03-08
                    [end_date] => 2022-03-17
                    [unit_id] => 86
                )

        )

    [reviews] => Array
        (
            [0] => stdClass Object
                (
                    [id] => 30655
                    [external_id] => c9aec2bc-3500-4a28-8ac5-7842fe64c33d
                    [prop_id] => 86
                    [review_id] => 0
                    [source] => Escapia
                    [title] => Great for Business
                    [review] => I myself did not stay at the property, but my employees I booked this for were pleased with this rental. My guys mentioned they were very comfortable during their stay, the condo itself was small but the three guys staying there had plenty of room. The unit was very clean and they had everything they needed for their stay. I'd say their only complaint was that it got a little hot there with no AC, however that is clearly listed in the rental description. 
The managing member I dealt with was quick to respond and made sure I had all the info that my employees needed for their stay. 
I would recommend this place for small business groups or even 2 couples traveling together as their is two bedrooms. This was a great place for the price as well. 
                    [name] => Keaton R.
                    [email] => jessica@ig-steel.com
                    [location] => 
                    [response] => Mahalo Jessica! We are happy that everyone felt comfortable during their stay and were pleased with the accommodations. Air conditioning systems are not allowed at this property, however this unit is equipped with ceiling fans in the living room and bedrooms along with additional floor fans if needed. We appreciate your kind review and do hope you will stay again! Aloha, Garden Island Properties
                    [response_date] => 2020-04-22
                    [rating] => 5
                    [review_date] => 2020-03-09
                    [featured] => 
                    [status] => 1
                    [checkin_date] => 2020-02-18
                    [nights_stayed] => 3
                    [sfrm] => 5
                    [clean] => 5
                    [rto] => 1
                    [pc] => 5
                    [loc] => 5
                    [meta] => Array
                        (
                        )

                )

            [1] => stdClass Object
                (
                    [id] => 30627
                    [external_id] => 50ea9817-a188-47ce-bc55-ef9a0bbce237
                    [prop_id] => 86
                    [review_id] => 0
                    [source] => Escapia
                    [title] => Great Location
                    [review] => Village Manor F11 was the perfect location, everything was close by(within walking distance) Grocery store, beach..
                    [name] => MEGAN C.
                    [email] => megancurlee@yahoo.com
                    [location] => 
                    [response] => Mahalo Megan! We appreciate your review and are glad to hear that you enjoyed the location of the apartment. We thank you for staying with us and hope that you will be back to visit us again real soon. Aloha, Garden Island Properties
                    [response_date] => 2020-02-21
                    [rating] => 5
                    [review_date] => 2020-02-13
                    [featured] => 
                    [status] => 1
                    [checkin_date] => 2020-02-04
                    [nights_stayed] => 7
                    [sfrm] => 5
                    [clean] => 5
                    [rto] => 1
                    [pc] => 5
                    [loc] => 5
                    [meta] => Array
                        (
                        )

                )

            [2] => stdClass Object
                (
                    [id] => 30574
                    [external_id] => 3380e871-6f7e-4926-8de1-7e463b0f45d8
                    [prop_id] => 86
                    [review_id] => 0
                    [source] => Escapia
                    [title] => Kauai Condo
                    [review] => Wonderful 1 and 1/2 bath condo located 20 minutes north of Lihue airport.  Two supermarkets withing walking distance.  Quiet area.  A great place to stay!
                    [name] => 
                    [email] => jasonchadkin@gmail.com
                    [location] => 
                    [response] => Aloha Jason and thank you so much for your stay with us! We are so happy that you enjoyed the apartment and its convenient location. We appreciate this amazing review and hope that you will be back to stay again! Mahalo, Garden Island Properties
                    [response_date] => 2020-02-08
                    [rating] => 5
                    [review_date] => 2020-01-22
                    [featured] => 
                    [status] => 1
                    [checkin_date] => 2020-01-01
                    [nights_stayed] => 4
                    [sfrm] => 5
                    [clean] => 5
                    [rto] => 1
                    [pc] => 5
                    [loc] => 5
                    [meta] => Array
                        (
                        )

                )

            [3] => stdClass Object
                (
                    [id] => 30548
                    [external_id] => f86abf37-305f-47fc-9a4a-1e18bca34e74
                    [prop_id] => 86
                    [review_id] => 0
                    [source] => Escapia
                    [title] => Clean, friendly, very responsive 
                    [review] => The accommodations were fantastic.
                    [name] => 
                    [email] => scottstrong@utah.gov
                    [location] => 
                    [response] => Mahalo Scott! We thank you for staying with us and hope that you will be back to visit again soon. Aloha, Garden Island Properties
                    [response_date] => 2020-01-04
                    [rating] => 5
                    [review_date] => 2020-01-03
                    [featured] => 
                    [status] => 1
                    [checkin_date] => 2019-12-17
                    [nights_stayed] => 15
                    [sfrm] => 5
                    [clean] => 5
                    [rto] => 1
                    [pc] => 5
                    [loc] => 4
                    [meta] => Array
                        (
                        )

                )

            [4] => stdClass Object
                (
                    [id] => 30425
                    [external_id] => 56040ef4-b8d4-4461-95b4-0f8fb6db8a5e
                    [prop_id] => 86
                    [review_id] => 0
                    [source] => Escapia
                    [title] => Magical Kauai Getaway
                    [review] => We really loved the central location of this condo! Made our sightseeing experiences throughout the island very pleasant. We were easily able to walk to nearby stores and restaurants. Cute, clean condo. Thank you for having us. We will be back. 
                    [name] => Bella O.
                    [email] => mermaidkauai@yahoo.com
                    [location] => 
                    [response] => Mahalo Bella! So happy to hear you loved the location and felt the condo was cute and clean. We appreciate your kind review and look forward to your next visit! Mahalo nui loa, Garden Island Properties
                    [response_date] => 2019-10-04
                    [rating] => 5
                    [review_date] => 2019-09-29
                    [featured] => 
                    [status] => 1
                    [checkin_date] => 2019-09-24
                    [nights_stayed] => 2
                    [sfrm] => 5
                    [clean] => 5
                    [rto] => 1
                    [pc] => 5
                    [loc] => 5
                    [meta] => Array
                        (
                        )

                )

        )

    [rateaddons] => Array
        (
        )

    [unit_meta] => Array
        (
            [0] => stdClass Object
                (
                    [id] => 495308
                    [unit_id] => 86
                    [key] => DisplayRate
                    [value] => Starting from $145 per night
                )

            [1] => stdClass Object
                (
                    [id] => 495309
                    [unit_id] => 86
                    [key] => Location
                    [value] => Kapaa
                )

            [2] => stdClass Object
                (
                    [id] => 495310
                    [unit_id] => 86
                    [key] => LocationField
                    [value] => Garden Island Properties, LLC
                )

            [3] => stdClass Object
                (
                    [id] => 495311
                    [unit_id] => 86
                    [key] => Property Type
                    [value] => Condo
                )

            [4] => stdClass Object
                (
                    [id] => 495312
                    [unit_id] => 86
                    [key] => View
                    [value] => Garden View
                )

            [5] => stdClass Object
                (
                    [id] => 495313
                    [unit_id] => 86
                    [key] => MinLOS
                    [value] => 4
                )

            [6] => stdClass Object
                (
                    [id] => 495314
                    [unit_id] => 86
                    [key] => StayContext
                    [value] => Checkin
                )

            [7] => stdClass Object
                (
                    [id] => 495315
                    [unit_id] => 86
                    [key] => StayDays
                    [value] => a:7:{i:0;s:3:"Mon";i:1;s:3:"Tue";i:2;s:4:"Weds";i:3;s:4:"Thur";i:4;s:3:"Fri";i:5;s:3:"Sat";i:6;s:3:"Sun";}
                )

            [8] => stdClass Object
                (
                    [id] => 495316
                    [unit_id] => 86
                    [key] => NumberFloors
                    [value] => 2
                )

            [9] => stdClass Object
                (
                    [id] => 495516
                    [unit_id] => 86
                    [key] => Agreement
                    [value] => GUEST AGREEMENT 
RELATES TO ALL PROPERTIES. PLEASE READ THIS CONTRACT CAREFULLY. 
BY CLICKING ON THE ACCEPT BUTTON YOU (either an individual or a single entity) AGREE THAT THIS AGREEMENT IS ENFORCEABLE LIKE ANY WRITTEN CONTRACT SIGNED BY YOU. 

SECURITY D
                )

        )

    [minnights] => Array
        (
            [0] => stdClass Object
                (
                    [id] => 1372117
                    [start_date] => 2021-04-01
                    [end_date] => 2021-12-14
                    [prop_id] => 86
                    [nights] => 4
                    [rate_type] => Daily
                )

            [1] => stdClass Object
                (
                    [id] => 1372118
                    [start_date] => 2021-04-01
                    [end_date] => 2021-12-14
                    [prop_id] => 86
                    [nights] => 7
                    [rate_type] => Weekly
                )

            [2] => stdClass Object
                (
                    [id] => 1372119
                    [start_date] => 2021-04-01
                    [end_date] => 2021-12-14
                    [prop_id] => 86
                    [nights] => 30
                    [rate_type] => Monthly
                )

            [3] => stdClass Object
                (
                    [id] => 1372120
                    [start_date] => 2021-12-15
                    [end_date] => 2022-01-09
                    [prop_id] => 86
                    [nights] => 4
                    [rate_type] => Daily
                )

            [4] => stdClass Object
                (
                    [id] => 1372121
                    [start_date] => 2021-12-15
                    [end_date] => 2022-01-09
                    [prop_id] => 86
                    [nights] => 7
                    [rate_type] => Weekly
                )

            [5] => stdClass Object
                (
                    [id] => 1372122
                    [start_date] => 2022-01-10
                    [end_date] => 2022-03-31
                    [prop_id] => 86
                    [nights] => 4
                    [rate_type] => Daily
                )

            [6] => stdClass Object
                (
                    [id] => 1372123
                    [start_date] => 2022-01-10
                    [end_date] => 2022-03-31
                    [prop_id] => 86
                    [nights] => 7
                    [rate_type] => Weekly
                )

            [7] => stdClass Object
                (
                    [id] => 1372124
                    [start_date] => 2022-01-10
                    [end_date] => 2022-03-31
                    [prop_id] => 86
                    [nights] => 30
                    [rate_type] => Monthly
                )

            [8] => stdClass Object
                (
                    [id] => 1372125
                    [start_date] => 2022-04-01
                    [end_date] => 2022-12-14
                    [prop_id] => 86
                    [nights] => 4
                    [rate_type] => Daily
                )

            [9] => stdClass Object
                (
                    [id] => 1372126
                    [start_date] => 2022-04-01
                    [end_date] => 2022-12-14
                    [prop_id] => 86
                    [nights] => 7
                    [rate_type] => Weekly
                )

            [10] => stdClass Object
                (
                    [id] => 1372127
                    [start_date] => 2022-04-01
                    [end_date] => 2022-12-14
                    [prop_id] => 86
                    [nights] => 30
                    [rate_type] => Monthly
                )

        )

    [manager] => stdClass Object
        (
            [id] => 1
            [ManagerID] => 1
            [Name] => Escapia
            [Vendor] => Escapia
            [Contract] => 
            [random] => 0
            [pms] => 
            [last_update] => 0000-00-00 00:00:00
        )

    [flipkey] => 
    [additonal] => stdClass Object
        (
            [DisplayRate] => Starting from $145 per night
            [Location] => Kapaa
            [LocationField] => Garden Island Properties, LLC
            [Property Type] => Condo
            [View] => Garden View
            [MinLOS] => 4
            [StayContext] => Checkin
            [StayDays] => Array
                (
                    [0] => Mon
                    [1] => Tue
                    [2] => Weds
                    [3] => Thur
                    [4] => Fri
                    [5] => Sat
                    [6] => Sun
                )

            [NumberFloors] => 2
            [Agreement] => GUEST AGREEMENT 
RELATES TO ALL PROPERTIES. PLEASE READ THIS CONTRACT CAREFULLY. 
BY CLICKING ON THE ACCEPT BUTTON YOU (either an individual or a single entity) AGREE THAT THIS AGREEMENT IS ENFORCEABLE LIKE ANY WRITTEN CONTRACT SIGNED BY YOU. 

SECURITY D
        )

    [checkinout] => Array
        (
        )

    [special] => Array
        (
        )

    [hasSpecial] => 
)
                    
Holiday Rates apply between 12/15 - 1/5