new! lae nani 312, oceanfront, tropical bliss, steps to beach and town
1 Bedroom(s) | 2 Bathroom(s) | Sleeps 4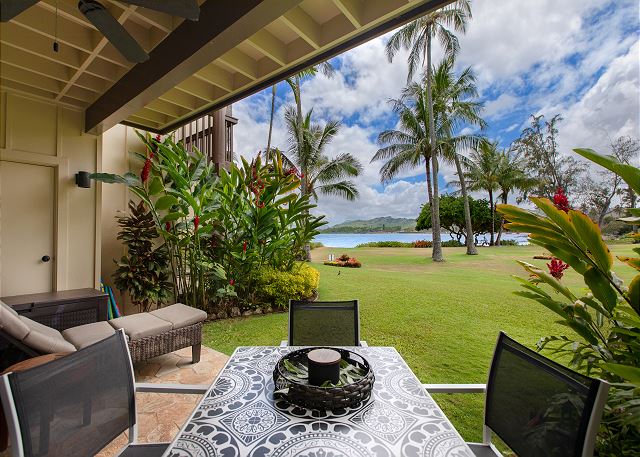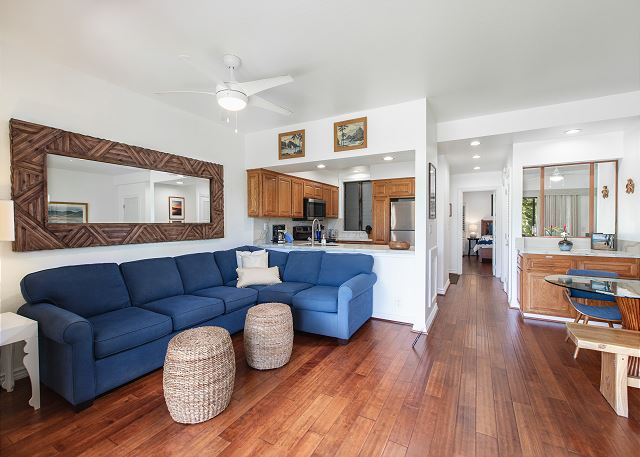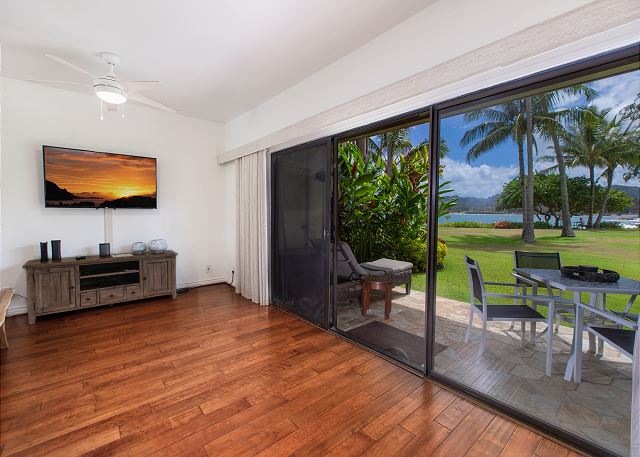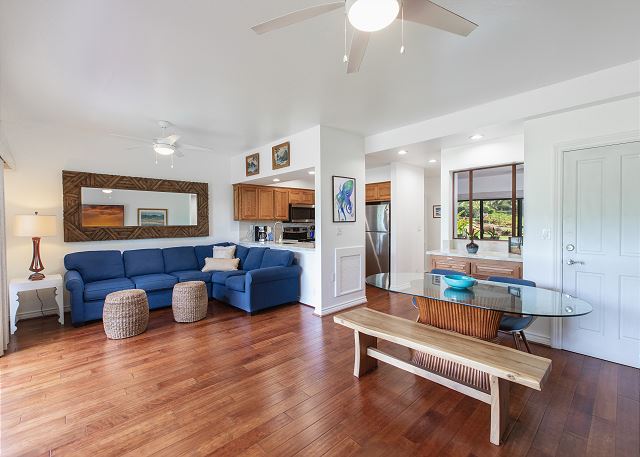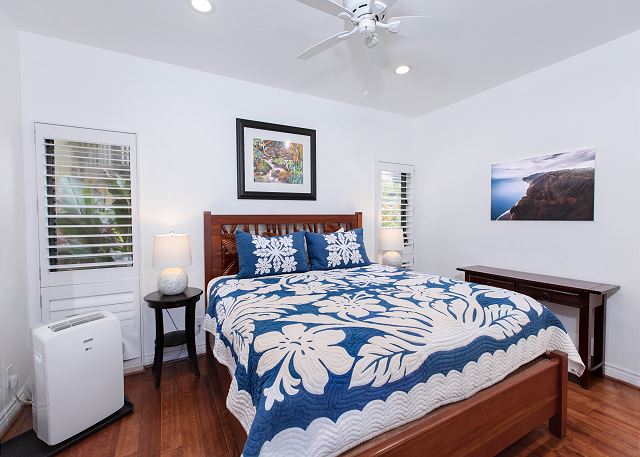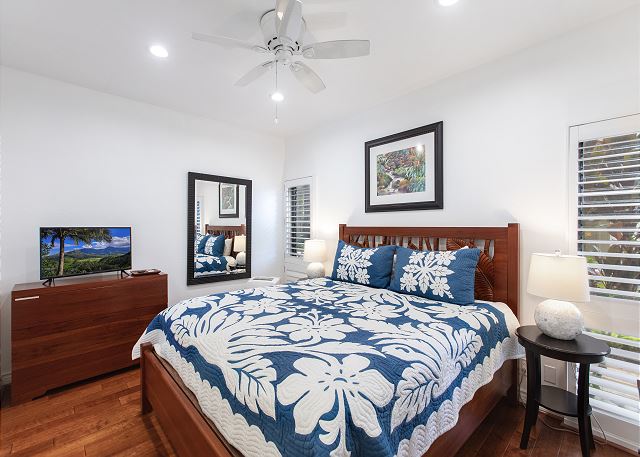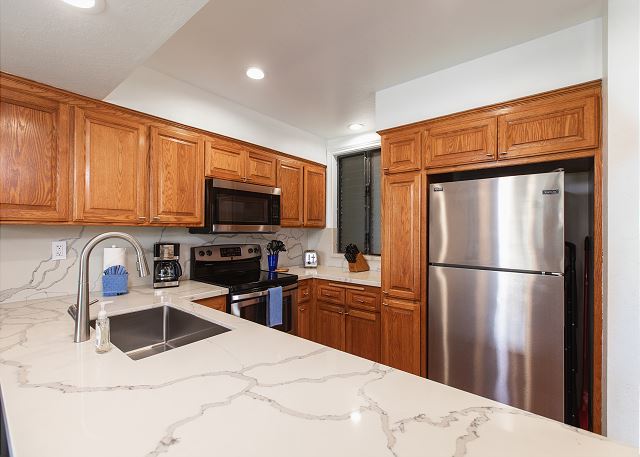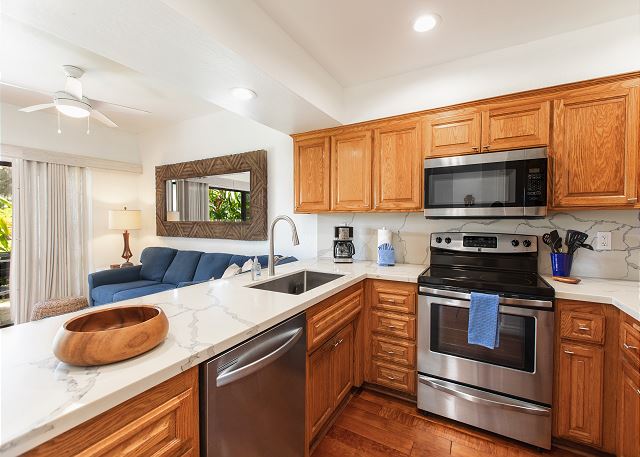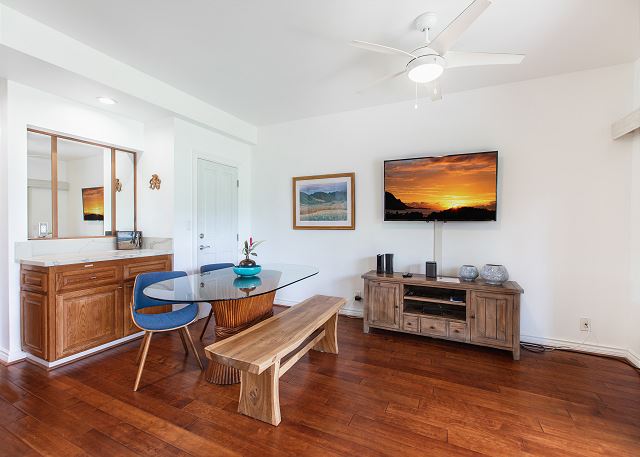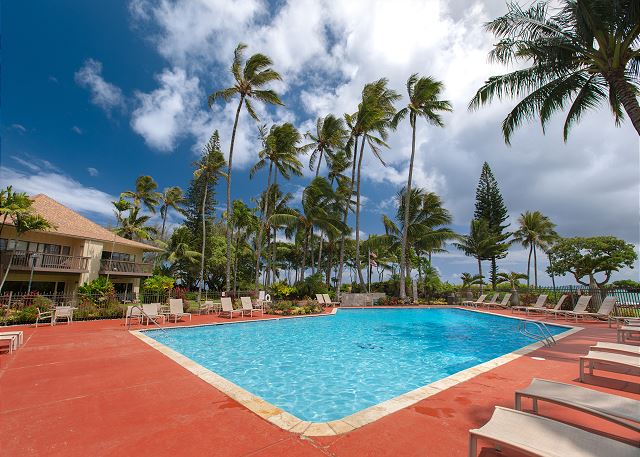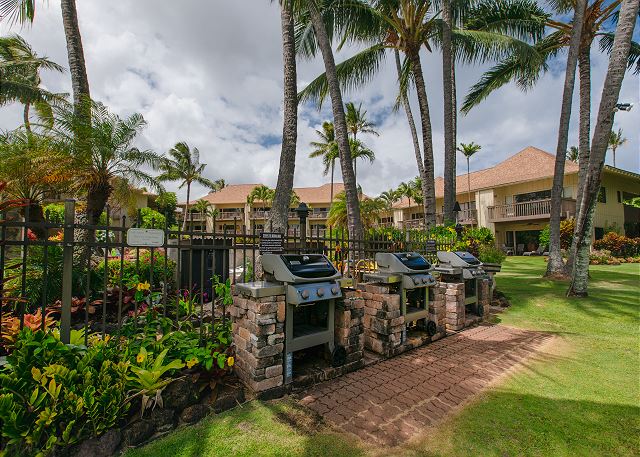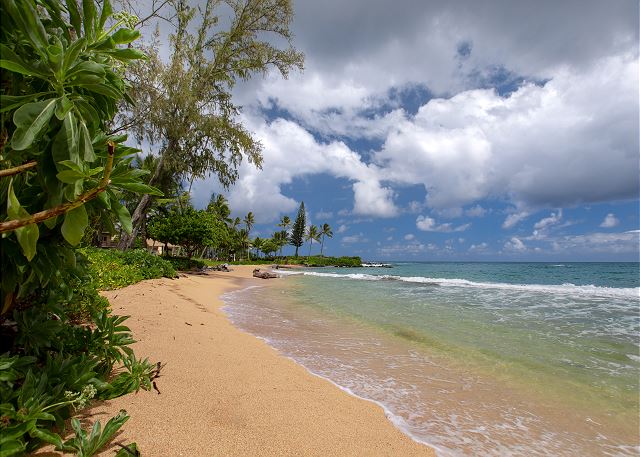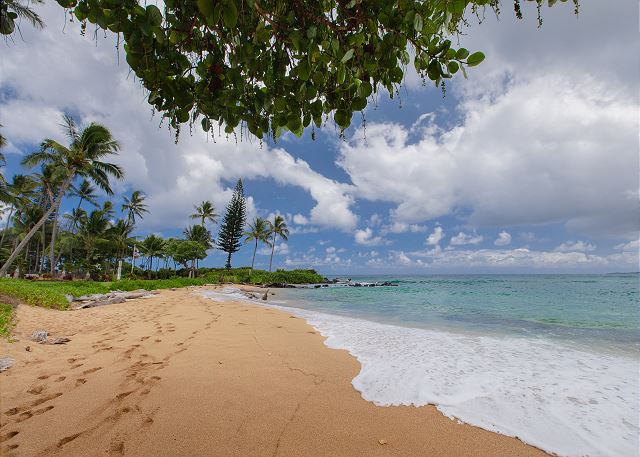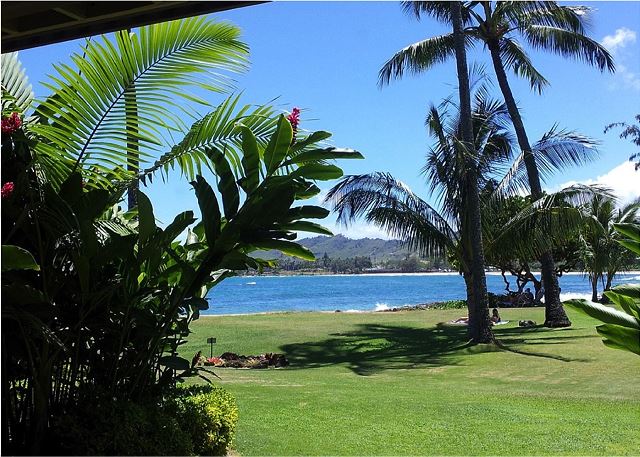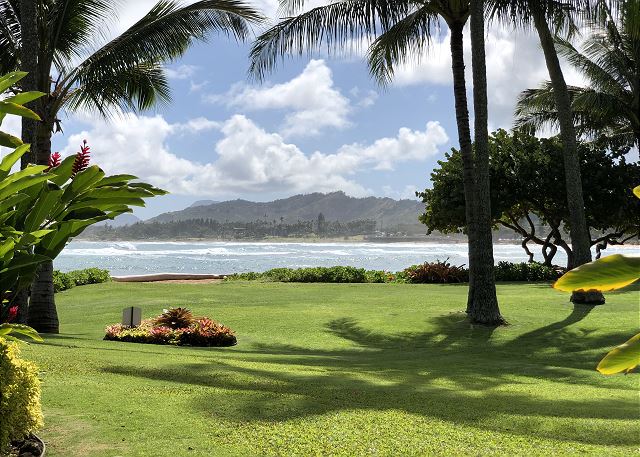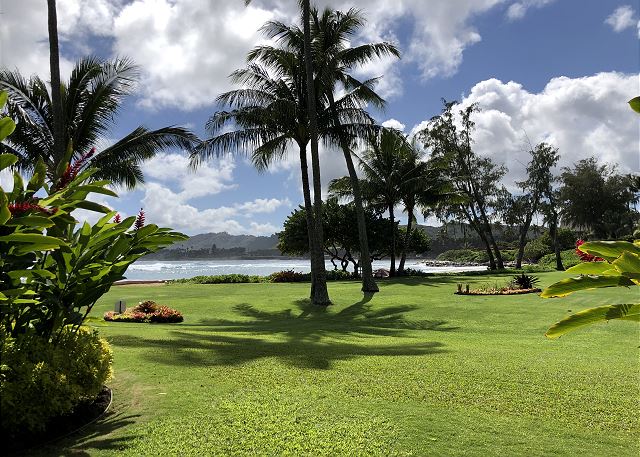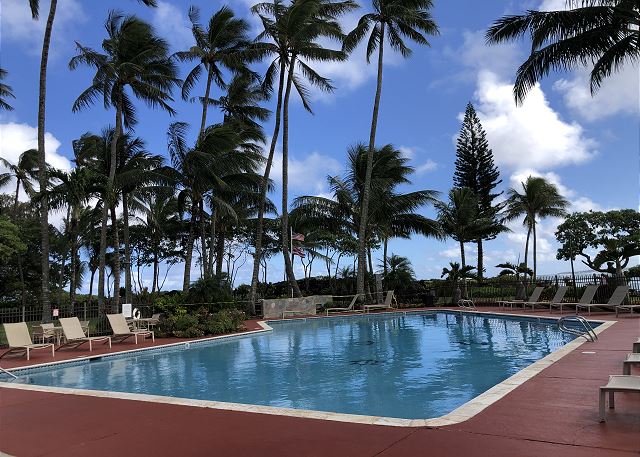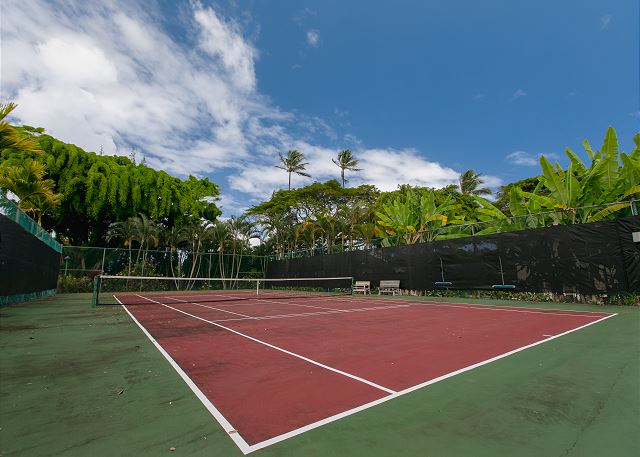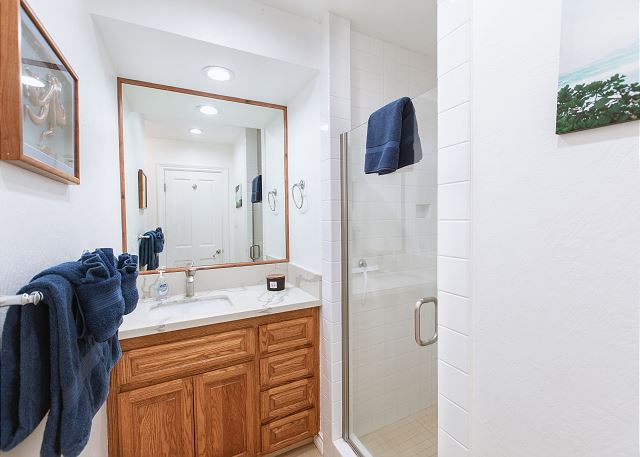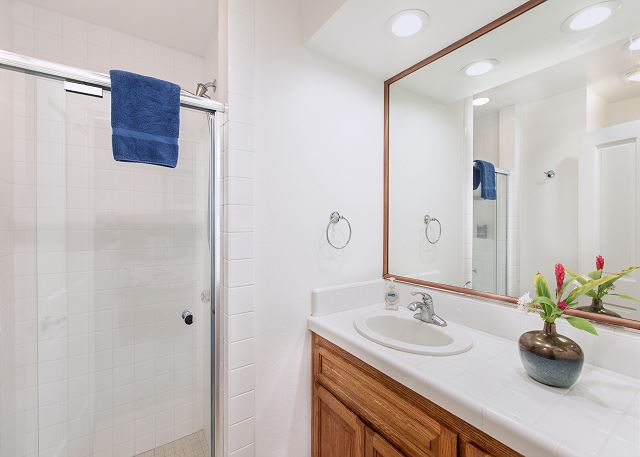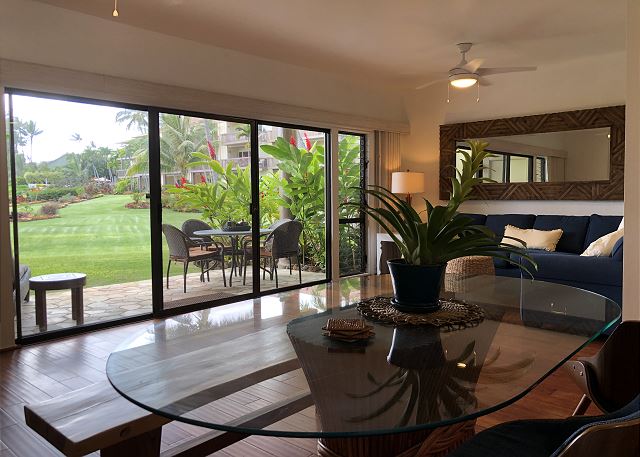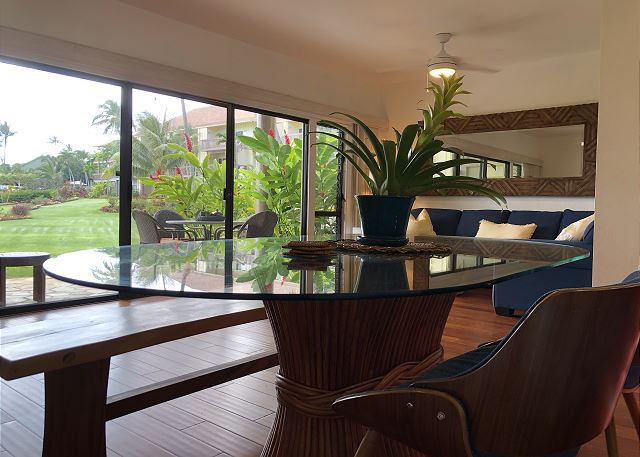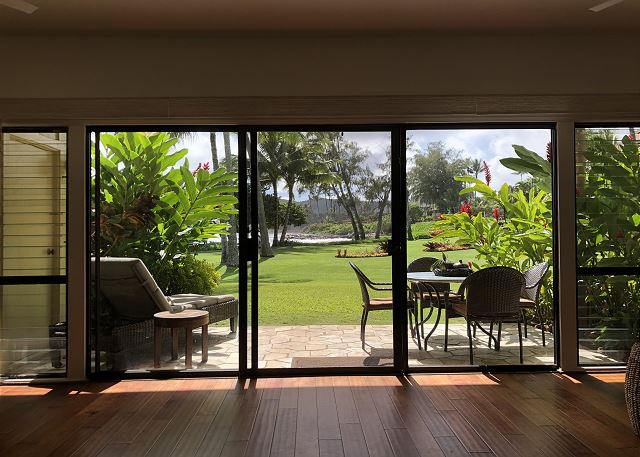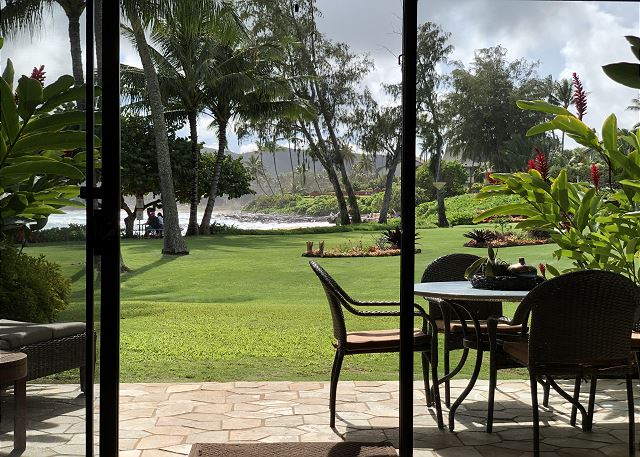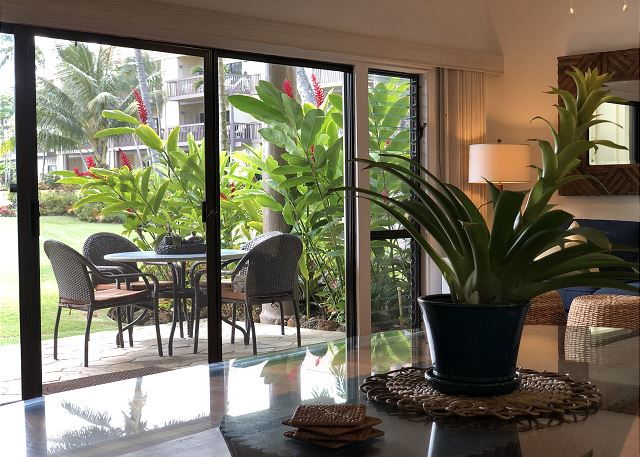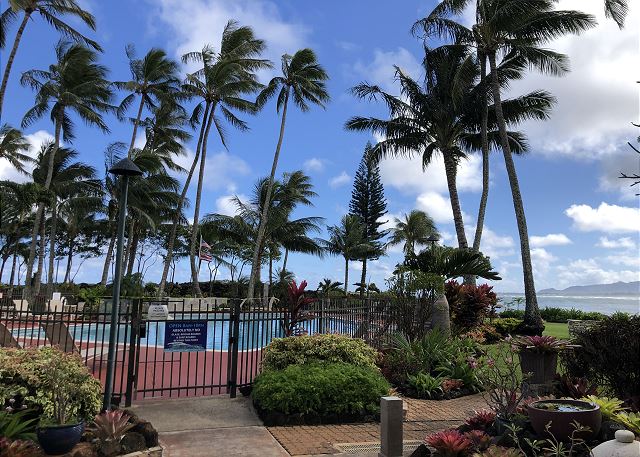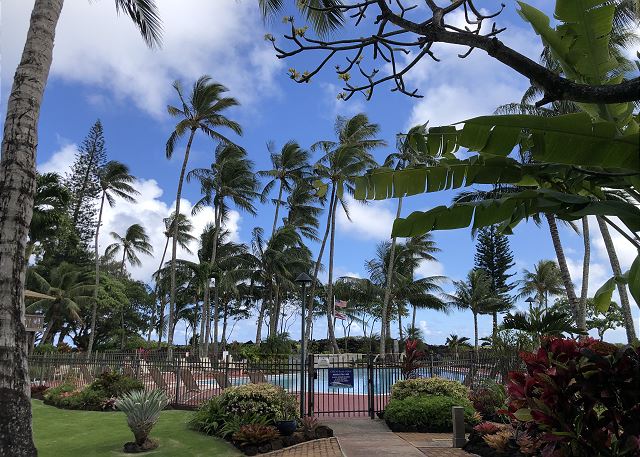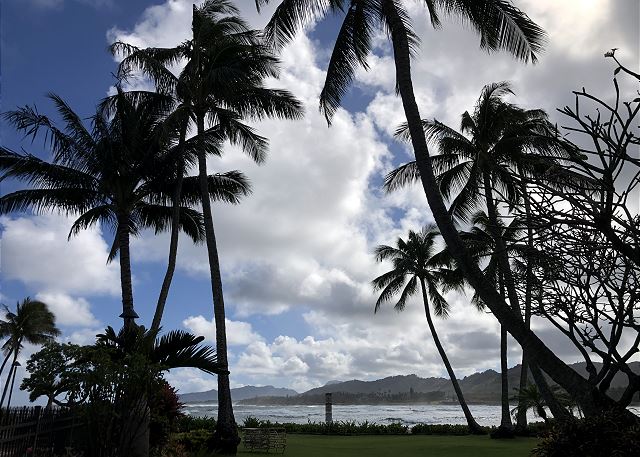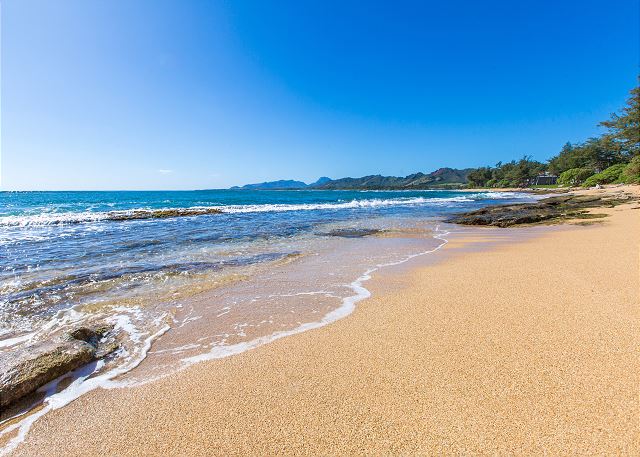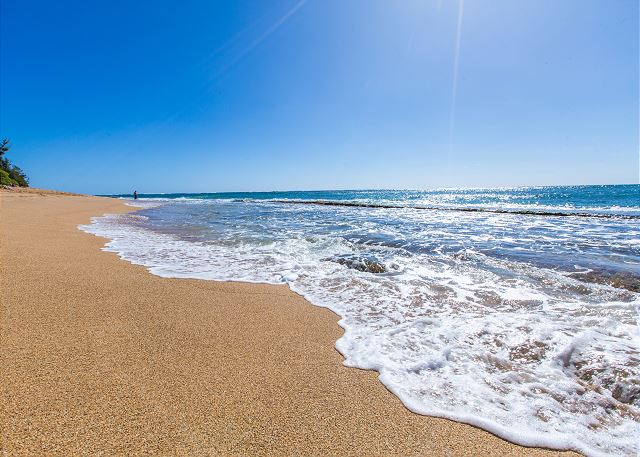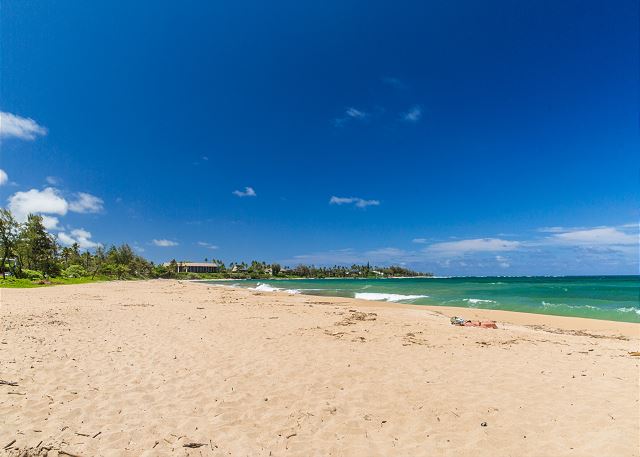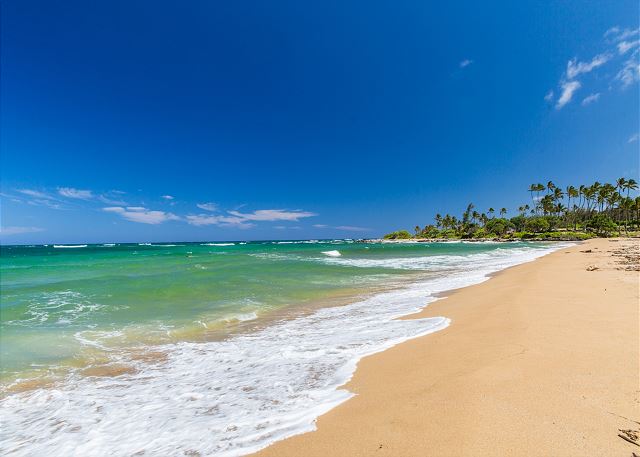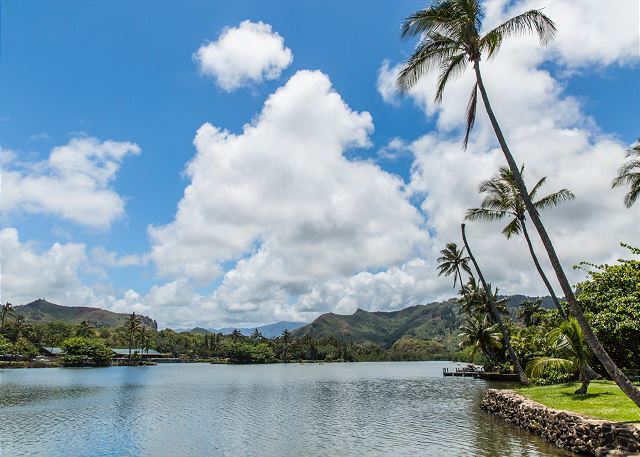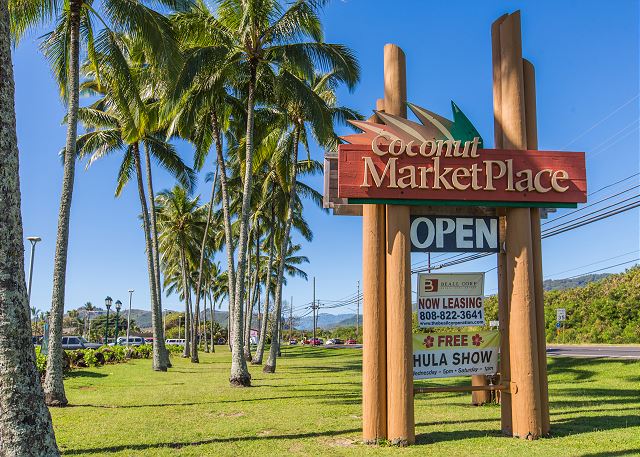 Lae Nani Resort Kaua'i #312, Beautiful Oceanfront Unit on a Tropical Beachfront Oasis. This Kauai Vacation Rental is conveniently located in Kapaa Town within walking distance to shops, restaurants, and just steps to beautiful sandy beaches.



Rare, 1-bedroom, 2-bath, with a large private lanai overlooking the Pacific Ocean where whales can be seen in the winter months and spectacular sunrises yearlong. Turnkey and fully furnished 800 square feet of interior area plus a 150 square-foot oceanfront lanai.



King Bed in the Master Bedroom and Queen Sofa Sleeper in the Living Area. Complimentary TV cable, Internet/Wifi, and Parking. Kauai's trade winds provide a lovely breeze throughout the condo and for your comfort, portable AC is available in the bedroom. Each room is furnished with ceiling and portable fans. Pack n Play Crib available upon request.



#312 is the closest 1-bedroom to the ocean at beautiful Lae Nani. Enjoy swimming or snorkeling in the ocean, relax on the beach to the sound of breaking waves, or lounge at the beautiful ocean-side pool. Outdoor tennis courts and barbecues available for guest use.



Centrally located on Kauai's scenic, Royal Coconut Coast on the east side of Kaua'i makes it easy to explore the opposite sides of the island. Swim, surf, boogie board, snorkel, and fish on your Kaua'i vacation. Our concierge is here to assist with the fun stuff such as ATV Tours, Horseback Riding, Napali Coast Tours, Kayaking, Zip lining, Luau's and more!



The oceanfront Wailua Golf Course, rated one of the top municipal golf courses in the nation, is a 5-6 minute drive away.



Rent bikes at the Coconut Market Place next door and follow the coastal path that runs in front of the condo to the south which will take you to the Wailua River and Beach. Travel north past the Coconut Marketplace and you will see all the charm Historic Kapa'a town has to offer. Enjoy miles of scenic ocean views, explore the Wailua River, take a boat ride up it to the Fern Grotto or kayak to the Secret Falls Trailhead. Opaeka'a Falls and the Kaua'i Hindu Monastery is just a short drive up the hill.



Walk to Kaua'i finest eateries and restaurants: JO2, Hukilau Lanai, Lava Lava Lounge, Sushi Bushido, Sleeping Giant Grill, Coconut Market Place, Bobby V's Pizza, Imua Coffee Roasters, Avalon Gastropub, Street Burger, and more!



We look forward to hosting you in paradise!



TAT ID: # TA-003-249-1520-01
Amenities

Baby crib
King
Shower
Sleep sofa /futon
Toilet
Coin laundry
Satellite / Cable
Television
Air Conditioning
Hair Dryer
Internet
Iron & Board
Linens Provided
Living Room
Parking
Towels Provided
Wifi
Free Wifi
Coffee Maker
Dishes & Utensils
Dishwasher
Kitchen
Microwave
Oven
Refrigerator
Stove
Toaster
Beach View
Beachfront
Downtown
Near The Ocean
Ocean View
Oceanfront
Resort
Deck / Patio
Lawn / Garden
Outdoor Grill
Tennis
Heated Pool
Bedroom
Shower
Children welcome
Non smoking only
Pets not allowed
Flexible
Dining Area
Smoke detectors
Emergency phone number: Medical
Emergency phone number: Police
Emergency phone number: Fire
Enhanced cleaning practices
Clean with disinfectant
No-contact check-in and check-out
High touch surfaces cleaned with disinfectant
Towels and bedding washed in water that's at least 60sC/140sF
1 day (24 hours)
Toaster
Ceiling Fans
Pack n Play
In Room Safe
BBQ Grill
Beach
Beach Chairs
Bike Path
Beach Towels
On Beach
Close to Town
Coconut Coast
Lae Nani Resort
---
Wonderful Stay - Highly Recommend!
Sep 10, 2021
Had a wonderful stay at Lae Nani 312... even before we got there, communication was extremely clear/prompt from property management. When we arrived, the unit was exactly as pictured (maybe even a little bigger than the photos). It was the perfect set up for travel with baby. The ground floor unit allowed us to put baby down for naps, but still enjoy the beautiful lanai/view. Was steps from the beach and pool... and the grounds were meticulously maintained with the beautiful tropical foliage. Would love to return again!
---
Wonderful
Jul 11, 2021
This rental had everything our family needed. We will definitely return! Maholo!
---
A little slice of heaven!
Jul 07, 2021
This rental met and exceeded our expectations! The view is exactly as pictured and absolutely stunning! The condo was clean, quiet, and so comfortable. The bed was very comfortable with an air conditioning unit to keep us cool at night!The windows in the condo open making a nice breeze through the condo. We enjoyed cooking meals in the well appointed kitchen with all necessary supplies available.We did have to contact the rental company for minor questions/needs and they were immediately responsive and so helpful!The best part? This condo is in the middle of the island making access and travel to either side of the island so easy!
---
Excellent condo and grounds
Apr 30, 2021
Better than I remembered from our 1999 stay here.We hope to return again someday.
Book Your Stay!
Select your arrival and departure dates below to reserve this unit.


September 2021

| S | M | T | W | T | F | S |
| --- | --- | --- | --- | --- | --- | --- |
| | | | 01 | 02 | 03 | 04 |
| 05 | 06 | 07 | 08 | 09 | 10 | 11 |
| 12 | 13 | 14 | 15 | 16 | 17 | 18 |
| 19 | 20 | 21 | 22 | 23 | 24 | 25 |
| 26 | 27 | 28 | 29 | 30 | | |
October 2021

| S | M | T | W | T | F | S |
| --- | --- | --- | --- | --- | --- | --- |
| | | | | | 01 | 02 |
| 03 | 04 | 05 | 06 | 07 | 08 | 09 |
| 10 | 11 | 12 | 13 | 14 | 15 | 16 |
| 17 | 18 | 19 | 20 | 21 | 22 | 23 |
| 24 | 25 | 26 | 27 | 28 | 29 | 30 |
| 31 | | | | | | |
November 2021

| S | M | T | W | T | F | S |
| --- | --- | --- | --- | --- | --- | --- |
| | 01 | 02 | 03 | 04 | 05 | 06 |
| 07 | 08 | 09 | 10 | 11 | 12 | 13 |
| 14 | 15 | 16 | 17 | 18 | 19 | 20 |
| 21 | 22 | 23 | 24 | 25 | 26 | 27 |
| 28 | 29 | 30 | | | | |
December 2021

| S | M | T | W | T | F | S |
| --- | --- | --- | --- | --- | --- | --- |
| | | | 01 | 02 | 03 | 04 |
| 05 | 06 | 07 | 08 | 09 | 10 | 11 |
| 12 | 13 | 14 | 15 | 16 | 17 | 18 |
| 19 | 20 | 21 | 22 | 23 | 24 | 25 |
| 26 | 27 | 28 | 29 | 30 | 31 | |
January 2022

| S | M | T | W | T | F | S |
| --- | --- | --- | --- | --- | --- | --- |
| | | | | | | 01 |
| 02 | 03 | 04 | 05 | 06 | 07 | 08 |
| 09 | 10 | 11 | 12 | 13 | 14 | 15 |
| 16 | 17 | 18 | 19 | 20 | 21 | 22 |
| 23 | 24 | 25 | 26 | 27 | 28 | 29 |
| 30 | 31 | | | | | |
February 2022

| S | M | T | W | T | F | S |
| --- | --- | --- | --- | --- | --- | --- |
| | | 01 | 02 | 03 | 04 | 05 |
| 06 | 07 | 08 | 09 | 10 | 11 | 12 |
| 13 | 14 | 15 | 16 | 17 | 18 | 19 |
| 20 | 21 | 22 | 23 | 24 | 25 | 26 |
| 27 | 28 | | | | | |
March 2022

| S | M | T | W | T | F | S |
| --- | --- | --- | --- | --- | --- | --- |
| | | 01 | 02 | 03 | 04 | 05 |
| 06 | 07 | 08 | 09 | 10 | 11 | 12 |
| 13 | 14 | 15 | 16 | 17 | 18 | 19 |
| 20 | 21 | 22 | 23 | 24 | 25 | 26 |
| 27 | 28 | 29 | 30 | 31 | | |
April 2022

| S | M | T | W | T | F | S |
| --- | --- | --- | --- | --- | --- | --- |
| | | | | | 01 | 02 |
| 03 | 04 | 05 | 06 | 07 | 08 | 09 |
| 10 | 11 | 12 | 13 | 14 | 15 | 16 |
| 17 | 18 | 19 | 20 | 21 | 22 | 23 |
| 24 | 25 | 26 | 27 | 28 | 29 | 30 |
May 2022

| S | M | T | W | T | F | S |
| --- | --- | --- | --- | --- | --- | --- |
| 01 | 02 | 03 | 04 | 05 | 06 | 07 |
| 08 | 09 | 10 | 11 | 12 | 13 | 14 |
| 15 | 16 | 17 | 18 | 19 | 20 | 21 |
| 22 | 23 | 24 | 25 | 26 | 27 | 28 |
| 29 | 30 | 31 | | | | |
June 2022

| S | M | T | W | T | F | S |
| --- | --- | --- | --- | --- | --- | --- |
| | | | 01 | 02 | 03 | 04 |
| 05 | 06 | 07 | 08 | 09 | 10 | 11 |
| 12 | 13 | 14 | 15 | 16 | 17 | 18 |
| 19 | 20 | 21 | 22 | 23 | 24 | 25 |
| 26 | 27 | 28 | 29 | 30 | | |
July 2022

| S | M | T | W | T | F | S |
| --- | --- | --- | --- | --- | --- | --- |
| | | | | | 01 | 02 |
| 03 | 04 | 05 | 06 | 07 | 08 | 09 |
| 10 | 11 | 12 | 13 | 14 | 15 | 16 |
| 17 | 18 | 19 | 20 | 21 | 22 | 23 |
| 24 | 25 | 26 | 27 | 28 | 29 | 30 |
| 31 | | | | | | |
August 2022

| S | M | T | W | T | F | S |
| --- | --- | --- | --- | --- | --- | --- |
| | 01 | 02 | 03 | 04 | 05 | 06 |
| 07 | 08 | 09 | 10 | 11 | 12 | 13 |
| 14 | 15 | 16 | 17 | 18 | 19 | 20 |
| 21 | 22 | 23 | 24 | 25 | 26 | 27 |
| 28 | 29 | 30 | 31 | | | |
September 2022

| S | M | T | W | T | F | S |
| --- | --- | --- | --- | --- | --- | --- |
| | | | | 01 | 02 | 03 |
| 04 | 05 | 06 | 07 | 08 | 09 | 10 |
| 11 | 12 | 13 | 14 | 15 | 16 | 17 |
| 18 | 19 | 20 | 21 | 22 | 23 | 24 |
| 25 | 26 | 27 | 28 | 29 | 30 | |
October 2022

| S | M | T | W | T | F | S |
| --- | --- | --- | --- | --- | --- | --- |
| | | | | | | 01 |
| 02 | 03 | 04 | 05 | 06 | 07 | 08 |
| 09 | 10 | 11 | 12 | 13 | 14 | 15 |
| 16 | 17 | 18 | 19 | 20 | 21 | 22 |
| 23 | 24 | 25 | 26 | 27 | 28 | 29 |
| 30 | 31 | | | | | |
November 2022

| S | M | T | W | T | F | S |
| --- | --- | --- | --- | --- | --- | --- |
| | | 01 | 02 | 03 | 04 | 05 |
| 06 | 07 | 08 | 09 | 10 | 11 | 12 |
| 13 | 14 | 15 | 16 | 17 | 18 | 19 |
| 20 | 21 | 22 | 23 | 24 | 25 | 26 |
| 27 | 28 | 29 | 30 | | | |
December 2022

| S | M | T | W | T | F | S |
| --- | --- | --- | --- | --- | --- | --- |
| | | | | 01 | 02 | 03 |
| 04 | 05 | 06 | 07 | 08 | 09 | 10 |
| 11 | 12 | 13 | 14 | 15 | 16 | 17 |
| 18 | 19 | 20 | 21 | 22 | 23 | 24 |
| 25 | 26 | 27 | 28 | 29 | 30 | 31 |
Available
Unavailable
Check-In Only
Check-Out Only
Seasonal Rates
Starting from $239 per night

                    stdClass Object
(
    [id] => 97
    [ManagerID] => 1
    [ComplexID] => 0
    [Name] => New! Lae Nani 312, Oceanfront, Tropical Bliss, Steps to Beach and Town
    [PropertyCode] => 2064-211773
    [Address1] => 410 Papaloa Rd. #312
    [Address2] => 
    [City] => Kapaa
    [State] => HI
    [Country] => US
    [PostalCode] => 
    [Province] => 
    [Bedrooms] => 1
    [Bathrooms] => 2
    [Beds] => {"King":1,"Sofa Bed":1}
    [Type] => Condominium
    [Area] => 
    [Location] => Garden Island Properties, LLC
    [View] => Ocean Front
    [Video] => 
    [lat] => 22.05231
    [long] => -159.33038
    [map_id] => 0
    [Complex] => 24
    [Description] => Lae Nani Resort Kaua'i #312, Beautiful Oceanfront Unit on a Tropical Beachfront Oasis.  This Kauai Vacation Rental is conveniently located in Kapaa Town within walking distance to shops, restaurants, and just steps to beautiful sandy beaches.



Rare, 1-bedroom, 2-bath, with a large private lanai overlooking the Pacific Ocean where whales can be seen in the winter months and spectacular sunrises yearlong. Turnkey and fully furnished 800 square feet of interior area plus a 150 square-foot oceanfront lanai.



King Bed in the Master Bedroom and Queen Sofa Sleeper in the Living Area.  Complimentary TV cable, Internet/Wifi, and Parking.  Kauai's trade winds provide a lovely breeze throughout the condo and for your comfort, portable AC is available in the bedroom.  Each room is furnished with ceiling and portable fans. Pack n Play Crib available upon request.



#312 is the closest 1-bedroom to the ocean at beautiful Lae Nani. Enjoy swimming or snorkeling in the ocean, relax on the beach to the sound of breaking waves, or lounge at the beautiful ocean-side pool. Outdoor tennis courts and barbecues available for guest use.



Centrally located on Kauai's scenic, Royal Coconut Coast on the east side of Kaua'i makes it easy to explore the opposite sides of the island. Swim, surf, boogie board, snorkel, and fish on your Kaua'i vacation.  Our concierge is here to assist with the fun stuff such as ATV Tours, Horseback Riding, Napali Coast Tours, Kayaking, Zip lining, Luau's and more! 



The oceanfront Wailua Golf Course, rated one of the top municipal golf courses in the nation, is a 5-6 minute drive away. 



Rent bikes at the Coconut Market Place next door and follow the coastal path that runs in front of the condo to the south which will take you to the Wailua River and Beach. Travel north past the Coconut Marketplace and you will see all the charm Historic Kapa'a town has to offer. Enjoy miles of scenic ocean views, explore the Wailua River, take a boat ride up it to the Fern Grotto or kayak to the Secret Falls Trailhead. Opaeka'a Falls and the Kaua'i Hindu Monastery is just a short drive up the hill.



Walk to Kaua'i finest eateries and restaurants:  JO2, Hukilau Lanai, Lava Lava Lounge, Sushi Bushido, Sleeping Giant Grill, Coconut Market Place, Bobby V's Pizza, Imua Coffee Roasters, Avalon Gastropub, Street Burger, and more!



We look forward to hosting you in paradise!



TAT ID: # TA-003-249-1520-01
    [ShortDescription] => Beautiful Oceanfront, 1-Bedroom, 2-Bath, updated unit with a full kitchen, King bed, Queen sofa sleeper, complimentary WiFi, free parking and steps to sandy beach. Relax to the sound of the ocean from your private lanai on this beachfront resort! Sleeps 4
    [Sleeps] => 4
    [MaxAdult] => 0
    [MaxSearchMonths] => 48
    [Status] => Active
    [page_slug] => Lae_Nani_312_Oceanfront_Ground_Fl._Tropical_Bliss_Steps_to_Beach_and_Town-2064-211773-1
    [SEOTitle] => Lae Nani #312, Oceanfront, Ground Floor
    [SEODescription] => New! Lae Nani 312, Oceanfront, Tropical Bliss, Steps to Beach and Town
    [Featured] => 0
    [created] => 0000-00-00 00:00:00
    [updated] => 2021-09-26 08:45:44
    [internalcode] => LAE 312
    [photos] => Array
        (
            [0] => stdClass Object
                (
                    [id] => 3864372
                    [unit_id] => 97
                    [url] => https://pictures.escapia.com/GAISPR/211773/0627830474.jpg
                    [thumb_url] => https://pictures.escapia.com/GAISPR/211773/0627830474.jpg
                     => 
                    [sort] => 0
                )

            [1] => stdClass Object
                (
                    [id] => 3864373
                    [unit_id] => 97
                    [url] => https://pictures.escapia.com/GAISPR/211773/8452810400.jpg
                    [thumb_url] => https://pictures.escapia.com/GAISPR/211773/8452810400.jpg
                     => 
                    [sort] => 1
                )

            [2] => stdClass Object
                (
                    [id] => 3864374
                    [unit_id] => 97
                    [url] => https://pictures.escapia.com/GAISPR/211773/6625860484.jpg
                    [thumb_url] => https://pictures.escapia.com/GAISPR/211773/6625860484.jpg
                     => 
                    [sort] => 2
                )

            [3] => stdClass Object
                (
                    [id] => 3864375
                    [unit_id] => 97
                    [url] => https://pictures.escapia.com/GAISPR/211773/1800890821.jpg
                    [thumb_url] => https://pictures.escapia.com/GAISPR/211773/1800890821.jpg
                     => 
                    [sort] => 3
                )

            [4] => stdClass Object
                (
                    [id] => 3864376
                    [unit_id] => 97
                    [url] => https://pictures.escapia.com/GAISPR/211773/8180590819.jpg
                    [thumb_url] => https://pictures.escapia.com/GAISPR/211773/8180590819.jpg
                     => 
                    [sort] => 4
                )

            [5] => stdClass Object
                (
                    [id] => 3864377
                    [unit_id] => 97
                    [url] => https://pictures.escapia.com/GAISPR/211773/1288690009.jpg
                    [thumb_url] => https://pictures.escapia.com/GAISPR/211773/1288690009.jpg
                     => 
                    [sort] => 5
                )

            [6] => stdClass Object
                (
                    [id] => 3864378
                    [unit_id] => 97
                    [url] => https://pictures.escapia.com/GAISPR/211773/7756820928.jpg
                    [thumb_url] => https://pictures.escapia.com/GAISPR/211773/7756820928.jpg
                     => 
                    [sort] => 6
                )

            [7] => stdClass Object
                (
                    [id] => 3864379
                    [unit_id] => 97
                    [url] => https://pictures.escapia.com/GAISPR/211773/9732610539.jpg
                    [thumb_url] => https://pictures.escapia.com/GAISPR/211773/9732610539.jpg
                     => 
                    [sort] => 7
                )

            [8] => stdClass Object
                (
                    [id] => 3864380
                    [unit_id] => 97
                    [url] => https://pictures.escapia.com/GAISPR/211773/0747160485.jpg
                    [thumb_url] => https://pictures.escapia.com/GAISPR/211773/0747160485.jpg
                     => 
                    [sort] => 8
                )

            [9] => stdClass Object
                (
                    [id] => 3864381
                    [unit_id] => 97
                    [url] => https://pictures.escapia.com/GAISPR/211773/3561980561.jpg
                    [thumb_url] => https://pictures.escapia.com/GAISPR/211773/3561980561.jpg
                     => 
                    [sort] => 9
                )

            [10] => stdClass Object
                (
                    [id] => 3864382
                    [unit_id] => 97
                    [url] => https://pictures.escapia.com/GAISPR/211773/4446010380.jpg
                    [thumb_url] => https://pictures.escapia.com/GAISPR/211773/4446010380.jpg
                     => 
                    [sort] => 10
                )

            [11] => stdClass Object
                (
                    [id] => 3864383
                    [unit_id] => 97
                    [url] => https://pictures.escapia.com/GAISPR/211773/5188330324.jpg
                    [thumb_url] => https://pictures.escapia.com/GAISPR/211773/5188330324.jpg
                     => 
                    [sort] => 11
                )

            [12] => stdClass Object
                (
                    [id] => 3864384
                    [unit_id] => 97
                    [url] => https://pictures.escapia.com/GAISPR/211773/7500810790.jpg
                    [thumb_url] => https://pictures.escapia.com/GAISPR/211773/7500810790.jpg
                     => 
                    [sort] => 12
                )

            [13] => stdClass Object
                (
                    [id] => 3864385
                    [unit_id] => 97
                    [url] => https://pictures.escapia.com/GAISPR/211773/4256000263.jpg
                    [thumb_url] => https://pictures.escapia.com/GAISPR/211773/4256000263.jpg
                     => Oceanfront View from Lanai
                    [sort] => 13
                )

            [14] => stdClass Object
                (
                    [id] => 3864386
                    [unit_id] => 97
                    [url] => https://pictures.escapia.com/GAISPR/211773/9397570419.jpg
                    [thumb_url] => https://pictures.escapia.com/GAISPR/211773/9397570419.jpg
                     => Oceanfront View from Lanai
                    [sort] => 14
                )

            [15] => stdClass Object
                (
                    [id] => 3864387
                    [unit_id] => 97
                    [url] => https://pictures.escapia.com/GAISPR/211773/8110810463.jpg
                    [thumb_url] => https://pictures.escapia.com/GAISPR/211773/8110810463.jpg
                     => Oceanfront View from Lanai
                    [sort] => 15
                )

            [16] => stdClass Object
                (
                    [id] => 3864388
                    [unit_id] => 97
                    [url] => https://pictures.escapia.com/GAISPR/211773/3195240758.jpg
                    [thumb_url] => https://pictures.escapia.com/GAISPR/211773/3195240758.jpg
                     => Heated, Oceanside Pool
                    [sort] => 16
                )

            [17] => stdClass Object
                (
                    [id] => 3864389
                    [unit_id] => 97
                    [url] => https://pictures.escapia.com/GAISPR/211773/5842230322.jpg
                    [thumb_url] => https://pictures.escapia.com/GAISPR/211773/5842230322.jpg
                     => 
                    [sort] => 17
                )

            [18] => stdClass Object
                (
                    [id] => 3864390
                    [unit_id] => 97
                    [url] => https://pictures.escapia.com/GAISPR/211773/6686880422.jpg
                    [thumb_url] => https://pictures.escapia.com/GAISPR/211773/6686880422.jpg
                     => 
                    [sort] => 18
                )

            [19] => stdClass Object
                (
                    [id] => 3864391
                    [unit_id] => 97
                    [url] => https://pictures.escapia.com/GAISPR/211773/7917450535.jpg
                    [thumb_url] => https://pictures.escapia.com/GAISPR/211773/7917450535.jpg
                     => 
                    [sort] => 19
                )

            [20] => stdClass Object
                (
                    [id] => 3864392
                    [unit_id] => 97
                    [url] => https://pictures.escapia.com/GAISPR/211773/1550750896.jpg
                    [thumb_url] => https://pictures.escapia.com/GAISPR/211773/1550750896.jpg
                     => Dining Area
                    [sort] => 20
                )

            [21] => stdClass Object
                (
                    [id] => 3864393
                    [unit_id] => 97
                    [url] => https://pictures.escapia.com/GAISPR/211773/2346360423.jpg
                    [thumb_url] => https://pictures.escapia.com/GAISPR/211773/2346360423.jpg
                     => Dining Area, Ocean Views
                    [sort] => 21
                )

            [22] => stdClass Object
                (
                    [id] => 3864394
                    [unit_id] => 97
                    [url] => https://pictures.escapia.com/GAISPR/211773/7635080376.jpg
                    [thumb_url] => https://pictures.escapia.com/GAISPR/211773/7635080376.jpg
                     => Living Area looking out to Lanai, Ocean Views
                    [sort] => 22
                )

            [23] => stdClass Object
                (
                    [id] => 3864395
                    [unit_id] => 97
                    [url] => https://pictures.escapia.com/GAISPR/211773/0622520452.jpg
                    [thumb_url] => https://pictures.escapia.com/GAISPR/211773/0622520452.jpg
                     => Living Area out to Lanai, Ocean Views
                    [sort] => 23
                )

            [24] => stdClass Object
                (
                    [id] => 3864396
                    [unit_id] => 97
                    [url] => https://pictures.escapia.com/GAISPR/211773/5454440518.jpg
                    [thumb_url] => https://pictures.escapia.com/GAISPR/211773/5454440518.jpg
                     => Living Area 
                    [sort] => 24
                )

            [25] => stdClass Object
                (
                    [id] => 3864397
                    [unit_id] => 97
                    [url] => https://pictures.escapia.com/GAISPR/211773/6008730429.jpg
                    [thumb_url] => https://pictures.escapia.com/GAISPR/211773/6008730429.jpg
                     => Heated, Oceanside Pool
                    [sort] => 25
                )

            [26] => stdClass Object
                (
                    [id] => 3864398
                    [unit_id] => 97
                    [url] => https://pictures.escapia.com/GAISPR/211773/2562390597.jpg
                    [thumb_url] => https://pictures.escapia.com/GAISPR/211773/2562390597.jpg
                     => Steps to the Beach
                    [sort] => 26
                )

            [27] => stdClass Object
                (
                    [id] => 3864399
                    [unit_id] => 97
                    [url] => https://pictures.escapia.com/GAISPR/211773/2497130344.jpg
                    [thumb_url] => https://pictures.escapia.com/GAISPR/211773/2497130344.jpg
                     => Ocean Views
                    [sort] => 27
                )

            [28] => stdClass Object
                (
                    [id] => 3864400
                    [unit_id] => 97
                    [url] => https://pictures.escapia.com/GAISPR/211773/9080190158.jpg
                    [thumb_url] => https://pictures.escapia.com/GAISPR/211773/9080190158.jpg
                     => 
                    [sort] => 28
                )

            [29] => stdClass Object
                (
                    [id] => 3864401
                    [unit_id] => 97
                    [url] => https://pictures.escapia.com/GAISPR/211773/8033420984.jpg
                    [thumb_url] => https://pictures.escapia.com/GAISPR/211773/8033420984.jpg
                     => 
                    [sort] => 29
                )

            [30] => stdClass Object
                (
                    [id] => 3864402
                    [unit_id] => 97
                    [url] => https://pictures.escapia.com/GAISPR/211773/1699860266.jpg
                    [thumb_url] => https://pictures.escapia.com/GAISPR/211773/1699860266.jpg
                     => 
                    [sort] => 30
                )

            [31] => stdClass Object
                (
                    [id] => 3864403
                    [unit_id] => 97
                    [url] => https://pictures.escapia.com/GAISPR/211773/2223240240.jpg
                    [thumb_url] => https://pictures.escapia.com/GAISPR/211773/2223240240.jpg
                     => 
                    [sort] => 31
                )

            [32] => stdClass Object
                (
                    [id] => 3864404
                    [unit_id] => 97
                    [url] => https://pictures.escapia.com/GAISPR/211773/0794790203.jpg
                    [thumb_url] => https://pictures.escapia.com/GAISPR/211773/0794790203.jpg
                     => 
                    [sort] => 32
                )

            [33] => stdClass Object
                (
                    [id] => 3864405
                    [unit_id] => 97
                    [url] => https://pictures.escapia.com/GAISPR/211773/6948960900.jpg
                    [thumb_url] => https://pictures.escapia.com/GAISPR/211773/6948960900.jpg
                     => Walk to the Coconut Market Place
                    [sort] => 33
                )

        )

    [rates] => Array
        (
            [0] => stdClass Object
                (
                    [id] => 1323142
                    [start_date] => 2021-04-01
                    [end_date] => 2021-12-14
                    [amount] => 278.25
                    [chargebasis] => Daily
                    [unit_id] => 97
                )

            [1] => stdClass Object
                (
                    [id] => 1323143
                    [start_date] => 2021-04-01
                    [end_date] => 2021-12-14
                    [amount] => 1937.9997
                    [chargebasis] => Weekly
                    [unit_id] => 97
                )

            [2] => stdClass Object
                (
                    [id] => 1323144
                    [start_date] => 2021-04-01
                    [end_date] => 2021-12-14
                    [amount] => 7514.82
                    [chargebasis] => Monthly
                    [unit_id] => 97
                )

            [3] => stdClass Object
                (
                    [id] => 1323145
                    [start_date] => 2021-12-15
                    [end_date] => 2022-01-09
                    [amount] => 322.92
                    [chargebasis] => Daily
                    [unit_id] => 97
                )

            [4] => stdClass Object
                (
                    [id] => 1323146
                    [start_date] => 2021-12-15
                    [end_date] => 2022-01-09
                    [amount] => 2208.6001
                    [chargebasis] => Weekly
                    [unit_id] => 97
                )

            [5] => stdClass Object
                (
                    [id] => 1323147
                    [start_date] => 2022-01-10
                    [end_date] => 2022-03-31
                    [amount] => 275
                    [chargebasis] => Daily
                    [unit_id] => 97
                )

            [6] => stdClass Object
                (
                    [id] => 1323148
                    [start_date] => 2022-01-10
                    [end_date] => 2022-03-31
                    [amount] => 1925
                    [chargebasis] => Weekly
                    [unit_id] => 97
                )

            [7] => stdClass Object
                (
                    [id] => 1323149
                    [start_date] => 2022-01-10
                    [end_date] => 2022-03-31
                    [amount] => 8250
                    [chargebasis] => Monthly
                    [unit_id] => 97
                )

            [8] => stdClass Object
                (
                    [id] => 1323150
                    [start_date] => 2022-04-01
                    [end_date] => 2022-12-14
                    [amount] => 279.7525
                    [chargebasis] => Daily
                    [unit_id] => 97
                )

            [9] => stdClass Object
                (
                    [id] => 1323151
                    [start_date] => 2022-04-01
                    [end_date] => 2022-12-14
                    [amount] => 1958.2598
                    [chargebasis] => Weekly
                    [unit_id] => 97
                )

            [10] => stdClass Object
                (
                    [id] => 1323152
                    [start_date] => 2022-04-01
                    [end_date] => 2022-12-14
                    [amount] => 8392.539
                    [chargebasis] => Monthly
                    [unit_id] => 97
                )

        )

    [attributes] => Array
        (
            [0] => stdClass Object
                (
                    [id] => 7614555
                    [name] => baby crib
                    [value] => 
                    [group] => AMENITY
                    [unit_id] => 97
                )

            [1] => stdClass Object
                (
                    [id] => 7614556
                    [name] => king
                    [value] => 
                    [group] => AMENITY
                    [unit_id] => 97
                )

            [2] => stdClass Object
                (
                    [id] => 7614557
                    [name] => shower
                    [value] => 
                    [group] => AMENITY
                    [unit_id] => 97
                )

            [3] => stdClass Object
                (
                    [id] => 7614558
                    [name] => sleep sofa /futon
                    [value] => 
                    [group] => AMENITY
                    [unit_id] => 97
                )

            [4] => stdClass Object
                (
                    [id] => 7614559
                    [name] => toilet
                    [value] => 
                    [group] => AMENITY
                    [unit_id] => 97
                )

            [5] => stdClass Object
                (
                    [id] => 7614560
                    [name] => coin laundry
                    [value] => 
                    [group] => ATTRACTIONS
                    [unit_id] => 97
                )

            [6] => stdClass Object
                (
                    [id] => 7614561
                    [name] => Satellite / Cable
                    [value] => 
                    [group] => ENTERTAINMENT
                    [unit_id] => 97
                )

            [7] => stdClass Object
                (
                    [id] => 7614562
                    [name] => Television
                    [value] => 
                    [group] => ENTERTAINMENT
                    [unit_id] => 97
                )

            [8] => stdClass Object
                (
                    [id] => 7614563
                    [name] => Air Conditioning
                    [value] => 
                    [group] => GENERAL
                    [unit_id] => 97
                )

            [9] => stdClass Object
                (
                    [id] => 7614564
                    [name] => Hair Dryer
                    [value] => 
                    [group] => GENERAL
                    [unit_id] => 97
                )

            [10] => stdClass Object
                (
                    [id] => 7614565
                    [name] => Internet
                    [value] => 
                    [group] => GENERAL
                    [unit_id] => 97
                )

            [11] => stdClass Object
                (
                    [id] => 7614566
                    [name] => Iron & Board
                    [value] => 
                    [group] => GENERAL
                    [unit_id] => 97
                )

            [12] => stdClass Object
                (
                    [id] => 7614567
                    [name] => Linens Provided
                    [value] => 
                    [group] => GENERAL
                    [unit_id] => 97
                )

            [13] => stdClass Object
                (
                    [id] => 7614568
                    [name] => Living Room
                    [value] => 
                    [group] => GENERAL
                    [unit_id] => 97
                )

            [14] => stdClass Object
                (
                    [id] => 7614569
                    [name] => Parking
                    [value] => 
                    [group] => GENERAL
                    [unit_id] => 97
                )

            [15] => stdClass Object
                (
                    [id] => 7614570
                    [name] => Towels Provided
                    [value] => 
                    [group] => GENERAL
                    [unit_id] => 97
                )

            [16] => stdClass Object
                (
                    [id] => 7614571
                    [name] => Wifi
                    [value] => 
                    [group] => GENERAL
                    [unit_id] => 97
                )

            [17] => stdClass Object
                (
                    [id] => 7614572
                    [name] => Free Wifi
                    [value] => 
                    [group] => GENERAL
                    [unit_id] => 97
                )

            [18] => stdClass Object
                (
                    [id] => 7614573
                    [name] => Coffee Maker
                    [value] => 
                    [group] => KITCHEN
                    [unit_id] => 97
                )

            [19] => stdClass Object
                (
                    [id] => 7614574
                    [name] => Dishes & Utensils
                    [value] => 
                    [group] => KITCHEN
                    [unit_id] => 97
                )

            [20] => stdClass Object
                (
                    [id] => 7614575
                    [name] => Dishwasher
                    [value] => 
                    [group] => KITCHEN
                    [unit_id] => 97
                )

            [21] => stdClass Object
                (
                    [id] => 7614576
                    [name] => Kitchen
                    [value] => 
                    [group] => KITCHEN
                    [unit_id] => 97
                )

            [22] => stdClass Object
                (
                    [id] => 7614577
                    [name] => Microwave
                    [value] => 
                    [group] => KITCHEN
                    [unit_id] => 97
                )

            [23] => stdClass Object
                (
                    [id] => 7614578
                    [name] => Oven
                    [value] => 
                    [group] => KITCHEN
                    [unit_id] => 97
                )

            [24] => stdClass Object
                (
                    [id] => 7614579
                    [name] => Refrigerator
                    [value] => 
                    [group] => KITCHEN
                    [unit_id] => 97
                )

            [25] => stdClass Object
                (
                    [id] => 7614580
                    [name] => Stove
                    [value] => 
                    [group] => KITCHEN
                    [unit_id] => 97
                )

            [26] => stdClass Object
                (
                    [id] => 7614581
                    [name] => Toaster
                    [value] => 
                    [group] => KITCHEN
                    [unit_id] => 97
                )

            [27] => stdClass Object
                (
                    [id] => 7614582
                    [name] => Beach View
                    [value] => 
                    [group] => LOCATION_TYPE
                    [unit_id] => 97
                )

            [28] => stdClass Object
                (
                    [id] => 7614583
                    [name] => Beachfront
                    [value] => 
                    [group] => LOCATION_TYPE
                    [unit_id] => 97
                )

            [29] => stdClass Object
                (
                    [id] => 7614584
                    [name] => Downtown
                    [value] => 
                    [group] => LOCATION_TYPE
                    [unit_id] => 97
                )

            [30] => stdClass Object
                (
                    [id] => 7614585
                    [name] => Near The Ocean
                    [value] => 
                    [group] => LOCATION_TYPE
                    [unit_id] => 97
                )

            [31] => stdClass Object
                (
                    [id] => 7614586
                    [name] => Ocean View
                    [value] => 
                    [group] => LOCATION_TYPE
                    [unit_id] => 97
                )

            [32] => stdClass Object
                (
                    [id] => 7614587
                    [name] => Oceanfront
                    [value] => 
                    [group] => LOCATION_TYPE
                    [unit_id] => 97
                )

            [33] => stdClass Object
                (
                    [id] => 7614588
                    [name] => Resort
                    [value] => 
                    [group] => LOCATION_TYPE
                    [unit_id] => 97
                )

            [34] => stdClass Object
                (
                    [id] => 7614589
                    [name] => Deck / Patio
                    [value] => 
                    [group] => OUTSIDE
                    [unit_id] => 97
                )

            [35] => stdClass Object
                (
                    [id] => 7614590
                    [name] => Lawn / Garden
                    [value] => 
                    [group] => OUTSIDE
                    [unit_id] => 97
                )

            [36] => stdClass Object
                (
                    [id] => 7614591
                    [name] => Outdoor Grill
                    [value] => 
                    [group] => OUTSIDE
                    [unit_id] => 97
                )

            [37] => stdClass Object
                (
                    [id] => 7614592
                    [name] => Tennis
                    [value] => 
                    [group] => OUTSIDE
                    [unit_id] => 97
                )

            [38] => stdClass Object
                (
                    [id] => 7614593
                    [name] => Heated Pool
                    [value] => 
                    [group] => POOL_SPA
                    [unit_id] => 97
                )

            [39] => stdClass Object
                (
                    [id] => 7614594
                    [name] => bedroom
                    [value] => 
                    [group] => ROOM_SUBTYPE
                    [unit_id] => 97
                )

            [40] => stdClass Object
                (
                    [id] => 7614595
                    [name] => shower
                    [value] => 
                    [group] => ROOM_SUBTYPE
                    [unit_id] => 97
                )

            [41] => stdClass Object
                (
                    [id] => 7614596
                    [name] => children welcome
                    [value] => 
                    [group] => SUITABILITY
                    [unit_id] => 97
                )

            [42] => stdClass Object
                (
                    [id] => 7614597
                    [name] => non smoking only
                    [value] => 
                    [group] => SUITABILITY
                    [unit_id] => 97
                )

            [43] => stdClass Object
                (
                    [id] => 7614598
                    [name] => pets not allowed
                    [value] => 
                    [group] => SUITABILITY
                    [unit_id] => 97
                )

            [44] => stdClass Object
                (
                    [id] => 7614599
                    [name] => flexible
                    [value] => 
                    [group] => ARRIVAL_DAY
                    [unit_id] => 97
                )

            [45] => stdClass Object
                (
                    [id] => 7614600
                    [name] => Dining Area
                    [value] => 
                    [group] => DINING
                    [unit_id] => 97
                )

            [46] => stdClass Object
                (
                    [id] => 7614601
                    [name] => Smoke detectors
                    [value] => 
                    [group] => Safety
                    [unit_id] => 97
                )

            [47] => stdClass Object
                (
                    [id] => 7614602
                    [name] => Emergency phone number: Medical
                    [value] => 
                    [group] => Safety
                    [unit_id] => 97
                )

            [48] => stdClass Object
                (
                    [id] => 7614603
                    [name] => Emergency phone number: Police
                    [value] => 
                    [group] => Safety
                    [unit_id] => 97
                )

            [49] => stdClass Object
                (
                    [id] => 7614604
                    [name] => Emergency phone number: Fire
                    [value] => 
                    [group] => Safety
                    [unit_id] => 97
                )

            [50] => stdClass Object
                (
                    [id] => 7614605
                    [name] => Enhanced cleaning practices
                    [value] => 
                    [group] => Health and Safety
                    [unit_id] => 97
                )

            [51] => stdClass Object
                (
                    [id] => 7614606
                    [name] => Clean with disinfectant
                    [value] => 
                    [group] => Health and Safety
                    [unit_id] => 97
                )

            [52] => stdClass Object
                (
                    [id] => 7614607
                    [name] => No-contact check-in and check-out
                    [value] => 
                    [group] => Health and Safety
                    [unit_id] => 97
                )

            [53] => stdClass Object
                (
                    [id] => 7614608
                    [name] => High touch surfaces cleaned with disinfectant
                    [value] => 
                    [group] => Health and Safety
                    [unit_id] => 97
                )

            [54] => stdClass Object
                (
                    [id] => 7614609
                    [name] => Towels and bedding washed in water that's at least 60sC/140sF
                    [value] => 
                    [group] => Health and Safety
                    [unit_id] => 97
                )

            [55] => stdClass Object
                (
                    [id] => 7614610
                    [name] => 1 day (24 hours)
                    [value] => 
                    [group] => Health and Safety
                    [unit_id] => 97
                )

            [56] => stdClass Object
                (
                    [id] => 7614611
                    [name] => Toaster
                    [value] => 
                    [group] => Kitchen
                    [unit_id] => 97
                )

            [57] => stdClass Object
                (
                    [id] => 7614612
                    [name] => Ceiling Fans
                    [value] => 
                    [group] => Living
                    [unit_id] => 97
                )

            [58] => stdClass Object
                (
                    [id] => 7614613
                    [name] => Pack n Play
                    [value] => 
                    [group] => Living
                    [unit_id] => 97
                )

            [59] => stdClass Object
                (
                    [id] => 7614614
                    [name] => In Room Safe
                    [value] => 
                    [group] => Living
                    [unit_id] => 97
                )

            [60] => stdClass Object
                (
                    [id] => 7614615
                    [name] => BBQ Grill
                    [value] => 
                    [group] => Outdoor
                    [unit_id] => 97
                )

            [61] => stdClass Object
                (
                    [id] => 7614616
                    [name] => Beach
                    [value] => 
                    [group] => Outdoor
                    [unit_id] => 97
                )

            [62] => stdClass Object
                (
                    [id] => 7614617
                    [name] => Beach Chairs
                    [value] => 
                    [group] => Outdoor
                    [unit_id] => 97
                )

            [63] => stdClass Object
                (
                    [id] => 7614618
                    [name] => Bike Path
                    [value] => 
                    [group] => Outdoor
                    [unit_id] => 97
                )

            [64] => stdClass Object
                (
                    [id] => 7614619
                    [name] => Beach Towels
                    [value] => 
                    [group] => Outdoor
                    [unit_id] => 97
                )

            [65] => stdClass Object
                (
                    [id] => 7614620
                    [name] => On Beach
                    [value] => 
                    [group] => Geographic
                    [unit_id] => 97
                )

            [66] => stdClass Object
                (
                    [id] => 7614621
                    [name] => Close to Town
                    [value] => 
                    [group] => Geographic
                    [unit_id] => 97
                )

            [67] => stdClass Object
                (
                    [id] => 7614622
                    [name] => Coconut Coast
                    [value] => 
                    [group] => Geographic
                    [unit_id] => 97
                )

            [68] => stdClass Object
                (
                    [id] => 7614623
                    [name] => Lae Nani Resort
                    [value] => 
                    [group] => Geographic
                    [unit_id] => 97
                )

        )

    [avail] => Array
        (
            [0] => stdClass Object
                (
                    [id] => 30672028
                    [start_date] => 2021-09-01
                    [end_date] => 2021-11-03
                    [unit_id] => 97
                )

            [1] => stdClass Object
                (
                    [id] => 30672029
                    [start_date] => 2021-11-04
                    [end_date] => 2021-11-08
                    [unit_id] => 97
                )

            [2] => stdClass Object
                (
                    [id] => 30672030
                    [start_date] => 2021-11-10
                    [end_date] => 2021-11-18
                    [unit_id] => 97
                )

            [3] => stdClass Object
                (
                    [id] => 30672031
                    [start_date] => 2021-11-20
                    [end_date] => 2021-11-27
                    [unit_id] => 97
                )

            [4] => stdClass Object
                (
                    [id] => 30672032
                    [start_date] => 2021-12-13
                    [end_date] => 2022-01-01
                    [unit_id] => 97
                )

            [5] => stdClass Object
                (
                    [id] => 30672033
                    [start_date] => 2022-01-15
                    [end_date] => 2022-04-03
                    [unit_id] => 97
                )

            [6] => stdClass Object
                (
                    [id] => 30672034
                    [start_date] => 2022-05-15
                    [end_date] => 2022-06-11
                    [unit_id] => 97
                )

            [7] => stdClass Object
                (
                    [id] => 30672035
                    [start_date] => 2022-06-12
                    [end_date] => 2022-06-28
                    [unit_id] => 97
                )

            [8] => stdClass Object
                (
                    [id] => 30672036
                    [start_date] => 2022-10-15
                    [end_date] => 2022-10-30
                    [unit_id] => 97
                )

        )

    [reviews] => Array
        (
            [0] => stdClass Object
                (
                    [id] => 30856
                    [external_id] => 1d488fc8-a6f0-4525-be3f-900e3e0e3559
                    [prop_id] => 97
                    [review_id] => 0
                    [source] => Escapia
                    [title] => Wonderful Stay - Highly Recommend!
                    [review] => Had a wonderful stay at Lae Nani 312... even before we got there, communication was extremely clear/prompt from property management. When we arrived, the unit was exactly as pictured (maybe even a little bigger than the photos). It was the perfect set up for travel with baby. The ground floor unit allowed us to put baby down for naps, but still enjoy the beautiful lanai/view. Was steps from the beach and pool... and the grounds were meticulously maintained with the beautiful tropical foliage. Would love to return again!
                    [name] => 
                    [email] => courtneyalissa13@gmail.com
                    [location] => 
                    [response] => Aloha Courtney! Thank you for your stay with us and sharing your experience. We are happy to hear you had a wonderful stay and that the location was perfect your family. Mahalo for the excellent review and hope to have you back again soon! ~Garden Island Properties
                    [response_date] => 2021-09-11
                    [rating] => 5
                    [review_date] => 2021-09-10
                    [featured] => 
                    [status] => 1
                    [checkin_date] => 2021-08-09
                    [nights_stayed] => 10
                    [sfrm] => 5
                    [clean] => 5
                    [rto] => 1
                    [pc] => 5
                    [loc] => 5
                    [meta] => Array
                        (
                        )

                )

            [1] => stdClass Object
                (
                    [id] => 30798
                    [external_id] => 50729b37-ef37-435d-9b4c-a1f51dcd2f3c
                    [prop_id] => 97
                    [review_id] => 0
                    [source] => Escapia
                    [title] => Wonderful 
                    [review] => This rental had everything our family needed. We will definitely return! Maholo!
                    [name] => 
                    [email] => mwillmon0223@att.net
                    [location] => 
                    [response] => Aloha Melissa! So glad you had a wonderful stay with us. We look forward to welcoming you back soon! Mahalo, Garden Island Properties
                    [response_date] => 2021-07-16
                    [rating] => 5
                    [review_date] => 2021-07-11
                    [featured] => 
                    [status] => 1
                    [checkin_date] => 2021-07-05
                    [nights_stayed] => 4
                    [sfrm] => 5
                    [clean] => 5
                    [rto] => 1
                    [pc] => 5
                    [loc] => 5
                    [meta] => Array
                        (
                        )

                )

            [2] => stdClass Object
                (
                    [id] => 30794
                    [external_id] => 01575841-2498-4264-b960-90e633c9acfc
                    [prop_id] => 97
                    [review_id] => 0
                    [source] => Escapia
                    [title] => A little slice of heaven!
                    [review] => This rental met and exceeded our expectations! The view is exactly as pictured and absolutely stunning! The condo was clean, quiet, and so comfortable. The bed was very comfortable with an air conditioning unit to keep us cool at night!
The windows in the condo open making a nice breeze through the condo.  We enjoyed cooking meals in the well appointed kitchen with all necessary supplies available.
We did have to contact the rental company for minor questions/needs and they were immediately responsive and so helpful!
The best part? This condo is in the middle of the island making access and travel to either side of the island so easy!
                    [name] => Layne V.
                    [email] => layne.vargas@yahoo.com
                    [location] => 
                    [response] => Aloha Layne! We are so happy to hear the rental exceeded your expectations!  We are also glad that management was helpful during your stay. Thank you for the amazing review and hope to have back again soon! Mahalo nui loa, Garden Island Properties
                    [response_date] => 2021-07-07
                    [rating] => 5
                    [review_date] => 2021-07-07
                    [featured] => 
                    [status] => 1
                    [checkin_date] => 2021-06-28
                    [nights_stayed] => 6
                    [sfrm] => 5
                    [clean] => 5
                    [rto] => 1
                    [pc] => 5
                    [loc] => 5
                    [meta] => Array
                        (
                        )

                )

            [3] => stdClass Object
                (
                    [id] => 30749
                    [external_id] => 7da5f2d1-0dc1-41c7-b878-a0505277b34b
                    [prop_id] => 97
                    [review_id] => 0
                    [source] => Escapia
                    [title] => Excellent condo and grounds
                    [review] => Better than I remembered from our 1999 stay here.
We hope to return again someday. 
                    [name] => Tom S.
                    [email] => tom.spro47@gmail.com
                    [location] => 
                    [response] => Mahalo Tom! Hope to have you back soon! Aloha, Garden Island Properties
                    [response_date] => 2021-04-30
                    [rating] => 5
                    [review_date] => 2021-04-30
                    [featured] => 
                    [status] => 1
                    [checkin_date] => 2021-04-20
                    [nights_stayed] => 7
                    [sfrm] => 5
                    [clean] => 5
                    [rto] => 1
                    [pc] => 5
                    [loc] => 5
                    [meta] => Array
                        (
                        )

                )

        )

    [rateaddons] => Array
        (
        )

    [unit_meta] => Array
        (
            [0] => stdClass Object
                (
                    [id] => 495973
                    [unit_id] => 97
                    [key] => DisplayRate
                    [value] => Starting from $239 per night
                )

            [1] => stdClass Object
                (
                    [id] => 495974
                    [unit_id] => 97
                    [key] => Location
                    [value] => Kapaa
                )

            [2] => stdClass Object
                (
                    [id] => 495975
                    [unit_id] => 97
                    [key] => LocationField
                    [value] => Garden Island Properties, LLC
                )

            [3] => stdClass Object
                (
                    [id] => 495976
                    [unit_id] => 97
                    [key] => Property Type
                    [value] => Condo
                )

            [4] => stdClass Object
                (
                    [id] => 495977
                    [unit_id] => 97
                    [key] => View
                    [value] => Ocean Front
                )

            [5] => stdClass Object
                (
                    [id] => 495978
                    [unit_id] => 97
                    [key] => TextItems
                    [value] => a:3:{i:0;a:2:{s:5:"Title";s:16:"Long Description";s:11:"Description";s:2375:"Lae Nani Resort Kaua'i #312, Beautiful Oceanfront Unit on a Tropical Beachfront Oasis.  This Kauai Vacation Rental is conveniently located in Kapaa Town within walking distance t
                )

            [6] => stdClass Object
                (
                    [id] => 495979
                    [unit_id] => 97
                    [key] => MinLOS
                    [value] => 3
                )

            [7] => stdClass Object
                (
                    [id] => 495980
                    [unit_id] => 97
                    [key] => StayContext
                    [value] => Checkin
                )

            [8] => stdClass Object
                (
                    [id] => 495981
                    [unit_id] => 97
                    [key] => StayDays
                    [value] => a:7:{i:0;s:3:"Mon";i:1;s:3:"Tue";i:2;s:4:"Weds";i:3;s:4:"Thur";i:4;s:3:"Fri";i:5;s:3:"Sat";i:6;s:3:"Sun";}
                )

            [9] => stdClass Object
                (
                    [id] => 495982
                    [unit_id] => 97
                    [key] => NumberFloors
                    [value] => 
                )

            [10] => stdClass Object
                (
                    [id] => 495983
                    [unit_id] => 97
                    [key] => AreaSquareFeet
                    [value] => 800
                )

            [11] => stdClass Object
                (
                    [id] => 495984
                    [unit_id] => 97
                    [key] => CheckInTime
                    [value] => 15:00
                )

            [12] => stdClass Object
                (
                    [id] => 495985
                    [unit_id] => 97
                    [key] => CheckOutTime
                    [value] => 10:00
                )

            [13] => stdClass Object
                (
                    [id] => 495986
                    [unit_id] => 97
                    [key] => SmokingAllowed
                    [value] => 
                )

            [14] => stdClass Object
                (
                    [id] => 495987
                    [unit_id] => 97
                    [key] => VirtualTourURL
                    [value] => 
                )

            [15] => stdClass Object
                (
                    [id] => 496144
                    [unit_id] => 97
                    [key] => Agreement
                    [value] => GUEST AGREEMENT 
RELATES TO ALL PROPERTIES. PLEASE READ THIS CONTRACT CAREFULLY. 
BY CLICKING ON THE ACCEPT BUTTON YOU (either an individual or a single entity) AGREE THAT THIS AGREEMENT IS ENFORCEABLE LIKE ANY WRITTEN CONTRACT SIGNED BY YOU. 

REFUNDABLE
                )

        )

    [minnights] => Array
        (
            [0] => stdClass Object
                (
                    [id] => 1371856
                    [start_date] => 2021-04-01
                    [end_date] => 2021-12-14
                    [prop_id] => 97
                    [nights] => 4
                    [rate_type] => Daily
                )

            [1] => stdClass Object
                (
                    [id] => 1371857
                    [start_date] => 2021-04-01
                    [end_date] => 2021-12-14
                    [prop_id] => 97
                    [nights] => 7
                    [rate_type] => Weekly
                )

            [2] => stdClass Object
                (
                    [id] => 1371858
                    [start_date] => 2021-04-01
                    [end_date] => 2021-12-14
                    [prop_id] => 97
                    [nights] => 30
                    [rate_type] => Monthly
                )

            [3] => stdClass Object
                (
                    [id] => 1371859
                    [start_date] => 2021-12-15
                    [end_date] => 2022-01-09
                    [prop_id] => 97
                    [nights] => 4
                    [rate_type] => Daily
                )

            [4] => stdClass Object
                (
                    [id] => 1371860
                    [start_date] => 2021-12-15
                    [end_date] => 2022-01-09
                    [prop_id] => 97
                    [nights] => 14
                    [rate_type] => Weekly
                )

            [5] => stdClass Object
                (
                    [id] => 1371861
                    [start_date] => 2022-01-10
                    [end_date] => 2022-03-31
                    [prop_id] => 97
                    [nights] => 4
                    [rate_type] => Daily
                )

            [6] => stdClass Object
                (
                    [id] => 1371862
                    [start_date] => 2022-01-10
                    [end_date] => 2022-03-31
                    [prop_id] => 97
                    [nights] => 7
                    [rate_type] => Weekly
                )

            [7] => stdClass Object
                (
                    [id] => 1371863
                    [start_date] => 2022-01-10
                    [end_date] => 2022-03-31
                    [prop_id] => 97
                    [nights] => 30
                    [rate_type] => Monthly
                )

            [8] => stdClass Object
                (
                    [id] => 1371864
                    [start_date] => 2022-04-01
                    [end_date] => 2022-12-14
                    [prop_id] => 97
                    [nights] => 2
                    [rate_type] => Daily
                )

            [9] => stdClass Object
                (
                    [id] => 1371865
                    [start_date] => 2022-04-01
                    [end_date] => 2022-12-14
                    [prop_id] => 97
                    [nights] => 7
                    [rate_type] => Weekly
                )

            [10] => stdClass Object
                (
                    [id] => 1371866
                    [start_date] => 2022-04-01
                    [end_date] => 2022-12-14
                    [prop_id] => 97
                    [nights] => 30
                    [rate_type] => Monthly
                )

        )

    [manager] => stdClass Object
        (
            [id] => 1
            [ManagerID] => 1
            [Name] => Escapia
            [Vendor] => Escapia
            [Contract] => 
            [random] => 0
            [pms] => 
            [last_update] => 0000-00-00 00:00:00
        )

    [flipkey] => 
    [additonal] => stdClass Object
        (
            [DisplayRate] => Starting from $239 per night
            [Location] => Kapaa
            [LocationField] => Garden Island Properties, LLC
            [Property Type] => Condo
            [View] => Ocean Front
            [TextItems] => a:3:{i:0;a:2:{s:5:"Title";s:16:"Long Description";s:11:"Description";s:2375:"Lae Nani Resort Kaua'i #312, Beautiful Oceanfront Unit on a Tropical Beachfront Oasis.  This Kauai Vacation Rental is conveniently located in Kapaa Town within walking distance t
            [MinLOS] => 3
            [StayContext] => Checkin
            [StayDays] => Array
                (
                    [0] => Mon
                    [1] => Tue
                    [2] => Weds
                    [3] => Thur
                    [4] => Fri
                    [5] => Sat
                    [6] => Sun
                )

            [NumberFloors] => 
            [AreaSquareFeet] => 800
            [CheckInTime] => 15:00
            [CheckOutTime] => 10:00
            [SmokingAllowed] => 
            [VirtualTourURL] => 
            [Agreement] => GUEST AGREEMENT 
RELATES TO ALL PROPERTIES. PLEASE READ THIS CONTRACT CAREFULLY. 
BY CLICKING ON THE ACCEPT BUTTON YOU (either an individual or a single entity) AGREE THAT THIS AGREEMENT IS ENFORCEABLE LIKE ANY WRITTEN CONTRACT SIGNED BY YOU. 

REFUNDABLE
        )

    [checkinout] => Array
        (
        )

    [special] => Array
        (
        )

    [hasSpecial] => 
)
                    
Holiday Rates apply between 12/15 - 1/5