new! kapaa shore resort #327, beautiful unit!oceanfront, moon & sunrise views
2 Bedroom(s) | 2 Bathroom(s) | Sleeps 4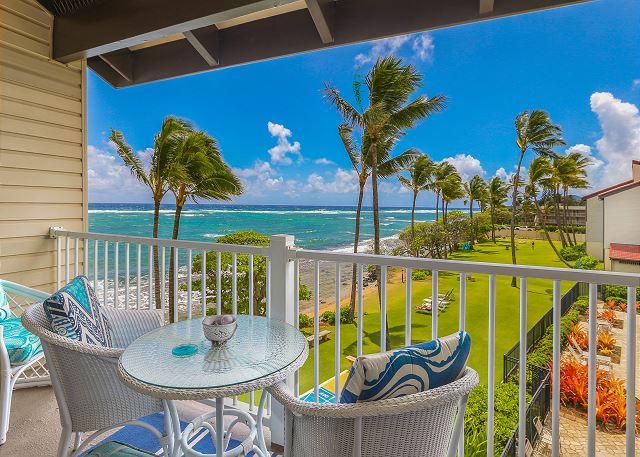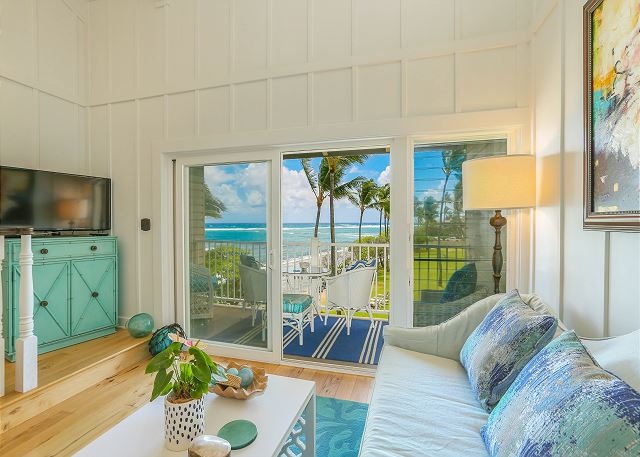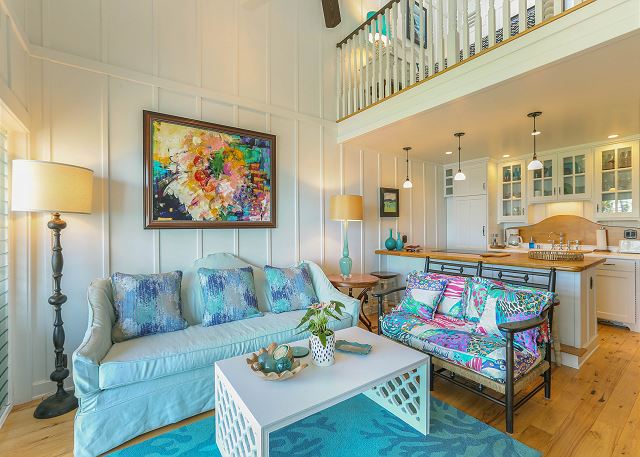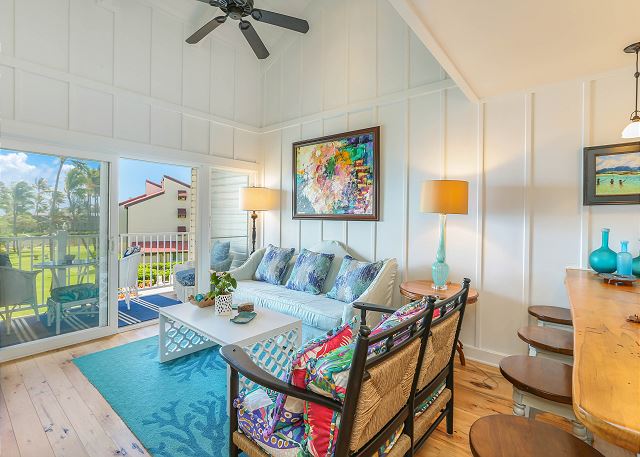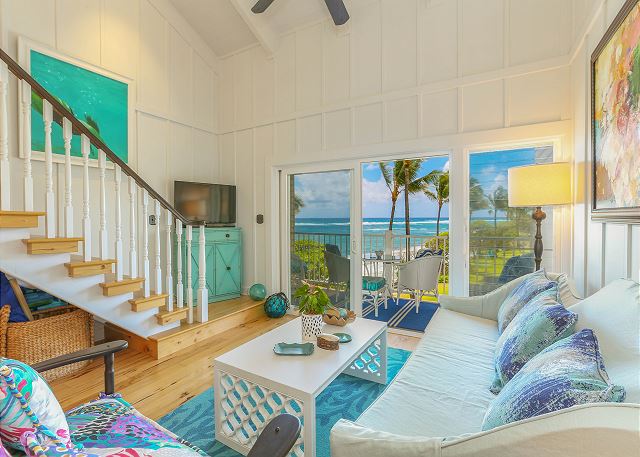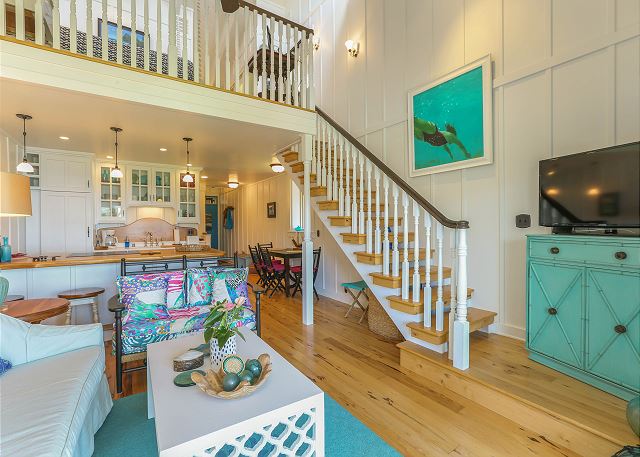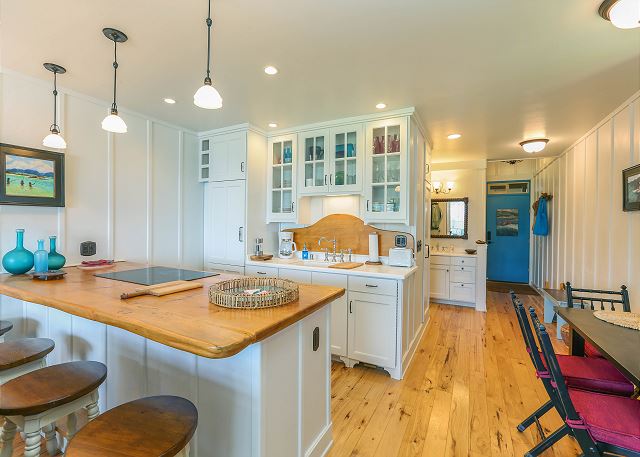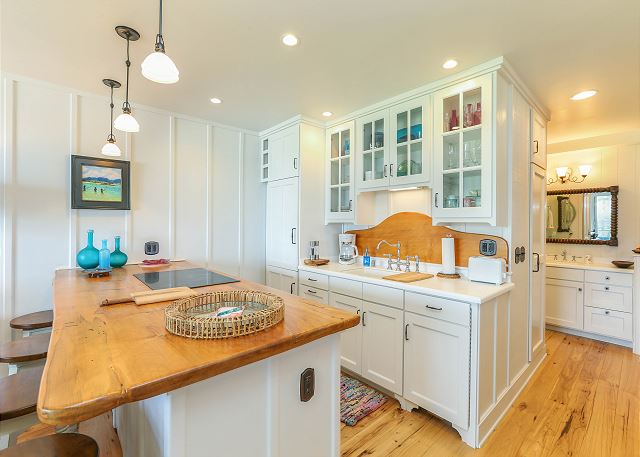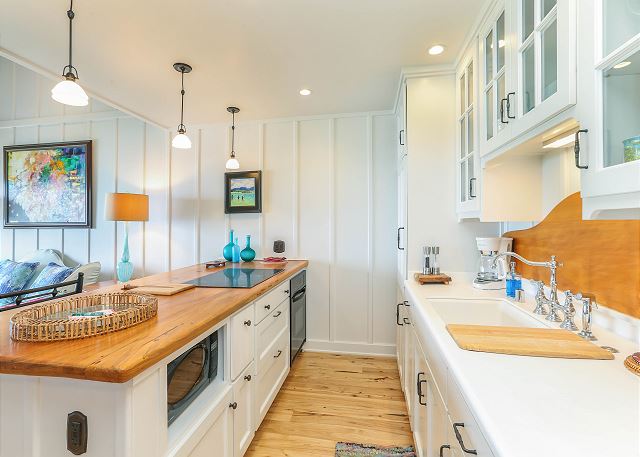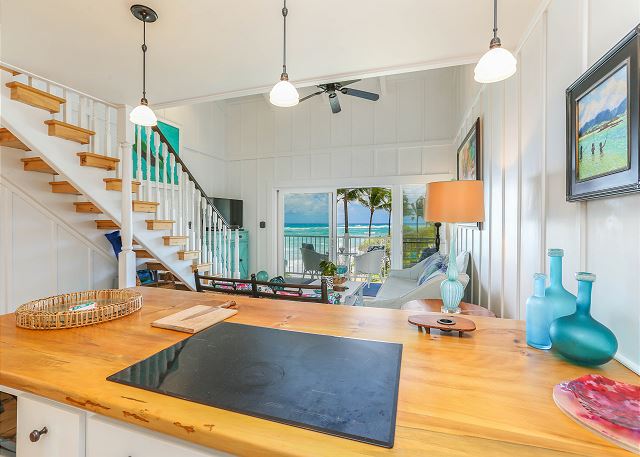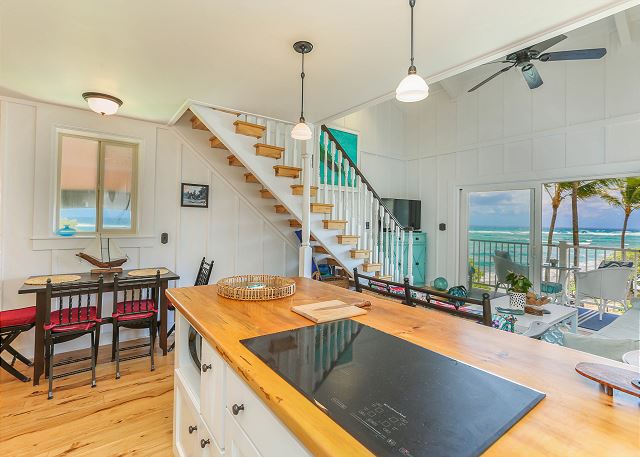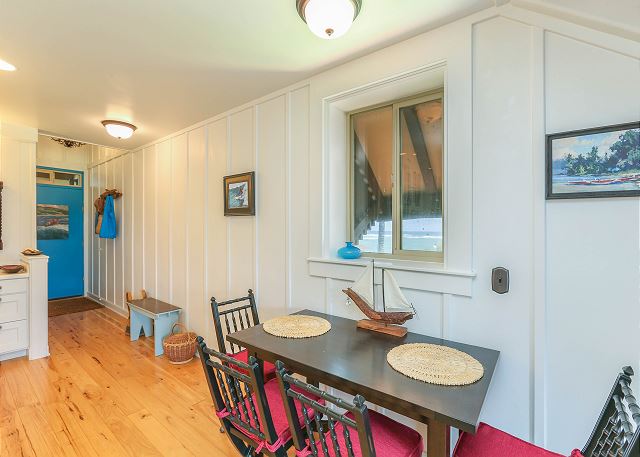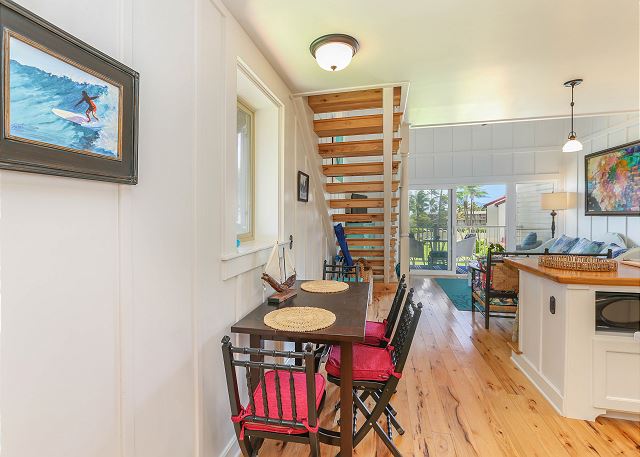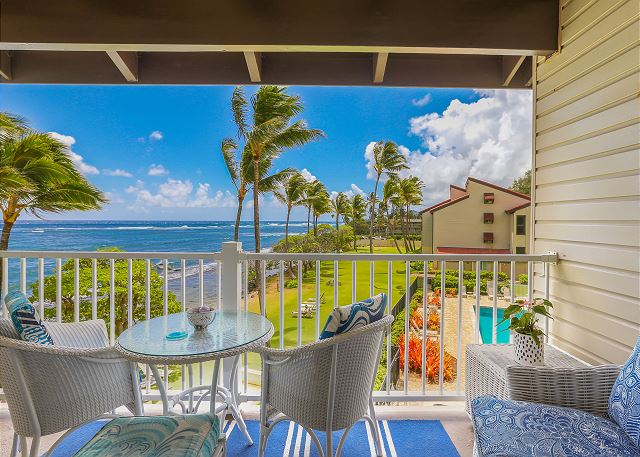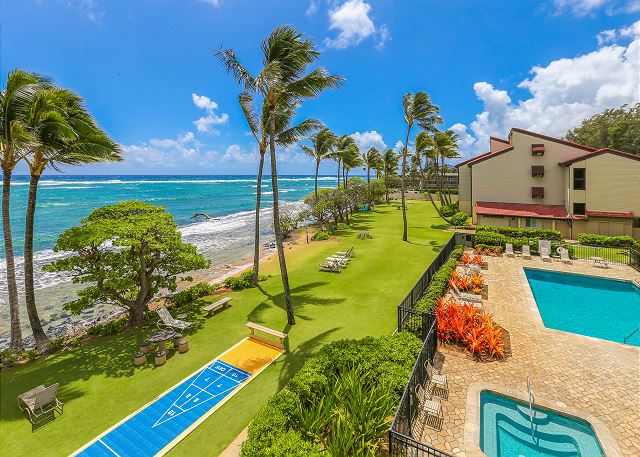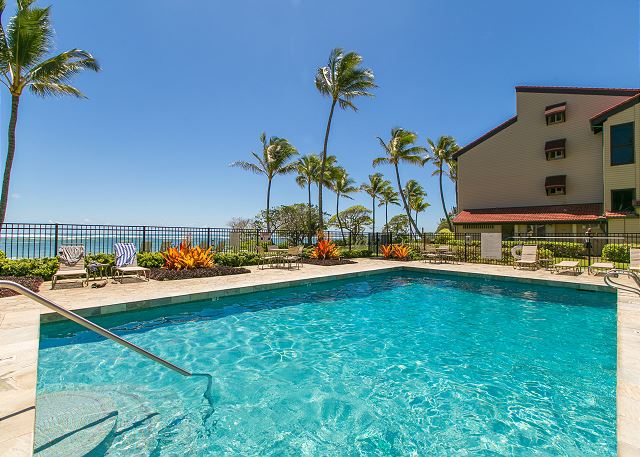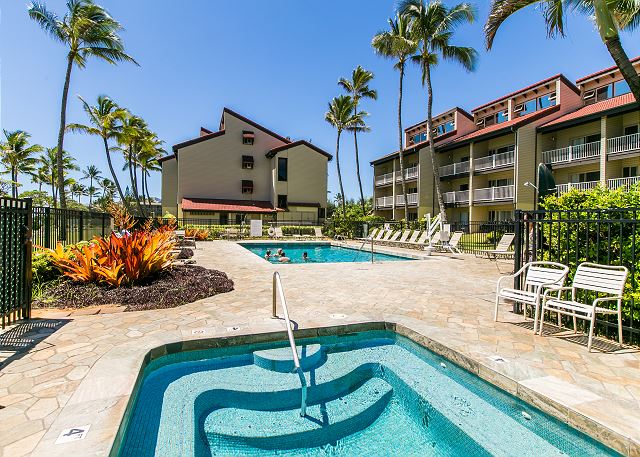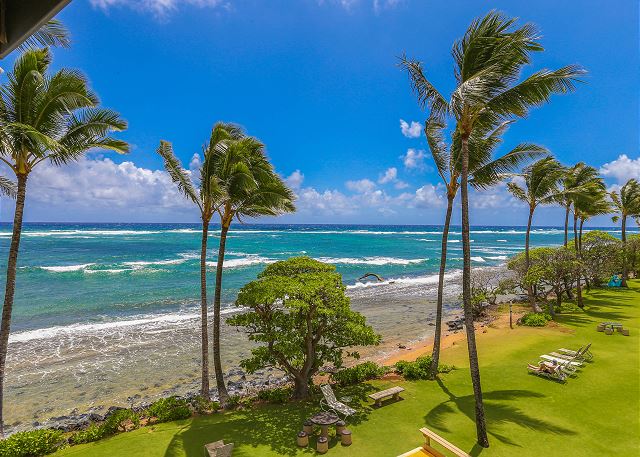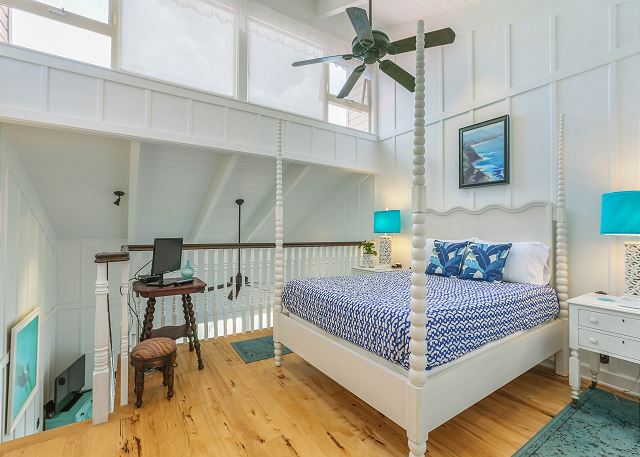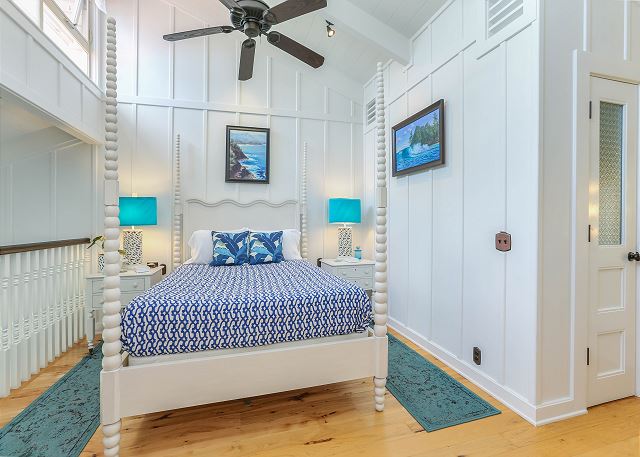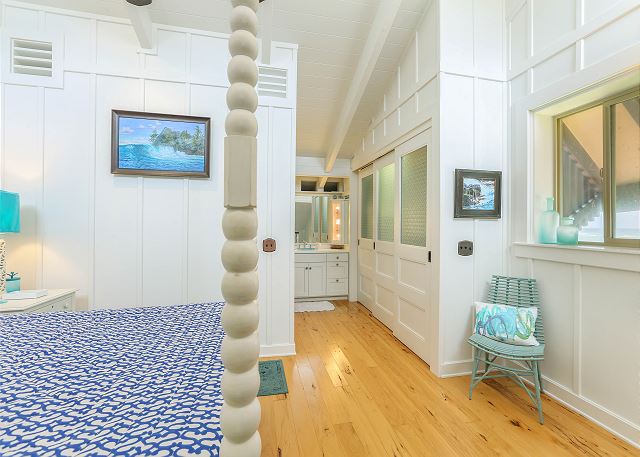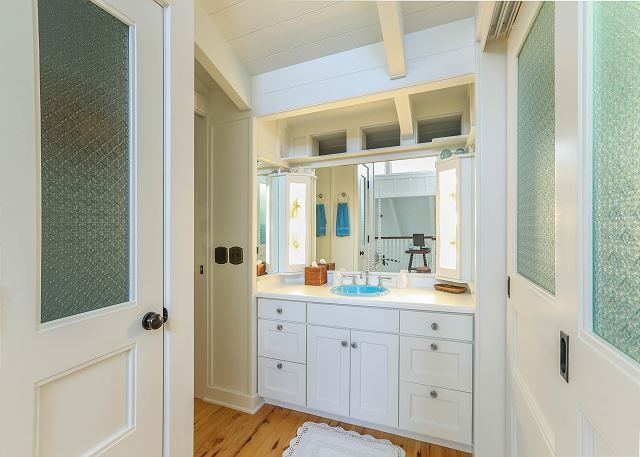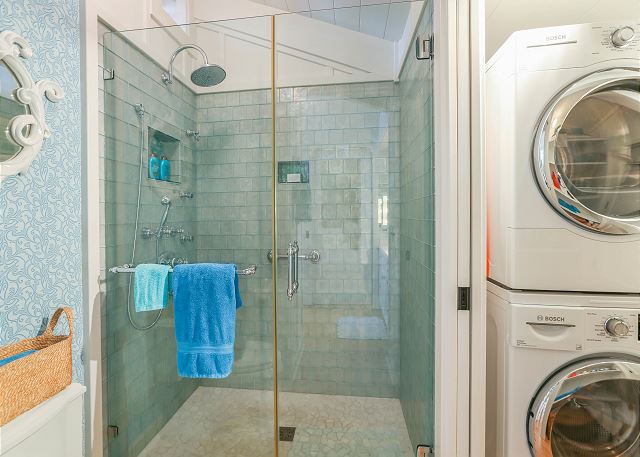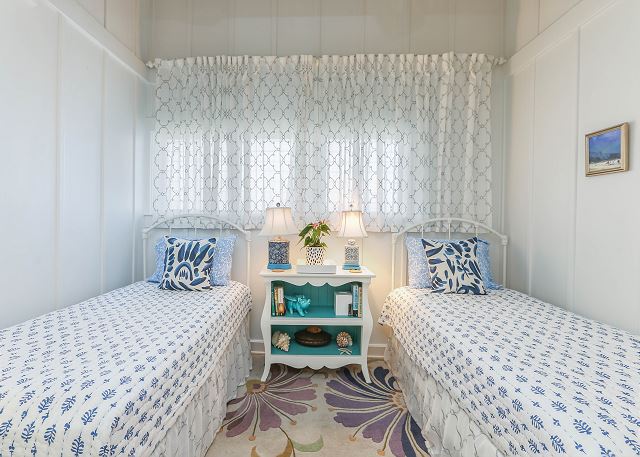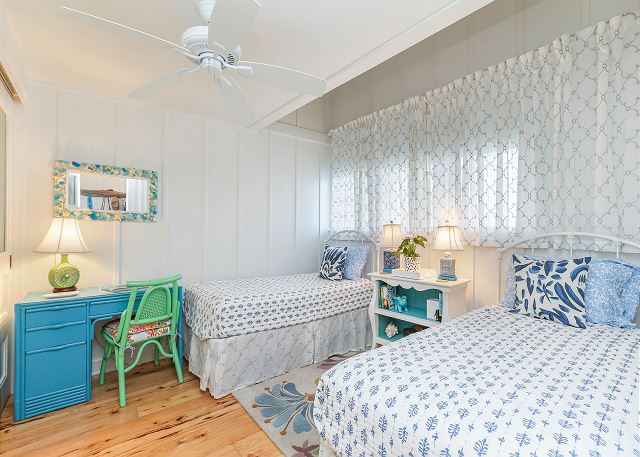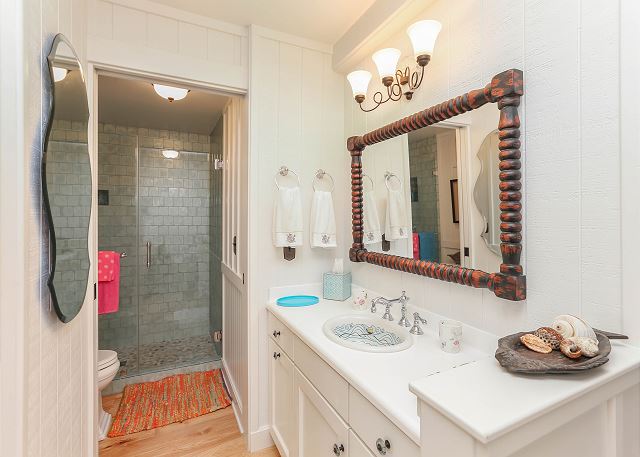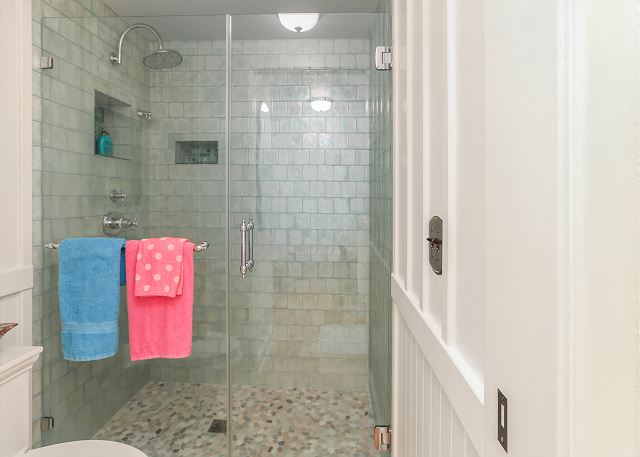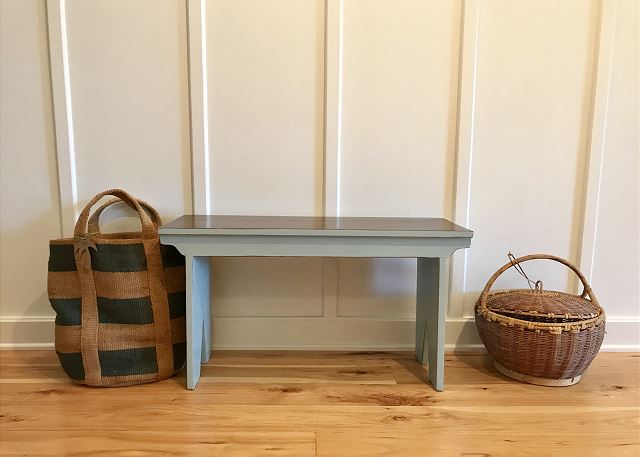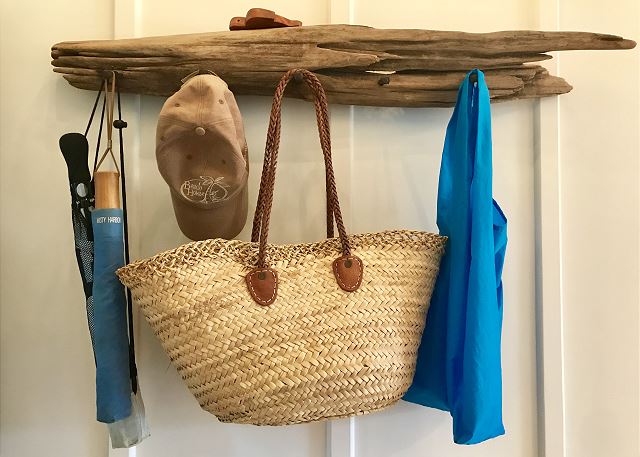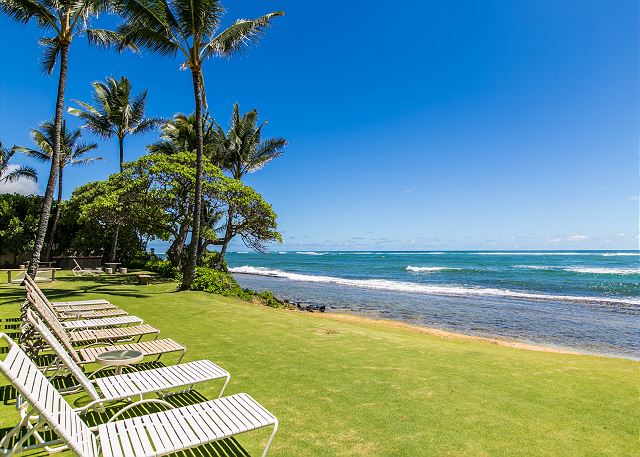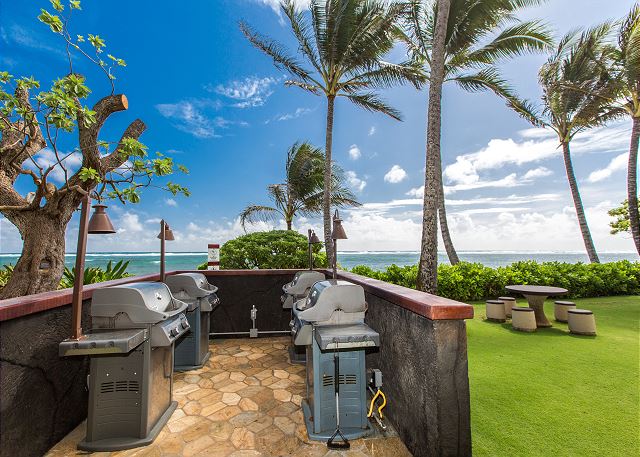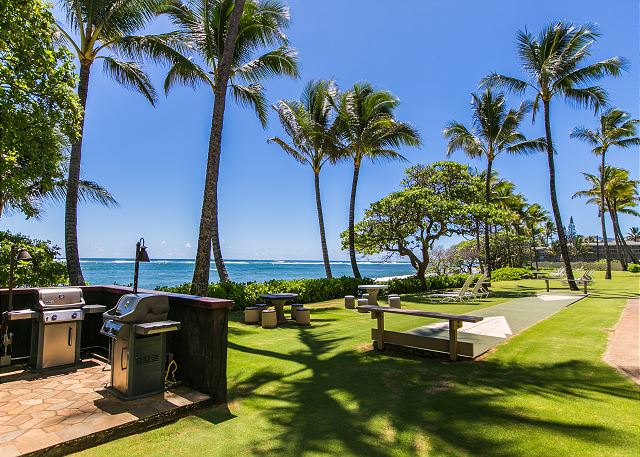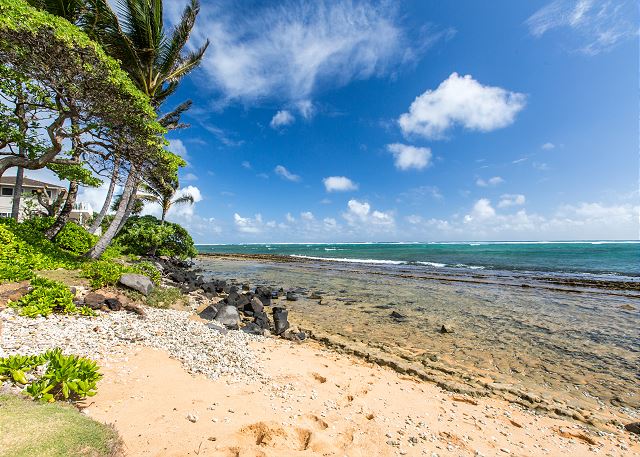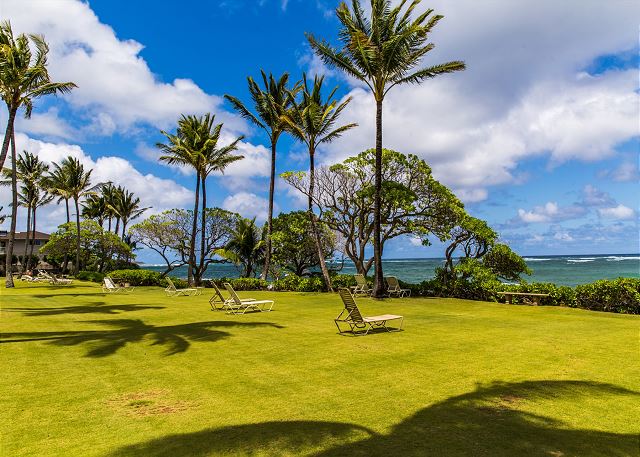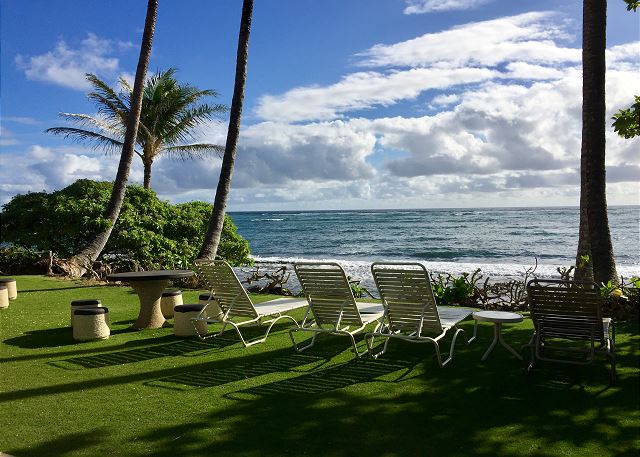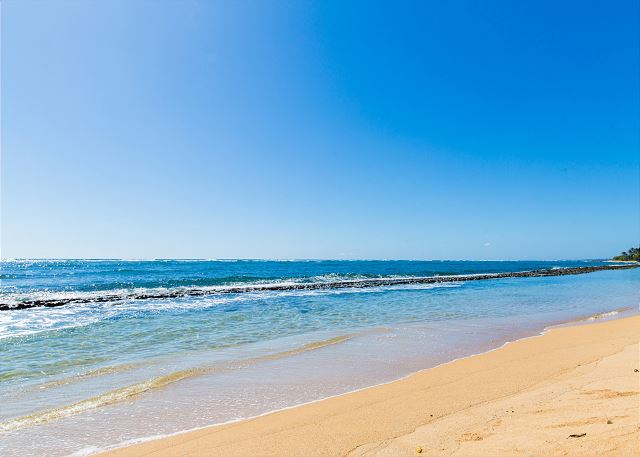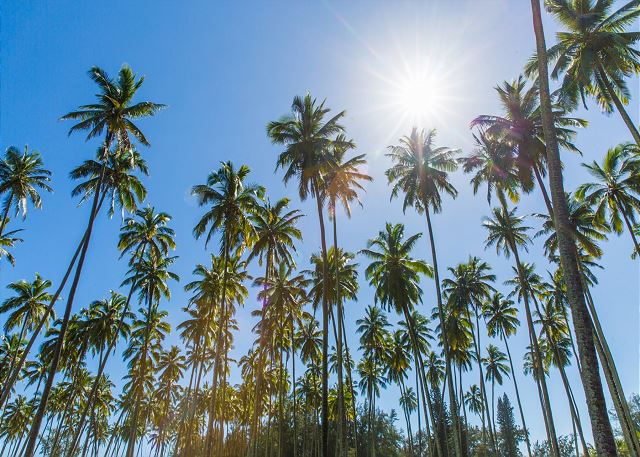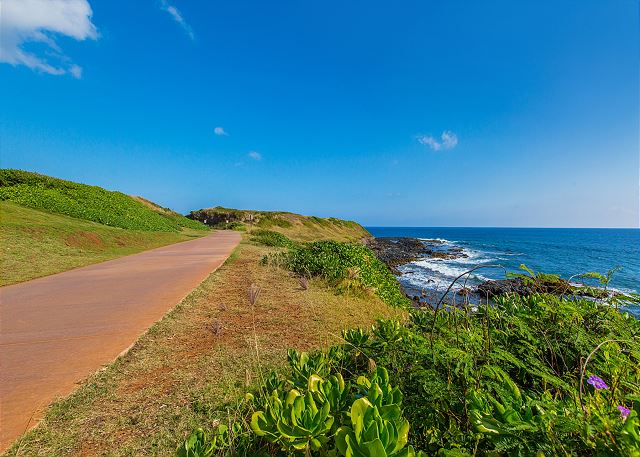 Beautifully and tastefully remodeled and now a rental. Exquisite local art, beach vibe throughout this newly remodeled condo! Be one of the first to stay here!

Kapa'a Shore Resort on the "Coconut Coast", Kapa'a, Kauai Vacation Rental

As Recommended In Frommer's Kauai Guidebook. Kapaa No. 1 travel destination as rated by TripAdvisor!

Two bedroom, two bath, 3rd floor (top floor) unit with washer and dryer, full kitchen, complimentary wifi and parking.

Loft bedroom is furnished with a Queen bed. The downstairs "guest" bedroom is furnished with 2 Twin size beds (convertible to a King- housekeeping fee applies). Sleeps 4.



Enjoy an Oceanfront heated pool, hot tub and BBQ facilities. Kapa'a Shore Resort is everything you could dream of when it comes to luxurious Hawaiian living in a Kauai vacation rental. Centrally located between the North & South shore makes this Kapaa Kauai vacation rental an ideal choice for a holiday.



Located oceanfront in the beautiful coastal town of Kapa'a, Kauai, each Kapaa Shore Resort unit enjoys views of the resort's sun drenched gardens, pool, and shallow tide pool beach. These fully furnished one and two bedroom Kauai vacation rentals feature all the comforts of home with complete kitchens, cable TV and private lanais spacious enough for outdoor dining.



The 2 bedrooms at Kapaa Shore Resort are all on the third floor w/a town home design; master bedroom is an upstairs loft with private bath and second bedroom is on the main level. The sound of the gentle surf breaking on the close-in coral reef, acts as a constant reminder that you are truly in the heart of a Kauai vacation rental paradise. From your private lanai, watch the moon rising up from the Pacific Ocean, sunrises and during the months of November to April see the humpback whales frolicking in their back yard!



An azure blue fresh water swimming pool is the Kauai vacation resort's center of activity, accented by a family size hot tub, grassy areas for sunbathing plus a shuffleboard court and barbecues. If tennis is your game, our court awaits your daily play. Of course, there are miles of sandy coastline nearby for hours of beach combing pleasure from your Kauai vacation rental.



Shopping, fine dining and nightly entertainment are just a 5" short stroll from the resort, featuring one of our many fine restaurants serving Pacific-rim cuisine, Thai, Japanese or Mexican food.



Complete sightseeing, surf lessons, golf. Luaus, movie tours and helicopter tours can be arranged by the Kapaa Shore staff. In the town of Kapaa/Wailua/Waipouli, you are only minutes away from kayaking up the Wailua River, enjoying the Fern Grotto tour, snorkeling at Lydgate Beach Park, hiking the Sleeping Giant Trail, You are also just minutes away from all of Kauai's breathtaking wonders including the tropical Na Pali Coast and Hanalei Bay, the white sands of Poipu Beach and the magnificent views at Waimea Canyon.



Let your stay at Kapaa Shore Resort transform your dream Kauai vacation into unforgettable reality. Kapaa Shore, Hawaiian oceanfront living at its very best! Come and stay in one of the most attractive affordable & conveniently located Kauai vacation condos on the beautiful and charming Coconut Coast of Kauai.



Holiday Rates apply 12/15-1/5 with a 7 night minimum stay.

TAT ID#: TA-054-208-5632-01
Amenities

Toilet
Satellite / Cable
Television
Clothes Dryer
Hair Dryer
Internet
Iron & Board
Linens Provided
Living Room
Parking
Towels Provided
Washing Machine
Coffee Maker
Dishes & Utensils
Dishwasher
Kitchen
Microwave
Oven
Refrigerator
Stove
Toaster
Beach View
Beachfront
Ocean View
Oceanfront
Resort
Balcony
Deck / Patio
Outdoor Grill
Heated Pool
Hot Tub
Children welcome
Non smoking only
Pets not allowed
Flexible
Emergency phone number: Medical
Emergency phone number: Police
Emergency phone number: Fire
Cookware
Blender
Washer & Dryer
Wifi
Beach Towels
Hair Dryer
Beach Chairs
Beach Towels
On Beach
Kapaa Shore Resort
Coconut Coast
---
Outstanding condo centrally located in Kapaa
Nov 23, 2019
Amazing recently renovated condo. Woodwork detail, furnishings and artwork really made this the best condo we stayed in during our trip to Hawaii. Property rental office just across the street and very accessible for help. Kapaa has many good restaurants and shops close by. The bike trail next to condo goes for 5-7 miles north to great beaches (bike rental just next door). Condo pool and hot tub were good too.
---
Really nice rental in central location
Nov 16, 2019
The place is really clean and very well equipped. You can tell the owners paid attention to detail when remodeling this unit. Light and bright with an excellent view. The lanai was really nice to catch the morning sunrise, have coffee, and play card games. It was plenty of space for 4 adults. The unit is centrally located in Kapaa and walking distance to grocery stores, shops, and restaurants. The only few things to consider, which were not an issue for us, the room downstairs is very loud because it's not fully enclosed so you can hear everything going on in the unit and the wifi signal was weak but hey who is going to Kauai to sit on their devices all day.
---
Amazing stay
Oct 20, 2019
The condo was absolutely beautiful. It was tastefully decorated and very clean. It had everything we needed to enjoy our vacation. Getting access was super easy. The condo is on the end right next to the ocean. We spent every morning on the patio admiring the breathtaking views. While the condo is on the ocean, there is not really a beach and not a safe place to swim in the ocean. The resort does, however, have a nice grassy area right along the shore where you can bask in the sun and enjoy the sounds of the waves. The condo is conveniently located near lots of grocery stores, restaurants, and shopping. It is also centrally located between the north shore and the south shore. The only downside was there there was no A/C and it got a bit warm during the day. I really loved this place and would highly recommend it to anyone.
Book Your Stay!
Select your arrival and departure dates below to reserve this unit.


December 2019

| S | M | T | W | T | F | S |
| --- | --- | --- | --- | --- | --- | --- |
| 01 | 02 | 03 | 04 | 05 | 06 | 07 |
| 08 | 09 | 10 | 11 | 12 | 13 | 14 |
| 15 | 16 | 17 | 18 | 19 | 20 | 21 |
| 22 | 23 | 24 | 25 | 26 | 27 | 28 |
| 29 | 30 | 31 | | | | |
January 2020

| S | M | T | W | T | F | S |
| --- | --- | --- | --- | --- | --- | --- |
| | | | 01 | 02 | 03 | 04 |
| 05 | 06 | 07 | 08 | 09 | 10 | 11 |
| 12 | 13 | 14 | 15 | 16 | 17 | 18 |
| 19 | 20 | 21 | 22 | 23 | 24 | 25 |
| 26 | 27 | 28 | 29 | 30 | 31 | |
February 2020

| S | M | T | W | T | F | S |
| --- | --- | --- | --- | --- | --- | --- |
| | | | | | | 01 |
| 02 | 03 | 04 | 05 | 06 | 07 | 08 |
| 09 | 10 | 11 | 12 | 13 | 14 | 15 |
| 16 | 17 | 18 | 19 | 20 | 21 | 22 |
| 23 | 24 | 25 | 26 | 27 | 28 | 29 |
March 2020

| S | M | T | W | T | F | S |
| --- | --- | --- | --- | --- | --- | --- |
| 01 | 02 | 03 | 04 | 05 | 06 | 07 |
| 08 | 09 | 10 | 11 | 12 | 13 | 14 |
| 15 | 16 | 17 | 18 | 19 | 20 | 21 |
| 22 | 23 | 24 | 25 | 26 | 27 | 28 |
| 29 | 30 | 31 | | | | |
April 2020

| S | M | T | W | T | F | S |
| --- | --- | --- | --- | --- | --- | --- |
| | | | 01 | 02 | 03 | 04 |
| 05 | 06 | 07 | 08 | 09 | 10 | 11 |
| 12 | 13 | 14 | 15 | 16 | 17 | 18 |
| 19 | 20 | 21 | 22 | 23 | 24 | 25 |
| 26 | 27 | 28 | 29 | 30 | | |
May 2020

| S | M | T | W | T | F | S |
| --- | --- | --- | --- | --- | --- | --- |
| | | | | | 01 | 02 |
| 03 | 04 | 05 | 06 | 07 | 08 | 09 |
| 10 | 11 | 12 | 13 | 14 | 15 | 16 |
| 17 | 18 | 19 | 20 | 21 | 22 | 23 |
| 24 | 25 | 26 | 27 | 28 | 29 | 30 |
| 31 | | | | | | |
June 2020

| S | M | T | W | T | F | S |
| --- | --- | --- | --- | --- | --- | --- |
| | 01 | 02 | 03 | 04 | 05 | 06 |
| 07 | 08 | 09 | 10 | 11 | 12 | 13 |
| 14 | 15 | 16 | 17 | 18 | 19 | 20 |
| 21 | 22 | 23 | 24 | 25 | 26 | 27 |
| 28 | 29 | 30 | | | | |
July 2020

| S | M | T | W | T | F | S |
| --- | --- | --- | --- | --- | --- | --- |
| | | | 01 | 02 | 03 | 04 |
| 05 | 06 | 07 | 08 | 09 | 10 | 11 |
| 12 | 13 | 14 | 15 | 16 | 17 | 18 |
| 19 | 20 | 21 | 22 | 23 | 24 | 25 |
| 26 | 27 | 28 | 29 | 30 | 31 | |
August 2020

| S | M | T | W | T | F | S |
| --- | --- | --- | --- | --- | --- | --- |
| | | | | | | 01 |
| 02 | 03 | 04 | 05 | 06 | 07 | 08 |
| 09 | 10 | 11 | 12 | 13 | 14 | 15 |
| 16 | 17 | 18 | 19 | 20 | 21 | 22 |
| 23 | 24 | 25 | 26 | 27 | 28 | 29 |
| 30 | 31 | | | | | |
September 2020

| S | M | T | W | T | F | S |
| --- | --- | --- | --- | --- | --- | --- |
| | | 01 | 02 | 03 | 04 | 05 |
| 06 | 07 | 08 | 09 | 10 | 11 | 12 |
| 13 | 14 | 15 | 16 | 17 | 18 | 19 |
| 20 | 21 | 22 | 23 | 24 | 25 | 26 |
| 27 | 28 | 29 | 30 | | | |
October 2020

| S | M | T | W | T | F | S |
| --- | --- | --- | --- | --- | --- | --- |
| | | | | 01 | 02 | 03 |
| 04 | 05 | 06 | 07 | 08 | 09 | 10 |
| 11 | 12 | 13 | 14 | 15 | 16 | 17 |
| 18 | 19 | 20 | 21 | 22 | 23 | 24 |
| 25 | 26 | 27 | 28 | 29 | 30 | 31 |
November 2020

| S | M | T | W | T | F | S |
| --- | --- | --- | --- | --- | --- | --- |
| 01 | 02 | 03 | 04 | 05 | 06 | 07 |
| 08 | 09 | 10 | 11 | 12 | 13 | 14 |
| 15 | 16 | 17 | 18 | 19 | 20 | 21 |
| 22 | 23 | 24 | 25 | 26 | 27 | 28 |
| 29 | 30 | | | | | |
December 2020

| S | M | T | W | T | F | S |
| --- | --- | --- | --- | --- | --- | --- |
| | | 01 | 02 | 03 | 04 | 05 |
| 06 | 07 | 08 | 09 | 10 | 11 | 12 |
| 13 | 14 | 15 | 16 | 17 | 18 | 19 |
| 20 | 21 | 22 | 23 | 24 | 25 | 26 |
| 27 | 28 | 29 | 30 | 31 | | |
January 2021

| S | M | T | W | T | F | S |
| --- | --- | --- | --- | --- | --- | --- |
| | | | | | 01 | 02 |
| 03 | 04 | 05 | 06 | 07 | 08 | 09 |
| 10 | 11 | 12 | 13 | 14 | 15 | 16 |
| 17 | 18 | 19 | 20 | 21 | 22 | 23 |
| 24 | 25 | 26 | 27 | 28 | 29 | 30 |
| 31 | | | | | | |
February 2021

| S | M | T | W | T | F | S |
| --- | --- | --- | --- | --- | --- | --- |
| | 01 | 02 | 03 | 04 | 05 | 06 |
| 07 | 08 | 09 | 10 | 11 | 12 | 13 |
| 14 | 15 | 16 | 17 | 18 | 19 | 20 |
| 21 | 22 | 23 | 24 | 25 | 26 | 27 |
| 28 | | | | | | |
March 2021

| S | M | T | W | T | F | S |
| --- | --- | --- | --- | --- | --- | --- |
| | 01 | 02 | 03 | 04 | 05 | 06 |
| 07 | 08 | 09 | 10 | 11 | 12 | 13 |
| 14 | 15 | 16 | 17 | 18 | 19 | 20 |
| 21 | 22 | 23 | 24 | 25 | 26 | 27 |
| 28 | 29 | 30 | 31 | | | |
Available
Unavailable
Check-In Only
Check-Out Only
Seasonal Rates
Starting from $235 per night

                    stdClass Object
(
    [id] => 88
    [ManagerID] => 1
    [ComplexID] => 0
    [Name] => NEW! Kapaa Shore Resort #327, Beautiful Unit!Oceanfront, Moon & Sunrise Views
    [PropertyCode] => 2064-166086
    [Address1] => 4-0900 Kuhio Highway
    [Address2] => 
    [City] => Kapaa
    [State] => HI
    [Country] => US
    [PostalCode] => 
    [Province] => 
    [Bedrooms] => 2
    [Bathrooms] => 2
    [Beds] => {"Queen":1,"Twin":2}
    [Type] => Condominium
    [Area] => 
    [Location] => Garden Island Properties, LLC
    [View] => Ocean Front
    [Video] => 
    [lat] => 22.062368
    [long] => 159.319124
    [map_id] => 0
    [Complex] => 63
    [Description] => Beautifully and tastefully remodeled and now a rental.  Exquisite local art, beach vibe throughout this newly remodeled condo!  Be one of the first to stay here!

Kapa'a Shore Resort on the "Coconut Coast", Kapa'a, Kauai Vacation Rental

As Recommended In Frommer's Kauai Guidebook. Kapaa No. 1 travel destination as rated by TripAdvisor!

Two bedroom, two bath, 3rd floor (top floor) unit with washer and dryer, full kitchen, complimentary wifi and parking. 

Loft bedroom is furnished with a Queen bed.  The downstairs "guest" bedroom is furnished with 2 Twin size beds (convertible to a King- housekeeping fee applies). Sleeps 4.



Enjoy an Oceanfront heated pool, hot tub and BBQ facilities.  Kapa'a Shore Resort is everything you could dream of when it comes to luxurious Hawaiian living in a Kauai vacation rental.  Centrally located between the North & South shore makes this Kapaa Kauai vacation rental an ideal choice for a holiday.



Located oceanfront in the beautiful coastal town of Kapa'a, Kauai, each Kapaa Shore Resort unit enjoys views of the resort's sun drenched gardens, pool, and shallow tide pool beach. These fully furnished one and two bedroom Kauai vacation rentals feature all the comforts of home with complete kitchens, cable TV and private lanais spacious enough for outdoor dining. 



The 2 bedrooms at Kapaa Shore Resort are all on the third floor w/a town home design; master bedroom is an upstairs loft with private bath and second bedroom is on the main level. The sound of the gentle surf breaking on the close-in coral reef, acts as a constant reminder that you are truly in the heart of a Kauai vacation rental paradise. From your private lanai, watch the moon rising up from the Pacific Ocean, sunrises and during the months of November to April see the humpback whales frolicking in their back yard! 



An azure blue fresh water swimming pool is the Kauai vacation resort's center of activity, accented by a family size hot tub, grassy areas for sunbathing plus a shuffleboard court and barbecues. If tennis is your game, our court awaits your daily play. Of course, there are miles of sandy coastline nearby for hours of beach combing pleasure from your Kauai vacation rental. 



Shopping, fine dining and nightly entertainment are just a 5" short stroll from the resort, featuring one of our many fine restaurants serving Pacific-rim cuisine, Thai, Japanese or Mexican food. 



Complete sightseeing, surf lessons, golf. Luaus, movie tours and helicopter tours can be arranged by the Kapaa Shore staff. In the town of Kapaa/Wailua/Waipouli, you are only minutes away from kayaking up the Wailua River, enjoying the Fern Grotto tour, snorkeling at Lydgate Beach Park, hiking the Sleeping Giant Trail, You are also just minutes away from all of Kauai's breathtaking wonders including the tropical Na Pali Coast and Hanalei Bay, the white sands of Poipu Beach and the magnificent views at Waimea Canyon. 



Let your stay at Kapaa Shore Resort transform your dream Kauai vacation into unforgettable reality. Kapaa Shore, Hawaiian oceanfront living at its very best! Come and stay in one of the most attractive affordable & conveniently located Kauai vacation condos on the beautiful and charming Coconut Coast of Kauai.



Holiday Rates apply 12/15-1/5 with a 7 night minimum stay.

TAT ID#: TA-054-208-5632-01
    [ShortDescription] => Beautiful ocean view 2 Bedroom, 2 Bath, 3rd floor (top) unit with washer/dryer, full kitchen.  Complimentary Wifi and parking.  Queen and 2 Twin beds (convert to King for fee). No resort fees. Sleeps 4.
    [Sleeps] => 4
    [MaxAdult] => 0
    [Status] => Active
    [page_slug] => Kapaa_Shore_Resort_327_Oceanfront_Moon_Rise_Sunrise_views_from_3rd_floor-2064-166086-1
    [SEOTitle] => Kapaa Shore Resort #327, Oceanfront
    [SEODescription] => NEW! Kapaa Shore Resort #327, Beautiful Unit!Oceanfront, Moon & Sunrise Views
    [Featured] => 0
    [created] => 0000-00-00 00:00:00
    [updated] => 2019-12-12 08:23:10
    [internalcode] => KS 327
    [photos] => Array
        (
            [0] => stdClass Object
                (
                    [id] => 2790467
                    [unit_id] => 88
                    [url] => https://pictures.escapia.com/GAISPR/166086/8381620488.jpg
                    [thumb_url] => https://pictures.escapia.com/GAISPR/166086/8381620488.jpg
                     => Oceanfront Lanai
                    [sort] => 0
                )

            [1] => stdClass Object
                (
                    [id] => 2790468
                    [unit_id] => 88
                    [url] => https://pictures.escapia.com/GAISPR/166086/0734640266.jpg
                    [thumb_url] => https://pictures.escapia.com/GAISPR/166086/0734640266.jpg
                     => Living Area with Oceanfront Views
                    [sort] => 1
                )

            [2] => stdClass Object
                (
                    [id] => 2790469
                    [unit_id] => 88
                    [url] => https://pictures.escapia.com/GAISPR/166086/9735430438.jpg
                    [thumb_url] => https://pictures.escapia.com/GAISPR/166086/9735430438.jpg
                     => Living and Kitchen Areas
                    [sort] => 2
                )

            [3] => stdClass Object
                (
                    [id] => 2790470
                    [unit_id] => 88
                    [url] => https://pictures.escapia.com/GAISPR/166086/0112200407.jpg
                    [thumb_url] => https://pictures.escapia.com/GAISPR/166086/0112200407.jpg
                     => Living Area with Cable TV
                    [sort] => 3
                )

            [4] => stdClass Object
                (
                    [id] => 2790471
                    [unit_id] => 88
                    [url] => https://pictures.escapia.com/GAISPR/166086/9174100008.jpg
                    [thumb_url] => https://pictures.escapia.com/GAISPR/166086/9174100008.jpg
                     => Living Area with Oceanfront Views
                    [sort] => 4
                )

            [5] => stdClass Object
                (
                    [id] => 2790472
                    [unit_id] => 88
                    [url] => https://pictures.escapia.com/GAISPR/166086/5260780416.jpg
                    [thumb_url] => https://pictures.escapia.com/GAISPR/166086/5260780416.jpg
                     => Living Area towards Loft Bedroom
                    [sort] => 5
                )

            [6] => stdClass Object
                (
                    [id] => 2790473
                    [unit_id] => 88
                    [url] => https://pictures.escapia.com/GAISPR/166086/1423130253.jpg
                    [thumb_url] => https://pictures.escapia.com/GAISPR/166086/1423130253.jpg
                     => 
                    [sort] => 6
                )

            [7] => stdClass Object
                (
                    [id] => 2790474
                    [unit_id] => 88
                    [url] => https://pictures.escapia.com/GAISPR/166086/3634200075.jpg
                    [thumb_url] => https://pictures.escapia.com/GAISPR/166086/3634200075.jpg
                     => Full Kitchen
                    [sort] => 7
                )

            [8] => stdClass Object
                (
                    [id] => 2790475
                    [unit_id] => 88
                    [url] => https://pictures.escapia.com/GAISPR/166086/5255850916.jpg
                    [thumb_url] => https://pictures.escapia.com/GAISPR/166086/5255850916.jpg
                     => Full Kitchen
                    [sort] => 8
                )

            [9] => stdClass Object
                (
                    [id] => 2790476
                    [unit_id] => 88
                    [url] => https://pictures.escapia.com/GAISPR/166086/0140290854.jpg
                    [thumb_url] => https://pictures.escapia.com/GAISPR/166086/0140290854.jpg
                     => Full Kitchen, Oceanfront Views
                    [sort] => 9
                )

            [10] => stdClass Object
                (
                    [id] => 2790477
                    [unit_id] => 88
                    [url] => https://pictures.escapia.com/GAISPR/166086/3856730044.jpg
                    [thumb_url] => https://pictures.escapia.com/GAISPR/166086/3856730044.jpg
                     => Full Kitchen, Oceanfront Views
                    [sort] => 10
                )

            [11] => stdClass Object
                (
                    [id] => 2790478
                    [unit_id] => 88
                    [url] => https://pictures.escapia.com/GAISPR/166086/8840220728.jpg
                    [thumb_url] => https://pictures.escapia.com/GAISPR/166086/8840220728.jpg
                     => Dining Area
                    [sort] => 11
                )

            [12] => stdClass Object
                (
                    [id] => 2790479
                    [unit_id] => 88
                    [url] => https://pictures.escapia.com/GAISPR/166086/9122840956.jpg
                    [thumb_url] => https://pictures.escapia.com/GAISPR/166086/9122840956.jpg
                     => Dining Area
                    [sort] => 12
                )

            [13] => stdClass Object
                (
                    [id] => 2790480
                    [unit_id] => 88
                    [url] => https://pictures.escapia.com/GAISPR/166086/9777060990.jpg
                    [thumb_url] => https://pictures.escapia.com/GAISPR/166086/9777060990.jpg
                     => Lanai with Oceanfront and Pool Views
                    [sort] => 13
                )

            [14] => stdClass Object
                (
                    [id] => 2790481
                    [unit_id] => 88
                    [url] => https://pictures.escapia.com/GAISPR/166086/8051430121.jpg
                    [thumb_url] => https://pictures.escapia.com/GAISPR/166086/8051430121.jpg
                     => Lanai View of Ocean and Pool
                    [sort] => 14
                )

            [15] => stdClass Object
                (
                    [id] => 2790482
                    [unit_id] => 88
                    [url] => https://pictures.escapia.com/GAISPR/166086/1076350101.jpg
                    [thumb_url] => https://pictures.escapia.com/GAISPR/166086/1076350101.jpg
                     => Pool overlooking the Pacific Ocean
                    [sort] => 15
                )

            [16] => stdClass Object
                (
                    [id] => 2790483
                    [unit_id] => 88
                    [url] => https://pictures.escapia.com/GAISPR/166086/4117320840.jpg
                    [thumb_url] => https://pictures.escapia.com/GAISPR/166086/4117320840.jpg
                     => Hot Tub and Pool
                    [sort] => 16
                )

            [17] => stdClass Object
                (
                    [id] => 2790484
                    [unit_id] => 88
                    [url] => https://pictures.escapia.com/GAISPR/166086/0069320235.jpg
                    [thumb_url] => https://pictures.escapia.com/GAISPR/166086/0069320235.jpg
                     => Ocean Views
                    [sort] => 17
                )

            [18] => stdClass Object
                (
                    [id] => 2790485
                    [unit_id] => 88
                    [url] => https://pictures.escapia.com/GAISPR/166086/5987210406.jpg
                    [thumb_url] => https://pictures.escapia.com/GAISPR/166086/5987210406.jpg
                     => Loft Bedroom with Queen Bed, Ensuite Bathroom
                    [sort] => 18
                )

            [19] => stdClass Object
                (
                    [id] => 2790486
                    [unit_id] => 88
                    [url] => https://pictures.escapia.com/GAISPR/166086/2540870792.jpg
                    [thumb_url] => https://pictures.escapia.com/GAISPR/166086/2540870792.jpg
                     => Loft Bedroom, Queen Bed, Ensuite Bathroom
                    [sort] => 19
                )

            [20] => stdClass Object
                (
                    [id] => 2790487
                    [unit_id] => 88
                    [url] => https://pictures.escapia.com/GAISPR/166086/3313860895.jpg
                    [thumb_url] => https://pictures.escapia.com/GAISPR/166086/3313860895.jpg
                     => Loft Bedroom
                    [sort] => 20
                )

            [21] => stdClass Object
                (
                    [id] => 2790488
                    [unit_id] => 88
                    [url] => https://pictures.escapia.com/GAISPR/166086/0004530127.jpg
                    [thumb_url] => https://pictures.escapia.com/GAISPR/166086/0004530127.jpg
                     => Upstairs Bathroom Area
                    [sort] => 21
                )

            [22] => stdClass Object
                (
                    [id] => 2790489
                    [unit_id] => 88
                    [url] => https://pictures.escapia.com/GAISPR/166086/5676500694.jpg
                    [thumb_url] => https://pictures.escapia.com/GAISPR/166086/5676500694.jpg
                     => Upstairs Bathroom and Washer/Dryer
                    [sort] => 22
                )

            [23] => stdClass Object
                (
                    [id] => 2790490
                    [unit_id] => 88
                    [url] => https://pictures.escapia.com/GAISPR/166086/9575260073.jpg
                    [thumb_url] => https://pictures.escapia.com/GAISPR/166086/9575260073.jpg
                     => Downstairs Twin Bedroom (convert to King for fee)
                    [sort] => 23
                )

            [24] => stdClass Object
                (
                    [id] => 2790491
                    [unit_id] => 88
                    [url] => https://pictures.escapia.com/GAISPR/166086/8080760911.jpg
                    [thumb_url] => https://pictures.escapia.com/GAISPR/166086/8080760911.jpg
                     => Downstairs Twin Bedroom (convert to King for fee)
                    [sort] => 24
                )

            [25] => stdClass Object
                (
                    [id] => 2790492
                    [unit_id] => 88
                    [url] => https://pictures.escapia.com/GAISPR/166086/0136610106.jpg
                    [thumb_url] => https://pictures.escapia.com/GAISPR/166086/0136610106.jpg
                     => Downstairs Guest Bathroom
                    [sort] => 25
                )

            [26] => stdClass Object
                (
                    [id] => 2790493
                    [unit_id] => 88
                    [url] => https://pictures.escapia.com/GAISPR/166086/8477000854.jpg
                    [thumb_url] => https://pictures.escapia.com/GAISPR/166086/8477000854.jpg
                     => Downstairs Walk-In Shower
                    [sort] => 26
                )

            [27] => stdClass Object
                (
                    [id] => 2790494
                    [unit_id] => 88
                    [url] => https://pictures.escapia.com/GAISPR/166086/6194120672.jpg
                    [thumb_url] => https://pictures.escapia.com/GAISPR/166086/6194120672.jpg
                     => Entrance
                    [sort] => 27
                )

            [28] => stdClass Object
                (
                    [id] => 2790495
                    [unit_id] => 88
                    [url] => https://pictures.escapia.com/GAISPR/166086/6217280269.jpg
                    [thumb_url] => https://pictures.escapia.com/GAISPR/166086/6217280269.jpg
                     => Enjoy Beach Amenities, Beach Chairs, Beach Umbrella, Cooler...
                    [sort] => 28
                )

            [29] => stdClass Object
                (
                    [id] => 2790496
                    [unit_id] => 88
                    [url] => https://pictures.escapia.com/GAISPR/166086/7832800215.jpg
                    [thumb_url] => https://pictures.escapia.com/GAISPR/166086/7832800215.jpg
                     => Oceanfront Lounging
                    [sort] => 29
                )

            [30] => stdClass Object
                (
                    [id] => 2790497
                    [unit_id] => 88
                    [url] => https://pictures.escapia.com/GAISPR/166086/6990040574.jpg
                    [thumb_url] => https://pictures.escapia.com/GAISPR/166086/6990040574.jpg
                     => BBQ Area
                    [sort] => 30
                )

            [31] => stdClass Object
                (
                    [id] => 2790498
                    [unit_id] => 88
                    [url] => https://pictures.escapia.com/GAISPR/166086/9283180156.jpg
                    [thumb_url] => https://pictures.escapia.com/GAISPR/166086/9283180156.jpg
                     => BBQ Area
                    [sort] => 31
                )

            [32] => stdClass Object
                (
                    [id] => 2790499
                    [unit_id] => 88
                    [url] => https://pictures.escapia.com/GAISPR/166086/2422500254.jpg
                    [thumb_url] => https://pictures.escapia.com/GAISPR/166086/2422500254.jpg
                     => Fuji Beach
                    [sort] => 32
                )

            [33] => stdClass Object
                (
                    [id] => 2790500
                    [unit_id] => 88
                    [url] => https://pictures.escapia.com/GAISPR/166086/0665000344.jpg
                    [thumb_url] => https://pictures.escapia.com/GAISPR/166086/0665000344.jpg
                     => Kapaa Shore Resort
                    [sort] => 33
                )

            [34] => stdClass Object
                (
                    [id] => 2790501
                    [unit_id] => 88
                    [url] => https://pictures.escapia.com/GAISPR/166086/5372650605.jpg
                    [thumb_url] => https://pictures.escapia.com/GAISPR/166086/5372650605.jpg
                     => Wish you were here!
                    [sort] => 34
                )

            [35] => stdClass Object
                (
                    [id] => 2790502
                    [unit_id] => 88
                    [url] => https://pictures.escapia.com/GAISPR/166086/8519950712.jpg
                    [thumb_url] => https://pictures.escapia.com/GAISPR/166086/8519950712.jpg
                     => Walk to Fuji Beach
                    [sort] => 35
                )

            [36] => stdClass Object
                (
                    [id] => 2790503
                    [unit_id] => 88
                    [url] => https://pictures.escapia.com/GAISPR/166086/8505400639.jpg
                    [thumb_url] => https://pictures.escapia.com/GAISPR/166086/8505400639.jpg
                     => Beautiful Coconut Coast
                    [sort] => 36
                )

            [37] => stdClass Object
                (
                    [id] => 2790504
                    [unit_id] => 88
                    [url] => https://pictures.escapia.com/GAISPR/166086/0108590492.jpg
                    [thumb_url] => https://pictures.escapia.com/GAISPR/166086/0108590492.jpg
                     => Rent a Bike and cruise the East coastline
                    [sort] => 37
                )

        )

    [rates] => Array
        (
            [0] => stdClass Object
                (
                    [id] => 965550
                    [start_date] => 2019-04-01
                    [end_date] => 2019-12-14
                    [amount] => 195
                    [chargebasis] => Daily
                    [unit_id] => 88
                )

            [1] => stdClass Object
                (
                    [id] => 965551
                    [start_date] => 2019-04-01
                    [end_date] => 2019-12-14
                    [amount] => 1365
                    [chargebasis] => Weekly
                    [unit_id] => 88
                )

            [2] => stdClass Object
                (
                    [id] => 965552
                    [start_date] => 2019-12-15
                    [end_date] => 2020-01-05
                    [amount] => 300
                    [chargebasis] => Daily
                    [unit_id] => 88
                )

            [3] => stdClass Object
                (
                    [id] => 965553
                    [start_date] => 2019-12-15
                    [end_date] => 2020-01-05
                    [amount] => 2100
                    [chargebasis] => Weekly
                    [unit_id] => 88
                )

            [4] => stdClass Object
                (
                    [id] => 965554
                    [start_date] => 2020-01-06
                    [end_date] => 2020-03-31
                    [amount] => 367.5
                    [chargebasis] => Daily
                    [unit_id] => 88
                )

            [5] => stdClass Object
                (
                    [id] => 965555
                    [start_date] => 2020-01-06
                    [end_date] => 2020-03-31
                    [amount] => 2315.25
                    [chargebasis] => Weekly
                    [unit_id] => 88
                )

            [6] => stdClass Object
                (
                    [id] => 965556
                    [start_date] => 2020-01-06
                    [end_date] => 2020-03-31
                    [amount] => 9922.5
                    [chargebasis] => Monthly
                    [unit_id] => 88
                )

            [7] => stdClass Object
                (
                    [id] => 965557
                    [start_date] => 2020-04-01
                    [end_date] => 2020-12-14
                    [amount] => 265
                    [chargebasis] => Daily
                    [unit_id] => 88
                )

            [8] => stdClass Object
                (
                    [id] => 965558
                    [start_date] => 2020-04-01
                    [end_date] => 2020-12-14
                    [amount] => 1855
                    [chargebasis] => Weekly
                    [unit_id] => 88
                )

            [9] => stdClass Object
                (
                    [id] => 965559
                    [start_date] => 2020-04-01
                    [end_date] => 2020-12-14
                    [amount] => 7950
                    [chargebasis] => Monthly
                    [unit_id] => 88
                )

        )

    [attributes] => Array
        (
            [0] => stdClass Object
                (
                    [id] => 5109043
                    [name] => toilet
                    [value] => 
                    [group] => AMENITY
                    [unit_id] => 88
                )

            [1] => stdClass Object
                (
                    [id] => 5109044
                    [name] => Satellite / Cable
                    [value] => 
                    [group] => ENTERTAINMENT
                    [unit_id] => 88
                )

            [2] => stdClass Object
                (
                    [id] => 5109045
                    [name] => Television
                    [value] => 
                    [group] => ENTERTAINMENT
                    [unit_id] => 88
                )

            [3] => stdClass Object
                (
                    [id] => 5109046
                    [name] => Clothes Dryer
                    [value] => 
                    [group] => GENERAL
                    [unit_id] => 88
                )

            [4] => stdClass Object
                (
                    [id] => 5109047
                    [name] => Hair Dryer
                    [value] => 
                    [group] => GENERAL
                    [unit_id] => 88
                )

            [5] => stdClass Object
                (
                    [id] => 5109048
                    [name] => Internet
                    [value] => 
                    [group] => GENERAL
                    [unit_id] => 88
                )

            [6] => stdClass Object
                (
                    [id] => 5109049
                    [name] => Iron & Board
                    [value] => 
                    [group] => GENERAL
                    [unit_id] => 88
                )

            [7] => stdClass Object
                (
                    [id] => 5109050
                    [name] => Linens Provided
                    [value] => 
                    [group] => GENERAL
                    [unit_id] => 88
                )

            [8] => stdClass Object
                (
                    [id] => 5109051
                    [name] => Living Room
                    [value] => 
                    [group] => GENERAL
                    [unit_id] => 88
                )

            [9] => stdClass Object
                (
                    [id] => 5109052
                    [name] => Parking
                    [value] => 
                    [group] => GENERAL
                    [unit_id] => 88
                )

            [10] => stdClass Object
                (
                    [id] => 5109053
                    [name] => Towels Provided
                    [value] => 
                    [group] => GENERAL
                    [unit_id] => 88
                )

            [11] => stdClass Object
                (
                    [id] => 5109054
                    [name] => Washing Machine
                    [value] => 
                    [group] => GENERAL
                    [unit_id] => 88
                )

            [12] => stdClass Object
                (
                    [id] => 5109055
                    [name] => Coffee Maker
                    [value] => 
                    [group] => KITCHEN
                    [unit_id] => 88
                )

            [13] => stdClass Object
                (
                    [id] => 5109056
                    [name] => Dishes & Utensils
                    [value] => 
                    [group] => KITCHEN
                    [unit_id] => 88
                )

            [14] => stdClass Object
                (
                    [id] => 5109057
                    [name] => Dishwasher
                    [value] => 
                    [group] => KITCHEN
                    [unit_id] => 88
                )

            [15] => stdClass Object
                (
                    [id] => 5109058
                    [name] => Kitchen
                    [value] => 
                    [group] => KITCHEN
                    [unit_id] => 88
                )

            [16] => stdClass Object
                (
                    [id] => 5109059
                    [name] => Microwave
                    [value] => 
                    [group] => KITCHEN
                    [unit_id] => 88
                )

            [17] => stdClass Object
                (
                    [id] => 5109060
                    [name] => Oven
                    [value] => 
                    [group] => KITCHEN
                    [unit_id] => 88
                )

            [18] => stdClass Object
                (
                    [id] => 5109061
                    [name] => Refrigerator
                    [value] => 
                    [group] => KITCHEN
                    [unit_id] => 88
                )

            [19] => stdClass Object
                (
                    [id] => 5109062
                    [name] => Stove
                    [value] => 
                    [group] => KITCHEN
                    [unit_id] => 88
                )

            [20] => stdClass Object
                (
                    [id] => 5109063
                    [name] => Toaster
                    [value] => 
                    [group] => KITCHEN
                    [unit_id] => 88
                )

            [21] => stdClass Object
                (
                    [id] => 5109064
                    [name] => Beach View
                    [value] => 
                    [group] => LOCATION_TYPE
                    [unit_id] => 88
                )

            [22] => stdClass Object
                (
                    [id] => 5109065
                    [name] => Beachfront
                    [value] => 
                    [group] => LOCATION_TYPE
                    [unit_id] => 88
                )

            [23] => stdClass Object
                (
                    [id] => 5109066
                    [name] => Ocean View
                    [value] => 
                    [group] => LOCATION_TYPE
                    [unit_id] => 88
                )

            [24] => stdClass Object
                (
                    [id] => 5109067
                    [name] => Oceanfront
                    [value] => 
                    [group] => LOCATION_TYPE
                    [unit_id] => 88
                )

            [25] => stdClass Object
                (
                    [id] => 5109068
                    [name] => Resort
                    [value] => 
                    [group] => LOCATION_TYPE
                    [unit_id] => 88
                )

            [26] => stdClass Object
                (
                    [id] => 5109069
                    [name] => Balcony
                    [value] => 
                    [group] => OUTSIDE
                    [unit_id] => 88
                )

            [27] => stdClass Object
                (
                    [id] => 5109070
                    [name] => Deck / Patio
                    [value] => 
                    [group] => OUTSIDE
                    [unit_id] => 88
                )

            [28] => stdClass Object
                (
                    [id] => 5109071
                    [name] => Outdoor Grill
                    [value] => 
                    [group] => OUTSIDE
                    [unit_id] => 88
                )

            [29] => stdClass Object
                (
                    [id] => 5109072
                    [name] => Heated Pool
                    [value] => 
                    [group] => POOL_SPA
                    [unit_id] => 88
                )

            [30] => stdClass Object
                (
                    [id] => 5109073
                    [name] => Hot Tub
                    [value] => 
                    [group] => POOL_SPA
                    [unit_id] => 88
                )

            [31] => stdClass Object
                (
                    [id] => 5109074
                    [name] => children welcome
                    [value] => 
                    [group] => SUITABILITY
                    [unit_id] => 88
                )

            [32] => stdClass Object
                (
                    [id] => 5109075
                    [name] => non smoking only
                    [value] => 
                    [group] => SUITABILITY
                    [unit_id] => 88
                )

            [33] => stdClass Object
                (
                    [id] => 5109076
                    [name] => pets not allowed
                    [value] => 
                    [group] => SUITABILITY
                    [unit_id] => 88
                )

            [34] => stdClass Object
                (
                    [id] => 5109077
                    [name] => flexible
                    [value] => 
                    [group] => ARRIVAL_DAY
                    [unit_id] => 88
                )

            [35] => stdClass Object
                (
                    [id] => 5109078
                    [name] => Emergency phone number: Medical
                    [value] => 
                    [group] => Safety
                    [unit_id] => 88
                )

            [36] => stdClass Object
                (
                    [id] => 5109079
                    [name] => Emergency phone number: Police
                    [value] => 
                    [group] => Safety
                    [unit_id] => 88
                )

            [37] => stdClass Object
                (
                    [id] => 5109080
                    [name] => Emergency phone number: Fire
                    [value] => 
                    [group] => Safety
                    [unit_id] => 88
                )

            [38] => stdClass Object
                (
                    [id] => 5109081
                    [name] => Cookware
                    [value] => 
                    [group] => Kitchen
                    [unit_id] => 88
                )

            [39] => stdClass Object
                (
                    [id] => 5109082
                    [name] => Blender
                    [value] => 
                    [group] => Kitchen
                    [unit_id] => 88
                )

            [40] => stdClass Object
                (
                    [id] => 5109083
                    [name] => Washer & Dryer
                    [value] => 
                    [group] => Living
                    [unit_id] => 88
                )

            [41] => stdClass Object
                (
                    [id] => 5109084
                    [name] => Wifi
                    [value] => 
                    [group] => Living
                    [unit_id] => 88
                )

            [42] => stdClass Object
                (
                    [id] => 5109085
                    [name] => Beach Towels
                    [value] => 
                    [group] => Living
                    [unit_id] => 88
                )

            [43] => stdClass Object
                (
                    [id] => 5109086
                    [name] => Hair Dryer
                    [value] => 
                    [group] => Living
                    [unit_id] => 88
                )

            [44] => stdClass Object
                (
                    [id] => 5109087
                    [name] => Beach Chairs
                    [value] => 
                    [group] => Outdoor
                    [unit_id] => 88
                )

            [45] => stdClass Object
                (
                    [id] => 5109088
                    [name] => Beach Towels
                    [value] => 
                    [group] => Outdoor
                    [unit_id] => 88
                )

            [46] => stdClass Object
                (
                    [id] => 5109089
                    [name] => On Beach
                    [value] => 
                    [group] => Geographic
                    [unit_id] => 88
                )

            [47] => stdClass Object
                (
                    [id] => 5109090
                    [name] => Kapaa Shore Resort
                    [value] => 
                    [group] => Geographic
                    [unit_id] => 88
                )

            [48] => stdClass Object
                (
                    [id] => 5109091
                    [name] => Coconut Coast
                    [value] => 
                    [group] => Geographic
                    [unit_id] => 88
                )

        )

    [avail] => Array
        (
            [0] => stdClass Object
                (
                    [id] => 18325260
                    [start_date] => 2019-12-23
                    [end_date] => 2020-01-09
                    [unit_id] => 88
                )

            [1] => stdClass Object
                (
                    [id] => 18325261
                    [start_date] => 2020-01-13
                    [end_date] => 2020-01-28
                    [unit_id] => 88
                )

            [2] => stdClass Object
                (
                    [id] => 18325262
                    [start_date] => 2020-01-30
                    [end_date] => 2020-02-07
                    [unit_id] => 88
                )

            [3] => stdClass Object
                (
                    [id] => 18325263
                    [start_date] => 2020-02-08
                    [end_date] => 2020-02-16
                    [unit_id] => 88
                )

            [4] => stdClass Object
                (
                    [id] => 18325264
                    [start_date] => 2020-02-17
                    [end_date] => 2020-02-23
                    [unit_id] => 88
                )

            [5] => stdClass Object
                (
                    [id] => 18325265
                    [start_date] => 2020-02-28
                    [end_date] => 2020-03-04
                    [unit_id] => 88
                )

            [6] => stdClass Object
                (
                    [id] => 18325266
                    [start_date] => 2020-03-06
                    [end_date] => 2020-03-13
                    [unit_id] => 88
                )

            [7] => stdClass Object
                (
                    [id] => 18325267
                    [start_date] => 2020-03-22
                    [end_date] => 2020-03-26
                    [unit_id] => 88
                )

            [8] => stdClass Object
                (
                    [id] => 18325268
                    [start_date] => 2020-03-31
                    [end_date] => 2020-04-11
                    [unit_id] => 88
                )

            [9] => stdClass Object
                (
                    [id] => 18325269
                    [start_date] => 2020-04-19
                    [end_date] => 2020-04-29
                    [unit_id] => 88
                )

            [10] => stdClass Object
                (
                    [id] => 18325270
                    [start_date] => 2020-06-16
                    [end_date] => 2020-06-30
                    [unit_id] => 88
                )

            [11] => stdClass Object
                (
                    [id] => 18325271
                    [start_date] => 2020-07-06
                    [end_date] => 2020-07-14
                    [unit_id] => 88
                )

        )

    [reviews] => Array
        (
            [0] => stdClass Object
                (
                    [id] => 30469
                    [external_id] => 995780b2-62f2-4234-b575-b87df412213b
                    [prop_id] => 88
                    [review_id] => 0
                    [source] => Escapia
                    [title] => Outstanding condo centrally located in Kapaa
                    [review] => Amazing recently renovated condo.  Woodwork detail, furnishings and artwork really made this the best condo we stayed in during our trip to Hawaii.  Property rental office just across the street and very accessible for help.  Kapaa has many good restaurants and shops close by. The bike trail next to condo goes for 5-7 miles north to great beaches (bike rental just next door).  Condo pool and hot tub were good too.  
                    [name] => 
                    [email] => marc.massanari@gmail.com
                    [location] => 
                    [response] => Aloha Marc, So very pleased to hear that this was the best condo that you stayed in during your trip to Hawaii! We are glad that you enjoyed the pool and hut tub as well. We do hope that you will be back to visit again soon! Mahalo nui loa, Garden Island Properties
                    [response_date] => 2019-11-23
                    [rating] => 5
                    [review_date] => 2019-11-23
                    [featured] => 
                    [status] => 1
                    [checkin_date] => 2019-11-16
                    [nights_stayed] => 5
                    [sfrm] => 5
                    [clean] => 5
                    [rto] => 1
                    [pc] => 5
                    [loc] => 5
                    [meta] => Array
                        (
                        )

                )

            [1] => stdClass Object
                (
                    [id] => 30461
                    [external_id] => 0eb77537-9622-46e5-a345-c33cdf16cb8b
                    [prop_id] => 88
                    [review_id] => 0
                    [source] => Escapia
                    [title] => Really nice rental in central location
                    [review] => The place is really clean and very well equipped.  You can tell the owners paid attention to detail when remodeling this unit.  Light and bright with an excellent view.  The lanai was really nice to catch the morning sunrise, have coffee, and play card games.  It was plenty of space for 4 adults.  The unit is centrally located in Kapaa and walking distance to grocery stores, shops, and restaurants.  The only few things to consider, which were not an issue for us, the room downstairs is very loud because it's not fully enclosed so you can hear everything going on in the unit and the wifi signal was weak but hey who is going to Kauai to sit on their devices all day.
                    [name] => Josephine W.
                    [email] => josie@archon-lx.com
                    [location] => 
                    [response] => Aloha Josephine and mahalo for your stay with us! We are glad that you felt the unit was clean and well equipped. We are pleased to hear that you enjoyed the lanai and morning sunrises.We appreciate your feedback regarding the WiFi connection. The connection has been tested and is currently in good working order. We do hope that you will be back to visit again soon! Mahalo nui loa, Garden Island Properties
                    [response_date] => 2019-11-25
                    [rating] => 5
                    [review_date] => 2019-11-16
                    [featured] => 
                    [status] => 1
                    [checkin_date] => 2019-11-08
                    [nights_stayed] => 6
                    [sfrm] => 5
                    [clean] => 5
                    [rto] => 1
                    [pc] => 5
                    [loc] => 5
                    [meta] => Array
                        (
                        )

                )

            [2] => stdClass Object
                (
                    [id] => 30440
                    [external_id] => 3175acd0-bc34-40d6-a78c-3eea03c4213b
                    [prop_id] => 88
                    [review_id] => 0
                    [source] => Escapia
                    [title] => Amazing stay
                    [review] => The condo was absolutely beautiful.  It was tastefully decorated and very clean. It had everything we needed to enjoy our vacation. Getting access was super easy. The condo is on the end right next to the ocean.  We spent every morning on the patio admiring the breathtaking views.  While the condo is on the ocean, there is not really a beach and not a safe place to swim in the ocean.  The resort does, however, have a nice grassy area right along the shore where you can bask in the sun and enjoy the sounds of the waves. The condo is conveniently located near lots of grocery stores, restaurants, and shopping.  It is also centrally located between the north shore and the south shore.  The only downside was there there was no A/C and it got a bit warm during the day.  I really loved this place and would highly recommend it to anyone. 
                    [name] => 
                    [email] => ginablack225@gmail.com
                    [location] => 
                    [response] => Aloha Gina, We are glad that loved the condo and felt that you had everything you needed to enjoy your vacation. We are also happy to hear that you enjoyed the views from the balcony!  The beach fronting the property is a shallow tide pool beach. We recommend Lydgate beach park (A life-guarded beach) located 6 min driving from the resort. The units at this property are not equipped with air conditioning; however we recommend opening the sliding glass door to the balcony as well as all windows to allow a cross breeze to enter the unit. We very much appreciate your review and recommendation to others.  Mahalo nui loa, Garden Island Properties
                    [response_date] => 2019-10-21
                    [rating] => 5
                    [review_date] => 2019-10-20
                    [featured] => 
                    [status] => 1
                    [checkin_date] => 2019-10-06
                    [nights_stayed] => 9
                    [sfrm] => 5
                    [clean] => 5
                    [rto] => 1
                    [pc] => 5
                    [loc] => 5
                    [meta] => Array
                        (
                        )

                )

        )

    [rateaddons] => Array
        (
        )

    [unit_meta] => Array
        (
            [0] => stdClass Object
                (
                    [id] => 495368
                    [unit_id] => 88
                    [key] => DisplayRate
                    [value] => Starting from $235 per night
                )

            [1] => stdClass Object
                (
                    [id] => 495369
                    [unit_id] => 88
                    [key] => Location
                    [value] => Kapaa
                )

            [2] => stdClass Object
                (
                    [id] => 495370
                    [unit_id] => 88
                    [key] => LocationField
                    [value] => Garden Island Properties, LLC
                )

            [3] => stdClass Object
                (
                    [id] => 495371
                    [unit_id] => 88
                    [key] => Property Type
                    [value] => Condo
                )

            [4] => stdClass Object
                (
                    [id] => 495372
                    [unit_id] => 88
                    [key] => View
                    [value] => Ocean Front
                )

            [5] => stdClass Object
                (
                    [id] => 495373
                    [unit_id] => 88
                    [key] => MinLOS
                    [value] => 4
                )

            [6] => stdClass Object
                (
                    [id] => 495374
                    [unit_id] => 88
                    [key] => StayContext
                    [value] => Checkin
                )

            [7] => stdClass Object
                (
                    [id] => 495375
                    [unit_id] => 88
                    [key] => StayDays
                    [value] => a:7:{i:0;s:3:"Mon";i:1;s:3:"Tue";i:2;s:4:"Weds";i:3;s:4:"Thur";i:4;s:3:"Fri";i:5;s:3:"Sat";i:6;s:3:"Sun";}
                )

            [8] => stdClass Object
                (
                    [id] => 495376
                    [unit_id] => 88
                    [key] => NumberFloors
                    [value] => 3
                )

            [9] => stdClass Object
                (
                    [id] => 495377
                    [unit_id] => 88
                    [key] => CheckInTime
                    [value] => 15:00
                )

            [10] => stdClass Object
                (
                    [id] => 495378
                    [unit_id] => 88
                    [key] => CheckOutTime
                    [value] => 10:00
                )

            [11] => stdClass Object
                (
                    [id] => 495379
                    [unit_id] => 88
                    [key] => SmokingAllowed
                    [value] => 
                )

            [12] => stdClass Object
                (
                    [id] => 495539
                    [unit_id] => 88
                    [key] => Agreement
                    [value] => GUEST AGREEMENT 
RELATES TO ALL PROPERTIES. PLEASE READ THIS CONTRACT CAREFULLY. 
BY CLICKING ON THE ACCEPT BUTTON YOU (either an individual or a single entity) AGREE THAT THIS AGREEMENT IS ENFORCEABLE LIKE ANY WRITTEN CONTRACT SIGNED BY YOU. 

SECURITY D
                )

        )

    [minnights] => Array
        (
            [0] => stdClass Object
                (
                    [id] => 988626
                    [start_date] => 2019-04-01
                    [end_date] => 2019-12-14
                    [prop_id] => 88
                    [nights] => 4
                    [rate_type] => Daily
                )

            [1] => stdClass Object
                (
                    [id] => 988627
                    [start_date] => 2019-04-01
                    [end_date] => 2019-12-14
                    [prop_id] => 88
                    [nights] => 7
                    [rate_type] => Weekly
                )

            [2] => stdClass Object
                (
                    [id] => 988628
                    [start_date] => 2019-12-15
                    [end_date] => 2020-01-05
                    [prop_id] => 88
                    [nights] => 3
                    [rate_type] => Daily
                )

            [3] => stdClass Object
                (
                    [id] => 988629
                    [start_date] => 2019-12-15
                    [end_date] => 2020-01-05
                    [prop_id] => 88
                    [nights] => 7
                    [rate_type] => Weekly
                )

            [4] => stdClass Object
                (
                    [id] => 988630
                    [start_date] => 2019-12-15
                    [end_date] => 2020-01-05
                    [prop_id] => 88
                    [nights] => 3
                    [rate_type] => Midweek
                )

            [5] => stdClass Object
                (
                    [id] => 988631
                    [start_date] => 2020-01-06
                    [end_date] => 2020-03-31
                    [prop_id] => 88
                    [nights] => 2
                    [rate_type] => Daily
                )

            [6] => stdClass Object
                (
                    [id] => 988632
                    [start_date] => 2020-01-06
                    [end_date] => 2020-03-31
                    [prop_id] => 88
                    [nights] => 7
                    [rate_type] => Weekly
                )

            [7] => stdClass Object
                (
                    [id] => 988633
                    [start_date] => 2020-01-06
                    [end_date] => 2020-03-31
                    [prop_id] => 88
                    [nights] => 30
                    [rate_type] => Monthly
                )

            [8] => stdClass Object
                (
                    [id] => 988634
                    [start_date] => 2020-01-06
                    [end_date] => 2020-03-31
                    [prop_id] => 88
                    [nights] => 2
                    [rate_type] => Midweek
                )

            [9] => stdClass Object
                (
                    [id] => 988635
                    [start_date] => 2020-04-01
                    [end_date] => 2020-12-14
                    [prop_id] => 88
                    [nights] => 4
                    [rate_type] => Daily
                )

            [10] => stdClass Object
                (
                    [id] => 988636
                    [start_date] => 2020-04-01
                    [end_date] => 2020-12-14
                    [prop_id] => 88
                    [nights] => 7
                    [rate_type] => Weekly
                )

            [11] => stdClass Object
                (
                    [id] => 988637
                    [start_date] => 2020-04-01
                    [end_date] => 2020-12-14
                    [prop_id] => 88
                    [nights] => 30
                    [rate_type] => Monthly
                )

        )

    [manager] => stdClass Object
        (
            [id] => 1
            [ManagerID] => 1
            [Name] => Escapia
            [Vendor] => Escapia
            [Contract] => 
            [random] => 0
            [pms] => 
            [last_update] => 0000-00-00 00:00:00
        )

    [flipkey] => 
    [additonal] => stdClass Object
        (
            [DisplayRate] => Starting from $235 per night
            [Location] => Kapaa
            [LocationField] => Garden Island Properties, LLC
            [Property Type] => Condo
            [View] => Ocean Front
            [MinLOS] => 4
            [StayContext] => Checkin
            [StayDays] => Array
                (
                    [0] => Mon
                    [1] => Tue
                    [2] => Weds
                    [3] => Thur
                    [4] => Fri
                    [5] => Sat
                    [6] => Sun
                )

            [NumberFloors] => 3
            [CheckInTime] => 15:00
            [CheckOutTime] => 10:00
            [SmokingAllowed] => 
            [Agreement] => GUEST AGREEMENT 
RELATES TO ALL PROPERTIES. PLEASE READ THIS CONTRACT CAREFULLY. 
BY CLICKING ON THE ACCEPT BUTTON YOU (either an individual or a single entity) AGREE THAT THIS AGREEMENT IS ENFORCEABLE LIKE ANY WRITTEN CONTRACT SIGNED BY YOU. 

SECURITY D
        )

    [checkinout] => Array
        (
        )

    [special] => Array
        (
        )

    [hasSpecial] => 
)
                    
Holiday Rates apply between 12/15 - 1/5