kapaa shore resort #324, ocean view, washer/dryer, great location and views!
2 Bedroom(s) | 2 Bathroom(s) | Sleeps 5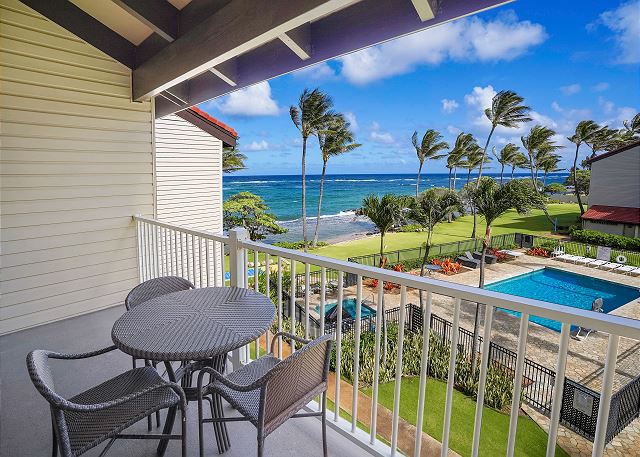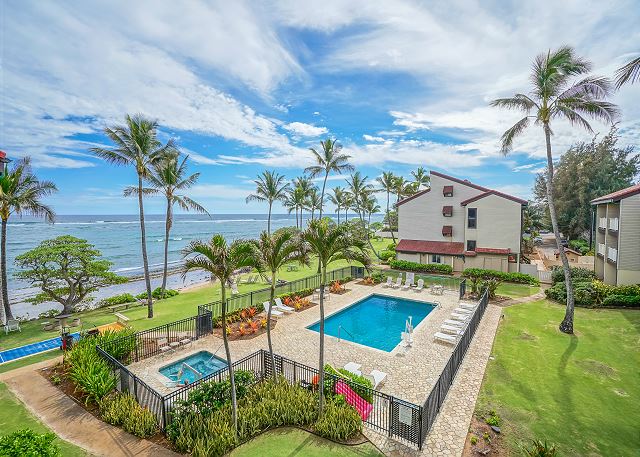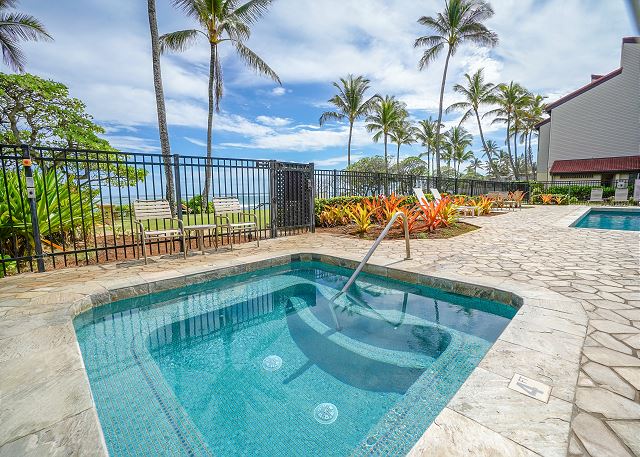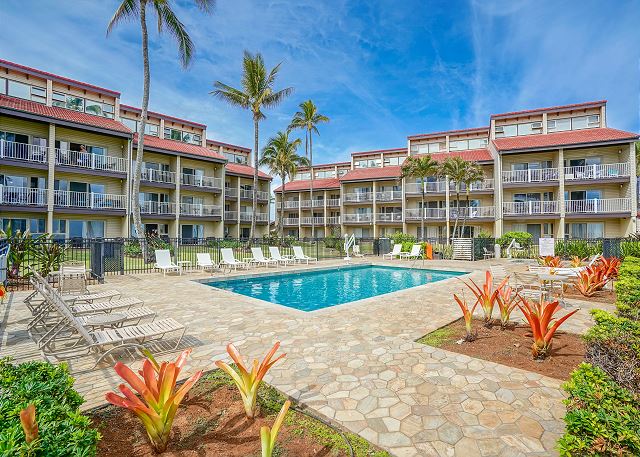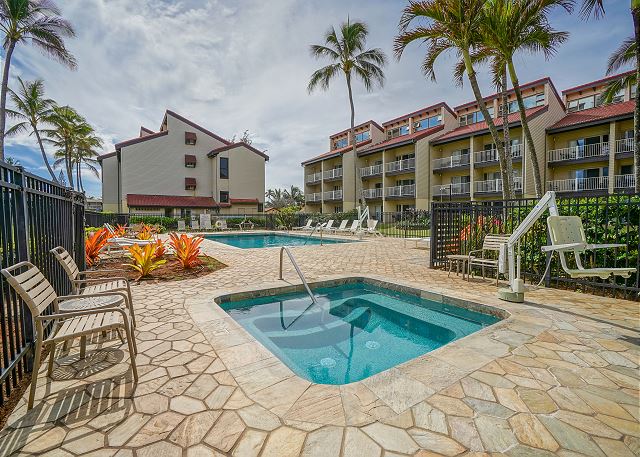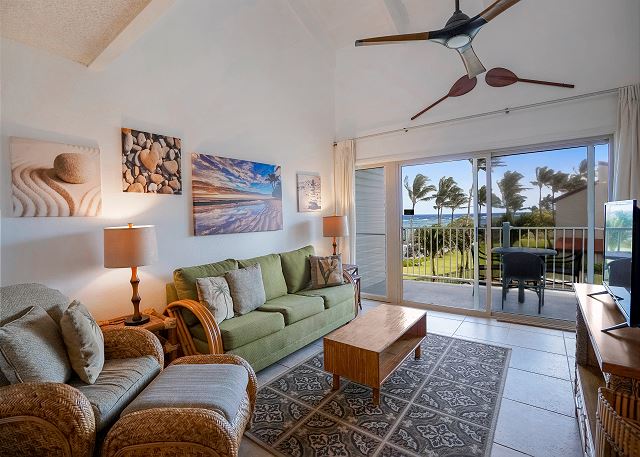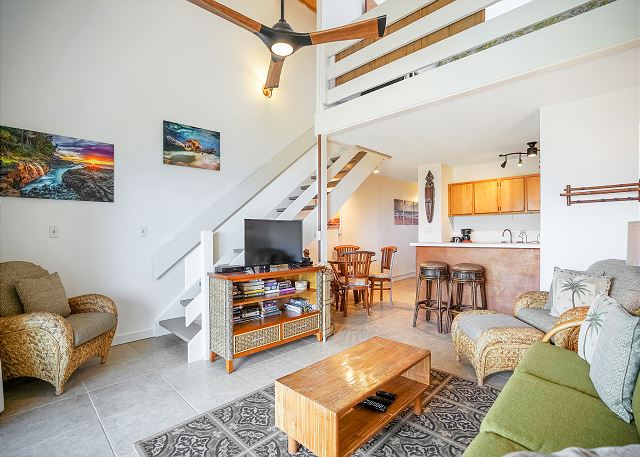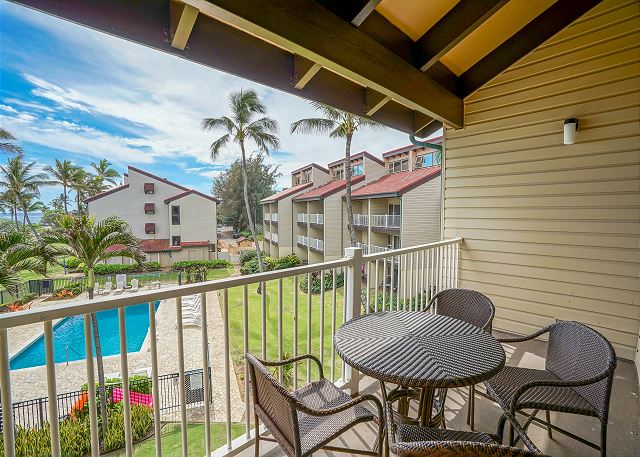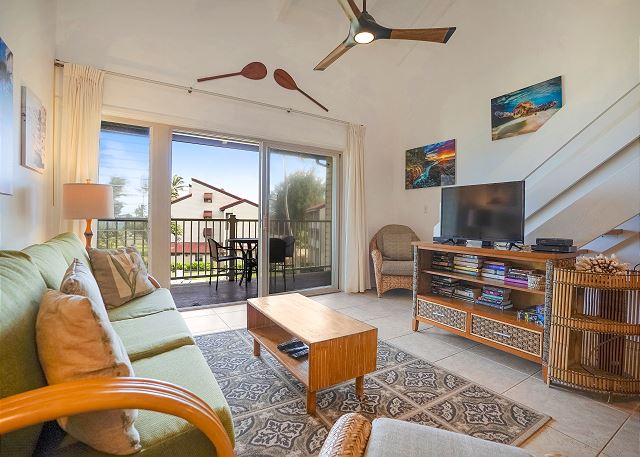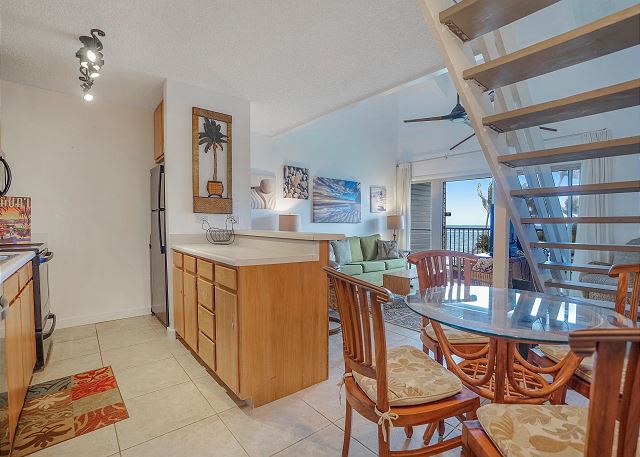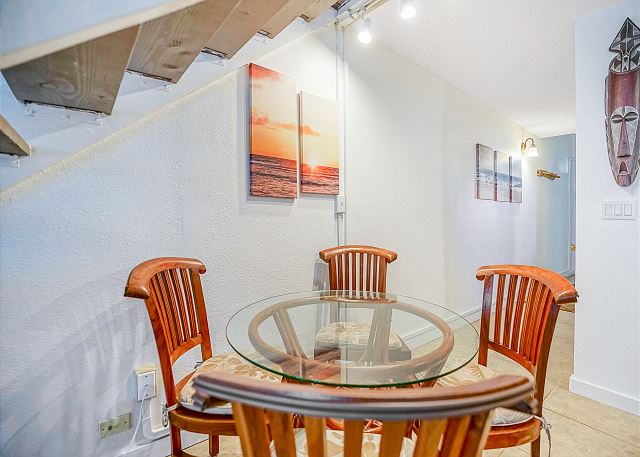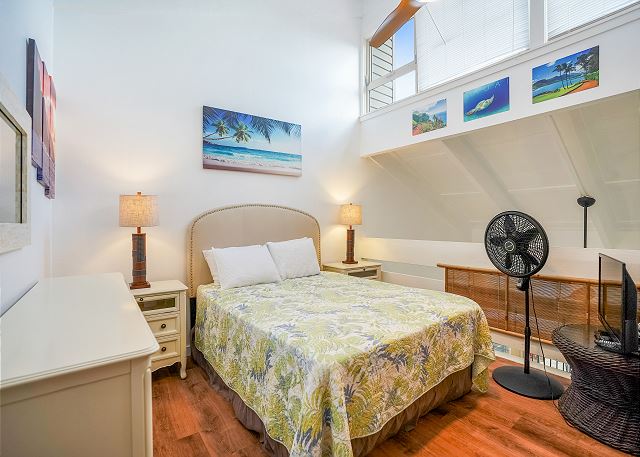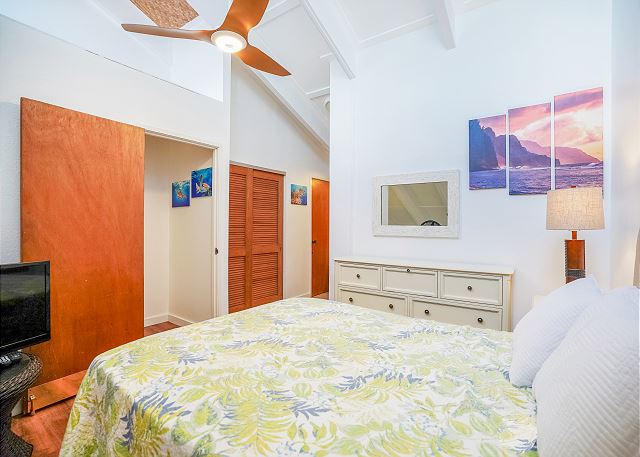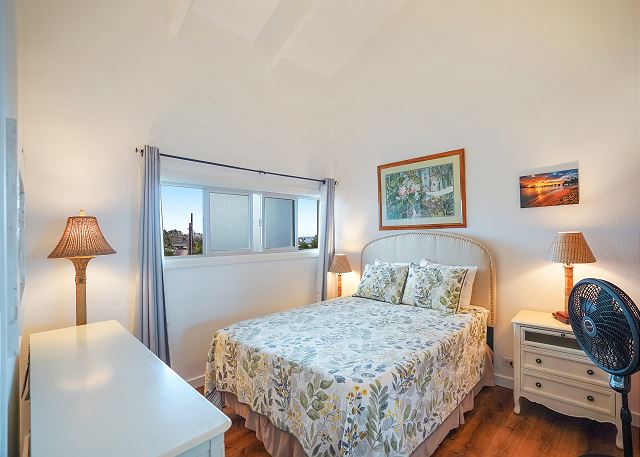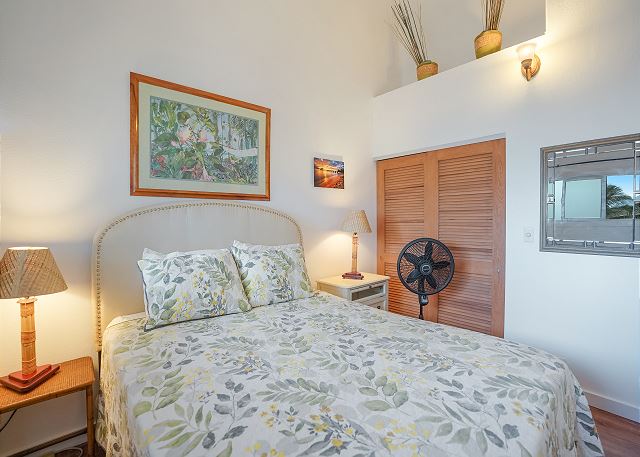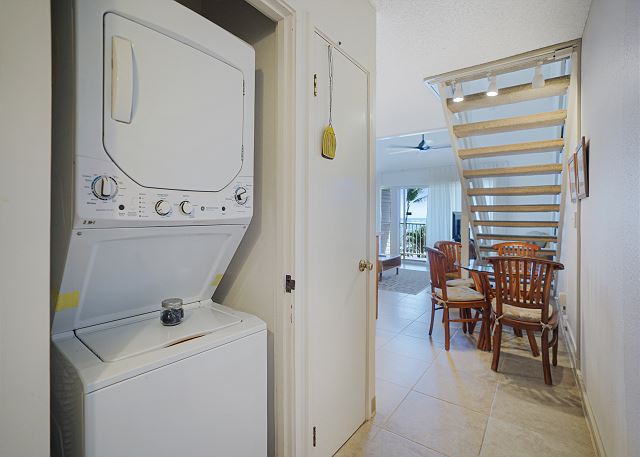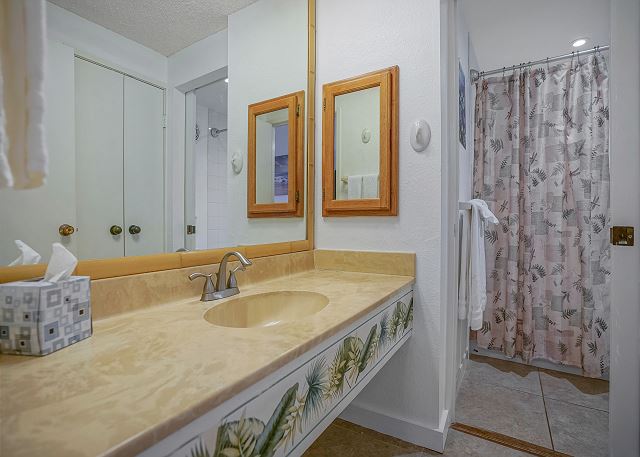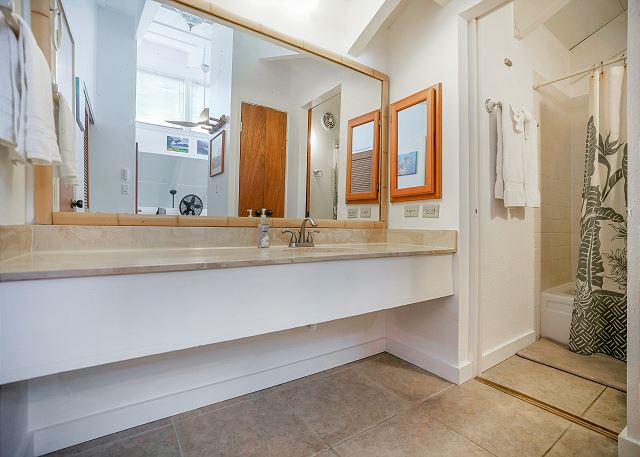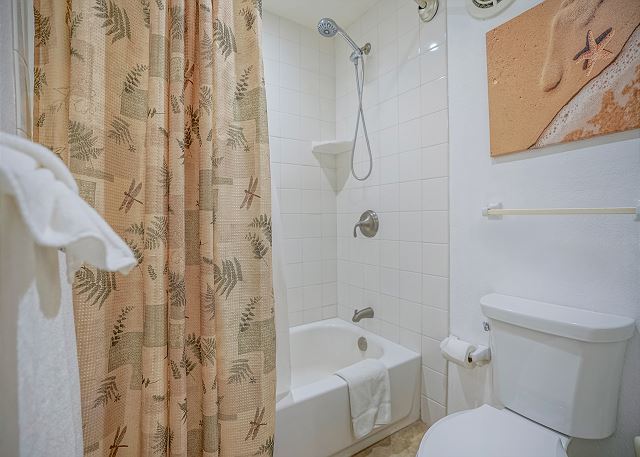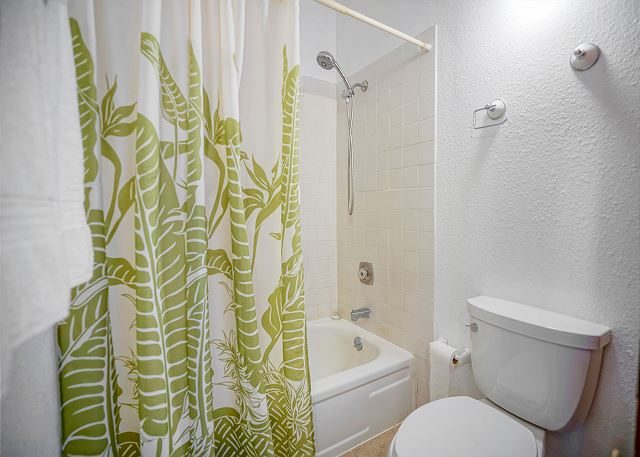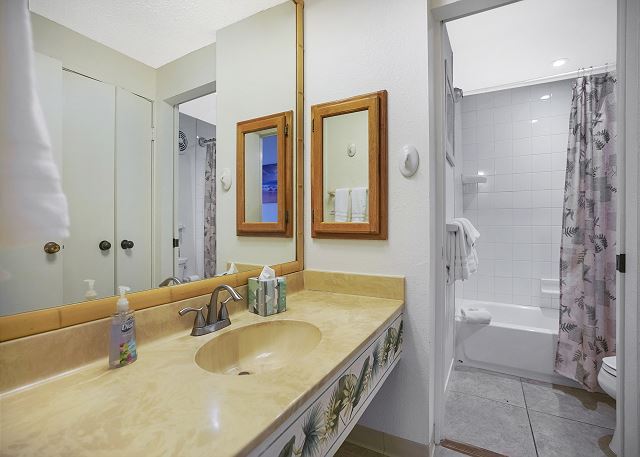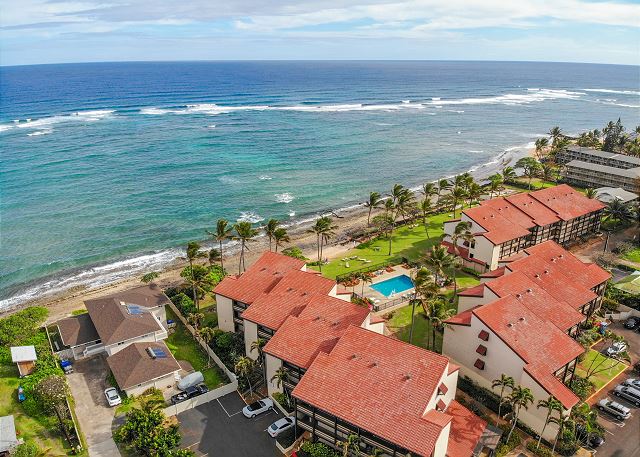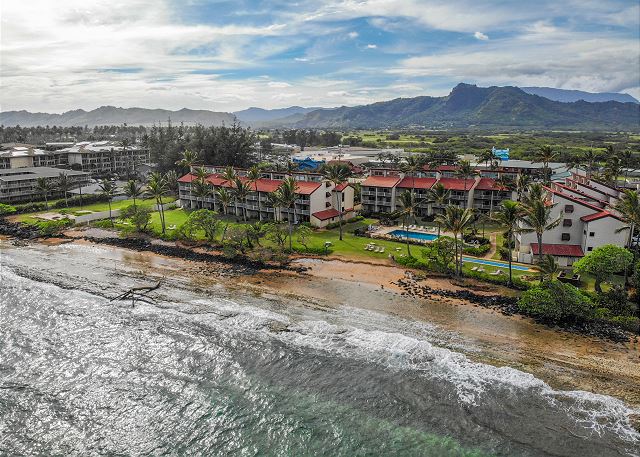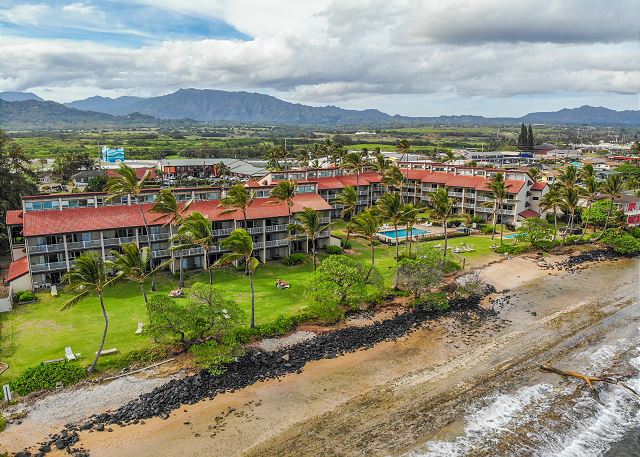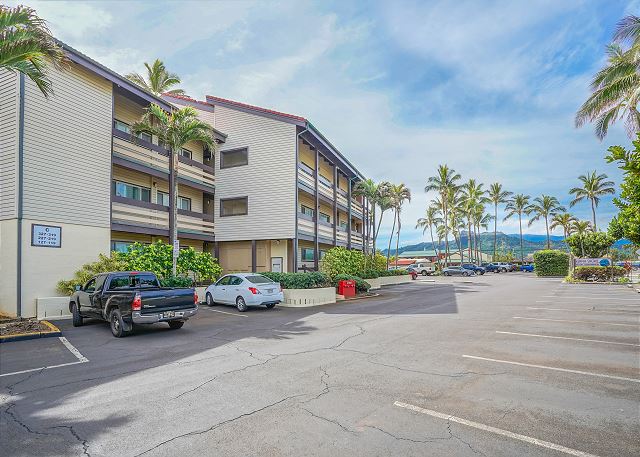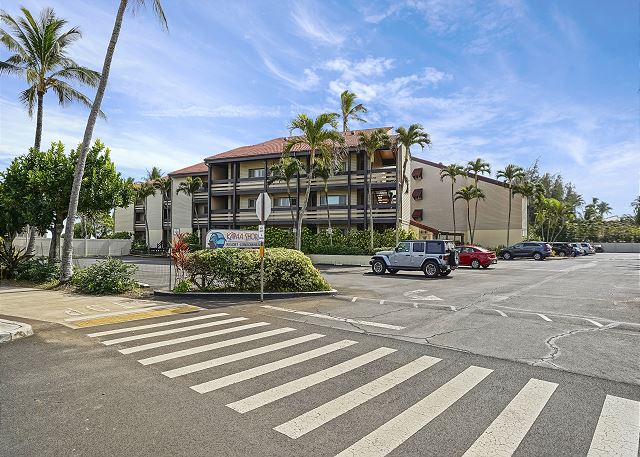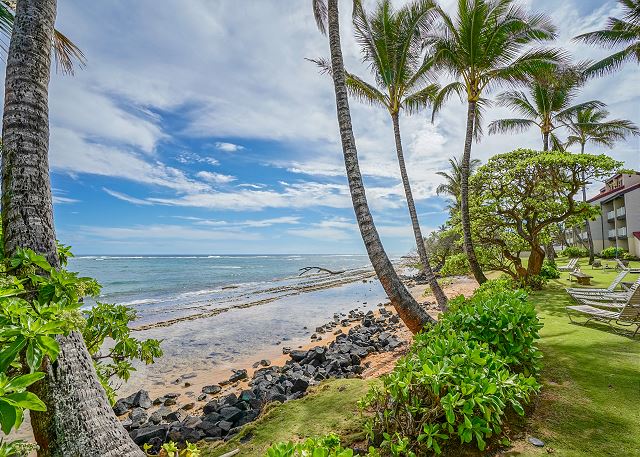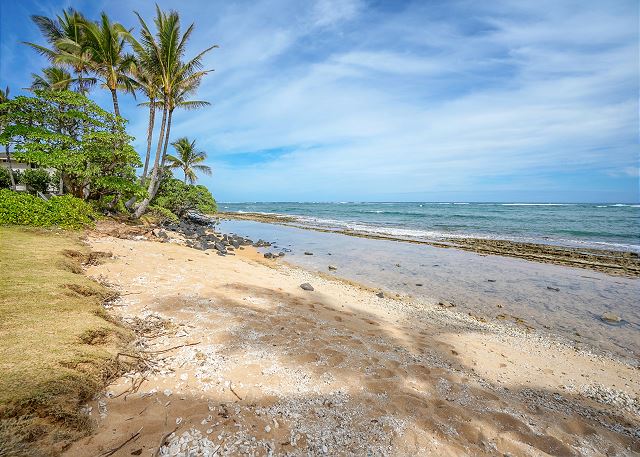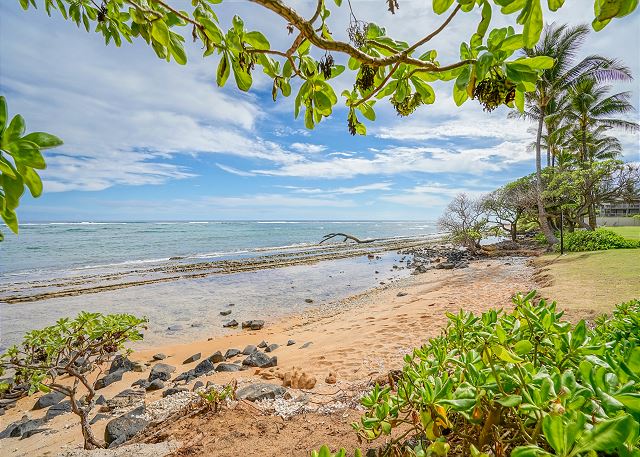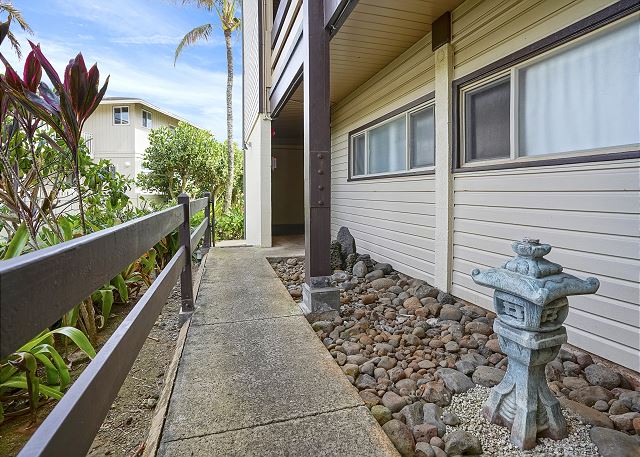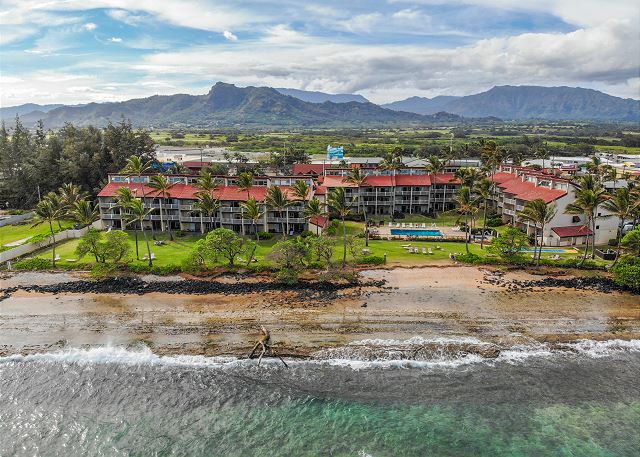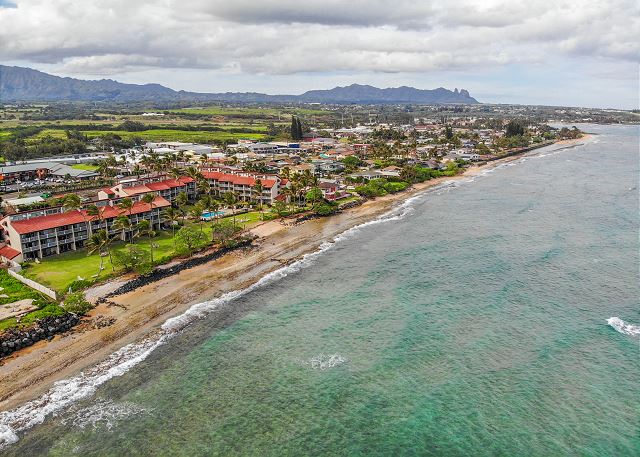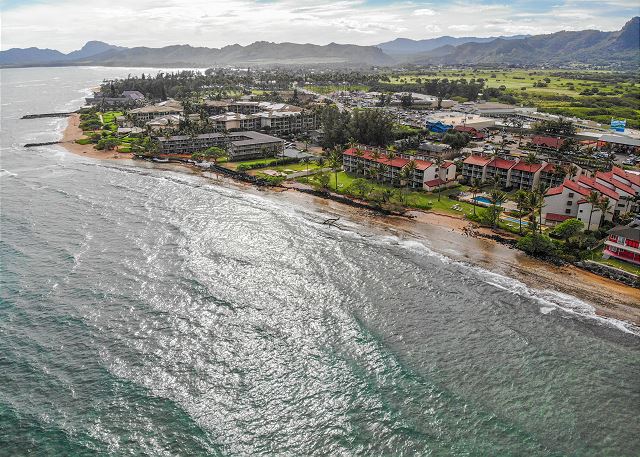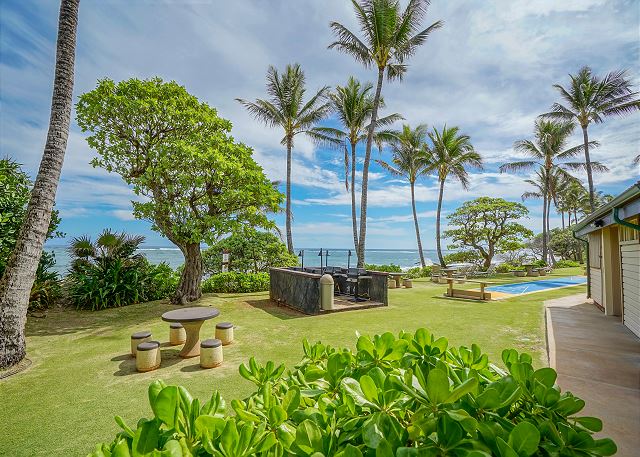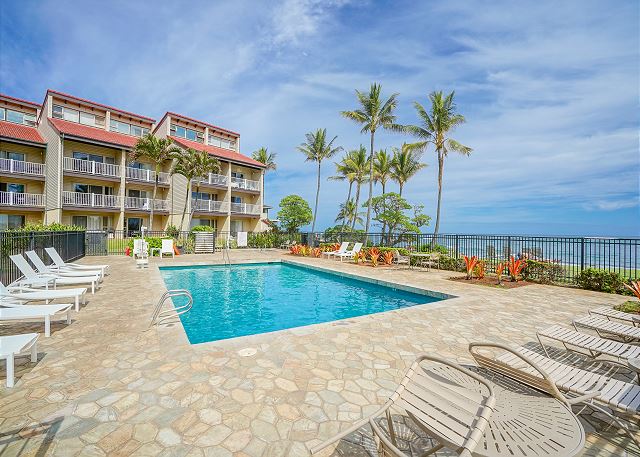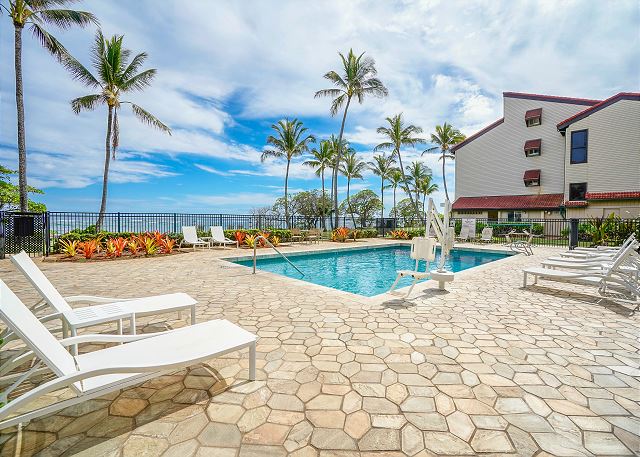 Kapaa Shore Resort on the "Coconut Coast", Kapaa, Kauai Vacation Rental.

Two bedrooms, two bath, ocean-view 3rd (top floor) unit with washer and dryer in the unit.

New Bedroom Furniture in both bedrooms!

Queen bed in loft master bedroom with private bathroom and TV.

Queen bed in 2nd bedroom with 2nd full bath in main level and queen sofa sleeper provided for additional sleeping; sleeps 5.

Beautiful ocean views from living area and private lanai.

Complimentary wireless internet access and parking.



Kapaa Shore Resort is everything you could dream of when it comes to luxurious Hawaiian living in a Kauai vacation rental. Located oceanfront in the beautiful coastal town of Kapaa, Kauai, your Kapaa Shore Resort unit enjoys views of the resort's sun-drenched gardens, pool, and shallow tide pool beach.



This fully furnished, 2-bedroom Kauai vacation rental features all the comforts of home with complete kitchens, cable TV and private lanais spacious enough for outdoor dining. All 2-bedroom units are located on the third (top) floor with a town home design; master bedroom is an upstairs loft with private bath and second bedroom is on the main level.



The sound of the gentle surf breaking on the close-in coral reef, acts as a constant reminder that you are truly in the heart of a Kauai vacation rental paradise. From your private lanai, watch the moon rising from the Pacific Ocean, sunrises and during the months of November to April see the humpback whales frolicking in their back yard!



An azure blue freshwater swimming pool is the Kauai vacation resort's center of activity, accented by a family size hot tub, grassy areas for sunbathing plus a shuffleboard court and barbecues. If tennis is your game, our court awaits your daily play. Of course, there are miles of sandy coastline nearby for hours of beach-combing pleasure from your Kauai vacation rental.



Shopping, fine dining and nightly entertainment are just a short five-minute stroll from the resort, featuring one of our many fine restaurants serving Pacific-rim cuisine, Thai, Japanese or Mexican food. Complete sightseeing, surf lessons, golf, luaus, movie tours and helicopter tours can be arranged by the Garden Island Properties Concierge.



In the town of Kapaa, you are only minutes away from kayaking up the Wailua River, enjoying the Fern Grotto tour, snorkeling at Lydgate Beach Park, and hiking the Sleeping Giant Trail. You are also just minutes away from all of Kauai's breathtaking wonders including the tropical Na Pali Coast and Hanalei Bay, the white sands of Poipu Beach and the magnificent views at Waimea Canyon. Centrally located between the North and South shore makes this Kapaa Kauai vacation rental an ideal choice for a holiday.



Let your stay at Kapaa Shore Resort transform your dream Kauai vacation into unforgettable reality. Hawaiian oceanfront living at its very best! Come and stay in one of the most attractive affordable and conveniently located Kauai vacation condos on the beautiful and charming Coconut Coast of Kauai.



This is a non-smoking property.



TAT ID#: TA-142-983-0144-01
Amenities

Queen
Sleep sofa /futon
Satellite / Cable
Television
Clothes Dryer
Hair Dryer
Internet
Iron & Board
Linens Provided
Living Room
Parking
Towels Provided
Washing Machine
Wifi
Free Wifi
Coffee Maker
Dishes & Utensils
Dishwasher
Kitchen
Microwave
Oven
Refrigerator
Stove
Toaster
Dining Table
Beachfront
Downtown
Near The Ocean
Ocean View
Oceanfront
Resort
Balcony
Deck / Patio
Heated Pool
Bedroom
Children welcome
Non smoking only
Pets not allowed
Flexible
Smoke detectors
Emergency exit route
Emergency phone number: Medical
Emergency phone number: Police
Emergency phone number: Fire
Enhanced cleaning practices
Clean with disinfectant
No-contact check-in and check-out
High touch surfaces cleaned with disinfectant
Towels and bedding washed in water that's at least 60sC/140sF
Blender
Beach Chairs
Bike Path
Beach Towels
On Beach
Near Beach
Close to Town
Kapaa Shore Resort
Coconut Coast
Kapa'a
Book Your Stay!
Select your arrival and departure dates below to reserve this unit.


December 2021

| S | M | T | W | T | F | S |
| --- | --- | --- | --- | --- | --- | --- |
| | | | 01 | 02 | 03 | 04 |
| 05 | 06 | 07 | 08 | 09 | 10 | 11 |
| 12 | 13 | 14 | 15 | 16 | 17 | 18 |
| 19 | 20 | 21 | 22 | 23 | 24 | 25 |
| 26 | 27 | 28 | 29 | 30 | 31 | |
January 2022

| S | M | T | W | T | F | S |
| --- | --- | --- | --- | --- | --- | --- |
| | | | | | | 01 |
| 02 | 03 | 04 | 05 | 06 | 07 | 08 |
| 09 | 10 | 11 | 12 | 13 | 14 | 15 |
| 16 | 17 | 18 | 19 | 20 | 21 | 22 |
| 23 | 24 | 25 | 26 | 27 | 28 | 29 |
| 30 | 31 | | | | | |
February 2022

| S | M | T | W | T | F | S |
| --- | --- | --- | --- | --- | --- | --- |
| | | 01 | 02 | 03 | 04 | 05 |
| 06 | 07 | 08 | 09 | 10 | 11 | 12 |
| 13 | 14 | 15 | 16 | 17 | 18 | 19 |
| 20 | 21 | 22 | 23 | 24 | 25 | 26 |
| 27 | 28 | | | | | |
March 2022

| S | M | T | W | T | F | S |
| --- | --- | --- | --- | --- | --- | --- |
| | | 01 | 02 | 03 | 04 | 05 |
| 06 | 07 | 08 | 09 | 10 | 11 | 12 |
| 13 | 14 | 15 | 16 | 17 | 18 | 19 |
| 20 | 21 | 22 | 23 | 24 | 25 | 26 |
| 27 | 28 | 29 | 30 | 31 | | |
April 2022

| S | M | T | W | T | F | S |
| --- | --- | --- | --- | --- | --- | --- |
| | | | | | 01 | 02 |
| 03 | 04 | 05 | 06 | 07 | 08 | 09 |
| 10 | 11 | 12 | 13 | 14 | 15 | 16 |
| 17 | 18 | 19 | 20 | 21 | 22 | 23 |
| 24 | 25 | 26 | 27 | 28 | 29 | 30 |
May 2022

| S | M | T | W | T | F | S |
| --- | --- | --- | --- | --- | --- | --- |
| 01 | 02 | 03 | 04 | 05 | 06 | 07 |
| 08 | 09 | 10 | 11 | 12 | 13 | 14 |
| 15 | 16 | 17 | 18 | 19 | 20 | 21 |
| 22 | 23 | 24 | 25 | 26 | 27 | 28 |
| 29 | 30 | 31 | | | | |
June 2022

| S | M | T | W | T | F | S |
| --- | --- | --- | --- | --- | --- | --- |
| | | | 01 | 02 | 03 | 04 |
| 05 | 06 | 07 | 08 | 09 | 10 | 11 |
| 12 | 13 | 14 | 15 | 16 | 17 | 18 |
| 19 | 20 | 21 | 22 | 23 | 24 | 25 |
| 26 | 27 | 28 | 29 | 30 | | |
July 2022

| S | M | T | W | T | F | S |
| --- | --- | --- | --- | --- | --- | --- |
| | | | | | 01 | 02 |
| 03 | 04 | 05 | 06 | 07 | 08 | 09 |
| 10 | 11 | 12 | 13 | 14 | 15 | 16 |
| 17 | 18 | 19 | 20 | 21 | 22 | 23 |
| 24 | 25 | 26 | 27 | 28 | 29 | 30 |
| 31 | | | | | | |
August 2022

| S | M | T | W | T | F | S |
| --- | --- | --- | --- | --- | --- | --- |
| | 01 | 02 | 03 | 04 | 05 | 06 |
| 07 | 08 | 09 | 10 | 11 | 12 | 13 |
| 14 | 15 | 16 | 17 | 18 | 19 | 20 |
| 21 | 22 | 23 | 24 | 25 | 26 | 27 |
| 28 | 29 | 30 | 31 | | | |
September 2022

| S | M | T | W | T | F | S |
| --- | --- | --- | --- | --- | --- | --- |
| | | | | 01 | 02 | 03 |
| 04 | 05 | 06 | 07 | 08 | 09 | 10 |
| 11 | 12 | 13 | 14 | 15 | 16 | 17 |
| 18 | 19 | 20 | 21 | 22 | 23 | 24 |
| 25 | 26 | 27 | 28 | 29 | 30 | |
October 2022

| S | M | T | W | T | F | S |
| --- | --- | --- | --- | --- | --- | --- |
| | | | | | | 01 |
| 02 | 03 | 04 | 05 | 06 | 07 | 08 |
| 09 | 10 | 11 | 12 | 13 | 14 | 15 |
| 16 | 17 | 18 | 19 | 20 | 21 | 22 |
| 23 | 24 | 25 | 26 | 27 | 28 | 29 |
| 30 | 31 | | | | | |
November 2022

| S | M | T | W | T | F | S |
| --- | --- | --- | --- | --- | --- | --- |
| | | 01 | 02 | 03 | 04 | 05 |
| 06 | 07 | 08 | 09 | 10 | 11 | 12 |
| 13 | 14 | 15 | 16 | 17 | 18 | 19 |
| 20 | 21 | 22 | 23 | 24 | 25 | 26 |
| 27 | 28 | 29 | 30 | | | |
December 2022

| S | M | T | W | T | F | S |
| --- | --- | --- | --- | --- | --- | --- |
| | | | | 01 | 02 | 03 |
| 04 | 05 | 06 | 07 | 08 | 09 | 10 |
| 11 | 12 | 13 | 14 | 15 | 16 | 17 |
| 18 | 19 | 20 | 21 | 22 | 23 | 24 |
| 25 | 26 | 27 | 28 | 29 | 30 | 31 |
January 2023

| S | M | T | W | T | F | S |
| --- | --- | --- | --- | --- | --- | --- |
| 01 | 02 | 03 | 04 | 05 | 06 | 07 |
| 08 | 09 | 10 | 11 | 12 | 13 | 14 |
| 15 | 16 | 17 | 18 | 19 | 20 | 21 |
| 22 | 23 | 24 | 25 | 26 | 27 | 28 |
| 29 | 30 | 31 | | | | |
February 2023

| S | M | T | W | T | F | S |
| --- | --- | --- | --- | --- | --- | --- |
| | | | 01 | 02 | 03 | 04 |
| 05 | 06 | 07 | 08 | 09 | 10 | 11 |
| 12 | 13 | 14 | 15 | 16 | 17 | 18 |
| 19 | 20 | 21 | 22 | 23 | 24 | 25 |
| 26 | 27 | 28 | | | | |
March 2023

| S | M | T | W | T | F | S |
| --- | --- | --- | --- | --- | --- | --- |
| | | | 01 | 02 | 03 | 04 |
| 05 | 06 | 07 | 08 | 09 | 10 | 11 |
| 12 | 13 | 14 | 15 | 16 | 17 | 18 |
| 19 | 20 | 21 | 22 | 23 | 24 | 25 |
| 26 | 27 | 28 | 29 | 30 | 31 | |
Available
Unavailable
Check-In Only
Check-Out Only
Seasonal Rates
testStarting from $249 per night

                    stdClass Object
(
    [id] => 104
    [ManagerID] => 1
    [ComplexID] => 0
    [Name] => Kapaa Shore Resort #324, Ocean View, Washer/Dryer, Great Location and Views!
    [PropertyCode] => 2064-228114
    [Address1] => 4-0900 Kuhio Highway
    [Address2] => 
    [City] => Kapaa
    [State] => HI
    [Country] => US
    [PostalCode] => 
    [Province] => 
    [Bedrooms] => 2
    [Bathrooms] => 2
    [Beds] => {"Queen":2,"Sofa Bed":1}
    [Type] => Condominium
    [Area] => 
    [Location] => Garden Island Properties, LLC
    [View] => Ocean View
    [Video] => 
    [lat] => 22.062368
    [long] => -159.319124
    [map_id] => 0
    [Complex] => 109
    [Description] => Kapaa Shore Resort on the "Coconut Coast", Kapaa, Kauai Vacation Rental.

Two bedrooms, two bath, ocean-view 3rd (top floor) unit with washer and dryer in the unit.

New Bedroom Furniture in both bedrooms!

Queen bed in loft master bedroom with private bathroom and TV.

Queen bed in 2nd bedroom with 2nd full bath in main level and queen sofa sleeper provided for additional sleeping; sleeps 5.

Beautiful ocean views from living area and private lanai.

Complimentary wireless internet access and parking.



Kapaa Shore Resort is everything you could dream of when it comes to luxurious Hawaiian living in a Kauai vacation rental.  Located oceanfront in the beautiful coastal town of Kapaa, Kauai, your Kapaa Shore Resort unit enjoys views of the resort's sun-drenched gardens, pool, and shallow tide pool beach.



This fully furnished, 2-bedroom Kauai vacation rental features all the comforts of home with complete kitchens, cable TV and private lanais spacious enough for outdoor dining.  All 2-bedroom units are located on the third (top) floor with a town home design; master bedroom is an upstairs loft with private bath and second bedroom is on the main level.



The sound of the gentle surf breaking on the close-in coral reef, acts as a constant reminder that you are truly in the heart of a Kauai vacation rental paradise. From your private lanai, watch the moon rising from the Pacific Ocean, sunrises and during the months of November to April see the humpback whales frolicking in their back yard!



An azure blue freshwater swimming pool is the Kauai vacation resort's center of activity, accented by a family size hot tub, grassy areas for sunbathing plus a shuffleboard court and barbecues. If tennis is your game, our court awaits your daily play. Of course, there are miles of sandy coastline nearby for hours of beach-combing pleasure from your Kauai vacation rental.



Shopping, fine dining and nightly entertainment are just a short five-minute stroll from the resort, featuring one of our many fine restaurants serving Pacific-rim cuisine, Thai, Japanese or Mexican food. Complete sightseeing, surf lessons, golf, luaus, movie tours and helicopter tours can be arranged by the Garden Island Properties Concierge. 



In the town of Kapaa, you are only minutes away from kayaking up the Wailua River, enjoying the Fern Grotto tour, snorkeling at Lydgate Beach Park, and hiking the Sleeping Giant Trail.  You are also just minutes away from all of Kauai's breathtaking wonders including the tropical Na Pali Coast and Hanalei Bay, the white sands of Poipu Beach and the magnificent views at Waimea Canyon. Centrally located between the North and South shore makes this Kapaa Kauai vacation rental an ideal choice for a holiday.



Let your stay at Kapaa Shore Resort transform your dream Kauai vacation into unforgettable reality. Hawaiian oceanfront living at its very best! Come and stay in one of the most attractive affordable and conveniently located Kauai vacation condos on the beautiful and charming Coconut Coast of Kauai.



This is a non-smoking property.



TAT ID#:  TA-142-983-0144-01
    [ShortDescription] => Ocean View, 2 Bedroom, 2 Bath, 3rd floor (top) unit with washer/dryer, full kitchen, 2 Queen beds, and queen sofa sleeper, complimentary WiFi and parking.  Sleeps 5.
    [Sleeps] => 5
    [MaxAdult] => 0
    [MaxSearchMonths] => 48
    [Status] => Active
    [page_slug] => Kapaa_Shore_Resort_324_Ocean_View_WasherDryer_Great_Location_and_Views-2064-228114-1
    [SEOTitle] => Kapaa Shore Resort #324, Ocean View
    [SEODescription] => Kapaa Shore Resort #324, Ocean View, Washer/Dryer, Great Location and Views!
    [Featured] => 0
    [created] => 2021-11-11 08:02:30
    [updated] => 2021-12-04 09:32:48
    [internalcode] => KS 324
    [photos] => Array
        (
            [0] => stdClass Object
                (
                    [id] => 3966695
                    [unit_id] => 104
                    [url] => https://pictures.escapia.com/GAISPR/228114/6092600307.jpg
                    [thumb_url] => https://pictures.escapia.com/GAISPR/228114/6092600307.jpg
                     => 
                    [sort] => 0
                )

            [1] => stdClass Object
                (
                    [id] => 3966696
                    [unit_id] => 104
                    [url] => https://pictures.escapia.com/GAISPR/228114/3275050176.jpg
                    [thumb_url] => https://pictures.escapia.com/GAISPR/228114/3275050176.jpg
                     => 
                    [sort] => 1
                )

            [2] => stdClass Object
                (
                    [id] => 3966697
                    [unit_id] => 104
                    [url] => https://pictures.escapia.com/GAISPR/228114/4640970736.jpg
                    [thumb_url] => https://pictures.escapia.com/GAISPR/228114/4640970736.jpg
                     => 
                    [sort] => 2
                )

            [3] => stdClass Object
                (
                    [id] => 3966698
                    [unit_id] => 104
                    [url] => https://pictures.escapia.com/GAISPR/228114/0406950565.jpg
                    [thumb_url] => https://pictures.escapia.com/GAISPR/228114/0406950565.jpg
                     => 
                    [sort] => 3
                )

            [4] => stdClass Object
                (
                    [id] => 3966699
                    [unit_id] => 104
                    [url] => https://pictures.escapia.com/GAISPR/228114/2351660737.jpg
                    [thumb_url] => https://pictures.escapia.com/GAISPR/228114/2351660737.jpg
                     => 
                    [sort] => 4
                )

            [5] => stdClass Object
                (
                    [id] => 3966700
                    [unit_id] => 104
                    [url] => https://pictures.escapia.com/GAISPR/228114/2365750145.jpg
                    [thumb_url] => https://pictures.escapia.com/GAISPR/228114/2365750145.jpg
                     => 
                    [sort] => 5
                )

            [6] => stdClass Object
                (
                    [id] => 3966701
                    [unit_id] => 104
                    [url] => https://pictures.escapia.com/GAISPR/228114/6991490161.jpg
                    [thumb_url] => https://pictures.escapia.com/GAISPR/228114/6991490161.jpg
                     => 
                    [sort] => 6
                )

            [7] => stdClass Object
                (
                    [id] => 3966702
                    [unit_id] => 104
                    [url] => https://pictures.escapia.com/GAISPR/228114/7730910207.jpg
                    [thumb_url] => https://pictures.escapia.com/GAISPR/228114/7730910207.jpg
                     => 
                    [sort] => 7
                )

            [8] => stdClass Object
                (
                    [id] => 3966703
                    [unit_id] => 104
                    [url] => https://pictures.escapia.com/GAISPR/228114/9226750274.jpg
                    [thumb_url] => https://pictures.escapia.com/GAISPR/228114/9226750274.jpg
                     => 
                    [sort] => 8
                )

            [9] => stdClass Object
                (
                    [id] => 3966704
                    [unit_id] => 104
                    [url] => https://pictures.escapia.com/GAISPR/228114/9485660325.jpg
                    [thumb_url] => https://pictures.escapia.com/GAISPR/228114/9485660325.jpg
                     => 
                    [sort] => 9
                )

            [10] => stdClass Object
                (
                    [id] => 3966705
                    [unit_id] => 104
                    [url] => https://pictures.escapia.com/GAISPR/228114/0271410215.jpg
                    [thumb_url] => https://pictures.escapia.com/GAISPR/228114/0271410215.jpg
                     => 
                    [sort] => 10
                )

            [11] => stdClass Object
                (
                    [id] => 3966706
                    [unit_id] => 104
                    [url] => https://pictures.escapia.com/GAISPR/228114/8061250672.jpg
                    [thumb_url] => https://pictures.escapia.com/GAISPR/228114/8061250672.jpg
                     => 
                    [sort] => 11
                )

            [12] => stdClass Object
                (
                    [id] => 3966707
                    [unit_id] => 104
                    [url] => https://pictures.escapia.com/GAISPR/228114/9399350680.jpg
                    [thumb_url] => https://pictures.escapia.com/GAISPR/228114/9399350680.jpg
                     => 
                    [sort] => 12
                )

            [13] => stdClass Object
                (
                    [id] => 3966708
                    [unit_id] => 104
                    [url] => https://pictures.escapia.com/GAISPR/228114/2109560991.jpg
                    [thumb_url] => https://pictures.escapia.com/GAISPR/228114/2109560991.jpg
                     => 
                    [sort] => 13
                )

            [14] => stdClass Object
                (
                    [id] => 3966709
                    [unit_id] => 104
                    [url] => https://pictures.escapia.com/GAISPR/228114/7749840992.jpg
                    [thumb_url] => https://pictures.escapia.com/GAISPR/228114/7749840992.jpg
                     => 
                    [sort] => 14
                )

            [15] => stdClass Object
                (
                    [id] => 3966710
                    [unit_id] => 104
                    [url] => https://pictures.escapia.com/GAISPR/228114/5087730423.jpg
                    [thumb_url] => https://pictures.escapia.com/GAISPR/228114/5087730423.jpg
                     => 
                    [sort] => 15
                )

            [16] => stdClass Object
                (
                    [id] => 3966711
                    [unit_id] => 104
                    [url] => https://pictures.escapia.com/GAISPR/228114/7984620389.jpg
                    [thumb_url] => https://pictures.escapia.com/GAISPR/228114/7984620389.jpg
                     => 
                    [sort] => 16
                )

            [17] => stdClass Object
                (
                    [id] => 3966712
                    [unit_id] => 104
                    [url] => https://pictures.escapia.com/GAISPR/228114/5927550080.jpg
                    [thumb_url] => https://pictures.escapia.com/GAISPR/228114/5927550080.jpg
                     => 
                    [sort] => 17
                )

            [18] => stdClass Object
                (
                    [id] => 3966713
                    [unit_id] => 104
                    [url] => https://pictures.escapia.com/GAISPR/228114/1081530471.jpg
                    [thumb_url] => https://pictures.escapia.com/GAISPR/228114/1081530471.jpg
                     => 
                    [sort] => 18
                )

            [19] => stdClass Object
                (
                    [id] => 3966714
                    [unit_id] => 104
                    [url] => https://pictures.escapia.com/GAISPR/228114/3796740474.jpg
                    [thumb_url] => https://pictures.escapia.com/GAISPR/228114/3796740474.jpg
                     => 
                    [sort] => 19
                )

            [20] => stdClass Object
                (
                    [id] => 3966715
                    [unit_id] => 104
                    [url] => https://pictures.escapia.com/GAISPR/228114/7663540823.jpg
                    [thumb_url] => https://pictures.escapia.com/GAISPR/228114/7663540823.jpg
                     => 
                    [sort] => 20
                )

            [21] => stdClass Object
                (
                    [id] => 3966716
                    [unit_id] => 104
                    [url] => https://pictures.escapia.com/GAISPR/228114/9692250479.jpg
                    [thumb_url] => https://pictures.escapia.com/GAISPR/228114/9692250479.jpg
                     => 
                    [sort] => 21
                )

            [22] => stdClass Object
                (
                    [id] => 3966717
                    [unit_id] => 104
                    [url] => https://pictures.escapia.com/GAISPR/228114/9801720303.jpg
                    [thumb_url] => https://pictures.escapia.com/GAISPR/228114/9801720303.jpg
                     => 
                    [sort] => 22
                )

            [23] => stdClass Object
                (
                    [id] => 3966718
                    [unit_id] => 104
                    [url] => https://pictures.escapia.com/GAISPR/228114/7228210952.jpg
                    [thumb_url] => https://pictures.escapia.com/GAISPR/228114/7228210952.jpg
                     => 
                    [sort] => 23
                )

            [24] => stdClass Object
                (
                    [id] => 3966719
                    [unit_id] => 104
                    [url] => https://pictures.escapia.com/GAISPR/228114/4164340503.jpg
                    [thumb_url] => https://pictures.escapia.com/GAISPR/228114/4164340503.jpg
                     => 
                    [sort] => 24
                )

            [25] => stdClass Object
                (
                    [id] => 3966720
                    [unit_id] => 104
                    [url] => https://pictures.escapia.com/GAISPR/228114/2375240977.jpg
                    [thumb_url] => https://pictures.escapia.com/GAISPR/228114/2375240977.jpg
                     => 
                    [sort] => 25
                )

            [26] => stdClass Object
                (
                    [id] => 3966721
                    [unit_id] => 104
                    [url] => https://pictures.escapia.com/GAISPR/228114/2670620964.jpg
                    [thumb_url] => https://pictures.escapia.com/GAISPR/228114/2670620964.jpg
                     => 
                    [sort] => 26
                )

            [27] => stdClass Object
                (
                    [id] => 3966722
                    [unit_id] => 104
                    [url] => https://pictures.escapia.com/GAISPR/228114/0841730582.jpg
                    [thumb_url] => https://pictures.escapia.com/GAISPR/228114/0841730582.jpg
                     => 
                    [sort] => 27
                )

            [28] => stdClass Object
                (
                    [id] => 3966723
                    [unit_id] => 104
                    [url] => https://pictures.escapia.com/GAISPR/228114/6083340585.jpg
                    [thumb_url] => https://pictures.escapia.com/GAISPR/228114/6083340585.jpg
                     => 
                    [sort] => 28
                )

            [29] => stdClass Object
                (
                    [id] => 3966724
                    [unit_id] => 104
                    [url] => https://pictures.escapia.com/GAISPR/228114/9289710587.jpg
                    [thumb_url] => https://pictures.escapia.com/GAISPR/228114/9289710587.jpg
                     => 
                    [sort] => 29
                )

            [30] => stdClass Object
                (
                    [id] => 3966725
                    [unit_id] => 104
                    [url] => https://pictures.escapia.com/GAISPR/228114/8545270783.jpg
                    [thumb_url] => https://pictures.escapia.com/GAISPR/228114/8545270783.jpg
                     => 
                    [sort] => 30
                )

            [31] => stdClass Object
                (
                    [id] => 3966726
                    [unit_id] => 104
                    [url] => https://pictures.escapia.com/GAISPR/228114/6872770035.jpg
                    [thumb_url] => https://pictures.escapia.com/GAISPR/228114/6872770035.jpg
                     => 
                    [sort] => 31
                )

            [32] => stdClass Object
                (
                    [id] => 3966727
                    [unit_id] => 104
                    [url] => https://pictures.escapia.com/GAISPR/228114/4583270810.jpg
                    [thumb_url] => https://pictures.escapia.com/GAISPR/228114/4583270810.jpg
                     => 
                    [sort] => 32
                )

            [33] => stdClass Object
                (
                    [id] => 3966728
                    [unit_id] => 104
                    [url] => https://pictures.escapia.com/GAISPR/228114/8596430812.jpg
                    [thumb_url] => https://pictures.escapia.com/GAISPR/228114/8596430812.jpg
                     => 
                    [sort] => 33
                )

            [34] => stdClass Object
                (
                    [id] => 3966729
                    [unit_id] => 104
                    [url] => https://pictures.escapia.com/GAISPR/228114/7691360813.jpg
                    [thumb_url] => https://pictures.escapia.com/GAISPR/228114/7691360813.jpg
                     => 
                    [sort] => 34
                )

            [35] => stdClass Object
                (
                    [id] => 3966730
                    [unit_id] => 104
                    [url] => https://pictures.escapia.com/GAISPR/228114/7784800211.jpg
                    [thumb_url] => https://pictures.escapia.com/GAISPR/228114/7784800211.jpg
                     => 
                    [sort] => 35
                )

            [36] => stdClass Object
                (
                    [id] => 3966731
                    [unit_id] => 104
                    [url] => https://pictures.escapia.com/GAISPR/228114/1492730586.jpg
                    [thumb_url] => https://pictures.escapia.com/GAISPR/228114/1492730586.jpg
                     => 
                    [sort] => 36
                )

            [37] => stdClass Object
                (
                    [id] => 3966732
                    [unit_id] => 104
                    [url] => https://pictures.escapia.com/GAISPR/228114/1428260580.jpg
                    [thumb_url] => https://pictures.escapia.com/GAISPR/228114/1428260580.jpg
                     => 
                    [sort] => 37
                )

            [38] => stdClass Object
                (
                    [id] => 3966733
                    [unit_id] => 104
                    [url] => https://pictures.escapia.com/GAISPR/228114/7689420581.jpg
                    [thumb_url] => https://pictures.escapia.com/GAISPR/228114/7689420581.jpg
                     => 
                    [sort] => 38
                )

            [39] => stdClass Object
                (
                    [id] => 3966734
                    [unit_id] => 104
                    [url] => https://pictures.escapia.com/GAISPR/228114/7998900567.jpg
                    [thumb_url] => https://pictures.escapia.com/GAISPR/228114/7998900567.jpg
                     => 
                    [sort] => 39
                )

            [40] => stdClass Object
                (
                    [id] => 3966735
                    [unit_id] => 104
                    [url] => https://pictures.escapia.com/GAISPR/228114/2914410038.jpg
                    [thumb_url] => https://pictures.escapia.com/GAISPR/228114/2914410038.jpg
                     => 
                    [sort] => 40
                )

            [41] => stdClass Object
                (
                    [id] => 3966736
                    [unit_id] => 104
                    [url] => https://pictures.escapia.com/GAISPR/228114/7277020979.jpg
                    [thumb_url] => https://pictures.escapia.com/GAISPR/228114/7277020979.jpg
                     => 
                    [sort] => 41
                )

        )

    [rates] => Array
        (
            [0] => stdClass Object
                (
                    [id] => 1360769
                    [start_date] => 2022-01-10
                    [end_date] => 2022-03-31
                    [amount] => 366.25
                    [chargebasis] => Daily
                    [unit_id] => 104
                )

            [1] => stdClass Object
                (
                    [id] => 1360770
                    [start_date] => 2022-01-10
                    [end_date] => 2022-03-31
                    [amount] => 2488.7499
                    [chargebasis] => Weekly
                    [unit_id] => 104
                )

            [2] => stdClass Object
                (
                    [id] => 1360771
                    [start_date] => 2022-01-10
                    [end_date] => 2022-03-31
                    [amount] => 10487.499
                    [chargebasis] => Monthly
                    [unit_id] => 104
                )

            [3] => stdClass Object
                (
                    [id] => 1360772
                    [start_date] => 2022-04-01
                    [end_date] => 2022-12-14
                    [amount] => 364.065
                    [chargebasis] => Daily
                    [unit_id] => 104
                )

            [4] => stdClass Object
                (
                    [id] => 1360773
                    [start_date] => 2022-04-01
                    [end_date] => 2022-12-14
                    [amount] => 2473.4598
                    [chargebasis] => Weekly
                    [unit_id] => 104
                )

            [5] => stdClass Object
                (
                    [id] => 1360774
                    [start_date] => 2022-04-01
                    [end_date] => 2022-12-14
                    [amount] => 10421.979
                    [chargebasis] => Monthly
                    [unit_id] => 104
                )

        )

    [attributes] => Array
        (
            [0] => stdClass Object
                (
                    [id] => 7853420
                    [name] => queen
                    [value] => 
                    [group] => AMENITY
                    [unit_id] => 104
                )

            [1] => stdClass Object
                (
                    [id] => 7853421
                    [name] => sleep sofa /futon
                    [value] => 
                    [group] => AMENITY
                    [unit_id] => 104
                )

            [2] => stdClass Object
                (
                    [id] => 7853422
                    [name] => Satellite / Cable
                    [value] => 
                    [group] => ENTERTAINMENT
                    [unit_id] => 104
                )

            [3] => stdClass Object
                (
                    [id] => 7853423
                    [name] => Television
                    [value] => 
                    [group] => ENTERTAINMENT
                    [unit_id] => 104
                )

            [4] => stdClass Object
                (
                    [id] => 7853424
                    [name] => Clothes Dryer
                    [value] => 
                    [group] => GENERAL
                    [unit_id] => 104
                )

            [5] => stdClass Object
                (
                    [id] => 7853425
                    [name] => Hair Dryer
                    [value] => 
                    [group] => GENERAL
                    [unit_id] => 104
                )

            [6] => stdClass Object
                (
                    [id] => 7853426
                    [name] => Internet
                    [value] => 
                    [group] => GENERAL
                    [unit_id] => 104
                )

            [7] => stdClass Object
                (
                    [id] => 7853427
                    [name] => Iron & Board
                    [value] => 
                    [group] => GENERAL
                    [unit_id] => 104
                )

            [8] => stdClass Object
                (
                    [id] => 7853428
                    [name] => Linens Provided
                    [value] => 
                    [group] => GENERAL
                    [unit_id] => 104
                )

            [9] => stdClass Object
                (
                    [id] => 7853429
                    [name] => Living Room
                    [value] => 
                    [group] => GENERAL
                    [unit_id] => 104
                )

            [10] => stdClass Object
                (
                    [id] => 7853430
                    [name] => Parking
                    [value] => 
                    [group] => GENERAL
                    [unit_id] => 104
                )

            [11] => stdClass Object
                (
                    [id] => 7853431
                    [name] => Towels Provided
                    [value] => 
                    [group] => GENERAL
                    [unit_id] => 104
                )

            [12] => stdClass Object
                (
                    [id] => 7853432
                    [name] => Washing Machine
                    [value] => 
                    [group] => GENERAL
                    [unit_id] => 104
                )

            [13] => stdClass Object
                (
                    [id] => 7853433
                    [name] => Wifi
                    [value] => 
                    [group] => GENERAL
                    [unit_id] => 104
                )

            [14] => stdClass Object
                (
                    [id] => 7853434
                    [name] => Free Wifi
                    [value] => 
                    [group] => GENERAL
                    [unit_id] => 104
                )

            [15] => stdClass Object
                (
                    [id] => 7853435
                    [name] => Coffee Maker
                    [value] => 
                    [group] => KITCHEN
                    [unit_id] => 104
                )

            [16] => stdClass Object
                (
                    [id] => 7853436
                    [name] => Dishes & Utensils
                    [value] => 
                    [group] => KITCHEN
                    [unit_id] => 104
                )

            [17] => stdClass Object
                (
                    [id] => 7853437
                    [name] => Dishwasher
                    [value] => 
                    [group] => KITCHEN
                    [unit_id] => 104
                )

            [18] => stdClass Object
                (
                    [id] => 7853438
                    [name] => Kitchen
                    [value] => 
                    [group] => KITCHEN
                    [unit_id] => 104
                )

            [19] => stdClass Object
                (
                    [id] => 7853439
                    [name] => Microwave
                    [value] => 
                    [group] => KITCHEN
                    [unit_id] => 104
                )

            [20] => stdClass Object
                (
                    [id] => 7853440
                    [name] => Oven
                    [value] => 
                    [group] => KITCHEN
                    [unit_id] => 104
                )

            [21] => stdClass Object
                (
                    [id] => 7853441
                    [name] => Refrigerator
                    [value] => 
                    [group] => KITCHEN
                    [unit_id] => 104
                )

            [22] => stdClass Object
                (
                    [id] => 7853442
                    [name] => Stove
                    [value] => 
                    [group] => KITCHEN
                    [unit_id] => 104
                )

            [23] => stdClass Object
                (
                    [id] => 7853443
                    [name] => Toaster
                    [value] => 
                    [group] => KITCHEN
                    [unit_id] => 104
                )

            [24] => stdClass Object
                (
                    [id] => 7853444
                    [name] => Dining Table
                    [value] => 
                    [group] => KITCHEN
                    [unit_id] => 104
                )

            [25] => stdClass Object
                (
                    [id] => 7853445
                    [name] => Beachfront
                    [value] => 
                    [group] => LOCATION_TYPE
                    [unit_id] => 104
                )

            [26] => stdClass Object
                (
                    [id] => 7853446
                    [name] => Downtown
                    [value] => 
                    [group] => LOCATION_TYPE
                    [unit_id] => 104
                )

            [27] => stdClass Object
                (
                    [id] => 7853447
                    [name] => Near The Ocean
                    [value] => 
                    [group] => LOCATION_TYPE
                    [unit_id] => 104
                )

            [28] => stdClass Object
                (
                    [id] => 7853448
                    [name] => Ocean View
                    [value] => 
                    [group] => LOCATION_TYPE
                    [unit_id] => 104
                )

            [29] => stdClass Object
                (
                    [id] => 7853449
                    [name] => Oceanfront
                    [value] => 
                    [group] => LOCATION_TYPE
                    [unit_id] => 104
                )

            [30] => stdClass Object
                (
                    [id] => 7853450
                    [name] => Resort
                    [value] => 
                    [group] => LOCATION_TYPE
                    [unit_id] => 104
                )

            [31] => stdClass Object
                (
                    [id] => 7853451
                    [name] => Balcony
                    [value] => 
                    [group] => OUTSIDE
                    [unit_id] => 104
                )

            [32] => stdClass Object
                (
                    [id] => 7853452
                    [name] => Deck / Patio
                    [value] => 
                    [group] => OUTSIDE
                    [unit_id] => 104
                )

            [33] => stdClass Object
                (
                    [id] => 7853453
                    [name] => Heated Pool
                    [value] => 
                    [group] => POOL_SPA
                    [unit_id] => 104
                )

            [34] => stdClass Object
                (
                    [id] => 7853454
                    [name] => bedroom
                    [value] => 
                    [group] => ROOM_SUBTYPE
                    [unit_id] => 104
                )

            [35] => stdClass Object
                (
                    [id] => 7853455
                    [name] => children welcome
                    [value] => 
                    [group] => SUITABILITY
                    [unit_id] => 104
                )

            [36] => stdClass Object
                (
                    [id] => 7853456
                    [name] => non smoking only
                    [value] => 
                    [group] => SUITABILITY
                    [unit_id] => 104
                )

            [37] => stdClass Object
                (
                    [id] => 7853457
                    [name] => pets not allowed
                    [value] => 
                    [group] => SUITABILITY
                    [unit_id] => 104
                )

            [38] => stdClass Object
                (
                    [id] => 7853458
                    [name] => flexible
                    [value] => 
                    [group] => ARRIVAL_DAY
                    [unit_id] => 104
                )

            [39] => stdClass Object
                (
                    [id] => 7853459
                    [name] => Smoke detectors
                    [value] => 
                    [group] => Safety
                    [unit_id] => 104
                )

            [40] => stdClass Object
                (
                    [id] => 7853460
                    [name] => Emergency exit route
                    [value] => 
                    [group] => Safety
                    [unit_id] => 104
                )

            [41] => stdClass Object
                (
                    [id] => 7853461
                    [name] => Emergency phone number: Medical
                    [value] => 
                    [group] => Safety
                    [unit_id] => 104
                )

            [42] => stdClass Object
                (
                    [id] => 7853462
                    [name] => Emergency phone number: Police
                    [value] => 
                    [group] => Safety
                    [unit_id] => 104
                )

            [43] => stdClass Object
                (
                    [id] => 7853463
                    [name] => Emergency phone number: Fire
                    [value] => 
                    [group] => Safety
                    [unit_id] => 104
                )

            [44] => stdClass Object
                (
                    [id] => 7853464
                    [name] => Enhanced cleaning practices
                    [value] => 
                    [group] => Health and Safety
                    [unit_id] => 104
                )

            [45] => stdClass Object
                (
                    [id] => 7853465
                    [name] => Clean with disinfectant
                    [value] => 
                    [group] => Health and Safety
                    [unit_id] => 104
                )

            [46] => stdClass Object
                (
                    [id] => 7853466
                    [name] => No-contact check-in and check-out
                    [value] => 
                    [group] => Health and Safety
                    [unit_id] => 104
                )

            [47] => stdClass Object
                (
                    [id] => 7853467
                    [name] => High touch surfaces cleaned with disinfectant
                    [value] => 
                    [group] => Health and Safety
                    [unit_id] => 104
                )

            [48] => stdClass Object
                (
                    [id] => 7853468
                    [name] => Towels and bedding washed in water that's at least 60sC/140sF
                    [value] => 
                    [group] => Health and Safety
                    [unit_id] => 104
                )

            [49] => stdClass Object
                (
                    [id] => 7853469
                    [name] => Blender
                    [value] => 
                    [group] => Kitchen
                    [unit_id] => 104
                )

            [50] => stdClass Object
                (
                    [id] => 7853470
                    [name] => Beach Chairs
                    [value] => 
                    [group] => Outdoor
                    [unit_id] => 104
                )

            [51] => stdClass Object
                (
                    [id] => 7853471
                    [name] => Bike Path
                    [value] => 
                    [group] => Outdoor
                    [unit_id] => 104
                )

            [52] => stdClass Object
                (
                    [id] => 7853472
                    [name] => Beach Towels
                    [value] => 
                    [group] => Outdoor
                    [unit_id] => 104
                )

            [53] => stdClass Object
                (
                    [id] => 7853473
                    [name] => On Beach
                    [value] => 
                    [group] => Geographic
                    [unit_id] => 104
                )

            [54] => stdClass Object
                (
                    [id] => 7853474
                    [name] => Near Beach
                    [value] => 
                    [group] => Geographic
                    [unit_id] => 104
                )

            [55] => stdClass Object
                (
                    [id] => 7853475
                    [name] => Close to Town
                    [value] => 
                    [group] => Geographic
                    [unit_id] => 104
                )

            [56] => stdClass Object
                (
                    [id] => 7853476
                    [name] => Kapaa Shore Resort
                    [value] => 
                    [group] => Geographic
                    [unit_id] => 104
                )

            [57] => stdClass Object
                (
                    [id] => 7853477
                    [name] => Coconut Coast
                    [value] => 
                    [group] => Geographic
                    [unit_id] => 104
                )

            [58] => stdClass Object
                (
                    [id] => 7853478
                    [name] => Kapa'a
                    [value] => 
                    [group] => Geographic
                    [unit_id] => 104
                )

        )

    [avail] => Array
        (
            [0] => stdClass Object
                (
                    [id] => 32262598
                    [start_date] => 2021-12-01
                    [end_date] => 2022-03-02
                    [unit_id] => 104
                )

        )

    [reviews] => Array
        (
        )

    [rateaddons] => Array
        (
        )

    [unit_meta] => Array
        (
            [0] => stdClass Object
                (
                    [id] => 496389
                    [unit_id] => 104
                    [key] => Custom3
                    [value] => Please Contact Garden Island Properties for Door Code.
                )

            [1] => stdClass Object
                (
                    [id] => 496390
                    [unit_id] => 104
                    [key] => DisplayRate
                    [value] => testStarting from $249 per night
                )

            [2] => stdClass Object
                (
                    [id] => 496391
                    [unit_id] => 104
                    [key] => Location
                    [value] => Kapaa
                )

            [3] => stdClass Object
                (
                    [id] => 496392
                    [unit_id] => 104
                    [key] => LocationField
                    [value] => Garden Island Properties, LLC
                )

            [4] => stdClass Object
                (
                    [id] => 496393
                    [unit_id] => 104
                    [key] => Property Type
                    [value] => Condo
                )

            [5] => stdClass Object
                (
                    [id] => 496394
                    [unit_id] => 104
                    [key] => View
                    [value] => Ocean View
                )

            [6] => stdClass Object
                (
                    [id] => 496395
                    [unit_id] => 104
                    [key] => TextItems
                    [value] => a:3:{i:0;a:2:{s:5:"Title";s:16:"Long Description";s:11:"Description";s:3101:"Kapaa Shore Resort on the "Coconut Coast", Kapaa, Kauai Vacation Rental.
Two bedrooms, two bath, ocean-view 3rd (top floor) unit with washer and dryer in the unit.
New Bedroom Fu
                )

            [7] => stdClass Object
                (
                    [id] => 496396
                    [unit_id] => 104
                    [key] => MinLOS
                    [value] => 4
                )

            [8] => stdClass Object
                (
                    [id] => 496397
                    [unit_id] => 104
                    [key] => StayContext
                    [value] => Checkin
                )

            [9] => stdClass Object
                (
                    [id] => 496398
                    [unit_id] => 104
                    [key] => StayDays
                    [value] => a:7:{i:0;s:3:"Mon";i:1;s:3:"Tue";i:2;s:4:"Weds";i:3;s:4:"Thur";i:4;s:3:"Fri";i:5;s:3:"Sat";i:6;s:3:"Sun";}
                )

            [10] => stdClass Object
                (
                    [id] => 496399
                    [unit_id] => 104
                    [key] => NumberFloors
                    [value] => 
                )

            [11] => stdClass Object
                (
                    [id] => 496400
                    [unit_id] => 104
                    [key] => AreaSquareFeet
                    [value] => 1000
                )

            [12] => stdClass Object
                (
                    [id] => 496401
                    [unit_id] => 104
                    [key] => CheckInTime
                    [value] => 15:00
                )

            [13] => stdClass Object
                (
                    [id] => 496402
                    [unit_id] => 104
                    [key] => CheckOutTime
                    [value] => 10:00
                )

            [14] => stdClass Object
                (
                    [id] => 496403
                    [unit_id] => 104
                    [key] => SmokingAllowed
                    [value] => 
                )

            [15] => stdClass Object
                (
                    [id] => 496404
                    [unit_id] => 104
                    [key] => VirtualTourURL
                    [value] => 
                )

        )

    [minnights] => Array
        (
            [0] => stdClass Object
                (
                    [id] => 1408594
                    [start_date] => 2021-12-04
                    [end_date] => 2022-01-10
                    [prop_id] => 104
                    [nights] => 99
                    [rate_type] => 
                )

            [1] => stdClass Object
                (
                    [id] => 1408595
                    [start_date] => 2022-01-11
                    [end_date] => 2022-12-12
                    [prop_id] => 104
                    [nights] => 4
                    [rate_type] => 
                )

            [2] => stdClass Object
                (
                    [id] => 1408596
                    [start_date] => 2022-12-13
                    [end_date] => 2024-01-07
                    [prop_id] => 104
                    [nights] => 99
                    [rate_type] => 
                )

        )

    [manager] => stdClass Object
        (
            [id] => 1
            [ManagerID] => 1
            [Name] => Escapia
            [Vendor] => Escapia
            [Contract] => 
            [random] => 0
            [pms] => 
            [last_update] => 0000-00-00 00:00:00
        )

    [flipkey] => 
    [additonal] => stdClass Object
        (
            [Custom3] => Please Contact Garden Island Properties for Door Code.
            [DisplayRate] => testStarting from $249 per night
            [Location] => Kapaa
            [LocationField] => Garden Island Properties, LLC
            [Property Type] => Condo
            [View] => Ocean View
            [TextItems] => a:3:{i:0;a:2:{s:5:"Title";s:16:"Long Description";s:11:"Description";s:3101:"Kapaa Shore Resort on the "Coconut Coast", Kapaa, Kauai Vacation Rental.
Two bedrooms, two bath, ocean-view 3rd (top floor) unit with washer and dryer in the unit.
New Bedroom Fu
            [MinLOS] => 4
            [StayContext] => Checkin
            [StayDays] => Array
                (
                    [0] => Mon
                    [1] => Tue
                    [2] => Weds
                    [3] => Thur
                    [4] => Fri
                    [5] => Sat
                    [6] => Sun
                )

            [NumberFloors] => 
            [AreaSquareFeet] => 1000
            [CheckInTime] => 15:00
            [CheckOutTime] => 10:00
            [SmokingAllowed] => 
            [VirtualTourURL] => 
        )

    [checkinout] => Array
        (
        )

    [special] => Array
        (
        )

    [hasSpecial] => 
)
                    
Holiday Rates apply between 12/15 - 1/5