kaha lani resort #123 oceanfront, walk to beach, sunrise views, washer/dryer
2 Bedroom(s) | 2 Bathroom(s) | Sleeps 6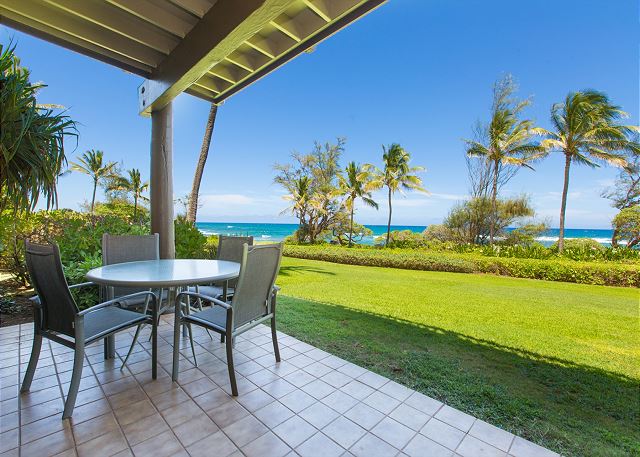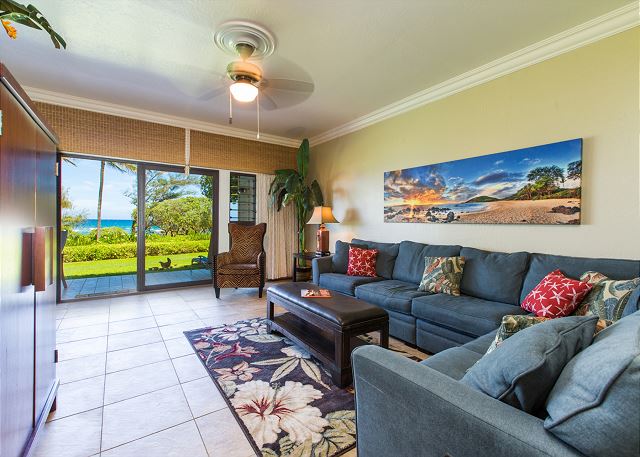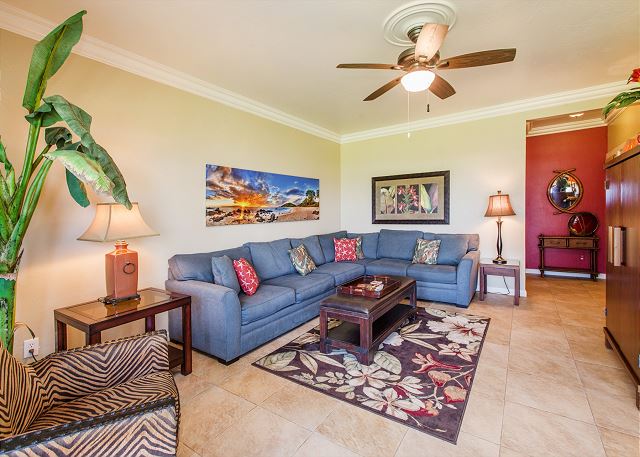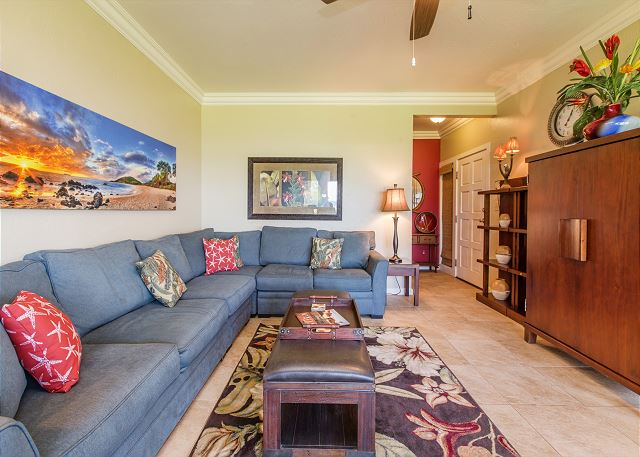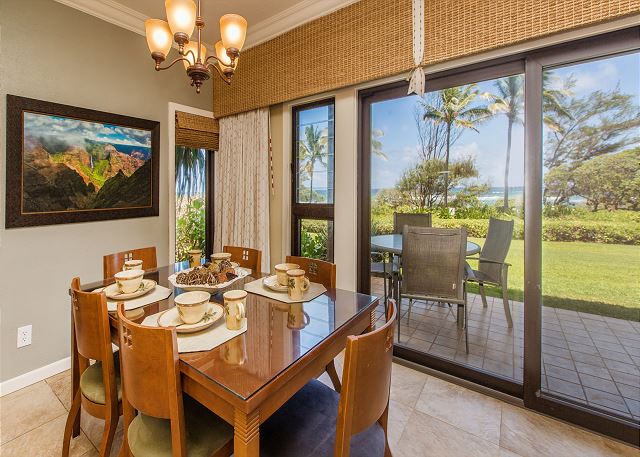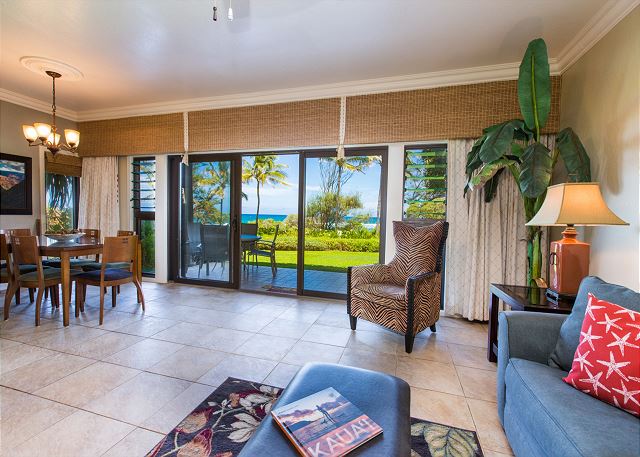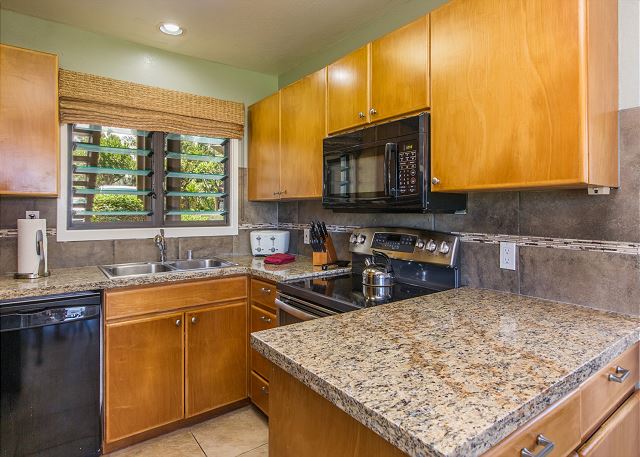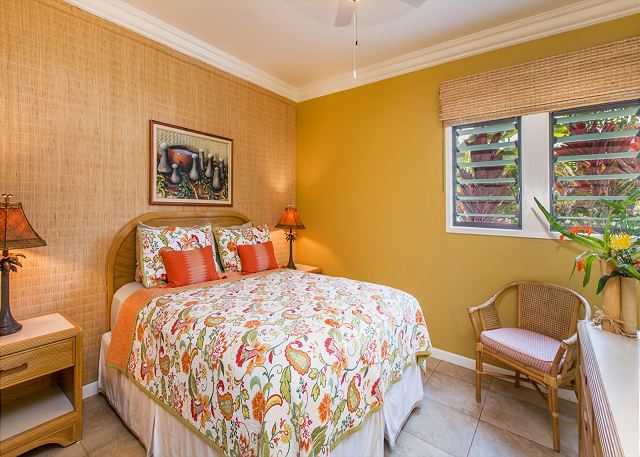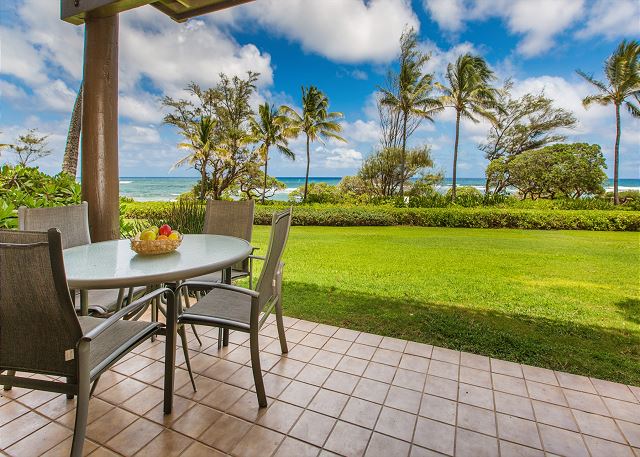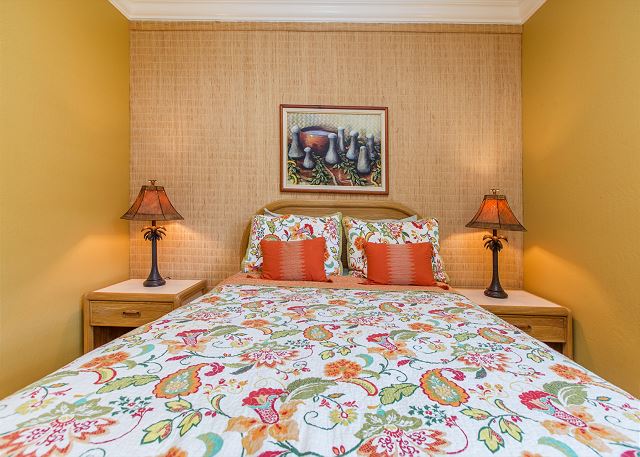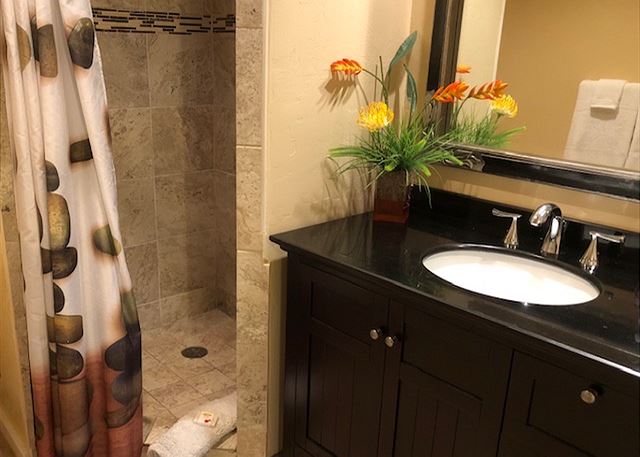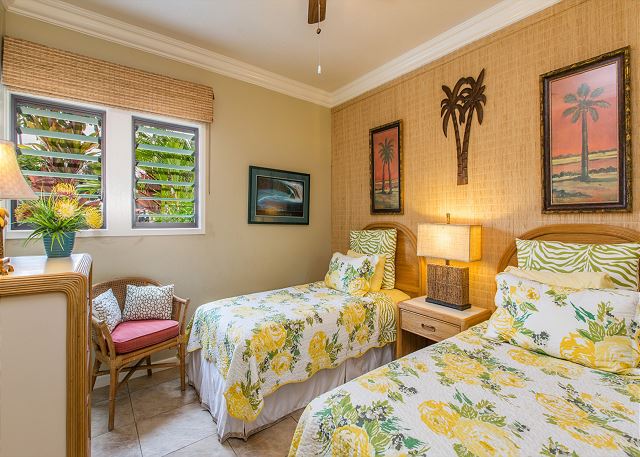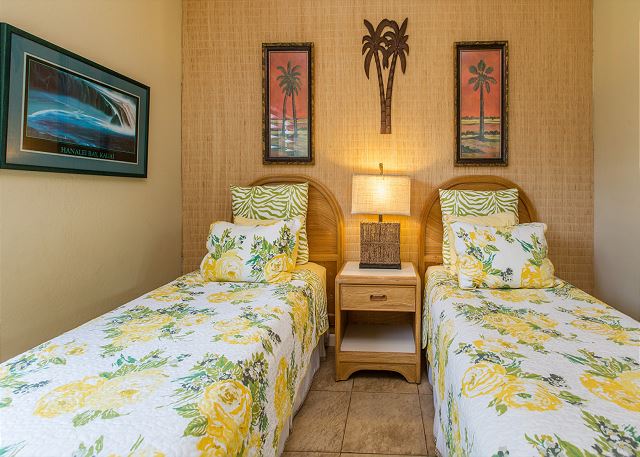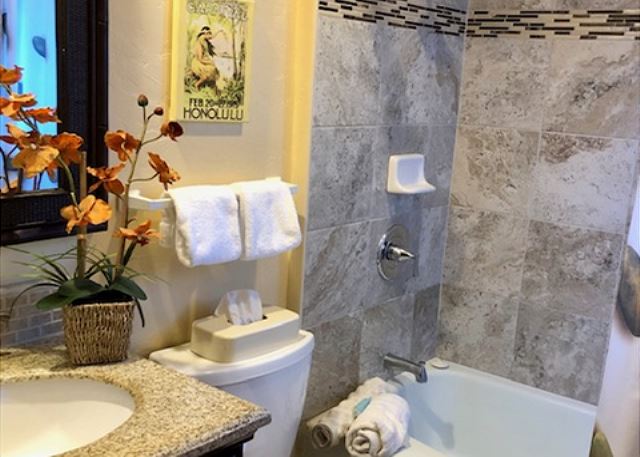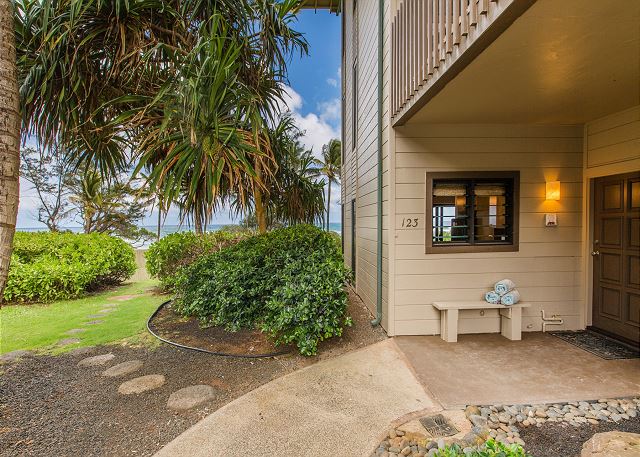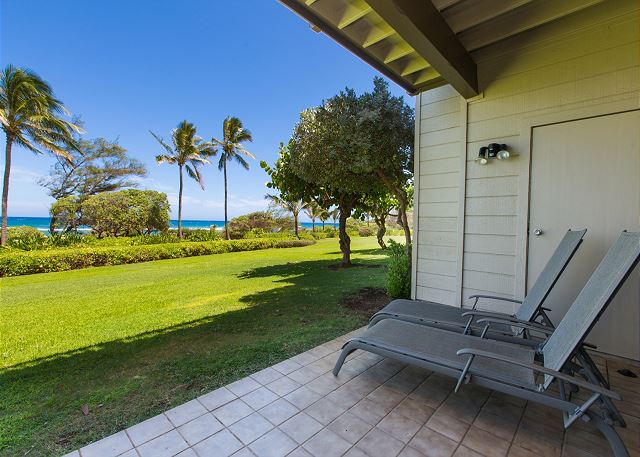 Kaha Lani Resort #123, Ground Floor, Oceanfront Kauai Vacation Rental, Wailua, Kauai.



We have implemented enhanced cleaning and disinfecting guidelines as well as infection prevention advice provided by the CDC. This is a Contactless Check-In Property.



Very private ground floor end unit, no stairs from parking lot (or in unit).

Walk right up to your front door and out your back patio which faces the ocean and your own tropical paradise.

Full kitchen with granite counter tops, appliances and tile surrounds in both bathrooms.

Two bedroom, 2 bath with queen bed and two twins, full size sofa sleeper, full kitchen, washer/dryer, ceiling fans, tiled floors.

Complimentary WiFi & Parking.

Free local and long distance calls to the US mainland.

Outdoor lanai with patio table, chairs & chaise lounges.

Every condo is a non-smoking unit.



In Hawaiian, "Kaha Lani" means heavenly place. And that's what you'll find at this Kauai condo oceanfront resort. Stroll along miles of uncrowded white sand beach and lush tropical landscaping. Coconut palms rustling in the gentle trade winds. Come & enjoy the quiet privacy of this intimate condominium on beautiful Kauai's Royal Coconut Coast. Sun yourself by the swimming pool or explore the sandy shoreline; just steps away. Gas BBQ grills are located poolside, tennis courts.



Sliding glass doors open on to the private lanai and to the relaxing sounds of the ocean, miles of white sandy beach, and spectacular sunrise views. A Kaha Lani vacation rental condominium is a great spot to watch whales breaching from the months of November to April. If peace & quiet with easy access to all of the islands activities is what you're searching for, this is the place. Take a sunrise walk along this beautiful Kauai coastline or go for a late evening swim. Enjoy one of Kauai's favorite "hidden secrets" at the Kaha Lani Resort!



Located between Wailua Golf Course on the south end and Lydgate Beach Park and Kamalani Playground to the north, this is an ideal location for the traveler wanting a vacation away from the hustle and bustle of everyday life yet just a few minutes away from shopping & restaurants. Walk next door to Lydgate Beach Park on the walk/bike path and enjoy fantastic snorkeling and swimming in one of two lagoons - the baby lagoon is perfect for the toddler. Stroll through the beach park to Kamalani Playground - a community built playground with its own volcano tube! Next door is Wailua Golf Course , rated one of the top municipal golf courses in the nation and one of the few courses on Kauai where you can walk the whole course. Affordable rates, location and amenities make this one of the finest Kauai vacation rentals.



Kaha Lani is just minutes away from the Lihue Airport and the town of Kapaa. With a short drive to the town of Kapaa/Wailua you will find grocery stores, boutiques, movie theatres and first class restaurants, making this an ideal location for couples or families alike. The avid outdoors person can kayak up the Wailua River, hike the Sleeping Giant Trail, visit Opaekaa Falls, golf next door at Wailua Golf Course or just sun, swim and snorkel in your own back yard.



Holiday Rates apply from 12/15 to 1/5 with a 7 night minimum stay.

TAT ID#- TA-002-549-5552-01
Amenities

Combination tub/shower
Queen
Shower
Sleep sofa /futon
Toilet
Twin/ single
Satellite / Cable
Television
Hair Dryer
Iron & Board
Parking
Towels Provided
Coffee Maker
Dishes & Utensils
Dishwasher
Kitchen
Microwave
Oven
Pantry Items
Refrigerator
Stove
Toaster
Beach View
Beachfront
Near The Ocean
Ocean View
Oceanfront
Resort
Water View
Deck / Patio
Lawn / Garden
Outdoor Grill
Tennis
Private Pool
Bedroom
Children welcome
Non smoking only
Pets not allowed
Flexible
Recommended
Dining Area
Smoke detectors
Emergency phone number: Medical
Emergency phone number: Police
Emergency phone number: Fire
Enhanced cleaning practices
Clean with disinfectant
No-contact check-in and check-out
High touch surfaces cleaned with disinfectant
Towels and bedding washed in water that's at least 60sC/140sF
1 day (24 hours)
Cookware
Blender
Ceiling Fans
Washer & Dryer
Wifi
Beach Towels
Hair Dryer
Patio
Gas Grill
Private Pool
Tennis
Beach
Beach Chairs
Bike Path
Lanai
Beach Towels
On Beach
Near Beach
Close to Town
Kaha Lani Resort
---
Perfect Location!
Oct 04, 2018
We had a wonderful time exploring Kauai while staying in this really nice unit. The place had everything we needed and was great for 2 couples staying together. Every morning we were treated to an incredible sunrise and so enjoyed being steps from the beach. We were there during a hurricane, which made the waters to rough to go in, but what a Kodak moment with all of mother nature's fury. This place was very convenient to many destinations and we took advantage of every opportunity to do things. The weather was never a problem. As they say wait a few minutes and it will change, which it did, we never missed an outing. Make your exploring times around the work traffic and you will be able to see the whole island easily. This unit is in fairly good condition and was clean and welcoming. The cons are if your planning on cooking, you need everything. All spices were rock hard and unusable. There were a few paper goods provided, but you need paper plates and probably more paper towels for a week visit. The pots and pans have seen better days and unfortunately stick pretty good. I suggest Pam cooking spray be on your grocery list. Also there is no air conditioning, but fans are provided. The place would feel really humid when we would return and had a musty smell. Opening windows and airing out was all it needed. Lastly, the clothes dryer didn't seem to work properly, but it could have been just the operator..Overall, we had an amazing time and would rebook this place in a flash. We didn't expect what we got for what we paid. One of the best vacations ever!
---
Excellent
Jul 01, 2018
Thank you for a wonderful condo. We have rented numerous units in various locations and this unit is by far one of the best. It is so very well equipped with everything you need from great beach towels, beach chairs and coolers to a kitchen that has everything you could need. With 3 grandkids, having the in-unit washer and dryer was a huge bonus. Location and views are perfect. Thank you for a wonderful two weeks.
---
Quiet and convenient with GREAT views!
May 22, 2018
We stayed here for almost a week in early May. We took advantage of the walking path, which makes for an easy walk into town for dinner. The beach and snorkel area were both filled with debris from the recent island flooding, but we found beaches in Kapaa and on the south side that weren't affected. The condo itself was really well appointed and comfortable. We didn't bring any kids, but it would be a perfect spot for a family too--lots of room to run on the lawn. The view is even better than the pictures show. We had a great time!
---
Nice view but old apartment
Jan 21, 2018
It is with a fantastic sea view and we even saw whales. But the apartment is old (sofa, furniture,...) and cupboards in the kitchen smelt very bad.However, the kitchen is well equiped and the beds are OK and confortable.Would definitely need a strong refreshment to be perfect.
---
Nice resort - great location.
Nov 08, 2017
Nice unit, better than the photos. The view is incredible. Loved waking up to the sunrise every morning. Location was great, walkable to town and shops. Nice beach right out the door. I would stay again! VERY clean with lots of towels, plenty of cookware etc. ( cons - the dryer didn't work well, and made the unit damp when used. )
---
Absolutely PERFECT!
May 24, 2017
Everything about this rental was wonderful 🙂 Many people told us to stay on the South Shore, but a friend recommended the East Shore for it's more locals-feel and more central location - and she was ABSOLUTELY right. The East Shore has many more restaurants, bars, shops, etc. than either the South Shore or North Shore. Not to mention, the variety provides more price options too, rather than being stuck with only expensive choices (like on the South Shore). A few past reviews complained that the condo needed some updating, which it definitely seems the owners have made since then. The beds were comfortable, the kitchen has appliance and counter upgrades, the GIANT couch is great for a group of people, etc. The view is beautiful and the grassy area outside the huge sliding door felt like an extension of our space. The entire complex was very quiet and private. Lydgate Park, which is only a 5 minute walk or 2 minute drive, was so lovely! Beautiful rock-enclosed area for safe swimming, lovely beach, gorgeous colorful fish you can see without using a snorkel mask (although I highly recommend using a mask so you can really see the intensity of their colors). The condo provided everything we needed for our beach days (other than snorkel gear): chairs, coolers, umbrella, large beach towels, kids toys, boogie boards, etc. We will definitely be back. My mom said she wouldn't even be interested in looking at other places when we plan our next trip 🙂 THANK YOU KAHA LANI!
---
Kana Lani , a beautiful vacation
Mar 04, 2017
Our two week stay was a great Kauai escape. The Kaha Lani unit 123 was perfectly located, with the beach out front and the parks all around. I could not find any resort on Kauai that was better located for beach, shopping, quiet setting and beautiful grounds. The suite was as described, not opulent but well appointed and everything worked fine and was clean. The only issue was the telephone which was static and didn't always work. There were security people on site but they were friendly and non intrusive. We didn't have any interaction with the owner/manager other than the booking etc. which went smoothly.We would definitely recommend this resort to anyone looking for a perfect Hawaiian experience.
---
Awesome vacation at Kaha Lani
Jan 23, 2017
This is a great property: very pretty, well maintained and has all the necessities. The location is fabulous - right on the beach and in between two epic playgrounds. We stayed with 2 kids and I think this was one of the best vacation we had so far as a family. Thank you!
---
kaha lani 123
Nov 21, 2016
Good location and very quiet, room needs some TLC, on the first day we had to put the door handle together on the bathroom door, the tub would not drain, and several electrical outlets are very loose and should be fixed immediately, the lack of AC is noticeable at night in the bedrooms and the louvers on the windows can not be locked in various configurations for security. It was nice to have a washer and dryer in the unit but the dryer is not vented to the outside. All in all a nice place to rent that needs a bit of attention, we never could get the DVD player to work which would have been nice.
---
Wilcox Vacation at Kaha Lani Resort
Nov 17, 2016
Kaha Lani Resort #123 was a perfect spot for us to stay as it is located half way between Princeville and Lihue. It is on the ocean and and within walking distance to beaches which was very important to us. The property description was accurate with the location, layout and the condo was very clean and prepared for our stay. This is our third visit to Kauai and this location was the best. Kapaa has everything we needed as far as shopping and restaurants. We loved Bubba's Burgers and Shrimp Station. I would stay here again and would highly recommend it to those vacationing on this beautiful island.
---
Kaha Lani 123
Oct 12, 2016
This is the second time I've stayed in this condo with my family. It's roomy, well stocked and decorated, and makes you feel just like you were at home at the beach. Great location and easy to get to one side of the island or the other. Great management company and wonderful staff.
---
Beach Front condo
Jul 31, 2016
We stayed at the condo with our 3 young kids. The ground floor location was ideal for going out quick, send the kids out to play on the lawn and cleaning off the sand before coming back home. The condo is beautifully decorated and the kitchen has all the equipment needed. Washed and dryer in the unit are very useful too. We had s good time at the pool and exploring the island. The location is equally near/far from south and north, so you can go easily each way. Shops and restaurants in Lihue, wailua and Kapaa are nearby. Some beach equipment is in the unit.
Book Your Stay!
Select your arrival and departure dates below to reserve this unit.


April 2021

| S | M | T | W | T | F | S |
| --- | --- | --- | --- | --- | --- | --- |
| | | | | 01 | 02 | 03 |
| 04 | 05 | 06 | 07 | 08 | 09 | 10 |
| 11 | 12 | 13 | 14 | 15 | 16 | 17 |
| 18 | 19 | 20 | 21 | 22 | 23 | 24 |
| 25 | 26 | 27 | 28 | 29 | 30 | |
May 2021

| S | M | T | W | T | F | S |
| --- | --- | --- | --- | --- | --- | --- |
| | | | | | | 01 |
| 02 | 03 | 04 | 05 | 06 | 07 | 08 |
| 09 | 10 | 11 | 12 | 13 | 14 | 15 |
| 16 | 17 | 18 | 19 | 20 | 21 | 22 |
| 23 | 24 | 25 | 26 | 27 | 28 | 29 |
| 30 | 31 | | | | | |
June 2021

| S | M | T | W | T | F | S |
| --- | --- | --- | --- | --- | --- | --- |
| | | 01 | 02 | 03 | 04 | 05 |
| 06 | 07 | 08 | 09 | 10 | 11 | 12 |
| 13 | 14 | 15 | 16 | 17 | 18 | 19 |
| 20 | 21 | 22 | 23 | 24 | 25 | 26 |
| 27 | 28 | 29 | 30 | | | |
July 2021

| S | M | T | W | T | F | S |
| --- | --- | --- | --- | --- | --- | --- |
| | | | | 01 | 02 | 03 |
| 04 | 05 | 06 | 07 | 08 | 09 | 10 |
| 11 | 12 | 13 | 14 | 15 | 16 | 17 |
| 18 | 19 | 20 | 21 | 22 | 23 | 24 |
| 25 | 26 | 27 | 28 | 29 | 30 | 31 |
August 2021

| S | M | T | W | T | F | S |
| --- | --- | --- | --- | --- | --- | --- |
| 01 | 02 | 03 | 04 | 05 | 06 | 07 |
| 08 | 09 | 10 | 11 | 12 | 13 | 14 |
| 15 | 16 | 17 | 18 | 19 | 20 | 21 |
| 22 | 23 | 24 | 25 | 26 | 27 | 28 |
| 29 | 30 | 31 | | | | |
September 2021

| S | M | T | W | T | F | S |
| --- | --- | --- | --- | --- | --- | --- |
| | | | 01 | 02 | 03 | 04 |
| 05 | 06 | 07 | 08 | 09 | 10 | 11 |
| 12 | 13 | 14 | 15 | 16 | 17 | 18 |
| 19 | 20 | 21 | 22 | 23 | 24 | 25 |
| 26 | 27 | 28 | 29 | 30 | | |
October 2021

| S | M | T | W | T | F | S |
| --- | --- | --- | --- | --- | --- | --- |
| | | | | | 01 | 02 |
| 03 | 04 | 05 | 06 | 07 | 08 | 09 |
| 10 | 11 | 12 | 13 | 14 | 15 | 16 |
| 17 | 18 | 19 | 20 | 21 | 22 | 23 |
| 24 | 25 | 26 | 27 | 28 | 29 | 30 |
| 31 | | | | | | |
November 2021

| S | M | T | W | T | F | S |
| --- | --- | --- | --- | --- | --- | --- |
| | 01 | 02 | 03 | 04 | 05 | 06 |
| 07 | 08 | 09 | 10 | 11 | 12 | 13 |
| 14 | 15 | 16 | 17 | 18 | 19 | 20 |
| 21 | 22 | 23 | 24 | 25 | 26 | 27 |
| 28 | 29 | 30 | | | | |
December 2021

| S | M | T | W | T | F | S |
| --- | --- | --- | --- | --- | --- | --- |
| | | | 01 | 02 | 03 | 04 |
| 05 | 06 | 07 | 08 | 09 | 10 | 11 |
| 12 | 13 | 14 | 15 | 16 | 17 | 18 |
| 19 | 20 | 21 | 22 | 23 | 24 | 25 |
| 26 | 27 | 28 | 29 | 30 | 31 | |
January 2022

| S | M | T | W | T | F | S |
| --- | --- | --- | --- | --- | --- | --- |
| | | | | | | 01 |
| 02 | 03 | 04 | 05 | 06 | 07 | 08 |
| 09 | 10 | 11 | 12 | 13 | 14 | 15 |
| 16 | 17 | 18 | 19 | 20 | 21 | 22 |
| 23 | 24 | 25 | 26 | 27 | 28 | 29 |
| 30 | 31 | | | | | |
February 2022

| S | M | T | W | T | F | S |
| --- | --- | --- | --- | --- | --- | --- |
| | | 01 | 02 | 03 | 04 | 05 |
| 06 | 07 | 08 | 09 | 10 | 11 | 12 |
| 13 | 14 | 15 | 16 | 17 | 18 | 19 |
| 20 | 21 | 22 | 23 | 24 | 25 | 26 |
| 27 | 28 | | | | | |
March 2022

| S | M | T | W | T | F | S |
| --- | --- | --- | --- | --- | --- | --- |
| | | 01 | 02 | 03 | 04 | 05 |
| 06 | 07 | 08 | 09 | 10 | 11 | 12 |
| 13 | 14 | 15 | 16 | 17 | 18 | 19 |
| 20 | 21 | 22 | 23 | 24 | 25 | 26 |
| 27 | 28 | 29 | 30 | 31 | | |
April 2022

| S | M | T | W | T | F | S |
| --- | --- | --- | --- | --- | --- | --- |
| | | | | | 01 | 02 |
| 03 | 04 | 05 | 06 | 07 | 08 | 09 |
| 10 | 11 | 12 | 13 | 14 | 15 | 16 |
| 17 | 18 | 19 | 20 | 21 | 22 | 23 |
| 24 | 25 | 26 | 27 | 28 | 29 | 30 |
May 2022

| S | M | T | W | T | F | S |
| --- | --- | --- | --- | --- | --- | --- |
| 01 | 02 | 03 | 04 | 05 | 06 | 07 |
| 08 | 09 | 10 | 11 | 12 | 13 | 14 |
| 15 | 16 | 17 | 18 | 19 | 20 | 21 |
| 22 | 23 | 24 | 25 | 26 | 27 | 28 |
| 29 | 30 | 31 | | | | |
June 2022

| S | M | T | W | T | F | S |
| --- | --- | --- | --- | --- | --- | --- |
| | | | 01 | 02 | 03 | 04 |
| 05 | 06 | 07 | 08 | 09 | 10 | 11 |
| 12 | 13 | 14 | 15 | 16 | 17 | 18 |
| 19 | 20 | 21 | 22 | 23 | 24 | 25 |
| 26 | 27 | 28 | 29 | 30 | | |
July 2022

| S | M | T | W | T | F | S |
| --- | --- | --- | --- | --- | --- | --- |
| | | | | | 01 | 02 |
| 03 | 04 | 05 | 06 | 07 | 08 | 09 |
| 10 | 11 | 12 | 13 | 14 | 15 | 16 |
| 17 | 18 | 19 | 20 | 21 | 22 | 23 |
| 24 | 25 | 26 | 27 | 28 | 29 | 30 |
| 31 | | | | | | |
Available
Unavailable
Check-In Only
Check-Out Only
Seasonal Rates
Starting from $225 per night

                    stdClass Object
(
    [id] => 94
    [ManagerID] => 1
    [ComplexID] => 0
    [Name] => Kaha Lani Resort #123 Oceanfront, Walk to Beach, Sunrise Views, Washer/Dryer
    [PropertyCode] => 2064-105571
    [Address1] => 4460 Nehe Road
    [Address2] => 
    [City] => Lihue
    [State] => HI
    [Country] => US
    [PostalCode] => 
    [Province] => 
    [Bedrooms] => 2
    [Bathrooms] => 2
    [Beds] => {"Queen":1,"Twin":2,"Sofa Bed":1}
    [Type] => Condominium
    [Area] => 
    [Location] => Garden Island Properties, LLC
    [View] => Ocean Front
    [Video] => 
    [lat] => 22.03569
    [long] => -159.336952
    [map_id] => 0
    [Complex] => 219
    [Description] => Kaha Lani Resort #123, Ground Floor, Oceanfront Kauai Vacation Rental, Wailua, Kauai.  



We have implemented enhanced cleaning and disinfecting guidelines as well as infection prevention advice provided by the CDC. This is a Contactless Check-In Property.



Very private ground floor end unit, no stairs from parking lot (or in unit).  

Walk right up to your front door and out your back patio which faces the ocean and your own tropical paradise.

Full kitchen with granite counter tops, appliances and tile surrounds in both bathrooms.

Two bedroom, 2 bath with queen bed and two twins, full size sofa sleeper, full kitchen, washer/dryer, ceiling fans, tiled floors.

Complimentary WiFi & Parking.  

Free local and long distance calls to the US mainland.

Outdoor lanai with patio table, chairs & chaise lounges.

Every condo is a non-smoking unit.



In Hawaiian, "Kaha Lani" means heavenly place. And that's what you'll find at this Kauai condo oceanfront resort. Stroll along miles of uncrowded white sand beach and lush tropical landscaping. Coconut palms rustling in the gentle trade winds. Come & enjoy the quiet privacy of this intimate condominium on beautiful Kauai's Royal Coconut Coast. Sun yourself by the swimming pool or explore the sandy shoreline; just steps away. Gas BBQ grills are located poolside, tennis courts.



Sliding glass doors open on to the private lanai and to the relaxing sounds of the ocean, miles of white sandy beach, and spectacular sunrise views. A Kaha Lani vacation rental condominium is a great spot to watch whales breaching from the months of November to April. If peace & quiet with easy access to all of the islands activities is what you're searching for, this is the place. Take a sunrise walk along this beautiful Kauai coastline or go for a late evening swim. Enjoy one of Kauai's favorite "hidden secrets" at the Kaha Lani Resort!



Located between Wailua Golf Course on the south end and Lydgate Beach Park and Kamalani Playground to the north, this is an ideal location for the traveler wanting a vacation away from the hustle and bustle of everyday life yet just a few minutes away from shopping & restaurants. Walk next door to Lydgate Beach Park on the walk/bike path and enjoy fantastic snorkeling and swimming in one of two lagoons - the baby lagoon is perfect for the toddler. Stroll through the beach park to Kamalani Playground - a community built playground with its own volcano tube! Next door is Wailua Golf Course , rated one of the top municipal golf courses in the nation and one of the few courses on Kauai where you can walk the whole course. Affordable rates, location and amenities make this one of the finest Kauai vacation rentals.



Kaha Lani is just minutes away from the Lihue Airport and the town of Kapaa.  With a short drive to the town of Kapaa/Wailua you will find grocery stores, boutiques, movie theatres and first class restaurants, making this an ideal location for couples or families alike. The avid outdoors person can kayak up the Wailua River, hike the Sleeping Giant Trail, visit Opaekaa Falls, golf next door at  Wailua Golf Course or just sun, swim and snorkel in your own back yard.



Holiday Rates apply from 12/15 to 1/5 with a 7 night minimum stay.

TAT ID#- TA-002-549-5552-01
    [ShortDescription] => Oceanfront, 2 Bedroom, 2 Bath, ground floor end unit with kitchen, washer/dryer, Queen & 2 Twin beds, Full size sleeper, comp Wi-fi/Pkg, steps to sandy beaches.  Relax to the sound of the ocean from your private lanai!
    [Sleeps] => 6
    [MaxAdult] => 0
    [MaxSearchMonths] => 48
    [Status] => Active
    [page_slug] => Kaha_Lani_Resort_123_Oceanfront_Walk_to_Beach_Sunrise_Views_WasherDryer-2064-105571-1
    [SEOTitle] => Kaha Lani Resort #123, Oceanfront 2 BR, Ground Floor, End Unit
    [SEODescription] => Kaha Lani Resort #123 Oceanfront, Walk to Beach, Sunrise Views, Washer/Dryer
    [Featured] => 0
    [created] => 0000-00-00 00:00:00
    [updated] => 2021-04-23 08:42:09
    [internalcode] => KL 123
    [photos] => Array
        (
            [0] => stdClass Object
                (
                    [id] => 3608548
                    [unit_id] => 94
                    [url] => https://pictures.escapia.com/GAISPR/105571/6288270034.jpg
                    [thumb_url] => https://pictures.escapia.com/GAISPR/105571/6288270034.jpg
                     => Enjoy your morning coffee or tea as the sun rises from your private and spacious lanai.
                    [sort] => 0
                )

            [1] => stdClass Object
                (
                    [id] => 3608549
                    [unit_id] => 94
                    [url] => https://pictures.escapia.com/GAISPR/105571/0603950315.jpg
                    [thumb_url] => https://pictures.escapia.com/GAISPR/105571/0603950315.jpg
                     => Living Room with Ocean Views & Queen Sofa Sleeper
                    [sort] => 1
                )

            [2] => stdClass Object
                (
                    [id] => 3608550
                    [unit_id] => 94
                    [url] => https://pictures.escapia.com/GAISPR/105571/2413630307.jpg
                    [thumb_url] => https://pictures.escapia.com/GAISPR/105571/2413630307.jpg
                     => 
                    [sort] => 2
                )

            [3] => stdClass Object
                (
                    [id] => 3608551
                    [unit_id] => 94
                    [url] => https://pictures.escapia.com/GAISPR/105571/1791180761.jpg
                    [thumb_url] => https://pictures.escapia.com/GAISPR/105571/1791180761.jpg
                     => 
                    [sort] => 3
                )

            [4] => stdClass Object
                (
                    [id] => 3608552
                    [unit_id] => 94
                    [url] => https://pictures.escapia.com/GAISPR/105571/2407490272.jpg
                    [thumb_url] => https://pictures.escapia.com/GAISPR/105571/2407490272.jpg
                     => This unit's indoor dining table comfortably seats 6.  
                    [sort] => 4
                )

            [5] => stdClass Object
                (
                    [id] => 3608553
                    [unit_id] => 94
                    [url] => https://pictures.escapia.com/GAISPR/105571/5752530228.jpg
                    [thumb_url] => https://pictures.escapia.com/GAISPR/105571/5752530228.jpg
                     => Spacious living room opens up to your private oceanfront lanai.
                    [sort] => 5
                )

            [6] => stdClass Object
                (
                    [id] => 3608554
                    [unit_id] => 94
                    [url] => https://pictures.escapia.com/GAISPR/105571/8858590996.jpg
                    [thumb_url] => https://pictures.escapia.com/GAISPR/105571/8858590996.jpg
                     => Enjoy cooking meals in your kitchen with beautiful ocean views and new granite countertops.
                    [sort] => 6
                )

            [7] => stdClass Object
                (
                    [id] => 3608555
                    [unit_id] => 94
                    [url] => https://pictures.escapia.com/GAISPR/105571/1890240128.jpg
                    [thumb_url] => https://pictures.escapia.com/GAISPR/105571/1890240128.jpg
                     => Master bedroom with queen bed & private bath
                    [sort] => 7
                )

            [8] => stdClass Object
                (
                    [id] => 3608556
                    [unit_id] => 94
                    [url] => https://pictures.escapia.com/GAISPR/105571/2847810089.jpg
                    [thumb_url] => https://pictures.escapia.com/GAISPR/105571/2847810089.jpg
                     => 
                    [sort] => 8
                )

            [9] => stdClass Object
                (
                    [id] => 3608557
                    [unit_id] => 94
                    [url] => https://pictures.escapia.com/GAISPR/105571/8868450925.jpg
                    [thumb_url] => https://pictures.escapia.com/GAISPR/105571/8868450925.jpg
                     => Master bedroom with Queen bed & private bath
                    [sort] => 9
                )

            [10] => stdClass Object
                (
                    [id] => 3608558
                    [unit_id] => 94
                    [url] => https://pictures.escapia.com/GAISPR/105571/5037280473.jpg
                    [thumb_url] => https://pictures.escapia.com/GAISPR/105571/5037280473.jpg
                     => 
                    [sort] => 10
                )

            [11] => stdClass Object
                (
                    [id] => 3608559
                    [unit_id] => 94
                    [url] => https://pictures.escapia.com/GAISPR/105571/4029140550.jpg
                    [thumb_url] => https://pictures.escapia.com/GAISPR/105571/4029140550.jpg
                     => This inviting 2nd bedroom has 2 twin beds.
                    [sort] => 11
                )

            [12] => stdClass Object
                (
                    [id] => 3608560
                    [unit_id] => 94
                    [url] => https://pictures.escapia.com/GAISPR/105571/3473980155.jpg
                    [thumb_url] => https://pictures.escapia.com/GAISPR/105571/3473980155.jpg
                     => 2nd bedroom with 2 twin beds
                    [sort] => 12
                )

            [13] => stdClass Object
                (
                    [id] => 3608561
                    [unit_id] => 94
                    [url] => https://pictures.escapia.com/GAISPR/105571/2529030850.jpg
                    [thumb_url] => https://pictures.escapia.com/GAISPR/105571/2529030850.jpg
                     => 
                    [sort] => 13
                )

            [14] => stdClass Object
                (
                    [id] => 3608562
                    [unit_id] => 94
                    [url] => https://pictures.escapia.com/GAISPR/105571/0690470755.jpg
                    [thumb_url] => https://pictures.escapia.com/GAISPR/105571/0690470755.jpg
                     => Take in the beautiful ocean views as you enter your own private, oceanfront Hawaiian oasis.  Kaha Lani #123 is a ground floor unit with no stairs.
                    [sort] => 14
                )

            [15] => stdClass Object
                (
                    [id] => 3608563
                    [unit_id] => 94
                    [url] => https://pictures.escapia.com/GAISPR/105571/0590690148.jpg
                    [thumb_url] => https://pictures.escapia.com/GAISPR/105571/0590690148.jpg
                     => Lounge on your private lanai at sunset and be amazed by the moonlit nights.
                    [sort] => 15
                )

            [16] => stdClass Object
                (
                    [id] => 3608564
                    [unit_id] => 94
                    [url] => https://pictures.escapia.com/GAISPR/105571/4976990278.jpg
                    [thumb_url] => https://pictures.escapia.com/GAISPR/105571/4976990278.jpg
                     => Kaha Lani Resort Pool & BBQ Area
                    [sort] => 16
                )

            [17] => stdClass Object
                (
                    [id] => 3608565
                    [unit_id] => 94
                    [url] => https://pictures.escapia.com/GAISPR/105571/5010010756.jpg
                    [thumb_url] => https://pictures.escapia.com/GAISPR/105571/5010010756.jpg
                     => Kaha Lani Pool
                    [sort] => 17
                )

            [18] => stdClass Object
                (
                    [id] => 3608566
                    [unit_id] => 94
                    [url] => https://pictures.escapia.com/GAISPR/105571/6619430682.jpg
                    [thumb_url] => https://pictures.escapia.com/GAISPR/105571/6619430682.jpg
                     => Oceanfront view from private lanai
                    [sort] => 18
                )

            [19] => stdClass Object
                (
                    [id] => 3608567
                    [unit_id] => 94
                    [url] => https://pictures.escapia.com/GAISPR/105571/1656830672.jpg
                    [thumb_url] => https://pictures.escapia.com/GAISPR/105571/1656830672.jpg
                     => Kaha Lani Resort Tennis Courts
                    [sort] => 19
                )

            [20] => stdClass Object
                (
                    [id] => 3608568
                    [unit_id] => 94
                    [url] => https://pictures.escapia.com/GAISPR/105571/6143840452.jpg
                    [thumb_url] => https://pictures.escapia.com/GAISPR/105571/6143840452.jpg
                     => Site Map
                    [sort] => 20
                )

            [21] => stdClass Object
                (
                    [id] => 3608569
                    [unit_id] => 94
                    [url] => https://pictures.escapia.com/GAISPR/105571/1021410043.jpg
                    [thumb_url] => https://pictures.escapia.com/GAISPR/105571/1021410043.jpg
                     => Kaha Lani Beach
                    [sort] => 21
                )

            [22] => stdClass Object
                (
                    [id] => 3608570
                    [unit_id] => 94
                    [url] => https://pictures.escapia.com/GAISPR/105571/9656210501.jpg
                    [thumb_url] => https://pictures.escapia.com/GAISPR/105571/9656210501.jpg
                     => Kaha Lani Beach
                    [sort] => 22
                )

            [23] => stdClass Object
                (
                    [id] => 3608571
                    [unit_id] => 94
                    [url] => https://pictures.escapia.com/GAISPR/105571/2265970397.jpg
                    [thumb_url] => https://pictures.escapia.com/GAISPR/105571/2265970397.jpg
                     => Lydgate Beach Swimming Pond
                    [sort] => 23
                )

            [24] => stdClass Object
                (
                    [id] => 3608572
                    [unit_id] => 94
                    [url] => https://pictures.escapia.com/GAISPR/105571/7978660489.jpg
                    [thumb_url] => https://pictures.escapia.com/GAISPR/105571/7978660489.jpg
                     => Enjoy Kauai's Coconut Coast by foot or bike on this coastal bike path that runs from Kaha Lani Resort past Kealia Beach.  Spouting whales may be seen in the winter months!
                    [sort] => 24
                )

            [25] => stdClass Object
                (
                    [id] => 3608573
                    [unit_id] => 94
                    [url] => https://pictures.escapia.com/GAISPR/105571/7206580465.jpg
                    [thumb_url] => https://pictures.escapia.com/GAISPR/105571/7206580465.jpg
                     => Beach Path with Kaha Lani Resort in the background
                    [sort] => 25
                )

            [26] => stdClass Object
                (
                    [id] => 3608574
                    [unit_id] => 94
                    [url] => https://pictures.escapia.com/GAISPR/105571/9269500522.jpg
                    [thumb_url] => https://pictures.escapia.com/GAISPR/105571/9269500522.jpg
                     => Lydgate Beach Picnic Area
                    [sort] => 26
                )

            [27] => stdClass Object
                (
                    [id] => 3608575
                    [unit_id] => 94
                    [url] => https://pictures.escapia.com/GAISPR/105571/8493020240.jpg
                    [thumb_url] => https://pictures.escapia.com/GAISPR/105571/8493020240.jpg
                     => Wailua Beach
                    [sort] => 27
                )

            [28] => stdClass Object
                (
                    [id] => 3608576
                    [unit_id] => 94
                    [url] => https://pictures.escapia.com/GAISPR/105571/0274850203.jpg
                    [thumb_url] => https://pictures.escapia.com/GAISPR/105571/0274850203.jpg
                     => The Wailua River is a great spot for kayaking and there is a guided tour through Smiths Boat up to the Fern Grotto.
                    [sort] => 28
                )

            [29] => stdClass Object
                (
                    [id] => 3608577
                    [unit_id] => 94
                    [url] => https://pictures.escapia.com/GAISPR/105571/3532700492.jpg
                    [thumb_url] => https://pictures.escapia.com/GAISPR/105571/3532700492.jpg
                     => Bike Path towards Kealia Beach
                    [sort] => 29
                )

            [30] => stdClass Object
                (
                    [id] => 3608578
                    [unit_id] => 94
                    [url] => https://pictures.escapia.com/GAISPR/105571/4989250395.jpg
                    [thumb_url] => https://pictures.escapia.com/GAISPR/105571/4989250395.jpg
                     => Sleeping Giant-Nearby Hike
                    [sort] => 30
                )

            [31] => stdClass Object
                (
                    [id] => 3608579
                    [unit_id] => 94
                    [url] => https://pictures.escapia.com/GAISPR/105571/7365430639.jpg
                    [thumb_url] => https://pictures.escapia.com/GAISPR/105571/7365430639.jpg
                     => Coconut Coast
                    [sort] => 31
                )

        )

    [rates] => Array
        (
            [0] => stdClass Object
                (
                    [id] => 1243670
                    [start_date] => 2021-04-01
                    [end_date] => 2021-12-17
                    [amount] => 303.45
                    [chargebasis] => Daily
                    [unit_id] => 94
                )

            [1] => stdClass Object
                (
                    [id] => 1243671
                    [start_date] => 2021-04-01
                    [end_date] => 2021-12-17
                    [amount] => 2297.0003
                    [chargebasis] => Weekly
                    [unit_id] => 94
                )

            [2] => stdClass Object
                (
                    [id] => 1243672
                    [start_date] => 2021-04-01
                    [end_date] => 2021-12-17
                    [amount] => 8970
                    [chargebasis] => Monthly
                    [unit_id] => 94
                )

        )

    [attributes] => Array
        (
            [0] => stdClass Object
                (
                    [id] => 7015188
                    [name] => combination tub/shower
                    [value] => 
                    [group] => AMENITY
                    [unit_id] => 94
                )

            [1] => stdClass Object
                (
                    [id] => 7015189
                    [name] => queen
                    [value] => 
                    [group] => AMENITY
                    [unit_id] => 94
                )

            [2] => stdClass Object
                (
                    [id] => 7015190
                    [name] => shower
                    [value] => 
                    [group] => AMENITY
                    [unit_id] => 94
                )

            [3] => stdClass Object
                (
                    [id] => 7015191
                    [name] => sleep sofa /futon
                    [value] => 
                    [group] => AMENITY
                    [unit_id] => 94
                )

            [4] => stdClass Object
                (
                    [id] => 7015192
                    [name] => toilet
                    [value] => 
                    [group] => AMENITY
                    [unit_id] => 94
                )

            [5] => stdClass Object
                (
                    [id] => 7015193
                    [name] => twin/ single
                    [value] => 
                    [group] => AMENITY
                    [unit_id] => 94
                )

            [6] => stdClass Object
                (
                    [id] => 7015194
                    [name] => Satellite / Cable
                    [value] => 
                    [group] => ENTERTAINMENT
                    [unit_id] => 94
                )

            [7] => stdClass Object
                (
                    [id] => 7015195
                    [name] => Television
                    [value] => 
                    [group] => ENTERTAINMENT
                    [unit_id] => 94
                )

            [8] => stdClass Object
                (
                    [id] => 7015196
                    [name] => Hair Dryer
                    [value] => 
                    [group] => GENERAL
                    [unit_id] => 94
                )

            [9] => stdClass Object
                (
                    [id] => 7015197
                    [name] => Iron & Board
                    [value] => 
                    [group] => GENERAL
                    [unit_id] => 94
                )

            [10] => stdClass Object
                (
                    [id] => 7015198
                    [name] => Parking
                    [value] => 
                    [group] => GENERAL
                    [unit_id] => 94
                )

            [11] => stdClass Object
                (
                    [id] => 7015199
                    [name] => Towels Provided
                    [value] => 
                    [group] => GENERAL
                    [unit_id] => 94
                )

            [12] => stdClass Object
                (
                    [id] => 7015200
                    [name] => Coffee Maker
                    [value] => 
                    [group] => KITCHEN
                    [unit_id] => 94
                )

            [13] => stdClass Object
                (
                    [id] => 7015201
                    [name] => Dishes & Utensils
                    [value] => 
                    [group] => KITCHEN
                    [unit_id] => 94
                )

            [14] => stdClass Object
                (
                    [id] => 7015202
                    [name] => Dishwasher
                    [value] => 
                    [group] => KITCHEN
                    [unit_id] => 94
                )

            [15] => stdClass Object
                (
                    [id] => 7015203
                    [name] => Kitchen
                    [value] => 
                    [group] => KITCHEN
                    [unit_id] => 94
                )

            [16] => stdClass Object
                (
                    [id] => 7015204
                    [name] => Microwave
                    [value] => 
                    [group] => KITCHEN
                    [unit_id] => 94
                )

            [17] => stdClass Object
                (
                    [id] => 7015205
                    [name] => Oven
                    [value] => 
                    [group] => KITCHEN
                    [unit_id] => 94
                )

            [18] => stdClass Object
                (
                    [id] => 7015206
                    [name] => Pantry Items
                    [value] => 
                    [group] => KITCHEN
                    [unit_id] => 94
                )

            [19] => stdClass Object
                (
                    [id] => 7015207
                    [name] => Refrigerator
                    [value] => 
                    [group] => KITCHEN
                    [unit_id] => 94
                )

            [20] => stdClass Object
                (
                    [id] => 7015208
                    [name] => Stove
                    [value] => 
                    [group] => KITCHEN
                    [unit_id] => 94
                )

            [21] => stdClass Object
                (
                    [id] => 7015209
                    [name] => Toaster
                    [value] => 
                    [group] => KITCHEN
                    [unit_id] => 94
                )

            [22] => stdClass Object
                (
                    [id] => 7015210
                    [name] => Beach View
                    [value] => 
                    [group] => LOCATION_TYPE
                    [unit_id] => 94
                )

            [23] => stdClass Object
                (
                    [id] => 7015211
                    [name] => Beachfront
                    [value] => 
                    [group] => LOCATION_TYPE
                    [unit_id] => 94
                )

            [24] => stdClass Object
                (
                    [id] => 7015212
                    [name] => Near The Ocean
                    [value] => 
                    [group] => LOCATION_TYPE
                    [unit_id] => 94
                )

            [25] => stdClass Object
                (
                    [id] => 7015213
                    [name] => Ocean View
                    [value] => 
                    [group] => LOCATION_TYPE
                    [unit_id] => 94
                )

            [26] => stdClass Object
                (
                    [id] => 7015214
                    [name] => Oceanfront
                    [value] => 
                    [group] => LOCATION_TYPE
                    [unit_id] => 94
                )

            [27] => stdClass Object
                (
                    [id] => 7015215
                    [name] => Resort
                    [value] => 
                    [group] => LOCATION_TYPE
                    [unit_id] => 94
                )

            [28] => stdClass Object
                (
                    [id] => 7015216
                    [name] => Water View
                    [value] => 
                    [group] => LOCATION_TYPE
                    [unit_id] => 94
                )

            [29] => stdClass Object
                (
                    [id] => 7015217
                    [name] => Deck / Patio
                    [value] => 
                    [group] => OUTSIDE
                    [unit_id] => 94
                )

            [30] => stdClass Object
                (
                    [id] => 7015218
                    [name] => Lawn / Garden
                    [value] => 
                    [group] => OUTSIDE
                    [unit_id] => 94
                )

            [31] => stdClass Object
                (
                    [id] => 7015219
                    [name] => Outdoor Grill
                    [value] => 
                    [group] => OUTSIDE
                    [unit_id] => 94
                )

            [32] => stdClass Object
                (
                    [id] => 7015220
                    [name] => Tennis
                    [value] => 
                    [group] => OUTSIDE
                    [unit_id] => 94
                )

            [33] => stdClass Object
                (
                    [id] => 7015221
                    [name] => Private Pool
                    [value] => 
                    [group] => POOL_SPA
                    [unit_id] => 94
                )

            [34] => stdClass Object
                (
                    [id] => 7015222
                    [name] => bedroom
                    [value] => 
                    [group] => ROOM_SUBTYPE
                    [unit_id] => 94
                )

            [35] => stdClass Object
                (
                    [id] => 7015223
                    [name] => children welcome
                    [value] => 
                    [group] => SUITABILITY
                    [unit_id] => 94
                )

            [36] => stdClass Object
                (
                    [id] => 7015224
                    [name] => non smoking only
                    [value] => 
                    [group] => SUITABILITY
                    [unit_id] => 94
                )

            [37] => stdClass Object
                (
                    [id] => 7015225
                    [name] => pets not allowed
                    [value] => 
                    [group] => SUITABILITY
                    [unit_id] => 94
                )

            [38] => stdClass Object
                (
                    [id] => 7015226
                    [name] => flexible
                    [value] => 
                    [group] => ARRIVAL_DAY
                    [unit_id] => 94
                )

            [39] => stdClass Object
                (
                    [id] => 7015227
                    [name] => recommended
                    [value] => 
                    [group] => CAR
                    [unit_id] => 94
                )

            [40] => stdClass Object
                (
                    [id] => 7015228
                    [name] => Dining Area
                    [value] => 
                    [group] => DINING
                    [unit_id] => 94
                )

            [41] => stdClass Object
                (
                    [id] => 7015229
                    [name] => Smoke detectors
                    [value] => 
                    [group] => Safety
                    [unit_id] => 94
                )

            [42] => stdClass Object
                (
                    [id] => 7015230
                    [name] => Emergency phone number: Medical
                    [value] => 
                    [group] => Safety
                    [unit_id] => 94
                )

            [43] => stdClass Object
                (
                    [id] => 7015231
                    [name] => Emergency phone number: Police
                    [value] => 
                    [group] => Safety
                    [unit_id] => 94
                )

            [44] => stdClass Object
                (
                    [id] => 7015232
                    [name] => Emergency phone number: Fire
                    [value] => 
                    [group] => Safety
                    [unit_id] => 94
                )

            [45] => stdClass Object
                (
                    [id] => 7015233
                    [name] => Enhanced cleaning practices
                    [value] => 
                    [group] => Health and Safety
                    [unit_id] => 94
                )

            [46] => stdClass Object
                (
                    [id] => 7015234
                    [name] => Clean with disinfectant
                    [value] => 
                    [group] => Health and Safety
                    [unit_id] => 94
                )

            [47] => stdClass Object
                (
                    [id] => 7015235
                    [name] => No-contact check-in and check-out
                    [value] => 
                    [group] => Health and Safety
                    [unit_id] => 94
                )

            [48] => stdClass Object
                (
                    [id] => 7015236
                    [name] => High touch surfaces cleaned with disinfectant
                    [value] => 
                    [group] => Health and Safety
                    [unit_id] => 94
                )

            [49] => stdClass Object
                (
                    [id] => 7015237
                    [name] => Towels and bedding washed in water that's at least 60sC/140sF
                    [value] => 
                    [group] => Health and Safety
                    [unit_id] => 94
                )

            [50] => stdClass Object
                (
                    [id] => 7015238
                    [name] => 1 day (24 hours)
                    [value] => 
                    [group] => Health and Safety
                    [unit_id] => 94
                )

            [51] => stdClass Object
                (
                    [id] => 7015239
                    [name] => Cookware
                    [value] => 
                    [group] => Kitchen
                    [unit_id] => 94
                )

            [52] => stdClass Object
                (
                    [id] => 7015240
                    [name] => Blender
                    [value] => 
                    [group] => Kitchen
                    [unit_id] => 94
                )

            [53] => stdClass Object
                (
                    [id] => 7015241
                    [name] => Ceiling Fans
                    [value] => 
                    [group] => Living
                    [unit_id] => 94
                )

            [54] => stdClass Object
                (
                    [id] => 7015242
                    [name] => Washer & Dryer
                    [value] => 
                    [group] => Living
                    [unit_id] => 94
                )

            [55] => stdClass Object
                (
                    [id] => 7015243
                    [name] => Wifi
                    [value] => 
                    [group] => Living
                    [unit_id] => 94
                )

            [56] => stdClass Object
                (
                    [id] => 7015244
                    [name] => Beach Towels
                    [value] => 
                    [group] => Living
                    [unit_id] => 94
                )

            [57] => stdClass Object
                (
                    [id] => 7015245
                    [name] => Hair Dryer
                    [value] => 
                    [group] => Living
                    [unit_id] => 94
                )

            [58] => stdClass Object
                (
                    [id] => 7015246
                    [name] => Patio
                    [value] => 
                    [group] => Outdoor
                    [unit_id] => 94
                )

            [59] => stdClass Object
                (
                    [id] => 7015247
                    [name] => Gas Grill
                    [value] => 
                    [group] => Outdoor
                    [unit_id] => 94
                )

            [60] => stdClass Object
                (
                    [id] => 7015248
                    [name] => Private Pool
                    [value] => 
                    [group] => Outdoor
                    [unit_id] => 94
                )

            [61] => stdClass Object
                (
                    [id] => 7015249
                    [name] => Tennis
                    [value] => 
                    [group] => Outdoor
                    [unit_id] => 94
                )

            [62] => stdClass Object
                (
                    [id] => 7015250
                    [name] => Beach
                    [value] => 
                    [group] => Outdoor
                    [unit_id] => 94
                )

            [63] => stdClass Object
                (
                    [id] => 7015251
                    [name] => Beach Chairs
                    [value] => 
                    [group] => Outdoor
                    [unit_id] => 94
                )

            [64] => stdClass Object
                (
                    [id] => 7015252
                    [name] => Bike Path
                    [value] => 
                    [group] => Outdoor
                    [unit_id] => 94
                )

            [65] => stdClass Object
                (
                    [id] => 7015253
                    [name] => Lanai
                    [value] => 
                    [group] => Outdoor
                    [unit_id] => 94
                )

            [66] => stdClass Object
                (
                    [id] => 7015254
                    [name] => Beach Towels
                    [value] => 
                    [group] => Outdoor
                    [unit_id] => 94
                )

            [67] => stdClass Object
                (
                    [id] => 7015255
                    [name] => On Beach
                    [value] => 
                    [group] => Geographic
                    [unit_id] => 94
                )

            [68] => stdClass Object
                (
                    [id] => 7015256
                    [name] => Near Beach
                    [value] => 
                    [group] => Geographic
                    [unit_id] => 94
                )

            [69] => stdClass Object
                (
                    [id] => 7015257
                    [name] => Close to Town
                    [value] => 
                    [group] => Geographic
                    [unit_id] => 94
                )

            [70] => stdClass Object
                (
                    [id] => 7015258
                    [name] => Kaha Lani Resort
                    [value] => 
                    [group] => Geographic
                    [unit_id] => 94
                )

        )

    [avail] => Array
        (
            [0] => stdClass Object
                (
                    [id] => 26278012
                    [start_date] => 2021-04-01
                    [end_date] => 2021-04-21
                    [unit_id] => 94
                )

            [1] => stdClass Object
                (
                    [id] => 26278013
                    [start_date] => 2021-04-23
                    [end_date] => 2021-05-04
                    [unit_id] => 94
                )

            [2] => stdClass Object
                (
                    [id] => 26278014
                    [start_date] => 2021-05-05
                    [end_date] => 2021-05-12
                    [unit_id] => 94
                )

            [3] => stdClass Object
                (
                    [id] => 26278015
                    [start_date] => 2021-05-24
                    [end_date] => 2021-07-01
                    [unit_id] => 94
                )

            [4] => stdClass Object
                (
                    [id] => 26278016
                    [start_date] => 2021-07-04
                    [end_date] => 2021-07-26
                    [unit_id] => 94
                )

            [5] => stdClass Object
                (
                    [id] => 26278017
                    [start_date] => 2021-09-20
                    [end_date] => 2021-10-09
                    [unit_id] => 94
                )

            [6] => stdClass Object
                (
                    [id] => 26278018
                    [start_date] => 2021-10-15
                    [end_date] => 2021-11-01
                    [unit_id] => 94
                )

            [7] => stdClass Object
                (
                    [id] => 26278019
                    [start_date] => 2021-12-25
                    [end_date] => 2022-01-06
                    [unit_id] => 94
                )

            [8] => stdClass Object
                (
                    [id] => 26278020
                    [start_date] => 2022-02-13
                    [end_date] => 2022-02-26
                    [unit_id] => 94
                )

            [9] => stdClass Object
                (
                    [id] => 26278021
                    [start_date] => 2022-03-12
                    [end_date] => 2022-03-19
                    [unit_id] => 94
                )

        )

    [reviews] => Array
        (
            [0] => stdClass Object
                (
                    [id] => 30582
                    [external_id] => 21c66003-a10e-41af-91f6-e785bb716e5a
                    [prop_id] => 94
                    [review_id] => 0
                    [source] => Escapia
                    [title] => Perfect Location!
                    [review] => We had a wonderful time exploring Kauai while staying in this really nice unit.  The place had everything we needed and was great for 2 couples staying together.  Every morning we were treated to an incredible sunrise and so enjoyed being steps from the beach.  We were there during a hurricane, which made the waters to rough to go in, but what a Kodak moment with all of mother nature's fury.  This place was very convenient to many destinations and we took advantage of every opportunity to do things.  The weather was never a problem. As they say wait a few minutes and it will change,  which it did, we never missed an outing. Make your exploring times around the work traffic and you will be able to see the whole island easily. 
This unit is in fairly good condition and was clean and welcoming.  The cons are if your planning on cooking, you need everything.  All spices were rock hard and unusable.  There were a few paper goods provided,  but you need paper plates and probably more paper towels for a week visit.  The pots and pans have seen better days and unfortunately stick pretty good.  I suggest Pam cooking spray be on your grocery list.  Also there is no air conditioning, but fans are provided.  The place would feel really humid when we would return and had a musty smell.  Opening windows and airing out was all it needed.  Lastly, the clothes dryer didn't seem to work properly,  but it could have been just the operator..
Overall, we had an amazing time and would rebook this place in a flash.  We didn't expect what we got for what we paid.   One of the best vacations ever!
                    [name] => Kim L.
                    [email] => limtiacos@gmail.com
                    [location] => 
                    [response] => Thank you Kim! So glad that you had the best vacation. We agree, the views are amazing especially the sunrises.We appreciate you sharing this review and great feedback. We will make sure to look at the items listed. This property does not allow air conditioning in any of the units. This unit is equipped with ceiling fans and additional floor fans. We recommend opening all windows and lanai doors to allow a nice cross breeze to enter the unit. Looking forward to your next visit! Mahalo, Garden Island Properties
                    [response_date] => 2020-09-02
                    [rating] => 5
                    [review_date] => 2018-10-04
                    [featured] => 
                    [status] => 1
                    [checkin_date] => 2018-09-11
                    [nights_stayed] => 7
                    [sfrm] => 5
                    [clean] => 5
                    [rto] => 1
                    [pc] => 5
                    [loc] => 5
                    [meta] => Array
                        (
                        )

                )

            [1] => stdClass Object
                (
                    [id] => 30580
                    [external_id] => 8489e193-1b6e-46d9-ab7f-fe51e29ced7c
                    [prop_id] => 94
                    [review_id] => 0
                    [source] => Escapia
                    [title] => Excellent
                    [review] => Thank you for a wonderful condo.  We have rented numerous units in various locations and this unit is by far one of the best.   It is so very well equipped with everything you need from great beach towels, beach chairs and coolers to a kitchen that has everything you could need.  With 3 grandkids, having the in-unit washer and dryer was a huge bonus.  Location and views are perfect.  Thank you for a wonderful two weeks.
                    [name] => Norman A.
                    [email] => nassauflo1@yahoo.com
                    [location] => 
                    [response] => Thank you for your review and we are happy to hear you enjoyed #123.  Nothing can beat a beachfront condo AND with a washer/dryer to boot!  We look forward to having you back!  Aloha, Garden Island Properties
                    [response_date] => 2018-08-17
                    [rating] => 5
                    [review_date] => 2018-07-01
                    [featured] => 
                    [status] => 1
                    [checkin_date] => 2018-06-01
                    [nights_stayed] => 14
                    [sfrm] => 5
                    [clean] => 5
                    [rto] => 1
                    [pc] => 5
                    [loc] => 5
                    [meta] => Array
                        (
                        )

                )

            [2] => stdClass Object
                (
                    [id] => 30581
                    [external_id] => cd91731f-0851-4134-831f-9bdd1f2b39b7
                    [prop_id] => 94
                    [review_id] => 0
                    [source] => Escapia
                    [title] => Quiet and convenient with GREAT views!
                    [review] => We stayed here for almost a week in early May. We took advantage of the walking path, which makes for an easy walk into town for dinner. The beach and snorkel area were both filled with debris from the recent island flooding, but we found beaches in Kapaa and on the south side that weren't affected. The condo itself was really well appointed and comfortable. We didn't bring any kids, but it would be a perfect spot for a family too--lots of room to run on the lawn. The view is even better than the pictures show. We had a great time!
                    [name] => 
                    [email] => spamy11@yahoo.com
                    [location] => 
                    [response] => Aloha Amy and thank you for your stay with us. We are so glad that you felt comfortable in the condo and enjoyed the ocean views. Lydgate beach park is normally great for snorkeling, however we had gone through a lot of rain before your stay. We are happy that you had a great time and hope to have you back again real soon! Mahalo nui, Garden Island Properties
                    [response_date] => 2020-09-02
                    [rating] => 5
                    [review_date] => 2018-05-22
                    [featured] => 
                    [status] => 1
                    [checkin_date] => 2018-04-30
                    [nights_stayed] => 6
                    [sfrm] => 5
                    [clean] => 5
                    [rto] => 1
                    [pc] => 5
                    [loc] => 5
                    [meta] => Array
                        (
                        )

                )

            [3] => stdClass Object
                (
                    [id] => 30587
                    [external_id] => 8d3cb4f0-bce9-4f23-9bd4-c98c7c3e1bd5
                    [prop_id] => 94
                    [review_id] => 0
                    [source] => Escapia
                    [title] => Nice view but old apartment
                    [review] => It is with a fantastic sea view and we even saw whales. But the apartment is old (sofa, furniture,...) and cupboards in the kitchen smelt very bad.
However, the kitchen is well equiped and the beds are OK and confortable.
Would definitely need a strong refreshment to be perfect.
                    [name] => Matthieu G.
                    [email] => alix.got@gmail.com
                    [location] => 
                    [response] => Mahalo for your review.  Our units are cleaned after each check out and prior to arrivals.  Glad to hear you found the kitchen well equipped and beds comfortable!  We do agree the ocean front views are great and during whale season, you have a front seat view!  Aloha, Garden Island Properties
                    [response_date] => 2018-12-05
                    [rating] => 4
                    [review_date] => 2018-01-21
                    [featured] => 
                    [status] => 1
                    [checkin_date] => 2017-12-31
                    [nights_stayed] => 5
                    [sfrm] => 5
                    [clean] => 5
                    [rto] => 
                    [pc] => 2
                    [loc] => 5
                    [meta] => Array
                        (
                        )

                )

            [4] => stdClass Object
                (
                    [id] => 30586
                    [external_id] => 9002a3f9-1cbf-43a0-b610-59f2274dfb30
                    [prop_id] => 94
                    [review_id] => 0
                    [source] => Escapia
                    [title] => Nice resort - great location.
                    [review] => Nice unit, better than the photos.  The view is incredible.  Loved waking up to the sunrise every morning.  Location was great, walkable to town and shops.  Nice beach right out the door.  I would stay again! VERY clean with lots of towels, plenty of cookware etc.
  ( cons - the dryer didn't work well, and made the unit damp when used.  ) 
                    [name] => Molly H.
                    [email] => hainesmollym@gmail.com
                    [location] => 
                    [response] => Aloha and thank you for your review and for letting us know about the dryer!  We will check on this immediately.  We are so happy to hear you enjoyed the unit and loved the views and location. We hope you had a wonderful vacation and will return again soon.  Mahalo, Garden Island Properties
                    [response_date] => 2017-11-08
                    [rating] => 5
                    [review_date] => 2017-11-08
                    [featured] => 
                    [status] => 1
                    [checkin_date] => 2017-10-29
                    [nights_stayed] => 7
                    [sfrm] => 5
                    [clean] => 5
                    [rto] => 1
                    [pc] => 5
                    [loc] => 5
                    [meta] => Array
                        (
                        )

                )

            [5] => stdClass Object
                (
                    [id] => 30585
                    [external_id] => ec81c735-c899-4a4d-80b7-cd42b2e7459a
                    [prop_id] => 94
                    [review_id] => 0
                    [source] => Escapia
                    [title] => Absolutely PERFECT!
                    [review] => Everything about this rental was wonderful 🙂 Many people told us to stay on the South Shore, but a friend recommended the East Shore for it's more locals-feel and more central location - and she was ABSOLUTELY right. The East Shore has many more restaurants, bars, shops, etc. than either the South Shore or North Shore. Not to mention, the variety provides more price options too, rather than being stuck with only expensive choices (like on the South Shore). A few past reviews complained that the condo needed some updating, which it definitely seems the owners have made since then. The beds were comfortable, the kitchen has appliance and counter upgrades, the GIANT couch is great for a group of people, etc. The view is beautiful and the grassy area outside the huge sliding door felt like an extension of our space. The entire complex was very quiet and private. Lydgate Park, which is only a 5 minute walk or 2 minute drive, was so lovely! Beautiful rock-enclosed area for safe swimming, lovely beach, gorgeous colorful fish you can see without using a snorkel mask (although I highly recommend using a mask so you can really see the intensity of their colors). The condo provided everything we needed for our beach days (other than snorkel gear): chairs, coolers, umbrella, large beach towels, kids toys, boogie boards, etc. We will definitely be back. My mom said she wouldn't even be interested in looking at other places when we plan our next trip 🙂 THANK YOU KAHA LANI!
                    [name] => Jennifer B.
                    [email] => jennyberg44@gmail.com
                    [location] => 
                    [response] => 
                    [response_date] => 
                    [rating] => 5
                    [review_date] => 2017-05-24
                    [featured] => 
                    [status] => 1
                    [checkin_date] => 2017-05-15
                    [nights_stayed] => 7
                    [sfrm] => 5
                    [clean] => 5
                    [rto] => 1
                    [pc] => 5
                    [loc] => 5
                    [meta] => Array
                        (
                        )

                )

            [6] => stdClass Object
                (
                    [id] => 30583
                    [external_id] => 124ffa2a-958d-4727-af0c-f078ea96d90d
                    [prop_id] => 94
                    [review_id] => 0
                    [source] => Escapia
                    [title] => Kana Lani , a beautiful vacation
                    [review] => Our two week stay was a great Kauai escape. The Kaha Lani unit 123 was perfectly located, with the beach out front and the parks all around. I could not find any resort on Kauai that was better located for beach, shopping, quiet setting and beautiful grounds. The suite was as described, not opulent but well appointed and everything worked fine and was clean. The only issue was the telephone which was static and didn't always work. There were security people on site but they were friendly and non intrusive. We didn't have any interaction with the owner/manager other than the booking etc. which went smoothly.
We would definitely recommend this resort to anyone looking for a perfect Hawaiian experience.
                    [name] => Chris B.
                    [email] => gcj.bowers@gmail.com
                    [location] => 
                    [response] => 
                    [response_date] => 
                    [rating] => 5
                    [review_date] => 2017-03-04
                    [featured] => 
                    [status] => 1
                    [checkin_date] => 2017-02-16
                    [nights_stayed] => 14
                    [sfrm] => 4
                    [clean] => 4
                    [rto] => 1
                    [pc] => 4
                    [loc] => 5
                    [meta] => Array
                        (
                        )

                )

            [7] => stdClass Object
                (
                    [id] => 30584
                    [external_id] => 12843240-c38a-488e-8a16-5b1f213054ce
                    [prop_id] => 94
                    [review_id] => 0
                    [source] => Escapia
                    [title] => Awesome vacation at Kaha Lani
                    [review] => This is a great property: very pretty, well maintained and has all the necessities. The location is fabulous - right on the beach and in between two epic playgrounds. We stayed with 2 kids and I think this was one of the best vacation we had so far as a family. Thank you!
                    [name] => Oxana C.
                    [email] => oxana@google.com
                    [location] => 
                    [response] => 
                    [response_date] => 
                    [rating] => 5
                    [review_date] => 2017-01-23
                    [featured] => 
                    [status] => 1
                    [checkin_date] => 2017-01-13
                    [nights_stayed] => 8
                    [sfrm] => 5
                    [clean] => 5
                    [rto] => 1
                    [pc] => 5
                    [loc] => 5
                    [meta] => Array
                        (
                        )

                )

            [8] => stdClass Object
                (
                    [id] => 30590
                    [external_id] => 9c164fa7-49bb-4ae2-a6dc-fe30da7c26ca
                    [prop_id] => 94
                    [review_id] => 0
                    [source] => Escapia
                    [title] => kaha lani 123
                    [review] => Good location and very quiet, room needs some TLC, on the first day we had to put the door handle together on the bathroom door, the tub would not drain, and several electrical outlets are very loose and should be fixed immediately, the lack of AC is noticeable at night in the bedrooms and the louvers on the windows  can not be locked in various configurations for security. It was nice to have a washer and dryer in the unit but the dryer is not vented to the outside. All in all a nice place to rent that needs a bit of attention, we never could get the DVD player to work which would have been nice.
                    [name] => 
                    [email] => awtunbridge@gmail.com
                    [location] => 
                    [response] => 
                    [response_date] => 
                    [rating] => 4
                    [review_date] => 2016-11-21
                    [featured] => 
                    [status] => 1
                    [checkin_date] => 2016-11-10
                    [nights_stayed] => 9
                    [sfrm] => 3
                    [clean] => 5
                    [rto] => 1
                    [pc] => 4
                    [loc] => 5
                    [meta] => Array
                        (
                        )

                )

            [9] => stdClass Object
                (
                    [id] => 30591
                    [external_id] => 9e900cde-a4e9-46c8-98ab-2aea76c903d2
                    [prop_id] => 94
                    [review_id] => 0
                    [source] => Escapia
                    [title] => Wilcox Vacation at Kaha Lani Resort
                    [review] => Kaha Lani Resort #123 was a perfect spot for us to stay as it is located half way between Princeville and Lihue. It is on the ocean and and within walking distance to beaches which was very important to us. The property description  was accurate with the location, layout and the condo was very clean and prepared for our stay.  This is our third visit to Kauai and this location was the best.   Kapaa has everything we needed as far as shopping and restaurants.  We loved Bubba's Burgers and Shrimp Station. I would stay here again and would highly recommend it to those vacationing on this beautiful island.
                    [name] => Janet W.
                    [email] => rojawilco@aol.com
                    [location] => 
                    [response] => 
                    [response_date] => 
                    [rating] => 5
                    [review_date] => 2016-11-17
                    [featured] => 
                    [status] => 1
                    [checkin_date] => 2016-10-22
                    [nights_stayed] => 8
                    [sfrm] => 5
                    [clean] => 5
                    [rto] => 1
                    [pc] => 5
                    [loc] => 5
                    [meta] => Array
                        (
                        )

                )

            [10] => stdClass Object
                (
                    [id] => 30588
                    [external_id] => ba2cbaed-5cae-4c53-b76a-a15f04e2f947
                    [prop_id] => 94
                    [review_id] => 0
                    [source] => Escapia
                    [title] => Kaha Lani 123
                    [review] => This is the second time I've stayed in this condo with my family.  It's roomy, well stocked and decorated, and makes you feel just like you were at home at the beach.  Great location and easy to get to one side of the island or the other.  Great management company and wonderful staff.
                    [name] => Mary P.
                    [email] => nightmare95252@yahoo.com
                    [location] => 
                    [response] => Aloha, Thank you so much for your review of Kaha Lani 123.  We are glad to hear that you enjoyed your stay and feel "at home at the beach" while on vacation.  We look forward to having you stay with us again in the future.  Mahalo, Garden Island Properties LLC
                    [response_date] => 2016-10-15
                    [rating] => 5
                    [review_date] => 2016-10-12
                    [featured] => 
                    [status] => 1
                    [checkin_date] => 2016-09-22
                    [nights_stayed] => 11
                    [sfrm] => 5
                    [clean] => 5
                    [rto] => 1
                    [pc] => 5
                    [loc] => 5
                    [meta] => Array
                        (
                        )

                )

            [11] => stdClass Object
                (
                    [id] => 30589
                    [external_id] => a25cf34d-7eeb-4909-a00c-1c33ea35bf5a
                    [prop_id] => 94
                    [review_id] => 0
                    [source] => Escapia
                    [title] => Beach Front condo 
                    [review] => We stayed at the condo with our 3 young kids. The ground floor location was ideal for going out quick, send the kids out to play on the lawn and cleaning off the sand before coming back home. The condo is beautifully decorated and the kitchen has all the equipment needed. Washed and dryer in the unit are very useful too. We had s good time at the pool and exploring the island. The location is equally near/far from south and north, so you can go easily each way. Shops and restaurants in Lihue, wailua and Kapaa are nearby. Some beach equipment is in the unit.
                    [name] => 
                    [email] => s.diewitz@gmail.com
                    [location] => 
                    [response] => 
                    [response_date] => 
                    [rating] => 5
                    [review_date] => 2016-07-31
                    [featured] => 
                    [status] => 1
                    [checkin_date] => 2016-07-08
                    [nights_stayed] => 7
                    [sfrm] => 5
                    [clean] => 4
                    [rto] => 1
                    [pc] => 4
                    [loc] => 5
                    [meta] => Array
                        (
                        )

                )

        )

    [rateaddons] => Array
        (
        )

    [unit_meta] => Array
        (
            [0] => stdClass Object
                (
                    [id] => 495660
                    [unit_id] => 94
                    [key] => Custom1
                    [value] => KHL123
                )

            [1] => stdClass Object
                (
                    [id] => 495661
                    [unit_id] => 94
                    [key] => Custom2
                    [value] => 8088227058
                )

            [2] => stdClass Object
                (
                    [id] => 495662
                    [unit_id] => 94
                    [key] => Custom3
                    [value] => Pick up keys at Front Desk
                )

            [3] => stdClass Object
                (
                    [id] => 495663
                    [unit_id] => 94
                    [key] => DisplayRate
                    [value] => Starting from $225 per night
                )

            [4] => stdClass Object
                (
                    [id] => 495664
                    [unit_id] => 94
                    [key] => Location
                    [value] => Wailua
                )

            [5] => stdClass Object
                (
                    [id] => 495665
                    [unit_id] => 94
                    [key] => LocationField
                    [value] => Garden Island Properties, LLC
                )

            [6] => stdClass Object
                (
                    [id] => 495666
                    [unit_id] => 94
                    [key] => Property Type
                    [value] => Condo
                )

            [7] => stdClass Object
                (
                    [id] => 495667
                    [unit_id] => 94
                    [key] => View
                    [value] => Ocean Front
                )

            [8] => stdClass Object
                (
                    [id] => 495668
                    [unit_id] => 94
                    [key] => TextItems
                    [value] => a:3:{i:0;a:2:{s:5:"Title";s:16:"Long Description";s:11:"Description";s:3098:"Kaha Lani Resort #123, Ground Floor, Oceanfront Kauai Vacation Rental, Wailua, Kauai.  
Very private ground floor end unit, no stairs from parking lot (or in unit).  
Walk right 
                )

            [9] => stdClass Object
                (
                    [id] => 495669
                    [unit_id] => 94
                    [key] => MinLOS
                    [value] => 4
                )

            [10] => stdClass Object
                (
                    [id] => 495670
                    [unit_id] => 94
                    [key] => StayContext
                    [value] => Checkin
                )

            [11] => stdClass Object
                (
                    [id] => 495671
                    [unit_id] => 94
                    [key] => StayDays
                    [value] => a:1:{i:0;s:4:"Weds";}
                )

            [12] => stdClass Object
                (
                    [id] => 495672
                    [unit_id] => 94
                    [key] => NumberFloors
                    [value] => 
                )

            [13] => stdClass Object
                (
                    [id] => 495673
                    [unit_id] => 94
                    [key] => CheckInTime
                    [value] => 15:00
                )

            [14] => stdClass Object
                (
                    [id] => 495674
                    [unit_id] => 94
                    [key] => CheckOutTime
                    [value] => 10:00
                )

            [15] => stdClass Object
                (
                    [id] => 495675
                    [unit_id] => 94
                    [key] => SmokingAllowed
                    [value] => 
                )

            [16] => stdClass Object
                (
                    [id] => 496065
                    [unit_id] => 94
                    [key] => Agreement
                    [value] => GUEST AGREEMENT 
RELATES TO ALL PROPERTIES. PLEASE READ THIS CONTRACT CAREFULLY. 
BY CLICKING ON THE ACCEPT BUTTON YOU (either an individual or a single entity) AGREE THAT THIS AGREEMENT IS ENFORCEABLE LIKE ANY WRITTEN CONTRACT SIGNED BY YOU. 

REFUNDABLE
                )

        )

    [minnights] => Array
        (
            [0] => stdClass Object
                (
                    [id] => 1286642
                    [start_date] => 2021-04-01
                    [end_date] => 2021-12-17
                    [prop_id] => 94
                    [nights] => 2
                    [rate_type] => Daily
                )

            [1] => stdClass Object
                (
                    [id] => 1286643
                    [start_date] => 2021-04-01
                    [end_date] => 2021-12-17
                    [prop_id] => 94
                    [nights] => 7
                    [rate_type] => Weekly
                )

            [2] => stdClass Object
                (
                    [id] => 1286644
                    [start_date] => 2021-04-01
                    [end_date] => 2021-12-17
                    [prop_id] => 94
                    [nights] => 30
                    [rate_type] => Monthly
                )

        )

    [manager] => stdClass Object
        (
            [id] => 1
            [ManagerID] => 1
            [Name] => Escapia
            [Vendor] => Escapia
            [Contract] => 
            [random] => 0
            [pms] => 
            [last_update] => 0000-00-00 00:00:00
        )

    [flipkey] => 
    [additonal] => stdClass Object
        (
            [Custom1] => KHL123
            [Custom2] => 8088227058
            [Custom3] => Pick up keys at Front Desk
            [DisplayRate] => Starting from $225 per night
            [Location] => Wailua
            [LocationField] => Garden Island Properties, LLC
            [Property Type] => Condo
            [View] => Ocean Front
            [TextItems] => a:3:{i:0;a:2:{s:5:"Title";s:16:"Long Description";s:11:"Description";s:3098:"Kaha Lani Resort #123, Ground Floor, Oceanfront Kauai Vacation Rental, Wailua, Kauai.  
Very private ground floor end unit, no stairs from parking lot (or in unit).  
Walk right 
            [MinLOS] => 4
            [StayContext] => Checkin
            [StayDays] => Array
                (
                    [0] => Weds
                )

            [NumberFloors] => 
            [CheckInTime] => 15:00
            [CheckOutTime] => 10:00
            [SmokingAllowed] => 
            [Agreement] => GUEST AGREEMENT 
RELATES TO ALL PROPERTIES. PLEASE READ THIS CONTRACT CAREFULLY. 
BY CLICKING ON THE ACCEPT BUTTON YOU (either an individual or a single entity) AGREE THAT THIS AGREEMENT IS ENFORCEABLE LIKE ANY WRITTEN CONTRACT SIGNED BY YOU. 

REFUNDABLE
        )

    [checkinout] => Array
        (
        )

    [special] => Array
        (
        )

    [hasSpecial] => 
)
                    
Holiday Rates apply between 12/15 - 1/5