islander #349, oceanfront views, walk to beach, top floor, ac, free wifi/pkg
0 Bedroom(s) | 1 Bathroom(s) | Sleeps 2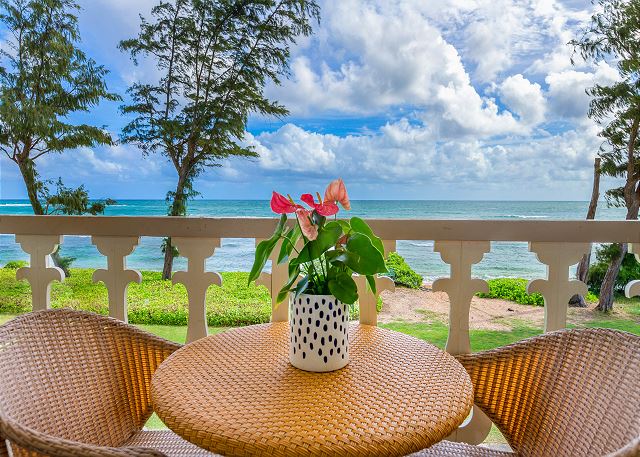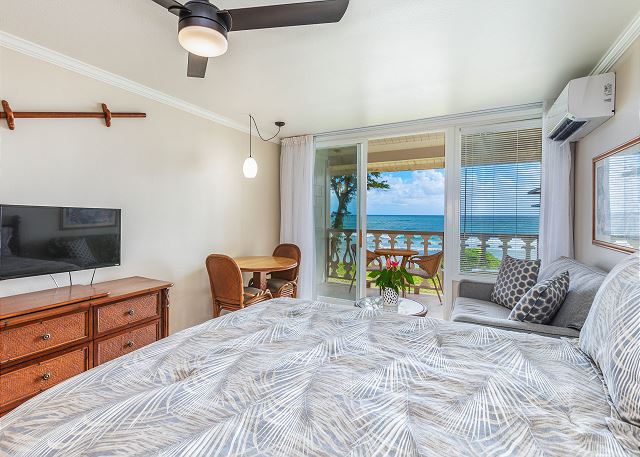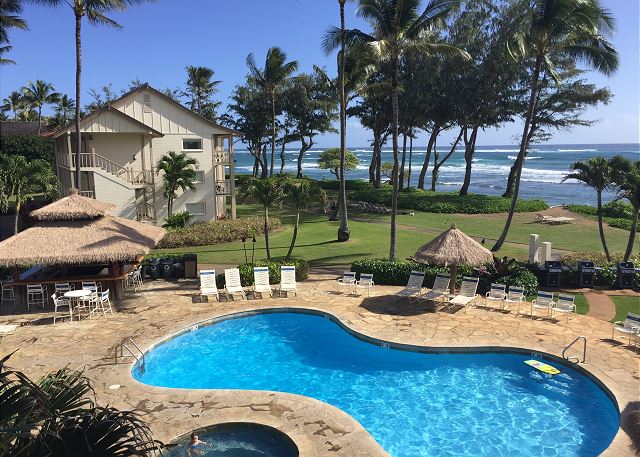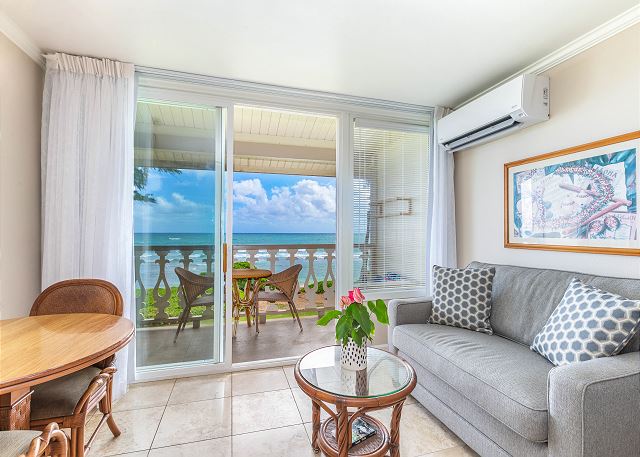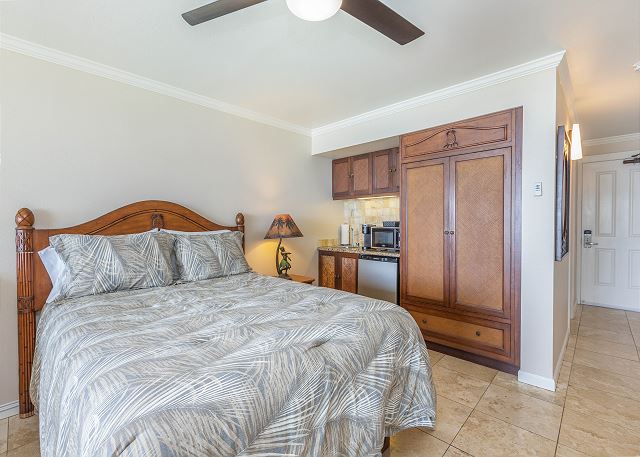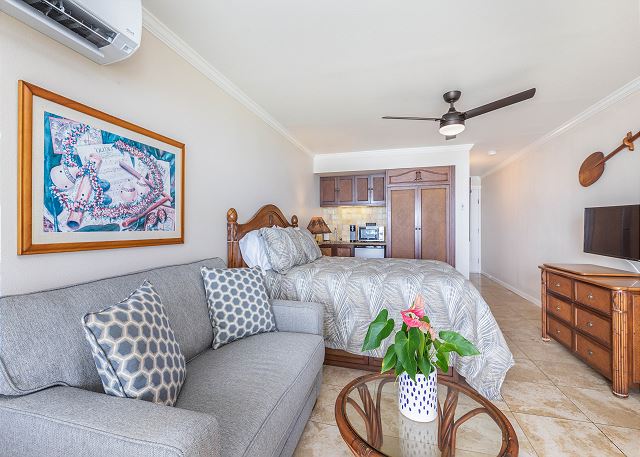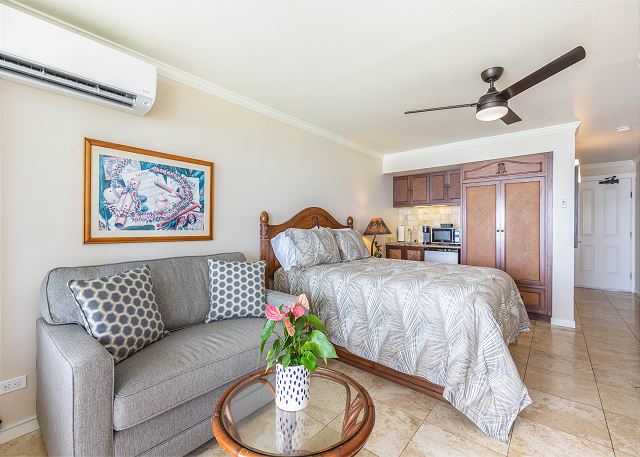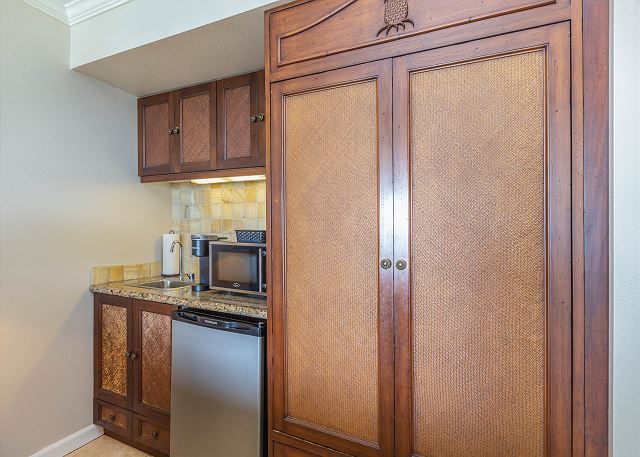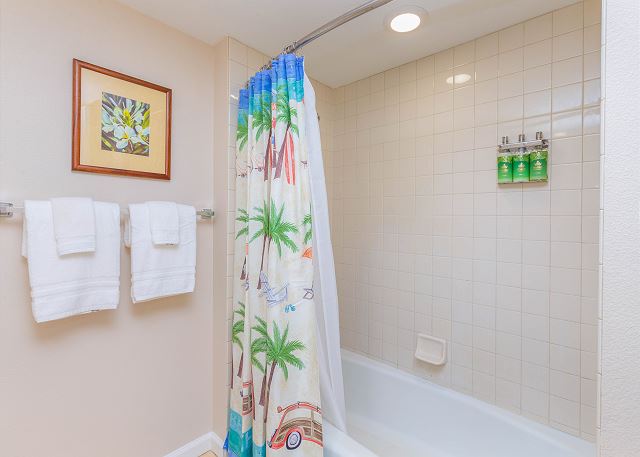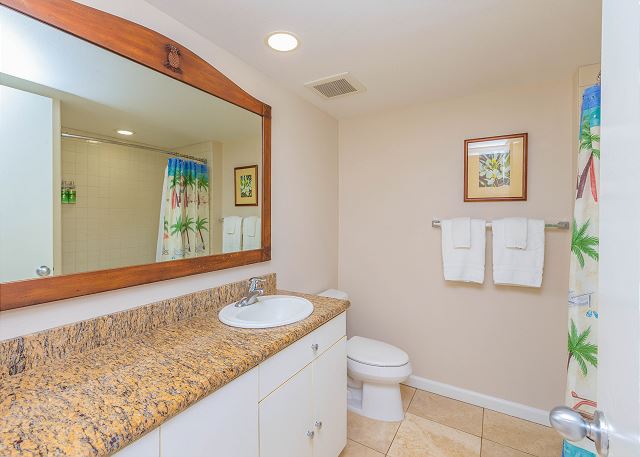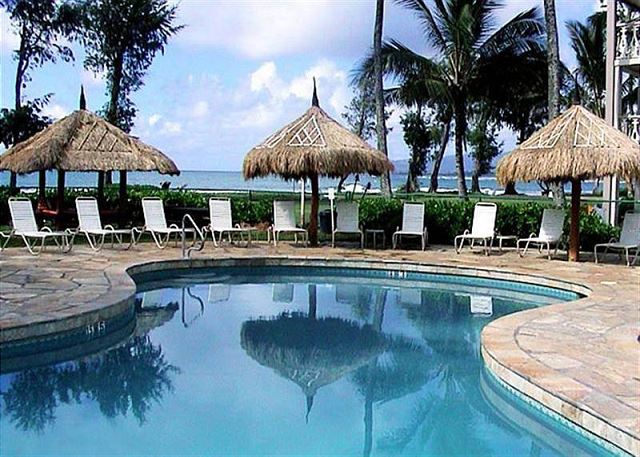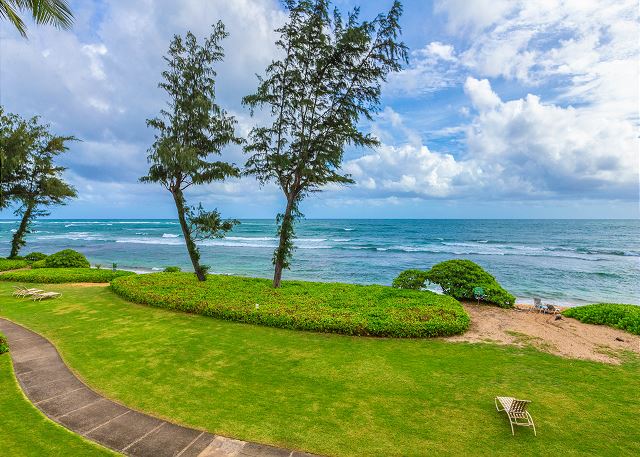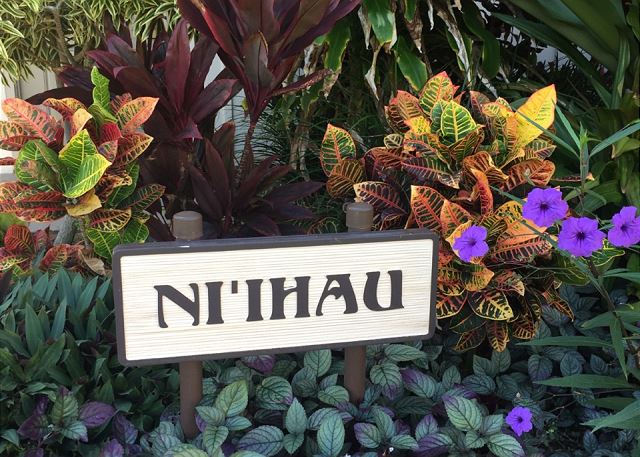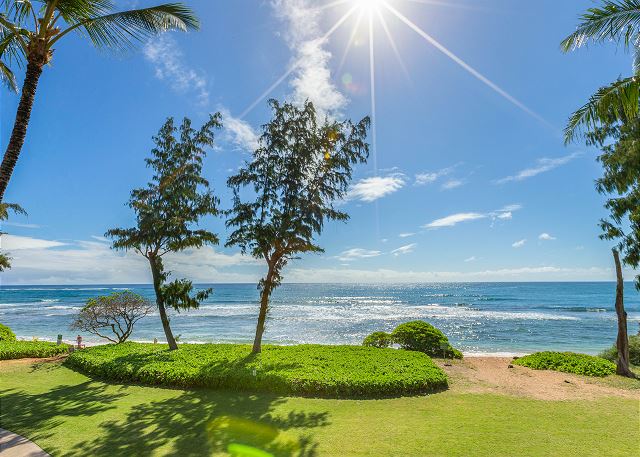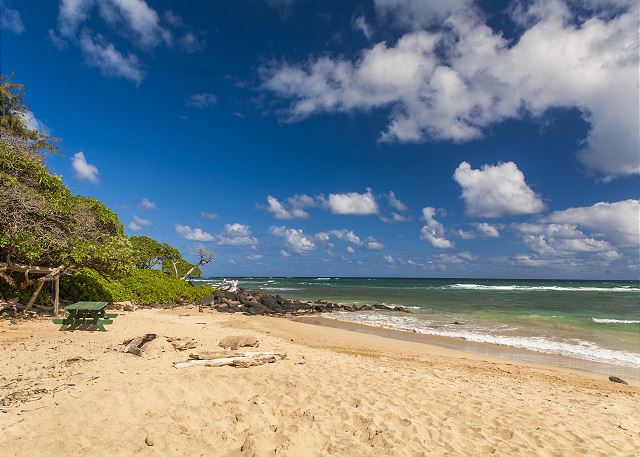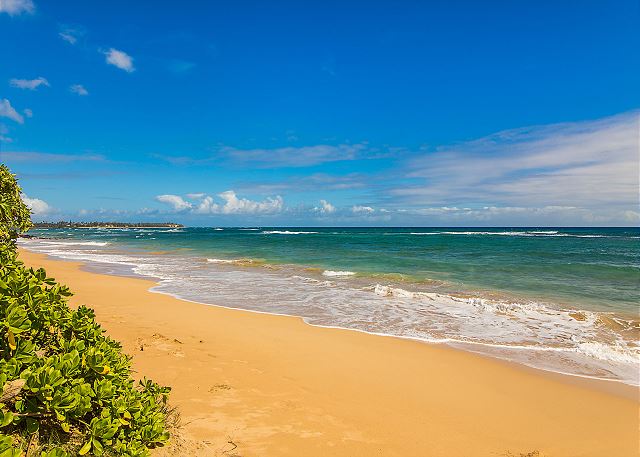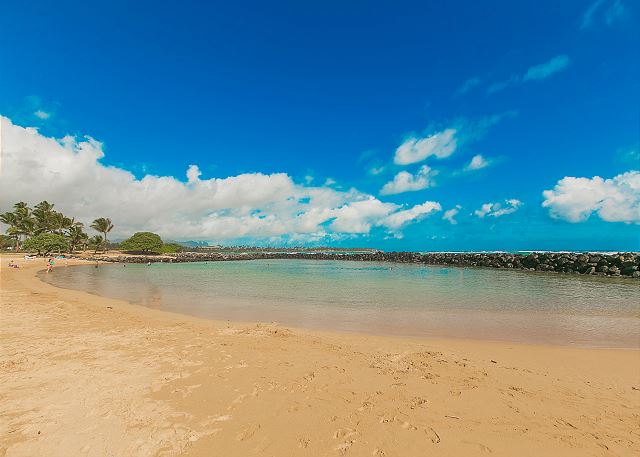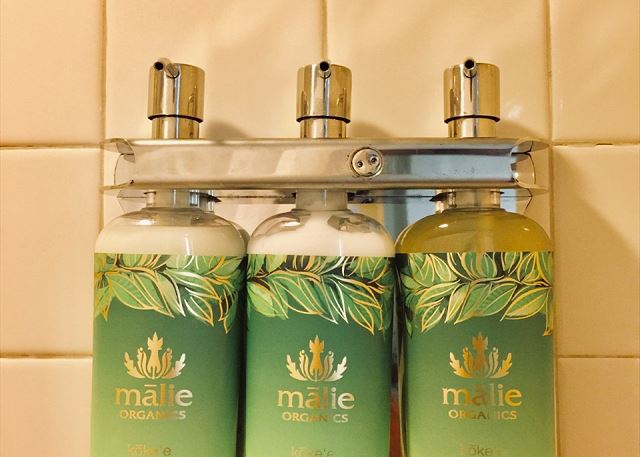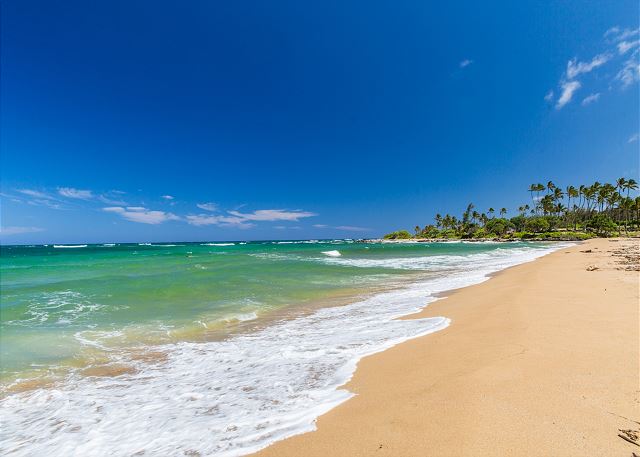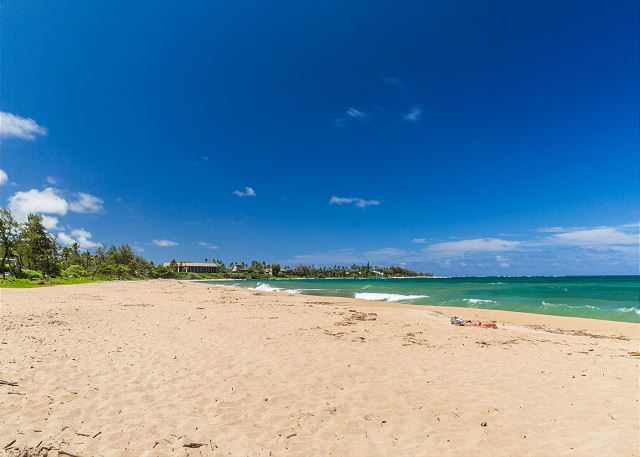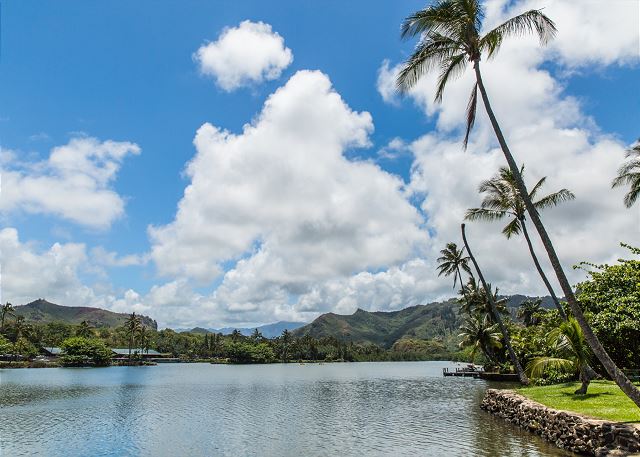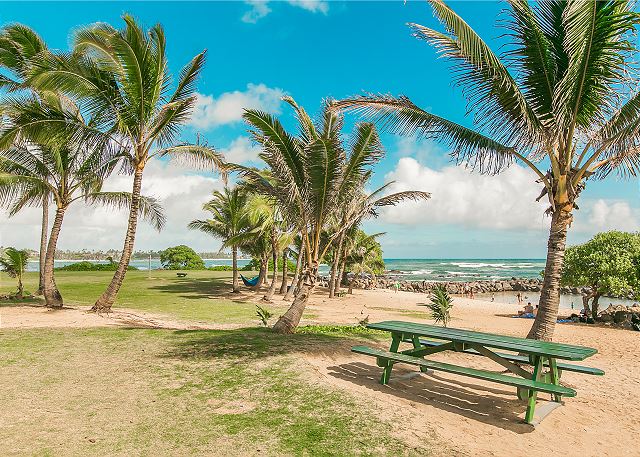 **NEW OWNERSHIP, NEW FURNISHINGS AND MANY UNIT UPDATES**

Oceanfront 3rd (top) floor studio with beautiful oceanfront, sunrise and moon-rise views on Kauai's Coconut Coast.

Furnished with a Queen size bed and full sofa/sleeper, cable tv, air conditioning, new walk in shower and mini kitchenette. Walk out to your private balcony/lanai and enjoy breathtaking sunrise and ocean views of the Pacific Ocean. The unit features travertine stone floors throughout, granite countertops, mahogany style cabinets, wet bar and island-style furnishings. Mini kitchenette includes microwave, blender, mini refrigerator, toaster and coffee maker in unit. Complimentary in room wifi internet access. Sleeps 2.



We have implemented enhanced cleaning and disinfecting guidelines as well as infection prevention advice provided by the CDC. This is a Contactless Check-In Property.



Experience the natural beauty of Kauai at the Islander on the Beach, located on the Royal Coconut Coast of Kauai on the eastern shore. Located in Waipouli, just ten minutes from the Lihue Airport, five minutes to Kapa'a town; Islander on the Beach is set on six acres of oceanfront property with lushly landscaped gardens. Hawaiian Organic Garden located between Hawaii and Lanai Building.



Sunbathe by the swimming pool, enjoy a Mai Tai from the pool side bar or take a dip in the ocean just outside of your front door. Your Islander on the Beach suite is walking distance to shops and dining; conveniently located on the east shore of Kauai. Parking is free and there are no resort fees. The perfect Kauai vacation rental! Come and enjoy your stay at the Islander on the Beach!



Holiday Rates apply from 12/15 to 1/5 & 7 night minimum.

TAT ID# TA-178-787-7888-01
Amenities

Outdoor shower
Queen
Sleep sofa /futon
Toilet
Satellite / Cable
Television
Air Conditioning
Hair Dryer
Internet
Iron & Board
Linens Provided
Parking
Telephone
Towels Provided
Wifi
Free Wifi
Coffee Maker
Dishes & Utensils
Microwave
Toaster
Beachfront
Near The Ocean
Oceanfront
Balcony
Deck / Patio
Outdoor Grill
Private Pool
Studio
Children welcome
Non smoking only
Pets not allowed
Flexible
Recommended
Smoke detectors
Fire extinguisher
Emergency phone number: Medical
Emergency phone number: Police
Emergency phone number: Fire
Enhanced cleaning practices
Clean with disinfectant
No-contact check-in and check-out
High touch surfaces cleaned with disinfectant
Towels and bedding washed in water that's at least 60sC/140sF
1 day (24 hours)
Mini Fridge
Blender
Wifi
Beach Towels
In Room Safe
Patio
Balcony
Hot Tub
Private Pool
Beach
Beach Chairs
Beach Towels
On Beach
Close to Town
Islander On The Beach
Coconut Coast
---
The pictures are very accurate
Oct 25, 2020
This is a simple, clean, basic room with a great view and non-stop sound of the surf. Top floor unit, balcony has walls on both sides making it pretty private. No elevator, so keep that in mind if you prefer the sedentary lifestyle. Grocery store within walking distance. No road noise in the room as this unit is at the back of the property, pretty much right on the water.
---
Week in Paradise
Mar 16, 2020
Fantastic location with a room overlooking the beach. You can sit on your deck and watch the waves and whales playing in the distance. A couple of beaches are nearby that can be enjoyed. The owner has nicely equipped the room with little extras like beaches chairs, towels and a cooler. Nice to have the kitchenette handy as well. The location is great. Several shops, food and tour providers on site and within walking distance. You must try The Avalon. Food was incredible. Also, the Paniolo Grill was a fun night with live music and bring your own alcohol.We rented a car and toured some amazing sites on the island too.We are already planning a return trip! Mahalo!
---
Great View
Mar 11, 2020
We absolutely loved our condo and the beautiful view. Very clean, location was great. Lots of choices of food close by. Location was central.
---
Beautiful view from Lanai
Feb 26, 2020
We stayed in Feb 2020 and enjoyed every minute. The condo is very clean, well appointed. The lanai was our favourite spot! Having the beach out front was fantastic and general location fantastic for walking as well as exploring the island.We'll be back!
---
As advertised
Nov 21, 2019
Property was as advertised, in fact the view was better than I imagined but definitely what I hoped for. Appreciated the mid stay cleaning and linen change. Very convenient to have beach chairs/umbrella provided as well as beach towels as it makes traveling light so much easier. If i could make a suggestion, an electric kettle would be great as not everyone drinks coffee and boiling water in microwave doesn't appeal to me.
---
Great View!
Oct 12, 2019
This place was clean, quiet, and had an exceptional oceanfront view. the grounds were immaculate, pool was great, and the tiki bar was a fun place to grab a drink and chat. Bartenders were amazing. Our room was great for us, bed was comfy, and had use of beach chairs and a cooler, and an umbrella for days at the beach. Great place to stay! only thing needed was a drying rack on the deck to dry towels and clothing on, other than that, it was a great location and a fun trip for us!
---
Honeymooners
Oct 02, 2019
We were on our honeymoon and the condo was nice and a great location. We love the restaurant next door !! Very amazing!! but the curtains in front of the bed would not close al the way we had a 3 foot opening in front of the king size bed 🙁 so we had to use the sliding glass door to close the curtains shut . which the door was very very heavy to open and close. all so the air conditioners was not working very well and the patio smelled funny !
Book Your Stay!
Select your arrival and departure dates below to reserve this unit.


September 2021

| S | M | T | W | T | F | S |
| --- | --- | --- | --- | --- | --- | --- |
| | | | 01 | 02 | 03 | 04 |
| 05 | 06 | 07 | 08 | 09 | 10 | 11 |
| 12 | 13 | 14 | 15 | 16 | 17 | 18 |
| 19 | 20 | 21 | 22 | 23 | 24 | 25 |
| 26 | 27 | 28 | 29 | 30 | | |
October 2021

| S | M | T | W | T | F | S |
| --- | --- | --- | --- | --- | --- | --- |
| | | | | | 01 | 02 |
| 03 | 04 | 05 | 06 | 07 | 08 | 09 |
| 10 | 11 | 12 | 13 | 14 | 15 | 16 |
| 17 | 18 | 19 | 20 | 21 | 22 | 23 |
| 24 | 25 | 26 | 27 | 28 | 29 | 30 |
| 31 | | | | | | |
November 2021

| S | M | T | W | T | F | S |
| --- | --- | --- | --- | --- | --- | --- |
| | 01 | 02 | 03 | 04 | 05 | 06 |
| 07 | 08 | 09 | 10 | 11 | 12 | 13 |
| 14 | 15 | 16 | 17 | 18 | 19 | 20 |
| 21 | 22 | 23 | 24 | 25 | 26 | 27 |
| 28 | 29 | 30 | | | | |
December 2021

| S | M | T | W | T | F | S |
| --- | --- | --- | --- | --- | --- | --- |
| | | | 01 | 02 | 03 | 04 |
| 05 | 06 | 07 | 08 | 09 | 10 | 11 |
| 12 | 13 | 14 | 15 | 16 | 17 | 18 |
| 19 | 20 | 21 | 22 | 23 | 24 | 25 |
| 26 | 27 | 28 | 29 | 30 | 31 | |
January 2022

| S | M | T | W | T | F | S |
| --- | --- | --- | --- | --- | --- | --- |
| | | | | | | 01 |
| 02 | 03 | 04 | 05 | 06 | 07 | 08 |
| 09 | 10 | 11 | 12 | 13 | 14 | 15 |
| 16 | 17 | 18 | 19 | 20 | 21 | 22 |
| 23 | 24 | 25 | 26 | 27 | 28 | 29 |
| 30 | 31 | | | | | |
February 2022

| S | M | T | W | T | F | S |
| --- | --- | --- | --- | --- | --- | --- |
| | | 01 | 02 | 03 | 04 | 05 |
| 06 | 07 | 08 | 09 | 10 | 11 | 12 |
| 13 | 14 | 15 | 16 | 17 | 18 | 19 |
| 20 | 21 | 22 | 23 | 24 | 25 | 26 |
| 27 | 28 | | | | | |
March 2022

| S | M | T | W | T | F | S |
| --- | --- | --- | --- | --- | --- | --- |
| | | 01 | 02 | 03 | 04 | 05 |
| 06 | 07 | 08 | 09 | 10 | 11 | 12 |
| 13 | 14 | 15 | 16 | 17 | 18 | 19 |
| 20 | 21 | 22 | 23 | 24 | 25 | 26 |
| 27 | 28 | 29 | 30 | 31 | | |
April 2022

| S | M | T | W | T | F | S |
| --- | --- | --- | --- | --- | --- | --- |
| | | | | | 01 | 02 |
| 03 | 04 | 05 | 06 | 07 | 08 | 09 |
| 10 | 11 | 12 | 13 | 14 | 15 | 16 |
| 17 | 18 | 19 | 20 | 21 | 22 | 23 |
| 24 | 25 | 26 | 27 | 28 | 29 | 30 |
May 2022

| S | M | T | W | T | F | S |
| --- | --- | --- | --- | --- | --- | --- |
| 01 | 02 | 03 | 04 | 05 | 06 | 07 |
| 08 | 09 | 10 | 11 | 12 | 13 | 14 |
| 15 | 16 | 17 | 18 | 19 | 20 | 21 |
| 22 | 23 | 24 | 25 | 26 | 27 | 28 |
| 29 | 30 | 31 | | | | |
June 2022

| S | M | T | W | T | F | S |
| --- | --- | --- | --- | --- | --- | --- |
| | | | 01 | 02 | 03 | 04 |
| 05 | 06 | 07 | 08 | 09 | 10 | 11 |
| 12 | 13 | 14 | 15 | 16 | 17 | 18 |
| 19 | 20 | 21 | 22 | 23 | 24 | 25 |
| 26 | 27 | 28 | 29 | 30 | | |
July 2022

| S | M | T | W | T | F | S |
| --- | --- | --- | --- | --- | --- | --- |
| | | | | | 01 | 02 |
| 03 | 04 | 05 | 06 | 07 | 08 | 09 |
| 10 | 11 | 12 | 13 | 14 | 15 | 16 |
| 17 | 18 | 19 | 20 | 21 | 22 | 23 |
| 24 | 25 | 26 | 27 | 28 | 29 | 30 |
| 31 | | | | | | |
August 2022

| S | M | T | W | T | F | S |
| --- | --- | --- | --- | --- | --- | --- |
| | 01 | 02 | 03 | 04 | 05 | 06 |
| 07 | 08 | 09 | 10 | 11 | 12 | 13 |
| 14 | 15 | 16 | 17 | 18 | 19 | 20 |
| 21 | 22 | 23 | 24 | 25 | 26 | 27 |
| 28 | 29 | 30 | 31 | | | |
September 2022

| S | M | T | W | T | F | S |
| --- | --- | --- | --- | --- | --- | --- |
| | | | | 01 | 02 | 03 |
| 04 | 05 | 06 | 07 | 08 | 09 | 10 |
| 11 | 12 | 13 | 14 | 15 | 16 | 17 |
| 18 | 19 | 20 | 21 | 22 | 23 | 24 |
| 25 | 26 | 27 | 28 | 29 | 30 | |
October 2022

| S | M | T | W | T | F | S |
| --- | --- | --- | --- | --- | --- | --- |
| | | | | | | 01 |
| 02 | 03 | 04 | 05 | 06 | 07 | 08 |
| 09 | 10 | 11 | 12 | 13 | 14 | 15 |
| 16 | 17 | 18 | 19 | 20 | 21 | 22 |
| 23 | 24 | 25 | 26 | 27 | 28 | 29 |
| 30 | 31 | | | | | |
November 2022

| S | M | T | W | T | F | S |
| --- | --- | --- | --- | --- | --- | --- |
| | | 01 | 02 | 03 | 04 | 05 |
| 06 | 07 | 08 | 09 | 10 | 11 | 12 |
| 13 | 14 | 15 | 16 | 17 | 18 | 19 |
| 20 | 21 | 22 | 23 | 24 | 25 | 26 |
| 27 | 28 | 29 | 30 | | | |
December 2022

| S | M | T | W | T | F | S |
| --- | --- | --- | --- | --- | --- | --- |
| | | | | 01 | 02 | 03 |
| 04 | 05 | 06 | 07 | 08 | 09 | 10 |
| 11 | 12 | 13 | 14 | 15 | 16 | 17 |
| 18 | 19 | 20 | 21 | 22 | 23 | 24 |
| 25 | 26 | 27 | 28 | 29 | 30 | 31 |
Available
Unavailable
Check-In Only
Check-Out Only
Seasonal Rates
Starting from $145 per night

                    stdClass Object
(
    [id] => 89
    [ManagerID] => 1
    [ComplexID] => 0
    [Name] => Islander #349, Oceanfront Views, Walk to Beach, Top Floor, AC, Free Wifi/Pkg
    [PropertyCode] => 2064-167187
    [Address1] => 440 Aleka Place
    [Address2] => 
    [City] => Kapaa
    [State] => HI
    [Country] => US
    [PostalCode] => 
    [Province] => 
    [Bedrooms] => 0
    [Bathrooms] => 1
    [Beds] => {"Queen":1,"Sofa Bed":1}
    [Type] => Condominium
    [Area] => 
    [Location] => Garden Island Properties, LLC
    [View] => Ocean Front
    [Video] => 
    [lat] => 22.052868
    [long] => -159.328366
    [map_id] => 0
    [Complex] => 133
    [Description] => **NEW OWNERSHIP, NEW FURNISHINGS AND MANY UNIT UPDATES**

Oceanfront 3rd (top) floor studio with beautiful oceanfront, sunrise and moon-rise views on Kauai's Coconut Coast.

Furnished with a Queen size bed and full sofa/sleeper, cable tv, air conditioning, new walk in shower and mini kitchenette.  Walk out to your private balcony/lanai and enjoy breathtaking sunrise and ocean views of the Pacific Ocean. The unit features travertine stone floors throughout, granite countertops, mahogany style cabinets, wet bar and island-style furnishings.  Mini kitchenette includes microwave, blender, mini refrigerator, toaster and coffee maker in unit. Complimentary in room wifi internet access. Sleeps 2.



We have implemented enhanced cleaning and disinfecting guidelines as well as infection prevention advice provided by the CDC. This is a Contactless Check-In Property.



Experience the natural beauty of Kauai at the Islander on the Beach, located on the Royal Coconut Coast of Kauai on the eastern shore. Located in Waipouli, just ten minutes from the Lihue Airport, five minutes to Kapa'a town; Islander on the Beach is set on six acres of oceanfront property with lushly landscaped gardens. Hawaiian Organic Garden located between Hawaii and Lanai Building.



Sunbathe by the swimming pool, enjoy a Mai Tai from the pool side bar or take a dip in the ocean just outside of your front door. Your Islander on the Beach suite is walking distance to shops and dining; conveniently located on the east shore of Kauai. Parking is free and there are no resort fees. The perfect Kauai vacation rental! Come and enjoy your stay at the Islander on the Beach!



Holiday Rates apply from 12/15 to 1/5 & 7 night minimum. 

TAT ID#  TA-178-787-7888-01
    [ShortDescription] => Immaculate oceanfront studio unit with spectacular sunrise, moon rise and beach views from your private lanai. Equipped with a kitchenette, AC, complimentary wifi and parking. Queen bed and full size sofa sleeper.  Sleeps 2.
    [Sleeps] => 2
    [MaxAdult] => 0
    [MaxSearchMonths] => 48
    [Status] => Active
    [page_slug] => Islander_on_the_Beach_348_Amazing_Oceanfront_and_Sunrise_Views-2064-167187-1
    [SEOTitle] => Islander on the Beach #349, Oceanfront, AC, 3rd/Top Floor
    [SEODescription] => Islander #349, Oceanfront Views, Walk to Beach, Top Floor, AC, Free Wifi/Pkg
    [Featured] => 0
    [created] => 0000-00-00 00:00:00
    [updated] => 2021-09-26 08:45:52
    [internalcode] => ISL 349
    [photos] => Array
        (
            [0] => stdClass Object
                (
                    [id] => 3864815
                    [unit_id] => 89
                    [url] => https://pictures.escapia.com/GAISPR/167187/9457190226.jpg
                    [thumb_url] => https://pictures.escapia.com/GAISPR/167187/9457190226.jpg
                     => Private Top Floor Lanai with Oceanfront Views
                    [sort] => 0
                )

            [1] => stdClass Object
                (
                    [id] => 3864816
                    [unit_id] => 89
                    [url] => https://pictures.escapia.com/GAISPR/167187/5943470912.jpg
                    [thumb_url] => https://pictures.escapia.com/GAISPR/167187/5943470912.jpg
                     =>  Enjoy Beautiful Oceanfront Views from this Newly Updated Unit
                    [sort] => 1
                )

            [2] => stdClass Object
                (
                    [id] => 3864817
                    [unit_id] => 89
                    [url] => https://pictures.escapia.com/GAISPR/167187/5108460306.jpg
                    [thumb_url] => https://pictures.escapia.com/GAISPR/167187/5108460306.jpg
                     => Resort Pool and Steps to the Ocean
                    [sort] => 2
                )

            [3] => stdClass Object
                (
                    [id] => 3864818
                    [unit_id] => 89
                    [url] => https://pictures.escapia.com/GAISPR/167187/7721370726.jpg
                    [thumb_url] => https://pictures.escapia.com/GAISPR/167187/7721370726.jpg
                     => Beautiful Oceanfront Views from this Updated Unit!
                    [sort] => 3
                )

            [4] => stdClass Object
                (
                    [id] => 3864819
                    [unit_id] => 89
                    [url] => https://pictures.escapia.com/GAISPR/167187/7786630388.jpg
                    [thumb_url] => https://pictures.escapia.com/GAISPR/167187/7786630388.jpg
                     => New Queen Bed
                    [sort] => 4
                )

            [5] => stdClass Object
                (
                    [id] => 3864820
                    [unit_id] => 89
                    [url] => https://pictures.escapia.com/GAISPR/167187/1418120525.jpg
                    [thumb_url] => https://pictures.escapia.com/GAISPR/167187/1418120525.jpg
                     => Newly Upgraded Oceanfront Studio Unit
                    [sort] => 5
                )

            [6] => stdClass Object
                (
                    [id] => 3864821
                    [unit_id] => 89
                    [url] => https://pictures.escapia.com/GAISPR/167187/1451140026.jpg
                    [thumb_url] => https://pictures.escapia.com/GAISPR/167187/1451140026.jpg
                     => New Queen Bed and Full Sofa Sleeper
                    [sort] => 6
                )

            [7] => stdClass Object
                (
                    [id] => 3864822
                    [unit_id] => 89
                    [url] => https://pictures.escapia.com/GAISPR/167187/2432650059.jpg
                    [thumb_url] => https://pictures.escapia.com/GAISPR/167187/2432650059.jpg
                     => Kitchenette Area with Mini Fridge, Microwave, Coffee Maker
                    [sort] => 7
                )

            [8] => stdClass Object
                (
                    [id] => 3864823
                    [unit_id] => 89
                    [url] => https://pictures.escapia.com/GAISPR/167187/3447190107.jpg
                    [thumb_url] => https://pictures.escapia.com/GAISPR/167187/3447190107.jpg
                     => Full Bathroom with Shower Tub and Malie Organic Amenities
                    [sort] => 8
                )

            [9] => stdClass Object
                (
                    [id] => 3864824
                    [unit_id] => 89
                    [url] => https://pictures.escapia.com/GAISPR/167187/0558040540.jpg
                    [thumb_url] => https://pictures.escapia.com/GAISPR/167187/0558040540.jpg
                     => Full Bathroom
                    [sort] => 9
                )

            [10] => stdClass Object
                (
                    [id] => 3864825
                    [unit_id] => 89
                    [url] => https://pictures.escapia.com/GAISPR/167187/8678270546.jpg
                    [thumb_url] => https://pictures.escapia.com/GAISPR/167187/8678270546.jpg
                     => Resort Pool
                    [sort] => 10
                )

            [11] => stdClass Object
                (
                    [id] => 3864826
                    [unit_id] => 89
                    [url] => https://pictures.escapia.com/GAISPR/167187/0995120652.jpg
                    [thumb_url] => https://pictures.escapia.com/GAISPR/167187/0995120652.jpg
                     => Just steps to the beautiful Pacific Ocean!
                    [sort] => 11
                )

            [12] => stdClass Object
                (
                    [id] => 3864827
                    [unit_id] => 89
                    [url] => https://pictures.escapia.com/GAISPR/167187/1750070173.jpg
                    [thumb_url] => https://pictures.escapia.com/GAISPR/167187/1750070173.jpg
                     => Building sign
                    [sort] => 12
                )

            [13] => stdClass Object
                (
                    [id] => 3864828
                    [unit_id] => 89
                    [url] => https://pictures.escapia.com/GAISPR/167187/9153790797.jpg
                    [thumb_url] => https://pictures.escapia.com/GAISPR/167187/9153790797.jpg
                     => Oceanfront views from your lanai
                    [sort] => 13
                )

            [14] => stdClass Object
                (
                    [id] => 3864829
                    [unit_id] => 89
                    [url] => https://pictures.escapia.com/GAISPR/167187/3080390084.jpg
                    [thumb_url] => https://pictures.escapia.com/GAISPR/167187/3080390084.jpg
                     => Lydgate Beach, 2 miles south
                    [sort] => 14
                )

            [15] => stdClass Object
                (
                    [id] => 3864830
                    [unit_id] => 89
                    [url] => https://pictures.escapia.com/GAISPR/167187/6899580615.jpg
                    [thumb_url] => https://pictures.escapia.com/GAISPR/167187/6899580615.jpg
                     => Lydgate Beach, 2 miles south
                    [sort] => 15
                )

            [16] => stdClass Object
                (
                    [id] => 3864831
                    [unit_id] => 89
                    [url] => https://pictures.escapia.com/GAISPR/167187/9434680397.jpg
                    [thumb_url] => https://pictures.escapia.com/GAISPR/167187/9434680397.jpg
                     => Lydgate Beach, 2 miles south
                    [sort] => 16
                )

            [17] => stdClass Object
                (
                    [id] => 3864832
                    [unit_id] => 89
                    [url] => https://pictures.escapia.com/GAISPR/167187/9908510470.jpg
                    [thumb_url] => https://pictures.escapia.com/GAISPR/167187/9908510470.jpg
                     => Malie Organics Bath Amenities
                    [sort] => 17
                )

            [18] => stdClass Object
                (
                    [id] => 3864833
                    [unit_id] => 89
                    [url] => https://pictures.escapia.com/GAISPR/167187/7007850240.jpg
                    [thumb_url] => https://pictures.escapia.com/GAISPR/167187/7007850240.jpg
                     => Wailua Beach, 2 miles south
                    [sort] => 18
                )

            [19] => stdClass Object
                (
                    [id] => 3864834
                    [unit_id] => 89
                    [url] => https://pictures.escapia.com/GAISPR/167187/3627540266.jpg
                    [thumb_url] => https://pictures.escapia.com/GAISPR/167187/3627540266.jpg
                     => Wailua Beach, 2 miles south
                    [sort] => 19
                )

            [20] => stdClass Object
                (
                    [id] => 3864835
                    [unit_id] => 89
                    [url] => https://pictures.escapia.com/GAISPR/167187/9450060203.jpg
                    [thumb_url] => https://pictures.escapia.com/GAISPR/167187/9450060203.jpg
                     => Wailua River, 2 miles south
                    [sort] => 20
                )

            [21] => stdClass Object
                (
                    [id] => 3864836
                    [unit_id] => 89
                    [url] => https://pictures.escapia.com/GAISPR/167187/7589260522.jpg
                    [thumb_url] => https://pictures.escapia.com/GAISPR/167187/7589260522.jpg
                     => Lydgate Beach, 2 miles south
                    [sort] => 21
                )

        )

    [rates] => Array
        (
            [0] => stdClass Object
                (
                    [id] => 1323293
                    [start_date] => 2021-04-01
                    [end_date] => 2021-12-14
                    [amount] => 182.875
                    [chargebasis] => Daily
                    [unit_id] => 89
                )

            [1] => stdClass Object
                (
                    [id] => 1323294
                    [start_date] => 2021-04-01
                    [end_date] => 2021-12-14
                    [amount] => 1256.5
                    [chargebasis] => Weekly
                    [unit_id] => 89
                )

            [2] => stdClass Object
                (
                    [id] => 1323295
                    [start_date] => 2021-04-01
                    [end_date] => 2021-12-14
                    [amount] => 5281.5
                    [chargebasis] => Monthly
                    [unit_id] => 89
                )

            [3] => stdClass Object
                (
                    [id] => 1323296
                    [start_date] => 2021-12-15
                    [end_date] => 2022-01-09
                    [amount] => 1625.4
                    [chargebasis] => Weekly
                    [unit_id] => 89
                )

            [4] => stdClass Object
                (
                    [id] => 1323297
                    [start_date] => 2022-01-10
                    [end_date] => 2022-03-31
                    [amount] => 189
                    [chargebasis] => Daily
                    [unit_id] => 89
                )

            [5] => stdClass Object
                (
                    [id] => 1323298
                    [start_date] => 2022-01-10
                    [end_date] => 2022-03-31
                    [amount] => 1323
                    [chargebasis] => Weekly
                    [unit_id] => 89
                )

            [6] => stdClass Object
                (
                    [id] => 1323299
                    [start_date] => 2022-01-10
                    [end_date] => 2022-03-31
                    [amount] => 5670
                    [chargebasis] => Monthly
                    [unit_id] => 89
                )

            [7] => stdClass Object
                (
                    [id] => 1323300
                    [start_date] => 2022-04-01
                    [end_date] => 2022-12-14
                    [amount] => 196.6125
                    [chargebasis] => Daily
                    [unit_id] => 89
                )

            [8] => stdClass Object
                (
                    [id] => 1323301
                    [start_date] => 2022-04-01
                    [end_date] => 2022-12-14
                    [amount] => 1376.2903
                    [chargebasis] => Weekly
                    [unit_id] => 89
                )

            [9] => stdClass Object
                (
                    [id] => 1323302
                    [start_date] => 2022-04-01
                    [end_date] => 2022-12-14
                    [amount] => 5898.381
                    [chargebasis] => Monthly
                    [unit_id] => 89
                )

        )

    [attributes] => Array
        (
            [0] => stdClass Object
                (
                    [id] => 7615544
                    [name] => outdoor shower
                    [value] => 
                    [group] => AMENITY
                    [unit_id] => 89
                )

            [1] => stdClass Object
                (
                    [id] => 7615545
                    [name] => queen
                    [value] => 
                    [group] => AMENITY
                    [unit_id] => 89
                )

            [2] => stdClass Object
                (
                    [id] => 7615546
                    [name] => sleep sofa /futon
                    [value] => 
                    [group] => AMENITY
                    [unit_id] => 89
                )

            [3] => stdClass Object
                (
                    [id] => 7615547
                    [name] => toilet
                    [value] => 
                    [group] => AMENITY
                    [unit_id] => 89
                )

            [4] => stdClass Object
                (
                    [id] => 7615548
                    [name] => Satellite / Cable
                    [value] => 
                    [group] => ENTERTAINMENT
                    [unit_id] => 89
                )

            [5] => stdClass Object
                (
                    [id] => 7615549
                    [name] => Television
                    [value] => 
                    [group] => ENTERTAINMENT
                    [unit_id] => 89
                )

            [6] => stdClass Object
                (
                    [id] => 7615550
                    [name] => Air Conditioning
                    [value] => 
                    [group] => GENERAL
                    [unit_id] => 89
                )

            [7] => stdClass Object
                (
                    [id] => 7615551
                    [name] => Hair Dryer
                    [value] => 
                    [group] => GENERAL
                    [unit_id] => 89
                )

            [8] => stdClass Object
                (
                    [id] => 7615552
                    [name] => Internet
                    [value] => 
                    [group] => GENERAL
                    [unit_id] => 89
                )

            [9] => stdClass Object
                (
                    [id] => 7615553
                    [name] => Iron & Board
                    [value] => 
                    [group] => GENERAL
                    [unit_id] => 89
                )

            [10] => stdClass Object
                (
                    [id] => 7615554
                    [name] => Linens Provided
                    [value] => 
                    [group] => GENERAL
                    [unit_id] => 89
                )

            [11] => stdClass Object
                (
                    [id] => 7615555
                    [name] => Parking
                    [value] => 
                    [group] => GENERAL
                    [unit_id] => 89
                )

            [12] => stdClass Object
                (
                    [id] => 7615556
                    [name] => Telephone
                    [value] => 
                    [group] => GENERAL
                    [unit_id] => 89
                )

            [13] => stdClass Object
                (
                    [id] => 7615557
                    [name] => Towels Provided
                    [value] => 
                    [group] => GENERAL
                    [unit_id] => 89
                )

            [14] => stdClass Object
                (
                    [id] => 7615558
                    [name] => Wifi
                    [value] => 
                    [group] => GENERAL
                    [unit_id] => 89
                )

            [15] => stdClass Object
                (
                    [id] => 7615559
                    [name] => Free Wifi
                    [value] => 
                    [group] => GENERAL
                    [unit_id] => 89
                )

            [16] => stdClass Object
                (
                    [id] => 7615560
                    [name] => Coffee Maker
                    [value] => 
                    [group] => KITCHEN
                    [unit_id] => 89
                )

            [17] => stdClass Object
                (
                    [id] => 7615561
                    [name] => Dishes & Utensils
                    [value] => 
                    [group] => KITCHEN
                    [unit_id] => 89
                )

            [18] => stdClass Object
                (
                    [id] => 7615562
                    [name] => Microwave
                    [value] => 
                    [group] => KITCHEN
                    [unit_id] => 89
                )

            [19] => stdClass Object
                (
                    [id] => 7615563
                    [name] => Toaster
                    [value] => 
                    [group] => KITCHEN
                    [unit_id] => 89
                )

            [20] => stdClass Object
                (
                    [id] => 7615564
                    [name] => Beachfront
                    [value] => 
                    [group] => LOCATION_TYPE
                    [unit_id] => 89
                )

            [21] => stdClass Object
                (
                    [id] => 7615565
                    [name] => Near The Ocean
                    [value] => 
                    [group] => LOCATION_TYPE
                    [unit_id] => 89
                )

            [22] => stdClass Object
                (
                    [id] => 7615566
                    [name] => Oceanfront
                    [value] => 
                    [group] => LOCATION_TYPE
                    [unit_id] => 89
                )

            [23] => stdClass Object
                (
                    [id] => 7615567
                    [name] => Balcony
                    [value] => 
                    [group] => OUTSIDE
                    [unit_id] => 89
                )

            [24] => stdClass Object
                (
                    [id] => 7615568
                    [name] => Deck / Patio
                    [value] => 
                    [group] => OUTSIDE
                    [unit_id] => 89
                )

            [25] => stdClass Object
                (
                    [id] => 7615569
                    [name] => Outdoor Grill
                    [value] => 
                    [group] => OUTSIDE
                    [unit_id] => 89
                )

            [26] => stdClass Object
                (
                    [id] => 7615570
                    [name] => Private Pool
                    [value] => 
                    [group] => POOL_SPA
                    [unit_id] => 89
                )

            [27] => stdClass Object
                (
                    [id] => 7615571
                    [name] => studio
                    [value] => 
                    [group] => ROOM_SUBTYPE
                    [unit_id] => 89
                )

            [28] => stdClass Object
                (
                    [id] => 7615572
                    [name] => children welcome
                    [value] => 
                    [group] => SUITABILITY
                    [unit_id] => 89
                )

            [29] => stdClass Object
                (
                    [id] => 7615573
                    [name] => non smoking only
                    [value] => 
                    [group] => SUITABILITY
                    [unit_id] => 89
                )

            [30] => stdClass Object
                (
                    [id] => 7615574
                    [name] => pets not allowed
                    [value] => 
                    [group] => SUITABILITY
                    [unit_id] => 89
                )

            [31] => stdClass Object
                (
                    [id] => 7615575
                    [name] => flexible
                    [value] => 
                    [group] => ARRIVAL_DAY
                    [unit_id] => 89
                )

            [32] => stdClass Object
                (
                    [id] => 7615576
                    [name] => recommended
                    [value] => 
                    [group] => CAR
                    [unit_id] => 89
                )

            [33] => stdClass Object
                (
                    [id] => 7615577
                    [name] => Smoke detectors
                    [value] => 
                    [group] => Safety
                    [unit_id] => 89
                )

            [34] => stdClass Object
                (
                    [id] => 7615578
                    [name] => Fire extinguisher
                    [value] => 
                    [group] => Safety
                    [unit_id] => 89
                )

            [35] => stdClass Object
                (
                    [id] => 7615579
                    [name] => Emergency phone number: Medical
                    [value] => 
                    [group] => Safety
                    [unit_id] => 89
                )

            [36] => stdClass Object
                (
                    [id] => 7615580
                    [name] => Emergency phone number: Police
                    [value] => 
                    [group] => Safety
                    [unit_id] => 89
                )

            [37] => stdClass Object
                (
                    [id] => 7615581
                    [name] => Emergency phone number: Fire
                    [value] => 
                    [group] => Safety
                    [unit_id] => 89
                )

            [38] => stdClass Object
                (
                    [id] => 7615582
                    [name] => Enhanced cleaning practices
                    [value] => 
                    [group] => Health and Safety
                    [unit_id] => 89
                )

            [39] => stdClass Object
                (
                    [id] => 7615583
                    [name] => Clean with disinfectant
                    [value] => 
                    [group] => Health and Safety
                    [unit_id] => 89
                )

            [40] => stdClass Object
                (
                    [id] => 7615584
                    [name] => No-contact check-in and check-out
                    [value] => 
                    [group] => Health and Safety
                    [unit_id] => 89
                )

            [41] => stdClass Object
                (
                    [id] => 7615585
                    [name] => High touch surfaces cleaned with disinfectant
                    [value] => 
                    [group] => Health and Safety
                    [unit_id] => 89
                )

            [42] => stdClass Object
                (
                    [id] => 7615586
                    [name] => Towels and bedding washed in water that's at least 60sC/140sF
                    [value] => 
                    [group] => Health and Safety
                    [unit_id] => 89
                )

            [43] => stdClass Object
                (
                    [id] => 7615587
                    [name] => 1 day (24 hours)
                    [value] => 
                    [group] => Health and Safety
                    [unit_id] => 89
                )

            [44] => stdClass Object
                (
                    [id] => 7615588
                    [name] => Mini Fridge
                    [value] => 
                    [group] => Kitchen
                    [unit_id] => 89
                )

            [45] => stdClass Object
                (
                    [id] => 7615589
                    [name] => Blender
                    [value] => 
                    [group] => Kitchen
                    [unit_id] => 89
                )

            [46] => stdClass Object
                (
                    [id] => 7615590
                    [name] => Wifi
                    [value] => 
                    [group] => Living
                    [unit_id] => 89
                )

            [47] => stdClass Object
                (
                    [id] => 7615591
                    [name] => Beach Towels
                    [value] => 
                    [group] => Living
                    [unit_id] => 89
                )

            [48] => stdClass Object
                (
                    [id] => 7615592
                    [name] => In Room Safe
                    [value] => 
                    [group] => Living
                    [unit_id] => 89
                )

            [49] => stdClass Object
                (
                    [id] => 7615593
                    [name] => Patio
                    [value] => 
                    [group] => Outdoor
                    [unit_id] => 89
                )

            [50] => stdClass Object
                (
                    [id] => 7615594
                    [name] => Balcony
                    [value] => 
                    [group] => Outdoor
                    [unit_id] => 89
                )

            [51] => stdClass Object
                (
                    [id] => 7615595
                    [name] => Hot Tub
                    [value] => 
                    [group] => Outdoor
                    [unit_id] => 89
                )

            [52] => stdClass Object
                (
                    [id] => 7615596
                    [name] => Private Pool
                    [value] => 
                    [group] => Outdoor
                    [unit_id] => 89
                )

            [53] => stdClass Object
                (
                    [id] => 7615597
                    [name] => Beach
                    [value] => 
                    [group] => Outdoor
                    [unit_id] => 89
                )

            [54] => stdClass Object
                (
                    [id] => 7615598
                    [name] => Beach Chairs
                    [value] => 
                    [group] => Outdoor
                    [unit_id] => 89
                )

            [55] => stdClass Object
                (
                    [id] => 7615599
                    [name] => Beach Towels
                    [value] => 
                    [group] => Outdoor
                    [unit_id] => 89
                )

            [56] => stdClass Object
                (
                    [id] => 7615600
                    [name] => On Beach
                    [value] => 
                    [group] => Geographic
                    [unit_id] => 89
                )

            [57] => stdClass Object
                (
                    [id] => 7615601
                    [name] => Close to Town
                    [value] => 
                    [group] => Geographic
                    [unit_id] => 89
                )

            [58] => stdClass Object
                (
                    [id] => 7615602
                    [name] => Islander On The Beach
                    [value] => 
                    [group] => Geographic
                    [unit_id] => 89
                )

            [59] => stdClass Object
                (
                    [id] => 7615603
                    [name] => Coconut Coast
                    [value] => 
                    [group] => Geographic
                    [unit_id] => 89
                )

        )

    [avail] => Array
        (
            [0] => stdClass Object
                (
                    [id] => 30671611
                    [start_date] => 2021-09-01
                    [end_date] => 2023-05-01
                    [unit_id] => 89
                )

        )

    [reviews] => Array
        (
            [0] => stdClass Object
                (
                    [id] => 30690
                    [external_id] => ce462b17-e390-4afb-97ee-775343c43ddf
                    [prop_id] => 89
                    [review_id] => 0
                    [source] => Escapia
                    [title] => The pictures are very accurate
                    [review] => This is a simple, clean, basic room with a great view and non-stop sound of the surf.  Top floor unit, balcony has walls on both sides making it pretty private. No elevator, so keep that in mind if you prefer the sedentary lifestyle. Grocery store within walking distance.  No road noise in the room as this unit is at the back of the property, pretty much right on the water.
                    [name] => Jeff B.
                    [email] => jeff.bullock@sbcglobal.net
                    [location] => 
                    [response] => Aloha Jeff and Mahalo for your stay! We appreciate your kind review and look forward to your next visit with us! Mahalo nui loa, Garden Island Properties
                    [response_date] => 2020-12-07
                    [rating] => 5
                    [review_date] => 2020-10-25
                    [featured] => 
                    [status] => 1
                    [checkin_date] => 2020-10-18
                    [nights_stayed] => 5
                    [sfrm] => 5
                    [clean] => 5
                    [rto] => 1
                    [pc] => 5
                    [loc] => 5
                    [meta] => Array
                        (
                        )

                )

            [1] => stdClass Object
                (
                    [id] => 30668
                    [external_id] => 82a02c40-6612-4f04-8101-071db4926787
                    [prop_id] => 89
                    [review_id] => 0
                    [source] => Escapia
                    [title] => Week in Paradise
                    [review] => Fantastic location with a room overlooking the beach. You can sit on your deck and watch the waves and whales playing in the distance. A couple of beaches are nearby that can be enjoyed. The owner has nicely equipped the room with little extras like beaches chairs, towels and a cooler. Nice to have the kitchenette handy as well. 
The location is great. Several shops, food and tour providers on site and within walking distance. You must try The Avalon. Food was incredible. Also, the Paniolo Grill was a fun night with live music and bring your own alcohol.
We rented a car and toured some amazing sites on the island too.
We are already planning a return trip! Mahalo!
                    [name] => 
                    [email] => josselyn7000@gmail.com
                    [location] => 
                    [response] => Mahalo Jossely! So glad you enjoyed the view and location. We are pleased to hear you found the kitchenette handy and that you were able to utilize the beach amenities provided. We very much appreciate your kind review and hope that you will visit again. Aloha ~Garden Island Properties
                    [response_date] => 2020-05-02
                    [rating] => 5
                    [review_date] => 2020-03-16
                    [featured] => 
                    [status] => 1
                    [checkin_date] => 2020-03-09
                    [nights_stayed] => 5
                    [sfrm] => 5
                    [clean] => 4
                    [rto] => 1
                    [pc] => 5
                    [loc] => 5
                    [meta] => Array
                        (
                        )

                )

            [2] => stdClass Object
                (
                    [id] => 30659
                    [external_id] => 4b17fa47-7c51-4520-9c2b-f9e20a3d908f
                    [prop_id] => 89
                    [review_id] => 0
                    [source] => Escapia
                    [title] => Great View
                    [review] => We absolutely loved our condo and the beautiful view. Very clean, location was great. Lots of choices of food close by. Location was central.
                    [name] => Darlene D.
                    [email] => pinkdiamonds67@gmail.com
                    [location] => 
                    [response] => Aloha Darlene, Thank you so much for staying with us and sharing this amazing review! We are pleased to hear that you loved the condo and ocean views. We agree the location is great as well. Please come back and stay again soon! Mahalo nui loa, Garden Island Properties
                    [response_date] => 2020-04-22
                    [rating] => 5
                    [review_date] => 2020-03-11
                    [featured] => 
                    [status] => 1
                    [checkin_date] => 2020-03-02
                    [nights_stayed] => 7
                    [sfrm] => 5
                    [clean] => 5
                    [rto] => 1
                    [pc] => 5
                    [loc] => 5
                    [meta] => Array
                        (
                        )

                )

            [3] => stdClass Object
                (
                    [id] => 30638
                    [external_id] => 1daab5a4-040f-4f37-bdfc-d3771b19148f
                    [prop_id] => 89
                    [review_id] => 0
                    [source] => Escapia
                    [title] => Beautiful view from Lanai
                    [review] => We stayed in Feb 2020 and enjoyed every minute.   The condo is very clean, well appointed.   The lanai was our favourite spot!  Having the beach out front was fantastic and general location fantastic for walking as well as exploring the island.
We'll be back!
                    [name] => 
                    [email] => Roddean@shaw.ca
                    [location] => 
                    [response] => Aloha Deanna! We are so glad that you enjoyed the view and location of the property.  We hope that you will be back to visit again real soon! Mahalo nui loa, Garden Island Properties
                    [response_date] => 2020-04-20
                    [rating] => 5
                    [review_date] => 2020-02-26
                    [featured] => 
                    [status] => 1
                    [checkin_date] => 2020-01-31
                    [nights_stayed] => 10
                    [sfrm] => 5
                    [clean] => 5
                    [rto] => 1
                    [pc] => 5
                    [loc] => 5
                    [meta] => Array
                        (
                        )

                )

            [4] => stdClass Object
                (
                    [id] => 30468
                    [external_id] => 9f00f041-190d-418a-bc8b-aa2bf5ec2c3d
                    [prop_id] => 89
                    [review_id] => 0
                    [source] => Escapia
                    [title] => As advertised
                    [review] => Property was as advertised, in fact the view was better than I imagined but definitely what I hoped for.  Appreciated the mid stay cleaning and linen change. Very convenient to have beach chairs/umbrella provided as well as beach towels as it makes traveling light so much easier. If i could make a suggestion,  an electric kettle would be great as not everyone drinks coffee and boiling water in microwave doesn't appeal to me.
                    [name] => 
                    [email] => sumpter@shaw.ca
                    [location] => 
                    [response] => Aloha Andrea and Mahalo for your stay! We are glad that you enjoyed the beautiful view as well as the beach amenities provided in the unit. We followed your suggestion and now include an electric tea kettle in the unit. We hope that you will be back to visit us again! Mahalo nui loa, Garden Island Properites 
                    [response_date] => 2019-11-29
                    [rating] => 5
                    [review_date] => 2019-11-21
                    [featured] => 
                    [status] => 1
                    [checkin_date] => 2019-10-29
                    [nights_stayed] => 7
                    [sfrm] => 5
                    [clean] => 5
                    [rto] => 1
                    [pc] => 4
                    [loc] => 5
                    [meta] => Array
                        (
                        )

                )

            [5] => stdClass Object
                (
                    [id] => 30432
                    [external_id] => 9ee1b3b0-eeab-412b-8580-c219ac874e51
                    [prop_id] => 89
                    [review_id] => 0
                    [source] => Escapia
                    [title] => Great View!
                    [review] => This place was clean, quiet, and had an exceptional oceanfront view. the grounds were immaculate, pool was great, and the tiki bar was a fun place to grab a drink and chat. Bartenders were amazing. 
Our room was great for us, bed was comfy, and had use of beach chairs and a cooler, and an umbrella for days at the beach. 
Great place to stay! only thing needed was a drying rack on the deck to dry towels and clothing on, other than that, it was a great location and a fun trip for us!
                    [name] => Diana T.
                    [email] => dianatraverso25@gmail.com
                    [location] => 
                    [response] => Aloha Dianna! We are so pleased to hear that you had a fun trip and enjoyed the location. We very much appreciate your amazing review and towel rack suggestion. Please come back and stay again soon! Mahalo nui loa, Garden Island Properties
                    [response_date] => 2019-10-12
                    [rating] => 5
                    [review_date] => 2019-10-12
                    [featured] => 
                    [status] => 1
                    [checkin_date] => 2019-09-29
                    [nights_stayed] => 11
                    [sfrm] => 5
                    [clean] => 5
                    [rto] => 1
                    [pc] => 5
                    [loc] => 5
                    [meta] => Array
                        (
                        )

                )

            [6] => stdClass Object
                (
                    [id] => 30426
                    [external_id] => 8462d87b-bbae-48bd-b26c-ab8047668541
                    [prop_id] => 89
                    [review_id] => 0
                    [source] => Escapia
                    [title] => Honeymooners 
                    [review] => We were on our honeymoon and the condo was nice and a great location. We love the restaurant next door !! Very amazing!! but the curtains in front of the bed would not close al the way  we had a 3 foot opening  in front of the king size bed 🙁  so we had to use the sliding glass door to close the curtains shut . which the door was very very heavy to open and  close. all so the air conditioners was not working very well  and the patio smelled funny ! 
                    [name] => 
                    [email] => pml_leonardi@yahoo.com
                    [location] => 
                    [response] => Aloha and we thank you for your review.  We will be looking into the items you mentioned including the drapery and slider door.  We are not sure what the smell could be on the lanai as all we have are 2 lanai chairs and a table.  Perhaps the smell could have come off of the ocean.  We are happy to report that since your stay, the new owners have since repainted the entire unit, added new fixtures, new furnishings, new bed, new sofa, ceiling fan, beddings and have ordered a central air conditioning unit to be installed and should be fully functional by the end of October.  Please look at the updates on our website!  Mahalo again for staying with us and thank you for recommending us to others!  Garden Island Properties
                    [response_date] => 2019-10-10
                    [rating] => 3
                    [review_date] => 2019-10-02
                    [featured] => 
                    [status] => 1
                    [checkin_date] => 2019-09-09
                    [nights_stayed] => 6
                    [sfrm] => 5
                    [clean] => 2
                    [rto] => 1
                    [pc] => 2
                    [loc] => 5
                    [meta] => Array
                        (
                        )

                )

        )

    [rateaddons] => Array
        (
        )

    [unit_meta] => Array
        (
            [0] => stdClass Object
                (
                    [id] => 495394
                    [unit_id] => 89
                    [key] => DisplayRate
                    [value] => Starting from $145 per night
                )

            [1] => stdClass Object
                (
                    [id] => 495395
                    [unit_id] => 89
                    [key] => Location
                    [value] => Kapaa
                )

            [2] => stdClass Object
                (
                    [id] => 495396
                    [unit_id] => 89
                    [key] => LocationField
                    [value] => Garden Island Properties, LLC
                )

            [3] => stdClass Object
                (
                    [id] => 495397
                    [unit_id] => 89
                    [key] => Property Type
                    [value] => Condo
                )

            [4] => stdClass Object
                (
                    [id] => 495398
                    [unit_id] => 89
                    [key] => View
                    [value] => Ocean Front
                )

            [5] => stdClass Object
                (
                    [id] => 495399
                    [unit_id] => 89
                    [key] => MinLOS
                    [value] => 4
                )

            [6] => stdClass Object
                (
                    [id] => 495400
                    [unit_id] => 89
                    [key] => StayContext
                    [value] => Checkin
                )

            [7] => stdClass Object
                (
                    [id] => 495401
                    [unit_id] => 89
                    [key] => StayDays
                    [value] => a:7:{i:0;s:3:"Mon";i:1;s:3:"Tue";i:2;s:4:"Weds";i:3;s:4:"Thur";i:4;s:3:"Fri";i:5;s:3:"Sat";i:6;s:3:"Sun";}
                )

            [8] => stdClass Object
                (
                    [id] => 495402
                    [unit_id] => 89
                    [key] => NumberFloors
                    [value] => 
                )

            [9] => stdClass Object
                (
                    [id] => 495403
                    [unit_id] => 89
                    [key] => CheckInTime
                    [value] => 15:00
                )

            [10] => stdClass Object
                (
                    [id] => 495404
                    [unit_id] => 89
                    [key] => CheckOutTime
                    [value] => 10:00
                )

            [11] => stdClass Object
                (
                    [id] => 495405
                    [unit_id] => 89
                    [key] => SmokingAllowed
                    [value] => 
                )

        )

    [minnights] => Array
        (
            [0] => stdClass Object
                (
                    [id] => 1372015
                    [start_date] => 2021-04-01
                    [end_date] => 2021-12-14
                    [prop_id] => 89
                    [nights] => 4
                    [rate_type] => Daily
                )

            [1] => stdClass Object
                (
                    [id] => 1372016
                    [start_date] => 2021-04-01
                    [end_date] => 2021-12-14
                    [prop_id] => 89
                    [nights] => 7
                    [rate_type] => Weekly
                )

            [2] => stdClass Object
                (
                    [id] => 1372017
                    [start_date] => 2021-04-01
                    [end_date] => 2021-12-14
                    [prop_id] => 89
                    [nights] => 30
                    [rate_type] => Monthly
                )

            [3] => stdClass Object
                (
                    [id] => 1372018
                    [start_date] => 2021-12-15
                    [end_date] => 2022-01-09
                    [prop_id] => 89
                    [nights] => 7
                    [rate_type] => Weekly
                )

            [4] => stdClass Object
                (
                    [id] => 1372019
                    [start_date] => 2022-01-10
                    [end_date] => 2022-03-31
                    [prop_id] => 89
                    [nights] => 4
                    [rate_type] => Daily
                )

            [5] => stdClass Object
                (
                    [id] => 1372020
                    [start_date] => 2022-01-10
                    [end_date] => 2022-03-31
                    [prop_id] => 89
                    [nights] => 7
                    [rate_type] => Weekly
                )

            [6] => stdClass Object
                (
                    [id] => 1372021
                    [start_date] => 2022-01-10
                    [end_date] => 2022-03-31
                    [prop_id] => 89
                    [nights] => 30
                    [rate_type] => Monthly
                )

            [7] => stdClass Object
                (
                    [id] => 1372022
                    [start_date] => 2022-04-01
                    [end_date] => 2022-12-14
                    [prop_id] => 89
                    [nights] => 4
                    [rate_type] => Daily
                )

            [8] => stdClass Object
                (
                    [id] => 1372023
                    [start_date] => 2022-04-01
                    [end_date] => 2022-12-14
                    [prop_id] => 89
                    [nights] => 7
                    [rate_type] => Weekly
                )

            [9] => stdClass Object
                (
                    [id] => 1372024
                    [start_date] => 2022-04-01
                    [end_date] => 2022-12-14
                    [prop_id] => 89
                    [nights] => 30
                    [rate_type] => Monthly
                )

        )

    [manager] => stdClass Object
        (
            [id] => 1
            [ManagerID] => 1
            [Name] => Escapia
            [Vendor] => Escapia
            [Contract] => 
            [random] => 0
            [pms] => 
            [last_update] => 0000-00-00 00:00:00
        )

    [flipkey] => 
    [additonal] => stdClass Object
        (
            [DisplayRate] => Starting from $145 per night
            [Location] => Kapaa
            [LocationField] => Garden Island Properties, LLC
            [Property Type] => Condo
            [View] => Ocean Front
            [MinLOS] => 4
            [StayContext] => Checkin
            [StayDays] => Array
                (
                    [0] => Mon
                    [1] => Tue
                    [2] => Weds
                    [3] => Thur
                    [4] => Fri
                    [5] => Sat
                    [6] => Sun
                )

            [NumberFloors] => 
            [CheckInTime] => 15:00
            [CheckOutTime] => 10:00
            [SmokingAllowed] => 
        )

    [checkinout] => Array
        (
        )

    [special] => Array
        (
        )

    [hasSpecial] => 
)
                    
Holiday Rates apply between 12/15 - 1/5