"heavenly beach home", beautiful ocean, sunrise views, near town. tvnc5057
2 Bedroom(s) | 2 Bathroom(s) | Sleeps 6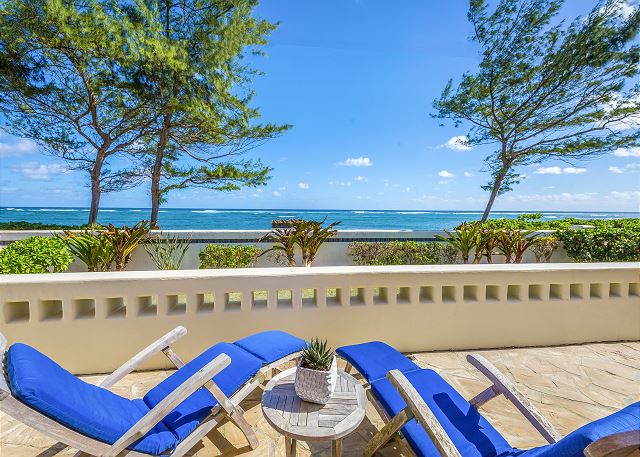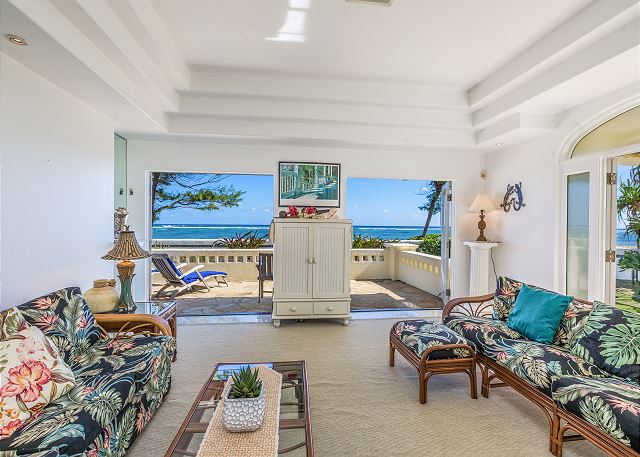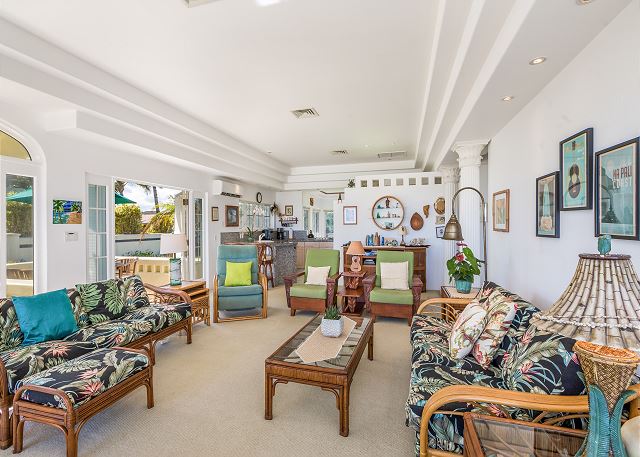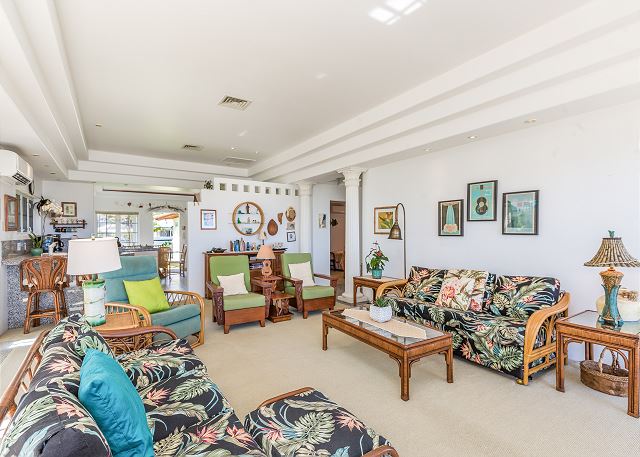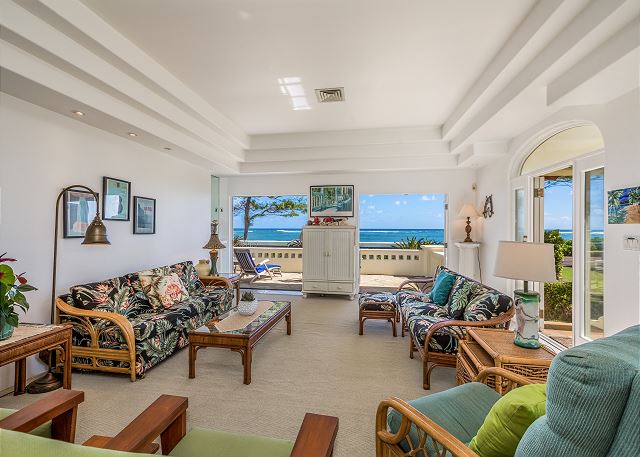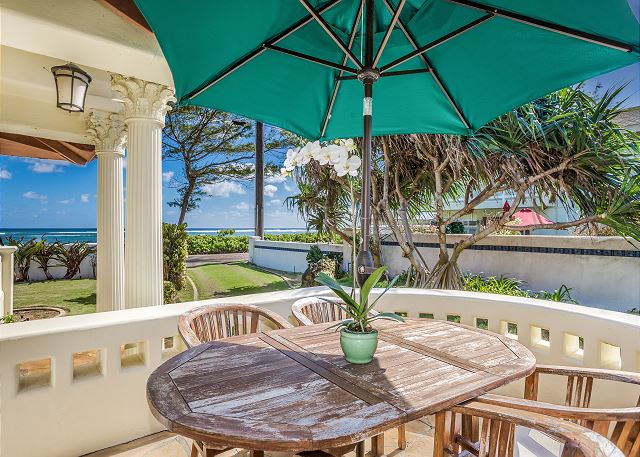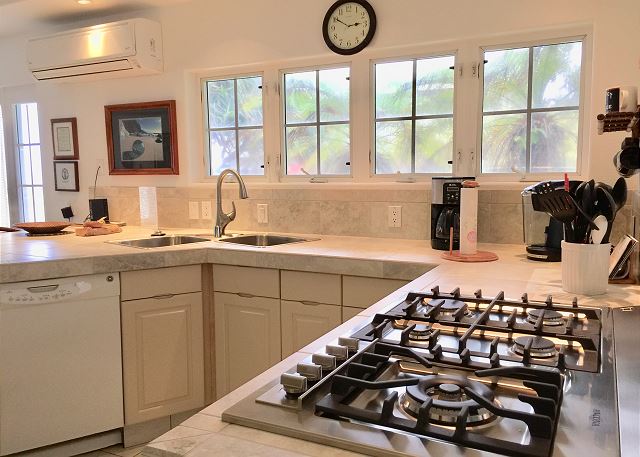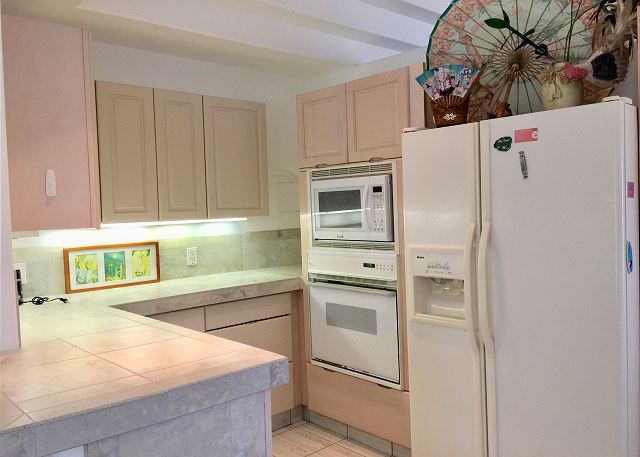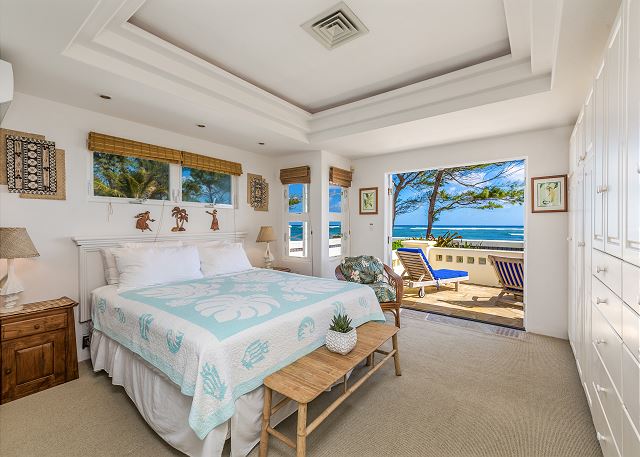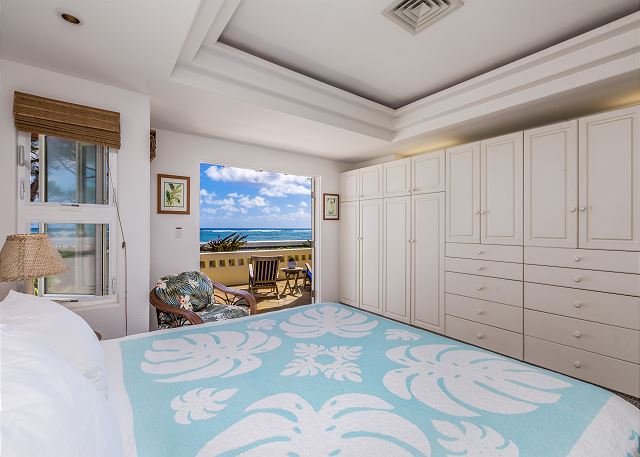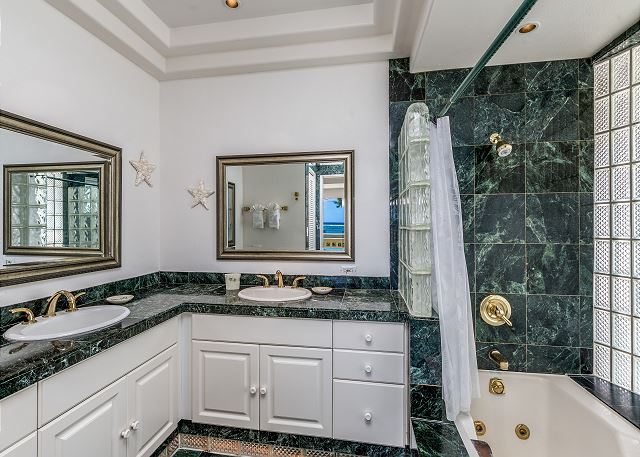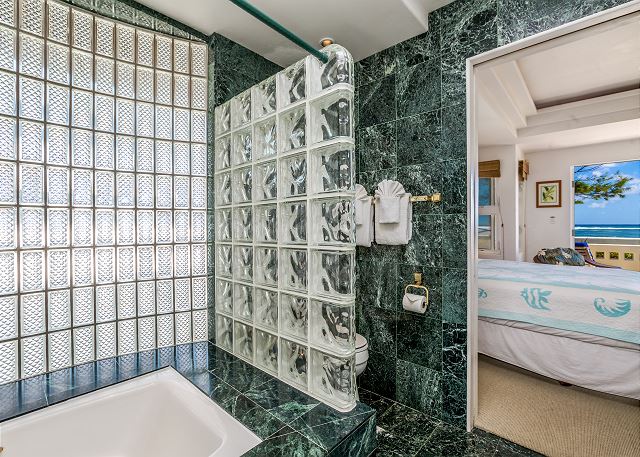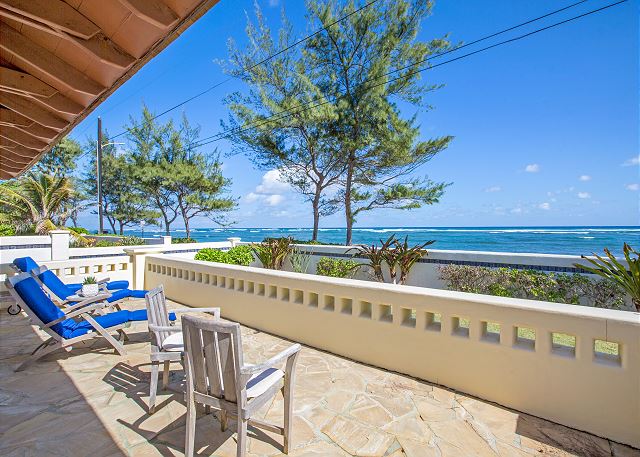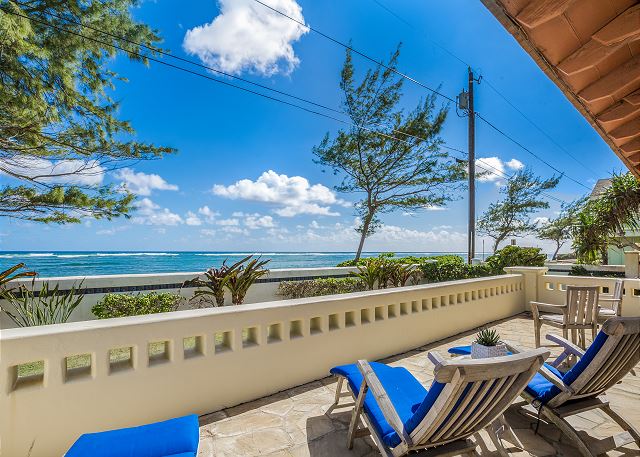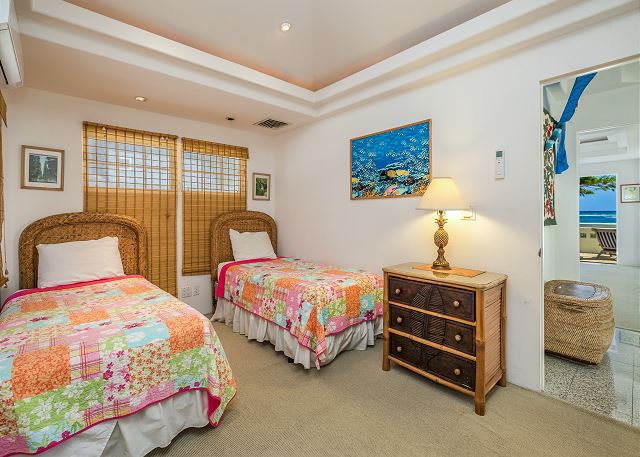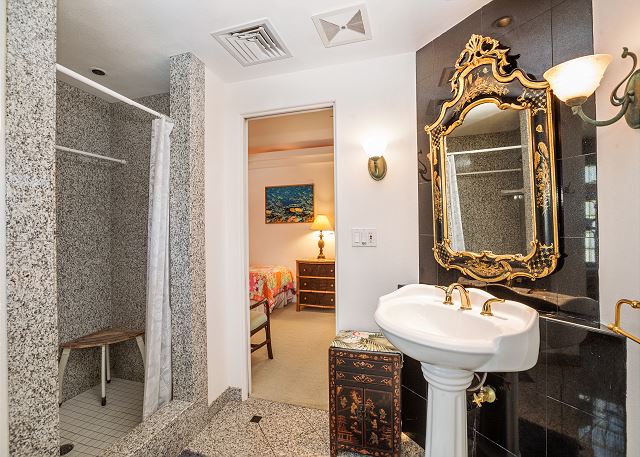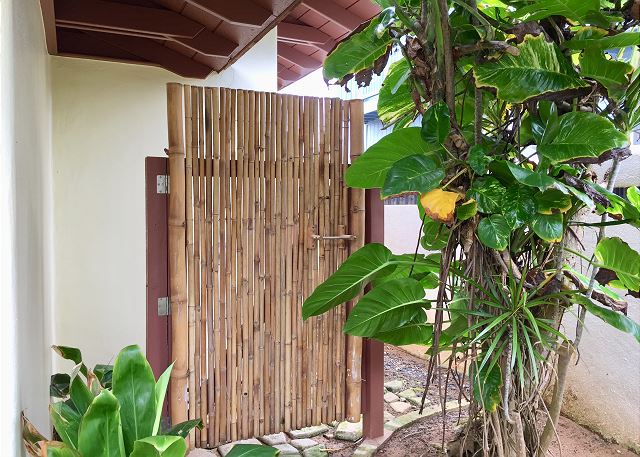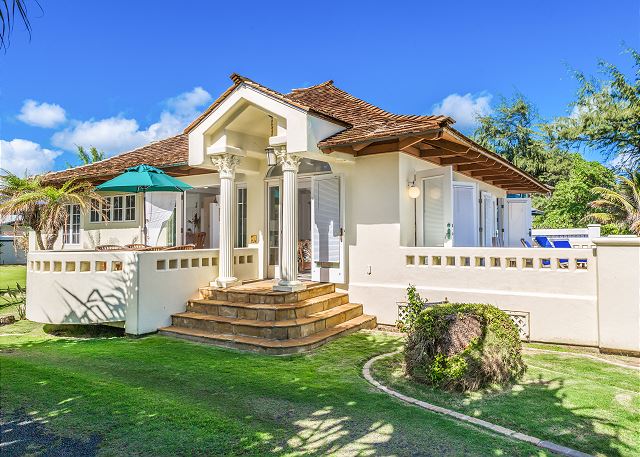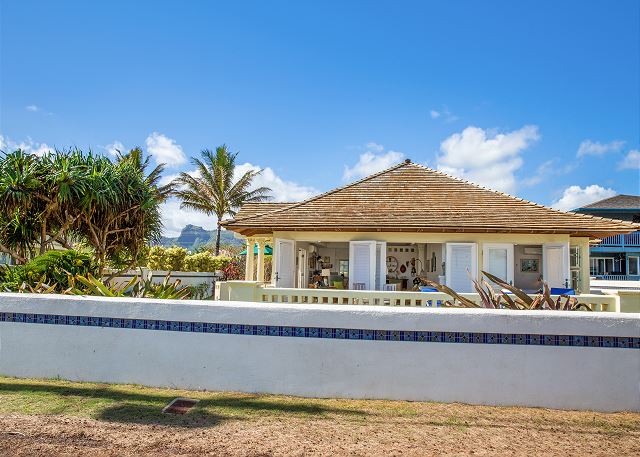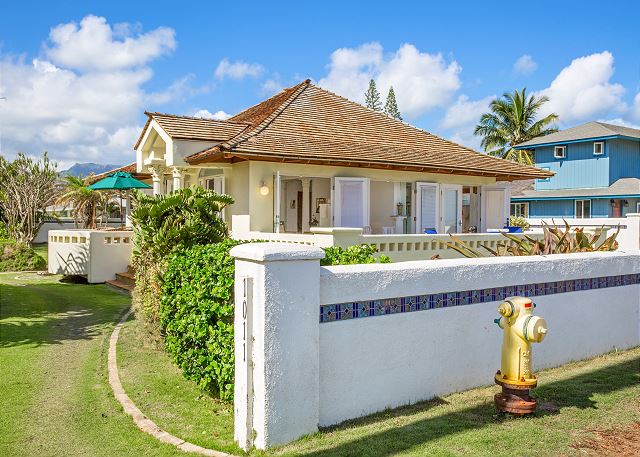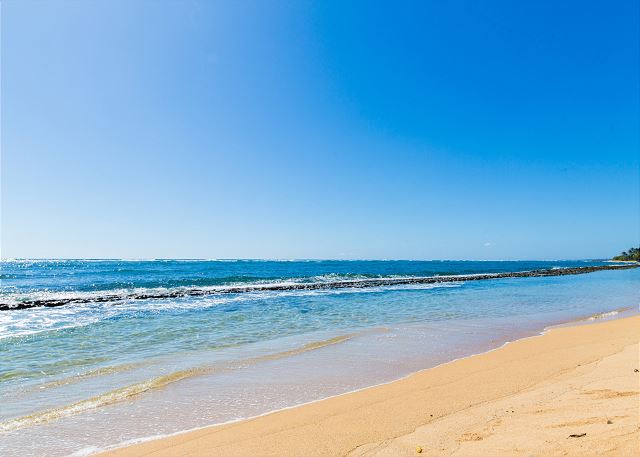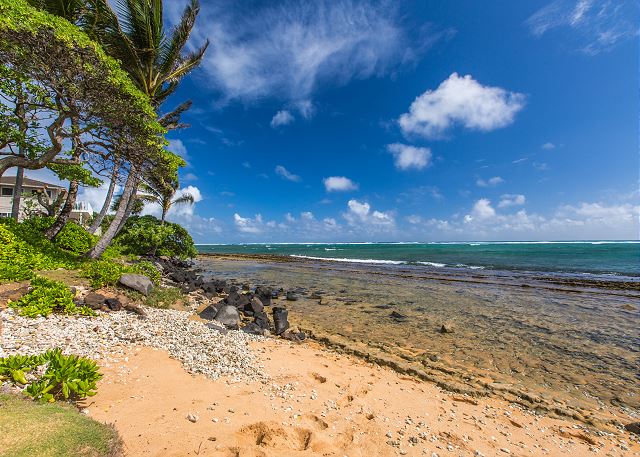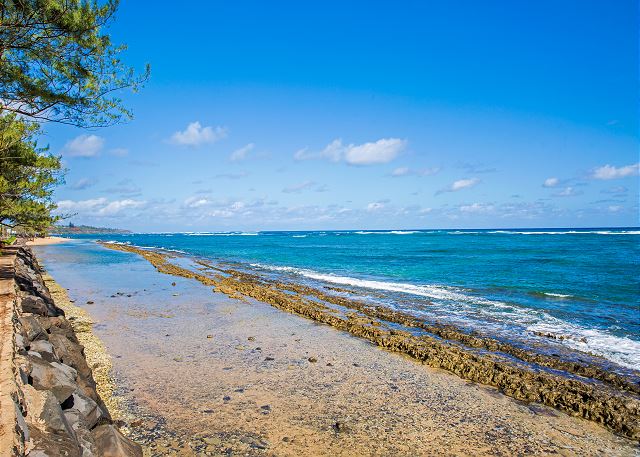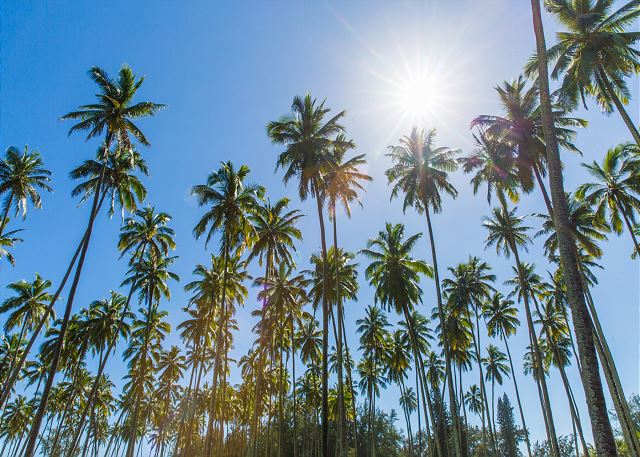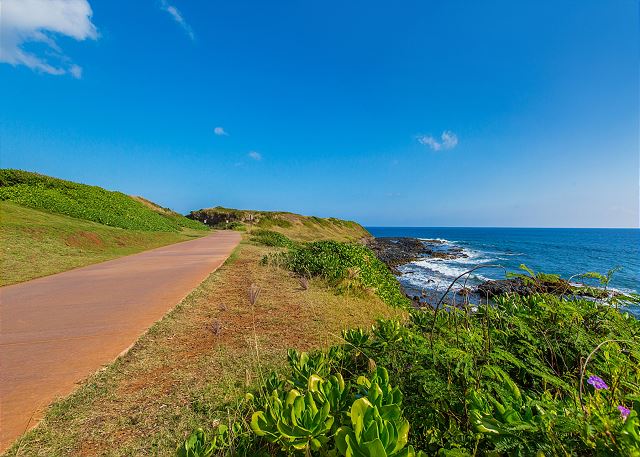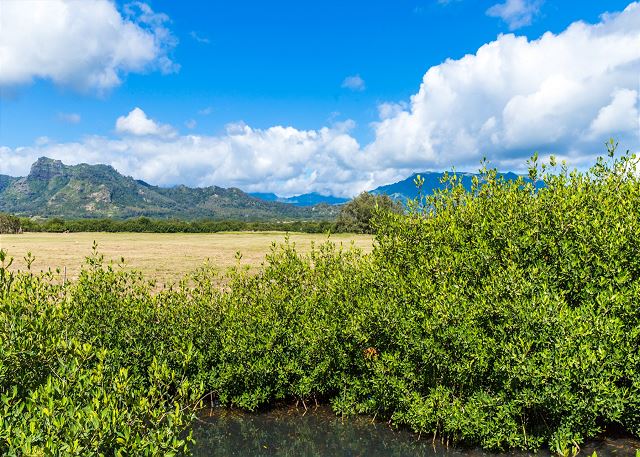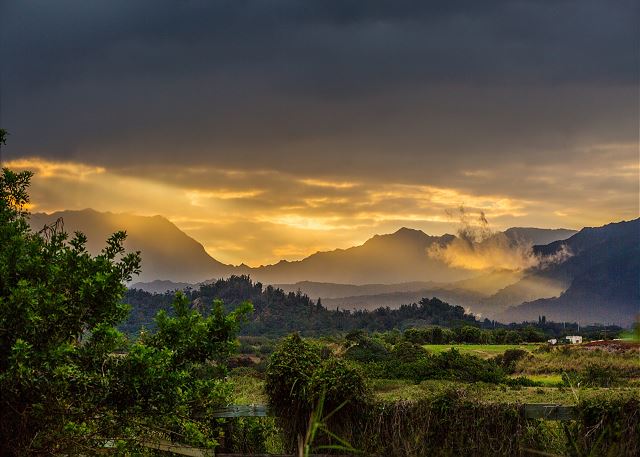 Hale Hololani "Heavenly Home", Air Conditioned Kapa'a Beach Home steps from "Baby Beach".

TAT ID#: TA-200-810-9056-01, TVNC#: 5057. On-island manager, Garden Island Properties LLC.



We have implemented enhanced cleaning and disinfecting guidelines as well as infection prevention advice provided by the CDC. This is a Contactless Check-In Property.



View the moon rise, sun rise, whales during season from your private beach home.

Outdoor Gas BBQ Grill, Outdoor Shower. Complimentary Wifi! Central Air Conditioning.

Walk to shops, restaurants and beaches.



Charming two bedroom, two bath Kauai vacation beach home located just off of the waters edge on Moanakai Road, Kapa'a.



This "Heavenly" Kauai vacation rental is surrounded by lush gardens & ocean views and the sounds of the rolling tide.



Ocean views from the master bedroom and master deck, kitchen, living area and double lanais. Master bedroom has a king bed with private bath, second bedroom has 2 twin beds that can convert to a king upon request at the time of booking ($52 housekeeping fee applies for king conversion and bedding).



Full bathroom with walk in shower off of second bedroom. Living room is equipped with Cable TV, and queen size sleeper. Bike rentals nearby allow you to ride for miles along this beautiful east side coastline on the Ke Ala Hele Makalae Coastal bike path.



This Kauai`i beach home sleeps up to 6 & includes complimentary Wifi and Parking.

Kauai vacation rental for honeymoon couples or family vacations!

This is a Non-Smoking Home.



Holiday Rates apply from 12/15 to 1/5 with a 10 night minimum stay.
Amenities

Combination tub/shower
Double
King
Shower
Sleep sofa /futon
Satellite / Cable
Television
Air Conditioning
Hair Dryer
Internet
Iron & Board
Linens Provided
Living Room
Parking
Telephone
Towels Provided
Washing Machine
Coffee Maker
Dishes & Utensils
Dishwasher
Kitchen
Microwave
Oven
Refrigerator
Stove
Toaster
Beachfront
Ocean View
Outdoor Grill
Children welcome
Non smoking only
Pets not allowed
Flexible
Recommended
Smoke detectors
Emergency phone number: Medical
Emergency phone number: Police
Emergency phone number: Fire
Enhanced cleaning practices
Clean with disinfectant
No-contact check-in and check-out
High touch surfaces cleaned with disinfectant
1 day (24 hours)
Cookware
Blender
Air Conditioning
Ceiling Fans
Washer & Dryer
Wifi
Beach Towels
Hair Dryer
Patio
Gas Grill
Beach
Beach Chairs
Bike Path
Beach Towels
On Beach
Near Beach
Close to Town
Coconut Coast
---
Our favorite place on Kauai
Apr 06, 2020
We have stayed here a few times and love it. It is clean, well maintained and the manager is always prompt to respond with any questions. We love it that our favorite places, Pono market, Olympic Cafe, Small Town Coffee, beach trail are all within walking distance. I really liked the Hospitality app. It kept all our information in one location. Very nice.
---
Kauai Vacation
Feb 24, 2020
Everything about this rental was perfect. We couldn't have found a better rental property.
---
Heavenly Home is Heavenly indeed!
Feb 16, 2020
As with all past stays in this home, we were not disappointed. We enjoyed the upgrades that had been made to the kitchen (new dishwasher, upgraded countertops). The views are to die for, with a 180' view of the ocean and the whale activity. Perfect location on a perfect island.....
---
Best vacation rental
Jun 09, 2019
This unit was excellent; clean and well maintained and fully furnished. Lots of kitchen supplies and the AC in every room was awesome. The best I have experienced so far on kauai. Only downside was a homeless person Wandered onto the property on our last night there but as far as the quality of the facility; on a scale of 1-10 it was a 9.5.
---
A happy time for all
Feb 23, 2019
Outstanding, I will do it again!
---
Fabulous Accommodations
Dec 21, 2018
Lovely views, comfortable, and meticulous accommodations in a centrally located spot. We have stayed in this house twice and look forward to our next visit! We needed late check out and management was prompt in helping us with our needs. Thanks to all for a wonderful vacation.
---
wonderful view
Nov 15, 2018
The house was basically very good. Unfortunately, one bedroom was much much nicer than the other, which made for some unfairness for two guests wanting things to be even between us. It needs updating. The locks are hard to manage, the instructions for working the locks are wrong. The directions provided by management also need updating. The house is no longer the colour described on the sheet, etc. Shortcomings in the house kept coming into play, despite its great bones and good location. Short walk to good restaurants and cafes, to a swimming beach. I recommend the open door helicopter tour of the island.
---
A+
Jun 20, 2018
Everything was spectacular! Beautiful location, house was fully stocked for our family of 5.
---
An excellent vacation home that kept us all happy
Jun 06, 2018
Stunning view. Gorgeous winds all the time. Extremely comfortable beds. Peaceful. Lush backyard too. Overall, a very comfortable stay.The only downside was that the master bath shower did not work, or we really could not figure out how to make it work.
---
Kauai 40th Anniversary Tour
Mar 23, 2018
House is Gorgeous! Staff very responsive. Location Excellent. We will be back
---
Dream vacation!
Feb 13, 2018
Everything was perfect. The place was beautiful and clean. The staff was friendly and helpful.
---
Beautiful Villa-style house with beautiful beach view.
Jul 12, 2017
This facility is beautiful, and it is located in a perfect location. This house was very clean, and it's located in a convenient place. The rental company provided a ridiculous amount of resources, from laundry facilities to cookware.
---
ten wonderful days in paradise
Jun 17, 2017
coffee in the morning-wine in the evening on the lanai was heavenly. convenient location for all adventures across the island. local farmer's markets help to make new wonderful dishes in the well-stocked kitchen. gas grill was convenient for cooking the local fresh fish available before noon at Costco(gas prices are best there,too). as always, a wonderful time on the island and looking forward to our next visit
---
Fanaminal Home
May 24, 2017
Outstanding, wonderful, Fun, Stay.
---
Review of stay at 1011 Moanakai Rd., Kapaa 3/1-3/15/17
Mar 24, 2017
Generally very nice accommodation, interesting building architecturally, fully functional, nice property, mostly good location. Major negative was slow hot water (slow in getting hot) and not very hot once hot. Venetian blinds need replacing. Two BR, one really for kids, so sleeping accommodations limited. A lot of cars and trucks park illegally across the street restricting ocean view much of the time, kind of a negative. Many homeless people up and down the street, occasionally sleeping across the street, perhaps a concern if it gets worse. Door locks not the easiest to work and one didn't work at all, necessitating a deadbolt lock.
---
January 2017 Hale Hololani Walrath's
Jan 17, 2017
Fine overall experience. House met all of our needs. Best house on the shore in Kapa'a. -Very good response from Garden Island for maintenance needs which included hot water issues (still not completely resolved), exterior door handle issues, broken window blinds. However 5 maintenance visits during our stay should not be needed. These issues should have been addressed in a down time when guests aren't present. Someone needs to do a thorough check and preventive maintenance on the property. -When compared to most rentals these days, e.g. AirBnb, the property comes up short. At over $400 a day we would expect some welcoming supplies like a hotel toiletry kit, a couple of coffee pods (a bottle of wine is pretty standard).. The last thing you want to do after 12 hours of travel is to have to go to Safeway just to get thru the first night.-House was just superficially clean. Wall switches and cabinet doors are bit grimy. Needs a real cleaning. -A 1980s Memorex radio/music player is beyond obsolete. -Most all beach houses on the mainland come with obvious beach stuff like bikes and body board etc.
---
Lovely home in quiet town
Nov 17, 2016
We enjoyed this home very much. Spacious and well done, everything you need was at hand. We were able to view the super moon over the ocean from the patio. Only one down side- the mattress in the master was very hard, otherwise we had a very enjoyable stay
---
A HEAVENLY HOME, IN DEED!
Sep 18, 2016
This was my 7th stay and and it continues to be my home away from home, may piece of heaven.It is a sweet and comfortable home, well equipped, great location for island explorations and perfect if you just want to relax and hear the ocean all day and all night! It is right across the street and on a wonderful walking trail. It is quiet and simply perfect. The rental manager, Sue, is great to work with and I can't recommend this property enough, except I want to keep it for myself!!This house is filled with Aloha energy. I am counting the days until my return.
---
Fantastic Home. Quiet. Great view. Super customer service
Jul 17, 2016
Air Conditioning was outstanding and so helpful during the hot weather. Property description was perfect. Well maintained, clean. Customer service couldn't have been better. Quiet location.
---
Quiet and Relaxing
Jun 11, 2016
This house fit our needs perfectly for a one week couple getaway. We liked the ocean view and front lanai. The bike path proximity was convenient but not intrusive. Bike rental was walking distance away. Home was clean but a bit dated. Plenty of towels and linens. Dish soap, bath soap, paper goods provided. Bring your own shampoo. Side lanai was not accessible due to broken door. Master bed was soft and mattress should be replaced. Overall house was very comfortable. Rooms were large. Many windows; light and airy feel.
---
So heavenly, we did not want to leave!!
Apr 04, 2016
Absolutely lovely home. We enjoyed our stay thoroughly. The house was immaculately clean and recently painted, looked gorgeous (shout out to the owners, thank you!). Thank you also to the wonderful support from Garden Isle Properties (Sue).
---
Outstanding!
Feb 29, 2016
Magnificent home. Spectacular location and million dollar views. This is a very well maintained home that feels like home the minute you walk in the door. We will definitely return.
---
Hawaii Heaven
Feb 16, 2016
Very positive experience. House was exactly as described. Very well equipped including plenty of towels, hair dryer, fully equipped kitchen. Quiet neighbors/ location was perfect. House was very clean, well furnished.
---
Great place to stay
Jan 22, 2016
Great property. Kapaa is without a doubt the place you want to stay on Kauai. The property has great views , especially for sunrise. Close to downtown Kapaa. Family of 5 had plenty of room. The house was well equipped and the location was great. Would definatley stay again.
Book Your Stay!
Select your arrival and departure dates below to reserve this unit.


April 2021

| S | M | T | W | T | F | S |
| --- | --- | --- | --- | --- | --- | --- |
| | | | | 01 | 02 | 03 |
| 04 | 05 | 06 | 07 | 08 | 09 | 10 |
| 11 | 12 | 13 | 14 | 15 | 16 | 17 |
| 18 | 19 | 20 | 21 | 22 | 23 | 24 |
| 25 | 26 | 27 | 28 | 29 | 30 | |
May 2021

| S | M | T | W | T | F | S |
| --- | --- | --- | --- | --- | --- | --- |
| | | | | | | 01 |
| 02 | 03 | 04 | 05 | 06 | 07 | 08 |
| 09 | 10 | 11 | 12 | 13 | 14 | 15 |
| 16 | 17 | 18 | 19 | 20 | 21 | 22 |
| 23 | 24 | 25 | 26 | 27 | 28 | 29 |
| 30 | 31 | | | | | |
June 2021

| S | M | T | W | T | F | S |
| --- | --- | --- | --- | --- | --- | --- |
| | | 01 | 02 | 03 | 04 | 05 |
| 06 | 07 | 08 | 09 | 10 | 11 | 12 |
| 13 | 14 | 15 | 16 | 17 | 18 | 19 |
| 20 | 21 | 22 | 23 | 24 | 25 | 26 |
| 27 | 28 | 29 | 30 | | | |
July 2021

| S | M | T | W | T | F | S |
| --- | --- | --- | --- | --- | --- | --- |
| | | | | 01 | 02 | 03 |
| 04 | 05 | 06 | 07 | 08 | 09 | 10 |
| 11 | 12 | 13 | 14 | 15 | 16 | 17 |
| 18 | 19 | 20 | 21 | 22 | 23 | 24 |
| 25 | 26 | 27 | 28 | 29 | 30 | 31 |
August 2021

| S | M | T | W | T | F | S |
| --- | --- | --- | --- | --- | --- | --- |
| 01 | 02 | 03 | 04 | 05 | 06 | 07 |
| 08 | 09 | 10 | 11 | 12 | 13 | 14 |
| 15 | 16 | 17 | 18 | 19 | 20 | 21 |
| 22 | 23 | 24 | 25 | 26 | 27 | 28 |
| 29 | 30 | 31 | | | | |
September 2021

| S | M | T | W | T | F | S |
| --- | --- | --- | --- | --- | --- | --- |
| | | | 01 | 02 | 03 | 04 |
| 05 | 06 | 07 | 08 | 09 | 10 | 11 |
| 12 | 13 | 14 | 15 | 16 | 17 | 18 |
| 19 | 20 | 21 | 22 | 23 | 24 | 25 |
| 26 | 27 | 28 | 29 | 30 | | |
October 2021

| S | M | T | W | T | F | S |
| --- | --- | --- | --- | --- | --- | --- |
| | | | | | 01 | 02 |
| 03 | 04 | 05 | 06 | 07 | 08 | 09 |
| 10 | 11 | 12 | 13 | 14 | 15 | 16 |
| 17 | 18 | 19 | 20 | 21 | 22 | 23 |
| 24 | 25 | 26 | 27 | 28 | 29 | 30 |
| 31 | | | | | | |
November 2021

| S | M | T | W | T | F | S |
| --- | --- | --- | --- | --- | --- | --- |
| | 01 | 02 | 03 | 04 | 05 | 06 |
| 07 | 08 | 09 | 10 | 11 | 12 | 13 |
| 14 | 15 | 16 | 17 | 18 | 19 | 20 |
| 21 | 22 | 23 | 24 | 25 | 26 | 27 |
| 28 | 29 | 30 | | | | |
December 2021

| S | M | T | W | T | F | S |
| --- | --- | --- | --- | --- | --- | --- |
| | | | 01 | 02 | 03 | 04 |
| 05 | 06 | 07 | 08 | 09 | 10 | 11 |
| 12 | 13 | 14 | 15 | 16 | 17 | 18 |
| 19 | 20 | 21 | 22 | 23 | 24 | 25 |
| 26 | 27 | 28 | 29 | 30 | 31 | |
January 2022

| S | M | T | W | T | F | S |
| --- | --- | --- | --- | --- | --- | --- |
| | | | | | | 01 |
| 02 | 03 | 04 | 05 | 06 | 07 | 08 |
| 09 | 10 | 11 | 12 | 13 | 14 | 15 |
| 16 | 17 | 18 | 19 | 20 | 21 | 22 |
| 23 | 24 | 25 | 26 | 27 | 28 | 29 |
| 30 | 31 | | | | | |
February 2022

| S | M | T | W | T | F | S |
| --- | --- | --- | --- | --- | --- | --- |
| | | 01 | 02 | 03 | 04 | 05 |
| 06 | 07 | 08 | 09 | 10 | 11 | 12 |
| 13 | 14 | 15 | 16 | 17 | 18 | 19 |
| 20 | 21 | 22 | 23 | 24 | 25 | 26 |
| 27 | 28 | | | | | |
March 2022

| S | M | T | W | T | F | S |
| --- | --- | --- | --- | --- | --- | --- |
| | | 01 | 02 | 03 | 04 | 05 |
| 06 | 07 | 08 | 09 | 10 | 11 | 12 |
| 13 | 14 | 15 | 16 | 17 | 18 | 19 |
| 20 | 21 | 22 | 23 | 24 | 25 | 26 |
| 27 | 28 | 29 | 30 | 31 | | |
April 2022

| S | M | T | W | T | F | S |
| --- | --- | --- | --- | --- | --- | --- |
| | | | | | 01 | 02 |
| 03 | 04 | 05 | 06 | 07 | 08 | 09 |
| 10 | 11 | 12 | 13 | 14 | 15 | 16 |
| 17 | 18 | 19 | 20 | 21 | 22 | 23 |
| 24 | 25 | 26 | 27 | 28 | 29 | 30 |
May 2022

| S | M | T | W | T | F | S |
| --- | --- | --- | --- | --- | --- | --- |
| 01 | 02 | 03 | 04 | 05 | 06 | 07 |
| 08 | 09 | 10 | 11 | 12 | 13 | 14 |
| 15 | 16 | 17 | 18 | 19 | 20 | 21 |
| 22 | 23 | 24 | 25 | 26 | 27 | 28 |
| 29 | 30 | 31 | | | | |
June 2022

| S | M | T | W | T | F | S |
| --- | --- | --- | --- | --- | --- | --- |
| | | | 01 | 02 | 03 | 04 |
| 05 | 06 | 07 | 08 | 09 | 10 | 11 |
| 12 | 13 | 14 | 15 | 16 | 17 | 18 |
| 19 | 20 | 21 | 22 | 23 | 24 | 25 |
| 26 | 27 | 28 | 29 | 30 | | |
July 2022

| S | M | T | W | T | F | S |
| --- | --- | --- | --- | --- | --- | --- |
| | | | | | 01 | 02 |
| 03 | 04 | 05 | 06 | 07 | 08 | 09 |
| 10 | 11 | 12 | 13 | 14 | 15 | 16 |
| 17 | 18 | 19 | 20 | 21 | 22 | 23 |
| 24 | 25 | 26 | 27 | 28 | 29 | 30 |
| 31 | | | | | | |
Available
Unavailable
Check-In Only
Check-Out Only
Seasonal Rates
Starting from $335 per night

                    stdClass Object
(
    [id] => 96
    [ManagerID] => 1
    [ComplexID] => 0
    [Name] => "Heavenly Beach Home", Beautiful Ocean, Sunrise Views, Near Town. TVNC5057
    [PropertyCode] => 2064-105572
    [Address1] => 1011 Moanakai Road
    [Address2] => 
    [City] => Kapaa
    [State] => HI
    [Country] => US
    [PostalCode] => 
    [Province] => 
    [Bedrooms] => 2
    [Bathrooms] => 2
    [Beds] => {"King":1,"Twin":2,"Sofa Bed":1}
    [Type] => House
    [Area] => 
    [Location] => Garden Island Properties, LLC
    [View] => Ocean Front
    [Video] => 
    [lat] => 22.066177
    [long] => -159.318022
    [map_id] => 0
    [Complex] => 14
    [Description] => Hale Hololani "Heavenly Home", Air Conditioned Kapa'a Beach Home steps from "Baby Beach". 

TAT ID#: TA-200-810-9056-01, TVNC#: 5057. On-island manager, Garden Island Properties LLC.



We have implemented enhanced cleaning and disinfecting guidelines as well as infection prevention advice provided by the CDC. This is a Contactless Check-In Property.



View the moon rise, sun rise, whales during season from your private beach home.

Outdoor Gas BBQ Grill, Outdoor Shower. Complimentary Wifi!  Central Air Conditioning.

Walk to shops, restaurants and beaches.



Charming two bedroom, two bath Kauai vacation beach home located just off of the waters edge on Moanakai Road, Kapa'a. 



This "Heavenly" Kauai vacation rental is surrounded by lush gardens & ocean views and the sounds of the rolling tide.



Ocean views from the master bedroom and master deck, kitchen, living area and double lanais. Master bedroom has a king bed with private bath, second bedroom has 2 twin beds that can convert to a king upon request at the time of booking ($52 housekeeping fee applies for king conversion and bedding).  



Full bathroom with walk in shower off of second bedroom. Living room is equipped with Cable TV, and queen size sleeper. Bike rentals nearby allow you to ride for miles along this beautiful east side coastline on the Ke Ala Hele Makalae Coastal bike path.



This Kauai`i beach home sleeps up to 6 & includes complimentary Wifi and Parking.

Kauai vacation rental for honeymoon couples or family vacations!

This is a Non-Smoking Home.



Holiday Rates apply from 12/15 to 1/5 with a 10 night minimum stay.
    [ShortDescription] => Hale Hololani "Heavenly Home", Oceanfront, 2 Bedroom, 2 Bath, AC, Full Kitchen, Washer/Dryer, Bike Path, Beach Access, Wifi & Parking. King bed in master, 2 twins in 2nd bedroom (convertible to King) and sofa sleeper in the living room. Sleeps 6.
    [Sleeps] => 6
    [MaxAdult] => 0
    [MaxSearchMonths] => 48
    [Status] => Active
    [page_slug] => Heavenly_Beach_Home_Beautiful_Ocean_Sunrise_Views_Near_Town._TVNC5057-2064-105572-1
    [SEOTitle] => Hale Hololani "Heavenly Home", AC, Steps to Beach, TVNC#5057
    [SEODescription] => "Heavenly Beach Home", Beautiful Ocean, Sunrise Views, Near Town. TVNC5057
    [Featured] => 0
    [created] => 0000-00-00 00:00:00
    [updated] => 2021-04-23 08:42:40
    [internalcode] => HOLOLANI
    [photos] => Array
        (
            [0] => stdClass Object
                (
                    [id] => 3609994
                    [unit_id] => 96
                    [url] => https://pictures.escapia.com/GAISPR/105572/9435070653.jpg
                    [thumb_url] => https://pictures.escapia.com/GAISPR/105572/9435070653.jpg
                     => Oceanfront Lanai
                    [sort] => 0
                )

            [1] => stdClass Object
                (
                    [id] => 3609995
                    [unit_id] => 96
                    [url] => https://pictures.escapia.com/GAISPR/105572/2825870182.jpg
                    [thumb_url] => https://pictures.escapia.com/GAISPR/105572/2825870182.jpg
                     => Air conditioned beach home with ocean views
                    [sort] => 1
                )

            [2] => stdClass Object
                (
                    [id] => 3609996
                    [unit_id] => 96
                    [url] => https://pictures.escapia.com/GAISPR/105572/1652660651.jpg
                    [thumb_url] => https://pictures.escapia.com/GAISPR/105572/1652660651.jpg
                     => Spacious Living Area with Oceanfront Views
                    [sort] => 2
                )

            [3] => stdClass Object
                (
                    [id] => 3609997
                    [unit_id] => 96
                    [url] => https://pictures.escapia.com/GAISPR/105572/3398060652.jpg
                    [thumb_url] => https://pictures.escapia.com/GAISPR/105572/3398060652.jpg
                     => 
                    [sort] => 3
                )

            [4] => stdClass Object
                (
                    [id] => 3609998
                    [unit_id] => 96
                    [url] => https://pictures.escapia.com/GAISPR/105572/7568420655.jpg
                    [thumb_url] => https://pictures.escapia.com/GAISPR/105572/7568420655.jpg
                     => Living Area with Beautiful Ocean Views
                    [sort] => 4
                )

            [5] => stdClass Object
                (
                    [id] => 3609999
                    [unit_id] => 96
                    [url] => https://pictures.escapia.com/GAISPR/105572/0883330656.jpg
                    [thumb_url] => https://pictures.escapia.com/GAISPR/105572/0883330656.jpg
                     => Side lanai with ocean views off of main living area
                    [sort] => 5
                )

            [6] => stdClass Object
                (
                    [id] => 3610000
                    [unit_id] => 96
                    [url] => https://pictures.escapia.com/GAISPR/105572/3744430899.jpg
                    [thumb_url] => https://pictures.escapia.com/GAISPR/105572/3744430899.jpg
                     => Full Kitchen
                    [sort] => 6
                )

            [7] => stdClass Object
                (
                    [id] => 3610001
                    [unit_id] => 96
                    [url] => https://pictures.escapia.com/GAISPR/105572/5413650898.jpg
                    [thumb_url] => https://pictures.escapia.com/GAISPR/105572/5413650898.jpg
                     => Full Kitchen
                    [sort] => 7
                )

            [8] => stdClass Object
                (
                    [id] => 3610002
                    [unit_id] => 96
                    [url] => https://pictures.escapia.com/GAISPR/105572/7862230034.jpg
                    [thumb_url] => https://pictures.escapia.com/GAISPR/105572/7862230034.jpg
                     => Master Bedroom with Oceanfront Lanai and King Bed
                    [sort] => 8
                )

            [9] => stdClass Object
                (
                    [id] => 3610003
                    [unit_id] => 96
                    [url] => https://pictures.escapia.com/GAISPR/105572/6574480321.jpg
                    [thumb_url] => https://pictures.escapia.com/GAISPR/105572/6574480321.jpg
                     => Master bedroom with king bed, tv, and AC
                    [sort] => 9
                )

            [10] => stdClass Object
                (
                    [id] => 3610004
                    [unit_id] => 96
                    [url] => https://pictures.escapia.com/GAISPR/105572/6187850907.jpg
                    [thumb_url] => https://pictures.escapia.com/GAISPR/105572/6187850907.jpg
                     => Master Bathroom with tub/shower
                    [sort] => 10
                )

            [11] => stdClass Object
                (
                    [id] => 3610005
                    [unit_id] => 96
                    [url] => https://pictures.escapia.com/GAISPR/105572/6582790620.jpg
                    [thumb_url] => https://pictures.escapia.com/GAISPR/105572/6582790620.jpg
                     => Master Bath
                    [sort] => 11
                )

            [12] => stdClass Object
                (
                    [id] => 3610006
                    [unit_id] => 96
                    [url] => https://pictures.escapia.com/GAISPR/105572/3487540654.jpg
                    [thumb_url] => https://pictures.escapia.com/GAISPR/105572/3487540654.jpg
                     => Ocean View Lanai
                    [sort] => 12
                )

            [13] => stdClass Object
                (
                    [id] => 3610007
                    [unit_id] => 96
                    [url] => https://pictures.escapia.com/GAISPR/105572/7204930154.jpg
                    [thumb_url] => https://pictures.escapia.com/GAISPR/105572/7204930154.jpg
                     => Walk across the street to Fujii Beach
                    [sort] => 13
                )

            [14] => stdClass Object
                (
                    [id] => 3610008
                    [unit_id] => 96
                    [url] => https://pictures.escapia.com/GAISPR/105572/6563360088.jpg
                    [thumb_url] => https://pictures.escapia.com/GAISPR/105572/6563360088.jpg
                     => 2nd Bedroom with twin beds, AC. Convert to King (fee applies)
                    [sort] => 14
                )

            [15] => stdClass Object
                (
                    [id] => 3610009
                    [unit_id] => 96
                    [url] => https://pictures.escapia.com/GAISPR/105572/2876310449.jpg
                    [thumb_url] => https://pictures.escapia.com/GAISPR/105572/2876310449.jpg
                     => Second bath accessible from 2nd bedroom and dining area
                    [sort] => 15
                )

            [16] => stdClass Object
                (
                    [id] => 3610010
                    [unit_id] => 96
                    [url] => https://pictures.escapia.com/GAISPR/105572/5507780253.jpg
                    [thumb_url] => https://pictures.escapia.com/GAISPR/105572/5507780253.jpg
                     => Outdoor shower after a long day at the beach!
                    [sort] => 16
                )

            [17] => stdClass Object
                (
                    [id] => 3610011
                    [unit_id] => 96
                    [url] => https://pictures.escapia.com/GAISPR/105572/3009200183.jpg
                    [thumb_url] => https://pictures.escapia.com/GAISPR/105572/3009200183.jpg
                     => Kapa'a Beach Home
                    [sort] => 17
                )

            [18] => stdClass Object
                (
                    [id] => 3610012
                    [unit_id] => 96
                    [url] => https://pictures.escapia.com/GAISPR/105572/2453130664.jpg
                    [thumb_url] => https://pictures.escapia.com/GAISPR/105572/2453130664.jpg
                     => Exterior View of Home
                    [sort] => 18
                )

            [19] => stdClass Object
                (
                    [id] => 3610013
                    [unit_id] => 96
                    [url] => https://pictures.escapia.com/GAISPR/105572/5049670665.jpg
                    [thumb_url] => https://pictures.escapia.com/GAISPR/105572/5049670665.jpg
                     => Oceanfront Beach Home
                    [sort] => 19
                )

            [20] => stdClass Object
                (
                    [id] => 3610014
                    [unit_id] => 96
                    [url] => https://pictures.escapia.com/GAISPR/105572/0371930712.jpg
                    [thumb_url] => https://pictures.escapia.com/GAISPR/105572/0371930712.jpg
                     => Walk to Fuji Beach
                    [sort] => 20
                )

            [21] => stdClass Object
                (
                    [id] => 3610015
                    [unit_id] => 96
                    [url] => https://pictures.escapia.com/GAISPR/105572/8961880268.jpg
                    [thumb_url] => https://pictures.escapia.com/GAISPR/105572/8961880268.jpg
                     => Fuji Beach
                    [sort] => 21
                )

            [22] => stdClass Object
                (
                    [id] => 3610016
                    [unit_id] => 96
                    [url] => https://pictures.escapia.com/GAISPR/105572/2728060184.jpg
                    [thumb_url] => https://pictures.escapia.com/GAISPR/105572/2728060184.jpg
                     => Low Tide at Fujii Beach
                    [sort] => 22
                )

            [23] => stdClass Object
                (
                    [id] => 3610017
                    [unit_id] => 96
                    [url] => https://pictures.escapia.com/GAISPR/105572/8423760639.jpg
                    [thumb_url] => https://pictures.escapia.com/GAISPR/105572/8423760639.jpg
                     => Coconut Coast
                    [sort] => 23
                )

            [24] => stdClass Object
                (
                    [id] => 3610018
                    [unit_id] => 96
                    [url] => https://pictures.escapia.com/GAISPR/105572/7169010492.jpg
                    [thumb_url] => https://pictures.escapia.com/GAISPR/105572/7169010492.jpg
                     => Coconut Coast Bike Path, Accessible from Hale Hololani
                    [sort] => 24
                )

            [25] => stdClass Object
                (
                    [id] => 3610019
                    [unit_id] => 96
                    [url] => https://pictures.escapia.com/GAISPR/105572/2185520395.jpg
                    [thumb_url] => https://pictures.escapia.com/GAISPR/105572/2185520395.jpg
                     => Sleeping Giant
                    [sort] => 25
                )

            [26] => stdClass Object
                (
                    [id] => 3610020
                    [unit_id] => 96
                    [url] => https://pictures.escapia.com/GAISPR/105572/9880310731.jpg
                    [thumb_url] => https://pictures.escapia.com/GAISPR/105572/9880310731.jpg
                     => Kapaa Sunset
                    [sort] => 26
                )

        )

    [rates] => Array
        (
        )

    [attributes] => Array
        (
            [0] => stdClass Object
                (
                    [id] => 7018642
                    [name] => combination tub/shower
                    [value] => 
                    [group] => AMENITY
                    [unit_id] => 96
                )

            [1] => stdClass Object
                (
                    [id] => 7018643
                    [name] => double
                    [value] => 
                    [group] => AMENITY
                    [unit_id] => 96
                )

            [2] => stdClass Object
                (
                    [id] => 7018644
                    [name] => king
                    [value] => 
                    [group] => AMENITY
                    [unit_id] => 96
                )

            [3] => stdClass Object
                (
                    [id] => 7018645
                    [name] => shower
                    [value] => 
                    [group] => AMENITY
                    [unit_id] => 96
                )

            [4] => stdClass Object
                (
                    [id] => 7018646
                    [name] => sleep sofa /futon
                    [value] => 
                    [group] => AMENITY
                    [unit_id] => 96
                )

            [5] => stdClass Object
                (
                    [id] => 7018647
                    [name] => Satellite / Cable
                    [value] => 
                    [group] => ENTERTAINMENT
                    [unit_id] => 96
                )

            [6] => stdClass Object
                (
                    [id] => 7018648
                    [name] => Television
                    [value] => 
                    [group] => ENTERTAINMENT
                    [unit_id] => 96
                )

            [7] => stdClass Object
                (
                    [id] => 7018649
                    [name] => Air Conditioning
                    [value] => 
                    [group] => GENERAL
                    [unit_id] => 96
                )

            [8] => stdClass Object
                (
                    [id] => 7018650
                    [name] => Hair Dryer
                    [value] => 
                    [group] => GENERAL
                    [unit_id] => 96
                )

            [9] => stdClass Object
                (
                    [id] => 7018651
                    [name] => Internet
                    [value] => 
                    [group] => GENERAL
                    [unit_id] => 96
                )

            [10] => stdClass Object
                (
                    [id] => 7018652
                    [name] => Iron & Board
                    [value] => 
                    [group] => GENERAL
                    [unit_id] => 96
                )

            [11] => stdClass Object
                (
                    [id] => 7018653
                    [name] => Linens Provided
                    [value] => 
                    [group] => GENERAL
                    [unit_id] => 96
                )

            [12] => stdClass Object
                (
                    [id] => 7018654
                    [name] => Living Room
                    [value] => 
                    [group] => GENERAL
                    [unit_id] => 96
                )

            [13] => stdClass Object
                (
                    [id] => 7018655
                    [name] => Parking
                    [value] => 
                    [group] => GENERAL
                    [unit_id] => 96
                )

            [14] => stdClass Object
                (
                    [id] => 7018656
                    [name] => Telephone
                    [value] => 
                    [group] => GENERAL
                    [unit_id] => 96
                )

            [15] => stdClass Object
                (
                    [id] => 7018657
                    [name] => Towels Provided
                    [value] => 
                    [group] => GENERAL
                    [unit_id] => 96
                )

            [16] => stdClass Object
                (
                    [id] => 7018658
                    [name] => Washing Machine
                    [value] => 
                    [group] => GENERAL
                    [unit_id] => 96
                )

            [17] => stdClass Object
                (
                    [id] => 7018659
                    [name] => Coffee Maker
                    [value] => 
                    [group] => KITCHEN
                    [unit_id] => 96
                )

            [18] => stdClass Object
                (
                    [id] => 7018660
                    [name] => Dishes & Utensils
                    [value] => 
                    [group] => KITCHEN
                    [unit_id] => 96
                )

            [19] => stdClass Object
                (
                    [id] => 7018661
                    [name] => Dishwasher
                    [value] => 
                    [group] => KITCHEN
                    [unit_id] => 96
                )

            [20] => stdClass Object
                (
                    [id] => 7018662
                    [name] => Kitchen
                    [value] => 
                    [group] => KITCHEN
                    [unit_id] => 96
                )

            [21] => stdClass Object
                (
                    [id] => 7018663
                    [name] => Microwave
                    [value] => 
                    [group] => KITCHEN
                    [unit_id] => 96
                )

            [22] => stdClass Object
                (
                    [id] => 7018664
                    [name] => Oven
                    [value] => 
                    [group] => KITCHEN
                    [unit_id] => 96
                )

            [23] => stdClass Object
                (
                    [id] => 7018665
                    [name] => Refrigerator
                    [value] => 
                    [group] => KITCHEN
                    [unit_id] => 96
                )

            [24] => stdClass Object
                (
                    [id] => 7018666
                    [name] => Stove
                    [value] => 
                    [group] => KITCHEN
                    [unit_id] => 96
                )

            [25] => stdClass Object
                (
                    [id] => 7018667
                    [name] => Toaster
                    [value] => 
                    [group] => KITCHEN
                    [unit_id] => 96
                )

            [26] => stdClass Object
                (
                    [id] => 7018668
                    [name] => Beachfront
                    [value] => 
                    [group] => LOCATION_TYPE
                    [unit_id] => 96
                )

            [27] => stdClass Object
                (
                    [id] => 7018669
                    [name] => Ocean View
                    [value] => 
                    [group] => LOCATION_TYPE
                    [unit_id] => 96
                )

            [28] => stdClass Object
                (
                    [id] => 7018670
                    [name] => Outdoor Grill
                    [value] => 
                    [group] => OUTSIDE
                    [unit_id] => 96
                )

            [29] => stdClass Object
                (
                    [id] => 7018671
                    [name] => children welcome
                    [value] => 
                    [group] => SUITABILITY
                    [unit_id] => 96
                )

            [30] => stdClass Object
                (
                    [id] => 7018672
                    [name] => non smoking only
                    [value] => 
                    [group] => SUITABILITY
                    [unit_id] => 96
                )

            [31] => stdClass Object
                (
                    [id] => 7018673
                    [name] => pets not allowed
                    [value] => 
                    [group] => SUITABILITY
                    [unit_id] => 96
                )

            [32] => stdClass Object
                (
                    [id] => 7018674
                    [name] => flexible
                    [value] => 
                    [group] => ARRIVAL_DAY
                    [unit_id] => 96
                )

            [33] => stdClass Object
                (
                    [id] => 7018675
                    [name] => recommended
                    [value] => 
                    [group] => CAR
                    [unit_id] => 96
                )

            [34] => stdClass Object
                (
                    [id] => 7018676
                    [name] => Smoke detectors
                    [value] => 
                    [group] => Safety
                    [unit_id] => 96
                )

            [35] => stdClass Object
                (
                    [id] => 7018677
                    [name] => Emergency phone number: Medical
                    [value] => 
                    [group] => Safety
                    [unit_id] => 96
                )

            [36] => stdClass Object
                (
                    [id] => 7018678
                    [name] => Emergency phone number: Police
                    [value] => 
                    [group] => Safety
                    [unit_id] => 96
                )

            [37] => stdClass Object
                (
                    [id] => 7018679
                    [name] => Emergency phone number: Fire
                    [value] => 
                    [group] => Safety
                    [unit_id] => 96
                )

            [38] => stdClass Object
                (
                    [id] => 7018680
                    [name] => Enhanced cleaning practices
                    [value] => 
                    [group] => Health and Safety
                    [unit_id] => 96
                )

            [39] => stdClass Object
                (
                    [id] => 7018681
                    [name] => Clean with disinfectant
                    [value] => 
                    [group] => Health and Safety
                    [unit_id] => 96
                )

            [40] => stdClass Object
                (
                    [id] => 7018682
                    [name] => No-contact check-in and check-out
                    [value] => 
                    [group] => Health and Safety
                    [unit_id] => 96
                )

            [41] => stdClass Object
                (
                    [id] => 7018683
                    [name] => High touch surfaces cleaned with disinfectant
                    [value] => 
                    [group] => Health and Safety
                    [unit_id] => 96
                )

            [42] => stdClass Object
                (
                    [id] => 7018684
                    [name] => 1 day (24 hours)
                    [value] => 
                    [group] => Health and Safety
                    [unit_id] => 96
                )

            [43] => stdClass Object
                (
                    [id] => 7018685
                    [name] => Cookware
                    [value] => 
                    [group] => Kitchen
                    [unit_id] => 96
                )

            [44] => stdClass Object
                (
                    [id] => 7018686
                    [name] => Blender
                    [value] => 
                    [group] => Kitchen
                    [unit_id] => 96
                )

            [45] => stdClass Object
                (
                    [id] => 7018687
                    [name] => Air Conditioning
                    [value] => 
                    [group] => Living
                    [unit_id] => 96
                )

            [46] => stdClass Object
                (
                    [id] => 7018688
                    [name] => Ceiling Fans
                    [value] => 
                    [group] => Living
                    [unit_id] => 96
                )

            [47] => stdClass Object
                (
                    [id] => 7018689
                    [name] => Washer & Dryer
                    [value] => 
                    [group] => Living
                    [unit_id] => 96
                )

            [48] => stdClass Object
                (
                    [id] => 7018690
                    [name] => Wifi
                    [value] => 
                    [group] => Living
                    [unit_id] => 96
                )

            [49] => stdClass Object
                (
                    [id] => 7018691
                    [name] => Beach Towels
                    [value] => 
                    [group] => Living
                    [unit_id] => 96
                )

            [50] => stdClass Object
                (
                    [id] => 7018692
                    [name] => Hair Dryer
                    [value] => 
                    [group] => Living
                    [unit_id] => 96
                )

            [51] => stdClass Object
                (
                    [id] => 7018693
                    [name] => Patio
                    [value] => 
                    [group] => Outdoor
                    [unit_id] => 96
                )

            [52] => stdClass Object
                (
                    [id] => 7018694
                    [name] => Gas Grill
                    [value] => 
                    [group] => Outdoor
                    [unit_id] => 96
                )

            [53] => stdClass Object
                (
                    [id] => 7018695
                    [name] => Beach
                    [value] => 
                    [group] => Outdoor
                    [unit_id] => 96
                )

            [54] => stdClass Object
                (
                    [id] => 7018696
                    [name] => Beach Chairs
                    [value] => 
                    [group] => Outdoor
                    [unit_id] => 96
                )

            [55] => stdClass Object
                (
                    [id] => 7018697
                    [name] => Bike Path
                    [value] => 
                    [group] => Outdoor
                    [unit_id] => 96
                )

            [56] => stdClass Object
                (
                    [id] => 7018698
                    [name] => Beach Towels
                    [value] => 
                    [group] => Outdoor
                    [unit_id] => 96
                )

            [57] => stdClass Object
                (
                    [id] => 7018699
                    [name] => On Beach
                    [value] => 
                    [group] => Geographic
                    [unit_id] => 96
                )

            [58] => stdClass Object
                (
                    [id] => 7018700
                    [name] => Near Beach
                    [value] => 
                    [group] => Geographic
                    [unit_id] => 96
                )

            [59] => stdClass Object
                (
                    [id] => 7018701
                    [name] => Close to Town
                    [value] => 
                    [group] => Geographic
                    [unit_id] => 96
                )

            [60] => stdClass Object
                (
                    [id] => 7018702
                    [name] => Coconut Coast
                    [value] => 
                    [group] => Geographic
                    [unit_id] => 96
                )

        )

    [avail] => Array
        (
            [0] => stdClass Object
                (
                    [id] => 25725795
                    [start_date] => 2021-03-01
                    [end_date] => 2023-02-01
                    [unit_id] => 96
                )

        )

    [reviews] => Array
        (
            [0] => stdClass Object
                (
                    [id] => 30701
                    [external_id] => 24c2d676-7902-41b4-9700-5f14c986a952
                    [prop_id] => 96
                    [review_id] => 0
                    [source] => Escapia
                    [title] => Our favorite place on Kauai 
                    [review] => We have stayed here a few times and love it. It is clean, well maintained and the manager is always prompt to respond with any questions. We love it that our favorite places, Pono market, Olympic Cafe, Small Town Coffee, beach trail are all within walking distance. I really liked the Hospitality app. It kept all our information in one location. Very nice.
                    [name] => Steve J.
                    [email] => stv.jarrett@icloud.com
                    [location] => 
                    [response] => Mahalo Steve! We are so happy that you love the home and continue to come back. We also appreciate that you liked the hospitality app and felt management was available to respond to your questions. Great restaurants nearby indeed! Please come back and stay again. Aloha, Garden Island Properties
                    [response_date] => 2020-05-09
                    [rating] => 5
                    [review_date] => 2020-04-06
                    [featured] => 
                    [status] => 1
                    [checkin_date] => 2020-03-13
                    [nights_stayed] => 8
                    [sfrm] => 5
                    [clean] => 5
                    [rto] => 1
                    [pc] => 5
                    [loc] => 5
                    [meta] => Array
                        (
                        )

                )

            [1] => stdClass Object
                (
                    [id] => 30702
                    [external_id] => d8a1d34d-f90f-4b54-a1f3-f7bf83e5c183
                    [prop_id] => 96
                    [review_id] => 0
                    [source] => Escapia
                    [title] => Kauai Vacation 
                    [review] => Everything about this rental was perfect. We couldn't have found a better rental property. 
                    [name] => Carol M.
                    [email] => carmow@comcast.net
                    [location] => 
                    [response] => Mahalo Carol! We very much appreciate your stay with us and hope you will be back again soon. Aloha, Garden Island Properties
                    [response_date] => 2020-05-21
                    [rating] => 5
                    [review_date] => 2020-02-24
                    [featured] => 
                    [status] => 1
                    [checkin_date] => 2020-02-01
                    [nights_stayed] => 7
                    [sfrm] => 5
                    [clean] => 4
                    [rto] => 1
                    [pc] => 5
                    [loc] => 5
                    [meta] => Array
                        (
                        )

                )

            [2] => stdClass Object
                (
                    [id] => 30704
                    [external_id] => 89f47ad5-4598-4954-afae-171953a80f5f
                    [prop_id] => 96
                    [review_id] => 0
                    [source] => Escapia
                    [title] => Heavenly Home is Heavenly indeed!
                    [review] => As with all past stays in this home, we were not disappointed.  We enjoyed the upgrades that had been made to the kitchen (new dishwasher, upgraded countertops).  
The views are to die for, with a 180' view of the ocean and the whale activity.  
Perfect location on a perfect island.....
                    [name] => Lori W.
                    [email] => loriwilmot@hotmail.com
                    [location] => 
                    [response] => Aloha Lori, So glad that you keep coming back to visit and that you enjoy the ocean view from the home. We very much appreciate your review and look forward to your next stay! Mahalo nui loa, Garden Island Properties
                    [response_date] => 2020-02-22
                    [rating] => 5
                    [review_date] => 2020-02-16
                    [featured] => 
                    [status] => 1
                    [checkin_date] => 2020-01-21
                    [nights_stayed] => 10
                    [sfrm] => 5
                    [clean] => 5
                    [rto] => 1
                    [pc] => 5
                    [loc] => 5
                    [meta] => Array
                        (
                        )

                )

            [3] => stdClass Object
                (
                    [id] => 30703
                    [external_id] => be066532-6ab0-4dce-aae0-726147d27b46
                    [prop_id] => 96
                    [review_id] => 0
                    [source] => Escapia
                    [title] => Best vacation rental
                    [review] => This unit was excellent; clean and well maintained and fully furnished.  Lots of kitchen supplies and the AC in every room was awesome.  The best I have experienced so far on kauai.  Only downside was a homeless person Wandered onto the property on our last night there but as far as the quality of the facility; on a scale of 1-10 it was a 9.5.  
                    [name] => 
                    [email] => juneh@hawaii.rr.com
                    [location] => 
                    [response] => Thank you for your review.  We are so happy to hear you enjoyed your stay at Hale Hololani.  We do apologize for the lady with the dog who asked for shelter from you.  Thank you again for staying with us and we look forward to having you back! Mahalo, Garden Island Properties
                    [response_date] => 2019-06-12
                    [rating] => 5
                    [review_date] => 2019-06-09
                    [featured] => 
                    [status] => 1
                    [checkin_date] => 2019-06-01
                    [nights_stayed] => 4
                    [sfrm] => 5
                    [clean] => 5
                    [rto] => 1
                    [pc] => 5
                    [loc] => 4
                    [meta] => Array
                        (
                        )

                )

            [4] => stdClass Object
                (
                    [id] => 30706
                    [external_id] => 7eb832cf-d173-4ba8-ac53-2bf14de22a8d
                    [prop_id] => 96
                    [review_id] => 0
                    [source] => Escapia
                    [title] => A happy time for all
                    [review] => Outstanding, I will do it again!
                    [name] => Joe O.
                    [email] => joepat007@comcast.net
                    [location] => 
                    [response] => Aloha Joesph! Thank you so much for staying with us. We are so happy that you had an outstanding time and look forward to your next visit! Mahalo and a hui hou, Garden Island Properties
                    [response_date] => 2019-03-06
                    [rating] => 5
                    [review_date] => 2019-02-23
                    [featured] => 
                    [status] => 1
                    [checkin_date] => 2019-02-14
                    [nights_stayed] => 7
                    [sfrm] => 5
                    [clean] => 5
                    [rto] => 1
                    [pc] => 5
                    [loc] => 5
                    [meta] => Array
                        (
                        )

                )

            [5] => stdClass Object
                (
                    [id] => 30710
                    [external_id] => 22ac2642-22f5-4a7e-aeca-5568dfa843bc
                    [prop_id] => 96
                    [review_id] => 0
                    [source] => Escapia
                    [title] => Fabulous Accommodations
                    [review] => Lovely views, comfortable, and meticulous accommodations in a centrally located spot.  We have stayed in this house twice and look forward to our next visit! We needed late check out and management was prompt in helping us with our needs.  Thanks to all for a wonderful vacation.
                    [name] => Cindy B.
                    [email] => Kevburke@netins.net
                    [location] => 
                    [response] => Aloha Cindy! Thank you so much for staying with us again. We are so very happy that you were pleased with the accommodations and that we were able to assist you promptly with your needs. We hope to see you again soon! Mahalo nui loa, Garden Island Properties
                    [response_date] => 2019-06-15
                    [rating] => 5
                    [review_date] => 2018-12-21
                    [featured] => 
                    [status] => 1
                    [checkin_date] => 2018-12-08
                    [nights_stayed] => 11
                    [sfrm] => 5
                    [clean] => 5
                    [rto] => 1
                    [pc] => 5
                    [loc] => 5
                    [meta] => Array
                        (
                        )

                )

            [6] => stdClass Object
                (
                    [id] => 30711
                    [external_id] => b1dd464d-8952-4477-998c-e09984326ce7
                    [prop_id] => 96
                    [review_id] => 0
                    [source] => Escapia
                    [title] => wonderful view
                    [review] => The house was basically very good. Unfortunately, one bedroom was much much nicer than the other, which made for some unfairness for two guests wanting things to be even between us. It needs updating. The locks are hard to manage, the instructions for working the locks are wrong. The directions provided by management also need updating. The house is no longer the colour described on the sheet, etc. Shortcomings in the house kept coming into play, despite its great bones and good location. Short walk to good restaurants and cafes, to a swimming beach. I recommend the open door helicopter tour of the island.
                    [name] => 
                    [email] => dr.b.kershner@gmail.com
                    [location] => 
                    [response] => 
                    [response_date] => 
                    [rating] => 4
                    [review_date] => 2018-11-15
                    [featured] => 
                    [status] => 1
                    [checkin_date] => 2018-11-07
                    [nights_stayed] => 4
                    [sfrm] => 4
                    [clean] => 5
                    [rto] => 1
                    [pc] => 3
                    [loc] => 5
                    [meta] => Array
                        (
                        )

                )

            [7] => stdClass Object
                (
                    [id] => 30708
                    [external_id] => 2e39804b-60e9-46e3-8304-c3a47364355b
                    [prop_id] => 96
                    [review_id] => 0
                    [source] => Escapia
                    [title] => A+
                    [review] => Everything was spectacular!  Beautiful location, house was fully stocked for our family of 5.  
                    [name] => 
                    [email] => djhume@cox.net
                    [location] => 
                    [response] => Mahalo for your review and we look forward to having you back! Aloha, Garden Island Properties
                    [response_date] => 2018-06-22
                    [rating] => 5
                    [review_date] => 2018-06-20
                    [featured] => 
                    [status] => 1
                    [checkin_date] => 2018-06-10
                    [nights_stayed] => 8
                    [sfrm] => 5
                    [clean] => 5
                    [rto] => 1
                    [pc] => 5
                    [loc] => 5
                    [meta] => Array
                        (
                        )

                )

            [8] => stdClass Object
                (
                    [id] => 30709
                    [external_id] => 8ba0cad9-9420-4ece-b0b9-afab3d4bdcf1
                    [prop_id] => 96
                    [review_id] => 0
                    [source] => Escapia
                    [title] => An excellent vacation home that kept us all happy
                    [review] => Stunning view. Gorgeous winds all the time. Extremely comfortable beds. Peaceful. Lush backyard too. Overall, a very comfortable stay.
The only downside was that the master bath shower did not work, or we really could not figure out how to make it work.
                    [name] => Somjit M.
                    [email] => somjit.mittra@gmail.com
                    [location] => 
                    [response] => Aloha Somjit and thank you for staying with us. Glad you enjoyed the views and had a comfortable stay. We are sorry that you had trouble with the master bathroom shower. Instructions on how to operate the shower have been placed in the home for proper usage.  We hope to have the chance to host you again soon! Mahalo, Garden Island Properties
                    [response_date] => 2020-08-31
                    [rating] => 5
                    [review_date] => 2018-06-06
                    [featured] => 
                    [status] => 1
                    [checkin_date] => 2018-05-30
                    [nights_stayed] => 5
                    [sfrm] => 5
                    [clean] => 5
                    [rto] => 1
                    [pc] => 5
                    [loc] => 5
                    [meta] => Array
                        (
                        )

                )

            [9] => stdClass Object
                (
                    [id] => 30707
                    [external_id] => f59d2a30-00c8-4f48-a6d0-25823da83308
                    [prop_id] => 96
                    [review_id] => 0
                    [source] => Escapia
                    [title] => Kauai 40th Anniversary Tour
                    [review] => House is Gorgeous! Staff very responsive. Location Excellent.  We will be back  
                    [name] => Robert S.
                    [email] => bob@rscottlaw.com
                    [location] => 
                    [response] => Aloha Robert,Thank you for your stay and amazing review! So glad that you felt the location was excellent and that staff was responsive. We look forward to your next stay! Mahalo nui loa, Garden Island Properties 
                    [response_date] => 2019-10-22
                    [rating] => 4
                    [review_date] => 2018-03-23
                    [featured] => 
                    [status] => 1
                    [checkin_date] => 2018-03-14
                    [nights_stayed] => 7
                    [sfrm] => 5
                    [clean] => 5
                    [rto] => 1
                    [pc] => 5
                    [loc] => 5
                    [meta] => Array
                        (
                        )

                )

            [10] => stdClass Object
                (
                    [id] => 30724
                    [external_id] => 21bab5cf-dde8-40db-8de8-85597aa882e6
                    [prop_id] => 96
                    [review_id] => 0
                    [source] => Escapia
                    [title] => Dream vacation!
                    [review] => Everything was perfect. The place was beautiful and clean. The staff was friendly and helpful.
                    [name] => 
                    [email] => uhs808km@gmail.com
                    [location] => 
                    [response] => Aloha Kevin and Mahalo for your review! So glad that everything was perfect and that staff was friendly and helpful. We hope that you will be back to stay again! Aloha, Garden Island Properties
                    [response_date] => 2019-10-22
                    [rating] => 5
                    [review_date] => 2018-02-13
                    [featured] => 
                    [status] => 1
                    [checkin_date] => 2018-01-20
                    [nights_stayed] => 8
                    [sfrm] => 5
                    [clean] => 5
                    [rto] => 1
                    [pc] => 5
                    [loc] => 5
                    [meta] => Array
                        (
                        )

                )

            [11] => stdClass Object
                (
                    [id] => 30723
                    [external_id] => 7f0e402a-8ac4-4be6-ae25-b1768799c31a
                    [prop_id] => 96
                    [review_id] => 0
                    [source] => Escapia
                    [title] => Beautiful Villa-style house with beautiful beach view.
                    [review] => This facility is beautiful, and it is located in a perfect location.  This house was very clean, and it's located in a convenient place.  The rental company provided a ridiculous amount of resources, from laundry facilities to cookware.
                    [name] => Mark S.
                    [email] => mschwartz_home@yahoo.com
                    [location] => 
                    [response] => 
                    [response_date] => 
                    [rating] => 5
                    [review_date] => 2017-07-12
                    [featured] => 
                    [status] => 1
                    [checkin_date] => 2017-07-03
                    [nights_stayed] => 7
                    [sfrm] => 5
                    [clean] => 5
                    [rto] => 1
                    [pc] => 5
                    [loc] => 5
                    [meta] => Array
                        (
                        )

                )

            [12] => stdClass Object
                (
                    [id] => 30721
                    [external_id] => 0193e458-fb32-4778-b589-73f88e32334d
                    [prop_id] => 96
                    [review_id] => 0
                    [source] => Escapia
                    [title] => ten wonderful days in paradise 
                    [review] => coffee in the morning-wine in the evening on the lanai was heavenly. convenient location for all adventures across the island. local farmer's markets help to make new wonderful dishes in the well-stocked kitchen. gas grill was convenient for cooking the local fresh fish available before noon at Costco(gas prices are best there,too). as always, a wonderful time on the island and looking forward to our next visit
                    [name] => Sanford d K.
                    [email] => skatine@tds.net
                    [location] => 
                    [response] => 
                    [response_date] => 
                    [rating] => 5
                    [review_date] => 2017-06-17
                    [featured] => 
                    [status] => 1
                    [checkin_date] => 2017-06-05
                    [nights_stayed] => 10
                    [sfrm] => 5
                    [clean] => 5
                    [rto] => 1
                    [pc] => 5
                    [loc] => 5
                    [meta] => Array
                        (
                        )

                )

            [13] => stdClass Object
                (
                    [id] => 30722
                    [external_id] => b0404d28-337d-4f8f-8f5f-bb11ed8b1a4c
                    [prop_id] => 96
                    [review_id] => 0
                    [source] => Escapia
                    [title] => Fanaminal Home
                    [review] => Outstanding,  wonderful, Fun, Stay. 
                    [name] => James T.
                    [email] => deorawasson@gmail.com
                    [location] => 
                    [response] => 
                    [response_date] => 
                    [rating] => 5
                    [review_date] => 2017-05-24
                    [featured] => 
                    [status] => 1
                    [checkin_date] => 2017-05-01
                    [nights_stayed] => 7
                    [sfrm] => 5
                    [clean] => 5
                    [rto] => 1
                    [pc] => 5
                    [loc] => 5
                    [meta] => Array
                        (
                        )

                )

            [14] => stdClass Object
                (
                    [id] => 30719
                    [external_id] => 64dd3d4a-4375-4383-ae4f-a23f6f596904
                    [prop_id] => 96
                    [review_id] => 0
                    [source] => Escapia
                    [title] => Review of stay at 1011 Moanakai Rd., Kapaa 3/1-3/15/17
                    [review] => Generally very nice accommodation, interesting building architecturally, fully functional, nice property, mostly good location.  Major negative was slow hot water (slow in getting hot) and not very hot once hot.  Venetian blinds need replacing.  Two BR, one really for kids, so sleeping accommodations limited.  A lot of cars and trucks park illegally across the street restricting ocean view much of the time, kind of a negative.  Many homeless people up and down the street, occasionally sleeping across the street, perhaps a concern if it gets worse.  Door locks not the easiest to work and one didn't work at all, necessitating a deadbolt lock.
                    [name] => 
                    [email] => richard.gilbertsen@gmail.com
                    [location] => 
                    [response] => 
                    [response_date] => 
                    [rating] => 5
                    [review_date] => 2017-03-24
                    [featured] => 
                    [status] => 1
                    [checkin_date] => 2017-03-02
                    [nights_stayed] => 14
                    [sfrm] => 5
                    [clean] => 5
                    [rto] => 1
                    [pc] => 4
                    [loc] => 4
                    [meta] => Array
                        (
                        )

                )

            [15] => stdClass Object
                (
                    [id] => 30720
                    [external_id] => f7ead0a7-ead2-4c77-adbf-036ddc321286
                    [prop_id] => 96
                    [review_id] => 0
                    [source] => Escapia
                    [title] => January 2017 Hale Hololani Walrath's
                    [review] => Fine overall experience.  House met all of our needs.  Best house on the shore in Kapa'a. 
-Very good response from Garden Island for maintenance needs which included hot water issues (still not completely resolved), exterior door handle issues, broken window blinds.   However 5 maintenance visits during our stay should not be needed.  These issues should have been addressed in a down time when guests aren't present.  Someone needs to do a thorough check and preventive maintenance on the property.  
-When compared to most rentals these days, e.g. AirBnb, the property comes up short.  At over $400 a day we would expect some welcoming supplies like a hotel toiletry kit, a couple of coffee pods (a bottle of wine is pretty standard)..  The last thing you want to do after 12 hours of travel is to have to go to Safeway just to get thru the first night.
-House was just superficially clean.  Wall switches and cabinet doors are bit grimy.  Needs a real cleaning.  
-A 1980s Memorex radio/music player is beyond obsolete.  
-Most all beach houses on the mainland come with obvious beach stuff like bikes and body board etc.   
                    [name] => John W.
                    [email] => jnwalrath@gmail.com
                    [location] => 
                    [response] => 
                    [response_date] => 
                    [rating] => 5
                    [review_date] => 2017-01-17
                    [featured] => 
                    [status] => 1
                    [checkin_date] => 2017-01-05
                    [nights_stayed] => 8
                    [sfrm] => 5
                    [clean] => 4
                    [rto] => 1
                    [pc] => 4
                    [loc] => 5
                    [meta] => Array
                        (
                        )

                )

            [16] => stdClass Object
                (
                    [id] => 30715
                    [external_id] => 28fd8775-2937-4f8f-b376-939df71883a0
                    [prop_id] => 96
                    [review_id] => 0
                    [source] => Escapia
                    [title] => Lovely home in quiet town
                    [review] => We enjoyed this home very much. Spacious and well done, everything you need was at hand. We were able to view the super moon over the ocean from the patio. Only one down side- the mattress in the master was very hard, otherwise we had a very enjoyable stay
                    [name] => 
                    [email] => wcarlso409@earthlink.net
                    [location] => 
                    [response] => 
                    [response_date] => 
                    [rating] => 4
                    [review_date] => 2016-11-17
                    [featured] => 
                    [status] => 1
                    [checkin_date] => 2016-11-08
                    [nights_stayed] => 7
                    [sfrm] => 5
                    [clean] => 5
                    [rto] => 1
                    [pc] => 4
                    [loc] => 5
                    [meta] => Array
                        (
                        )

                )

            [17] => stdClass Object
                (
                    [id] => 30705
                    [external_id] => 494782f8-3f57-4728-bf93-907142f04630
                    [prop_id] => 96
                    [review_id] => 0
                    [source] => Escapia
                    [title] => A HEAVENLY HOME, IN DEED!
                    [review] => This was my 7th stay and and it continues to be my home away from home, may piece of heaven.

It is a sweet and comfortable home, well equipped, great location for island explorations and perfect if you just want to relax and hear the ocean all day and all night!  It is right across the street and on a wonderful walking trail.  It is quiet and simply perfect.  The rental manager, Sue, is great to work with and I can't recommend this property enough, except I want to keep it for myself!!

This house is filled with Aloha energy.  I am counting the days until my return.
                    [name] => Linda B.
                    [email] => lsbaz60@gmail.com
                    [location] => 
                    [response] => Mahalo Linda! We are so glad that you continue to come back and stay with us. We very much appreciate your thoughtful words and look forward to your next visit! Mahlo nui loa, Garden Island Properties
                    [response_date] => 2019-09-10
                    [rating] => 5
                    [review_date] => 2016-09-18
                    [featured] => 
                    [status] => 1
                    [checkin_date] => 2016-08-26
                    [nights_stayed] => 17
                    [sfrm] => 5
                    [clean] => 5
                    [rto] => 1
                    [pc] => 5
                    [loc] => 5
                    [meta] => Array
                        (
                        )

                )

            [18] => stdClass Object
                (
                    [id] => 30718
                    [external_id] => bcbd832c-bdf5-46d9-95b4-362b4c20a0fa
                    [prop_id] => 96
                    [review_id] => 0
                    [source] => Escapia
                    [title] => Fantastic Home. Quiet. Great view. Super customer service
                    [review] => Air Conditioning was outstanding and so helpful during the hot weather. Property description was perfect. Well maintained, clean. Customer service couldn't have been better. Quiet location.
                    [name] => Paul David C.
                    [email] => y987h654w321h1@aol.com
                    [location] => 
                    [response] => 
                    [response_date] => 
                    [rating] => 5
                    [review_date] => 2016-07-17
                    [featured] => 
                    [status] => 1
                    [checkin_date] => 2016-07-02
                    [nights_stayed] => 9
                    [sfrm] => 5
                    [clean] => 5
                    [rto] => 1
                    [pc] => 5
                    [loc] => 5
                    [meta] => Array
                        (
                        )

                )

            [19] => stdClass Object
                (
                    [id] => 30716
                    [external_id] => c05d407d-f9c2-4c8b-a601-9dd624fde671
                    [prop_id] => 96
                    [review_id] => 0
                    [source] => Escapia
                    [title] => Quiet and Relaxing
                    [review] => This house fit our needs perfectly for a one week couple getaway.  We liked the ocean view and front lanai.  The bike path proximity was convenient but not intrusive. Bike rental was walking distance away.  Home was clean but a bit dated.  Plenty of towels and linens.  Dish soap, bath soap, paper goods provided. Bring your own shampoo.  Side lanai was not accessible due to broken door.  Master bed was soft and mattress should be replaced.  Overall house was very comfortable. Rooms were large.  Many windows; light and airy feel.  
                    [name] => 
                    [email] => roncatesca@yahoo.com
                    [location] => 
                    [response] => 
                    [response_date] => 
                    [rating] => 4
                    [review_date] => 2016-06-11
                    [featured] => 
                    [status] => 1
                    [checkin_date] => 2016-05-20
                    [nights_stayed] => 7
                    [sfrm] => 4
                    [clean] => 4
                    [rto] => 1
                    [pc] => 4
                    [loc] => 5
                    [meta] => Array
                        (
                        )

                )

            [20] => stdClass Object
                (
                    [id] => 30717
                    [external_id] => 47648293-bed8-4ad8-aaed-cd254d411b0b
                    [prop_id] => 96
                    [review_id] => 0
                    [source] => Escapia
                    [title] => So heavenly, we did not want to leave!!
                    [review] => Absolutely lovely home. We enjoyed our stay thoroughly. The house was immaculately clean and recently painted, looked gorgeous (shout out to the owners, thank you!).  Thank you also to the wonderful support from Garden Isle Properties (Sue). 
                    [name] => Payam N.
                    [email] => pnahid@gmail.com
                    [location] => 
                    [response] => 
                    [response_date] => 
                    [rating] => 5
                    [review_date] => 2016-04-04
                    [featured] => 
                    [status] => 1
                    [checkin_date] => 2016-03-20
                    [nights_stayed] => 9
                    [sfrm] => 5
                    [clean] => 5
                    [rto] => 1
                    [pc] => 5
                    [loc] => 5
                    [meta] => Array
                        (
                        )

                )

            [21] => stdClass Object
                (
                    [id] => 30714
                    [external_id] => f894d7ea-f5ef-4f9b-bf9c-aed923e2d944
                    [prop_id] => 96
                    [review_id] => 0
                    [source] => Escapia
                    [title] => Outstanding!
                    [review] => Magnificent home. Spectacular location and million dollar views.  This is a very well maintained home that feels like home the minute you walk in the door.  We will definitely return.
                    [name] => Jaysen G.
                    [email] => wrca@gmx.com
                    [location] => 
                    [response] => 
                    [response_date] => 
                    [rating] => 5
                    [review_date] => 2016-02-29
                    [featured] => 
                    [status] => 1
                    [checkin_date] => 2016-02-14
                    [nights_stayed] => 10
                    [sfrm] => 5
                    [clean] => 5
                    [rto] => 1
                    [pc] => 5
                    [loc] => 5
                    [meta] => Array
                        (
                        )

                )

            [22] => stdClass Object
                (
                    [id] => 30713
                    [external_id] => 12d21e23-fe19-4173-a535-a876a4b283cf
                    [prop_id] => 96
                    [review_id] => 0
                    [source] => Escapia
                    [title] => Hawaii Heaven
                    [review] => Very positive experience.  House was exactly as described.  Very well equipped including plenty of towels, hair dryer, fully equipped kitchen. Quiet neighbors/ location was perfect. House was very clean, well furnished.
                    [name] => Myra F.
                    [email] => Ezfrost4@gmail.com
                    [location] => 
                    [response] => 
                    [response_date] => 
                    [rating] => 5
                    [review_date] => 2016-02-16
                    [featured] => 
                    [status] => 1
                    [checkin_date] => 2016-02-07
                    [nights_stayed] => 7
                    [sfrm] => 5
                    [clean] => 5
                    [rto] => 1
                    [pc] => 5
                    [loc] => 5
                    [meta] => Array
                        (
                        )

                )

            [23] => stdClass Object
                (
                    [id] => 30712
                    [external_id] => 0a212815-c70e-4ac0-99ca-9232dd6d6f45
                    [prop_id] => 96
                    [review_id] => 0
                    [source] => Escapia
                    [title] => Great place to stay
                    [review] => Great property. Kapaa is without a doubt the place you want to stay on Kauai. The property has great views , especially for sunrise. Close to downtown Kapaa. Family of 5 had plenty of room. The house was well equipped and the location was great. Would definatley stay again.
                    [name] => Edward D.
                    [email] => edowd@sdtlawyers.com
                    [location] => 
                    [response] => 
                    [response_date] => 
                    [rating] => 5
                    [review_date] => 2016-01-22
                    [featured] => 
                    [status] => 1
                    [checkin_date] => 2015-12-28
                    [nights_stayed] => 4
                    [sfrm] => 5
                    [clean] => 5
                    [rto] => 1
                    [pc] => 5
                    [loc] => 5
                    [meta] => Array
                        (
                        )

                )

        )

    [rateaddons] => Array
        (
        )

    [unit_meta] => Array
        (
            [0] => stdClass Object
                (
                    [id] => 495919
                    [unit_id] => 96
                    [key] => Custom1
                    [value] => HT296
                )

            [1] => stdClass Object
                (
                    [id] => 495920
                    [unit_id] => 96
                    [key] => Custom2
                    [value] => 6069611645
                )

            [2] => stdClass Object
                (
                    [id] => 495921
                    [unit_id] => 96
                    [key] => Custom3
                    [value] => 5281; Laundry Room: 0206
                )

            [3] => stdClass Object
                (
                    [id] => 495922
                    [unit_id] => 96
                    [key] => Custom4
                    [value] => Gate Code: 9385 Enter
                )

            [4] => stdClass Object
                (
                    [id] => 495923
                    [unit_id] => 96
                    [key] => DisplayRate
                    [value] => Starting from $335 per night
                )

            [5] => stdClass Object
                (
                    [id] => 495924
                    [unit_id] => 96
                    [key] => Location
                    [value] => Kapaa
                )

            [6] => stdClass Object
                (
                    [id] => 495925
                    [unit_id] => 96
                    [key] => LocationField
                    [value] => Garden Island Properties, LLC
                )

            [7] => stdClass Object
                (
                    [id] => 495926
                    [unit_id] => 96
                    [key] => Property Type
                    [value] => Home
                )

            [8] => stdClass Object
                (
                    [id] => 495927
                    [unit_id] => 96
                    [key] => View
                    [value] => Ocean Front
                )

            [9] => stdClass Object
                (
                    [id] => 495928
                    [unit_id] => 96
                    [key] => TextItems
                    [value] => a:3:{i:0;a:2:{s:5:"Title";s:16:"Long Description";s:11:"Description";s:1607:"Hale Hololani "Heavenly Home", Air Conditioned Kapa'a Beach Home steps from "Baby Beach". 
TAT ID#: TA-200-810-9056-01, TVNC#: 5057. On-island manager, Garden Island Properties L
                )

            [10] => stdClass Object
                (
                    [id] => 495929
                    [unit_id] => 96
                    [key] => MinLOS
                    [value] => 3
                )

            [11] => stdClass Object
                (
                    [id] => 495930
                    [unit_id] => 96
                    [key] => StayContext
                    [value] => Checkin
                )

            [12] => stdClass Object
                (
                    [id] => 495931
                    [unit_id] => 96
                    [key] => StayDays
                    [value] => a:7:{i:0;s:3:"Mon";i:1;s:3:"Tue";i:2;s:4:"Weds";i:3;s:4:"Thur";i:4;s:3:"Fri";i:5;s:3:"Sat";i:6;s:3:"Sun";}
                )

            [13] => stdClass Object
                (
                    [id] => 495932
                    [unit_id] => 96
                    [key] => NumberFloors
                    [value] => 1
                )

            [14] => stdClass Object
                (
                    [id] => 495933
                    [unit_id] => 96
                    [key] => AreaSquareFeet
                    [value] => 1359
                )

            [15] => stdClass Object
                (
                    [id] => 495934
                    [unit_id] => 96
                    [key] => CheckInTime
                    [value] => 15:00
                )

            [16] => stdClass Object
                (
                    [id] => 495935
                    [unit_id] => 96
                    [key] => CheckOutTime
                    [value] => 10:00
                )

            [17] => stdClass Object
                (
                    [id] => 495936
                    [unit_id] => 96
                    [key] => SmokingAllowed
                    [value] => 
                )

            [18] => stdClass Object
                (
                    [id] => 495937
                    [unit_id] => 96
                    [key] => VirtualTourURL
                    [value] => 
                )

        )

    [minnights] => Array
        (
        )

    [manager] => stdClass Object
        (
            [id] => 1
            [ManagerID] => 1
            [Name] => Escapia
            [Vendor] => Escapia
            [Contract] => 
            [random] => 0
            [pms] => 
            [last_update] => 0000-00-00 00:00:00
        )

    [flipkey] => 
    [additonal] => stdClass Object
        (
            [Custom1] => HT296
            [Custom2] => 6069611645
            [Custom3] => 5281; Laundry Room: 0206
            [Custom4] => Gate Code: 9385 Enter
            [DisplayRate] => Starting from $335 per night
            [Location] => Kapaa
            [LocationField] => Garden Island Properties, LLC
            [Property Type] => Home
            [View] => Ocean Front
            [TextItems] => a:3:{i:0;a:2:{s:5:"Title";s:16:"Long Description";s:11:"Description";s:1607:"Hale Hololani "Heavenly Home", Air Conditioned Kapa'a Beach Home steps from "Baby Beach". 
TAT ID#: TA-200-810-9056-01, TVNC#: 5057. On-island manager, Garden Island Properties L
            [MinLOS] => 3
            [StayContext] => Checkin
            [StayDays] => Array
                (
                    [0] => Mon
                    [1] => Tue
                    [2] => Weds
                    [3] => Thur
                    [4] => Fri
                    [5] => Sat
                    [6] => Sun
                )

            [NumberFloors] => 1
            [AreaSquareFeet] => 1359
            [CheckInTime] => 15:00
            [CheckOutTime] => 10:00
            [SmokingAllowed] => 
            [VirtualTourURL] => 
        )

    [checkinout] => Array
        (
        )

    [special] => Array
        (
        )

    [hasSpecial] => 
)
                    
Holiday Rates apply between 12/15 - 1/5