hale kahanalu cozy apartment steps to poipu beach. ac, free parking & wifi.
2 Bedroom(s) | 1 Bathroom(s) | Sleeps 4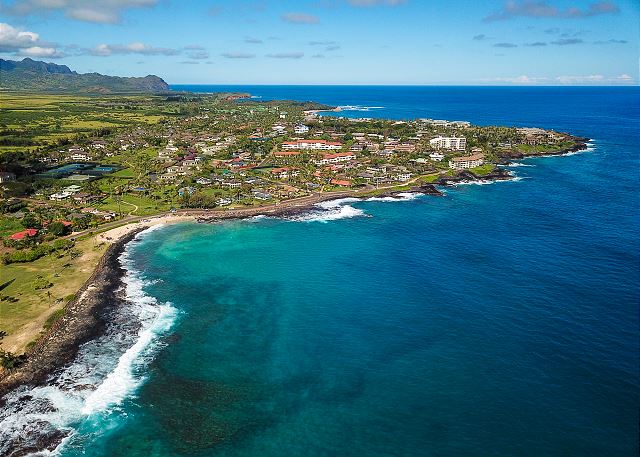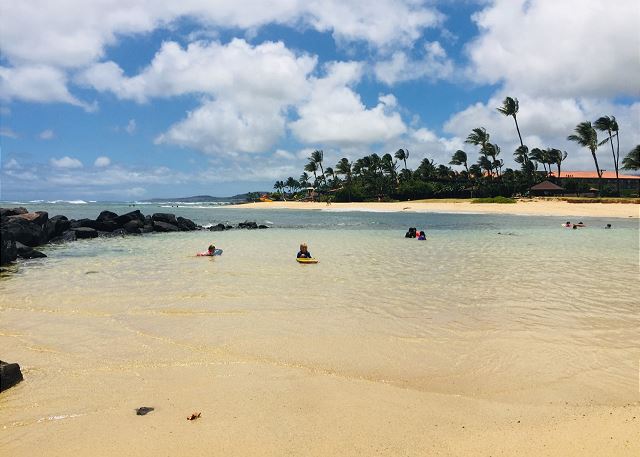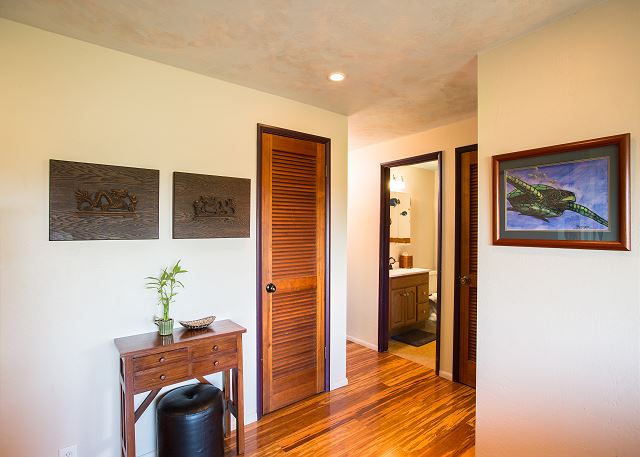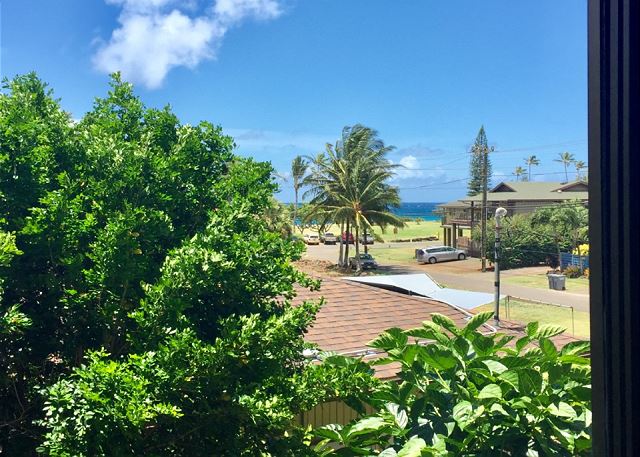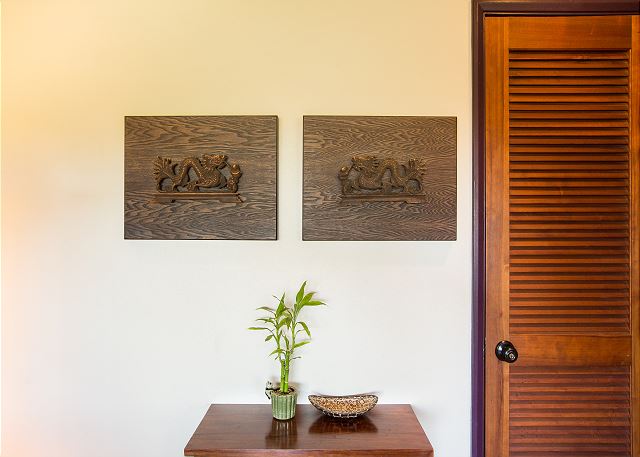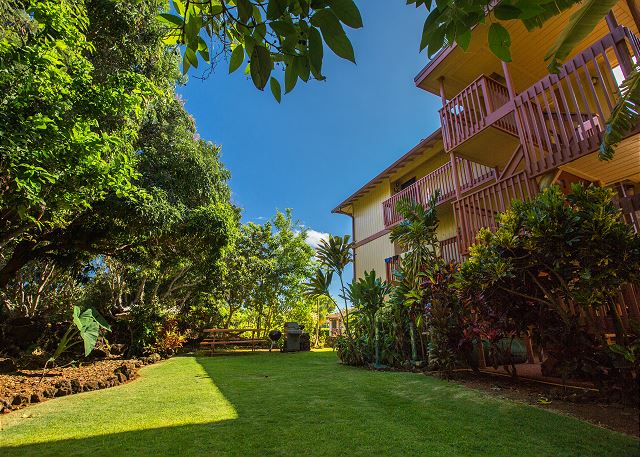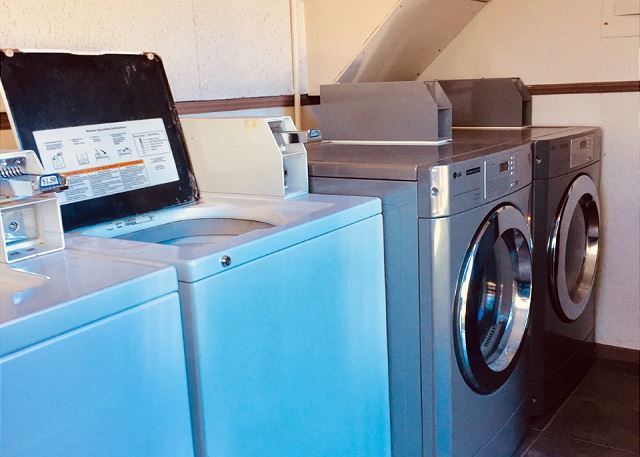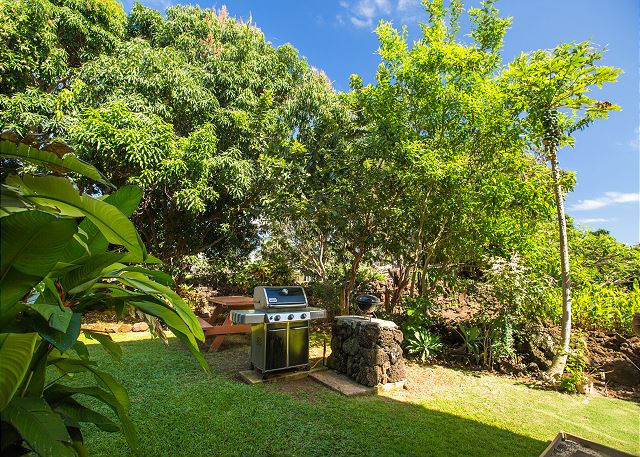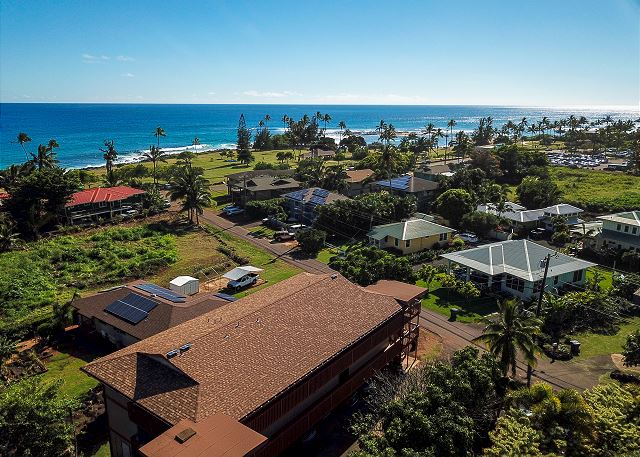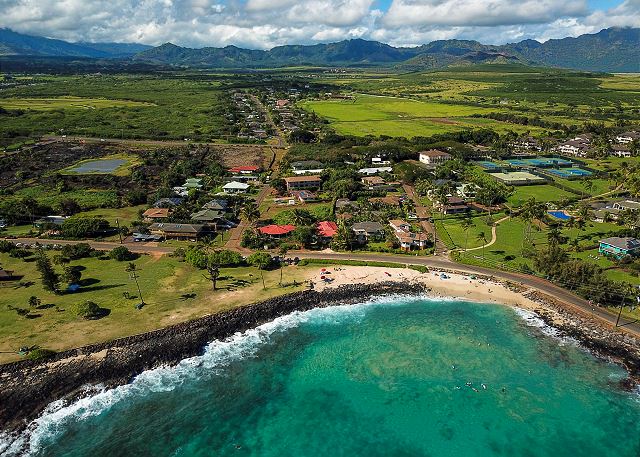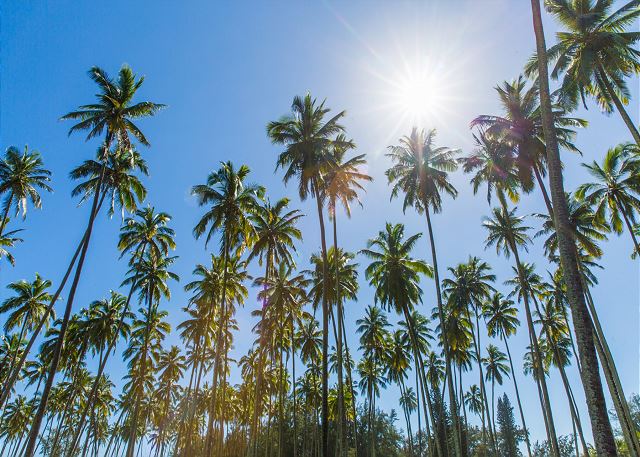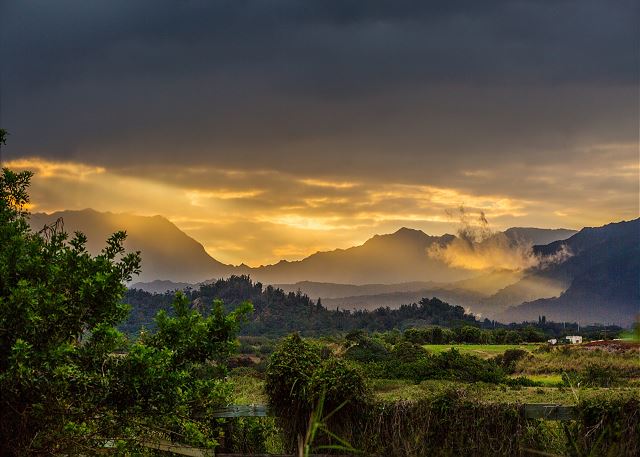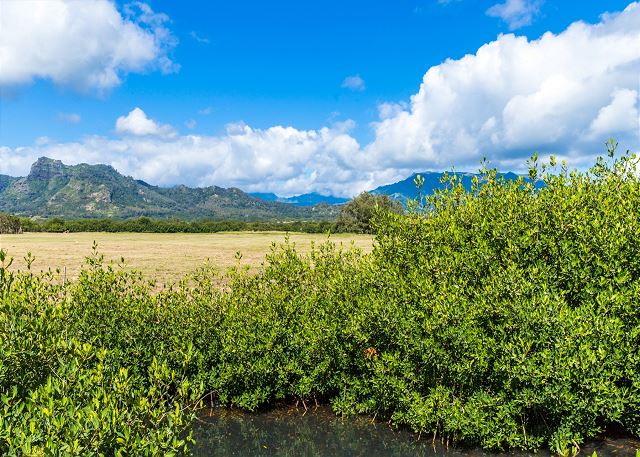 Hale Kahanalu #4, Poipu Apartment, Kauai Vacation Rental, walk to Poipu Beach.

Cozy and affordable 2 bedroom, 1 bath apartment unit just a 2 minute walk to Famous Poipu Beach and Brenneckes Beach. Portable AC in the living room and bedrooms. This property does not have a pool or lanai but is only 175 yards to the gorgeous Pacific Ocean.



We have implemented enhanced cleaning and disinfecting guidelines as well as infection prevention advice provided by the CDC. This is a Contactless Check-In Property.



This beach side apartment offers tropical furnishings, tasteful artwork and bamboo flooring.

King bed in the master bedroom and King in 2nd bedroom. 720 square feet of living area located in a small 8 unit apartment complex a block from Poipu Beach. Second floor unit (no elevator). Sleeps 4.



Prepare meals in a fully equipped kitchen with dishwasher and stainless steel appliances.

The unit is equipped with ceiling fans, and ocean breezes. Flat screen HD TV in the living room, Complimentary Wifi and Parking included. Hale Kahanalu is a quite 8 unit apartment complex that offers a BBQ area, coin operated laundry facilities and covered assigned parking.



Hale Kahanalu means "House by the Surf". Relax to the crashing waves and feel the cool ocean breezes as you soak in the Pacific Ocean. Enjoy beautiful south-side sunsets year-round and whale watching from Poipu Beach in the winter months. This property is conveniently located a block to Poipu Beach Park rated by Travel Channel as "America's Best Beaches".



Poipu Beach Park and Brenneckes Beach offers body surfing, surfing, snorkeling, sandy beaches, life-guarded kids pond, playground, grassy park with bathrooms, pavilion, picnic tables, showers and more just steps away! Walk to Brennecke's Beach Broiler Restaurant, Brennecke's Deli or Nukumoi Surf Company.



This is a Non-Smoking Property

Holiday rates apply from Dec. 15 to Jan. 5 with a 7 night minimum stay.

TAT ID#: TA-010-333-5936-01
Amenities

Combination tub/shower
King
Coin laundry
Satellite / Cable
Television
Air Conditioning
Hair Dryer
Internet
Iron & Board
Linens Provided
Living Room
Parking
Telephone
Towels Provided
Coffee Maker
Dishes & Utensils
Dishwasher
Kitchen
Microwave
Oven
Refrigerator
Stove
Toaster
Near The Ocean
Bedroom
Children welcome
Non smoking only
Pets not allowed
Flexible
Recommended
Smoke detectors
Emergency phone number: Medical
Emergency phone number: Police
Emergency phone number: Fire
Enhanced cleaning practices
Clean with disinfectant
No-contact check-in and check-out
High touch surfaces cleaned with disinfectant
1 day (24 hours)
Cookware
Blender
Ceiling Fans
Wifi
Beach Towels
Hair Dryer
Coin Operated Laundry
In Room Safe
BBQ Grill
Beach Chairs
Beach Towels
Near Beach
Close to Town
South Shore
Hale Kahanalu
---
Garden Isle stay at Garden Isle property
Mar 18, 2020
I was very pleased with our stay at Hale Kahanalu #4. The location was one block from the beach and wonderful snorkeling and viewing resting turtles and monk seals. The apartment was clean, had everything we needed to cook in the kitchen, it was a comfortable stay! The manager was very accommodating. My family was very happy with our stay.
---
Great location.great quality great price
Mar 01, 2020
Jus perfect
---
It'll do
Jan 24, 2020
Not a vacation. Visiting ohana
---
Kauai family vacation
Jan 04, 2020
Great location. Great place. Very accommodating. Garden island properties is the only way to go.
---
Great place to stay for a great price
Oct 07, 2019
This place was perfect. Close to water! Clea. Everything I needed
---
Awesome location! Close to Poipu Beach
Aug 29, 2019
We came for a mellow week on Kauai and this was the perfect spot! We could walk to Poipu Beach and a few shops and restaurants such as Brenneckes Beach Broiler and Nukamoi Surf shop. Also a short drive from the shopping centers and other restaurants. We found the apartment to be very clean, comfortable, and well equipped with everything we needed like beach chairs, cooler, towels, etc. Really happy with the portable AC units in each room and kept us cool on hot days. Management was quick to respond, super friendly and helpful. Would definitely stay here again the next time we come to Kauai!
---
Stay at Poipu
May 21, 2019
Great rental experience. Clean and well maintained vacation rental. Perfect area for some beach fun and good dining. We enjoyed our stay!
---
hale kahanalu #4
Apr 18, 2019
We had a wonderful stay. The condo was clean and well equipped. The location was perfect - a short walk to the beach which had great snorkeling.
---
Excellent location
Mar 28, 2019
The property is in an excellent location. The management company was courteous with quick and accurate communication. The unit was perfect for a family of four.
---
Great Location
Mar 08, 2019
Very happy with the week we spent here. Quiet, older condo building. Everything was clean and in good working order, and all kitchen extras are supplied. Beach chairs and umbrella were a nice plus. Master bed was super comfy, we had really great sleeps here. Walls are thin though, something to keep in mind. Parking a bit tight, just take your time getting in and out. Not fancy, but a great price and location cant be beat! Aloha!
---
Hale Kahanalu #4
Jan 27, 2019
Mostly great. Very nice interior, excellent amenties, awesome location. Had an issue with the electrical outlets inside and the customer service representative from the property management company was awesome! Professional, courteous and responsive. Good correspondence from property management company regarding the stay with great arrival instructions. Only challenges were the power being off on one circuit which caused no AC, TV or wifi for half the stay. Repair of a lower unit created noise and parking challenges,Awesome location in this newly renovated condo.
---
Cute condo
Aug 23, 2018
Enjoyed the condo and surrounding area. The air conditioner was not strong enough for the bedrooms so the fans were used.
Book Your Stay!
Select your arrival and departure dates below to reserve this unit.


October 2020

| S | M | T | W | T | F | S |
| --- | --- | --- | --- | --- | --- | --- |
| | | | | 01 | 02 | 03 |
| 04 | 05 | 06 | 07 | 08 | 09 | 10 |
| 11 | 12 | 13 | 14 | 15 | 16 | 17 |
| 18 | 19 | 20 | 21 | 22 | 23 | 24 |
| 25 | 26 | 27 | 28 | 29 | 30 | 31 |
November 2020

| S | M | T | W | T | F | S |
| --- | --- | --- | --- | --- | --- | --- |
| 01 | 02 | 03 | 04 | 05 | 06 | 07 |
| 08 | 09 | 10 | 11 | 12 | 13 | 14 |
| 15 | 16 | 17 | 18 | 19 | 20 | 21 |
| 22 | 23 | 24 | 25 | 26 | 27 | 28 |
| 29 | 30 | | | | | |
December 2020

| S | M | T | W | T | F | S |
| --- | --- | --- | --- | --- | --- | --- |
| | | 01 | 02 | 03 | 04 | 05 |
| 06 | 07 | 08 | 09 | 10 | 11 | 12 |
| 13 | 14 | 15 | 16 | 17 | 18 | 19 |
| 20 | 21 | 22 | 23 | 24 | 25 | 26 |
| 27 | 28 | 29 | 30 | 31 | | |
January 2021

| S | M | T | W | T | F | S |
| --- | --- | --- | --- | --- | --- | --- |
| | | | | | 01 | 02 |
| 03 | 04 | 05 | 06 | 07 | 08 | 09 |
| 10 | 11 | 12 | 13 | 14 | 15 | 16 |
| 17 | 18 | 19 | 20 | 21 | 22 | 23 |
| 24 | 25 | 26 | 27 | 28 | 29 | 30 |
| 31 | | | | | | |
February 2021

| S | M | T | W | T | F | S |
| --- | --- | --- | --- | --- | --- | --- |
| | 01 | 02 | 03 | 04 | 05 | 06 |
| 07 | 08 | 09 | 10 | 11 | 12 | 13 |
| 14 | 15 | 16 | 17 | 18 | 19 | 20 |
| 21 | 22 | 23 | 24 | 25 | 26 | 27 |
| 28 | | | | | | |
March 2021

| S | M | T | W | T | F | S |
| --- | --- | --- | --- | --- | --- | --- |
| | 01 | 02 | 03 | 04 | 05 | 06 |
| 07 | 08 | 09 | 10 | 11 | 12 | 13 |
| 14 | 15 | 16 | 17 | 18 | 19 | 20 |
| 21 | 22 | 23 | 24 | 25 | 26 | 27 |
| 28 | 29 | 30 | 31 | | | |
April 2021

| S | M | T | W | T | F | S |
| --- | --- | --- | --- | --- | --- | --- |
| | | | | 01 | 02 | 03 |
| 04 | 05 | 06 | 07 | 08 | 09 | 10 |
| 11 | 12 | 13 | 14 | 15 | 16 | 17 |
| 18 | 19 | 20 | 21 | 22 | 23 | 24 |
| 25 | 26 | 27 | 28 | 29 | 30 | |
May 2021

| S | M | T | W | T | F | S |
| --- | --- | --- | --- | --- | --- | --- |
| | | | | | | 01 |
| 02 | 03 | 04 | 05 | 06 | 07 | 08 |
| 09 | 10 | 11 | 12 | 13 | 14 | 15 |
| 16 | 17 | 18 | 19 | 20 | 21 | 22 |
| 23 | 24 | 25 | 26 | 27 | 28 | 29 |
| 30 | 31 | | | | | |
June 2021

| S | M | T | W | T | F | S |
| --- | --- | --- | --- | --- | --- | --- |
| | | 01 | 02 | 03 | 04 | 05 |
| 06 | 07 | 08 | 09 | 10 | 11 | 12 |
| 13 | 14 | 15 | 16 | 17 | 18 | 19 |
| 20 | 21 | 22 | 23 | 24 | 25 | 26 |
| 27 | 28 | 29 | 30 | | | |
July 2021

| S | M | T | W | T | F | S |
| --- | --- | --- | --- | --- | --- | --- |
| | | | | 01 | 02 | 03 |
| 04 | 05 | 06 | 07 | 08 | 09 | 10 |
| 11 | 12 | 13 | 14 | 15 | 16 | 17 |
| 18 | 19 | 20 | 21 | 22 | 23 | 24 |
| 25 | 26 | 27 | 28 | 29 | 30 | 31 |
August 2021

| S | M | T | W | T | F | S |
| --- | --- | --- | --- | --- | --- | --- |
| 01 | 02 | 03 | 04 | 05 | 06 | 07 |
| 08 | 09 | 10 | 11 | 12 | 13 | 14 |
| 15 | 16 | 17 | 18 | 19 | 20 | 21 |
| 22 | 23 | 24 | 25 | 26 | 27 | 28 |
| 29 | 30 | 31 | | | | |
September 2021

| S | M | T | W | T | F | S |
| --- | --- | --- | --- | --- | --- | --- |
| | | | 01 | 02 | 03 | 04 |
| 05 | 06 | 07 | 08 | 09 | 10 | 11 |
| 12 | 13 | 14 | 15 | 16 | 17 | 18 |
| 19 | 20 | 21 | 22 | 23 | 24 | 25 |
| 26 | 27 | 28 | 29 | 30 | | |
October 2021

| S | M | T | W | T | F | S |
| --- | --- | --- | --- | --- | --- | --- |
| | | | | | 01 | 02 |
| 03 | 04 | 05 | 06 | 07 | 08 | 09 |
| 10 | 11 | 12 | 13 | 14 | 15 | 16 |
| 17 | 18 | 19 | 20 | 21 | 22 | 23 |
| 24 | 25 | 26 | 27 | 28 | 29 | 30 |
| 31 | | | | | | |
November 2021

| S | M | T | W | T | F | S |
| --- | --- | --- | --- | --- | --- | --- |
| | 01 | 02 | 03 | 04 | 05 | 06 |
| 07 | 08 | 09 | 10 | 11 | 12 | 13 |
| 14 | 15 | 16 | 17 | 18 | 19 | 20 |
| 21 | 22 | 23 | 24 | 25 | 26 | 27 |
| 28 | 29 | 30 | | | | |
December 2021

| S | M | T | W | T | F | S |
| --- | --- | --- | --- | --- | --- | --- |
| | | | 01 | 02 | 03 | 04 |
| 05 | 06 | 07 | 08 | 09 | 10 | 11 |
| 12 | 13 | 14 | 15 | 16 | 17 | 18 |
| 19 | 20 | 21 | 22 | 23 | 24 | 25 |
| 26 | 27 | 28 | 29 | 30 | 31 | |
January 2022

| S | M | T | W | T | F | S |
| --- | --- | --- | --- | --- | --- | --- |
| | | | | | | 01 |
| 02 | 03 | 04 | 05 | 06 | 07 | 08 |
| 09 | 10 | 11 | 12 | 13 | 14 | 15 |
| 16 | 17 | 18 | 19 | 20 | 21 | 22 |
| 23 | 24 | 25 | 26 | 27 | 28 | 29 |
| 30 | 31 | | | | | |
Available
Unavailable
Check-In Only
Check-Out Only
Seasonal Rates
Starting from $175 per night

                    stdClass Object
(
    [id] => 90
    [ManagerID] => 1
    [ComplexID] => 0
    [Name] => Hale Kahanalu Cozy Apartment Steps to Poipu Beach. AC, Free Parking & Wifi.
    [PropertyCode] => 2064-146474
    [Address1] => 2240 Kuai Road #4
    [Address2] => 
    [City] => Koloa
    [State] => HI
    [Country] => US
    [PostalCode] => 
    [Province] => 
    [Bedrooms] => 2
    [Bathrooms] => 1
    [Beds] => {"King":2}
    [Type] => Apartment
    [Area] => 
    [Location] => Garden Island Properties, LLC
    [View] => Garden Unit
    [Video] => 
    [lat] => 21.874794
    [long] => -159.450964
    [map_id] => 0
    [Complex] => 164
    [Description] => Hale Kahanalu #4, Poipu Apartment, Kauai Vacation Rental, walk to Poipu Beach.

Cozy and affordable 2 bedroom, 1 bath apartment unit just a 2 minute walk to Famous Poipu Beach and Brenneckes Beach.  Portable AC in the living room and bedrooms.  This property does not have a pool or lanai but is only 175 yards to the gorgeous Pacific Ocean.



We have implemented enhanced cleaning and disinfecting guidelines as well as infection prevention advice provided by the CDC. This is a Contactless Check-In Property.



This beach side apartment offers tropical furnishings, tasteful artwork and bamboo flooring.

King bed in the master bedroom and King in 2nd bedroom. 720 square feet of living area located in a small 8 unit apartment complex a block from Poipu Beach.  Second floor unit (no elevator).  Sleeps 4.



Prepare meals in a fully equipped kitchen with dishwasher and stainless steel appliances. 

The unit is equipped with ceiling fans, and ocean breezes. Flat screen HD TV in the living room, Complimentary Wifi and Parking included. Hale Kahanalu is a quite 8 unit apartment complex that offers a BBQ area, coin operated laundry facilities and covered assigned parking. 



Hale Kahanalu means "House by the Surf". Relax to the crashing waves and feel the cool ocean breezes as you soak in the Pacific Ocean. Enjoy beautiful south-side sunsets year-round and whale watching from Poipu Beach in the winter months.  This property is conveniently located a block to Poipu Beach Park rated by Travel Channel as "America's Best Beaches".



Poipu Beach Park and Brenneckes Beach offers body surfing, surfing, snorkeling, sandy beaches, life-guarded kids pond, playground, grassy park with bathrooms, pavilion, picnic tables, showers and more just steps away!  Walk to Brennecke's Beach Broiler Restaurant, Brennecke's Deli or Nukumoi Surf Company. 



This is a Non-Smoking Property

Holiday rates apply from Dec. 15 to Jan. 5 with a 7 night minimum stay.

TAT ID#:  TA-010-333-5936-01
    [ShortDescription] => Hale Kahanalu #4, Cozy 2 BR, 1 BA, 2nd floor apartment, steps to Famous Poipu Beach. Tropical furnishings, 2nd floor walk up in an 8 unit complex with 2 King beds. Full kitchen, portable AC in living area & both Br's.  Wifi and Parking included. Sleeps 4.
    [Sleeps] => 4
    [MaxAdult] => 0
    [MaxSearchMonths] => 48
    [Status] => Active
    [page_slug] => Hale_Kahanalu_Cozy_Apartment_Steps_to_Poipu_Beach._AC_Discounted_thru_Dec15-2064-146474-1
    [SEOTitle] => Hale Kahanalu #4, 2nd Floor, Walk to Poipu Beach
    [SEODescription] => Hale Kahanalu Cozy Apartment Steps to Poipu Beach. AC, Free Parking & Wifi.
    [Featured] => 0
    [created] => 0000-00-00 00:00:00
    [updated] => 2020-10-23 08:34:28
    [internalcode] => HALEK 4
    [photos] => Array
        (
            [0] => stdClass Object
                (
                    [id] => 3334734
                    [unit_id] => 90
                    [url] => https://pictures.escapia.com/GAISPR/146474/2402310758.jpg
                    [thumb_url] => https://pictures.escapia.com/GAISPR/146474/2402310758.jpg
                     => Poipu Coastline
                    [sort] => 0
                )

            [1] => stdClass Object
                (
                    [id] => 3334735
                    [unit_id] => 90
                    [url] => https://pictures.escapia.com/GAISPR/146474/3684740927.jpg
                    [thumb_url] => https://pictures.escapia.com/GAISPR/146474/3684740927.jpg
                     => Poipu Beach Park
                    [sort] => 1
                )

            [2] => stdClass Object
                (
                    [id] => 3334736
                    [unit_id] => 90
                    [url] => https://pictures.escapia.com/GAISPR/146474/7499360400.jpg
                    [thumb_url] => https://pictures.escapia.com/GAISPR/146474/7499360400.jpg
                     => Cozy and inviting living area, Portable AC in LR & BRs
                    [sort] => 2
                )

            [3] => stdClass Object
                (
                    [id] => 3334737
                    [unit_id] => 90
                    [url] => https://pictures.escapia.com/GAISPR/146474/4147030174.jpg
                    [thumb_url] => https://pictures.escapia.com/GAISPR/146474/4147030174.jpg
                     => 
                    [sort] => 3
                )

            [4] => stdClass Object
                (
                    [id] => 3334738
                    [unit_id] => 90
                    [url] => https://pictures.escapia.com/GAISPR/146474/4020910177.jpg
                    [thumb_url] => https://pictures.escapia.com/GAISPR/146474/4020910177.jpg
                     => "Peek a Boo" Ocean Views from the Living Area
                    [sort] => 4
                )

            [5] => stdClass Object
                (
                    [id] => 3334739
                    [unit_id] => 90
                    [url] => https://pictures.escapia.com/GAISPR/146474/0405100428.jpg
                    [thumb_url] => https://pictures.escapia.com/GAISPR/146474/0405100428.jpg
                     => Dining Area for 4
                    [sort] => 5
                )

            [6] => stdClass Object
                (
                    [id] => 3334740
                    [unit_id] => 90
                    [url] => https://pictures.escapia.com/GAISPR/146474/9853050932.jpg
                    [thumb_url] => https://pictures.escapia.com/GAISPR/146474/9853050932.jpg
                     => Full Kitchen with all cooking necessities
                    [sort] => 6
                )

            [7] => stdClass Object
                (
                    [id] => 3334741
                    [unit_id] => 90
                    [url] => https://pictures.escapia.com/GAISPR/146474/1710770009.jpg
                    [thumb_url] => https://pictures.escapia.com/GAISPR/146474/1710770009.jpg
                     => 
                    [sort] => 7
                )

            [8] => stdClass Object
                (
                    [id] => 3334742
                    [unit_id] => 90
                    [url] => https://pictures.escapia.com/GAISPR/146474/9429970346.jpg
                    [thumb_url] => https://pictures.escapia.com/GAISPR/146474/9429970346.jpg
                     => 
                    [sort] => 8
                )

            [9] => stdClass Object
                (
                    [id] => 3334743
                    [unit_id] => 90
                    [url] => https://pictures.escapia.com/GAISPR/146474/4766140815.jpg
                    [thumb_url] => https://pictures.escapia.com/GAISPR/146474/4766140815.jpg
                     => 
                    [sort] => 9
                )

            [10] => stdClass Object
                (
                    [id] => 3334744
                    [unit_id] => 90
                    [url] => https://pictures.escapia.com/GAISPR/146474/4233860181.jpg
                    [thumb_url] => https://pictures.escapia.com/GAISPR/146474/4233860181.jpg
                     => Cable TV and Wifi are standard amenities
                    [sort] => 10
                )

            [11] => stdClass Object
                (
                    [id] => 3334745
                    [unit_id] => 90
                    [url] => https://pictures.escapia.com/GAISPR/146474/5142660014.jpg
                    [thumb_url] => https://pictures.escapia.com/GAISPR/146474/5142660014.jpg
                     => 
                    [sort] => 11
                )

            [12] => stdClass Object
                (
                    [id] => 3334746
                    [unit_id] => 90
                    [url] => https://pictures.escapia.com/GAISPR/146474/4672970814.jpg
                    [thumb_url] => https://pictures.escapia.com/GAISPR/146474/4672970814.jpg
                     => Bedroom 1, King Bed with AC
                    [sort] => 12
                )

            [13] => stdClass Object
                (
                    [id] => 3334747
                    [unit_id] => 90
                    [url] => https://pictures.escapia.com/GAISPR/146474/3238180666.jpg
                    [thumb_url] => https://pictures.escapia.com/GAISPR/146474/3238180666.jpg
                     => "Peek a Boo" Views from Living Room Window
                    [sort] => 13
                )

            [14] => stdClass Object
                (
                    [id] => 3334748
                    [unit_id] => 90
                    [url] => https://pictures.escapia.com/GAISPR/146474/3021990421.jpg
                    [thumb_url] => https://pictures.escapia.com/GAISPR/146474/3021990421.jpg
                     => Bedroom 1, King Bed with AC
                    [sort] => 14
                )

            [15] => stdClass Object
                (
                    [id] => 3334749
                    [unit_id] => 90
                    [url] => https://pictures.escapia.com/GAISPR/146474/1612000180.jpg
                    [thumb_url] => https://pictures.escapia.com/GAISPR/146474/1612000180.jpg
                     => Bedroom 1, King Bed with AC
                    [sort] => 15
                )

            [16] => stdClass Object
                (
                    [id] => 3334750
                    [unit_id] => 90
                    [url] => https://pictures.escapia.com/GAISPR/146474/8504450535.jpg
                    [thumb_url] => https://pictures.escapia.com/GAISPR/146474/8504450535.jpg
                     => Bedroom 2, King Bed with AC
                    [sort] => 16
                )

            [17] => stdClass Object
                (
                    [id] => 3334751
                    [unit_id] => 90
                    [url] => https://pictures.escapia.com/GAISPR/146474/2710030008.jpg
                    [thumb_url] => https://pictures.escapia.com/GAISPR/146474/2710030008.jpg
                     => Bedroom 2, King Bed with AC
                    [sort] => 17
                )

            [18] => stdClass Object
                (
                    [id] => 3334752
                    [unit_id] => 90
                    [url] => https://pictures.escapia.com/GAISPR/146474/8445550482.jpg
                    [thumb_url] => https://pictures.escapia.com/GAISPR/146474/8445550482.jpg
                     => Full bathroom with shower tub
                    [sort] => 18
                )

            [19] => stdClass Object
                (
                    [id] => 3334753
                    [unit_id] => 90
                    [url] => https://pictures.escapia.com/GAISPR/146474/7797780927.jpg
                    [thumb_url] => https://pictures.escapia.com/GAISPR/146474/7797780927.jpg
                     => 
                    [sort] => 19
                )

            [20] => stdClass Object
                (
                    [id] => 3334754
                    [unit_id] => 90
                    [url] => https://pictures.escapia.com/GAISPR/146474/3811910486.jpg
                    [thumb_url] => https://pictures.escapia.com/GAISPR/146474/3811910486.jpg
                     => Private BBQ Area with large yard
                    [sort] => 20
                )

            [21] => stdClass Object
                (
                    [id] => 3334755
                    [unit_id] => 90
                    [url] => https://pictures.escapia.com/GAISPR/146474/9918110057.jpg
                    [thumb_url] => https://pictures.escapia.com/GAISPR/146474/9918110057.jpg
                     => Coin Operated Laundry Room
                    [sort] => 21
                )

            [22] => stdClass Object
                (
                    [id] => 3334756
                    [unit_id] => 90
                    [url] => https://pictures.escapia.com/GAISPR/146474/6993860342.jpg
                    [thumb_url] => https://pictures.escapia.com/GAISPR/146474/6993860342.jpg
                     => Shaded BBQ Area 
                    [sort] => 22
                )

            [23] => stdClass Object
                (
                    [id] => 3334757
                    [unit_id] => 90
                    [url] => https://pictures.escapia.com/GAISPR/146474/5570960759.jpg
                    [thumb_url] => https://pictures.escapia.com/GAISPR/146474/5570960759.jpg
                     => Aerial View or Condo, Walking distance to Poipu Beach
                    [sort] => 23
                )

            [24] => stdClass Object
                (
                    [id] => 3334758
                    [unit_id] => 90
                    [url] => https://pictures.escapia.com/GAISPR/146474/9842560484.jpg
                    [thumb_url] => https://pictures.escapia.com/GAISPR/146474/9842560484.jpg
                     => Aerial of the Poipu Area just steps from your condo
                    [sort] => 24
                )

            [25] => stdClass Object
                (
                    [id] => 3334759
                    [unit_id] => 90
                    [url] => https://pictures.escapia.com/GAISPR/146474/7755600639.jpg
                    [thumb_url] => https://pictures.escapia.com/GAISPR/146474/7755600639.jpg
                     => 
                    [sort] => 25
                )

            [26] => stdClass Object
                (
                    [id] => 3334760
                    [unit_id] => 90
                    [url] => https://pictures.escapia.com/GAISPR/146474/2540980731.jpg
                    [thumb_url] => https://pictures.escapia.com/GAISPR/146474/2540980731.jpg
                     => Kauai Sunset
                    [sort] => 26
                )

            [27] => stdClass Object
                (
                    [id] => 3334761
                    [unit_id] => 90
                    [url] => https://pictures.escapia.com/GAISPR/146474/5704700395.jpg
                    [thumb_url] => https://pictures.escapia.com/GAISPR/146474/5704700395.jpg
                     => Kauai has many great hiking spots! Sleeping Giant in the backgro
                    [sort] => 27
                )

        )

    [rates] => Array
        (
            [0] => stdClass Object
                (
                    [id] => 1177910
                    [start_date] => 2020-06-15
                    [end_date] => 2020-12-14
                    [amount] => 197.4125
                    [chargebasis] => Daily
                    [unit_id] => 90
                )

            [1] => stdClass Object
                (
                    [id] => 1177911
                    [start_date] => 2020-06-15
                    [end_date] => 2020-12-14
                    [amount] => 1041.25
                    [chargebasis] => Weekly
                    [unit_id] => 90
                )

            [2] => stdClass Object
                (
                    [id] => 1177912
                    [start_date] => 2020-06-15
                    [end_date] => 2020-12-14
                    [amount] => 4462.5
                    [chargebasis] => Monthly
                    [unit_id] => 90
                )

            [3] => stdClass Object
                (
                    [id] => 1177913
                    [start_date] => 2020-12-15
                    [end_date] => 2021-01-05
                    [amount] => 250
                    [chargebasis] => Daily
                    [unit_id] => 90
                )

            [4] => stdClass Object
                (
                    [id] => 1177914
                    [start_date] => 2020-12-15
                    [end_date] => 2021-01-05
                    [amount] => 1750
                    [chargebasis] => Weekly
                    [unit_id] => 90
                )

            [5] => stdClass Object
                (
                    [id] => 1177915
                    [start_date] => 2021-01-06
                    [end_date] => 2021-03-31
                    [amount] => 231
                    [chargebasis] => Daily
                    [unit_id] => 90
                )

            [6] => stdClass Object
                (
                    [id] => 1177916
                    [start_date] => 2021-01-06
                    [end_date] => 2021-03-31
                    [amount] => 1617
                    [chargebasis] => Weekly
                    [unit_id] => 90
                )

            [7] => stdClass Object
                (
                    [id] => 1177917
                    [start_date] => 2021-01-06
                    [end_date] => 2021-03-31
                    [amount] => 6930
                    [chargebasis] => Monthly
                    [unit_id] => 90
                )

            [8] => stdClass Object
                (
                    [id] => 1177918
                    [start_date] => 2021-04-01
                    [end_date] => 2021-12-17
                    [amount] => 189
                    [chargebasis] => Daily
                    [unit_id] => 90
                )

            [9] => stdClass Object
                (
                    [id] => 1177919
                    [start_date] => 2021-04-01
                    [end_date] => 2021-12-17
                    [amount] => 1286.25
                    [chargebasis] => Weekly
                    [unit_id] => 90
                )

            [10] => stdClass Object
                (
                    [id] => 1177920
                    [start_date] => 2021-04-01
                    [end_date] => 2021-12-17
                    [amount] => 5512.5
                    [chargebasis] => Monthly
                    [unit_id] => 90
                )

        )

    [attributes] => Array
        (
            [0] => stdClass Object
                (
                    [id] => 6370550
                    [name] => combination tub/shower
                    [value] => 
                    [group] => AMENITY
                    [unit_id] => 90
                )

            [1] => stdClass Object
                (
                    [id] => 6370551
                    [name] => king
                    [value] => 
                    [group] => AMENITY
                    [unit_id] => 90
                )

            [2] => stdClass Object
                (
                    [id] => 6370552
                    [name] => coin laundry
                    [value] => 
                    [group] => ATTRACTIONS
                    [unit_id] => 90
                )

            [3] => stdClass Object
                (
                    [id] => 6370553
                    [name] => Satellite / Cable
                    [value] => 
                    [group] => ENTERTAINMENT
                    [unit_id] => 90
                )

            [4] => stdClass Object
                (
                    [id] => 6370554
                    [name] => Television
                    [value] => 
                    [group] => ENTERTAINMENT
                    [unit_id] => 90
                )

            [5] => stdClass Object
                (
                    [id] => 6370555
                    [name] => Air Conditioning
                    [value] => 
                    [group] => GENERAL
                    [unit_id] => 90
                )

            [6] => stdClass Object
                (
                    [id] => 6370556
                    [name] => Hair Dryer
                    [value] => 
                    [group] => GENERAL
                    [unit_id] => 90
                )

            [7] => stdClass Object
                (
                    [id] => 6370557
                    [name] => Internet
                    [value] => 
                    [group] => GENERAL
                    [unit_id] => 90
                )

            [8] => stdClass Object
                (
                    [id] => 6370558
                    [name] => Iron & Board
                    [value] => 
                    [group] => GENERAL
                    [unit_id] => 90
                )

            [9] => stdClass Object
                (
                    [id] => 6370559
                    [name] => Linens Provided
                    [value] => 
                    [group] => GENERAL
                    [unit_id] => 90
                )

            [10] => stdClass Object
                (
                    [id] => 6370560
                    [name] => Living Room
                    [value] => 
                    [group] => GENERAL
                    [unit_id] => 90
                )

            [11] => stdClass Object
                (
                    [id] => 6370561
                    [name] => Parking
                    [value] => 
                    [group] => GENERAL
                    [unit_id] => 90
                )

            [12] => stdClass Object
                (
                    [id] => 6370562
                    [name] => Telephone
                    [value] => 
                    [group] => GENERAL
                    [unit_id] => 90
                )

            [13] => stdClass Object
                (
                    [id] => 6370563
                    [name] => Towels Provided
                    [value] => 
                    [group] => GENERAL
                    [unit_id] => 90
                )

            [14] => stdClass Object
                (
                    [id] => 6370564
                    [name] => Coffee Maker
                    [value] => 
                    [group] => KITCHEN
                    [unit_id] => 90
                )

            [15] => stdClass Object
                (
                    [id] => 6370565
                    [name] => Dishes & Utensils
                    [value] => 
                    [group] => KITCHEN
                    [unit_id] => 90
                )

            [16] => stdClass Object
                (
                    [id] => 6370566
                    [name] => Dishwasher
                    [value] => 
                    [group] => KITCHEN
                    [unit_id] => 90
                )

            [17] => stdClass Object
                (
                    [id] => 6370567
                    [name] => Kitchen
                    [value] => 
                    [group] => KITCHEN
                    [unit_id] => 90
                )

            [18] => stdClass Object
                (
                    [id] => 6370568
                    [name] => Microwave
                    [value] => 
                    [group] => KITCHEN
                    [unit_id] => 90
                )

            [19] => stdClass Object
                (
                    [id] => 6370569
                    [name] => Oven
                    [value] => 
                    [group] => KITCHEN
                    [unit_id] => 90
                )

            [20] => stdClass Object
                (
                    [id] => 6370570
                    [name] => Refrigerator
                    [value] => 
                    [group] => KITCHEN
                    [unit_id] => 90
                )

            [21] => stdClass Object
                (
                    [id] => 6370571
                    [name] => Stove
                    [value] => 
                    [group] => KITCHEN
                    [unit_id] => 90
                )

            [22] => stdClass Object
                (
                    [id] => 6370572
                    [name] => Toaster
                    [value] => 
                    [group] => KITCHEN
                    [unit_id] => 90
                )

            [23] => stdClass Object
                (
                    [id] => 6370573
                    [name] => Near The Ocean
                    [value] => 
                    [group] => LOCATION_TYPE
                    [unit_id] => 90
                )

            [24] => stdClass Object
                (
                    [id] => 6370574
                    [name] => bedroom
                    [value] => 
                    [group] => ROOM_SUBTYPE
                    [unit_id] => 90
                )

            [25] => stdClass Object
                (
                    [id] => 6370575
                    [name] => children welcome
                    [value] => 
                    [group] => SUITABILITY
                    [unit_id] => 90
                )

            [26] => stdClass Object
                (
                    [id] => 6370576
                    [name] => non smoking only
                    [value] => 
                    [group] => SUITABILITY
                    [unit_id] => 90
                )

            [27] => stdClass Object
                (
                    [id] => 6370577
                    [name] => pets not allowed
                    [value] => 
                    [group] => SUITABILITY
                    [unit_id] => 90
                )

            [28] => stdClass Object
                (
                    [id] => 6370578
                    [name] => flexible
                    [value] => 
                    [group] => ARRIVAL_DAY
                    [unit_id] => 90
                )

            [29] => stdClass Object
                (
                    [id] => 6370579
                    [name] => recommended
                    [value] => 
                    [group] => CAR
                    [unit_id] => 90
                )

            [30] => stdClass Object
                (
                    [id] => 6370580
                    [name] => Smoke detectors
                    [value] => 
                    [group] => Safety
                    [unit_id] => 90
                )

            [31] => stdClass Object
                (
                    [id] => 6370581
                    [name] => Emergency phone number: Medical
                    [value] => 
                    [group] => Safety
                    [unit_id] => 90
                )

            [32] => stdClass Object
                (
                    [id] => 6370582
                    [name] => Emergency phone number: Police
                    [value] => 
                    [group] => Safety
                    [unit_id] => 90
                )

            [33] => stdClass Object
                (
                    [id] => 6370583
                    [name] => Emergency phone number: Fire
                    [value] => 
                    [group] => Safety
                    [unit_id] => 90
                )

            [34] => stdClass Object
                (
                    [id] => 6370584
                    [name] => Enhanced cleaning practices
                    [value] => 
                    [group] => Health and Safety
                    [unit_id] => 90
                )

            [35] => stdClass Object
                (
                    [id] => 6370585
                    [name] => Clean with disinfectant
                    [value] => 
                    [group] => Health and Safety
                    [unit_id] => 90
                )

            [36] => stdClass Object
                (
                    [id] => 6370586
                    [name] => No-contact check-in and check-out
                    [value] => 
                    [group] => Health and Safety
                    [unit_id] => 90
                )

            [37] => stdClass Object
                (
                    [id] => 6370587
                    [name] => High touch surfaces cleaned with disinfectant
                    [value] => 
                    [group] => Health and Safety
                    [unit_id] => 90
                )

            [38] => stdClass Object
                (
                    [id] => 6370588
                    [name] => 1 day (24 hours)
                    [value] => 
                    [group] => Health and Safety
                    [unit_id] => 90
                )

            [39] => stdClass Object
                (
                    [id] => 6370589
                    [name] => Cookware
                    [value] => 
                    [group] => Kitchen
                    [unit_id] => 90
                )

            [40] => stdClass Object
                (
                    [id] => 6370590
                    [name] => Blender
                    [value] => 
                    [group] => Kitchen
                    [unit_id] => 90
                )

            [41] => stdClass Object
                (
                    [id] => 6370591
                    [name] => Ceiling Fans
                    [value] => 
                    [group] => Living
                    [unit_id] => 90
                )

            [42] => stdClass Object
                (
                    [id] => 6370592
                    [name] => Wifi
                    [value] => 
                    [group] => Living
                    [unit_id] => 90
                )

            [43] => stdClass Object
                (
                    [id] => 6370593
                    [name] => Beach Towels
                    [value] => 
                    [group] => Living
                    [unit_id] => 90
                )

            [44] => stdClass Object
                (
                    [id] => 6370594
                    [name] => Hair Dryer
                    [value] => 
                    [group] => Living
                    [unit_id] => 90
                )

            [45] => stdClass Object
                (
                    [id] => 6370595
                    [name] => Coin Operated Laundry
                    [value] => 
                    [group] => Living
                    [unit_id] => 90
                )

            [46] => stdClass Object
                (
                    [id] => 6370596
                    [name] => In Room Safe
                    [value] => 
                    [group] => Living
                    [unit_id] => 90
                )

            [47] => stdClass Object
                (
                    [id] => 6370597
                    [name] => BBQ Grill
                    [value] => 
                    [group] => Outdoor
                    [unit_id] => 90
                )

            [48] => stdClass Object
                (
                    [id] => 6370598
                    [name] => Beach Chairs
                    [value] => 
                    [group] => Outdoor
                    [unit_id] => 90
                )

            [49] => stdClass Object
                (
                    [id] => 6370599
                    [name] => Beach Towels
                    [value] => 
                    [group] => Outdoor
                    [unit_id] => 90
                )

            [50] => stdClass Object
                (
                    [id] => 6370600
                    [name] => Near Beach
                    [value] => 
                    [group] => Geographic
                    [unit_id] => 90
                )

            [51] => stdClass Object
                (
                    [id] => 6370601
                    [name] => Close to Town
                    [value] => 
                    [group] => Geographic
                    [unit_id] => 90
                )

            [52] => stdClass Object
                (
                    [id] => 6370602
                    [name] => South Shore
                    [value] => 
                    [group] => Geographic
                    [unit_id] => 90
                )

            [53] => stdClass Object
                (
                    [id] => 6370603
                    [name] => Hale Kahanalu
                    [value] => 
                    [group] => Geographic
                    [unit_id] => 90
                )

        )

    [avail] => Array
        (
            [0] => stdClass Object
                (
                    [id] => 23289221
                    [start_date] => 2020-11-07
                    [end_date] => 2020-11-23
                    [unit_id] => 90
                )

            [1] => stdClass Object
                (
                    [id] => 23289222
                    [start_date] => 2020-12-18
                    [end_date] => 2020-12-27
                    [unit_id] => 90
                )

            [2] => stdClass Object
                (
                    [id] => 23289223
                    [start_date] => 2021-02-15
                    [end_date] => 2021-02-20
                    [unit_id] => 90
                )

            [3] => stdClass Object
                (
                    [id] => 23289224
                    [start_date] => 2022-02-15
                    [end_date] => 2022-02-20
                    [unit_id] => 90
                )

        )

    [reviews] => Array
        (
            [0] => stdClass Object
                (
                    [id] => 30672
                    [external_id] => f20b502f-53da-4fb4-bae6-e11baa1a1318
                    [prop_id] => 90
                    [review_id] => 0
                    [source] => Escapia
                    [title] => Garden Isle stay at Garden Isle property
                    [review] => I was very pleased with our stay at Hale Kahanalu #4. The location was one block from the beach and wonderful snorkeling and viewing resting turtles and monk seals. The apartment was clean, had everything we needed to cook in the kitchen, it was a comfortable stay! The manager was very accommodating. My family was very happy with our stay.
                    [name] => Kathy H J.
                    [email] => kjciao99@yahoo.com
                    [location] => 
                    [response] => Aloha Kathy, So glad your family enjoyed their stay and felt comfortable! We agree the location is in great walking distance to the beach. We appreciate your kind review and hope that you will visit again! Mahalo nui loa, Garden Island Properties
                    [response_date] => 2020-05-02
                    [rating] => 5
                    [review_date] => 2020-03-18
                    [featured] => 
                    [status] => 1
                    [checkin_date] => 2020-03-04
                    [nights_stayed] => 7
                    [sfrm] => 5
                    [clean] => 4
                    [rto] => 1
                    [pc] => 5
                    [loc] => 5
                    [meta] => Array
                        (
                        )

                )

            [1] => stdClass Object
                (
                    [id] => 30644
                    [external_id] => aa788bfe-62b7-4659-8be7-64a48f229e9a
                    [prop_id] => 90
                    [review_id] => 0
                    [source] => Escapia
                    [title] => Great location.great quality great price
                    [review] => Jus perfect 
                    [name] => Rosa  M.
                    [email] => rmerinomd1@gmail.com
                    [location] => 
                    [response] => Aloha Rosa, We are glad the apartment was perfect and that you enjoyed the location. Mahalo for such a great review! Please come and stay again soon. Aloha, Garden Island Properties
                    [response_date] => 2020-04-20
                    [rating] => 5
                    [review_date] => 2020-03-01
                    [featured] => 
                    [status] => 1
                    [checkin_date] => 2020-02-21
                    [nights_stayed] => 7
                    [sfrm] => 5
                    [clean] => 5
                    [rto] => 1
                    [pc] => 5
                    [loc] => 5
                    [meta] => Array
                        (
                        )

                )

            [2] => stdClass Object
                (
                    [id] => 30576
                    [external_id] => 5c41dfff-1348-481b-898d-f8526cb521bd
                    [prop_id] => 90
                    [review_id] => 0
                    [source] => Escapia
                    [title] => It'll do
                    [review] => Not a vacation. Visiting ohana 
                    [name] => ROBERT P.
                    [email] => topsailtim@charter.net
                    [location] => 
                    [response] => Aloha Robert and Mahalo for your stay! We hope that you had a nice visit with your Ohana and that you will be back to stay again soon! Mahalo nui loa, Garden Island Properties
                    [response_date] => 2020-02-08
                    [rating] => 4
                    [review_date] => 2020-01-24
                    [featured] => 
                    [status] => 1
                    [checkin_date] => 2020-01-03
                    [nights_stayed] => 18
                    [sfrm] => 5
                    [clean] => 5
                    [rto] => 1
                    [pc] => 5
                    [loc] => 5
                    [meta] => Array
                        (
                        )

                )

            [3] => stdClass Object
                (
                    [id] => 30550
                    [external_id] => 6caa128c-dd9a-46f2-84b5-59342d4d2970
                    [prop_id] => 90
                    [review_id] => 0
                    [source] => Escapia
                    [title] => Kauai family vacation 
                    [review] => Great location.  Great place.  Very accommodating.  Garden island properties is the only way to go.  
                    [name] => Rhonda T.
                    [email] => timmonsdds@gmail.com
                    [location] => 
                    [response] => Aloha Rhonda! So glad you felt the location was great and accommodating. We thank you kindly for your amazing review and do hope that you will be back to visit again soon! Mahalo nui loa, Garden Island Properties
                    [response_date] => 2020-01-07
                    [rating] => 5
                    [review_date] => 2020-01-04
                    [featured] => 
                    [status] => 1
                    [checkin_date] => 2019-12-25
                    [nights_stayed] => 8
                    [sfrm] => 5
                    [clean] => 5
                    [rto] => 1
                    [pc] => 5
                    [loc] => 5
                    [meta] => Array
                        (
                        )

                )

            [4] => stdClass Object
                (
                    [id] => 30479
                    [external_id] => f3da4d2b-b41f-40f3-be2f-d044bb8c5220
                    [prop_id] => 90
                    [review_id] => 0
                    [source] => Escapia
                    [title] => Great place to stay for a great price
                    [review] => This place was perfect.  Close to water!  Clea.  Everything I needed
                    [name] => Mark F.
                    [email] => fledderjohn1@yahoo.com
                    [location] => 
                    [response] => Mahalo Mark! We appreciate the awesome review and hope that you will come and stay again soon! Aloha, Garden Island Properties
                    [response_date] => 2019-10-08
                    [rating] => 5
                    [review_date] => 2019-10-07
                    [featured] => 
                    [status] => 1
                    [checkin_date] => 2019-09-12
                    [nights_stayed] => 5
                    [sfrm] => 5
                    [clean] => 5
                    [rto] => 1
                    [pc] => 5
                    [loc] => 5
                    [meta] => Array
                        (
                        )

                )

            [5] => stdClass Object
                (
                    [id] => 30482
                    [external_id] => 846d0ba0-f3a1-4483-93bc-95559feabc0f
                    [prop_id] => 90
                    [review_id] => 0
                    [source] => Escapia
                    [title] => Awesome location! Close to Poipu Beach
                    [review] => We came for a mellow week on Kauai and this was the perfect spot! We could walk to Poipu Beach and a few shops and restaurants such as Brenneckes Beach Broiler and Nukamoi Surf shop. Also a short drive from the shopping centers and other restaurants. We found the apartment to be very clean, comfortable, and well equipped with everything we needed like beach chairs, cooler, towels, etc. Really happy with the portable AC units in each room and kept us cool on hot days. Management was quick to respond, super friendly and helpful. Would definitely stay here again the next time we come to Kauai!
                    [name] => 
                    [email] => kahaphotos@gmail.com
                    [location] => 
                    [response] => Mahalo Christian!  We are so glad that this was the perfect spot for your mellow week on Kauai.  We very much appreciate your kind review and look forward to your next visit with us! Aloha and a hui hou, Garden Island Properties
                    [response_date] => 2019-08-30
                    [rating] => 5
                    [review_date] => 2019-08-29
                    [featured] => 
                    [status] => 1
                    [checkin_date] => 2019-08-16
                    [nights_stayed] => 2
                    [sfrm] => 5
                    [clean] => 5
                    [rto] => 1
                    [pc] => 5
                    [loc] => 5
                    [meta] => Array
                        (
                        )

                )

            [6] => stdClass Object
                (
                    [id] => 30481
                    [external_id] => 784cea9f-c132-4422-8e0c-59844b4baaa1
                    [prop_id] => 90
                    [review_id] => 0
                    [source] => Escapia
                    [title] => Stay at Poipu
                    [review] => Great rental experience. Clean and well maintained vacation rental. Perfect area for some beach fun and good dining. We enjoyed our stay!
                    [name] => 
                    [email] => stwall915@gmail.com
                    [location] => 
                    [response] => Aloha Steven, We are so pleased to hear that you had a great rental experience and that the home was clean and well maintained. We hope to see you again soon! Mahalo nui loa, Garden Island Properties
                    [response_date] => 2019-05-25
                    [rating] => 5
                    [review_date] => 2019-05-21
                    [featured] => 
                    [status] => 1
                    [checkin_date] => 2019-05-11
                    [nights_stayed] => 8
                    [sfrm] => 5
                    [clean] => 5
                    [rto] => 1
                    [pc] => 5
                    [loc] => 5
                    [meta] => Array
                        (
                        )

                )

            [7] => stdClass Object
                (
                    [id] => 30480
                    [external_id] => 67fba423-5b44-4a1c-8d9c-42a3157fa62b
                    [prop_id] => 90
                    [review_id] => 0
                    [source] => Escapia
                    [title] => hale kahanalu #4
                    [review] => We had a wonderful stay.  The condo was clean and well equipped.  The location was perfect - a short walk to the beach which had great snorkeling.  
                    [name] => 
                    [email] => rehmann.david@gmail.com
                    [location] => 
                    [response] => Aloha Susan and Mahalo for sharing your experience of the condo. We are so glad that you had a wonderful stay and that the condo was clean and well equipped. We hope that you will stay again soon! Mahalo a hui hou, Garden Island Properties
                    [response_date] => 2019-05-09
                    [rating] => 5
                    [review_date] => 2019-04-18
                    [featured] => 
                    [status] => 1
                    [checkin_date] => 2019-03-29
                    [nights_stayed] => 7
                    [sfrm] => 5
                    [clean] => 5
                    [rto] => 1
                    [pc] => 5
                    [loc] => 5
                    [meta] => Array
                        (
                        )

                )

            [8] => stdClass Object
                (
                    [id] => 30485
                    [external_id] => 09e624fd-bb07-418b-a496-f6dd5de7384e
                    [prop_id] => 90
                    [review_id] => 0
                    [source] => Escapia
                    [title] => Excellent location
                    [review] =>  The property is in an excellent location. The management company was courteous with quick and accurate communication. The unit was perfect for a family of four.
                    [name] => Chad L.
                    [email] => lynch.chad@gmail.com
                    [location] => 
                    [response] => Aloha Chad! Mahalo for your review and sharing your experience of your stay with us. Very glad that you were pleased with the location and communication with us. We hope that you will visit again! Mahalo nui loa, Garden Island Properties
                    [response_date] => 2019-06-01
                    [rating] => 5
                    [review_date] => 2019-03-28
                    [featured] => 
                    [status] => 1
                    [checkin_date] => 2019-03-15
                    [nights_stayed] => 9
                    [sfrm] => 5
                    [clean] => 5
                    [rto] => 1
                    [pc] => 4
                    [loc] => 5
                    [meta] => Array
                        (
                        )

                )

            [9] => stdClass Object
                (
                    [id] => 30486
                    [external_id] => 51258e8a-297a-4071-910a-cb911eba7916
                    [prop_id] => 90
                    [review_id] => 0
                    [source] => Escapia
                    [title] => Great Location
                    [review] => Very happy with the week we spent here.  Quiet, older condo building.  Everything was clean and in good working order, and all kitchen extras are supplied.  Beach chairs and umbrella were a nice plus. Master bed was super comfy, we had really great sleeps here. Walls are thin though, something to keep in mind. Parking a bit tight, just take your time getting in and out. Not fancy, but a great price and location cant be beat! Aloha! 
                    [name] => Sharon S.
                    [email] => srstarratt@yahoo.com
                    [location] => 
                    [response] => Aloha Sharon! We are very pleased to hear that you were happy with your week stay and that everything was clean and in good working order. We appreciate you staying with us and also providing feedback. We hope that you will come and visit again. Mahalo! Garden Island Properties 
                    [response_date] => 2019-03-20
                    [rating] => 5
                    [review_date] => 2019-03-08
                    [featured] => 
                    [status] => 1
                    [checkin_date] => 2019-02-26
                    [nights_stayed] => 8
                    [sfrm] => 5
                    [clean] => 5
                    [rto] => 1
                    [pc] => 5
                    [loc] => 5
                    [meta] => Array
                        (
                        )

                )

            [10] => stdClass Object
                (
                    [id] => 30484
                    [external_id] => 05226aef-d97c-4231-8712-6764dbb29f9e
                    [prop_id] => 90
                    [review_id] => 0
                    [source] => Escapia
                    [title] => Hale Kahanalu  #4
                    [review] => Mostly great.  Very nice interior, excellent amenties, awesome location.  Had an issue with the electrical outlets inside and the customer service representative from the property management company was awesome!  Professional, courteous and responsive.  Good correspondence from property management company regarding the stay with great arrival instructions.  Only challenges were the power being off on one circuit which caused no AC, TV or wifi for half the stay. Repair of a lower unit created noise and parking challenges,
Awesome location in this newly renovated condo.  
                    [name] => 
                    [email] => gbartin@hotmail.com
                    [location] => 
                    [response] => Aloha and thank you for your review. We are so happy to hear that you had a great stay ad enjoyed the location.  Mahalo, Garden Island Properties
                    [response_date] => 2019-07-27
                    [rating] => 3
                    [review_date] => 2019-01-27
                    [featured] => 
                    [status] => 1
                    [checkin_date] => 2019-01-21
                    [nights_stayed] => 4
                    [sfrm] => 5
                    [clean] => 5
                    [rto] => 1
                    [pc] => 3
                    [loc] => 5
                    [meta] => Array
                        (
                        )

                )

            [11] => stdClass Object
                (
                    [id] => 30483
                    [external_id] => 762bd664-c4d0-4856-9277-6e7e370f7b96
                    [prop_id] => 90
                    [review_id] => 0
                    [source] => Escapia
                    [title] => Cute condo
                    [review] => Enjoyed the condo and surrounding area.  The air conditioner was not strong enough for the bedrooms so the fans were used.
                    [name] => 
                    [email] => Canderan@shaw.ca
                    [location] => 
                    [response] => Aloha and thank you for staying with us.  We are glad that you enjoyed the condo and surrounding areas! We hope that you will stay again. Update: AUG 2019- New portable AC units have been installed in both bedrooms. Mahalo, Garden Island Properties
                    [response_date] => 2018-08-28
                    [rating] => 4
                    [review_date] => 2018-08-23
                    [featured] => 
                    [status] => 1
                    [checkin_date] => 2018-08-17
                    [nights_stayed] => 4
                    [sfrm] => 5
                    [clean] => 5
                    [rto] => 1
                    [pc] => 4
                    [loc] => 5
                    [meta] => Array
                        (
                        )

                )

        )

    [rateaddons] => Array
        (
        )

    [unit_meta] => Array
        (
            [0] => stdClass Object
                (
                    [id] => 495540
                    [unit_id] => 90
                    [key] => Custom1
                    [value] => Hale #4
                )

            [1] => stdClass Object
                (
                    [id] => 495541
                    [unit_id] => 90
                    [key] => Custom2
                    [value] => 8087421092
                )

            [2] => stdClass Object
                (
                    [id] => 495542
                    [unit_id] => 90
                    [key] => Custom3
                    [value] => 8627
                )

            [3] => stdClass Object
                (
                    [id] => 495543
                    [unit_id] => 90
                    [key] => Custom4
                    [value] => Laundry Room: 1825
                )

            [4] => stdClass Object
                (
                    [id] => 495544
                    [unit_id] => 90
                    [key] => DisplayRate
                    [value] => Starting from $175 per night
                )

            [5] => stdClass Object
                (
                    [id] => 495545
                    [unit_id] => 90
                    [key] => Location
                    [value] => Poipu
                )

            [6] => stdClass Object
                (
                    [id] => 495546
                    [unit_id] => 90
                    [key] => LocationField
                    [value] => Garden Island Properties, LLC
                )

            [7] => stdClass Object
                (
                    [id] => 495547
                    [unit_id] => 90
                    [key] => Property Type
                    [value] => Condo
                )

            [8] => stdClass Object
                (
                    [id] => 495548
                    [unit_id] => 90
                    [key] => View
                    [value] => Garden Unit
                )

            [9] => stdClass Object
                (
                    [id] => 495549
                    [unit_id] => 90
                    [key] => MinLOS
                    [value] => 2
                )

            [10] => stdClass Object
                (
                    [id] => 495550
                    [unit_id] => 90
                    [key] => StayContext
                    [value] => Checkin
                )

            [11] => stdClass Object
                (
                    [id] => 495551
                    [unit_id] => 90
                    [key] => StayDays
                    [value] => a:7:{i:0;s:3:"Mon";i:1;s:3:"Tue";i:2;s:4:"Weds";i:3;s:4:"Thur";i:4;s:3:"Fri";i:5;s:3:"Sat";i:6;s:3:"Sun";}
                )

            [12] => stdClass Object
                (
                    [id] => 495552
                    [unit_id] => 90
                    [key] => NumberFloors
                    [value] => 
                )

            [13] => stdClass Object
                (
                    [id] => 495553
                    [unit_id] => 90
                    [key] => AreaSquareFeet
                    [value] => 720
                )

            [14] => stdClass Object
                (
                    [id] => 495554
                    [unit_id] => 90
                    [key] => CheckInTime
                    [value] => 15:00
                )

            [15] => stdClass Object
                (
                    [id] => 495555
                    [unit_id] => 90
                    [key] => CheckOutTime
                    [value] => 10:00
                )

            [16] => stdClass Object
                (
                    [id] => 495556
                    [unit_id] => 90
                    [key] => SmokingAllowed
                    [value] => 
                )

        )

    [minnights] => Array
        (
            [0] => stdClass Object
                (
                    [id] => 1213291
                    [start_date] => 2020-06-15
                    [end_date] => 2020-12-14
                    [prop_id] => 90
                    [nights] => 4
                    [rate_type] => Daily
                )

            [1] => stdClass Object
                (
                    [id] => 1213292
                    [start_date] => 2020-06-15
                    [end_date] => 2020-12-14
                    [prop_id] => 90
                    [nights] => 7
                    [rate_type] => Weekly
                )

            [2] => stdClass Object
                (
                    [id] => 1213293
                    [start_date] => 2020-06-15
                    [end_date] => 2020-12-14
                    [prop_id] => 90
                    [nights] => 30
                    [rate_type] => Monthly
                )

            [3] => stdClass Object
                (
                    [id] => 1213294
                    [start_date] => 2020-12-15
                    [end_date] => 2021-01-05
                    [prop_id] => 90
                    [nights] => 4
                    [rate_type] => Daily
                )

            [4] => stdClass Object
                (
                    [id] => 1213295
                    [start_date] => 2020-12-15
                    [end_date] => 2021-01-05
                    [prop_id] => 90
                    [nights] => 7
                    [rate_type] => Weekly
                )

            [5] => stdClass Object
                (
                    [id] => 1213296
                    [start_date] => 2021-01-06
                    [end_date] => 2021-03-31
                    [prop_id] => 90
                    [nights] => 4
                    [rate_type] => Daily
                )

            [6] => stdClass Object
                (
                    [id] => 1213297
                    [start_date] => 2021-01-06
                    [end_date] => 2021-03-31
                    [prop_id] => 90
                    [nights] => 7
                    [rate_type] => Weekly
                )

            [7] => stdClass Object
                (
                    [id] => 1213298
                    [start_date] => 2021-01-06
                    [end_date] => 2021-03-31
                    [prop_id] => 90
                    [nights] => 30
                    [rate_type] => Monthly
                )

            [8] => stdClass Object
                (
                    [id] => 1213299
                    [start_date] => 2021-04-01
                    [end_date] => 2021-12-17
                    [prop_id] => 90
                    [nights] => 4
                    [rate_type] => Daily
                )

            [9] => stdClass Object
                (
                    [id] => 1213300
                    [start_date] => 2021-04-01
                    [end_date] => 2021-12-17
                    [prop_id] => 90
                    [nights] => 7
                    [rate_type] => Weekly
                )

            [10] => stdClass Object
                (
                    [id] => 1213301
                    [start_date] => 2021-04-01
                    [end_date] => 2021-12-17
                    [prop_id] => 90
                    [nights] => 30
                    [rate_type] => Monthly
                )

        )

    [manager] => stdClass Object
        (
            [id] => 1
            [ManagerID] => 1
            [Name] => Escapia
            [Vendor] => Escapia
            [Contract] => 
            [random] => 0
            [pms] => 
            [last_update] => 0000-00-00 00:00:00
        )

    [flipkey] => 
    [additonal] => stdClass Object
        (
            [Custom1] => Hale #4
            [Custom2] => 8087421092
            [Custom3] => 8627
            [Custom4] => Laundry Room: 1825
            [DisplayRate] => Starting from $175 per night
            [Location] => Poipu
            [LocationField] => Garden Island Properties, LLC
            [Property Type] => Condo
            [View] => Garden Unit
            [MinLOS] => 2
            [StayContext] => Checkin
            [StayDays] => Array
                (
                    [0] => Mon
                    [1] => Tue
                    [2] => Weds
                    [3] => Thur
                    [4] => Fri
                    [5] => Sat
                    [6] => Sun
                )

            [NumberFloors] => 
            [AreaSquareFeet] => 720
            [CheckInTime] => 15:00
            [CheckOutTime] => 10:00
            [SmokingAllowed] => 
        )

    [checkinout] => Array
        (
        )

    [special] => Array
        (
        )

    [hasSpecial] => 
)
                    
Holiday Rates apply between 12/15 - 1/5