cliffs at princeville #1208b beautiful ocean-bluff resort, scenic north shore
0 Bedroom(s) | 1 Bathroom(s) | Sleeps 2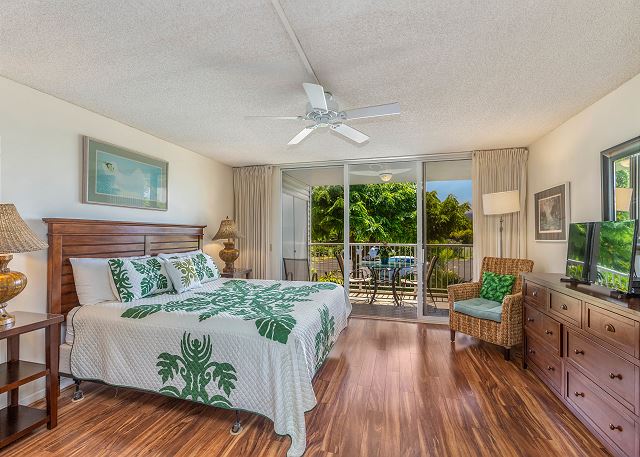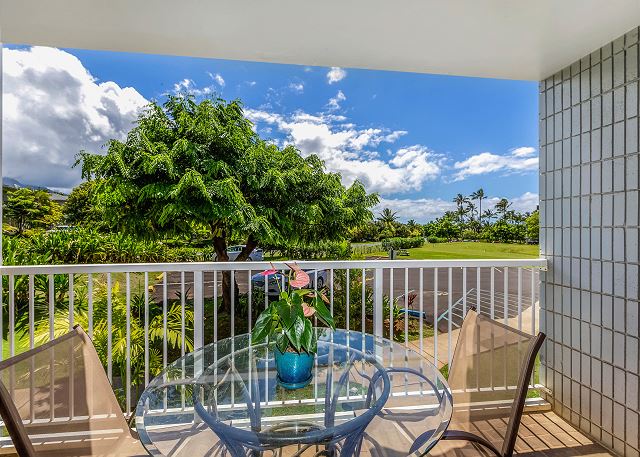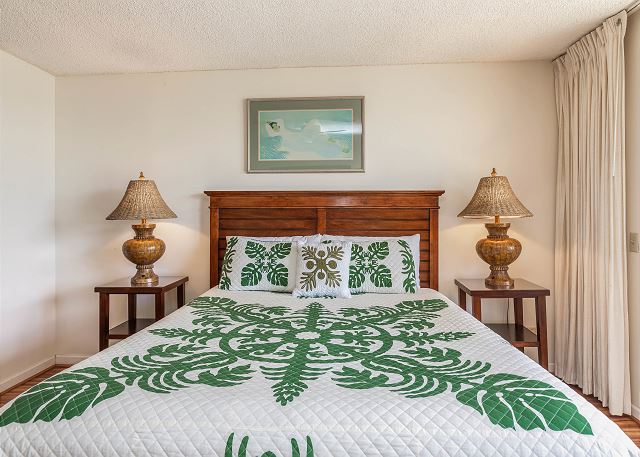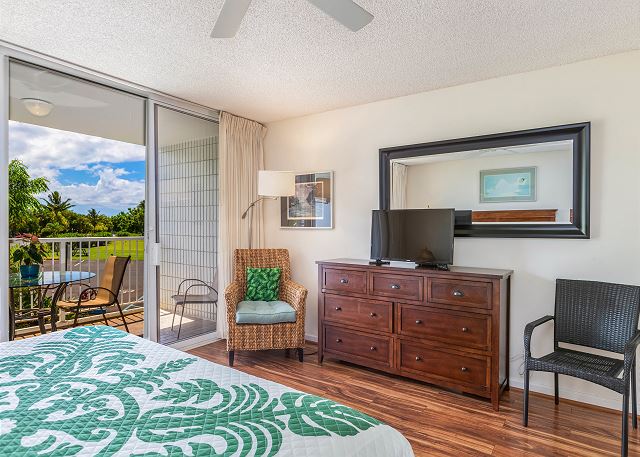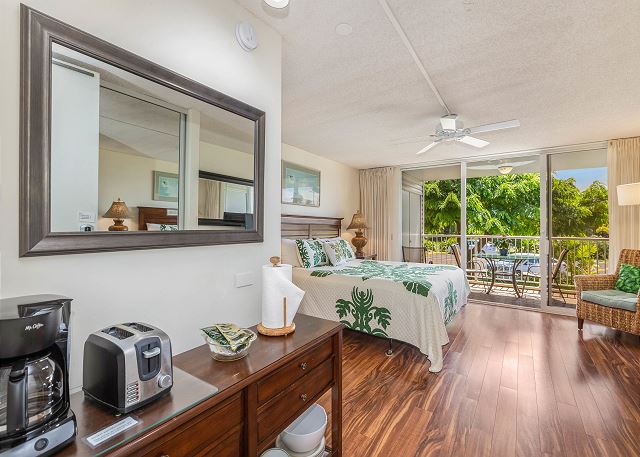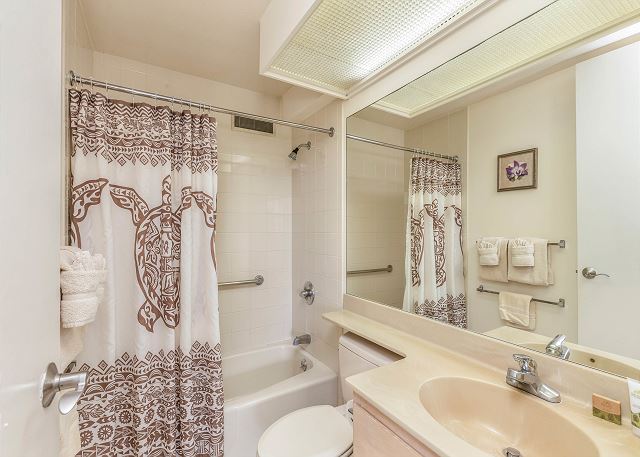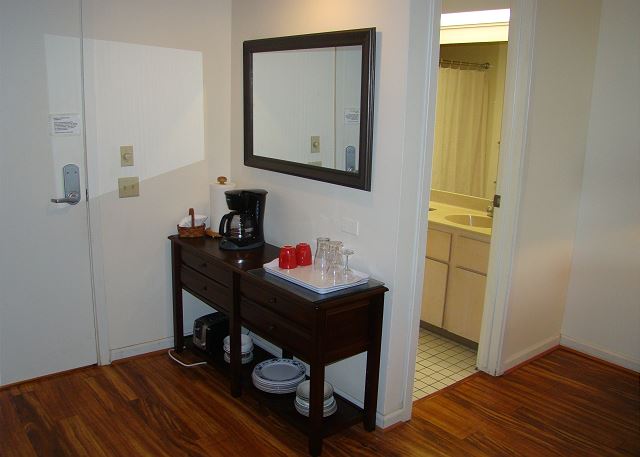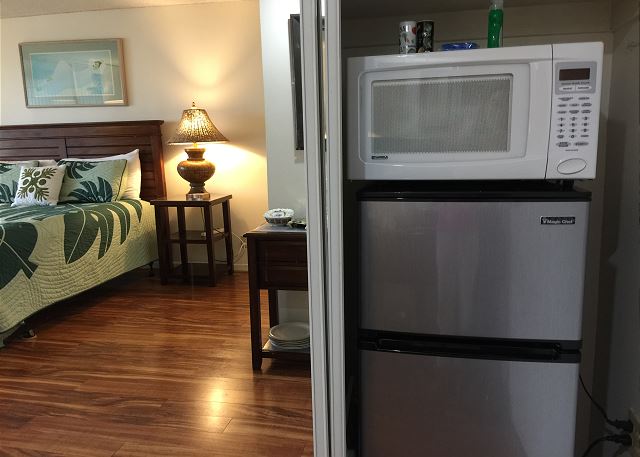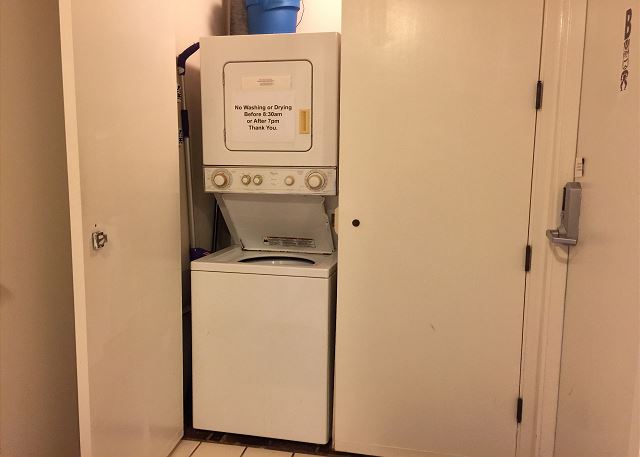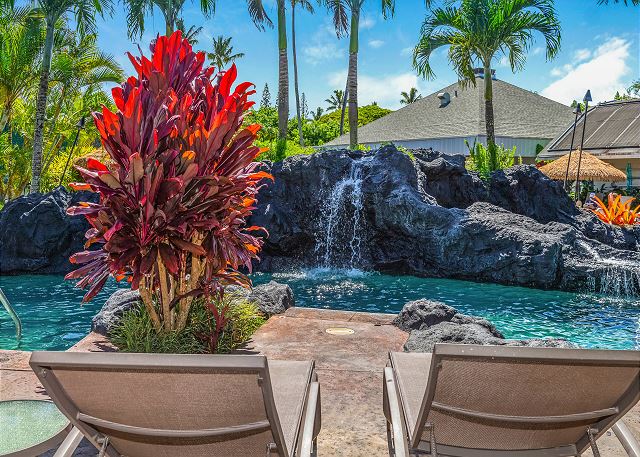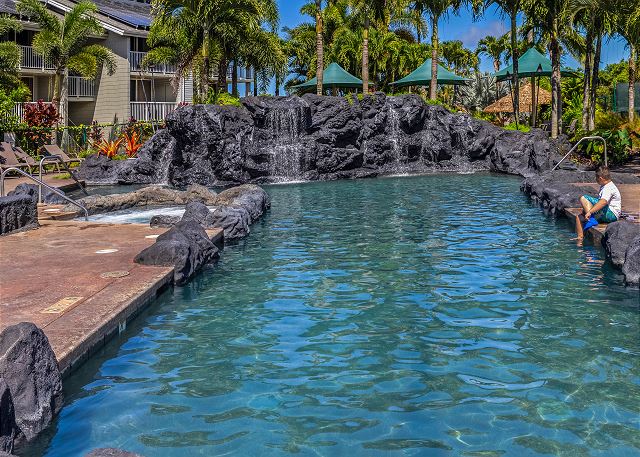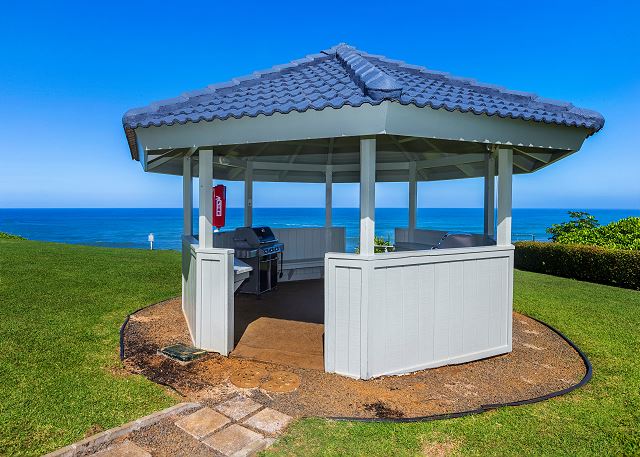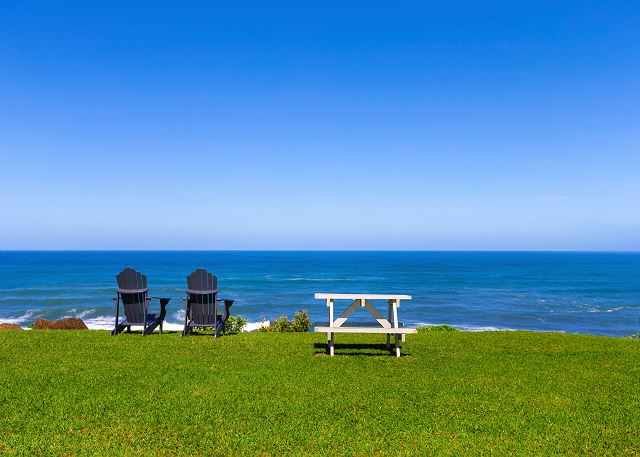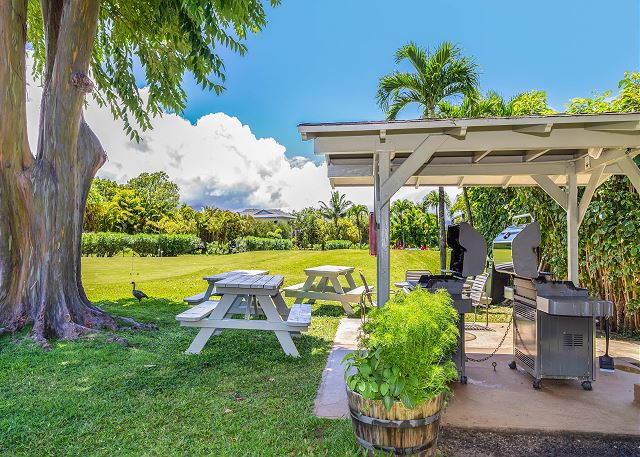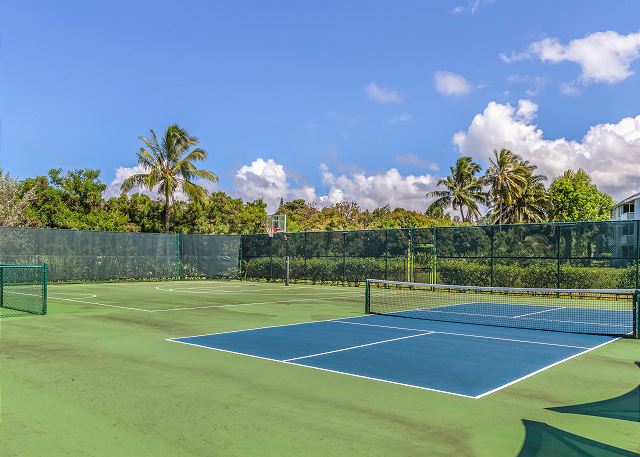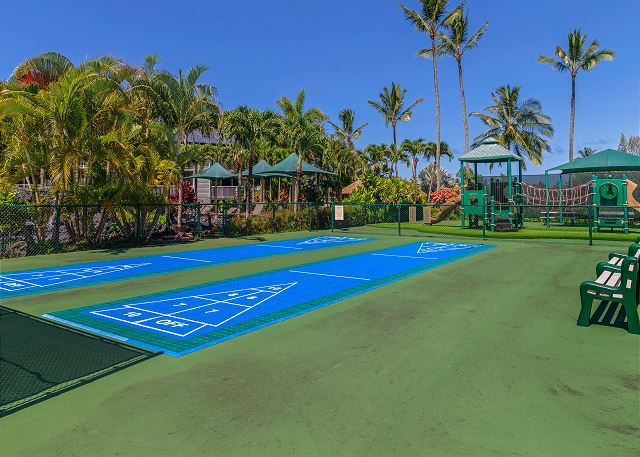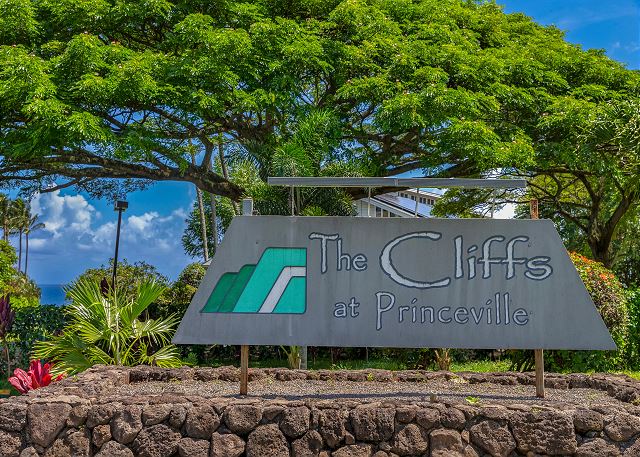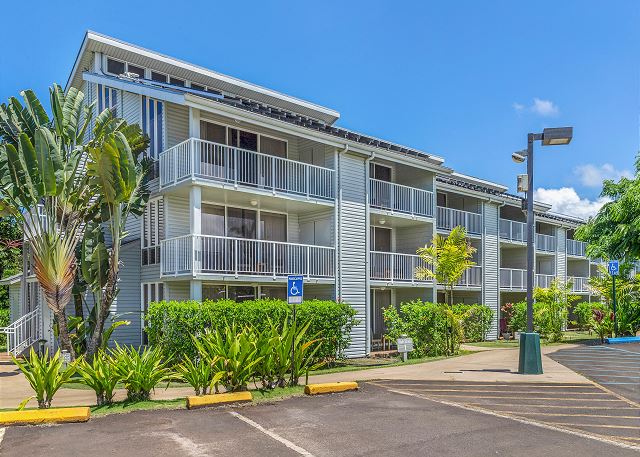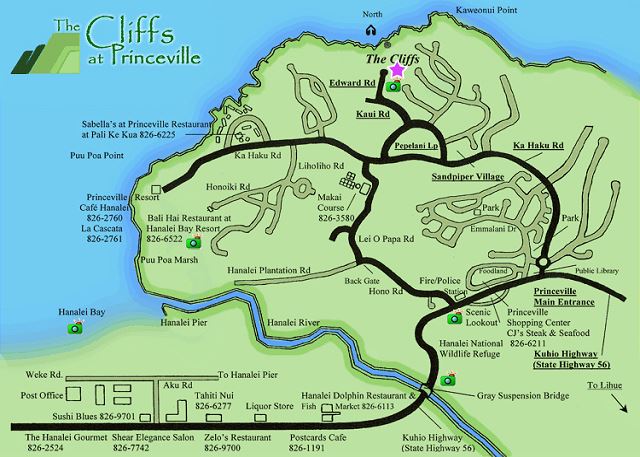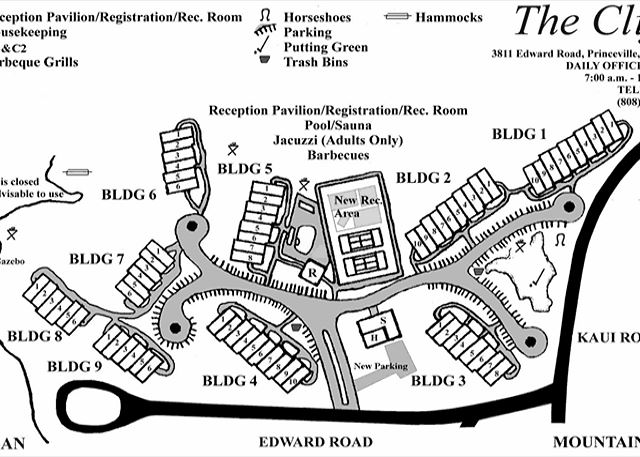 The Cliffs Resort at Princeville Unit 1208-B, Spacious Studio Garden Unit, North Shore Resort.

The Cliffs Resort, Princeville is located on 22 lush acres of tropical gardens perched above the blue Pacific Ocean on Kauai's beautiful North Shore.

Affordable condo near Hanalei Bay, Anini Beach and Napali Coast. Traveling with 4 people?

Check out unit 1208-A located next door.

*SPACIOUS 2ND FLOOR STUDIO UNIT

*KING BED

*CABLE TV & DVD PLAYER

*FULL BATHROOM

*WASHER AND DRYER

*FREE WIFI

*FREE PARKING

*NO RESORT FEES



**ACTIVITIES (subject to change)**

*Two Tennis Courts

*Swimming Pool & 2 Jacuzzis

*Fitness Center

*Barbeque Grills

*Bicycle Rental

*Mini Putting Green

*Kids' Playground

*Pickle Ball/Paddle Ball

*Two Shuffleboard Courts

*1/2 Court Basketball Court

RESORT SERVICES (subject to change):

*Activities Desk

*Business Center

*Fax & Photocopy Services

*Security

*Beach Towels

Beautiful Hanalei Bay, Anini Beach or Kalihiwai Bay is about a five minute drive away. Head south to the Kilauea Lighthouse or north to "the end of the road" to Ke'e Beach-scene of the famous movie "Bali Hai" or hike the famous Na Pali Coastline. Princeville Shopping Center minutes away also offers many fine restaurants, a grocery store, a public library and boutiques if shopping is your passion!

For the golf enthusiast, Princeville is your paradise. The beautiful 45 Hole Trent Jones Princeville Golf complex is adjacent to the resort. Ranked among the world's most challenging and picturesque championship course, golfing at the Makai Course will be a delight. Practice putting around on our manicured green or play a game of tennis on any of two courts or swim, sun, or curl up with a good book at the pool.

4 night minimum.

Holiday Rates apply from 12/15 to 1/5 with a 7 night minimum stay.

Non-Smoking Property

TAT ID# TA-057-832-2432-01
Amenities

Combination tub/shower
King
DVD Player
Satellite / Cable
Television
Clothes Dryer
Fitness Room / Equipment
Hair Dryer
Internet
Iron & Board
Linens Provided
Parking
Telephone
Towels Provided
Washing Machine
Coffee Maker
Dishes & Utensils
Microwave
Toaster
Near The Ocean
Resort
Lanai / Gazebo
Outdoor Grill
Tennis
Studio
Non smoking only
Kitchenette
Mini Fridge
Ceiling Fans
Washer & Dryer
Wifi
Area FitnessCenter
Nearby Grocery
Nearby Restaurants & Shops
BBQ Grill
Hot Tub
Shared Pool
Beach Towels
The Cliffs at Princeville
North Shore
Cable TV
---
Retirement Celebration Vacation in Kauia
Oct 20, 2018
We really enjoyed our 8-day stay at The Cliffs. The unit was comfortable and clean, the staff so helpful. The only thing that got old was washing the dishes in the bathroom sink or tub. This really isn't a studio, it's more like a hotel room with a refrigerator and microwave. We really enjoyed all the activities that The Cliff offered - pool, hot tub, fitness studio, tennis, shuffleboard, pickleball, food trucks, and even some winetasting on the bluff! The staff was so helpful with their suggestions of hikes and beaches. We came in on a late flight, so it was dark when we arrived to the condos - not fun being unfamiliar with Princeville, the way the condos were laid out and the dim lighting. But we called the property managers and they were very helpful. They even called us back the next day to make sure we had settled alright. Nice folks!
---
Perfect spot
Aug 09, 2018
The place was in a perfect location. The resort was really nice and friendly. We would stay there again. Mahalo!
---
live in paradise
Jul 17, 2018
Great experience, nice room, great location
---
Princeville stay
Jul 06, 2018
Lovely condo, clean and many personalized items.
---
North Shore R&R
Jun 10, 2018
This was all we needed for a great stay on the beautiful Kauai north shore. Location is excellent; actually just a 10 min walk to the Queen's Bath trail, great paved walking trails along the cliffs and a short 10 min drive to Hanalei or Kilauea and several beautiful beaches. The property is older, but well maintained with such friendly staff. Everyone from the front desk to concierge to grounds crews were always lovely. Also enjoyed many sunsets from the cliff top Muskoka chairs. Excellent amenities: pool, tennis courts, shuffleboards, BBQs on the grounds and you can borrow board games, boogie boards, beach chairs, etc. Anything you need. The room was basic but clean; like a hotel room (bed/bathroom/patio/mini fridge) and with plates, cutlery, etc. so you can prep and enjoy some lighter meals on your own. Note no ocean view from the room.
---
Paradise
May 31, 2018
The property was in a great location for Noeth shore activities. The condo however was only partially updated. The bathroom was not great. You couldn't take a bath in the tub as the drain was broken. Fixtures were very old and looked dirty/rusty.
---
Wonderful Unit
May 09, 2018
We were very satisfied with our unit. We found it exactly as the pictures posted and unit description on the website. It was comfortable, clean, and the resort was fantastic. We were very impressed with the pool area and enjoyed it thoroughly. We would definitely recommend the unit & resort.
Book Your Stay!
Select your arrival and departure dates below to reserve this unit.


November 2018

| S | M | T | W | T | F | S |
| --- | --- | --- | --- | --- | --- | --- |
| | | | | 01 | 02 | 03 |
| 04 | 05 | 06 | 07 | 08 | 09 | 10 |
| 11 | 12 | 13 | 14 | 15 | 16 | 17 |
| 18 | 19 | 20 | 21 | 22 | 23 | 24 |
| 25 | 26 | 27 | 28 | 29 | 30 | |
December 2018

| S | M | T | W | T | F | S |
| --- | --- | --- | --- | --- | --- | --- |
| | | | | | | 01 |
| 02 | 03 | 04 | 05 | 06 | 07 | 08 |
| 09 | 10 | 11 | 12 | 13 | 14 | 15 |
| 16 | 17 | 18 | 19 | 20 | 21 | 22 |
| 23 | 24 | 25 | 26 | 27 | 28 | 29 |
| 30 | 31 | | | | | |
January 2019

| S | M | T | W | T | F | S |
| --- | --- | --- | --- | --- | --- | --- |
| | | 01 | 02 | 03 | 04 | 05 |
| 06 | 07 | 08 | 09 | 10 | 11 | 12 |
| 13 | 14 | 15 | 16 | 17 | 18 | 19 |
| 20 | 21 | 22 | 23 | 24 | 25 | 26 |
| 27 | 28 | 29 | 30 | 31 | | |
February 2019

| S | M | T | W | T | F | S |
| --- | --- | --- | --- | --- | --- | --- |
| | | | | | 01 | 02 |
| 03 | 04 | 05 | 06 | 07 | 08 | 09 |
| 10 | 11 | 12 | 13 | 14 | 15 | 16 |
| 17 | 18 | 19 | 20 | 21 | 22 | 23 |
| 24 | 25 | 26 | 27 | 28 | | |
March 2019

| S | M | T | W | T | F | S |
| --- | --- | --- | --- | --- | --- | --- |
| | | | | | 01 | 02 |
| 03 | 04 | 05 | 06 | 07 | 08 | 09 |
| 10 | 11 | 12 | 13 | 14 | 15 | 16 |
| 17 | 18 | 19 | 20 | 21 | 22 | 23 |
| 24 | 25 | 26 | 27 | 28 | 29 | 30 |
| 31 | | | | | | |
April 2019

| S | M | T | W | T | F | S |
| --- | --- | --- | --- | --- | --- | --- |
| | 01 | 02 | 03 | 04 | 05 | 06 |
| 07 | 08 | 09 | 10 | 11 | 12 | 13 |
| 14 | 15 | 16 | 17 | 18 | 19 | 20 |
| 21 | 22 | 23 | 24 | 25 | 26 | 27 |
| 28 | 29 | 30 | | | | |
May 2019

| S | M | T | W | T | F | S |
| --- | --- | --- | --- | --- | --- | --- |
| | | | 01 | 02 | 03 | 04 |
| 05 | 06 | 07 | 08 | 09 | 10 | 11 |
| 12 | 13 | 14 | 15 | 16 | 17 | 18 |
| 19 | 20 | 21 | 22 | 23 | 24 | 25 |
| 26 | 27 | 28 | 29 | 30 | 31 | |
June 2019

| S | M | T | W | T | F | S |
| --- | --- | --- | --- | --- | --- | --- |
| | | | | | | 01 |
| 02 | 03 | 04 | 05 | 06 | 07 | 08 |
| 09 | 10 | 11 | 12 | 13 | 14 | 15 |
| 16 | 17 | 18 | 19 | 20 | 21 | 22 |
| 23 | 24 | 25 | 26 | 27 | 28 | 29 |
| 30 | | | | | | |
July 2019

| S | M | T | W | T | F | S |
| --- | --- | --- | --- | --- | --- | --- |
| | 01 | 02 | 03 | 04 | 05 | 06 |
| 07 | 08 | 09 | 10 | 11 | 12 | 13 |
| 14 | 15 | 16 | 17 | 18 | 19 | 20 |
| 21 | 22 | 23 | 24 | 25 | 26 | 27 |
| 28 | 29 | 30 | 31 | | | |
August 2019

| S | M | T | W | T | F | S |
| --- | --- | --- | --- | --- | --- | --- |
| | | | | 01 | 02 | 03 |
| 04 | 05 | 06 | 07 | 08 | 09 | 10 |
| 11 | 12 | 13 | 14 | 15 | 16 | 17 |
| 18 | 19 | 20 | 21 | 22 | 23 | 24 |
| 25 | 26 | 27 | 28 | 29 | 30 | 31 |
September 2019

| S | M | T | W | T | F | S |
| --- | --- | --- | --- | --- | --- | --- |
| 01 | 02 | 03 | 04 | 05 | 06 | 07 |
| 08 | 09 | 10 | 11 | 12 | 13 | 14 |
| 15 | 16 | 17 | 18 | 19 | 20 | 21 |
| 22 | 23 | 24 | 25 | 26 | 27 | 28 |
| 29 | 30 | | | | | |
October 2019

| S | M | T | W | T | F | S |
| --- | --- | --- | --- | --- | --- | --- |
| | | 01 | 02 | 03 | 04 | 05 |
| 06 | 07 | 08 | 09 | 10 | 11 | 12 |
| 13 | 14 | 15 | 16 | 17 | 18 | 19 |
| 20 | 21 | 22 | 23 | 24 | 25 | 26 |
| 27 | 28 | 29 | 30 | 31 | | |
November 2019

| S | M | T | W | T | F | S |
| --- | --- | --- | --- | --- | --- | --- |
| | | | | | 01 | 02 |
| 03 | 04 | 05 | 06 | 07 | 08 | 09 |
| 10 | 11 | 12 | 13 | 14 | 15 | 16 |
| 17 | 18 | 19 | 20 | 21 | 22 | 23 |
| 24 | 25 | 26 | 27 | 28 | 29 | 30 |
December 2019

| S | M | T | W | T | F | S |
| --- | --- | --- | --- | --- | --- | --- |
| 01 | 02 | 03 | 04 | 05 | 06 | 07 |
| 08 | 09 | 10 | 11 | 12 | 13 | 14 |
| 15 | 16 | 17 | 18 | 19 | 20 | 21 |
| 22 | 23 | 24 | 25 | 26 | 27 | 28 |
| 29 | 30 | 31 | | | | |
January 2020

| S | M | T | W | T | F | S |
| --- | --- | --- | --- | --- | --- | --- |
| | | | 01 | 02 | 03 | 04 |
| 05 | 06 | 07 | 08 | 09 | 10 | 11 |
| 12 | 13 | 14 | 15 | 16 | 17 | 18 |
| 19 | 20 | 21 | 22 | 23 | 24 | 25 |
| 26 | 27 | 28 | 29 | 30 | 31 | |
February 2020

| S | M | T | W | T | F | S |
| --- | --- | --- | --- | --- | --- | --- |
| | | | | | | 01 |
| 02 | 03 | 04 | 05 | 06 | 07 | 08 |
| 09 | 10 | 11 | 12 | 13 | 14 | 15 |
| 16 | 17 | 18 | 19 | 20 | 21 | 22 |
| 23 | 24 | 25 | 26 | 27 | 28 | 29 |
Available
Unavailable
Check-In Only
Check-Out Only
Seasonal Rates
Starting From $100 per night

                    stdClass Object
(
    [id] => 79
    [ManagerID] => 1
    [ComplexID] => 0
    [Name] => CLIFFS AT PRINCEVILLE #1208B BEAUTIFUL OCEAN-BLUFF RESORT, SCENIC NORTH SHORE
    [PropertyCode] => 2064-144874
    [Address1] => 3811 Edward Road
    [Address2] => 
    [City] => Princeville
    [State] => HI
    [Country] => US
    [PostalCode] => 
    [Province] => 
    [Bedrooms] => 0
    [Bathrooms] => 1
    [Beds] => {"King":1}
    [Type] => Condominium
    [Area] => 
    [Location] => Garden Island Properties, LLC
    [View] => Garden View
    [Video] => 
    [lat] => 22.225523
    [long] => -159.480916
    [map_id] => 0
    [Complex] => 252
    [Description] => The Cliffs Resort at Princeville Unit 1208-B, Spacious Studio Garden Unit, North Shore Resort. 

The Cliffs Resort, Princeville is located on 22 lush acres of tropical gardens perched above the blue Pacific Ocean on Kauai's beautiful North Shore. 

Affordable condo near Hanalei Bay, Anini Beach and Napali Coast. Traveling with 4 people? 

Check out unit 1208-A located next door.

*SPACIOUS 2ND FLOOR STUDIO UNIT

*KING BED

*CABLE TV & DVD PLAYER

*FULL BATHROOM

*WASHER AND DRYER

*FREE WIFI

*FREE PARKING

*NO RESORT FEES



**ACTIVITIES (subject to change)**

*Two Tennis Courts

*Swimming Pool & 2 Jacuzzis

*Fitness Center

*Barbeque Grills

*Bicycle Rental

*Mini Putting Green

*Kids' Playground

*Pickle Ball/Paddle Ball

*Two Shuffleboard Courts

*1/2 Court Basketball Court 

RESORT SERVICES (subject to change):

*Activities Desk

*Business Center

*Fax & Photocopy Services

*Security

*Beach Towels

Beautiful Hanalei Bay, Anini Beach or Kalihiwai Bay is about a five minute drive away. Head south to the Kilauea Lighthouse or north to "the end of the road" to Ke'e Beach-scene of the famous movie "Bali Hai" or hike the famous Na Pali Coastline. Princeville Shopping Center minutes away also offers many fine restaurants, a grocery store, a public library and boutiques if shopping is your passion! 

For the golf enthusiast, Princeville is your paradise. The beautiful 45 Hole Trent Jones Princeville Golf complex is adjacent to the resort. Ranked among the world's most challenging and picturesque championship course, golfing at the Makai Course will be a delight. Practice putting around on our manicured green or play a game of tennis on any of two courts or swim, sun, or curl up with a good book at the pool. 

4 night minimum.

Holiday Rates apply from 12/15 to 1/5 with a 7 night minimum stay. 

Non-Smoking Property

TAT ID#  TA-057-832-2432-01
    [ShortDescription] => A great location near Hanalei Bay, Anini Beach and the pristine Na Pali Coast. 2nd floor, studio unit on Kauai's north shore. Unit includes microwave, coffee maker, small fridge, shared washer/dryer, complimentary wifi and parking. No resort fee. Sleeps 2
    [Sleeps] => 2
    [MaxAdult] => 0
    [Status] => Active
    [page_slug] => CLIFFS_AT_PRINCEVILLE_1208B_BEAUTIFUL_OCEAN-BLUFF_RESORT_SCENIC_NORTH_SHORE-2064-144874-1
    [SEOTitle] => Cliffs at Princeville #1208B Garden Unit, North Shore Resort
    [SEODescription] => CLIFFS AT PRINCEVILLE #1208B BEAUTIFUL OCEAN-BLUFF RESORT, SCENIC NORTH SHORE
    [Featured] => 0
    [created] => 0000-00-00 00:00:00
    [updated] => 2018-11-17 08:27:35
    [internalcode] => CL1208 B
    [photos] => Array
        (
            [0] => stdClass Object
                (
                    [id] => 2214909
                    [unit_id] => 79
                    [url] => https://pictures.escapia.com/GAISPR/144874/4029190633.jpg
                    [thumb_url] => https://pictures.escapia.com/GAISPR/144874/4029190633.jpg
                     => Spacious Studio Unit with King Bed
                    [sort] => 0
                )

            [1] => stdClass Object
                (
                    [id] => 2214910
                    [unit_id] => 79
                    [url] => https://pictures.escapia.com/GAISPR/144874/2624130312.jpg
                    [thumb_url] => https://pictures.escapia.com/GAISPR/144874/2624130312.jpg
                     => Private Lanai
                    [sort] => 1
                )

            [2] => stdClass Object
                (
                    [id] => 2214911
                    [unit_id] => 79
                    [url] => https://pictures.escapia.com/GAISPR/144874/8126070374.jpg
                    [thumb_url] => https://pictures.escapia.com/GAISPR/144874/8126070374.jpg
                     => King Bed
                    [sort] => 2
                )

            [3] => stdClass Object
                (
                    [id] => 2214912
                    [unit_id] => 79
                    [url] => https://pictures.escapia.com/GAISPR/144874/4802180412.jpg
                    [thumb_url] => https://pictures.escapia.com/GAISPR/144874/4802180412.jpg
                     => Studio Unit with King Bed
                    [sort] => 3
                )

            [4] => stdClass Object
                (
                    [id] => 2214913
                    [unit_id] => 79
                    [url] => https://pictures.escapia.com/GAISPR/144874/6697620009.jpg
                    [thumb_url] => https://pictures.escapia.com/GAISPR/144874/6697620009.jpg
                     => Kitchenette area
                    [sort] => 4
                )

            [5] => stdClass Object
                (
                    [id] => 2214914
                    [unit_id] => 79
                    [url] => https://pictures.escapia.com/GAISPR/144874/0469240245.jpg
                    [thumb_url] => https://pictures.escapia.com/GAISPR/144874/0469240245.jpg
                     => Full Bathroom with Shower Tub
                    [sort] => 5
                )

            [6] => stdClass Object
                (
                    [id] => 2214915
                    [unit_id] => 79
                    [url] => https://pictures.escapia.com/GAISPR/144874/2567370847.jpg
                    [thumb_url] => https://pictures.escapia.com/GAISPR/144874/2567370847.jpg
                     => 
                    [sort] => 6
                )

            [7] => stdClass Object
                (
                    [id] => 2214916
                    [unit_id] => 79
                    [url] => https://pictures.escapia.com/GAISPR/144874/4725940228.jpg
                    [thumb_url] => https://pictures.escapia.com/GAISPR/144874/4725940228.jpg
                     => 
                    [sort] => 7
                )

            [8] => stdClass Object
                (
                    [id] => 2214917
                    [unit_id] => 79
                    [url] => https://pictures.escapia.com/GAISPR/144874/7359350783.jpg
                    [thumb_url] => https://pictures.escapia.com/GAISPR/144874/7359350783.jpg
                     => 
                    [sort] => 8
                )

            [9] => stdClass Object
                (
                    [id] => 2214918
                    [unit_id] => 79
                    [url] => https://pictures.escapia.com/GAISPR/144874/8576730316.jpg
                    [thumb_url] => https://pictures.escapia.com/GAISPR/144874/8576730316.jpg
                     => Shared Washer and Dryer with 1208A
                    [sort] => 9
                )

            [10] => stdClass Object
                (
                    [id] => 2214919
                    [unit_id] => 79
                    [url] => https://pictures.escapia.com/GAISPR/144874/2655620993.jpg
                    [thumb_url] => https://pictures.escapia.com/GAISPR/144874/2655620993.jpg
                     => Resort Pool
                    [sort] => 10
                )

            [11] => stdClass Object
                (
                    [id] => 2214920
                    [unit_id] => 79
                    [url] => https://pictures.escapia.com/GAISPR/144874/2490520716.jpg
                    [thumb_url] => https://pictures.escapia.com/GAISPR/144874/2490520716.jpg
                     => Resort Pool
                    [sort] => 11
                )

            [12] => stdClass Object
                (
                    [id] => 2214921
                    [unit_id] => 79
                    [url] => https://pictures.escapia.com/GAISPR/144874/0906820065.jpg
                    [thumb_url] => https://pictures.escapia.com/GAISPR/144874/0906820065.jpg
                     => BBQ Gazebo
                    [sort] => 12
                )

            [13] => stdClass Object
                (
                    [id] => 2214922
                    [unit_id] => 79
                    [url] => https://pictures.escapia.com/GAISPR/144874/9954170268.jpg
                    [thumb_url] => https://pictures.escapia.com/GAISPR/144874/9954170268.jpg
                     => Cliffside Lounging
                    [sort] => 13
                )

            [14] => stdClass Object
                (
                    [id] => 2214923
                    [unit_id] => 79
                    [url] => https://pictures.escapia.com/GAISPR/144874/0632810770.jpg
                    [thumb_url] => https://pictures.escapia.com/GAISPR/144874/0632810770.jpg
                     => BBQ Area
                    [sort] => 14
                )

            [15] => stdClass Object
                (
                    [id] => 2214924
                    [unit_id] => 79
                    [url] => https://pictures.escapia.com/GAISPR/144874/5187040792.jpg
                    [thumb_url] => https://pictures.escapia.com/GAISPR/144874/5187040792.jpg
                     => Tennis Courts
                    [sort] => 15
                )

            [16] => stdClass Object
                (
                    [id] => 2214925
                    [unit_id] => 79
                    [url] => https://pictures.escapia.com/GAISPR/144874/5700800580.jpg
                    [thumb_url] => https://pictures.escapia.com/GAISPR/144874/5700800580.jpg
                     => Resort Grounds
                    [sort] => 16
                )

            [17] => stdClass Object
                (
                    [id] => 2214926
                    [unit_id] => 79
                    [url] => https://pictures.escapia.com/GAISPR/144874/3735420761.jpg
                    [thumb_url] => https://pictures.escapia.com/GAISPR/144874/3735420761.jpg
                     => Cliffs at Princeville
                    [sort] => 17
                )

            [18] => stdClass Object
                (
                    [id] => 2214927
                    [unit_id] => 79
                    [url] => https://pictures.escapia.com/GAISPR/144874/6286550900.jpg
                    [thumb_url] => https://pictures.escapia.com/GAISPR/144874/6286550900.jpg
                     => Exterior of building #1
                    [sort] => 18
                )

            [19] => stdClass Object
                (
                    [id] => 2214928
                    [unit_id] => 79
                    [url] => https://pictures.escapia.com/GAISPR/144874/2838610946.jpg
                    [thumb_url] => https://pictures.escapia.com/GAISPR/144874/2838610946.jpg
                     => Cliffs Map
                    [sort] => 19
                )

            [20] => stdClass Object
                (
                    [id] => 2214929
                    [unit_id] => 79
                    [url] => https://pictures.escapia.com/GAISPR/144874/3687220148.jpg
                    [thumb_url] => https://pictures.escapia.com/GAISPR/144874/3687220148.jpg
                     => Cliffs Site Map
                    [sort] => 20
                )

        )

    [rates] => Array
        (
            [0] => stdClass Object
                (
                    [id] => 736515
                    [start_date] => 2018-04-01
                    [end_date] => 2018-12-14
                    [amount] => 110
                    [chargebasis] => Daily
                    [unit_id] => 79
                )

            [1] => stdClass Object
                (
                    [id] => 736516
                    [start_date] => 2018-04-01
                    [end_date] => 2018-12-14
                    [amount] => 700
                    [chargebasis] => Weekly
                    [unit_id] => 79
                )

            [2] => stdClass Object
                (
                    [id] => 736517
                    [start_date] => 2018-12-15
                    [end_date] => 2019-01-15
                    [amount] => 140
                    [chargebasis] => Daily
                    [unit_id] => 79
                )

            [3] => stdClass Object
                (
                    [id] => 736518
                    [start_date] => 2018-12-15
                    [end_date] => 2019-01-15
                    [amount] => 980
                    [chargebasis] => Weekly
                    [unit_id] => 79
                )

            [4] => stdClass Object
                (
                    [id] => 736519
                    [start_date] => 2018-12-15
                    [end_date] => 2019-01-15
                    [amount] => 4200
                    [chargebasis] => Monthly
                    [unit_id] => 79
                )

            [5] => stdClass Object
                (
                    [id] => 736520
                    [start_date] => 2019-01-16
                    [end_date] => 2019-03-31
                    [amount] => 141.75
                    [chargebasis] => Daily
                    [unit_id] => 79
                )

            [6] => stdClass Object
                (
                    [id] => 736521
                    [start_date] => 2019-01-16
                    [end_date] => 2019-03-31
                    [amount] => 955.5
                    [chargebasis] => Weekly
                    [unit_id] => 79
                )

            [7] => stdClass Object
                (
                    [id] => 736522
                    [start_date] => 2019-01-16
                    [end_date] => 2019-03-31
                    [amount] => 4095
                    [chargebasis] => Monthly
                    [unit_id] => 79
                )

            [8] => stdClass Object
                (
                    [id] => 736523
                    [start_date] => 2019-04-01
                    [end_date] => 2019-12-14
                    [amount] => 135
                    [chargebasis] => Daily
                    [unit_id] => 79
                )

            [9] => stdClass Object
                (
                    [id] => 736524
                    [start_date] => 2019-04-01
                    [end_date] => 2019-12-14
                    [amount] => 910
                    [chargebasis] => Weekly
                    [unit_id] => 79
                )

            [10] => stdClass Object
                (
                    [id] => 736525
                    [start_date] => 2019-04-01
                    [end_date] => 2019-12-14
                    [amount] => 3900
                    [chargebasis] => Monthly
                    [unit_id] => 79
                )

        )

    [attributes] => Array
        (
            [0] => stdClass Object
                (
                    [id] => 3945132
                    [name] => combination tub/shower
                    [value] => 
                    [group] => AMENITY
                    [unit_id] => 79
                )

            [1] => stdClass Object
                (
                    [id] => 3945133
                    [name] => king
                    [value] => 
                    [group] => AMENITY
                    [unit_id] => 79
                )

            [2] => stdClass Object
                (
                    [id] => 3945134
                    [name] => DVD Player
                    [value] => 
                    [group] => ENTERTAINMENT
                    [unit_id] => 79
                )

            [3] => stdClass Object
                (
                    [id] => 3945135
                    [name] => Satellite / Cable
                    [value] => 
                    [group] => ENTERTAINMENT
                    [unit_id] => 79
                )

            [4] => stdClass Object
                (
                    [id] => 3945136
                    [name] => Television
                    [value] => 
                    [group] => ENTERTAINMENT
                    [unit_id] => 79
                )

            [5] => stdClass Object
                (
                    [id] => 3945137
                    [name] => Clothes Dryer
                    [value] => 
                    [group] => GENERAL
                    [unit_id] => 79
                )

            [6] => stdClass Object
                (
                    [id] => 3945138
                    [name] => Fitness Room / Equipment
                    [value] => 
                    [group] => GENERAL
                    [unit_id] => 79
                )

            [7] => stdClass Object
                (
                    [id] => 3945139
                    [name] => Hair Dryer
                    [value] => 
                    [group] => GENERAL
                    [unit_id] => 79
                )

            [8] => stdClass Object
                (
                    [id] => 3945140
                    [name] => Internet
                    [value] => 
                    [group] => GENERAL
                    [unit_id] => 79
                )

            [9] => stdClass Object
                (
                    [id] => 3945141
                    [name] => Iron & Board
                    [value] => 
                    [group] => GENERAL
                    [unit_id] => 79
                )

            [10] => stdClass Object
                (
                    [id] => 3945142
                    [name] => Linens Provided
                    [value] => 
                    [group] => GENERAL
                    [unit_id] => 79
                )

            [11] => stdClass Object
                (
                    [id] => 3945143
                    [name] => Parking
                    [value] => 
                    [group] => GENERAL
                    [unit_id] => 79
                )

            [12] => stdClass Object
                (
                    [id] => 3945144
                    [name] => Telephone
                    [value] => 
                    [group] => GENERAL
                    [unit_id] => 79
                )

            [13] => stdClass Object
                (
                    [id] => 3945145
                    [name] => Towels Provided
                    [value] => 
                    [group] => GENERAL
                    [unit_id] => 79
                )

            [14] => stdClass Object
                (
                    [id] => 3945146
                    [name] => Washing Machine
                    [value] => 
                    [group] => GENERAL
                    [unit_id] => 79
                )

            [15] => stdClass Object
                (
                    [id] => 3945147
                    [name] => Coffee Maker
                    [value] => 
                    [group] => KITCHEN
                    [unit_id] => 79
                )

            [16] => stdClass Object
                (
                    [id] => 3945148
                    [name] => Dishes & Utensils
                    [value] => 
                    [group] => KITCHEN
                    [unit_id] => 79
                )

            [17] => stdClass Object
                (
                    [id] => 3945149
                    [name] => Microwave
                    [value] => 
                    [group] => KITCHEN
                    [unit_id] => 79
                )

            [18] => stdClass Object
                (
                    [id] => 3945150
                    [name] => Toaster
                    [value] => 
                    [group] => KITCHEN
                    [unit_id] => 79
                )

            [19] => stdClass Object
                (
                    [id] => 3945151
                    [name] => Near The Ocean
                    [value] => 
                    [group] => LOCATION_TYPE
                    [unit_id] => 79
                )

            [20] => stdClass Object
                (
                    [id] => 3945152
                    [name] => Resort
                    [value] => 
                    [group] => LOCATION_TYPE
                    [unit_id] => 79
                )

            [21] => stdClass Object
                (
                    [id] => 3945153
                    [name] => Lanai / Gazebo
                    [value] => 
                    [group] => OUTSIDE
                    [unit_id] => 79
                )

            [22] => stdClass Object
                (
                    [id] => 3945154
                    [name] => Outdoor Grill
                    [value] => 
                    [group] => OUTSIDE
                    [unit_id] => 79
                )

            [23] => stdClass Object
                (
                    [id] => 3945155
                    [name] => Tennis
                    [value] => 
                    [group] => OUTSIDE
                    [unit_id] => 79
                )

            [24] => stdClass Object
                (
                    [id] => 3945156
                    [name] => studio
                    [value] => 
                    [group] => ROOM_SUBTYPE
                    [unit_id] => 79
                )

            [25] => stdClass Object
                (
                    [id] => 3945157
                    [name] => non smoking only
                    [value] => 
                    [group] => SUITABILITY
                    [unit_id] => 79
                )

            [26] => stdClass Object
                (
                    [id] => 3945158
                    [name] => Kitchenette
                    [value] => 
                    [group] => Kitchen
                    [unit_id] => 79
                )

            [27] => stdClass Object
                (
                    [id] => 3945159
                    [name] => Mini Fridge
                    [value] => 
                    [group] => Kitchen
                    [unit_id] => 79
                )

            [28] => stdClass Object
                (
                    [id] => 3945160
                    [name] => Ceiling Fans
                    [value] => 
                    [group] => Living
                    [unit_id] => 79
                )

            [29] => stdClass Object
                (
                    [id] => 3945161
                    [name] => Washer & Dryer
                    [value] => 
                    [group] => Living
                    [unit_id] => 79
                )

            [30] => stdClass Object
                (
                    [id] => 3945162
                    [name] => Wifi
                    [value] => 
                    [group] => Living
                    [unit_id] => 79
                )

            [31] => stdClass Object
                (
                    [id] => 3945163
                    [name] => Area FitnessCenter
                    [value] => 
                    [group] => Convenience
                    [unit_id] => 79
                )

            [32] => stdClass Object
                (
                    [id] => 3945164
                    [name] => Nearby Grocery
                    [value] => 
                    [group] => Convenience
                    [unit_id] => 79
                )

            [33] => stdClass Object
                (
                    [id] => 3945165
                    [name] => Nearby Restaurants & Shops
                    [value] => 
                    [group] => Convenience
                    [unit_id] => 79
                )

            [34] => stdClass Object
                (
                    [id] => 3945166
                    [name] => BBQ Grill
                    [value] => 
                    [group] => Outdoor
                    [unit_id] => 79
                )

            [35] => stdClass Object
                (
                    [id] => 3945167
                    [name] => Hot Tub
                    [value] => 
                    [group] => Outdoor
                    [unit_id] => 79
                )

            [36] => stdClass Object
                (
                    [id] => 3945168
                    [name] => Shared Pool
                    [value] => 
                    [group] => Outdoor
                    [unit_id] => 79
                )

            [37] => stdClass Object
                (
                    [id] => 3945169
                    [name] => Beach Towels
                    [value] => 
                    [group] => Outdoor
                    [unit_id] => 79
                )

            [38] => stdClass Object
                (
                    [id] => 3945170
                    [name] => The Cliffs at Princeville
                    [value] => 
                    [group] => Geographic
                    [unit_id] => 79
                )

            [39] => stdClass Object
                (
                    [id] => 3945171
                    [name] => North Shore
                    [value] => 
                    [group] => Geographic
                    [unit_id] => 79
                )

            [40] => stdClass Object
                (
                    [id] => 3945172
                    [name] => Cable TV
                    [value] => 
                    [group] => Entertainment
                    [unit_id] => 79
                )

        )

    [avail] => Array
        (
            [0] => stdClass Object
                (
                    [id] => 13547571
                    [start_date] => 2018-11-17
                    [end_date] => 2018-11-27
                    [unit_id] => 79
                )

            [1] => stdClass Object
                (
                    [id] => 13547572
                    [start_date] => 2018-12-01
                    [end_date] => 2018-12-08
                    [unit_id] => 79
                )

            [2] => stdClass Object
                (
                    [id] => 13547573
                    [start_date] => 2018-12-10
                    [end_date] => 2018-12-14
                    [unit_id] => 79
                )

            [3] => stdClass Object
                (
                    [id] => 13547574
                    [start_date] => 2018-12-15
                    [end_date] => 2018-12-23
                    [unit_id] => 79
                )

            [4] => stdClass Object
                (
                    [id] => 13547575
                    [start_date] => 2018-12-24
                    [end_date] => 2019-01-14
                    [unit_id] => 79
                )

            [5] => stdClass Object
                (
                    [id] => 13547576
                    [start_date] => 2019-01-21
                    [end_date] => 2019-01-28
                    [unit_id] => 79
                )

            [6] => stdClass Object
                (
                    [id] => 13547577
                    [start_date] => 2019-02-02
                    [end_date] => 2019-02-09
                    [unit_id] => 79
                )

            [7] => stdClass Object
                (
                    [id] => 13547578
                    [start_date] => 2019-02-11
                    [end_date] => 2019-02-17
                    [unit_id] => 79
                )

            [8] => stdClass Object
                (
                    [id] => 13547579
                    [start_date] => 2019-02-23
                    [end_date] => 2019-02-27
                    [unit_id] => 79
                )

            [9] => stdClass Object
                (
                    [id] => 13547580
                    [start_date] => 2019-05-17
                    [end_date] => 2019-05-31
                    [unit_id] => 79
                )

        )

    [reviews] => Array
        (
            [0] => stdClass Object
                (
                    [id] => 30050
                    [external_id] => 25470d5f-768d-4fe4-aaab-aedea7ce9a08
                    [prop_id] => 79
                    [review_id] => 0
                    [source] => Escapia
                    [title] => Retirement Celebration Vacation in Kauia
                    [review] => We really enjoyed our 8-day stay at The Cliffs.  The unit was comfortable and clean, the staff so helpful.  The only thing that got old was washing the dishes in the bathroom sink or tub.  This really isn't a studio, it's more like a hotel room with a refrigerator and microwave.  We really enjoyed all the activities that The Cliff offered - pool, hot tub, fitness studio, tennis, shuffleboard, pickleball, food trucks, and even some winetasting on the bluff!  The staff was so helpful with their suggestions of hikes and beaches. We came in on a late flight, so it was dark when we arrived to the condos - not fun being unfamiliar with Princeville, the way the condos were laid out and the dim lighting.  But we called the property managers and they were very helpful. They even called us back the next day to make sure we had settled alright.  Nice folks!       
                    [name] => Janine N.
                    [email] => janinenicol@frontier.com
                    [location] => 
                    [response] => 
                    [response_date] => 
                    [rating] => 5
                    [review_date] => 2018-10-20
                    [featured] => 
                    [status] => 1
                    [checkin_date] => 2018-10-10
                    [nights_stayed] => 8
                    [sfrm] => 5
                    [clean] => 5
                    [rto] => 1
                    [pc] => 5
                    [loc] => 5
                    [meta] => Array
                        (
                        )

                )

            [1] => stdClass Object
                (
                    [id] => 29964
                    [external_id] => 4dc7b46f-66b3-47b3-8efb-dc694223c108
                    [prop_id] => 79
                    [review_id] => 0
                    [source] => Escapia
                    [title] => Perfect spot
                    [review] => The place was in a perfect location. The resort was really nice and friendly. We would stay there again. Mahalo!
                    [name] => 
                    [email] => camille@inkwill.com
                    [location] => 
                    [response] => 
                    [response_date] => 
                    [rating] => 5
                    [review_date] => 2018-08-09
                    [featured] => 
                    [status] => 1
                    [checkin_date] => 2018-08-01
                    [nights_stayed] => 5
                    [sfrm] => 5
                    [clean] => 5
                    [rto] => 1
                    [pc] => 5
                    [loc] => 5
                    [meta] => Array
                        (
                        )

                )

            [2] => stdClass Object
                (
                    [id] => 29925
                    [external_id] => a5977794-4a21-4142-808a-ef5ab3af2cd3
                    [prop_id] => 79
                    [review_id] => 0
                    [source] => Escapia
                    [title] => live in paradise
                    [review] => Great experience, nice room, great location
                    [name] => 
                    [email] => cmitch.331703@guest.booking.com
                    [location] => 
                    [response] => 
                    [response_date] => 
                    [rating] => 5
                    [review_date] => 2018-07-17
                    [featured] => 
                    [status] => 1
                    [checkin_date] => 2018-07-07
                    [nights_stayed] => 5
                    [sfrm] => 5
                    [clean] => 5
                    [rto] => 1
                    [pc] => 4
                    [loc] => 5
                    [meta] => Array
                        (
                        )

                )

            [3] => stdClass Object
                (
                    [id] => 29910
                    [external_id] => 2701b6a7-c007-4b17-ae35-41adbc8be3f6
                    [prop_id] => 79
                    [review_id] => 0
                    [source] => Escapia
                    [title] => Princeville stay
                    [review] => Lovely condo, clean and many personalized items. 
                    [name] => 
                    [email] => Karenrksande@gmail.com
                    [location] => 
                    [response] => 
                    [response_date] => 
                    [rating] => 5
                    [review_date] => 2018-07-06
                    [featured] => 
                    [status] => 1
                    [checkin_date] => 2018-06-27
                    [nights_stayed] => 7
                    [sfrm] => 5
                    [clean] => 5
                    [rto] => 1
                    [pc] => 5
                    [loc] => 5
                    [meta] => Array
                        (
                        )

                )

            [4] => stdClass Object
                (
                    [id] => 29872
                    [external_id] => 6461efdb-3813-4d82-b3fb-dc9a8d5cd665
                    [prop_id] => 79
                    [review_id] => 0
                    [source] => Escapia
                    [title] => North Shore R&R
                    [review] => This was all we needed for a great stay on the beautiful Kauai north shore. Location is excellent; actually just a 10 min walk to the Queen's Bath trail, great paved walking trails along the cliffs and a short 10 min drive to Hanalei or Kilauea and several beautiful beaches. The property is older, but well maintained with such friendly staff. Everyone from the front desk to concierge to grounds crews were always lovely. Also enjoyed many sunsets from the cliff top Muskoka chairs. Excellent amenities: pool, tennis courts, shuffleboards, BBQs on the grounds and you can borrow board games, boogie boards, beach chairs, etc. Anything you need. The room was basic but clean; like a hotel room (bed/bathroom/patio/mini fridge) and with plates, cutlery, etc. so you can prep and enjoy some lighter meals on your own. Note no ocean view from the room. 
                    [name] => Nikki T.
                    [email] => nikki.grant@gmail.com
                    [location] => 
                    [response] => 
                    [response_date] => 
                    [rating] => 4
                    [review_date] => 2018-06-10
                    [featured] => 
                    [status] => 1
                    [checkin_date] => 2018-05-15
                    [nights_stayed] => 7
                    [sfrm] => 5
                    [clean] => 4
                    [rto] => 1
                    [pc] => 4
                    [loc] => 5
                    [meta] => Array
                        (
                        )

                )

            [5] => stdClass Object
                (
                    [id] => 29858
                    [external_id] => 4a56eb5a-4837-4114-9357-ff05613b076f
                    [prop_id] => 79
                    [review_id] => 0
                    [source] => Escapia
                    [title] => Paradise
                    [review] => The property was in a great location for Noeth shore activities. The condo however was only partially updated. The bathroom was not great. You couldn't take a bath in the tub as the drain was broken. Fixtures were very old and looked dirty/rusty.
                    [name] => 
                    [email] => aprilmoonbrady@gmail.com
                    [location] => 
                    [response] => 
                    [response_date] => 
                    [rating] => 5
                    [review_date] => 2018-05-31
                    [featured] => 
                    [status] => 1
                    [checkin_date] => 2018-05-10
                    [nights_stayed] => 5
                    [sfrm] => 2
                    [clean] => 4
                    [rto] => 1
                    [pc] => 2
                    [loc] => 4
                    [meta] => Array
                        (
                        )

                )

            [6] => stdClass Object
                (
                    [id] => 29823
                    [external_id] => a5d8456a-9195-4045-9b3a-4d7695f17780
                    [prop_id] => 79
                    [review_id] => 0
                    [source] => Escapia
                    [title] => Wonderful Unit
                    [review] => We were very satisfied with our unit. We found it exactly as the pictures posted  and unit description on the website. It was comfortable, clean, and the resort was fantastic. We were very impressed with the pool area and enjoyed it thoroughly. We would definitely recommend the unit & resort. 

                    [name] => 
                    [email] => chattyniss@gmail.com
                    [location] => 
                    [response] => Aloha and thank you for choosing to stay with us. We are so happy to hear you enjoyed your unit and resort and hope you will return again in the future.  Mahalo, Garden Island Properties
                    [response_date] => 2018-05-15
                    [rating] => 5
                    [review_date] => 2018-05-09
                    [featured] => 
                    [status] => 1
                    [checkin_date] => 2018-04-18
                    [nights_stayed] => 5
                    [sfrm] => 5
                    [clean] => 5
                    [rto] => 1
                    [pc] => 5
                    [loc] => 5
                    [meta] => Array
                        (
                        )

                )

        )

    [rateaddons] => Array
        (
        )

    [unit_meta] => Array
        (
            [0] => stdClass Object
                (
                    [id] => 494674
                    [unit_id] => 79
                    [key] => DisplayRate
                    [value] => Starting From $100 per night
                )

            [1] => stdClass Object
                (
                    [id] => 494675
                    [unit_id] => 79
                    [key] => Location
                    [value] => Princeville
                )

            [2] => stdClass Object
                (
                    [id] => 494676
                    [unit_id] => 79
                    [key] => LocationField
                    [value] => Garden Island Properties, LLC
                )

            [3] => stdClass Object
                (
                    [id] => 494677
                    [unit_id] => 79
                    [key] => Property Type
                    [value] => Condo
                )

            [4] => stdClass Object
                (
                    [id] => 494678
                    [unit_id] => 79
                    [key] => View
                    [value] => Garden View
                )

            [5] => stdClass Object
                (
                    [id] => 494679
                    [unit_id] => 79
                    [key] => MinLOS
                    [value] => 4
                )

            [6] => stdClass Object
                (
                    [id] => 494680
                    [unit_id] => 79
                    [key] => StayContext
                    [value] => Checkin
                )

            [7] => stdClass Object
                (
                    [id] => 494681
                    [unit_id] => 79
                    [key] => StayDays
                    [value] => a:7:{i:0;s:3:"Mon";i:1;s:3:"Tue";i:2;s:4:"Weds";i:3;s:4:"Thur";i:4;s:3:"Fri";i:5;s:3:"Sat";i:6;s:3:"Sun";}
                )

            [8] => stdClass Object
                (
                    [id] => 495039
                    [unit_id] => 79
                    [key] => Agreement
                    [value] => GUEST AGREEMENT 
RELATES TO ALL PROPERTIES. PLEASE READ THIS CONTRACT CAREFULLY. 
BY CLICKING ON THE ACCEPT BUTTON YOU (either an individual or a single entity) AGREE THAT THIS AGREEMENT IS ENFORCEABLE LIKE ANY WRITTEN CONTRACT SIGNED BY YOU. 

SECURITY D
                )

        )

    [minnights] => Array
        (
            [0] => stdClass Object
                (
                    [id] => 753852
                    [start_date] => 2018-04-01
                    [end_date] => 2018-12-14
                    [prop_id] => 79
                    [nights] => 4
                    [rate_type] => Daily
                )

            [1] => stdClass Object
                (
                    [id] => 753853
                    [start_date] => 2018-04-01
                    [end_date] => 2018-12-14
                    [prop_id] => 79
                    [nights] => 7
                    [rate_type] => Weekly
                )

            [2] => stdClass Object
                (
                    [id] => 753854
                    [start_date] => 2018-12-15
                    [end_date] => 2019-01-15
                    [prop_id] => 79
                    [nights] => 4
                    [rate_type] => Daily
                )

            [3] => stdClass Object
                (
                    [id] => 753855
                    [start_date] => 2018-12-15
                    [end_date] => 2019-01-15
                    [prop_id] => 79
                    [nights] => 7
                    [rate_type] => Weekly
                )

            [4] => stdClass Object
                (
                    [id] => 753856
                    [start_date] => 2018-12-15
                    [end_date] => 2019-01-15
                    [prop_id] => 79
                    [nights] => 30
                    [rate_type] => Monthly
                )

            [5] => stdClass Object
                (
                    [id] => 753857
                    [start_date] => 2019-01-16
                    [end_date] => 2019-03-31
                    [prop_id] => 79
                    [nights] => 4
                    [rate_type] => Daily
                )

            [6] => stdClass Object
                (
                    [id] => 753858
                    [start_date] => 2019-01-16
                    [end_date] => 2019-03-31
                    [prop_id] => 79
                    [nights] => 7
                    [rate_type] => Weekly
                )

            [7] => stdClass Object
                (
                    [id] => 753859
                    [start_date] => 2019-01-16
                    [end_date] => 2019-03-31
                    [prop_id] => 79
                    [nights] => 30
                    [rate_type] => Monthly
                )

            [8] => stdClass Object
                (
                    [id] => 753860
                    [start_date] => 2019-04-01
                    [end_date] => 2019-12-14
                    [prop_id] => 79
                    [nights] => 4
                    [rate_type] => Daily
                )

            [9] => stdClass Object
                (
                    [id] => 753861
                    [start_date] => 2019-04-01
                    [end_date] => 2019-12-14
                    [prop_id] => 79
                    [nights] => 7
                    [rate_type] => Weekly
                )

            [10] => stdClass Object
                (
                    [id] => 753862
                    [start_date] => 2019-04-01
                    [end_date] => 2019-12-14
                    [prop_id] => 79
                    [nights] => 30
                    [rate_type] => Monthly
                )

        )

    [manager] => stdClass Object
        (
            [id] => 1
            [ManagerID] => 1
            [Name] => Escapia
            [Vendor] => Escapia
            [Contract] => 
            [random] => 0
            [pms] => 
            [last_update] => 0000-00-00 00:00:00
        )

    [flipkey] => 
    [additonal] => stdClass Object
        (
            [DisplayRate] => Starting From $100 per night
            [Location] => Princeville
            [LocationField] => Garden Island Properties, LLC
            [Property Type] => Condo
            [View] => Garden View
            [MinLOS] => 4
            [StayContext] => Checkin
            [StayDays] => Array
                (
                    [0] => Mon
                    [1] => Tue
                    [2] => Weds
                    [3] => Thur
                    [4] => Fri
                    [5] => Sat
                    [6] => Sun
                )

            [Agreement] => GUEST AGREEMENT 
RELATES TO ALL PROPERTIES. PLEASE READ THIS CONTRACT CAREFULLY. 
BY CLICKING ON THE ACCEPT BUTTON YOU (either an individual or a single entity) AGREE THAT THIS AGREEMENT IS ENFORCEABLE LIKE ANY WRITTEN CONTRACT SIGNED BY YOU. 

SECURITY D
        )

    [checkinout] => Array
        (
        )

    [special] => Array
        (
        )

    [hasSpecial] => 
)
                    
Holiday Rates apply between 12/15 - 1/5