banyan harbor resort #c-33 - walk to beach, wifi, ac, pool, parking, laundry
2 Bedroom(s) | 1.5 Bathroom(s) | Sleeps 5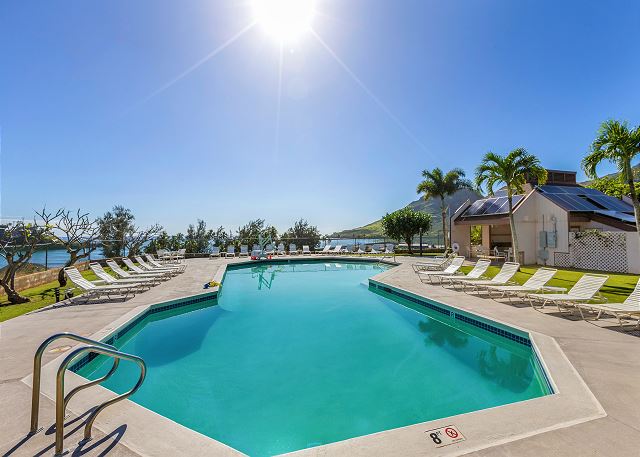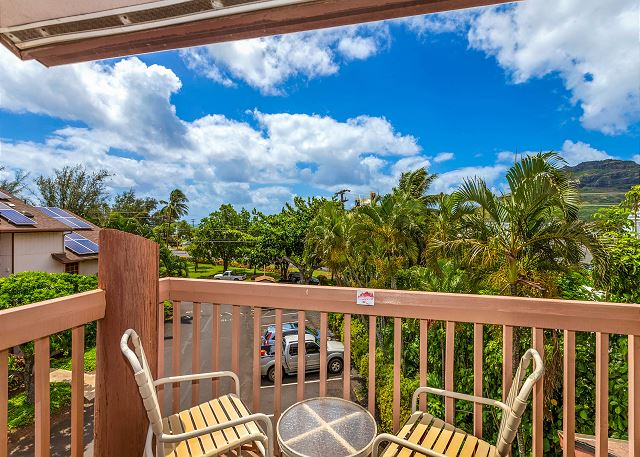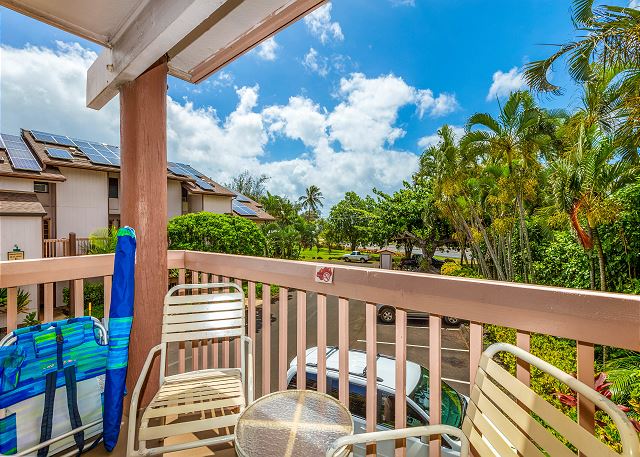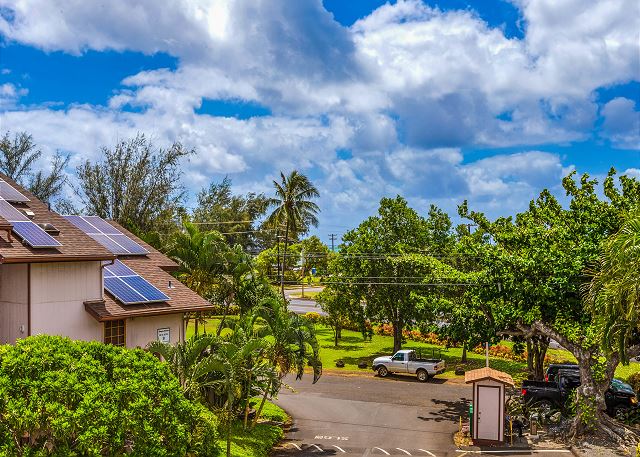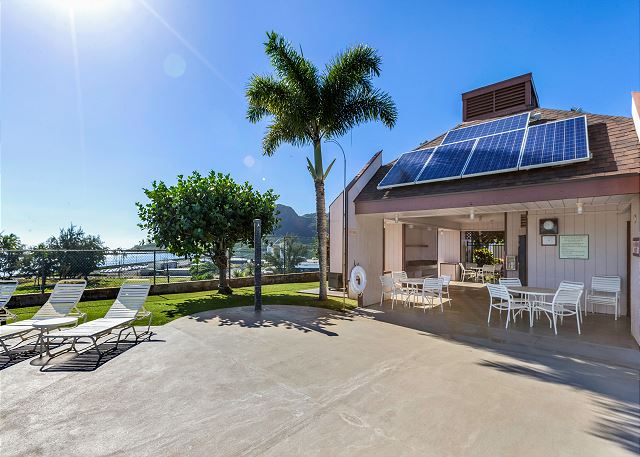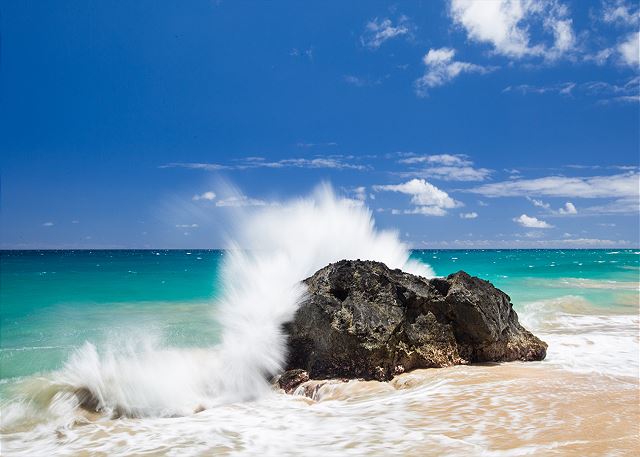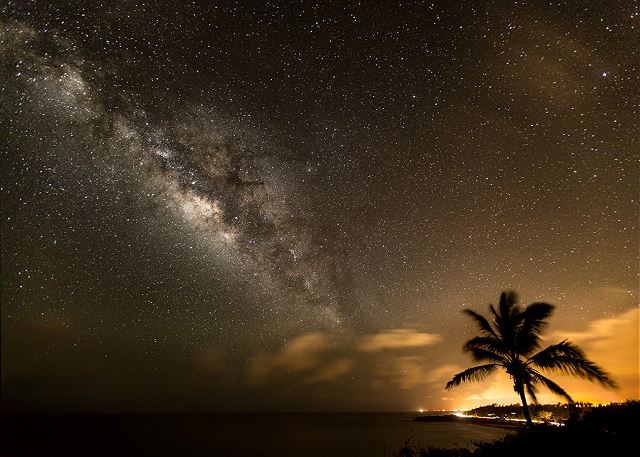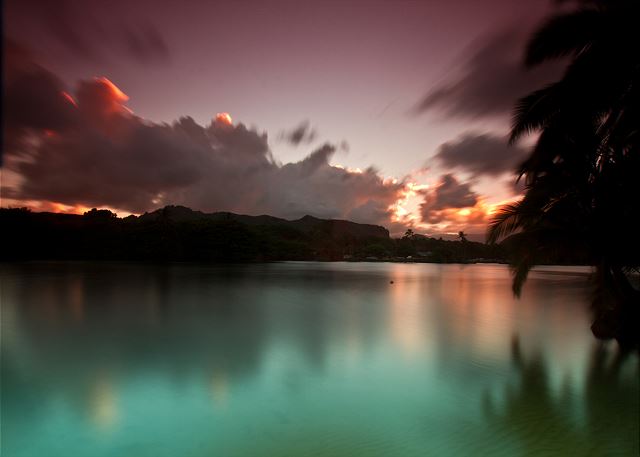 Banyan Harbor #C33, Kauai Vacation Rental, Lihue Hawaii. Centrally located on Kauai.

*No Resort Fees * Complimentary Wifi and Parking * AC * Heated Pool * Walk to Beach*



We have implemented enhanced cleaning and disinfecting guidelines as well as infection prevention advice provided by the CDC.



This 2nd floor, 2 bedroom, 1.5 bath fully equipped condo with Air Conditioning, Full Kitchen and Washer/Dryer is centrally located in Lihue just steps to beautiful Kalapaki Bay and the Kauai Mariott Resort Grounds. Watch the cruise ships come in from Nawiliwili Harbor. AC units located in the living room and bedrooms. Queen beds in bedroom 1 and 2. Full size Sofa Sleeper in the living room. Sleeps up to 5 guests.



A short 2 miles to the Lihue Airport or Kukui Grove Shopping Center, you have everything you need in the vicinity. This spacious and budget friendly condo is perfect for those looking to adventure around Kaua'i. Enjoy beach activities at nearby Kalapaki Bay or relax at the resort's heated pool. The fully equipped kitchen allows you to dine in and enjoy the afternoon sunsets from one of two private lanais. If you prefer to dine out, take a short stroll to one of many nearby restaurants; Dukes Canoe Club with spectacular ocean-views, Kukui's Restaurant at the Kauai Marriott or JJ's Broiler just to name a few. Short stroll to Nawiliwili Park and Nawiliwili Bay.



Enjoy cool breezes and afternoon sunsets from your tropical condo. The property is equipped with a heated pool, BBQ grills, tennis, shuffleboard, and water sports on beautiful Kalapaki Beach which is a short walk or drive from the property. The Kauai Marriott Hotel, Hokuala Golf Course, Kaua'i Athletic Club and many other shops, restaurants and night-life are all within walking distance from your condo.



This is a non-smoking property.

This is a privately owned unit managed by Garden Island Properties, (

TAT ID#: TA-010-333-5936-01
Amenities

Combination tub/shower
King
Queen
Sleep sofa /futon
Satellite / Cable
Television
Air Conditioning
Clothes Dryer
Hair Dryer
Internet
Iron & Board
Linens Provided
Living Room
Parking
Towels Provided
Washing Machine
Wifi
Free Wifi
Coffee Maker
Dishes & Utensils
Dishwasher
Kitchen
Microwave
Oven
Refrigerator
Stove
Toaster
Balcony
Deck / Patio
Outdoor Grill
Tennis
Heated Pool
Children welcome
Non smoking only
Pets not allowed
Flexible
Recommended
Smoke detectors
Emergency phone number: Medical
Emergency phone number: Police
Emergency phone number: Fire
Enhanced cleaning practices
Clean with disinfectant
High touch surfaces cleaned with disinfectant
Towels and bedding washed in water that's at least 60sC/140sF
1 day (24 hours)
Cookware
Blender
Air Conditioning
Ceiling Fans
Washer & Dryer
High Speed Internet
Wifi
Beach Towels
Hair Dryer
Balcony
BBQ Grill
Beach Chairs
Heated Pool
Beach Towels
Near Beach
Close to Town
Kalapaki, Lihue
Banyan Harbor Resort
---
Great time at Banyan Harbor Resort.
Sep 16, 2021
The condo is clean and nice. Beach chairs and cooler is a plus. Swimming pool is nice with bbq grill that you can use while your family is swimming. We had a blast! Will come back when pandemic is over.
---
Awesome Vacation Rental in Kauai
Jul 01, 2021
My wife and I visited Kauai for the first time and decided to rent a 2 bedrooms condo in Lihue, which is very close to the airport and restaurants. The location is perfect, specially if you don't have a rental car. The. I do is equipped with washer & dryer, full kitchen facilities and utensils. The rental cost is reasonable. Easy checked in process with nice and accommodating staff. The online check out process is very convenient and user friendly. Kudos to Garden Island Properties staff for their thorough online instructions. They called me to welcome us and offered any further assistance and information they can provide, including the latest information on COVID-19 situations and visitors requirements traveling to the island. We do appreciate the constant follow up communication to keep us abreast of the current situation to avoid any confusion and surprises. Thank you for the overall awesome experience of the accommodations! Until next time, Kauai!
---
Comfortable
May 05, 2021
Comfortable place, has all amenities, central location. A little out dated place, dryer not effective and the towels were stinky. But we had a wonderful time there.
---
Nice place
Feb 10, 2020
Great Location, close to many restaurants and amenities. Plenty of choices.Nice unit, clean and well kept. Lots of extras like picnic cooler, towels and that sort of things. Stocked with everything one would need.View and neighborhood, both fine.
---
Clean well maintained property
Jan 01, 2020
Good experience, we've stayed at the Banyan Harbour before and would stay again. Nice to have the option for barbecuing , too bad the weather wasn't better when we were there!
---
A week at the harbor
Nov 06, 2019
Overall, it was much more than expected, this is really a great location, accommodation was better than expected.
---
Awesome stay
Jul 22, 2019
We had an awesome stay in this condo. Everything was provited, incl.perfect beach gear. The condo is big and had aircondition and 3 balconys. The pool is on the hill and there is a beatyfull view to the beach. If we come again to Kauai we will stay here again. Amazing!
---
Banyan Harbor C-33 Review
Jun 12, 2019
The place wasn't bad, but was dated. The front desk was helpful and nice. Inside the unit, it had what looked like early 2000's decor and the carpet was well worn both upstairs and down. At night you could hear a lot of traffic and noise from the road/port. The one new thing was the new counter top on top of very aged cabinets. The grill and pool area at the resort was nice and it was centrally located for what we were doing on the island. Not too bad for the price.
---
Fantabulous
May 18, 2019
Fantastic time, great location. We will certainly be back on our next visit.
---
Review
Apr 12, 2019
Great!
---
Nice, clean convenient condo
Oct 29, 2018
We liked the condo, it was very clean and quiet. It was fully equipped with all the things that we needed. Loved that we had beach chairs, beach towels and umbrella to use. Wish the view was nicer, we love to sit outside but were not crazy about overlooking the parking lot.
---
Clean and Good Value
Aug 25, 2018
This condo easily met our needs! Also, I have rented many beach houses over the last 30 years and this was hands down, the cleanest unit I have ever stayed in. The condo was also well appointed with everything a small family needs for cooking in and days at the beach. The view from the balconies is only a peek-a-boo ocean view due to the placement of the building on the property, but the beach is just a short walk across the street and park. And the lack of a full ocean view is more than reflected in the price. As always, Garden Island Properties was polite, professional, and easy to work with.
---
Location was grear!
Jul 30, 2018
The rental was exactly as expected. It was clean and well set up to cook our own meals. The "laundry starter kit" with the pods were such a nice touch. Plenty of towels, for bathing and beach. 3 balconies was so nice too!! I would definitely go back again.
---
Perfect place in Lihue
Jul 16, 2018
We spent a week in June 2018 at Banyan Harbor Resort. The place is perfectly located on the island, close to beach and few restaurants. Condo was clean and functional. As described. Highly recommend.
Book Your Stay!
Select your arrival and departure dates below to reserve this unit.


September 2021

| S | M | T | W | T | F | S |
| --- | --- | --- | --- | --- | --- | --- |
| | | | 01 | 02 | 03 | 04 |
| 05 | 06 | 07 | 08 | 09 | 10 | 11 |
| 12 | 13 | 14 | 15 | 16 | 17 | 18 |
| 19 | 20 | 21 | 22 | 23 | 24 | 25 |
| 26 | 27 | 28 | 29 | 30 | | |
October 2021

| S | M | T | W | T | F | S |
| --- | --- | --- | --- | --- | --- | --- |
| | | | | | 01 | 02 |
| 03 | 04 | 05 | 06 | 07 | 08 | 09 |
| 10 | 11 | 12 | 13 | 14 | 15 | 16 |
| 17 | 18 | 19 | 20 | 21 | 22 | 23 |
| 24 | 25 | 26 | 27 | 28 | 29 | 30 |
| 31 | | | | | | |
November 2021

| S | M | T | W | T | F | S |
| --- | --- | --- | --- | --- | --- | --- |
| | 01 | 02 | 03 | 04 | 05 | 06 |
| 07 | 08 | 09 | 10 | 11 | 12 | 13 |
| 14 | 15 | 16 | 17 | 18 | 19 | 20 |
| 21 | 22 | 23 | 24 | 25 | 26 | 27 |
| 28 | 29 | 30 | | | | |
December 2021

| S | M | T | W | T | F | S |
| --- | --- | --- | --- | --- | --- | --- |
| | | | 01 | 02 | 03 | 04 |
| 05 | 06 | 07 | 08 | 09 | 10 | 11 |
| 12 | 13 | 14 | 15 | 16 | 17 | 18 |
| 19 | 20 | 21 | 22 | 23 | 24 | 25 |
| 26 | 27 | 28 | 29 | 30 | 31 | |
January 2022

| S | M | T | W | T | F | S |
| --- | --- | --- | --- | --- | --- | --- |
| | | | | | | 01 |
| 02 | 03 | 04 | 05 | 06 | 07 | 08 |
| 09 | 10 | 11 | 12 | 13 | 14 | 15 |
| 16 | 17 | 18 | 19 | 20 | 21 | 22 |
| 23 | 24 | 25 | 26 | 27 | 28 | 29 |
| 30 | 31 | | | | | |
February 2022

| S | M | T | W | T | F | S |
| --- | --- | --- | --- | --- | --- | --- |
| | | 01 | 02 | 03 | 04 | 05 |
| 06 | 07 | 08 | 09 | 10 | 11 | 12 |
| 13 | 14 | 15 | 16 | 17 | 18 | 19 |
| 20 | 21 | 22 | 23 | 24 | 25 | 26 |
| 27 | 28 | | | | | |
March 2022

| S | M | T | W | T | F | S |
| --- | --- | --- | --- | --- | --- | --- |
| | | 01 | 02 | 03 | 04 | 05 |
| 06 | 07 | 08 | 09 | 10 | 11 | 12 |
| 13 | 14 | 15 | 16 | 17 | 18 | 19 |
| 20 | 21 | 22 | 23 | 24 | 25 | 26 |
| 27 | 28 | 29 | 30 | 31 | | |
April 2022

| S | M | T | W | T | F | S |
| --- | --- | --- | --- | --- | --- | --- |
| | | | | | 01 | 02 |
| 03 | 04 | 05 | 06 | 07 | 08 | 09 |
| 10 | 11 | 12 | 13 | 14 | 15 | 16 |
| 17 | 18 | 19 | 20 | 21 | 22 | 23 |
| 24 | 25 | 26 | 27 | 28 | 29 | 30 |
May 2022

| S | M | T | W | T | F | S |
| --- | --- | --- | --- | --- | --- | --- |
| 01 | 02 | 03 | 04 | 05 | 06 | 07 |
| 08 | 09 | 10 | 11 | 12 | 13 | 14 |
| 15 | 16 | 17 | 18 | 19 | 20 | 21 |
| 22 | 23 | 24 | 25 | 26 | 27 | 28 |
| 29 | 30 | 31 | | | | |
June 2022

| S | M | T | W | T | F | S |
| --- | --- | --- | --- | --- | --- | --- |
| | | | 01 | 02 | 03 | 04 |
| 05 | 06 | 07 | 08 | 09 | 10 | 11 |
| 12 | 13 | 14 | 15 | 16 | 17 | 18 |
| 19 | 20 | 21 | 22 | 23 | 24 | 25 |
| 26 | 27 | 28 | 29 | 30 | | |
July 2022

| S | M | T | W | T | F | S |
| --- | --- | --- | --- | --- | --- | --- |
| | | | | | 01 | 02 |
| 03 | 04 | 05 | 06 | 07 | 08 | 09 |
| 10 | 11 | 12 | 13 | 14 | 15 | 16 |
| 17 | 18 | 19 | 20 | 21 | 22 | 23 |
| 24 | 25 | 26 | 27 | 28 | 29 | 30 |
| 31 | | | | | | |
August 2022

| S | M | T | W | T | F | S |
| --- | --- | --- | --- | --- | --- | --- |
| | 01 | 02 | 03 | 04 | 05 | 06 |
| 07 | 08 | 09 | 10 | 11 | 12 | 13 |
| 14 | 15 | 16 | 17 | 18 | 19 | 20 |
| 21 | 22 | 23 | 24 | 25 | 26 | 27 |
| 28 | 29 | 30 | 31 | | | |
September 2022

| S | M | T | W | T | F | S |
| --- | --- | --- | --- | --- | --- | --- |
| | | | | 01 | 02 | 03 |
| 04 | 05 | 06 | 07 | 08 | 09 | 10 |
| 11 | 12 | 13 | 14 | 15 | 16 | 17 |
| 18 | 19 | 20 | 21 | 22 | 23 | 24 |
| 25 | 26 | 27 | 28 | 29 | 30 | |
October 2022

| S | M | T | W | T | F | S |
| --- | --- | --- | --- | --- | --- | --- |
| | | | | | | 01 |
| 02 | 03 | 04 | 05 | 06 | 07 | 08 |
| 09 | 10 | 11 | 12 | 13 | 14 | 15 |
| 16 | 17 | 18 | 19 | 20 | 21 | 22 |
| 23 | 24 | 25 | 26 | 27 | 28 | 29 |
| 30 | 31 | | | | | |
November 2022

| S | M | T | W | T | F | S |
| --- | --- | --- | --- | --- | --- | --- |
| | | 01 | 02 | 03 | 04 | 05 |
| 06 | 07 | 08 | 09 | 10 | 11 | 12 |
| 13 | 14 | 15 | 16 | 17 | 18 | 19 |
| 20 | 21 | 22 | 23 | 24 | 25 | 26 |
| 27 | 28 | 29 | 30 | | | |
December 2022

| S | M | T | W | T | F | S |
| --- | --- | --- | --- | --- | --- | --- |
| | | | | 01 | 02 | 03 |
| 04 | 05 | 06 | 07 | 08 | 09 | 10 |
| 11 | 12 | 13 | 14 | 15 | 16 | 17 |
| 18 | 19 | 20 | 21 | 22 | 23 | 24 |
| 25 | 26 | 27 | 28 | 29 | 30 | 31 |
Available
Unavailable
Check-In Only
Check-Out Only
Seasonal Rates
Starting from $150 per night

                    stdClass Object
(
    [id] => 85
    [ManagerID] => 1
    [ComplexID] => 0
    [Name] => Banyan Harbor Resort #C-33 - Walk to Beach, Wifi, AC, Pool, Parking, Laundry
    [PropertyCode] => 2064-149781
    [Address1] => 3411 Wilcox Road #C33
    [Address2] => 
    [City] => Lihue
    [State] => HI
    [Country] => US
    [PostalCode] => 
    [Province] => 
    [Bedrooms] => 2
    [Bathrooms] => 1.5
    [Beds] => {"Queen":2,"Sofa Bed":1}
    [Type] => Condominium
    [Area] => 
    [Location] => Garden Island Properties, LLC
    [View] => Mountain View
    [Video] => 
    [lat] => 21.958551
    [long] => -159.355071
    [map_id] => 0
    [Complex] => 54
    [Description] => Banyan Harbor #C33, Kauai Vacation Rental, Lihue Hawaii.  Centrally located on Kauai.

*No Resort Fees * Complimentary Wifi and Parking * AC * Heated Pool * Walk to Beach*



We have implemented enhanced cleaning and disinfecting guidelines as well as infection prevention advice provided by the CDC.



This 2nd floor, 2 bedroom, 1.5 bath fully equipped condo with Air Conditioning, Full Kitchen and Washer/Dryer is centrally located in Lihue just steps to beautiful Kalapaki Bay and the Kauai Mariott Resort Grounds.  Watch the cruise ships come in from Nawiliwili Harbor.  AC units located in the living room and bedrooms. Queen beds in bedroom 1 and 2.  Full size Sofa Sleeper in the living room. Sleeps up to 5 guests.



A short 2 miles to the Lihue Airport or Kukui Grove Shopping Center, you have everything you need in the vicinity. This spacious and budget friendly condo is perfect for those looking to adventure around Kaua'i. Enjoy beach activities at nearby Kalapaki Bay or relax at the resort's heated pool.  The fully equipped kitchen allows you to dine in and enjoy the afternoon sunsets from one of two private lanais. If you prefer to dine out, take a short stroll to one of many nearby restaurants; Dukes Canoe Club with spectacular ocean-views, Kukui's Restaurant at the Kauai Marriott or JJ's Broiler just to name a few.  Short stroll to Nawiliwili Park and Nawiliwili Bay.



Enjoy cool breezes and afternoon sunsets from your tropical condo.  The property is equipped with a heated pool, BBQ grills, tennis, shuffleboard, and water sports on beautiful Kalapaki Beach which is a short walk or drive from the property.  The Kauai Marriott Hotel, Hokuala Golf Course, Kaua'i Athletic Club and many other shops, restaurants and night-life are all within walking distance from your condo. 



This is a non-smoking property.

This is a privately owned unit managed by Garden Island Properties, (

TAT ID#:  TA-010-333-5936-01
    [ShortDescription] => Banyan Harbor #C33, Kauai Vacation Rental is centrally located in Lihue. Walk to Kalapaki Bay and just minutes from the Lihue Airport & Lihue town with Kauai's largest shopping center and only movie theater. Comfortable and spacious 2 bedroom condo.
    [Sleeps] => 5
    [MaxAdult] => 0
    [MaxSearchMonths] => 48
    [Status] => Active
    [page_slug] => Banyan_Harbor_Resort_C-33_-_Walk_to_Beach_Wifi_AC_Pool_Parking_Laundry-2064-149781-1
    [SEOTitle] => BANYAN HARBOR RESORT #C-33, 2 BEDROOM, TOP FLOOR
    [SEODescription] => Banyan Harbor Resort #C-33 - Walk to Beach, Wifi, AC, Pool, Parking, Laundry
    [Featured] => 0
    [created] => 0000-00-00 00:00:00
    [updated] => 2021-09-26 08:46:00
    [internalcode] => BAN C33
    [photos] => Array
        (
            [0] => stdClass Object
                (
                    [id] => 3865202
                    [unit_id] => 85
                    [url] => https://pictures.escapia.com/GAISPR/149781/0118820276.jpg
                    [thumb_url] => https://pictures.escapia.com/GAISPR/149781/0118820276.jpg
                     => Heated Pool with Ocean Views
                    [sort] => 0
                )

            [1] => stdClass Object
                (
                    [id] => 3865203
                    [unit_id] => 85
                    [url] => https://pictures.escapia.com/GAISPR/149781/4977470981.jpg
                    [thumb_url] => https://pictures.escapia.com/GAISPR/149781/4977470981.jpg
                     => One of three lanais
                    [sort] => 1
                )

            [2] => stdClass Object
                (
                    [id] => 3865204
                    [unit_id] => 85
                    [url] => https://pictures.escapia.com/GAISPR/149781/3359510421.jpg
                    [thumb_url] => https://pictures.escapia.com/GAISPR/149781/3359510421.jpg
                     => 1st Level Living Area
                    [sort] => 2
                )

            [3] => stdClass Object
                (
                    [id] => 3865205
                    [unit_id] => 85
                    [url] => https://pictures.escapia.com/GAISPR/149781/7003970892.jpg
                    [thumb_url] => https://pictures.escapia.com/GAISPR/149781/7003970892.jpg
                     => Living area with full size sleeper and outside lanai
                    [sort] => 3
                )

            [4] => stdClass Object
                (
                    [id] => 3865206
                    [unit_id] => 85
                    [url] => https://pictures.escapia.com/GAISPR/149781/4263330976.jpg
                    [thumb_url] => https://pictures.escapia.com/GAISPR/149781/4263330976.jpg
                     => Beach chairs, cooler  and umbrella provided
                    [sort] => 4
                )

            [5] => stdClass Object
                (
                    [id] => 3865207
                    [unit_id] => 85
                    [url] => https://pictures.escapia.com/GAISPR/149781/1943340007.jpg
                    [thumb_url] => https://pictures.escapia.com/GAISPR/149781/1943340007.jpg
                     => 1st Level including kitchen, dining and living area.
                    [sort] => 5
                )

            [6] => stdClass Object
                (
                    [id] => 3865208
                    [unit_id] => 85
                    [url] => https://pictures.escapia.com/GAISPR/149781/6173550795.jpg
                    [thumb_url] => https://pictures.escapia.com/GAISPR/149781/6173550795.jpg
                     => Dining and kitchen towards front door entry.
                    [sort] => 6
                )

            [7] => stdClass Object
                (
                    [id] => 3865209
                    [unit_id] => 85
                    [url] => https://pictures.escapia.com/GAISPR/149781/2829950880.jpg
                    [thumb_url] => https://pictures.escapia.com/GAISPR/149781/2829950880.jpg
                     => Full kitchen for indoor dining.
                    [sort] => 7
                )

            [8] => stdClass Object
                (
                    [id] => 3865210
                    [unit_id] => 85
                    [url] => https://pictures.escapia.com/GAISPR/149781/7261950452.jpg
                    [thumb_url] => https://pictures.escapia.com/GAISPR/149781/7261950452.jpg
                     => Fully stocked kitchen
                    [sort] => 8
                )

            [9] => stdClass Object
                (
                    [id] => 3865211
                    [unit_id] => 85
                    [url] => https://pictures.escapia.com/GAISPR/149781/9534140821.jpg
                    [thumb_url] => https://pictures.escapia.com/GAISPR/149781/9534140821.jpg
                     => Full kitchen for "home cooked" meals.
                    [sort] => 9
                )

            [10] => stdClass Object
                (
                    [id] => 3865212
                    [unit_id] => 85
                    [url] => https://pictures.escapia.com/GAISPR/149781/5920490901.jpg
                    [thumb_url] => https://pictures.escapia.com/GAISPR/149781/5920490901.jpg
                     => Master bedroom with Queen bed upstairs, window AC & lanai
                    [sort] => 10
                )

            [11] => stdClass Object
                (
                    [id] => 3865213
                    [unit_id] => 85
                    [url] => https://pictures.escapia.com/GAISPR/149781/2016800781.jpg
                    [thumb_url] => https://pictures.escapia.com/GAISPR/149781/2016800781.jpg
                     => Master bedroom with Queen bed, AC, lanai on upper level
                    [sort] => 11
                )

            [12] => stdClass Object
                (
                    [id] => 3865214
                    [unit_id] => 85
                    [url] => https://pictures.escapia.com/GAISPR/149781/4185000042.jpg
                    [thumb_url] => https://pictures.escapia.com/GAISPR/149781/4185000042.jpg
                     => Bedroom lanai distanct peek-a-boo ocean view
                    [sort] => 12
                )

            [13] => stdClass Object
                (
                    [id] => 3865215
                    [unit_id] => 85
                    [url] => https://pictures.escapia.com/GAISPR/149781/7787830767.jpg
                    [thumb_url] => https://pictures.escapia.com/GAISPR/149781/7787830767.jpg
                     => 2nd bedroom on upper level
                    [sort] => 13
                )

            [14] => stdClass Object
                (
                    [id] => 3865216
                    [unit_id] => 85
                    [url] => https://pictures.escapia.com/GAISPR/149781/4123890917.jpg
                    [thumb_url] => https://pictures.escapia.com/GAISPR/149781/4123890917.jpg
                     => Second bedroom with Queen bed and AC
                    [sort] => 14
                )

            [15] => stdClass Object
                (
                    [id] => 3865217
                    [unit_id] => 85
                    [url] => https://pictures.escapia.com/GAISPR/149781/4138670378.jpg
                    [thumb_url] => https://pictures.escapia.com/GAISPR/149781/4138670378.jpg
                     => Upstairs bathroom with tub shower
                    [sort] => 15
                )

            [16] => stdClass Object
                (
                    [id] => 3865218
                    [unit_id] => 85
                    [url] => https://pictures.escapia.com/GAISPR/149781/3172490211.jpg
                    [thumb_url] => https://pictures.escapia.com/GAISPR/149781/3172490211.jpg
                     => Full Bathroom and Laundry
                    [sort] => 16
                )

            [17] => stdClass Object
                (
                    [id] => 3865219
                    [unit_id] => 85
                    [url] => https://pictures.escapia.com/GAISPR/149781/3859730464.jpg
                    [thumb_url] => https://pictures.escapia.com/GAISPR/149781/3859730464.jpg
                     => Bathtub after beach days.
                    [sort] => 17
                )

            [18] => stdClass Object
                (
                    [id] => 3865220
                    [unit_id] => 85
                    [url] => https://pictures.escapia.com/GAISPR/149781/2943790029.jpg
                    [thumb_url] => https://pictures.escapia.com/GAISPR/149781/2943790029.jpg
                     => Downstairs half bathroom
                    [sort] => 18
                )

            [19] => stdClass Object
                (
                    [id] => 3865221
                    [unit_id] => 85
                    [url] => https://pictures.escapia.com/GAISPR/149781/5595110410.jpg
                    [thumb_url] => https://pictures.escapia.com/GAISPR/149781/5595110410.jpg
                     => Pool House Area overloking Kalapaki Bay and Mt. Haupu
                    [sort] => 19
                )

            [20] => stdClass Object
                (
                    [id] => 3865222
                    [unit_id] => 85
                    [url] => https://pictures.escapia.com/GAISPR/149781/1696770958.jpg
                    [thumb_url] => https://pictures.escapia.com/GAISPR/149781/1696770958.jpg
                     => Photo by Kahahawai Photography
                    [sort] => 20
                )

            [21] => stdClass Object
                (
                    [id] => 3865223
                    [unit_id] => 85
                    [url] => https://pictures.escapia.com/GAISPR/149781/3400210119.jpg
                    [thumb_url] => https://pictures.escapia.com/GAISPR/149781/3400210119.jpg
                     => Beautiful Kaua'i
                    [sort] => 21
                )

            [22] => stdClass Object
                (
                    [id] => 3865224
                    [unit_id] => 85
                    [url] => https://pictures.escapia.com/GAISPR/149781/5266540339.jpg
                    [thumb_url] => https://pictures.escapia.com/GAISPR/149781/5266540339.jpg
                     => Photo by Kahahawai Photography
                    [sort] => 22
                )

            [23] => stdClass Object
                (
                    [id] => 3865225
                    [unit_id] => 85
                    [url] => https://pictures.escapia.com/GAISPR/149781/5907220294.jpg
                    [thumb_url] => https://pictures.escapia.com/GAISPR/149781/5907220294.jpg
                     => Photo by Kahahawai Photography
                    [sort] => 23
                )

        )

    [rates] => Array
        (
            [0] => stdClass Object
                (
                    [id] => 1323453
                    [start_date] => 2021-04-01
                    [end_date] => 2021-12-14
                    [amount] => 176.605
                    [chargebasis] => Daily
                    [unit_id] => 85
                )

            [1] => stdClass Object
                (
                    [id] => 1323454
                    [start_date] => 2021-04-01
                    [end_date] => 2021-12-14
                    [amount] => 1184.7003
                    [chargebasis] => Weekly
                    [unit_id] => 85
                )

            [2] => stdClass Object
                (
                    [id] => 1323455
                    [start_date] => 2021-04-01
                    [end_date] => 2021-12-14
                    [amount] => 4979.7
                    [chargebasis] => Monthly
                    [unit_id] => 85
                )

            [3] => stdClass Object
                (
                    [id] => 1323456
                    [start_date] => 2021-12-15
                    [end_date] => 2022-01-09
                    [amount] => 270
                    [chargebasis] => Daily
                    [unit_id] => 85
                )

            [4] => stdClass Object
                (
                    [id] => 1323457
                    [start_date] => 2021-12-15
                    [end_date] => 2022-01-09
                    [amount] => 1890
                    [chargebasis] => Weekly
                    [unit_id] => 85
                )

            [5] => stdClass Object
                (
                    [id] => 1323458
                    [start_date] => 2022-01-10
                    [end_date] => 2022-03-31
                    [amount] => 199
                    [chargebasis] => Daily
                    [unit_id] => 85
                )

            [6] => stdClass Object
                (
                    [id] => 1323459
                    [start_date] => 2022-01-10
                    [end_date] => 2022-03-31
                    [amount] => 1393
                    [chargebasis] => Weekly
                    [unit_id] => 85
                )

            [7] => stdClass Object
                (
                    [id] => 1323460
                    [start_date] => 2022-01-10
                    [end_date] => 2022-03-31
                    [amount] => 5970
                    [chargebasis] => Monthly
                    [unit_id] => 85
                )

            [8] => stdClass Object
                (
                    [id] => 1323461
                    [start_date] => 2022-04-01
                    [end_date] => 2022-12-14
                    [amount] => 196.6125
                    [chargebasis] => Daily
                    [unit_id] => 85
                )

            [9] => stdClass Object
                (
                    [id] => 1323462
                    [start_date] => 2022-04-01
                    [end_date] => 2022-12-14
                    [amount] => 1376.2903
                    [chargebasis] => Weekly
                    [unit_id] => 85
                )

            [10] => stdClass Object
                (
                    [id] => 1323463
                    [start_date] => 2022-04-01
                    [end_date] => 2022-12-14
                    [amount] => 5898.381
                    [chargebasis] => Monthly
                    [unit_id] => 85
                )

        )

    [attributes] => Array
        (
            [0] => stdClass Object
                (
                    [id] => 7616540
                    [name] => combination tub/shower
                    [value] => 
                    [group] => AMENITY
                    [unit_id] => 85
                )

            [1] => stdClass Object
                (
                    [id] => 7616541
                    [name] => king
                    [value] => 
                    [group] => AMENITY
                    [unit_id] => 85
                )

            [2] => stdClass Object
                (
                    [id] => 7616542
                    [name] => queen
                    [value] => 
                    [group] => AMENITY
                    [unit_id] => 85
                )

            [3] => stdClass Object
                (
                    [id] => 7616543
                    [name] => sleep sofa /futon
                    [value] => 
                    [group] => AMENITY
                    [unit_id] => 85
                )

            [4] => stdClass Object
                (
                    [id] => 7616544
                    [name] => Satellite / Cable
                    [value] => 
                    [group] => ENTERTAINMENT
                    [unit_id] => 85
                )

            [5] => stdClass Object
                (
                    [id] => 7616545
                    [name] => Television
                    [value] => 
                    [group] => ENTERTAINMENT
                    [unit_id] => 85
                )

            [6] => stdClass Object
                (
                    [id] => 7616546
                    [name] => Air Conditioning
                    [value] => 
                    [group] => GENERAL
                    [unit_id] => 85
                )

            [7] => stdClass Object
                (
                    [id] => 7616547
                    [name] => Clothes Dryer
                    [value] => 
                    [group] => GENERAL
                    [unit_id] => 85
                )

            [8] => stdClass Object
                (
                    [id] => 7616548
                    [name] => Hair Dryer
                    [value] => 
                    [group] => GENERAL
                    [unit_id] => 85
                )

            [9] => stdClass Object
                (
                    [id] => 7616549
                    [name] => Internet
                    [value] => 
                    [group] => GENERAL
                    [unit_id] => 85
                )

            [10] => stdClass Object
                (
                    [id] => 7616550
                    [name] => Iron & Board
                    [value] => 
                    [group] => GENERAL
                    [unit_id] => 85
                )

            [11] => stdClass Object
                (
                    [id] => 7616551
                    [name] => Linens Provided
                    [value] => 
                    [group] => GENERAL
                    [unit_id] => 85
                )

            [12] => stdClass Object
                (
                    [id] => 7616552
                    [name] => Living Room
                    [value] => 
                    [group] => GENERAL
                    [unit_id] => 85
                )

            [13] => stdClass Object
                (
                    [id] => 7616553
                    [name] => Parking
                    [value] => 
                    [group] => GENERAL
                    [unit_id] => 85
                )

            [14] => stdClass Object
                (
                    [id] => 7616554
                    [name] => Towels Provided
                    [value] => 
                    [group] => GENERAL
                    [unit_id] => 85
                )

            [15] => stdClass Object
                (
                    [id] => 7616555
                    [name] => Washing Machine
                    [value] => 
                    [group] => GENERAL
                    [unit_id] => 85
                )

            [16] => stdClass Object
                (
                    [id] => 7616556
                    [name] => Wifi
                    [value] => 
                    [group] => GENERAL
                    [unit_id] => 85
                )

            [17] => stdClass Object
                (
                    [id] => 7616557
                    [name] => Free Wifi
                    [value] => 
                    [group] => GENERAL
                    [unit_id] => 85
                )

            [18] => stdClass Object
                (
                    [id] => 7616558
                    [name] => Coffee Maker
                    [value] => 
                    [group] => KITCHEN
                    [unit_id] => 85
                )

            [19] => stdClass Object
                (
                    [id] => 7616559
                    [name] => Dishes & Utensils
                    [value] => 
                    [group] => KITCHEN
                    [unit_id] => 85
                )

            [20] => stdClass Object
                (
                    [id] => 7616560
                    [name] => Dishwasher
                    [value] => 
                    [group] => KITCHEN
                    [unit_id] => 85
                )

            [21] => stdClass Object
                (
                    [id] => 7616561
                    [name] => Kitchen
                    [value] => 
                    [group] => KITCHEN
                    [unit_id] => 85
                )

            [22] => stdClass Object
                (
                    [id] => 7616562
                    [name] => Microwave
                    [value] => 
                    [group] => KITCHEN
                    [unit_id] => 85
                )

            [23] => stdClass Object
                (
                    [id] => 7616563
                    [name] => Oven
                    [value] => 
                    [group] => KITCHEN
                    [unit_id] => 85
                )

            [24] => stdClass Object
                (
                    [id] => 7616564
                    [name] => Refrigerator
                    [value] => 
                    [group] => KITCHEN
                    [unit_id] => 85
                )

            [25] => stdClass Object
                (
                    [id] => 7616565
                    [name] => Stove
                    [value] => 
                    [group] => KITCHEN
                    [unit_id] => 85
                )

            [26] => stdClass Object
                (
                    [id] => 7616566
                    [name] => Toaster
                    [value] => 
                    [group] => KITCHEN
                    [unit_id] => 85
                )

            [27] => stdClass Object
                (
                    [id] => 7616567
                    [name] => Balcony
                    [value] => 
                    [group] => OUTSIDE
                    [unit_id] => 85
                )

            [28] => stdClass Object
                (
                    [id] => 7616568
                    [name] => Deck / Patio
                    [value] => 
                    [group] => OUTSIDE
                    [unit_id] => 85
                )

            [29] => stdClass Object
                (
                    [id] => 7616569
                    [name] => Outdoor Grill
                    [value] => 
                    [group] => OUTSIDE
                    [unit_id] => 85
                )

            [30] => stdClass Object
                (
                    [id] => 7616570
                    [name] => Tennis
                    [value] => 
                    [group] => OUTSIDE
                    [unit_id] => 85
                )

            [31] => stdClass Object
                (
                    [id] => 7616571
                    [name] => Heated Pool
                    [value] => 
                    [group] => POOL_SPA
                    [unit_id] => 85
                )

            [32] => stdClass Object
                (
                    [id] => 7616572
                    [name] => children welcome
                    [value] => 
                    [group] => SUITABILITY
                    [unit_id] => 85
                )

            [33] => stdClass Object
                (
                    [id] => 7616573
                    [name] => non smoking only
                    [value] => 
                    [group] => SUITABILITY
                    [unit_id] => 85
                )

            [34] => stdClass Object
                (
                    [id] => 7616574
                    [name] => pets not allowed
                    [value] => 
                    [group] => SUITABILITY
                    [unit_id] => 85
                )

            [35] => stdClass Object
                (
                    [id] => 7616575
                    [name] => flexible
                    [value] => 
                    [group] => ARRIVAL_DAY
                    [unit_id] => 85
                )

            [36] => stdClass Object
                (
                    [id] => 7616576
                    [name] => recommended
                    [value] => 
                    [group] => CAR
                    [unit_id] => 85
                )

            [37] => stdClass Object
                (
                    [id] => 7616577
                    [name] => Smoke detectors
                    [value] => 
                    [group] => Safety
                    [unit_id] => 85
                )

            [38] => stdClass Object
                (
                    [id] => 7616578
                    [name] => Emergency phone number: Medical
                    [value] => 
                    [group] => Safety
                    [unit_id] => 85
                )

            [39] => stdClass Object
                (
                    [id] => 7616579
                    [name] => Emergency phone number: Police
                    [value] => 
                    [group] => Safety
                    [unit_id] => 85
                )

            [40] => stdClass Object
                (
                    [id] => 7616580
                    [name] => Emergency phone number: Fire
                    [value] => 
                    [group] => Safety
                    [unit_id] => 85
                )

            [41] => stdClass Object
                (
                    [id] => 7616581
                    [name] => Enhanced cleaning practices
                    [value] => 
                    [group] => Health and Safety
                    [unit_id] => 85
                )

            [42] => stdClass Object
                (
                    [id] => 7616582
                    [name] => Clean with disinfectant
                    [value] => 
                    [group] => Health and Safety
                    [unit_id] => 85
                )

            [43] => stdClass Object
                (
                    [id] => 7616583
                    [name] => High touch surfaces cleaned with disinfectant
                    [value] => 
                    [group] => Health and Safety
                    [unit_id] => 85
                )

            [44] => stdClass Object
                (
                    [id] => 7616584
                    [name] => Towels and bedding washed in water that's at least 60sC/140sF
                    [value] => 
                    [group] => Health and Safety
                    [unit_id] => 85
                )

            [45] => stdClass Object
                (
                    [id] => 7616585
                    [name] => 1 day (24 hours)
                    [value] => 
                    [group] => Health and Safety
                    [unit_id] => 85
                )

            [46] => stdClass Object
                (
                    [id] => 7616586
                    [name] => Cookware
                    [value] => 
                    [group] => Kitchen
                    [unit_id] => 85
                )

            [47] => stdClass Object
                (
                    [id] => 7616587
                    [name] => Blender
                    [value] => 
                    [group] => Kitchen
                    [unit_id] => 85
                )

            [48] => stdClass Object
                (
                    [id] => 7616588
                    [name] => Air Conditioning
                    [value] => 
                    [group] => Living
                    [unit_id] => 85
                )

            [49] => stdClass Object
                (
                    [id] => 7616589
                    [name] => Ceiling Fans
                    [value] => 
                    [group] => Living
                    [unit_id] => 85
                )

            [50] => stdClass Object
                (
                    [id] => 7616590
                    [name] => Washer & Dryer
                    [value] => 
                    [group] => Living
                    [unit_id] => 85
                )

            [51] => stdClass Object
                (
                    [id] => 7616591
                    [name] => High Speed Internet
                    [value] => 
                    [group] => Living
                    [unit_id] => 85
                )

            [52] => stdClass Object
                (
                    [id] => 7616592
                    [name] => Wifi
                    [value] => 
                    [group] => Living
                    [unit_id] => 85
                )

            [53] => stdClass Object
                (
                    [id] => 7616593
                    [name] => Beach Towels
                    [value] => 
                    [group] => Living
                    [unit_id] => 85
                )

            [54] => stdClass Object
                (
                    [id] => 7616594
                    [name] => Hair Dryer
                    [value] => 
                    [group] => Living
                    [unit_id] => 85
                )

            [55] => stdClass Object
                (
                    [id] => 7616595
                    [name] => Balcony
                    [value] => 
                    [group] => Outdoor
                    [unit_id] => 85
                )

            [56] => stdClass Object
                (
                    [id] => 7616596
                    [name] => BBQ Grill
                    [value] => 
                    [group] => Outdoor
                    [unit_id] => 85
                )

            [57] => stdClass Object
                (
                    [id] => 7616597
                    [name] => Beach Chairs
                    [value] => 
                    [group] => Outdoor
                    [unit_id] => 85
                )

            [58] => stdClass Object
                (
                    [id] => 7616598
                    [name] => Heated Pool
                    [value] => 
                    [group] => Outdoor
                    [unit_id] => 85
                )

            [59] => stdClass Object
                (
                    [id] => 7616599
                    [name] => Beach Towels
                    [value] => 
                    [group] => Outdoor
                    [unit_id] => 85
                )

            [60] => stdClass Object
                (
                    [id] => 7616600
                    [name] => Near Beach
                    [value] => 
                    [group] => Geographic
                    [unit_id] => 85
                )

            [61] => stdClass Object
                (
                    [id] => 7616601
                    [name] => Close to Town
                    [value] => 
                    [group] => Geographic
                    [unit_id] => 85
                )

            [62] => stdClass Object
                (
                    [id] => 7616602
                    [name] => Kalapaki, Lihue
                    [value] => 
                    [group] => Geographic
                    [unit_id] => 85
                )

            [63] => stdClass Object
                (
                    [id] => 7616603
                    [name] => Banyan Harbor Resort
                    [value] => 
                    [group] => Geographic
                    [unit_id] => 85
                )

        )

    [avail] => Array
        (
            [0] => stdClass Object
                (
                    [id] => 30672335
                    [start_date] => 2021-09-02
                    [end_date] => 2021-09-08
                    [unit_id] => 85
                )

            [1] => stdClass Object
                (
                    [id] => 30672336
                    [start_date] => 2021-09-13
                    [end_date] => 2021-09-20
                    [unit_id] => 85
                )

            [2] => stdClass Object
                (
                    [id] => 30672337
                    [start_date] => 2021-09-27
                    [end_date] => 2021-10-05
                    [unit_id] => 85
                )

            [3] => stdClass Object
                (
                    [id] => 30672338
                    [start_date] => 2021-10-08
                    [end_date] => 2021-10-15
                    [unit_id] => 85
                )

            [4] => stdClass Object
                (
                    [id] => 30672339
                    [start_date] => 2021-10-19
                    [end_date] => 2021-10-25
                    [unit_id] => 85
                )

            [5] => stdClass Object
                (
                    [id] => 30672340
                    [start_date] => 2021-10-31
                    [end_date] => 2021-11-04
                    [unit_id] => 85
                )

            [6] => stdClass Object
                (
                    [id] => 30672341
                    [start_date] => 2021-11-05
                    [end_date] => 2021-11-16
                    [unit_id] => 85
                )

            [7] => stdClass Object
                (
                    [id] => 30672342
                    [start_date] => 2022-01-11
                    [end_date] => 2022-01-18
                    [unit_id] => 85
                )

        )

    [reviews] => Array
        (
            [0] => stdClass Object
                (
                    [id] => 30861
                    [external_id] => 2cacc066-e95a-4118-80e7-917ce61e730e
                    [prop_id] => 85
                    [review_id] => 0
                    [source] => Escapia
                    [title] => Great  time at Banyan Harbor Resort. 
                    [review] => The condo is clean and nice. Beach chairs and cooler is a plus. Swimming pool is nice with bbq grill that you can use while your family is swimming. We had a blast! Will come back when pandemic is over.
                    [name] => 
                    [email] => lrevollido@gmail.com
                    [location] => 
                    [response] => Aloha Lea and thank you for your stay with us. Glad to hear you enjoyed your stay! We appreciate you review and hope to have you back again soon! Mahalo, Garden Island Properties
                    [response_date] => 2021-09-23
                    [rating] => 5
                    [review_date] => 2021-09-16
                    [featured] => 
                    [status] => 1
                    [checkin_date] => 2021-08-23
                    [nights_stayed] => 8
                    [sfrm] => 5
                    [clean] => 4
                    [rto] => 1
                    [pc] => 5
                    [loc] => 4
                    [meta] => Array
                        (
                        )

                )

            [1] => stdClass Object
                (
                    [id] => 30785
                    [external_id] => d6b309b9-62f2-456b-aef9-7e1382625c0a
                    [prop_id] => 85
                    [review_id] => 0
                    [source] => Escapia
                    [title] => Awesome Vacation Rental in Kauai
                    [review] => My wife and I visited Kauai for the first time and decided to rent a 2 bedrooms condo in Lihue, which is very close to the airport and restaurants. The location is perfect, specially if you don't have a rental car. The. I do is equipped with washer & dryer, full kitchen facilities and utensils. The rental cost is reasonable. Easy checked in process with nice and accommodating staff. The online check out process is very convenient and user friendly. Kudos to Garden Island Properties staff for their thorough online instructions. They called me to welcome us and offered any further assistance and information they can provide, including the latest information on COVID-19 situations and visitors requirements traveling to the island. We do appreciate the constant follow up communication to keep us abreast of the current situation to avoid any confusion and surprises. Thank you for the overall awesome experience of the accommodations! Until next time, Kauai!
                    [name] => Pete P.
                    [email] => pete.m.pulido@gmail.com
                    [location] => 
                    [response] => Mahalo Pete! So glad that you enjoyed the location and felt staff was informative. We would love to have you back again! Aloha and a hui hou! Garden Island Properties
                    [response_date] => 2021-07-05
                    [rating] => 5
                    [review_date] => 2021-07-01
                    [featured] => 
                    [status] => 1
                    [checkin_date] => 2021-06-25
                    [nights_stayed] => 4
                    [sfrm] => 5
                    [clean] => 5
                    [rto] => 1
                    [pc] => 5
                    [loc] => 5
                    [meta] => Array
                        (
                        )

                )

            [2] => stdClass Object
                (
                    [id] => 30752
                    [external_id] => 3271386b-817c-45ed-9f5b-bf2ae1b2d565
                    [prop_id] => 85
                    [review_id] => 0
                    [source] => Escapia
                    [title] => Comfortable 
                    [review] => Comfortable place, has all amenities, central location. A little out dated place, dryer not effective and the towels were stinky. But we had a wonderful time there. 
                    [name] => 
                    [email] => kasthurisundar@gmail.com
                    [location] => 
                    [response] => Aloha Kasthrui and thank you for your review. We are glad that the condo provided all the amenities needed and that you had a wonderful stay! Thank you for providing feedback regarding the dryer. All maintenance items are addressed at the of reporting them. We would have been happy to have send maintenance to look at the dryer for you. Hope to have back again! Mahalo, Garden island Properties
                    [response_date] => 2021-05-08
                    [rating] => 4
                    [review_date] => 2021-05-05
                    [featured] => 
                    [status] => 1
                    [checkin_date] => 2021-04-24
                    [nights_stayed] => 9
                    [sfrm] => 5
                    [clean] => 4
                    [rto] => 1
                    [pc] => 4
                    [loc] => 4
                    [meta] => Array
                        (
                        )

                )

            [3] => stdClass Object
                (
                    [id] => 30621
                    [external_id] => 7218e56f-2dff-46e5-bd21-32ef96fb6051
                    [prop_id] => 85
                    [review_id] => 0
                    [source] => Escapia
                    [title] => Nice place
                    [review] => Great Location, close to many restaurants and amenities. Plenty of choices.

Nice unit, clean and well kept. Lots of extras like picnic cooler, towels and that sort of things. Stocked with everything one would need.

View and neighborhood, both fine.

                    [name] => 
                    [email] => ypiper@hotmail.com
                    [location] => 
                    [response] => Mahalo Yanny! So glad that you felt the location was great and convenient for eating options. We are also glad that you enjoyed the condos amenities and beach equipment. We appreciate you kind review and hope that you will stay again! Aloha, Garden Island Properties
                    [response_date] => 2020-02-19
                    [rating] => 5
                    [review_date] => 2020-02-10
                    [featured] => 
                    [status] => 1
                    [checkin_date] => 2020-01-06
                    [nights_stayed] => 15
                    [sfrm] => 5
                    [clean] => 5
                    [rto] => 1
                    [pc] => 5
                    [loc] => 5
                    [meta] => Array
                        (
                        )

                )

            [4] => stdClass Object
                (
                    [id] => 30546
                    [external_id] => 731f8a6c-d044-40af-8f2d-22e56f521bb8
                    [prop_id] => 85
                    [review_id] => 0
                    [source] => Escapia
                    [title] => Clean well maintained property 
                    [review] => Good experience, we've stayed at the Banyan Harbour before and would stay again. Nice to have the option for barbecuing , too bad the weather wasn't better when we were there!

                    [name] => Don M.
                    [email] => dmckibbin@westman.wave.ca
                    [location] => 
                    [response] => Aloha Don and Mahalo for your stay with us! We are pleased to hear that you had a good experience and that you would stay again! Please come back and stay again soon! Mahalo and a hui hou, Garden Island Properties
                    [response_date] => 2020-01-04
                    [rating] => 5
                    [review_date] => 2020-01-01
                    [featured] => 
                    [status] => 1
                    [checkin_date] => 2019-12-13
                    [nights_stayed] => 14
                    [sfrm] => 5
                    [clean] => 5
                    [rto] => 1
                    [pc] => 5
                    [loc] => 5
                    [meta] => Array
                        (
                        )

                )

            [5] => stdClass Object
                (
                    [id] => 30451
                    [external_id] => 13334970-d89f-4c79-a95a-f9b19d8de904
                    [prop_id] => 85
                    [review_id] => 0
                    [source] => Escapia
                    [title] => A week at the harbor
                    [review] => Overall, it was much more than expected, this is really a great location, accommodation  was better than expected.
                    [name] => 
                    [email] => charlieholboke@netzero.com
                    [location] => 
                    [response] => Aloha Charles! We are pleased to hear that the condo exceeded your expectations and that you felt the location was great.We very much appreciate your kind review and hope that you will be back to stay again soon! Mahalo nui, Garden Island Properties
                    [response_date] => 2019-11-09
                    [rating] => 4
                    [review_date] => 2019-11-06
                    [featured] => 
                    [status] => 1
                    [checkin_date] => 2019-10-21
                    [nights_stayed] => 7
                    [sfrm] => 3
                    [clean] => 4
                    [rto] => 1
                    [pc] => 4
                    [loc] => 5
                    [meta] => Array
                        (
                        )

                )

            [6] => stdClass Object
                (
                    [id] => 30369
                    [external_id] => 3c44aea4-3742-41f4-9622-da1ae948f678
                    [prop_id] => 85
                    [review_id] => 0
                    [source] => Escapia
                    [title] => Awesome stay
                    [review] => We had an awesome stay in this condo. Everything was provited, incl.perfect beach gear. The condo is big and had aircondition and 3 balconys. The pool is on the hill and there is a beatyfull view to the beach. If we come again to Kauai we will stay here again. Amazing!
                    [name] => Anette C.
                    [email] => Anetteconrad@web.de
                    [location] => 
                    [response] => Mahalo Anette! We are pleased to hear that you had an amazing stay and will stay again should your travels bring you back to Kauai. We would like to thank you for your stay with us and appreciate your kind review! Aloha ~Garden Island Properties
                    [response_date] => 2019-07-22
                    [rating] => 5
                    [review_date] => 2019-07-22
                    [featured] => 
                    [status] => 1
                    [checkin_date] => 2019-07-05
                    [nights_stayed] => 5
                    [sfrm] => 5
                    [clean] => 5
                    [rto] => 1
                    [pc] => 5
                    [loc] => 5
                    [meta] => Array
                        (
                        )

                )

            [7] => stdClass Object
                (
                    [id] => 30334
                    [external_id] => e2f92079-9d4b-4ce6-a98b-3fc5dc713c8d
                    [prop_id] => 85
                    [review_id] => 0
                    [source] => Escapia
                    [title] => Banyan Harbor C-33 Review
                    [review] => The place wasn't bad, but was dated. The front desk was helpful and nice. Inside the unit, it had what looked like early 2000's decor and the carpet was well worn both upstairs and down. At night you could hear a lot of traffic and noise from the road/port. The one new thing was the new counter top on top of very aged cabinets.  The grill and pool area at the resort was nice and it was centrally located for what we were doing on the island. Not too bad for the price.
                    [name] => 
                    [email] => davehiggins1@gmail.com
                    [location] => 
                    [response] => Aloha David and mahalo for your stay! We are glad that you enjoyed the grill and pool area and felt the the front desk staff was helpful. We would like to thank you for sharing your experience and feedback in order to improve our guests experience. Aloha! Garden Island Properties
                    [response_date] => 2019-08-30
                    [rating] => 3
                    [review_date] => 2019-06-12
                    [featured] => 
                    [status] => 1
                    [checkin_date] => 2019-06-06
                    [nights_stayed] => 4
                    [sfrm] => 4
                    [clean] => 3
                    [rto] => 1
                    [pc] => 3
                    [loc] => 4
                    [meta] => Array
                        (
                        )

                )

            [8] => stdClass Object
                (
                    [id] => 30301
                    [external_id] => 8bb6e687-541f-4885-bca3-8130b2b6e217
                    [prop_id] => 85
                    [review_id] => 0
                    [source] => Escapia
                    [title] => Fantabulous
                    [review] => Fantastic time, great location.  We will certainly be back on our next visit.
                    [name] => gregory e.
                    [email] => gelkie@yahoo.ca
                    [location] => 
                    [response] => Aloha and Mahalo for staying with us Gregory. So glad that you had a fantastic time in paradise! We look forward to your next stay with us! Mahalo nui loa, Garden Island Properties 
                    [response_date] => 2019-05-25
                    [rating] => 5
                    [review_date] => 2019-05-18
                    [featured] => 
                    [status] => 1
                    [checkin_date] => 2019-05-07
                    [nights_stayed] => 7
                    [sfrm] => 5
                    [clean] => 5
                    [rto] => 1
                    [pc] => 5
                    [loc] => 5
                    [meta] => Array
                        (
                        )

                )

            [9] => stdClass Object
                (
                    [id] => 30302
                    [external_id] => 1284032b-6a3d-4b57-9d6c-e887e3a554fb
                    [prop_id] => 85
                    [review_id] => 0
                    [source] => Escapia
                    [title] => Review
                    [review] => Great!
                    [name] => 
                    [email] => joseph.liberati@hotmail.com
                    [location] => 
                    [response] => Mahalo!~Garden Island Properties
                    [response_date] => 2019-05-09
                    [rating] => 5
                    [review_date] => 2019-04-12
                    [featured] => 
                    [status] => 1
                    [checkin_date] => 2019-04-04
                    [nights_stayed] => 6
                    [sfrm] => 5
                    [clean] => 5
                    [rto] => 1
                    [pc] => 4
                    [loc] => 5
                    [meta] => Array
                        (
                        )

                )

            [10] => stdClass Object
                (
                    [id] => 30305
                    [external_id] => a749346f-bdb7-47a0-b254-27af4f1614f9
                    [prop_id] => 85
                    [review_id] => 0
                    [source] => Escapia
                    [title] => Nice, clean convenient condo
                    [review] => We liked the condo, it was very clean and quiet.  It was fully equipped with all the things that we needed.  Loved that we had beach chairs, beach towels and umbrella to use.  Wish the view was nicer, we love to sit outside but were not crazy about overlooking the parking lot.
                    [name] => William H.
                    [email] => kahwph@gmail.com
                    [location] => 
                    [response] => Aloha William and Mahalo for your stay! We are very glad that you liked the condo and felt that is was fully equipped with what you needed. The condo is not advertised with a view, but is within a short stroll to Kalapaki beach which offers beautiful ocean views. We appreciate your feedback and hope that you will stay again. Mahalo nui loa, Garden Island Properties
                    [response_date] => 2019-06-12
                    [rating] => 4
                    [review_date] => 2018-10-29
                    [featured] => 
                    [status] => 1
                    [checkin_date] => 2018-10-06
                    [nights_stayed] => 7
                    [sfrm] => 5
                    [clean] => 5
                    [rto] => 1
                    [pc] => 5
                    [loc] => 2
                    [meta] => Array
                        (
                        )

                )

            [11] => stdClass Object
                (
                    [id] => 28996
                    [external_id] => ed00d935-1731-4a54-9b7b-5158ed33e0e1
                    [prop_id] => 85
                    [review_id] => 0
                    [source] => Escapia
                    [title] => Clean and Good Value
                    [review] => This condo easily met our needs! Also, I have rented many beach houses over the last 30 years and this was hands down, the cleanest unit I have ever stayed in. The condo was also well appointed with everything a small family needs for cooking in and days at the beach. The view from the balconies is only a peek-a-boo ocean view due to the placement of the building on the property, but the beach is just a short walk across the street and park. And the lack of a full ocean view is more than reflected in the price. As always, Garden Island Properties was polite, professional, and easy to work with.
                    [name] => Diane R.
                    [email] => dianeroumbos@cox.net
                    [location] => 
                    [response] => Aloha and thank you for choosing to stay with us.  We are very happy to hear that you enjoyed this new rental and hope you will visit again soon!  Mahalo, Garden Island Properties
                    [response_date] => 2018-08-27
                    [rating] => 5
                    [review_date] => 2018-08-25
                    [featured] => 
                    [status] => 1
                    [checkin_date] => 2018-07-27
                    [nights_stayed] => 12
                    [sfrm] => 5
                    [clean] => 5
                    [rto] => 1
                    [pc] => 5
                    [loc] => 5
                    [meta] => Array
                        (
                        )

                )

            [12] => stdClass Object
                (
                    [id] => 30303
                    [external_id] => b2f231b4-abcb-4eb0-bcb4-1555bb232229
                    [prop_id] => 85
                    [review_id] => 0
                    [source] => Escapia
                    [title] => Location was grear!
                    [review] => The rental was exactly as expected.  It was clean and well set up to cook our own meals.  The "laundry starter kit" with the pods were such a nice touch.  Plenty of towels, for bathing and beach.  3 balconies was so nice too!!  I would definitely go back again.
                    [name] => Angela K.
                    [email] => daj4297@aol.com
                    [location] => 
                    [response] => Aloha and thank you for choosing to staying with us.  We are sto happy to hear that you enjoyed your stay and hope you will return in the near future.  Mahalo, Garden Island Properties
                    [response_date] => 2018-07-30
                    [rating] => 5
                    [review_date] => 2018-07-30
                    [featured] => 
                    [status] => 1
                    [checkin_date] => 2018-07-07
                    [nights_stayed] => 7
                    [sfrm] => 5
                    [clean] => 5
                    [rto] => 1
                    [pc] => 5
                    [loc] => 5
                    [meta] => Array
                        (
                        )

                )

            [13] => stdClass Object
                (
                    [id] => 30304
                    [external_id] => 53b5ba24-d263-4ab9-a14a-35fcebdc8b6a
                    [prop_id] => 85
                    [review_id] => 0
                    [source] => Escapia
                    [title] => Perfect place in Lihue
                    [review] => We spent a week in June 2018 at Banyan Harbor Resort. The place is perfectly located on the island, close to beach and few restaurants. Condo was clean and functional. As described. Highly recommend.
                    [name] => Jean Francois A.
                    [email] => jfaubin@me.com
                    [location] => 
                    [response] => Aloha and thank you for staying with us and recommending this property.  We are very happy to hear that the condo was a perfect fit for your needs and hope you will return in the future.  Mahalo, Garden Island Properties
                    [response_date] => 2018-07-30
                    [rating] => 5
                    [review_date] => 2018-07-16
                    [featured] => 
                    [status] => 1
                    [checkin_date] => 2018-06-25
                    [nights_stayed] => 10
                    [sfrm] => 5
                    [clean] => 5
                    [rto] => 1
                    [pc] => 5
                    [loc] => 5
                    [meta] => Array
                        (
                        )

                )

        )

    [rateaddons] => Array
        (
        )

    [unit_meta] => Array
        (
            [0] => stdClass Object
                (
                    [id] => 495295
                    [unit_id] => 85
                    [key] => Custom1
                    [value] => BH_C33
                )

            [1] => stdClass Object
                (
                    [id] => 495296
                    [unit_id] => 85
                    [key] => Custom2
                    [value] => 8083208749
                )

            [2] => stdClass Object
                (
                    [id] => 495297
                    [unit_id] => 85
                    [key] => Custom3
                    [value] => KEY CARDS ISSUED AT THE FRONT DESK. HOURS ARE 8AM-8PM.  IF ARRIVING AFTER 8PM, PLEASE USE THE PHONE OUT FRONT TO CALL SECURITY FOR ASSISTANCE.
                )

            [3] => stdClass Object
                (
                    [id] => 495298
                    [unit_id] => 85
                    [key] => DisplayRate
                    [value] => Starting from $150 per night
                )

            [4] => stdClass Object
                (
                    [id] => 495299
                    [unit_id] => 85
                    [key] => Location
                    [value] => Lihue
                )

            [5] => stdClass Object
                (
                    [id] => 495300
                    [unit_id] => 85
                    [key] => LocationField
                    [value] => Garden Island Properties, LLC
                )

            [6] => stdClass Object
                (
                    [id] => 495301
                    [unit_id] => 85
                    [key] => Property Type
                    [value] => Condo
                )

            [7] => stdClass Object
                (
                    [id] => 495302
                    [unit_id] => 85
                    [key] => View
                    [value] => Mountain View
                )

            [8] => stdClass Object
                (
                    [id] => 495303
                    [unit_id] => 85
                    [key] => MinLOS
                    [value] => 3
                )

            [9] => stdClass Object
                (
                    [id] => 495304
                    [unit_id] => 85
                    [key] => StayContext
                    [value] => Checkin
                )

            [10] => stdClass Object
                (
                    [id] => 495305
                    [unit_id] => 85
                    [key] => StayDays
                    [value] => a:7:{i:0;s:3:"Mon";i:1;s:3:"Tue";i:2;s:4:"Weds";i:3;s:4:"Thur";i:4;s:3:"Fri";i:5;s:3:"Sat";i:6;s:3:"Sun";}
                )

            [11] => stdClass Object
                (
                    [id] => 495306
                    [unit_id] => 85
                    [key] => NumberFloors
                    [value] => 
                )

            [12] => stdClass Object
                (
                    [id] => 496260
                    [unit_id] => 85
                    [key] => Agreement
                    [value] => GUEST AGREEMENT 
RELATES TO ALL PROPERTIES. PLEASE READ THIS CONTRACT CAREFULLY. 
BY CLICKING ON THE ACCEPT BUTTON YOU (either an individual or a single entity) AGREE THAT THIS AGREEMENT IS ENFORCEABLE LIKE ANY WRITTEN CONTRACT SIGNED BY YOU. 

REFUNDABLE
                )

        )

    [minnights] => Array
        (
            [0] => stdClass Object
                (
                    [id] => 1372183
                    [start_date] => 2021-04-01
                    [end_date] => 2021-12-14
                    [prop_id] => 85
                    [nights] => 3
                    [rate_type] => Daily
                )

            [1] => stdClass Object
                (
                    [id] => 1372184
                    [start_date] => 2021-04-01
                    [end_date] => 2021-12-14
                    [prop_id] => 85
                    [nights] => 7
                    [rate_type] => Weekly
                )

            [2] => stdClass Object
                (
                    [id] => 1372185
                    [start_date] => 2021-04-01
                    [end_date] => 2021-12-14
                    [prop_id] => 85
                    [nights] => 30
                    [rate_type] => Monthly
                )

            [3] => stdClass Object
                (
                    [id] => 1372186
                    [start_date] => 2021-04-01
                    [end_date] => 2021-12-14
                    [prop_id] => 85
                    [nights] => 3
                    [rate_type] => Midweek
                )

            [4] => stdClass Object
                (
                    [id] => 1372187
                    [start_date] => 2021-12-15
                    [end_date] => 2022-01-09
                    [prop_id] => 85
                    [nights] => 4
                    [rate_type] => Daily
                )

            [5] => stdClass Object
                (
                    [id] => 1372188
                    [start_date] => 2021-12-15
                    [end_date] => 2022-01-09
                    [prop_id] => 85
                    [nights] => 7
                    [rate_type] => Weekly
                )

            [6] => stdClass Object
                (
                    [id] => 1372189
                    [start_date] => 2022-01-10
                    [end_date] => 2022-03-31
                    [prop_id] => 85
                    [nights] => 4
                    [rate_type] => Daily
                )

            [7] => stdClass Object
                (
                    [id] => 1372190
                    [start_date] => 2022-01-10
                    [end_date] => 2022-03-31
                    [prop_id] => 85
                    [nights] => 7
                    [rate_type] => Weekly
                )

            [8] => stdClass Object
                (
                    [id] => 1372191
                    [start_date] => 2022-01-10
                    [end_date] => 2022-03-31
                    [prop_id] => 85
                    [nights] => 30
                    [rate_type] => Monthly
                )

            [9] => stdClass Object
                (
                    [id] => 1372192
                    [start_date] => 2022-04-01
                    [end_date] => 2022-12-14
                    [prop_id] => 85
                    [nights] => 4
                    [rate_type] => Daily
                )

            [10] => stdClass Object
                (
                    [id] => 1372193
                    [start_date] => 2022-04-01
                    [end_date] => 2022-12-14
                    [prop_id] => 85
                    [nights] => 7
                    [rate_type] => Weekly
                )

            [11] => stdClass Object
                (
                    [id] => 1372194
                    [start_date] => 2022-04-01
                    [end_date] => 2022-12-14
                    [prop_id] => 85
                    [nights] => 30
                    [rate_type] => Monthly
                )

        )

    [manager] => stdClass Object
        (
            [id] => 1
            [ManagerID] => 1
            [Name] => Escapia
            [Vendor] => Escapia
            [Contract] => 
            [random] => 0
            [pms] => 
            [last_update] => 0000-00-00 00:00:00
        )

    [flipkey] => 
    [additonal] => stdClass Object
        (
            [Custom1] => BH_C33
            [Custom2] => 8083208749
            [Custom3] => KEY CARDS ISSUED AT THE FRONT DESK. HOURS ARE 8AM-8PM.  IF ARRIVING AFTER 8PM, PLEASE USE THE PHONE OUT FRONT TO CALL SECURITY FOR ASSISTANCE.
            [DisplayRate] => Starting from $150 per night
            [Location] => Lihue
            [LocationField] => Garden Island Properties, LLC
            [Property Type] => Condo
            [View] => Mountain View
            [MinLOS] => 3
            [StayContext] => Checkin
            [StayDays] => Array
                (
                    [0] => Mon
                    [1] => Tue
                    [2] => Weds
                    [3] => Thur
                    [4] => Fri
                    [5] => Sat
                    [6] => Sun
                )

            [NumberFloors] => 
            [Agreement] => GUEST AGREEMENT 
RELATES TO ALL PROPERTIES. PLEASE READ THIS CONTRACT CAREFULLY. 
BY CLICKING ON THE ACCEPT BUTTON YOU (either an individual or a single entity) AGREE THAT THIS AGREEMENT IS ENFORCEABLE LIKE ANY WRITTEN CONTRACT SIGNED BY YOU. 

REFUNDABLE
        )

    [checkinout] => Array
        (
        )

    [special] => Array
        (
        )

    [hasSpecial] => 
)
                    
Holiday Rates apply between 12/15 - 1/5