pono kai b109, oceanfront, easy walk to town, beach & bike path, sunrise view
2 Bedroom(s) | 2 Bathroom(s) | Sleeps 6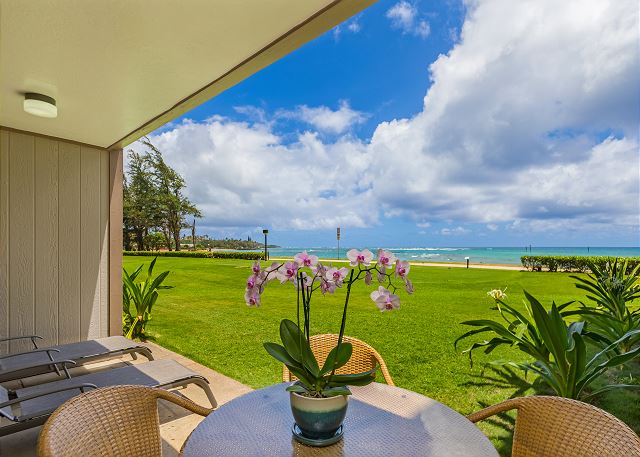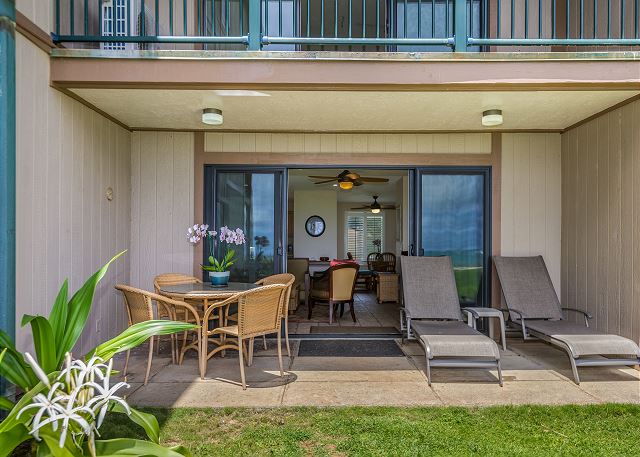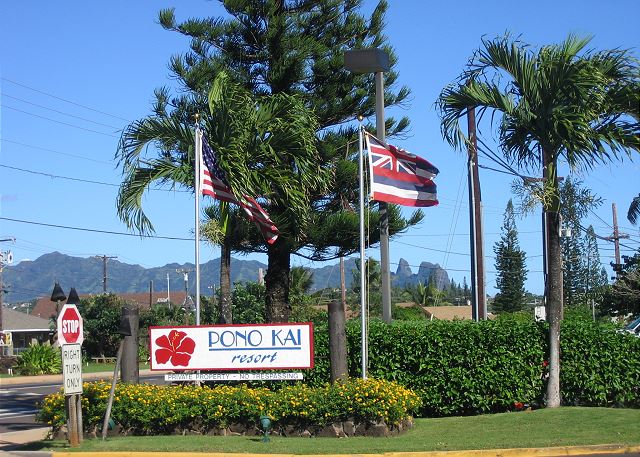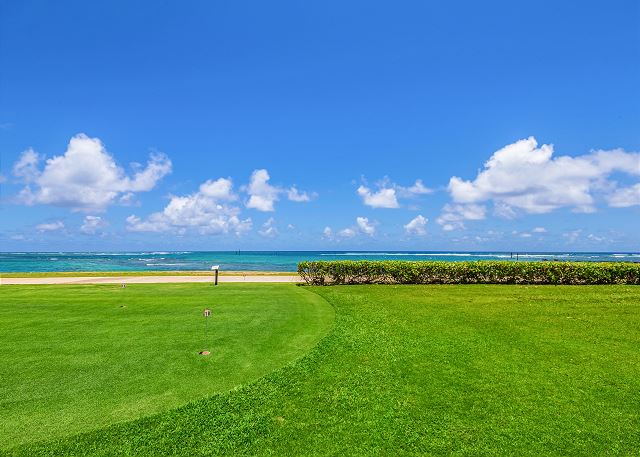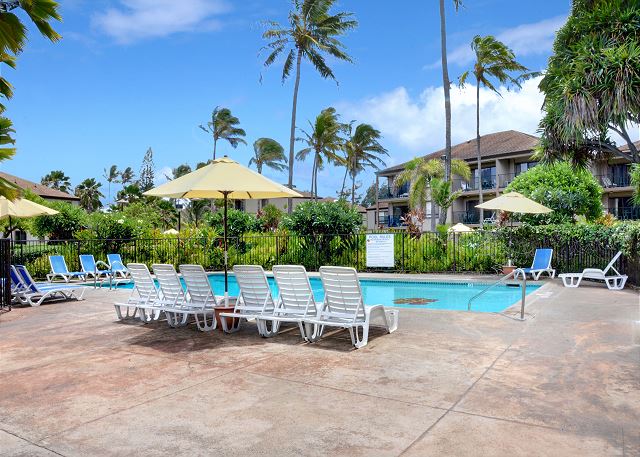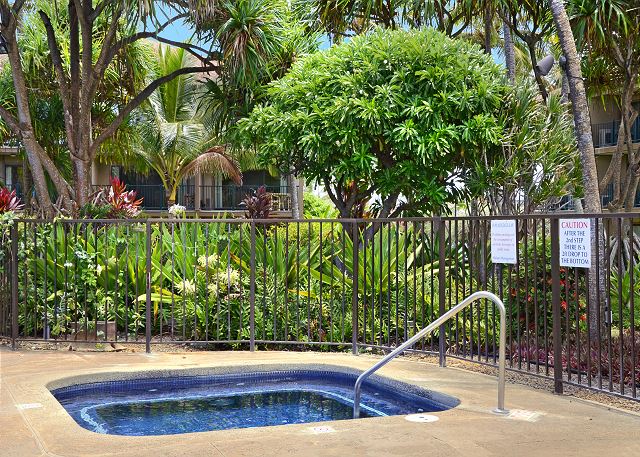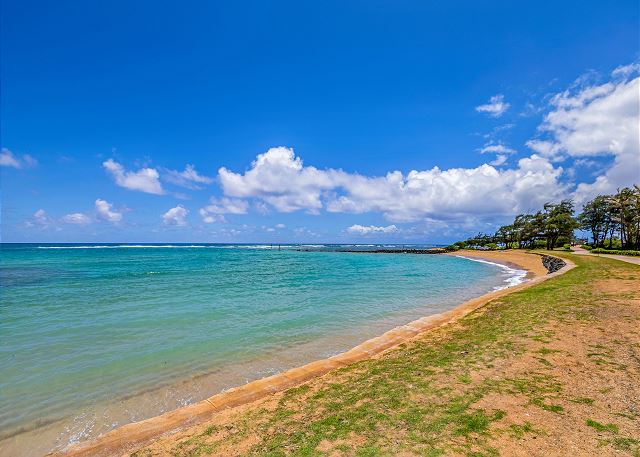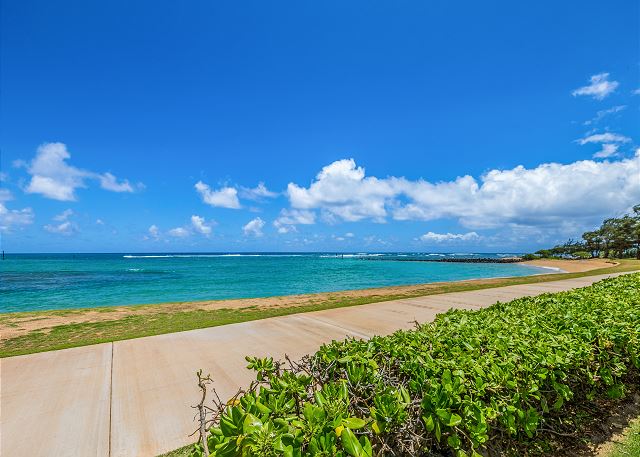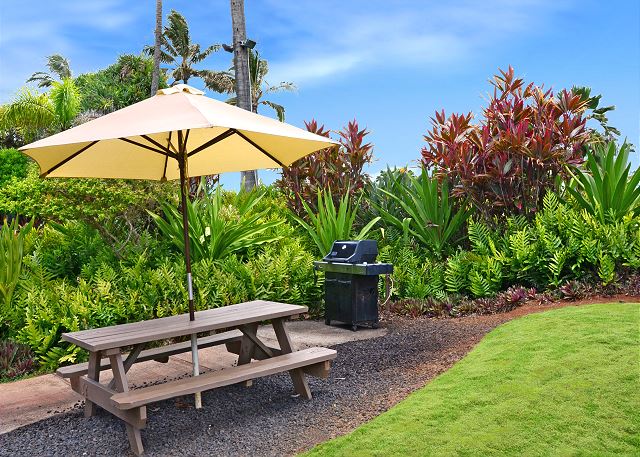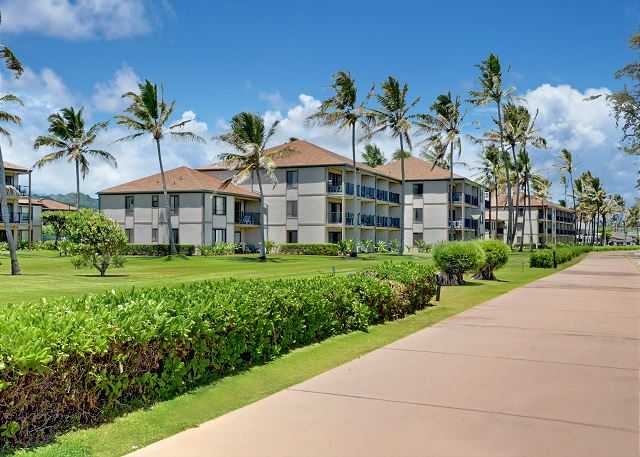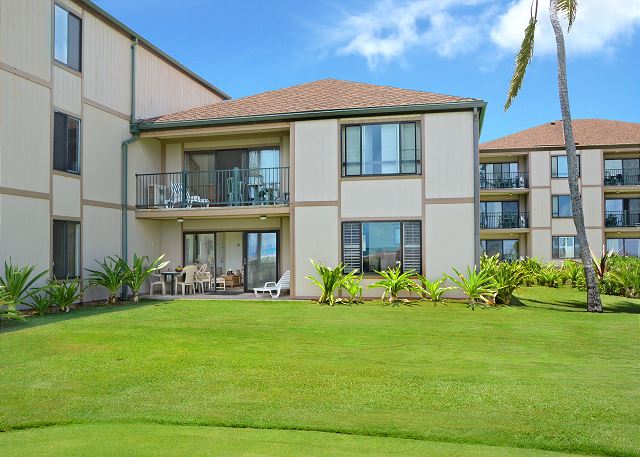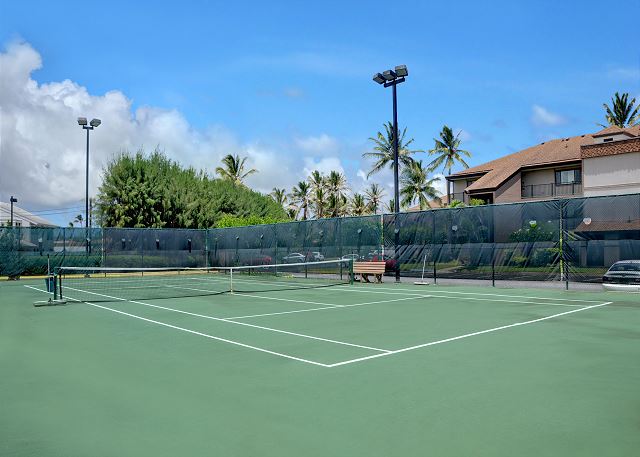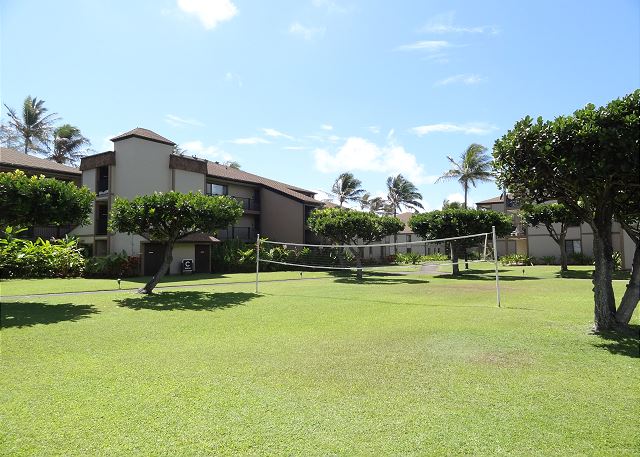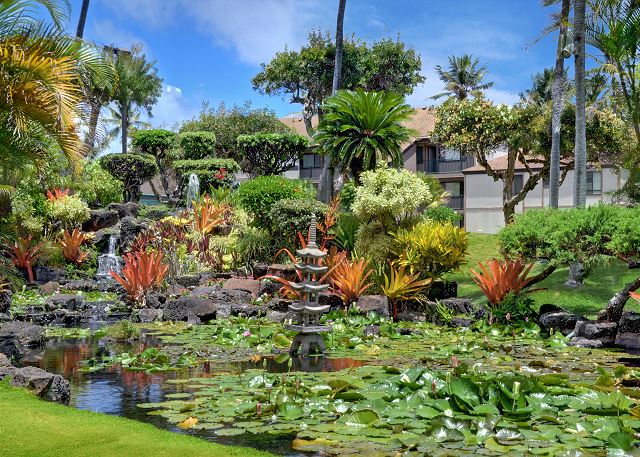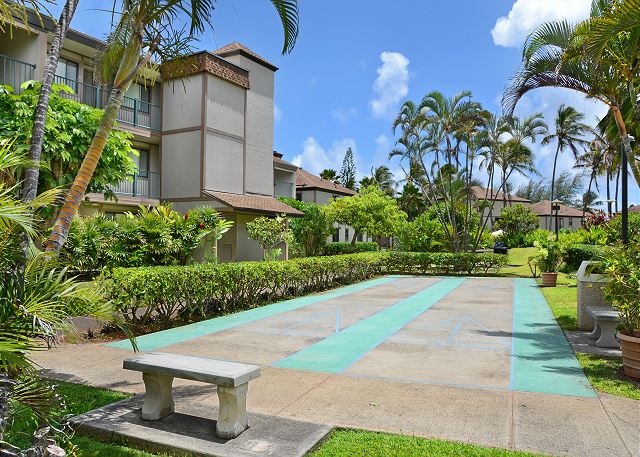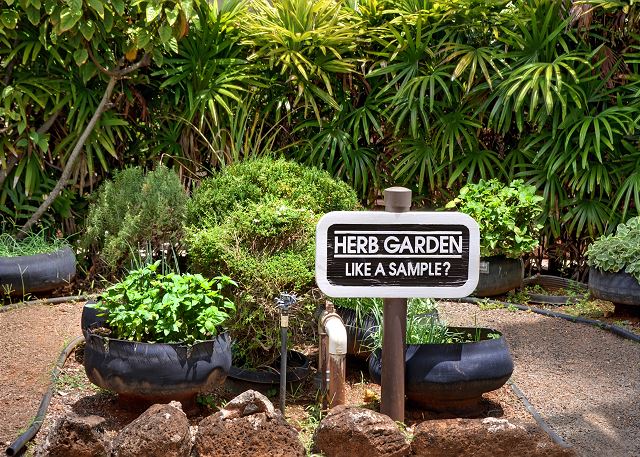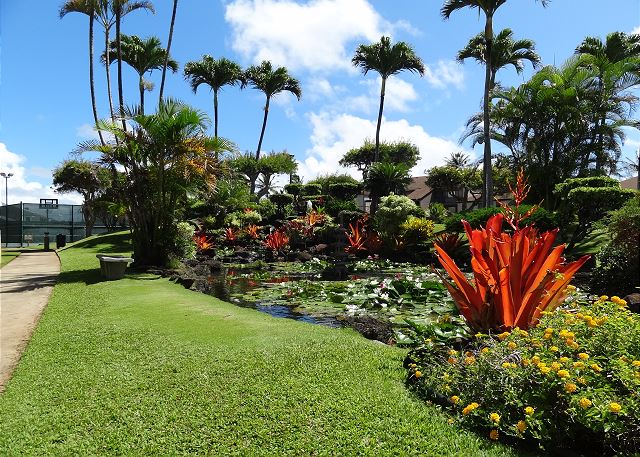 Pono Kai Resort B109

Kapa'a Oceanfront two bedroom end unit Kauai Condo

Bike or stroll along the Ke Ala Hele Makalae Bike Path right in front of the condo. Remodeled kitchen and bathrooms!!

Spectacular ocean views on the Coconut Coast!

Beautifully decorated and comfortable 2 bedroom, 2 bath, oceanfront, ground floor unit with private lanai just steps to the beach.

Full kitchen, King bed in each room and air bed provided for additional sleeping.

TV in the living room and master bedroom. Safe in unit.

Fantastic oceanfront views from lanai, living area, master bedroom & kitchen.

Non-smoking, complimentary Wifi & Parking.

Sleeps 6.

Beachfront on the east shore of Kauai, Pono Kai Resort is a centrally located Kauai vacation rental with easy access to the North or South shores of Kauai. Approximately 8 miles from the Lihue Airport, Pono Kai Resort is located in the town of historic Kapa'a. Situated on 13 tropical acres. This Kauai oceanfront condo is within easy walking distance to shops, restaurants, boutiques and banks. Swim right on the beach front of Pono Kai Resort or lounge pool side and enjoy the outdoor spa and sauna. Barbecue stations are located throughout the property along w/laundry facilities in each building.

Rent a bicycle and "cruise" along the 2-mile + bike path along the coastline. Ping pong, shuffleboard and even a croquet court are available at Pono Kai Resort making this an ideal Kauai vacation rental for you and your family. Activities Desk available to book all of your tours and luaus.

The Pono Kai Resorts east side location makes it easy to get to Kilauea Lighthouse, Hanalei Bay and Haena State Beach Park to the north or Poipu Beach to the south. Nearby attractions in Kapaa include Kealia Beach, Lydgate State Beach Park for snorkeling, Kamalani Playground with a "volcano tube", Sleeping Giant Hiking Trail, Wailua Falls, Opaeka'a Falls and the Fern Grotto boat ride are just a sample of what's available on Kauai's eastern shores.

Beachfront at an affordable price makes this Kauai condo a fantastic value. Humpback whales breaching can be seen from your private lanai during the months of November through April or walk along the shores early morning and you may be the first to discover a glass ball.

This is a non-smoking unit.

Holiday rates apply 12/15 - 1/5 with a 7 night minimum stay.

Hawaii State TAT ID: TA-186-665-3696-01
Amenities

Combination tub/shower
Coin laundry
Satellite / Cable
Television
Hair Dryer
Internet
Iron & Board
Linens Provided
Parking
Telephone
Towels Provided
Coffee Maker
Dishes & Utensils
Dishwasher
Kitchen
Microwave
Oven
Refrigerator
Stove
Toaster
Oceanfront
Resort
Deck / Patio
Lawn / Garden
Outdoor Grill
Children welcome
Non smoking only
Cookware
Full Kitchen
Refrigerator
Coffee Maker
Microwave
Toaster
Blender
Ceiling Fans
Linens
Ironing Board
High Speed Internet
Wifi
Air Bed
Beach Towels
Hair Dryer
Coin Operated Laundry
In Room Safe
Nearby ATM
Nearby Post Office
Nearby Internet Cafe
Nearby Bank
Nearby Grocery
Nearby Restaurants & Shops
Nearby Luau
Patio
BBQ Grill
Gas Grill
Hot Tub
Shared Pool
Tennis
Beach
Beach Chairs
Bike Path
Lanai
On Beach
Close to Town
Pono Kai Resort
Coconut Coast
Cable TV
DVD Player
---
East Shore Delight!
Mar 12, 2018
We really loved being on the ground floor so our boys can run in the grass and be so close to the ocean. It was just enough space for 3 boys and us, the laundry was conveniently located just a few doors away, and all the shops and cafés or walking distance. The condo was well stocked with kitchen items, towels, and even some toiletries. The workout room was very nice and parking was also very easy to find. Looking forward to our next visit!
---
Nice location but ...
Mar 01, 2018
The condition of the property could be better. Shutters and window locks were in bad shape and the bathrooms need to be deep cleaned. The pool wasn't up to par with comparable nearby properties. The cable and internet presented problems as well. Great location and the management staff were very nice.
---
Anniversary trip
Feb 28, 2018
This is 4th trip to Kauai and the third stay at Pono Kai. One stay in this condo previously. On this trip the condo was noticeably dirtier. We cleaned the back of hallway bathroom door and window sills.The dust ruffle in second bedroom was torn making it a hazard if unsure in your feet. The Olympics were on during stay and it would have been nice to have a bigger TVThe property managers did replace the DVD player while we were there. That was appreciated.These issues can br resolved quickly and we will be back to the pono Kai. It suits our needs perfectly.
---
Location is everything with this one!
Jan 18, 2018
The location is fantastic for those wanting to wake up right on the beach every day and take in the breezes, wild life and have access to the bike / walking path. The unit is huge compared to most 2 bedrooms and has tons of room for enjoying the unit, indoors and out. The walk out lanai allows you to access the grass, covered lanai, putting green and shoreline.The kitchen is small but has an island that makes for more prep room. The refridg is too big for the space making squeaking by it impossible for more than two people in the kitchen. The unit has basic kitchen set up, but I wouldn't call it fully stocked or updated. Most of the equipment and utensils are outdated and seem to be a collection of random pieces. The appliances are nice and work well.The internet didn't work right the entire time we were there. We ignored that and just used our hot spots on our phones. Beds and linens were great, nice and comfortable in both rooms.Windows and screens need to be updated. Some are torn and were fixed by someone with tape. Others didn't really open or slide well.Overall I would give this unit a 10 for location and spaciousness. A 7 for the rest of it.
---
Great vacation
Jan 15, 2018
Fantastic oceanfront view and access, although set back a little to rest of block so very shaded. Well furnished and clean, kitchen could use a little more equipment for guests that like to cook. Lovely bedding, lots of towels and beach stuff, chairs were a little basic.Great resort, lots of activities and close to town and ocean pathway.
---
Great central location, wonderful stay
Nov 30, 2017
This was a central location and was ideal for our vacation. The unit was a nice big open floor plan with comfortable furniture and plenty of seating. The bathrooms were spacious and had plenty of towels for use. The bedrooms were also a nice size w king beds and ample closet space w lots of hangers. The master bedroom had a perfect ocean view. The kitchen had All the dishes we needed and plenty of soap, towels and dish towels. However, the unit didn't carry any additional items people often use like zip lock bags, tin foil or saran wrap, straws or panrty cooking essentials i.e olive oil, spices. They had plenty of beach towels and beach accessories. The grounds at Pono Kai are well maintained w plenty of BBQ's. We loved this place for our family vacation and would return to this unit for future vacations!
---
A Week at Pono Kai
Nov 24, 2017
The layout and amenities at Pono Kai were good.Unfortunately the front desk gave me the wrong code to the door andI had to return to get help. This meant I waited in line and lost time.The Internet at the apartment I was in did not work for me nor for the maintenance service. On my third day I got help and was connected to a neighbour's system. However several times a day my computer reverted to the apartment I was in so I got messages that I was not connected and I had to get back to the other apartment's internet which was annoying and wasted time.Neither tv worked.The one in the living room was fixed after I insisted. Apparently it is not the job of the maintenance staff to replace batteries but they didThe tv in the bedroom worked only briefly after a lot of trouble with the contacts that have oxidised.I would not have rented this apartment if I had known I would not have working tvs and internet
---
Great location and view
Nov 16, 2017
Clean, spacious rooms with glass doors opening right out to the ocean well stocked kitchen and lots of extra pillows and towels. Grounds are well kept and the location is perfect.
---
B-109 Stay
Aug 29, 2017
Fantastic location on the beach. Office was extremely helpful in obtaining tours and things to do.
---
Awesome!
Aug 23, 2017
All was great, but a little misceiving with the price and taxes and fees!
---
Fourth of July
Jul 12, 2017
Nice place looks exactly like the picture. Good location and proximity to the beach. Even though we had a nice ocean breeze most of the time air conditioning is really necessary some of the time as the heat and humidity were intense. I appreciated the beach towels, chairs and the cooler to make life easier. We could have used a few more bath towels, and some of the kitchen items are a bit worn but all in all a nice place to stay.
---
Kapaa vacation.
Jun 29, 2017
The location of this unit is terrific. Ground level facing east so sun raises are on full display. Near walking path, easy walk to downtown Kapaa. Many restaurants within easy walk or short drive. A quiet location. There is some maintenance needing to be done. The shower head in the main bath is not connected to the watt, protrudes out. S9me windows are salted up or latch is broken making them hard to open. The dishwasher did not clean the dishes. The closet tracks were very dirty. The beds are very comfortable, the furnishings in good shape. Overall we had a great time and really relaxed.
---
Thrid year, already booked for next year!
Jun 05, 2017
This was our first year with Garden Island in charge of the condo. They did an A-1 job working with us on our reservations. We were happy with the few updates and hope there are more for next year. The maint. staff responded to our few problems promptly. Looking forward to next April.
---
Beautiful relaxing place!
May 06, 2017
Clean, roomy, cozy, comfortable. I recommended this place with a great view of the ocean, the beach and sunsets!!
---
A Taste of Paradise
Apr 12, 2017
This is a well kept condo and is located centrally to the island of Kauai. Our stay there was delightful. No a/c, but having an end unit helped with the flow of wind off the ocean through the front and out the back windows. I had trouble contacting the rental agency through the office number provided, and had to use the emergency number for what I considered non emergencies. The blender was broken when we arrived, but the property manager replaced it with a much better one. The location was walking distance to many amenities, and though we were right in town, we were far away from road noise, and only heard the ocean! I would not hesitate to stay here again. The kitchen was well stocked, tho' the fridge was almost too big for where it was located.
---
Spring Break at Pono Kai
Apr 10, 2017
We loved this unit so much we ended up buying a timeshare at this location! It is the perfect location on Kauai. The staff were very attentive and the resort and unit were very clean. We will be returning for many years to come!
---
Beautiful Sunrises
Apr 05, 2017
I was surprised on how many things you can do at the property. It was very nice place to stay and would do it again.
---
Family Vacation
Jan 02, 2017
It was a great location and beautiful view. We enjoyed our stay very much.
---
Great Central Location in a Beautiful Setting
Nov 01, 2016
We spent 2 weeks in Oct 2016 at this condo with another couple and the unit and Pono Kai resort were incredible! The view was exactly as pictured. There were a few updates to furniture since the photos including a higher kitchen table and a stainless steel fridge. Nice reading lamps in the bedroom. Property Mgr was easy to contact when needed to resolve a minor plumbing issue and accommodated our 1 hour late checkout. The reason for 4/5 on general condition and cleanliness was the windows and shutters. I'm sure the salt water and humidity make it extremely hard to keep these white shutters clean but you almost didn't want to touch them and they were a bit difficult to open and close because of the stickiness. One needs replacing in the master bedroom. Overall we loved the central location, beautiful grounds, beautiful view and wonderfully equipped condo! Thanks you very much for a great vacation!!
---
Good, nice location close to the beach
Oct 13, 2016
Very nice Condo with oceanfront, you find everything you need in the appartment, beds were a bit too soft for us. We stayed in the groundfloor appt. andvdue wooden floor you could hear the people walking upstairs. The garden furniture were a bit old but overall a good location.
---
Location for the cost is wonderful
Sep 01, 2016
The location of this condo and the view of the ocean was terrific, especially for the overall cost. There is also a great walking/biking path right outside your door, which we enjoyed every morning with a cup of coffee.Because of the location, size of the condo and cost, I rate the whole stay 4 stars but do want to note a few things on this property for someone considering another stay:1.) There is no A/C. I did not think to check for this so I was disappointed and uncomfortable on our arrival when we realized there was no A/C in our stuffy new home. The trade winds off the ocean were not blowing so with no airflow, we were miserable as we were settling in and cooking dinner. Once the winds picked up and we figured out a strategy with the fans, we were comfortable the following days but this feature is worth noting as a downside.2.) The place is starting to be run down, not all the pictures are accurate, and the furniture/amenities could use updating. Different elements of the place are showing wear and tear and need some love and care. There is rust on the windows, closet doors are broken, and it could use a really good deep cleaning. Also, the pictures online for the property show more decor, etc which is no longer there. The furniture inside and out seems old and worn, some updating would be ideal here.3.) We had ants in the kitchen. Not an overwhelming problem, but an annoying one.Overall, the town of Kapa'a was a great spot for us to access the island without being surrounded by hotels, and we enjoyed the condo in the end, especially considering the rate. I would recommend this property, but with the caveats noted above.
Book Your Stay!
Select your arrival and departure dates below to reserve this unit.


May 2018

| S | M | T | W | T | F | S |
| --- | --- | --- | --- | --- | --- | --- |
| | | 01 | 02 | 03 | 04 | 05 |
| 06 | 07 | 08 | 09 | 10 | 11 | 12 |
| 13 | 14 | 15 | 16 | 17 | 18 | 19 |
| 20 | 21 | 22 | 23 | 24 | 25 | 26 |
| 27 | 28 | 29 | 30 | 31 | | |
June 2018

| S | M | T | W | T | F | S |
| --- | --- | --- | --- | --- | --- | --- |
| | | | | | 01 | 02 |
| 03 | 04 | 05 | 06 | 07 | 08 | 09 |
| 10 | 11 | 12 | 13 | 14 | 15 | 16 |
| 17 | 18 | 19 | 20 | 21 | 22 | 23 |
| 24 | 25 | 26 | 27 | 28 | 29 | 30 |
July 2018

| S | M | T | W | T | F | S |
| --- | --- | --- | --- | --- | --- | --- |
| 01 | 02 | 03 | 04 | 05 | 06 | 07 |
| 08 | 09 | 10 | 11 | 12 | 13 | 14 |
| 15 | 16 | 17 | 18 | 19 | 20 | 21 |
| 22 | 23 | 24 | 25 | 26 | 27 | 28 |
| 29 | 30 | 31 | | | | |
August 2018

| S | M | T | W | T | F | S |
| --- | --- | --- | --- | --- | --- | --- |
| | | | 01 | 02 | 03 | 04 |
| 05 | 06 | 07 | 08 | 09 | 10 | 11 |
| 12 | 13 | 14 | 15 | 16 | 17 | 18 |
| 19 | 20 | 21 | 22 | 23 | 24 | 25 |
| 26 | 27 | 28 | 29 | 30 | 31 | |
September 2018

| S | M | T | W | T | F | S |
| --- | --- | --- | --- | --- | --- | --- |
| | | | | | | 01 |
| 02 | 03 | 04 | 05 | 06 | 07 | 08 |
| 09 | 10 | 11 | 12 | 13 | 14 | 15 |
| 16 | 17 | 18 | 19 | 20 | 21 | 22 |
| 23 | 24 | 25 | 26 | 27 | 28 | 29 |
| 30 | | | | | | |
October 2018

| S | M | T | W | T | F | S |
| --- | --- | --- | --- | --- | --- | --- |
| | 01 | 02 | 03 | 04 | 05 | 06 |
| 07 | 08 | 09 | 10 | 11 | 12 | 13 |
| 14 | 15 | 16 | 17 | 18 | 19 | 20 |
| 21 | 22 | 23 | 24 | 25 | 26 | 27 |
| 28 | 29 | 30 | 31 | | | |
November 2018

| S | M | T | W | T | F | S |
| --- | --- | --- | --- | --- | --- | --- |
| | | | | 01 | 02 | 03 |
| 04 | 05 | 06 | 07 | 08 | 09 | 10 |
| 11 | 12 | 13 | 14 | 15 | 16 | 17 |
| 18 | 19 | 20 | 21 | 22 | 23 | 24 |
| 25 | 26 | 27 | 28 | 29 | 30 | |
December 2018

| S | M | T | W | T | F | S |
| --- | --- | --- | --- | --- | --- | --- |
| | | | | | | 01 |
| 02 | 03 | 04 | 05 | 06 | 07 | 08 |
| 09 | 10 | 11 | 12 | 13 | 14 | 15 |
| 16 | 17 | 18 | 19 | 20 | 21 | 22 |
| 23 | 24 | 25 | 26 | 27 | 28 | 29 |
| 30 | 31 | | | | | |
January 2019

| S | M | T | W | T | F | S |
| --- | --- | --- | --- | --- | --- | --- |
| | | 01 | 02 | 03 | 04 | 05 |
| 06 | 07 | 08 | 09 | 10 | 11 | 12 |
| 13 | 14 | 15 | 16 | 17 | 18 | 19 |
| 20 | 21 | 22 | 23 | 24 | 25 | 26 |
| 27 | 28 | 29 | 30 | 31 | | |
February 2019

| S | M | T | W | T | F | S |
| --- | --- | --- | --- | --- | --- | --- |
| | | | | | 01 | 02 |
| 03 | 04 | 05 | 06 | 07 | 08 | 09 |
| 10 | 11 | 12 | 13 | 14 | 15 | 16 |
| 17 | 18 | 19 | 20 | 21 | 22 | 23 |
| 24 | 25 | 26 | 27 | 28 | | |
March 2019

| S | M | T | W | T | F | S |
| --- | --- | --- | --- | --- | --- | --- |
| | | | | | 01 | 02 |
| 03 | 04 | 05 | 06 | 07 | 08 | 09 |
| 10 | 11 | 12 | 13 | 14 | 15 | 16 |
| 17 | 18 | 19 | 20 | 21 | 22 | 23 |
| 24 | 25 | 26 | 27 | 28 | 29 | 30 |
| 31 | | | | | | |
April 2019

| S | M | T | W | T | F | S |
| --- | --- | --- | --- | --- | --- | --- |
| | 01 | 02 | 03 | 04 | 05 | 06 |
| 07 | 08 | 09 | 10 | 11 | 12 | 13 |
| 14 | 15 | 16 | 17 | 18 | 19 | 20 |
| 21 | 22 | 23 | 24 | 25 | 26 | 27 |
| 28 | 29 | 30 | | | | |
May 2019

| S | M | T | W | T | F | S |
| --- | --- | --- | --- | --- | --- | --- |
| | | | 01 | 02 | 03 | 04 |
| 05 | 06 | 07 | 08 | 09 | 10 | 11 |
| 12 | 13 | 14 | 15 | 16 | 17 | 18 |
| 19 | 20 | 21 | 22 | 23 | 24 | 25 |
| 26 | 27 | 28 | 29 | 30 | 31 | |
June 2019

| S | M | T | W | T | F | S |
| --- | --- | --- | --- | --- | --- | --- |
| | | | | | | 01 |
| 02 | 03 | 04 | 05 | 06 | 07 | 08 |
| 09 | 10 | 11 | 12 | 13 | 14 | 15 |
| 16 | 17 | 18 | 19 | 20 | 21 | 22 |
| 23 | 24 | 25 | 26 | 27 | 28 | 29 |
| 30 | | | | | | |
July 2019

| S | M | T | W | T | F | S |
| --- | --- | --- | --- | --- | --- | --- |
| | 01 | 02 | 03 | 04 | 05 | 06 |
| 07 | 08 | 09 | 10 | 11 | 12 | 13 |
| 14 | 15 | 16 | 17 | 18 | 19 | 20 |
| 21 | 22 | 23 | 24 | 25 | 26 | 27 |
| 28 | 29 | 30 | 31 | | | |
August 2019

| S | M | T | W | T | F | S |
| --- | --- | --- | --- | --- | --- | --- |
| | | | | 01 | 02 | 03 |
| 04 | 05 | 06 | 07 | 08 | 09 | 10 |
| 11 | 12 | 13 | 14 | 15 | 16 | 17 |
| 18 | 19 | 20 | 21 | 22 | 23 | 24 |
| 25 | 26 | 27 | 28 | 29 | 30 | 31 |
Available
Unavailable
Check-In Only
Check-Out Only
Seasonal Rates
Starting from $195 per night

                    stdClass Object
(
    [id] => 58
    [ManagerID] => 1
    [ComplexID] => 0
    [Name] => PONO KAI B109, OCEANFRONT, EASY WALK TO TOWN, BEACH & BIKE PATH, SUNRISE VIEW
    [PropertyCode] => 2064-117656
    [Address1] => 4-1250 Kuhio Highway
    [Address2] => 
    [City] => Kapaa
    [State] => HI
    [Country] => US
    [PostalCode] => 
    [Province] => 
    [Bedrooms] => 2
    [Bathrooms] => 2
    [Beds] => {"King":2,"Other":1}
    [Type] => Condominium
    [Area] => 
    [Location] => Garden Island Properties, LLC
    [View] => Ocean Front
    [Video] => http://www.tourbuzz.net/public/vtour/full/764123/
    [lat] => 22.072879
    [long] => -159.318385
    [map_id] => 0
    [Complex] => 32
    [Description] => Pono Kai Resort B109 

Kapa'a Oceanfront two bedroom end unit Kauai Condo

Bike or stroll along the  Ke Ala Hele Makalae Bike Path right in front of the condo.  Remodeled kitchen and bathrooms!!

Spectacular ocean views on the Coconut Coast!

Beautifully decorated and comfortable 2 bedroom, 2 bath, oceanfront, ground floor unit with private lanai just steps to the beach.

Full kitchen, King bed in each room and air bed provided for additional sleeping.  

TV in the living room and master bedroom. Safe in unit.

Fantastic oceanfront views from lanai, living area, master bedroom & kitchen.

Non-smoking, complimentary Wifi & Parking.

Sleeps 6.

Beachfront on the east shore of Kauai, Pono Kai Resort is a centrally located Kauai vacation rental with easy access to the North or South shores of Kauai. Approximately 8 miles from the Lihue Airport, Pono Kai Resort is located in the town of historic Kapa'a. Situated on 13 tropical acres.  This Kauai oceanfront condo is within easy walking distance to shops, restaurants, boutiques and banks. Swim right on the beach front of Pono Kai Resort or lounge pool side and enjoy the outdoor spa and sauna. Barbecue stations are located throughout the property along w/laundry facilities in each building.

Rent a bicycle and "cruise" along the 2-mile + bike path along the coastline. Ping pong, shuffleboard and even a croquet court are available at Pono Kai Resort making this an ideal Kauai vacation rental for you and your family. Activities Desk available to book all of your tours and luaus.

The Pono Kai Resorts east side location makes it easy to get to Kilauea Lighthouse, Hanalei Bay and Haena State Beach Park to the north or Poipu Beach to the south. Nearby attractions in Kapaa include Kealia Beach, Lydgate State Beach Park for snorkeling, Kamalani Playground with a "volcano tube", Sleeping Giant Hiking Trail, Wailua Falls, Opaeka'a Falls and the Fern Grotto boat ride are just a sample of what's available on Kauai's eastern shores.

Beachfront at an affordable price makes this Kauai condo a fantastic value. Humpback whales breaching can be seen from your private lanai during the months of November through April or walk along the shores early morning and you may be the first to discover a glass ball.

This is a non-smoking unit. 

Holiday rates apply 12/15 - 1/5 with a 7 night minimum stay.

Hawaii State TAT ID: TA-186-665-3696-01
    [ShortDescription] => Pono Kai Resort B109, Oceanfront, ground floor, 2 bedroom, 2 bath, unit with a full kitchen, complimentary wifi and parking. King bed in each room. Beaches, whale-watching, magnificent sunrises just steps from lanai. Near shops, restaurants and bike path.
    [Sleeps] => 6
    [MaxAdult] => 0
    [Status] => Active
    [page_slug] => Pono_Kai_B109_Sunrise_Moonrise_Surf_from_this_Oceanfront_Condo-2064-117656-1
    [SEOTitle] => Pono Kai Resort B-109, Oceanfront, Ground Floor
    [SEODescription] => PONO KAI B109, OCEANFRONT, EASY WALK TO TOWN, BEACH & BIKE PATH, SUNRISE VIEW
    [Featured] => 0
    [created] => 0000-00-00 00:00:00
    [updated] => 2018-05-20 08:25:44
    [internalcode] => PKB109
    [photos] => Array
        (
            [0] => stdClass Object
                (
                    [id] => 1942930
                    [unit_id] => 58
                    [url] => https://pictures.escapia.com/GAISPR/7950770634.jpg
                    [thumb_url] => https://pictures.escapia.com/GAISPR/7950770634.jpg
                     => 
                    [sort] => 0
                )

            [1] => stdClass Object
                (
                    [id] => 1942931
                    [unit_id] => 58
                    [url] => https://pictures.escapia.com/GAISPR/1308040466.jpg
                    [thumb_url] => https://pictures.escapia.com/GAISPR/1308040466.jpg
                     => Oceanfront living with flat screen tv
                    [sort] => 1
                )

            [2] => stdClass Object
                (
                    [id] => 1942932
                    [unit_id] => 58
                    [url] => https://pictures.escapia.com/GAISPR/2062560322.jpg
                    [thumb_url] => https://pictures.escapia.com/GAISPR/2062560322.jpg
                     => Oceanfront living area
                    [sort] => 2
                )

            [3] => stdClass Object
                (
                    [id] => 1942933
                    [unit_id] => 58
                    [url] => https://pictures.escapia.com/GAISPR/4806880298.jpg
                    [thumb_url] => https://pictures.escapia.com/GAISPR/4806880298.jpg
                     => Dining area 
                    [sort] => 3
                )

            [4] => stdClass Object
                (
                    [id] => 1942934
                    [unit_id] => 58
                    [url] => https://pictures.escapia.com/GAISPR/7805500671.jpg
                    [thumb_url] => https://pictures.escapia.com/GAISPR/7805500671.jpg
                     => Indoor Dining Area
                    [sort] => 4
                )

            [5] => stdClass Object
                (
                    [id] => 1942935
                    [unit_id] => 58
                    [url] => https://pictures.escapia.com/GAISPR/0016580583.jpg
                    [thumb_url] => https://pictures.escapia.com/GAISPR/0016580583.jpg
                     => Full kitchen
                    [sort] => 5
                )

            [6] => stdClass Object
                (
                    [id] => 1942936
                    [unit_id] => 58
                    [url] => https://pictures.escapia.com/GAISPR/8578490194.jpg
                    [thumb_url] => https://pictures.escapia.com/GAISPR/8578490194.jpg
                     => Full kitchen 
                    [sort] => 6
                )

            [7] => stdClass Object
                (
                    [id] => 1942937
                    [unit_id] => 58
                    [url] => https://pictures.escapia.com/GAISPR/3854240264.jpg
                    [thumb_url] => https://pictures.escapia.com/GAISPR/3854240264.jpg
                     => Open kitchen and living area
                    [sort] => 7
                )

            [8] => stdClass Object
                (
                    [id] => 1942938
                    [unit_id] => 58
                    [url] => https://pictures.escapia.com/GAISPR/7814110454.jpg
                    [thumb_url] => https://pictures.escapia.com/GAISPR/7814110454.jpg
                     => Oceanfront lanai
                    [sort] => 8
                )

            [9] => stdClass Object
                (
                    [id] => 1942939
                    [unit_id] => 58
                    [url] => https://pictures.escapia.com/GAISPR/0341810709.jpg
                    [thumb_url] => https://pictures.escapia.com/GAISPR/0341810709.jpg
                     => Master bedroom with oceanfront views
                    [sort] => 9
                )

            [10] => stdClass Object
                (
                    [id] => 1942940
                    [unit_id] => 58
                    [url] => https://pictures.escapia.com/GAISPR/3516630232.jpg
                    [thumb_url] => https://pictures.escapia.com/GAISPR/3516630232.jpg
                     => Master bath with walk in shower
                    [sort] => 10
                )

            [11] => stdClass Object
                (
                    [id] => 1942941
                    [unit_id] => 58
                    [url] => https://pictures.escapia.com/GAISPR/3944680790.jpg
                    [thumb_url] => https://pictures.escapia.com/GAISPR/3944680790.jpg
                     => Master bedroom with king bed
                    [sort] => 11
                )

            [12] => stdClass Object
                (
                    [id] => 1942942
                    [unit_id] => 58
                    [url] => https://pictures.escapia.com/GAISPR/4745770900.jpg
                    [thumb_url] => https://pictures.escapia.com/GAISPR/4745770900.jpg
                     => 2nd bedroom with King bed
                    [sort] => 12
                )

            [13] => stdClass Object
                (
                    [id] => 1942943
                    [unit_id] => 58
                    [url] => https://pictures.escapia.com/GAISPR/8692100662.jpg
                    [thumb_url] => https://pictures.escapia.com/GAISPR/8692100662.jpg
                     => 2nd bedroom with peekaboo ocean view
                    [sort] => 13
                )

            [14] => stdClass Object
                (
                    [id] => 1942944
                    [unit_id] => 58
                    [url] => https://pictures.escapia.com/GAISPR/4011930231.jpg
                    [thumb_url] => https://pictures.escapia.com/GAISPR/4011930231.jpg
                     => 2nd Full Bathroom with Tub/Shower
                    [sort] => 14
                )

            [15] => stdClass Object
                (
                    [id] => 1942945
                    [unit_id] => 58
                    [url] => https://pictures.escapia.com/GAISPR/2222730075.jpg
                    [thumb_url] => https://pictures.escapia.com/GAISPR/2222730075.jpg
                     => Relax on the private oceanfront lanai
                    [sort] => 15
                )

            [16] => stdClass Object
                (
                    [id] => 1942946
                    [unit_id] => 58
                    [url] => https://pictures.escapia.com/GAISPR/8458400884.jpg
                    [thumb_url] => https://pictures.escapia.com/GAISPR/8458400884.jpg
                     => Welcome to Pono Kai Resort
                    [sort] => 16
                )

            [17] => stdClass Object
                (
                    [id] => 1942947
                    [unit_id] => 58
                    [url] => https://pictures.escapia.com/GAISPR/5957640149.jpg
                    [thumb_url] => https://pictures.escapia.com/GAISPR/5957640149.jpg
                     => Ocean View from Lanai
                    [sort] => 17
                )

            [18] => stdClass Object
                (
                    [id] => 1942948
                    [unit_id] => 58
                    [url] => https://pictures.escapia.com/GAISPR/4107850651.jpg
                    [thumb_url] => https://pictures.escapia.com/GAISPR/4107850651.jpg
                     => 
                    [sort] => 18
                )

            [19] => stdClass Object
                (
                    [id] => 1942949
                    [unit_id] => 58
                    [url] => https://pictures.escapia.com/GAISPR/7972100477.jpg
                    [thumb_url] => https://pictures.escapia.com/GAISPR/7972100477.jpg
                     => 
                    [sort] => 19
                )

            [20] => stdClass Object
                (
                    [id] => 1942950
                    [unit_id] => 58
                    [url] => https://pictures.escapia.com/GAISPR/7551200746.jpg
                    [thumb_url] => https://pictures.escapia.com/GAISPR/7551200746.jpg
                     => Pono Kai Beach
                    [sort] => 20
                )

            [21] => stdClass Object
                (
                    [id] => 1942951
                    [unit_id] => 58
                    [url] => https://pictures.escapia.com/GAISPR/6287840335.jpg
                    [thumb_url] => https://pictures.escapia.com/GAISPR/6287840335.jpg
                     => Pono Kai Beach and Coastal Path
                    [sort] => 21
                )

            [22] => stdClass Object
                (
                    [id] => 1942952
                    [unit_id] => 58
                    [url] => https://pictures.escapia.com/GAISPR/5765340980.jpg
                    [thumb_url] => https://pictures.escapia.com/GAISPR/5765340980.jpg
                     => 
                    [sort] => 22
                )

            [23] => stdClass Object
                (
                    [id] => 1942953
                    [unit_id] => 58
                    [url] => https://pictures.escapia.com/GAISPR/7135460395.jpg
                    [thumb_url] => https://pictures.escapia.com/GAISPR/7135460395.jpg
                     => Pono Kai Resort
                    [sort] => 23
                )

            [24] => stdClass Object
                (
                    [id] => 1942954
                    [unit_id] => 58
                    [url] => https://pictures.escapia.com/GAISPR/3369110400.jpg
                    [thumb_url] => https://pictures.escapia.com/GAISPR/3369110400.jpg
                     => B109 Ground floor end unit
                    [sort] => 24
                )

            [25] => stdClass Object
                (
                    [id] => 1942955
                    [unit_id] => 58
                    [url] => https://pictures.escapia.com/GAISPR/8475070360.jpg
                    [thumb_url] => https://pictures.escapia.com/GAISPR/8475070360.jpg
                     => Tennis Court
                    [sort] => 25
                )

            [26] => stdClass Object
                (
                    [id] => 1942956
                    [unit_id] => 58
                    [url] => https://pictures.escapia.com/GAISPR/1028410202.jpg
                    [thumb_url] => https://pictures.escapia.com/GAISPR/1028410202.jpg
                     => Volleyball
                    [sort] => 26
                )

            [27] => stdClass Object
                (
                    [id] => 1942957
                    [unit_id] => 58
                    [url] => https://pictures.escapia.com/GAISPR/1873030398.jpg
                    [thumb_url] => https://pictures.escapia.com/GAISPR/1873030398.jpg
                     => Pono Kai Grounds
                    [sort] => 27
                )

            [28] => stdClass Object
                (
                    [id] => 1942958
                    [unit_id] => 58
                    [url] => https://pictures.escapia.com/GAISPR/8349850738.jpg
                    [thumb_url] => https://pictures.escapia.com/GAISPR/8349850738.jpg
                     => Pono Kai Grounds
                    [sort] => 28
                )

            [29] => stdClass Object
                (
                    [id] => 1942959
                    [unit_id] => 58
                    [url] => https://pictures.escapia.com/GAISPR/7991530397.jpg
                    [thumb_url] => https://pictures.escapia.com/GAISPR/7991530397.jpg
                     => 
                    [sort] => 29
                )

            [30] => stdClass Object
                (
                    [id] => 1942960
                    [unit_id] => 58
                    [url] => https://pictures.escapia.com/GAISPR/2523240789.jpg
                    [thumb_url] => https://pictures.escapia.com/GAISPR/2523240789.jpg
                     => 
                    [sort] => 30
                )

            [31] => stdClass Object
                (
                    [id] => 1942961
                    [unit_id] => 58
                    [url] => https://pictures.escapia.com/GAISPR/1226510356.jpg
                    [thumb_url] => https://pictures.escapia.com/GAISPR/1226510356.jpg
                     => 
                    [sort] => 31
                )

            [32] => stdClass Object
                (
                    [id] => 1942962
                    [unit_id] => 58
                    [url] => https://pictures.escapia.com/GAISPR/9543490108.jpg
                    [thumb_url] => https://pictures.escapia.com/GAISPR/9543490108.jpg
                     => Pono Kai Herb Garden
                    [sort] => 32
                )

            [33] => stdClass Object
                (
                    [id] => 1942963
                    [unit_id] => 58
                    [url] => https://pictures.escapia.com/GAISPR/8720490072.jpg
                    [thumb_url] => https://pictures.escapia.com/GAISPR/8720490072.jpg
                     => Outdoor shower
                    [sort] => 33
                )

            [34] => stdClass Object
                (
                    [id] => 1942964
                    [unit_id] => 58
                    [url] => https://pictures.escapia.com/GAISPR/4456020944.jpg
                    [thumb_url] => https://pictures.escapia.com/GAISPR/4456020944.jpg
                     => Pono Kai Grounds
                    [sort] => 34
                )

            [35] => stdClass Object
                (
                    [id] => 1942965
                    [unit_id] => 58
                    [url] => https://pictures.escapia.com/GAISPR/4325100840.jpg
                    [thumb_url] => https://pictures.escapia.com/GAISPR/4325100840.jpg
                     => 
                    [sort] => 35
                )

        )

    [rates] => Array
        (
            [0] => stdClass Object
                (
                    [id] => 619065
                    [start_date] => 2018-04-01
                    [end_date] => 2018-12-14
                    [amount] => 261.45
                    [chargebasis] => Daily
                    [unit_id] => 58
                )

            [1] => stdClass Object
                (
                    [id] => 619066
                    [start_date] => 2018-04-01
                    [end_date] => 2018-12-14
                    [amount] => 1653.75
                    [chargebasis] => Weekly
                    [unit_id] => 58
                )

            [2] => stdClass Object
                (
                    [id] => 619067
                    [start_date] => 2018-04-01
                    [end_date] => 2018-12-14
                    [amount] => 7087.5
                    [chargebasis] => Monthly
                    [unit_id] => 58
                )

            [3] => stdClass Object
                (
                    [id] => 619068
                    [start_date] => 2018-12-15
                    [end_date] => 2019-01-05
                    [amount] => 2450
                    [chargebasis] => Weekly
                    [unit_id] => 58
                )

            [4] => stdClass Object
                (
                    [id] => 619069
                    [start_date] => 2019-01-06
                    [end_date] => 2019-03-31
                    [amount] => 315
                    [chargebasis] => Daily
                    [unit_id] => 58
                )

            [5] => stdClass Object
                (
                    [id] => 619070
                    [start_date] => 2019-01-06
                    [end_date] => 2019-03-31
                    [amount] => 2021.25
                    [chargebasis] => Weekly
                    [unit_id] => 58
                )

            [6] => stdClass Object
                (
                    [id] => 619071
                    [start_date] => 2019-01-06
                    [end_date] => 2019-03-31
                    [amount] => 8662.5
                    [chargebasis] => Monthly
                    [unit_id] => 58
                )

            [7] => stdClass Object
                (
                    [id] => 619072
                    [start_date] => 2019-04-01
                    [end_date] => 2019-12-14
                    [amount] => 268.92
                    [chargebasis] => Daily
                    [unit_id] => 58
                )

            [8] => stdClass Object
                (
                    [id] => 619073
                    [start_date] => 2019-04-01
                    [end_date] => 2019-12-14
                    [amount] => 1701
                    [chargebasis] => Weekly
                    [unit_id] => 58
                )

            [9] => stdClass Object
                (
                    [id] => 619074
                    [start_date] => 2019-04-01
                    [end_date] => 2019-12-14
                    [amount] => 7290
                    [chargebasis] => Monthly
                    [unit_id] => 58
                )

        )

    [attributes] => Array
        (
            [0] => stdClass Object
                (
                    [id] => 3289496
                    [name] => combination tub/shower
                    [value] => 
                    [group] => AMENITY
                    [unit_id] => 58
                )

            [1] => stdClass Object
                (
                    [id] => 3289497
                    [name] => coin laundry
                    [value] => 
                    [group] => ATTRACTIONS
                    [unit_id] => 58
                )

            [2] => stdClass Object
                (
                    [id] => 3289498
                    [name] => Satellite / Cable
                    [value] => 
                    [group] => ENTERTAINMENT
                    [unit_id] => 58
                )

            [3] => stdClass Object
                (
                    [id] => 3289499
                    [name] => Television
                    [value] => 
                    [group] => ENTERTAINMENT
                    [unit_id] => 58
                )

            [4] => stdClass Object
                (
                    [id] => 3289500
                    [name] => Hair Dryer
                    [value] => 
                    [group] => GENERAL
                    [unit_id] => 58
                )

            [5] => stdClass Object
                (
                    [id] => 3289501
                    [name] => Internet
                    [value] => 
                    [group] => GENERAL
                    [unit_id] => 58
                )

            [6] => stdClass Object
                (
                    [id] => 3289502
                    [name] => Iron & Board
                    [value] => 
                    [group] => GENERAL
                    [unit_id] => 58
                )

            [7] => stdClass Object
                (
                    [id] => 3289503
                    [name] => Linens Provided
                    [value] => 
                    [group] => GENERAL
                    [unit_id] => 58
                )

            [8] => stdClass Object
                (
                    [id] => 3289504
                    [name] => Parking
                    [value] => 
                    [group] => GENERAL
                    [unit_id] => 58
                )

            [9] => stdClass Object
                (
                    [id] => 3289505
                    [name] => Telephone
                    [value] => 
                    [group] => GENERAL
                    [unit_id] => 58
                )

            [10] => stdClass Object
                (
                    [id] => 3289506
                    [name] => Towels Provided
                    [value] => 
                    [group] => GENERAL
                    [unit_id] => 58
                )

            [11] => stdClass Object
                (
                    [id] => 3289507
                    [name] => Coffee Maker
                    [value] => 
                    [group] => KITCHEN
                    [unit_id] => 58
                )

            [12] => stdClass Object
                (
                    [id] => 3289508
                    [name] => Dishes & Utensils
                    [value] => 
                    [group] => KITCHEN
                    [unit_id] => 58
                )

            [13] => stdClass Object
                (
                    [id] => 3289509
                    [name] => Dishwasher
                    [value] => 
                    [group] => KITCHEN
                    [unit_id] => 58
                )

            [14] => stdClass Object
                (
                    [id] => 3289510
                    [name] => Kitchen
                    [value] => 
                    [group] => KITCHEN
                    [unit_id] => 58
                )

            [15] => stdClass Object
                (
                    [id] => 3289511
                    [name] => Microwave
                    [value] => 
                    [group] => KITCHEN
                    [unit_id] => 58
                )

            [16] => stdClass Object
                (
                    [id] => 3289512
                    [name] => Oven
                    [value] => 
                    [group] => KITCHEN
                    [unit_id] => 58
                )

            [17] => stdClass Object
                (
                    [id] => 3289513
                    [name] => Refrigerator
                    [value] => 
                    [group] => KITCHEN
                    [unit_id] => 58
                )

            [18] => stdClass Object
                (
                    [id] => 3289514
                    [name] => Stove
                    [value] => 
                    [group] => KITCHEN
                    [unit_id] => 58
                )

            [19] => stdClass Object
                (
                    [id] => 3289515
                    [name] => Toaster
                    [value] => 
                    [group] => KITCHEN
                    [unit_id] => 58
                )

            [20] => stdClass Object
                (
                    [id] => 3289516
                    [name] => Oceanfront
                    [value] => 
                    [group] => LOCATION_TYPE
                    [unit_id] => 58
                )

            [21] => stdClass Object
                (
                    [id] => 3289517
                    [name] => Resort
                    [value] => 
                    [group] => LOCATION_TYPE
                    [unit_id] => 58
                )

            [22] => stdClass Object
                (
                    [id] => 3289518
                    [name] => Deck / Patio
                    [value] => 
                    [group] => OUTSIDE
                    [unit_id] => 58
                )

            [23] => stdClass Object
                (
                    [id] => 3289519
                    [name] => Lawn / Garden
                    [value] => 
                    [group] => OUTSIDE
                    [unit_id] => 58
                )

            [24] => stdClass Object
                (
                    [id] => 3289520
                    [name] => Outdoor Grill
                    [value] => 
                    [group] => OUTSIDE
                    [unit_id] => 58
                )

            [25] => stdClass Object
                (
                    [id] => 3289521
                    [name] => children welcome
                    [value] => 
                    [group] => SUITABILITY
                    [unit_id] => 58
                )

            [26] => stdClass Object
                (
                    [id] => 3289522
                    [name] => non smoking only
                    [value] => 
                    [group] => SUITABILITY
                    [unit_id] => 58
                )

            [27] => stdClass Object
                (
                    [id] => 3289523
                    [name] => Cookware
                    [value] => 
                    [group] => Kitchen
                    [unit_id] => 58
                )

            [28] => stdClass Object
                (
                    [id] => 3289524
                    [name] => Full Kitchen
                    [value] => 
                    [group] => Kitchen
                    [unit_id] => 58
                )

            [29] => stdClass Object
                (
                    [id] => 3289525
                    [name] => Refrigerator
                    [value] => 
                    [group] => Kitchen
                    [unit_id] => 58
                )

            [30] => stdClass Object
                (
                    [id] => 3289526
                    [name] => Coffee Maker
                    [value] => 
                    [group] => Kitchen
                    [unit_id] => 58
                )

            [31] => stdClass Object
                (
                    [id] => 3289527
                    [name] => Microwave
                    [value] => 
                    [group] => Kitchen
                    [unit_id] => 58
                )

            [32] => stdClass Object
                (
                    [id] => 3289528
                    [name] => Toaster
                    [value] => 
                    [group] => Kitchen
                    [unit_id] => 58
                )

            [33] => stdClass Object
                (
                    [id] => 3289529
                    [name] => Blender
                    [value] => 
                    [group] => Kitchen
                    [unit_id] => 58
                )

            [34] => stdClass Object
                (
                    [id] => 3289530
                    [name] => Ceiling Fans
                    [value] => 
                    [group] => Living
                    [unit_id] => 58
                )

            [35] => stdClass Object
                (
                    [id] => 3289531
                    [name] => Linens
                    [value] => 
                    [group] => Living
                    [unit_id] => 58
                )

            [36] => stdClass Object
                (
                    [id] => 3289532
                    [name] => Ironing Board
                    [value] => 
                    [group] => Living
                    [unit_id] => 58
                )

            [37] => stdClass Object
                (
                    [id] => 3289533
                    [name] => High Speed Internet
                    [value] => 
                    [group] => Living
                    [unit_id] => 58
                )

            [38] => stdClass Object
                (
                    [id] => 3289534
                    [name] => Wifi
                    [value] => 
                    [group] => Living
                    [unit_id] => 58
                )

            [39] => stdClass Object
                (
                    [id] => 3289535
                    [name] => Air Bed
                    [value] => 
                    [group] => Living
                    [unit_id] => 58
                )

            [40] => stdClass Object
                (
                    [id] => 3289536
                    [name] => Beach Towels
                    [value] => 
                    [group] => Living
                    [unit_id] => 58
                )

            [41] => stdClass Object
                (
                    [id] => 3289537
                    [name] => Hair Dryer
                    [value] => 
                    [group] => Living
                    [unit_id] => 58
                )

            [42] => stdClass Object
                (
                    [id] => 3289538
                    [name] => Coin Operated Laundry
                    [value] => 
                    [group] => Living
                    [unit_id] => 58
                )

            [43] => stdClass Object
                (
                    [id] => 3289539
                    [name] => In Room Safe
                    [value] => 
                    [group] => Living
                    [unit_id] => 58
                )

            [44] => stdClass Object
                (
                    [id] => 3289540
                    [name] => Nearby ATM
                    [value] => 
                    [group] => Business
                    [unit_id] => 58
                )

            [45] => stdClass Object
                (
                    [id] => 3289541
                    [name] => Nearby Post Office
                    [value] => 
                    [group] => Business
                    [unit_id] => 58
                )

            [46] => stdClass Object
                (
                    [id] => 3289542
                    [name] => Nearby Internet Cafe
                    [value] => 
                    [group] => Business
                    [unit_id] => 58
                )

            [47] => stdClass Object
                (
                    [id] => 3289543
                    [name] => Nearby Bank
                    [value] => 
                    [group] => Business
                    [unit_id] => 58
                )

            [48] => stdClass Object
                (
                    [id] => 3289544
                    [name] => Nearby Grocery
                    [value] => 
                    [group] => Convenience
                    [unit_id] => 58
                )

            [49] => stdClass Object
                (
                    [id] => 3289545
                    [name] => Nearby Restaurants & Shops
                    [value] => 
                    [group] => Convenience
                    [unit_id] => 58
                )

            [50] => stdClass Object
                (
                    [id] => 3289546
                    [name] => Nearby Luau
                    [value] => 
                    [group] => Culture
                    [unit_id] => 58
                )

            [51] => stdClass Object
                (
                    [id] => 3289547
                    [name] => Patio
                    [value] => 
                    [group] => Outdoor
                    [unit_id] => 58
                )

            [52] => stdClass Object
                (
                    [id] => 3289548
                    [name] => BBQ Grill
                    [value] => 
                    [group] => Outdoor
                    [unit_id] => 58
                )

            [53] => stdClass Object
                (
                    [id] => 3289549
                    [name] => Gas Grill
                    [value] => 
                    [group] => Outdoor
                    [unit_id] => 58
                )

            [54] => stdClass Object
                (
                    [id] => 3289550
                    [name] => Hot Tub
                    [value] => 
                    [group] => Outdoor
                    [unit_id] => 58
                )

            [55] => stdClass Object
                (
                    [id] => 3289551
                    [name] => Shared Pool
                    [value] => 
                    [group] => Outdoor
                    [unit_id] => 58
                )

            [56] => stdClass Object
                (
                    [id] => 3289552
                    [name] => Tennis
                    [value] => 
                    [group] => Outdoor
                    [unit_id] => 58
                )

            [57] => stdClass Object
                (
                    [id] => 3289553
                    [name] => Beach
                    [value] => 
                    [group] => Outdoor
                    [unit_id] => 58
                )

            [58] => stdClass Object
                (
                    [id] => 3289554
                    [name] => Beach Chairs
                    [value] => 
                    [group] => Outdoor
                    [unit_id] => 58
                )

            [59] => stdClass Object
                (
                    [id] => 3289555
                    [name] => Bike Path
                    [value] => 
                    [group] => Outdoor
                    [unit_id] => 58
                )

            [60] => stdClass Object
                (
                    [id] => 3289556
                    [name] => Lanai
                    [value] => 
                    [group] => Outdoor
                    [unit_id] => 58
                )

            [61] => stdClass Object
                (
                    [id] => 3289557
                    [name] => On Beach
                    [value] => 
                    [group] => Geographic
                    [unit_id] => 58
                )

            [62] => stdClass Object
                (
                    [id] => 3289558
                    [name] => Close to Town
                    [value] => 
                    [group] => Geographic
                    [unit_id] => 58
                )

            [63] => stdClass Object
                (
                    [id] => 3289559
                    [name] => Pono Kai Resort
                    [value] => 
                    [group] => Geographic
                    [unit_id] => 58
                )

            [64] => stdClass Object
                (
                    [id] => 3289560
                    [name] => Coconut Coast
                    [value] => 
                    [group] => Geographic
                    [unit_id] => 58
                )

            [65] => stdClass Object
                (
                    [id] => 3289561
                    [name] => Cable TV
                    [value] => 
                    [group] => Entertainment
                    [unit_id] => 58
                )

            [66] => stdClass Object
                (
                    [id] => 3289562
                    [name] => DVD Player
                    [value] => 
                    [group] => Entertainment
                    [unit_id] => 58
                )

        )

    [avail] => Array
        (
            [0] => stdClass Object
                (
                    [id] => 10973335
                    [start_date] => 2018-05-21
                    [end_date] => 2018-05-27
                    [unit_id] => 58
                )

            [1] => stdClass Object
                (
                    [id] => 10973336
                    [start_date] => 2018-05-28
                    [end_date] => 2018-06-02
                    [unit_id] => 58
                )

            [2] => stdClass Object
                (
                    [id] => 10973337
                    [start_date] => 2018-06-03
                    [end_date] => 2018-06-22
                    [unit_id] => 58
                )

            [3] => stdClass Object
                (
                    [id] => 10973338
                    [start_date] => 2018-06-27
                    [end_date] => 2018-07-08
                    [unit_id] => 58
                )

            [4] => stdClass Object
                (
                    [id] => 10973339
                    [start_date] => 2018-07-10
                    [end_date] => 2018-07-30
                    [unit_id] => 58
                )

            [5] => stdClass Object
                (
                    [id] => 10973340
                    [start_date] => 2018-08-01
                    [end_date] => 2018-08-08
                    [unit_id] => 58
                )

            [6] => stdClass Object
                (
                    [id] => 10973341
                    [start_date] => 2018-09-01
                    [end_date] => 2018-09-13
                    [unit_id] => 58
                )

            [7] => stdClass Object
                (
                    [id] => 10973342
                    [start_date] => 2018-09-15
                    [end_date] => 2018-09-23
                    [unit_id] => 58
                )

            [8] => stdClass Object
                (
                    [id] => 10973343
                    [start_date] => 2018-09-29
                    [end_date] => 2018-10-06
                    [unit_id] => 58
                )

            [9] => stdClass Object
                (
                    [id] => 10973344
                    [start_date] => 2018-10-20
                    [end_date] => 2018-10-27
                    [unit_id] => 58
                )

            [10] => stdClass Object
                (
                    [id] => 10973345
                    [start_date] => 2018-11-14
                    [end_date] => 2018-11-23
                    [unit_id] => 58
                )

            [11] => stdClass Object
                (
                    [id] => 10973346
                    [start_date] => 2018-12-01
                    [end_date] => 2018-12-08
                    [unit_id] => 58
                )

            [12] => stdClass Object
                (
                    [id] => 10973347
                    [start_date] => 2018-12-20
                    [end_date] => 2019-01-29
                    [unit_id] => 58
                )

            [13] => stdClass Object
                (
                    [id] => 10973348
                    [start_date] => 2019-02-07
                    [end_date] => 2019-02-18
                    [unit_id] => 58
                )

            [14] => stdClass Object
                (
                    [id] => 10973349
                    [start_date] => 2019-04-18
                    [end_date] => 2019-05-02
                    [unit_id] => 58
                )

        )

    [reviews] => Array
        (
            [0] => stdClass Object
                (
                    [id] => 29737
                    [external_id] => 0ee6215d-d11b-4ee2-a748-277051ee88a4
                    [prop_id] => 58
                    [review_id] => 0
                    [source] => Escapia
                    [title] => East Shore Delight!
                    [review] =>  We really loved being on the ground floor so our boys can run in the grass and be so close to the ocean.  It was just enough space for 3 boys and us, the laundry  was conveniently located just a few doors away, and all the shops and cafés or walking distance. The condo was well stocked with kitchen items, towels, and even some toiletries.  The workout room was very nice and parking was also very easy to find. Looking forward to our next visit!
                    [name] => John L.
                    [email] => jrloguercio@gmail.com
                    [location] => 
                    [response] => Aloha and thank you for choosing to stay with us! We are so happy you enjoyed the unit and hope you will return again in the future. Mahalo, Garden Island Properties
                    [rating] => 5
                    [review_date] => 2018-03-12
                    [status] => 1
                    [checkin_date] => 2018-03-03
                    [nights_stayed] => 7
                    [sfrm] => 5
                    [clean] => 5
                    [rto] => 1
                    [pc] => 5
                    [loc] => 5
                    [meta] => Array
                        (
                        )

                )

            [1] => stdClass Object
                (
                    [id] => 29718
                    [external_id] => bdc7a634-8779-44c1-89c7-ad6db272e288
                    [prop_id] => 58
                    [review_id] => 0
                    [source] => Escapia
                    [title] => Nice location but ...
                    [review] => The condition of the property could be better. Shutters and window locks were in bad shape and the bathrooms need to be deep cleaned. The pool wasn't up to par with comparable nearby properties. The cable and internet presented problems as well. Great location and the management staff were very nice.
                    [name] => Deston N.
                    [email] => deston@destonnokes.com
                    [location] => 
                    [response] => 
                    [rating] => 3
                    [review_date] => 2018-03-01
                    [status] => 1
                    [checkin_date] => 2018-02-22
                    [nights_stayed] => 5
                    [sfrm] => 5
                    [clean] => 3
                    [rto] => 
                    [pc] => 2
                    [loc] => 5
                    [meta] => Array
                        (
                        )

                )

            [2] => stdClass Object
                (
                    [id] => 29717
                    [external_id] => 6cb7cc92-1adf-4e00-a914-76f417bc4d5b
                    [prop_id] => 58
                    [review_id] => 0
                    [source] => Escapia
                    [title] => Anniversary trip
                    [review] => This is 4th trip to Kauai and the third stay at Pono Kai.  One stay in this condo previously.  On this trip the condo was noticeably dirtier.  We cleaned the back of hallway bathroom door and window sills.
The dust ruffle in second bedroom was torn  making it a hazard if unsure in your feet.  The Olympics were on during stay and it would have been nice to have a bigger TV

The property managers did replace the DVD player while we were there.  That was appreciated.

These issues can br resolved quickly and we will be back to the pono Kai. It suits our needs perfectly.
                    [name] => Karen N.
                    [email] => knuhouse@gmail.com
                    [location] => 
                    [response] => 
                    [rating] => 4
                    [review_date] => 2018-02-28
                    [status] => 1
                    [checkin_date] => 2018-02-05
                    [nights_stayed] => 7
                    [sfrm] => 5
                    [clean] => 3
                    [rto] => 
                    [pc] => 2
                    [loc] => 5
                    [meta] => Array
                        (
                        )

                )

            [3] => stdClass Object
                (
                    [id] => 29675
                    [external_id] => 9deb61cc-4979-40ce-9bc9-96bf8154429e
                    [prop_id] => 58
                    [review_id] => 0
                    [source] => Escapia
                    [title] => Location is everything with this one!
                    [review] => The location is fantastic for those wanting to wake up right on the beach every day and take in the breezes, wild life and have access to the bike / walking path.  The unit is huge compared to most 2 bedrooms and has tons of room for enjoying the unit, indoors and out.  The walk out lanai allows you to access the grass, covered lanai, putting green and shoreline.
The kitchen is small but has an island that makes for more prep room.  The refridg is too big for the space making squeaking by it impossible for more than two people in the kitchen.  The unit has basic kitchen set up, but I wouldn't call it fully stocked or updated.  Most of the equipment and utensils are outdated and seem to be a collection of random pieces. The appliances are nice and work well.
The internet didn't work right the entire time we were there.  We ignored that and just used our hot spots on our phones.  
Beds and linens were great, nice and comfortable in both rooms.
Windows and screens need to be updated.  Some are torn and were fixed by someone with tape.  Others didn't really open or slide well.
Overall I would give this unit a 10 for location and spaciousness.  A 7 for the rest of it.
                    [name] => 
                    [email] => melissa.costales@gmail.com
                    [location] => 
                    [response] => 
                    [rating] => 4
                    [review_date] => 2018-01-18
                    [status] => 1
                    [checkin_date] => 2017-12-24
                    [nights_stayed] => 9
                    [sfrm] => 4
                    [clean] => 4
                    [rto] => 1
                    [pc] => 3
                    [loc] => 5
                    [meta] => Array
                        (
                        )

                )

            [4] => stdClass Object
                (
                    [id] => 29669
                    [external_id] => a450093f-7ece-4189-805c-b573df1388f8
                    [prop_id] => 58
                    [review_id] => 0
                    [source] => Escapia
                    [title] => Great vacation
                    [review] => Fantastic oceanfront view and access, although set back a little to rest of block so very shaded. Well furnished and clean, kitchen could use a little more equipment for guests that like to cook. Lovely bedding, lots of towels and beach stuff, chairs were a little basic.
Great resort, lots of activities and close to town and ocean pathway. 
                    [name] => 
                    [email] => ivanmarg2015@gmail.com
                    [location] => 
                    [response] => 
                    [rating] => 4
                    [review_date] => 2018-01-15
                    [status] => 1
                    [checkin_date] => 2018-01-04
                    [nights_stayed] => 9
                    [sfrm] => 5
                    [clean] => 4
                    [rto] => 1
                    [pc] => 4
                    [loc] => 5
                    [meta] => Array
                        (
                        )

                )

            [5] => stdClass Object
                (
                    [id] => 29619
                    [external_id] => c8941de6-59b7-4f32-86c1-33863d2e96cf
                    [prop_id] => 58
                    [review_id] => 0
                    [source] => Escapia
                    [title] => Great central location, wonderful stay
                    [review] => This was a central location and was ideal for our vacation. The unit was a nice big open floor plan with comfortable furniture and plenty of seating. The bathrooms were spacious and had plenty of towels for use. The bedrooms were also a nice size w king beds and ample closet space w lots of hangers. The master bedroom had a perfect ocean view. The kitchen had All the dishes we needed and plenty of soap, towels and dish towels. However, the unit didn't carry any additional items people often use like  zip lock bags, tin foil or saran wrap, straws or panrty cooking essentials i.e olive oil, spices. They had plenty of beach towels and beach accessories. The grounds at Pono Kai are well maintained w plenty of BBQ's. We loved this place for our family vacation and would return to this unit for future vacations!
                    [name] => Nichole A.
                    [email] => skiphx@yahoo.com
                    [location] => 
                    [response] => 
                    [rating] => 5
                    [review_date] => 2017-11-30
                    [status] => 1
                    [checkin_date] => 2017-11-20
                    [nights_stayed] => 8
                    [sfrm] => 5
                    [clean] => 5
                    [rto] => 1
                    [pc] => 5
                    [loc] => 5
                    [meta] => Array
                        (
                        )

                )

            [6] => stdClass Object
                (
                    [id] => 29612
                    [external_id] => 9b244a6e-93e8-4b62-9755-a4accb8d80a5
                    [prop_id] => 58
                    [review_id] => 0
                    [source] => Escapia
                    [title] => A Week at Pono Kai
                    [review] => The layout and amenities at Pono Kai were good.

Unfortunately the front desk gave me the wrong code to the door andI  had to return to get help.  This meant I waited in line and lost time.

The  Internet at the apartment I was in did not work for me nor for the maintenance service.  On my third day I got help and was connected to a neighbour's system.  However several times a day my computer reverted to the apartment I was in so I got messages that I was not connected and I had to get back to the other apartment's internet which was annoying and wasted time.

Neither  tv worked.
The one in the living room was fixed after I insisted.  Apparently it is not the job of the maintenance staff to replace batteries but they did
The tv in the bedroom worked only briefly after a lot of trouble with the contacts that have oxidised.

I would not have rented this apartment if I had known I would not have working tvs and internet
                    [name] => Judith B.
                    [email] => judithbale@gmail.com
                    [location] => 
                    [response] => Aloha and thank you for your review.  Due to uncontrollable circumstances, we cannot guarantee electronics, wifi, etc. to not go down temporarily during your stay.  We do troubleshoot immediately with tech support once we are contacted with any issues and also provide phone numbers for hep connecting in the unit instructions sent to all guests. This property recently upgraded to high speed internet and digital cable and I can confirm that they are both currently working.  We hope you enjoyed your time on Kauai.  Mahalo, Garden Island Properties
                    [rating] => 4
                    [review_date] => 2017-11-24
                    [status] => 1
                    [checkin_date] => 2017-11-14
                    [nights_stayed] => 6
                    [sfrm] => 5
                    [clean] => 5
                    [rto] => 
                    [pc] => 3
                    [loc] => 5
                    [meta] => Array
                        (
                        )

                )

            [7] => stdClass Object
                (
                    [id] => 29602
                    [external_id] => 8d787117-dc15-4ddd-a0a8-2b3018a7a3f6
                    [prop_id] => 58
                    [review_id] => 0
                    [source] => Escapia
                    [title] => Great location and view
                    [review] => Clean, spacious rooms with glass doors opening right out to the ocean well stocked kitchen and lots of extra pillows and towels. Grounds are well kept and the location is perfect. 
                    [name] => Sue H.
                    [email] => holmteam4@gmail.com
                    [location] => 
                    [response] => Aloha and thank you for your review. We are very happy to hear you enjoyed the property and location.  We hope you will visit again in the future.  Mahalo, Garden Island Properties
                    [rating] => 5
                    [review_date] => 2017-11-16
                    [status] => 1
                    [checkin_date] => 2017-11-04
                    [nights_stayed] => 7
                    [sfrm] => 5
                    [clean] => 5
                    [rto] => 1
                    [pc] => 5
                    [loc] => 5
                    [meta] => Array
                        (
                        )

                )

            [8] => stdClass Object
                (
                    [id] => 29525
                    [external_id] => 52bf978a-3d5f-41c8-8e7b-c3dc3ab20db1
                    [prop_id] => 58
                    [review_id] => 0
                    [source] => Escapia
                    [title] => B-109 Stay
                    [review] => Fantastic location on the beach. Office was extremely helpful in obtaining tours and things to do.
                    [name] => Jimmie G.
                    [email] => griggsjim@att.net
                    [location] => 
                    [response] => Aloha and thank you for your review. We are happy to hear you enjoyed the location and beach. We hope you will return again soon.  Mahalo!
                    [rating] => 5
                    [review_date] => 2017-08-29
                    [status] => 1
                    [checkin_date] => 2017-08-03
                    [nights_stayed] => 7
                    [sfrm] => 5
                    [clean] => 4
                    [rto] => 1
                    [pc] => 5
                    [loc] => 5
                    [meta] => Array
                        (
                        )

                )

            [9] => stdClass Object
                (
                    [id] => 29517
                    [external_id] => afbb0b6e-8ba3-44e0-b948-612b8c1aa399
                    [prop_id] => 58
                    [review_id] => 0
                    [source] => Escapia
                    [title] => Awesome!
                    [review] =>  All was great, but a little misceiving with the price and taxes and fees! 
                    [name] => Sara M.
                    [email] => saramags78@gmail.com
                    [location] => 
                    [response] => Aloha, We are happy to hear that you had a great stay. Please feel free to contact us directly should you have questions regarding your reservation.  Mahalo, Garden Island Properties
                    [rating] => 5
                    [review_date] => 2017-08-23
                    [status] => 1
                    [checkin_date] => 2017-08-18
                    [nights_stayed] => 3
                    [sfrm] => 5
                    [clean] => 5
                    [rto] => 1
                    [pc] => 4
                    [loc] => 5
                    [meta] => Array
                        (
                        )

                )

            [10] => stdClass Object
                (
                    [id] => 29462
                    [external_id] => e71ee564-7c06-47bb-ac4e-aefb347f784e
                    [prop_id] => 58
                    [review_id] => 0
                    [source] => Escapia
                    [title] => Fourth of July 
                    [review] => Nice place looks exactly like the picture. Good location and proximity to the beach. Even though we had a nice ocean breeze most of the time air conditioning is really necessary some of the time as the heat and humidity were intense. I appreciated the beach towels, chairs and the cooler to make life easier. We could have used a few more bath towels, and some of the kitchen items are a bit worn but all in all a nice place to stay. 
                    [name] => 
                    [email] => pgusta01@yahoo.com
                    [location] => 
                    [response] => 
                    [rating] => 4
                    [review_date] => 2017-07-12
                    [status] => 1
                    [checkin_date] => 2017-07-03
                    [nights_stayed] => 6
                    [sfrm] => 4
                    [clean] => 4
                    [rto] => 1
                    [pc] => 4
                    [loc] => 4
                    [meta] => Array
                        (
                        )

                )

            [11] => stdClass Object
                (
                    [id] => 29450
                    [external_id] => 5bd8dce0-a33b-4c8d-ba5e-92aa76026884
                    [prop_id] => 58
                    [review_id] => 0
                    [source] => Escapia
                    [title] => Kapaa vacation.
                    [review] => The location of this unit is terrific. Ground level facing east so sun raises are on full display. Near walking path, easy walk to downtown Kapaa. Many restaurants within easy walk or short drive. A quiet location. There is some maintenance needing to be done. The shower head in the main bath is not connected to the watt, protrudes out. S9me windows are salted up or latch is broken making them hard to open. The dishwasher did not clean the dishes. The closet tracks were very dirty. The beds are very comfortable,  the furnishings in good shape. Overall we had a great time and really relaxed.
                    [name] => Katherine F.
                    [email] => transition_coach@sbcglobal.net
                    [location] => 
                    [response] => 
                    [rating] => 4
                    [review_date] => 2017-06-29
                    [status] => 1
                    [checkin_date] => 2017-06-06
                    [nights_stayed] => 7
                    [sfrm] => 
                    [clean] => 
                    [rto] => 
                    [pc] => 
                    [loc] => 
                    [meta] => Array
                        (
                        )

                )

            [12] => stdClass Object
                (
                    [id] => 29417
                    [external_id] => a94c8e13-d24f-4573-95df-f9441106470a
                    [prop_id] => 58
                    [review_id] => 0
                    [source] => Escapia
                    [title] => Thrid year, already booked for next year!
                    [review] => This was our first year with Garden Island in charge of the condo. They did an A-1 job working with us on our reservations.  We were happy with the few updates and hope there are more for next year. The maint. staff responded to our few problems promptly. Looking forward to next April.
                    [name] => Chris & Sandy C.
                    [email] => cwconeputt@yahoo.com
                    [location] => 
                    [response] => Aloha and thank you for your review!  We are so delighted to hear that you had a pleasant stay and we look forward to your return visit next year!  Mahalo, Garden Island Properties LLC
                    [rating] => 4
                    [review_date] => 2017-06-05
                    [status] => 1
                    [checkin_date] => 2017-05-04
                    [nights_stayed] => 21
                    [sfrm] => 5
                    [clean] => 4
                    [rto] => 1
                    [pc] => 4
                    [loc] => 5
                    [meta] => Array
                        (
                        )

                )

            [13] => stdClass Object
                (
                    [id] => 29351
                    [external_id] => 187018b0-2d12-48ce-afcd-72cbe4800e67
                    [prop_id] => 58
                    [review_id] => 0
                    [source] => Escapia
                    [title] => Beautiful relaxing place!
                    [review] => Clean, roomy, cozy, comfortable. I recommended this place with a great view of the ocean, the beach and sunsets!!
                    [name] => Icela P.
                    [email] => icelapabonrealtor@gmail.com
                    [location] => 
                    [response] => Aloha and thank you for your review.  We are so happy to hear you had a great stay and were able to enjoy the beautiful ocean views, sunsets and the beach! We hope you will visit us again soon!  Mahalo, Garden Island Properties LLC  
                    [rating] => 5
                    [review_date] => 2017-05-06
                    [status] => 1
                    [checkin_date] => 2017-04-16
                    [nights_stayed] => 4
                    [sfrm] => 5
                    [clean] => 5
                    [rto] => 1
                    [pc] => 5
                    [loc] => 5
                    [meta] => Array
                        (
                        )

                )

            [14] => stdClass Object
                (
                    [id] => 29322
                    [external_id] => 86165b1f-5a58-4a01-871b-bb71a7b5f007
                    [prop_id] => 58
                    [review_id] => 0
                    [source] => Escapia
                    [title] => A Taste of Paradise
                    [review] => This is a well kept condo and is located centrally to the island of Kauai. Our stay there was delightful. No a/c, but having an end unit helped with the flow of wind off the ocean through the front and out the back windows. I had trouble contacting the rental agency through the office number provided, and had to use the emergency number for what I considered non emergencies. The blender was broken when we arrived, but the property manager replaced it with a much better one. The location was walking distance to many amenities, and though we were right in town, we were far away from road noise, and only heard the ocean! I would not hesitate to stay here again. The kitchen was well stocked, tho' the fridge was almost too big for where it was located.
                    [name] => Alvin H.
                    [email] => wwranger@hotmail.com
                    [location] => 
                    [response] => Aloha and thank you for your review.  We are happy to hear you enjoyed your stay and the central location of this condo. Our office is open Monday-Friday, 9AM-5PM and we do have an emergency contact number for after-hours and weekends.  We are so glad you were able to reach us and we were able to get you a new blender right away.  We hope you will visit us again in the future.  Mahalo, Garden Island Properties LLC
                    [rating] => 5
                    [review_date] => 2017-04-12
                    [status] => 1
                    [checkin_date] => 2017-03-25
                    [nights_stayed] => 14
                    [sfrm] => 4
                    [clean] => 5
                    [rto] => 1
                    [pc] => 5
                    [loc] => 5
                    [meta] => Array
                        (
                        )

                )

            [15] => stdClass Object
                (
                    [id] => 29319
                    [external_id] => 7e150e1c-c7d2-4fe2-a402-905472ba65e7
                    [prop_id] => 58
                    [review_id] => 0
                    [source] => Escapia
                    [title] => Spring Break at Pono Kai
                    [review] => We loved this unit so much we ended up buying a timeshare at this location!  It is the perfect location on Kauai.  The staff were very attentive and the resort and unit were very clean.  We will be returning for many years to come!
                    [name] => 
                    [email] => julie557@hotmail.com
                    [location] => 
                    [response] => Aloha and thank you for your review.  Congratulations on your purchase!  We hope you are able to enjoy the island for many more years.  Mahalo, Garden Island Properties LLC
                    [rating] => 5
                    [review_date] => 2017-04-10
                    [status] => 1
                    [checkin_date] => 2017-03-17
                    [nights_stayed] => 8
                    [sfrm] => 5
                    [clean] => 5
                    [rto] => 1
                    [pc] => 5
                    [loc] => 5
                    [meta] => Array
                        (
                        )

                )

            [16] => stdClass Object
                (
                    [id] => 29313
                    [external_id] => 391b3f6a-52f6-48c7-bbdd-029655220a5a
                    [prop_id] => 58
                    [review_id] => 0
                    [source] => Escapia
                    [title] => Beautiful Sunrises
                    [review] => I was surprised on how many things you can do at the property. It was very nice place to stay and would do it again.

                    [name] => Karen K.
                    [email] => collinandkaren@gmail.com
                    [location] => 
                    [response] => Aloha and thank you for sharing your review of this unit.  We are glad you found many things to do at the resort and had a nice stay.  We hope you will visit again soon.  Mahalo, Garden Island Properties LLC
                    [rating] => 5
                    [review_date] => 2017-04-05
                    [status] => 1
                    [checkin_date] => 2017-03-08
                    [nights_stayed] => 9
                    [sfrm] => 5
                    [clean] => 5
                    [rto] => 1
                    [pc] => 5
                    [loc] => 5
                    [meta] => Array
                        (
                        )

                )

            [17] => stdClass Object
                (
                    [id] => 29193
                    [external_id] => 14bbb152-6823-4c9b-b594-7c9df9f9b9b8
                    [prop_id] => 58
                    [review_id] => 0
                    [source] => Escapia
                    [title] => Family Vacation 
                    [review] => It was a great location and beautiful view. We enjoyed our stay very much. 
                    [name] => Patsy F.
                    [email] => pmfoste@gmail.com
                    [location] => 
                    [response] => 
                    [rating] => 5
                    [review_date] => 2017-01-02
                    [status] => 1
                    [checkin_date] => 2016-12-03
                    [nights_stayed] => 14
                    [sfrm] => 5
                    [clean] => 5
                    [rto] => 1
                    [pc] => 5
                    [loc] => 5
                    [meta] => Array
                        (
                        )

                )

            [18] => stdClass Object
                (
                    [id] => 29134
                    [external_id] => 83317d15-a7c5-4ed6-b2a9-5a54ed12e7e1
                    [prop_id] => 58
                    [review_id] => 0
                    [source] => Escapia
                    [title] => Great Central Location in a Beautiful Setting
                    [review] => We spent 2 weeks in Oct 2016 at this condo with another couple and the unit and Pono Kai resort were incredible! The view was exactly as pictured. There were a few updates to furniture since the photos including a higher kitchen table and a stainless steel fridge. Nice reading lamps in the bedroom. Property Mgr was easy to contact when needed to resolve a minor plumbing issue and accommodated our 1 hour late checkout. The reason for 4/5 on general condition and cleanliness was the windows and shutters. I'm sure the salt water and humidity make it extremely hard to keep these white shutters clean but you almost didn't want to touch them and they were a bit difficult to open and close because of the stickiness. One needs replacing in the master bedroom. Overall we loved the central location, beautiful grounds, beautiful view and wonderfully equipped condo! Thanks you very much for a great vacation!!
                    [name] => Laura H.
                    [email] => laurahosmer62@gmail.com
                    [location] => 
                    [response] => 
                    [rating] => 5
                    [review_date] => 2016-11-01
                    [status] => 1
                    [checkin_date] => 2016-10-15
                    [nights_stayed] => 14
                    [sfrm] => 5
                    [clean] => 4
                    [rto] => 1
                    [pc] => 4
                    [loc] => 5
                    [meta] => Array
                        (
                        )

                )

            [19] => stdClass Object
                (
                    [id] => 29113
                    [external_id] => f8d77a30-056a-41de-bfed-edb28f51199e
                    [prop_id] => 58
                    [review_id] => 0
                    [source] => Escapia
                    [title] => Good, nice location close to the beach
                    [review] => Very nice Condo with oceanfront, you find everything you need in the appartment, beds were a bit too soft for us. We stayed in the groundfloor appt. andvdue wooden floor you could hear the people walking upstairs. The garden furniture were a bit old but overall a good location.
                    [name] => Heiri K.
                    [email] => keller_morson@bluewin.ch
                    [location] => 
                    [response] => 
                    [rating] => 4
                    [review_date] => 2016-10-13
                    [status] => 1
                    [checkin_date] => 2016-10-08
                    [nights_stayed] => 3
                    [sfrm] => 5
                    [clean] => 4
                    [rto] => 1
                    [pc] => 3
                    [loc] => 4
                    [meta] => Array
                        (
                        )

                )

            [20] => stdClass Object
                (
                    [id] => 29066
                    [external_id] => 7ef71a66-c12c-440e-8f2e-5f46d29ba086
                    [prop_id] => 58
                    [review_id] => 0
                    [source] => Escapia
                    [title] => Location for the cost is wonderful
                    [review] => The location of this condo and the view of the ocean was terrific, especially for the overall cost. There is also a great walking/biking path right outside your door, which we enjoyed every morning with a cup of coffee.

Because of the location, size of the condo and cost, I rate the whole stay 4 stars but do want to note a few things on this property for someone considering another stay:

1.) There is no A/C. I did not think to check for this so I was disappointed and uncomfortable on our arrival when we realized there was no A/C in our stuffy new home. The trade winds off the ocean were not blowing so with no airflow, we were miserable as we were settling in and cooking dinner. Once the winds picked up and we figured out a strategy with the fans, we were comfortable the following days but this feature is worth noting as a downside.

2.) The place is starting to be run down, not all the pictures are accurate, and the furniture/amenities could use updating. Different elements of the place are showing wear and tear and need some love and care. There is rust on the windows, closet doors are broken, and it could use a really good deep cleaning. Also, the pictures online for the property show more decor, etc which is no longer there. The furniture inside and out seems old and worn, some updating would be ideal here.

3.) We had ants in the kitchen. Not an overwhelming problem, but an annoying one.


Overall, the town of Kapa'a was a great spot for us to access the island without being surrounded by hotels, and we enjoyed the condo in the end, especially considering the rate. I would recommend this property, but with the caveats noted above. 
                    [name] => 
                    [email] => christine.sarnow@focus.org
                    [location] => 
                    [response] => Aloha, Thank you for taking the time to share your experience at Pono Kai B109 as your feedback helps us to improve our guest experiences.  This is a new property under management and we have since done a deep cleaning of the unit, are replacing items and updating decor, bedding and other furnishings.  Mahalo & we look forward to having you stay with us again!  Garden Island Properties LLC
                    [rating] => 4
                    [review_date] => 2016-09-01
                    [status] => 1
                    [checkin_date] => 2016-08-24
                    [nights_stayed] => 5
                    [sfrm] => 4
                    [clean] => 3
                    [rto] => 1
                    [pc] => 3
                    [loc] => 5
                    [meta] => Array
                        (
                        )

                )

        )

    [rateaddons] => Array
        (
        )

    [unit_meta] => Array
        (
            [0] => stdClass Object
                (
                    [id] => 486713
                    [unit_id] => 58
                    [key] => Custom1
                    [value] => B109
                )

            [1] => stdClass Object
                (
                    [id] => 486714
                    [unit_id] => 58
                    [key] => Custom2
                    [value] => ponokaib109
                )

            [2] => stdClass Object
                (
                    [id] => 486715
                    [unit_id] => 58
                    [key] => Custom3
                    [value] => 5099
                )

            [3] => stdClass Object
                (
                    [id] => 486716
                    [unit_id] => 58
                    [key] => Custom4
                    [value] => 9011
                )

            [4] => stdClass Object
                (
                    [id] => 486717
                    [unit_id] => 58
                    [key] => Custom5
                    [value] => 4853
                )

            [5] => stdClass Object
                (
                    [id] => 486718
                    [unit_id] => 58
                    [key] => DisplayRate
                    [value] => Starting from $195 per night
                )

            [6] => stdClass Object
                (
                    [id] => 486719
                    [unit_id] => 58
                    [key] => Location
                    [value] => Kapaa
                )

            [7] => stdClass Object
                (
                    [id] => 486720
                    [unit_id] => 58
                    [key] => LocationField
                    [value] => Garden Island Properties, LLC
                )

            [8] => stdClass Object
                (
                    [id] => 486721
                    [unit_id] => 58
                    [key] => Property Type
                    [value] => Condo
                )

            [9] => stdClass Object
                (
                    [id] => 486722
                    [unit_id] => 58
                    [key] => View
                    [value] => Ocean Front
                )

            [10] => stdClass Object
                (
                    [id] => 486724
                    [unit_id] => 58
                    [key] => MinLOS
                    [value] => 4
                )

            [11] => stdClass Object
                (
                    [id] => 486726
                    [unit_id] => 58
                    [key] => StayContext
                    [value] => Checkin
                )

            [12] => stdClass Object
                (
                    [id] => 486728
                    [unit_id] => 58
                    [key] => StayDays
                    [value] => a:7:{i:0;s:3:"Mon";i:1;s:3:"Tue";i:2;s:4:"Weds";i:3;s:4:"Thur";i:4;s:3:"Fri";i:5;s:3:"Sat";i:6;s:3:"Sun";}
                )

            [13] => stdClass Object
                (
                    [id] => 486730
                    [unit_id] => 58
                    [key] => flipkey
                    [value] => 
                )

            [14] => stdClass Object
                (
                    [id] => 494933
                    [unit_id] => 58
                    [key] => Agreement
                    [value] => GUEST AGREEMENT 
RELATES TO ALL PROPERTIES. PLEASE READ THIS CONTRACT CAREFULLY. 
BY CLICKING ON THE ACCEPT BUTTON YOU (either an individual or a single entity) AGREE THAT THIS AGREEMENT IS ENFORCEABLE LIKE ANY WRITTEN CONTRACT SIGNED BY YOU. 

SECURITY D
                )

        )

    [minnights] => Array
        (
            [0] => stdClass Object
                (
                    [id] => 633540
                    [start_date] => 2018-04-01
                    [end_date] => 2018-12-14
                    [prop_id] => 58
                    [nights] => 2
                    [rate_type] => Daily
                )

            [1] => stdClass Object
                (
                    [id] => 633541
                    [start_date] => 2018-04-01
                    [end_date] => 2018-12-14
                    [prop_id] => 58
                    [nights] => 7
                    [rate_type] => Weekly
                )

            [2] => stdClass Object
                (
                    [id] => 633542
                    [start_date] => 2018-04-01
                    [end_date] => 2018-12-14
                    [prop_id] => 58
                    [nights] => 30
                    [rate_type] => Monthly
                )

            [3] => stdClass Object
                (
                    [id] => 633543
                    [start_date] => 2018-04-01
                    [end_date] => 2018-12-14
                    [prop_id] => 58
                    [nights] => 2
                    [rate_type] => Midweek
                )

            [4] => stdClass Object
                (
                    [id] => 633544
                    [start_date] => 2018-12-15
                    [end_date] => 2019-01-05
                    [prop_id] => 58
                    [nights] => 7
                    [rate_type] => Weekly
                )

            [5] => stdClass Object
                (
                    [id] => 633545
                    [start_date] => 2019-01-06
                    [end_date] => 2019-03-31
                    [prop_id] => 58
                    [nights] => 4
                    [rate_type] => Daily
                )

            [6] => stdClass Object
                (
                    [id] => 633546
                    [start_date] => 2019-01-06
                    [end_date] => 2019-03-31
                    [prop_id] => 58
                    [nights] => 7
                    [rate_type] => Weekly
                )

            [7] => stdClass Object
                (
                    [id] => 633547
                    [start_date] => 2019-01-06
                    [end_date] => 2019-03-31
                    [prop_id] => 58
                    [nights] => 30
                    [rate_type] => Monthly
                )

            [8] => stdClass Object
                (
                    [id] => 633548
                    [start_date] => 2019-04-01
                    [end_date] => 2019-12-14
                    [prop_id] => 58
                    [nights] => 4
                    [rate_type] => Daily
                )

            [9] => stdClass Object
                (
                    [id] => 633549
                    [start_date] => 2019-04-01
                    [end_date] => 2019-12-14
                    [prop_id] => 58
                    [nights] => 7
                    [rate_type] => Weekly
                )

            [10] => stdClass Object
                (
                    [id] => 633550
                    [start_date] => 2019-04-01
                    [end_date] => 2019-12-14
                    [prop_id] => 58
                    [nights] => 30
                    [rate_type] => Monthly
                )

        )

    [manager] => stdClass Object
        (
            [id] => 1
            [ManagerID] => 1
            [Name] => Escapia
            [Vendor] => Escapia
            [Contract] => 
            [random] => 0
            [pms] => 
            [last_update] => 0000-00-00 00:00:00
        )

    [flipkey] => 
    [additonal] => stdClass Object
        (
            [Custom1] => B109
            [Custom2] => ponokaib109
            [Custom3] => 5099
            [Custom4] => 9011
            [Custom5] => 4853
            [DisplayRate] => Starting from $195 per night
            [Location] => Kapaa
            [LocationField] => Garden Island Properties, LLC
            [Property Type] => Condo
            [View] => Ocean Front
            [MinLOS] => 4
            [StayContext] => Checkin
            [StayDays] => Array
                (
                    [0] => Mon
                    [1] => Tue
                    [2] => Weds
                    [3] => Thur
                    [4] => Fri
                    [5] => Sat
                    [6] => Sun
                )

            [flipkey] => 
            [Agreement] => GUEST AGREEMENT 
RELATES TO ALL PROPERTIES. PLEASE READ THIS CONTRACT CAREFULLY. 
BY CLICKING ON THE ACCEPT BUTTON YOU (either an individual or a single entity) AGREE THAT THIS AGREEMENT IS ENFORCEABLE LIKE ANY WRITTEN CONTRACT SIGNED BY YOU. 

SECURITY D
        )

    [checkinout] => Array
        (
        )

    [special] => Array
        (
        )

    [hasSpecial] => 
)
                    
Holiday Rates apply between 12/15 - 1/5